We use affiliate links. If you buy something through the links on this page, we may earn a commission at no cost to you. Learn more.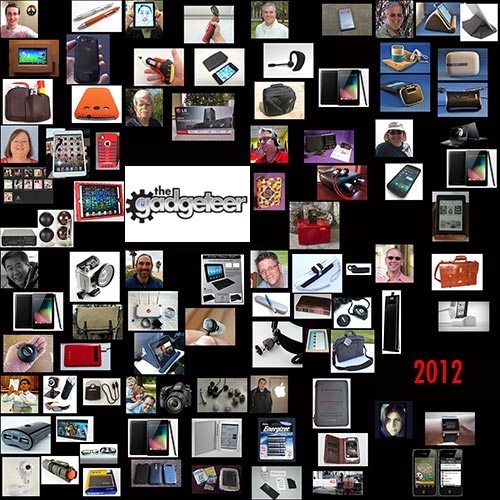 2012 was a busy year for The Gadgeteer. We published a total of 2006 articles of which 411 were reviews. That is a lot of product reviews my friends. The bulk of that work would NOT have been possible without my hardworking gadget crazed team of writers. We all thought it would be interesting to let you know about the products that we've reviewed this past year and are still using today. So, in no particular order, let's get started…
Andy Chen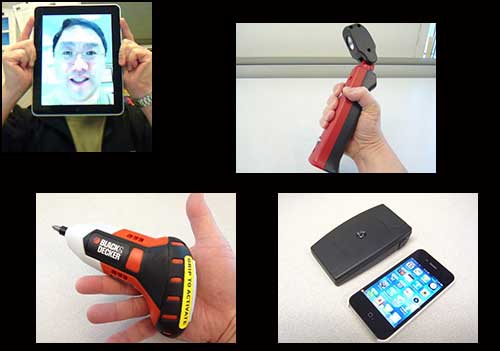 There are three things I've reviewed in 2012 that I'm finding quite useful after the novelty wore off.
Maxxeon Workstar 2000 Technician's Floodlight.   This funny-looking flashlight has a permanent home in the glovebox of my car.  It holds a charge for a long time, and the swiveling head makes it easy to shine light where I need it when I'm crawling around under the dash.  The rechargeable batteries are a plus!
Black and Decker Gyro 4V screwdriver.  This one was unexpected.  The little screwdriver's gyroscopic switch seemed like a novelty.  It still does.  But unlike my "manly" cordless tools, this little gem holds a charge much, much longer, even when not plugged in.  It's always ready to go when I need it for those quick jobs.  And what good is a tool if it's not ready when you need it?
LandAirSea SilverCloud GPS Tracking.  This has been in use around the clock since I first got it for keeping tabs on the family hauler.  It's only gotten better.  There's now a dedicated iPhone App that's iPhone 5 compatible.  And the price  has been reduced by $100 to $369.  At the moment, there's even a 40% coupon code XMAS40 for additional savings.
Smythe Richbourg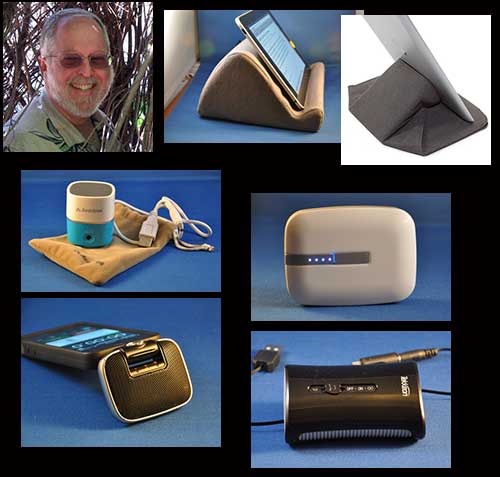 Julie wrote to the team asking us to pick a few items we'd reviewed over the past year that we are still using and give an update of sorts. I immediately thought: "Brilliant! Why haven't we done this before?" Then I looked through my list of reviewed items. Wow! We've all tested and reviewed a huge number of gadgets! So, true to her charge, I took to my gadget bag and the shelves in my house, and found these five items still in almost daily use.
The Wedgestand eReader Pillow Stand. This soft grey wedge is always out on a table, sideboard, or couch, where someone has been using it with a book or iPad. I use it every time I have a meal at the table, either alone or with my wife, so that I/we can use the iPad. It's the stand for our crossword puzzle "book" (what the Lovely Bride calls my iPad).
The Avantree Pluto Air Hifi Bluetooth mini speaker still goes with me to work and on various trips. I use it when watching movies or podcasts, or when playing music in the non-public areas of the store when I'm listening to background music. Several friends have now gotten their own because of this.
The Tekkeon TekCharge Pocket Power Pack MP1820 and the Choiix Power Fort 5600. One of these is always in my gear bag, charged and ready to go. Always. I can plug them in and activate them in total darkness, while driving down the road with family asleep in the car. Portable Power Rocks!!
The Blue Mikey Digital Microphone. While I don't use this one every day, it is still clipped into my Cocoon in whichever bag I've got my stuff in at the moment. When I need to record anything, it goes into action!
In addition to the items I was sent to review, I read through most of the other items posted on The Gadgeteer and purchased a few for my own personal use. By far, my favorite was Janet's review of the JavoEdge New iPad/iPad 2 Flex Sleeve Case. I bought the only non-flowery pattern (a nice tweedy grey) and absolutely love it! I've had other folks buy cases from them after a quick demo, especially when you look at the cruft that is on the inner surface of their "roll-up" style cases from propping the iPad up to type on it. No surface of he JavoEdge that touches the screen will ever touch a foreign surface and transfer dirt to the screen since it's an envelope.  Slipping this slender parcel under my arm when walking into a store doesn't broadcast "I have an iPad!" to all and sundry. At less than $20, it was money well spent!
There are other gadgets from years past still in action in my kit, and some that I still have around, but only use on special occasions. What about you, gentle readers? What items are you still using that you got as a result of reading a review here on The Gadgeteer during the past year? Let us know in the comments!
Janet Cloninger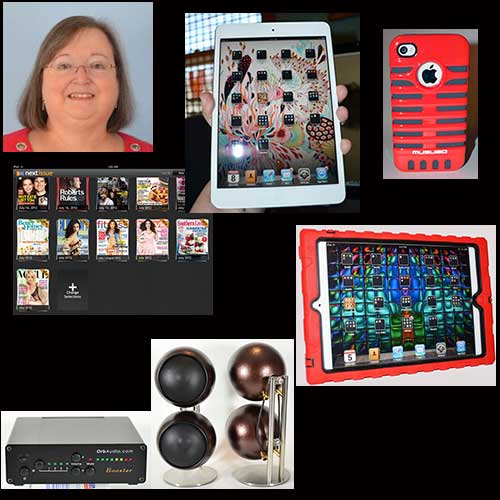 I review a lot of gadgets (both review samples and things I purchased myself), so I always seem to have a variety of options in every category.  There are others, but these five things are my favorites of all the things I reviewed in 2012 and are the ones I still use everyday.
The iPad mini:  I had no intention of buying the iPad mini since I already purchased the "new iPad" earlier in the year.  I ended up buying it because there was the possibility I'd need it for a tech-editor job, but I bought the cheapest model available.  In less than a week, I returned the 16GB model and got a 64GB model instead.  I use the mini exclusively now for everything from surfing to email to reading ebooks to doing minor chores at The Gadgeteer.  I love the small size that makes the mini so much easier to hold for hours and makes it possible to carry it with me in most any purse I'm carrying that day.  I missed the Retina display at first, but I don't even notice the lower screen resolution any more.
Next Issue Magazine app for iPad:  I love reading magazines, but I don't like them cluttering up my house.  I started buying them on my iPad as soon as my favorites became available, but they were expensive and all the individual apps required to read them "cluttered up" my iPad.  I downloaded the Next Issue app the second I saw it was available for iPad.  For only $15 a month, I have access to more than 75 magazines.  I can read any or all of these magazines each month, and I can share them with my family for the same subscription price.  My "iPad clutter" is reduced, because all the magazines are available in a single app.  It works great on my iPad mini, too.
Musubo Retro iPhone case:  I guess technically I'm not using the exact same Musubo Retro case that I reviewed.  That one was for the iPhone 4/4S.  I upgraded to the iPhone 5 a few months ago, and I tried to make do with other iPhone cases.  I missed the beauty and the protectiveness of the Retro case, and I purchased a red Retro case for my iPhone 5 when they became available.  I'm very happy with my iPhone 5's screaming red Musubo Retro case!
Orb Audio:  I reviewed Orb Audio's Booster Mini Amplifier and Speaker system and Orb Audio's Mini-T Amplifier and speakers this year.  I had the Booster amp (with a pair of Mod 2 speakers and a subwoofer) in my living room and Mini-T amps (with a pair of Mod 1 speakers) in both my bedroom and my daughter's bedroom.  Over the months since I did the review, I did decide to move the Booster amp to my bedroom and bought one of the Denon amps that Orb Audio recommends for use with their speakers for the living room.  I've also bought TOSS stands for my living room, and I've added a Mod 2 center channel speaker (on a horizontal BOSS stainless steel stand) and a pair of Mod 1 speakers for the back channel in the living room.  We love the look and the sound of the Orb speakers and the amps, and the modularity of the system made it easy for us to build our system over the year.
Hard Candy iPad mini Shockdrop Rugged Case:  I love this little case.  It protects my iPad mini from drops to the floor and even from raindrops as I carry the iPad mini to my car.  The built-in screen protector saved my screen from a huge scratch when I accidentally smacked my engagement ring into the mini's screen.  And it looks nice with my screaming red Musubo iPhone 5 case!
Ken Schoenberg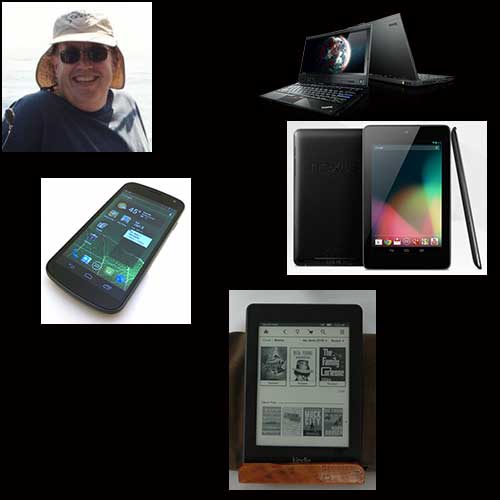 For me 2012 wasn't a bad year in technology purchases. Sure, there were some disappointments and nothing came out that has drastically changed my life, but a device as revolutionary as the Commodore 64 type might only come out once in a lifetime.
I purchased four great pieces of technology this year. All were significant improvements and made me more productive and/or enhanced my leisure time.
My 2012 Favorites:
Lenovo ThinkPad X220 (upgraded model now sold as the X230):  This is a fantastic lightweight laptop, that while not as stylish as a Macbook Air, offers more power and more connectivity at basically the same size and weight. It also offers features like the famed "ThinkPoint" and a fingerprint scanner for security. While not my main computer, it is my go-to portable device when I have to create more than a paragraph of text. Oh, and it cost a very reasonable $789.
Samsung Galaxy Nexus Phone (i9250):  I wasn't an early adopter of this phone. I bought it just after Google released its "Jelly Bean" version of Android (4.1). I like the basic Android operating system, rather than the UIs laid over the top and app replacements done by companies like Samsung, HTC, and Motorola. I especially like not having carrier-specific software locked on to my phones.  The Galaxy Nexus has a nice screen, is fast and smooth, and has plenty of memory. Sure, the hardware isn't up to the latest generation of devices like the Samsung Galaxy S III or LG Optimus G, but I've been more than pleased with its speed and capacity. I do wish that phone manufacturers would get back to putting dedicated camera buttons on their devices. Best of all, by paying full price for the phone ($350), I was able to save $40/month on our T-Mobile account and not be tied into a contract.
Google/Asus Nexus 7 Tablet:  I have owned an Apple iPad, Amazon Kindle Fire, Archos G80, Asus Transformer, HP TouchPad, and the Fuhu Nabi 2. The Google Nexus 7 is far and away the best tablet I've used. It's lightweight, fast, feature-rich, and enables me to quickly access information that I would normally have to view on a computer. The display is almost good enough to allow me to comfortably read for hours and could one day completely replace my need for a dedicated eReader.
Amazon Kindle Paperwhite – Last year I panned the Kindle Touch and actually traded mine in for the basic Kindle, which turned out to be a pretty solid eReader. The Touch's interface was a mess and the whole thing just felt a bit "slapped together". Most annoying however was the necessity of supplying your own book light. I've now read over 60 books on the Paperwhite and find it to be an absolute pleasure to use. I still wish it had physical page turning buttons, but the built-in lighting has me so happy I gladly made the trade. If you're not an avid reader, I'd suggest spending the $80 more and getting the Nexus 7.
Dave Rees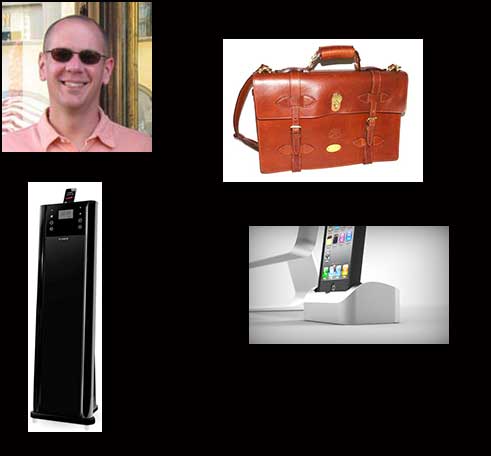 I carry my  Col. Littleton No. 1943 Navigator Bag with me nearly every single day. I use it to transport my iPad mini, MacBook Air, power bricks, pens, paperwork, etc everywhere I go. It is definitely my most used (and coveted) review item of 2012, without a doubt. Its quality, Old World craftsmanship, and handmade artistry are second to none. I continue to receive questions on where I got it or comment on how gorgeous it is.
As I sit writing up this commentary, I am listening to Holiday music on the Fluance speaker system I reviewed a few months ago. This is the second most used item in my 2012 review list. Whether I am working on a review or hosting a party, this speaker is playing some kind of festive music to help pass the time. It is the review item that gets the most offers to be 'taken off my hands' by friends sitting around over drinks. The speaker tower is an ideal, non-assuming corner piece of furniture that pumps out great sounding tunes, at both loud and soft volume levels. The only negative is that it is only available with the old 30-pin iPod/iPhone connector and not the new Lightning dock. But there are work-arounds until that happens.
Casey Hopkins began the Elevation iPhone Dock as a KickStarter Project a year ago. It raised nearly $1.5 million dollars in pledges with over 12,000 backers.  The Elevation Dock is machined from a single piece of aircraft grade aluminum and is made in the US (Portland, OR). I pledged and purchased the matte black version for my iPhone 4S and used it for several months on my nightstand before upgrading to iPhone 5. It is what Apple should have created when they made their dock for the iPhone. I was definitely disappointed that my iPhone 5 did not work with it, but thankfully the engineers/designers at Elevation Dock have created a Lighting adapter to retrofit the dock. The Lightning modification works perfectly, so I am back to using the Elevation Dock nightly :).
Bill Kuch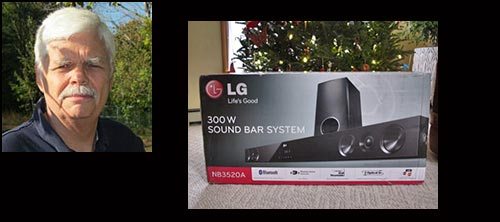 Looking back at the past year, it's been a mixed bagged with the products I've reviewed.  There wasn't any particular standout product from my perspective, although the LG 300W Sound Bar System is used on a daily basis here at the house and has received a thumbs up from all those that hear it.  With a few exceptions, I still have the products and they perform as advertised.  For the most part I use them all.  Two items are in the useless category:  the Anytone AT-400C CDMA Cellular Repeater, which only works if you're within 5 feet, and the Sungale Cloud TV Box, which is an overpriced/underpowered Android device.  My greatest disappointment was the republic wireless hybrid calling service beta, which unfortunately is not for those of us in rural areas and has some major shortcomings.  I will keep watching it and may give it another try.  I'm looking forward to this next year and already have a couple of exciting products in mind for review.
Jackie Cheng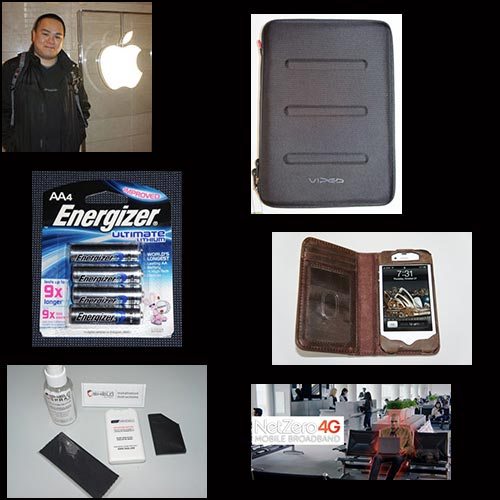 2012 has been a great year for gadget lovers!  I've reviewed many items, and here are the top 5 items that I still use and love.  My iPhone 4S is still sitting comfortably in Twelve South's BookBook.  I love this case/wallet/book design.  Great to use when I just want to carry the minimum amount of cards with me.  My MacBook Air is also still wearing the Booq Viper Hardcase, which provides great protection and extra space for accessories.  My 15″ MacBook Pro with Retina display is all wrapped up in Zagg's invisbleSHIELD, which protects it from scratches and also makes it the "lightest" protection.  I enjoy traveling and finding access to WiFi is pretty convenient these days, but on the off chance I'm stuck without a WiFi connection, I use NetZero's Free Mobile Broadband.  The 4G speeds are fast, and it's free if you stay under 250MB per month, which is more than enough for emergencies.  And lastly, I've been using Energizer's Ultimate Lithium Batteries to power my wireless keyboards and wireless mouse.  These batteries really do last noticeably longer than regular batteries.
Let's hope 2013 will bring us more interesting gadgets!
Bill Henderson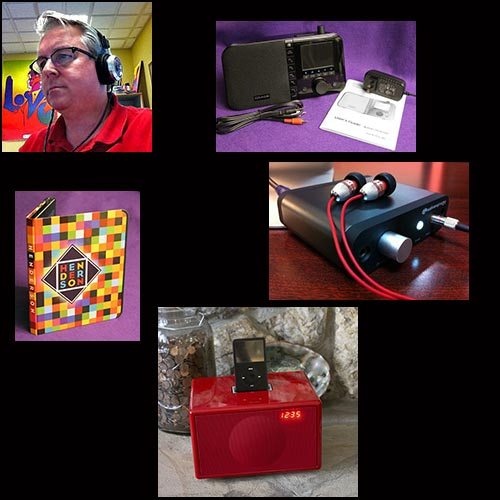 Grace Mondo Internet Radio
This radio has so thoroughly spoiled me, that I don't use my portable AM/FM radio anymore. Yeah, it has some maddening quirks, but I've learned to either ignore them or have figured a way around them. Plus, the Grace iPad app for the Mondo makes it very easy to find and change stations, as well as perform other functions. I bought a proprietary rechargeable battery – which really should be included with the Mondo – and now, it's truly portable. I love this radio.
Powis iCase iPad Case
The major selling point of the iCase is that the customer can design it himself. It has been protecting my iPad ever since I reviewed it, and since it's always attached, I don't think about it much anymore. It's that commonplace to my iPad. When you think about it, maybe that's the highest compliment that can be made for this case.
Audioengine D1 Premium 24-Bit DAC/Headphone Amp
This is a gadget that has never left my desktop. It is connected to a USB port on my iMac and any speaker currently being tested is only connected to this wonderful DAC/amp, never directly to the iMac. Occasionally, I will disconnect it to remind myself how much it improves the quality of whatever I am listening to. Wow.
Geneva Sound System Model S
This looker of a speaker sits on my desk at work. So far, it has received more favorable comments from coworkers than any other product I've tested. It's just gorgeous. However, it also sounds great – especially at lower volumes – which makes it the perfect office speaker. Even when turned down, the bass holds up, providing a fuller sound than you might get from other speakers.
I have reviewed many (quite good) earphones and headphones in 2012 and plan to continue doing so in 2013. I've purposefully not included any for this article simply because I am always testing a different model due to the quantity I review.
Raul Sanchez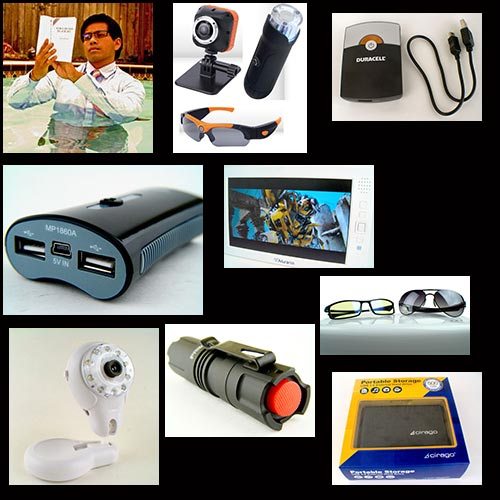 With so many great and useful gadgets that I was lucky to review, there are some of those products that I used during the review that are still in my arsenal of daily use.
Since I am a sucker for flashlights,  I have been taking the Primus PrimeTorch with me everywhere mainly because of its compact size, and of course for the super bright light. Aside from bringing it with me on my vacaton trip out West, I mainly use it when setting up equipment at shows for our band HopeDarling.  During setups in the various clubs, bars, or other venues, it can be really dim or at times completely dark  where our soundboard needs to be. With all the sliders, knobs, and various connectors, a flashlight is a necessity. With the flashlight's strong output I have even used it to get people's attention in a crowded club just by waving it back and forth in their direction.
I was using the Icon Modus 2, with the dual output, but the screw threads for the top housing that holds the LED bulb broke so I stopped using it. Too bad because I really enjoyed the dual output option with the low light and a high light. Fortunately, the PrimeTorch came at the right time for me to review so I had no need to go out and buy another flashlight.  However, If I could I  would get another Modus 2 from Icon though. I was very content with that flashlight
Along with the PrimeTorch I am still using plenty of the products I had reviewed such as the Lorex Live View Baby Monitor. As a matter of fact, I had been using it to check on my cat while I was away on vacation a few weeks ago.  The Lorex Live View allowed me to go on the web and connect using Skype to see monitor the camera. Don't worry, our close friend came daily to pick up our mail, feed and check on my cat while we were gone. Be assured, we didn't tie the cat's leash to a tree in the backyard with a food bowl. I have also been using it as a security camera to check on my house from time to time too. Sometimes I call home and let the kids know I can see them and they jump around and act silly in front of the camera for me.
Then there is the Aluratek Cinepal that I keep in my glove compartment in my car so the kids can watch movies while we are driving, or they can  take it in to a restaurant that we know has a history of taking time for our food to come out to us.
Now, what I carry  in my messenger bag are a chargers that I reviewed such as the Tekkeon TekCharge Portable Battery for my cel phones. Besides that, I also have in my bag the Duracell Powerhouse  charger. But recently I have been sporting the Powerstick for my extra battery. I like that it is a charger/flash drive combo so I have extra power plus a portable flash drive media that I can store and move files.
Speaking of a portable drive, I am still using my USB 3.0 portable drive from Cirago. I use it for my backups as well as archives for my important documents and files.
Now, on the lighter side of the reviews, the Gunnar Optiks Phenom glasses I use from time to time when my eyes feel tired from the slight flicker of my monitors while I edit videos or pictures. I also keep handy the sunglasses from Gunnar as they are light, and I like the Aviator style which is more my taste in sunglasses, but they do have a bunch of different styles and I'm sure they have more styles since my review of them.
I most recently reviewed the Lorex HD action cameras, and I plan on using for upcoming music videos as well as various video projects in the works. But I plan to use them for my personal use after the holidays like when I go back to the beach for skimboarding or when I go street skating again with my inline skates.
But of course that's all going to depend on my busy schedule after the new year to catch up from my time off for the holiday season. Oh well, it's going to be fun trying…
Andy Jacobs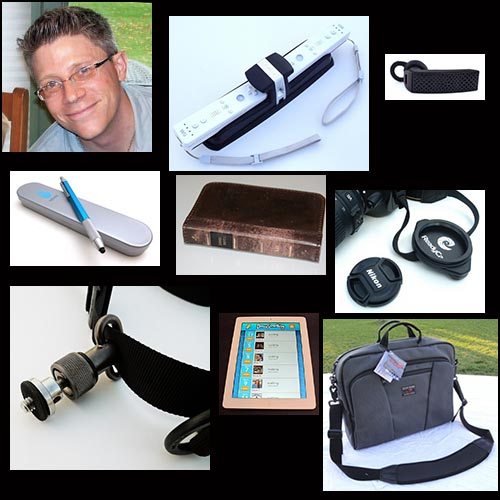 2012 was another great year for gadgets, and I had the opportunity to review several of them, a few of which I continue to use.  In no particular order:
This spring, after many years of point-and-shoot photography, I stepped up a bit to a Nikon D5100 DSLR.  Two accessories that I continue to use with it regularly are the Readycap Camera Lens Cap Holder and the Carry Speed DS-SLIM Camera Sling Strap.  The Carry Speed sling strap is very comfortable for when I'm doing active shooting or on a hike, and the Readycap gives me a convenient place to store my lens cap.
While I don't use a Bluetooth headset daily like some, I have found the Jawbone ERA Bluetooth Headset to be very useful when I need to do a conference call while away from the office or when I need to take a quick call from the road.  I just switch it on and it instantly connects to my iPhone 4S and is ready to go.  It's easy to use and the noise cancellation seems to work quite well.
The Wii at our house gets a lot of mileage: just this past Christmas break, we've played a lot of Lego Star Wars/Batman/Indiana Jones, The Force Unleashed II and Just Dance 4.  The Revolution 2 Universal Controller Charger is great for keeping our controllers charged for the next gaming session.
The Tom Bihn Cadet Laptop Bag is our 15″ MacBook Pro's mobile home.  Every time I pick up the Cadet, I marvel at the quality construction and thoughtful design.  Though I tend to haul a lot of gear back and forth with me to work and on the road, I didn't want a bag quite that large for our home MacBook—the Cadet is perfect for this.
Finally, I would also like to mention a few gadgets that I did not review, but that I do use regularly.  Our Apple "The New iPad" (AKA 3rd gen) gets quite a bit of use at our house.  The Retina Display is great and we like to use it for games, email, web surfing and on and on.  We try not to fight over it too often.  🙂  Also, I tend to switch cases on my iPhone 4S periodically, depending on my mood and what I might be doing.  One case that I've added to my rotation is the Twelve South's BookBook for iPhone 4/4S.  I like that it looks like a small, antique book and it holds several cards like a wallet.  Finally, though I don't use it every day, I've been happy with my HAND Stylus Capacitive Stylus.  It reminds me of a beloved old drafting pencil I had in high school, and it feels great in the hand, looks cool and works well.
John Schettino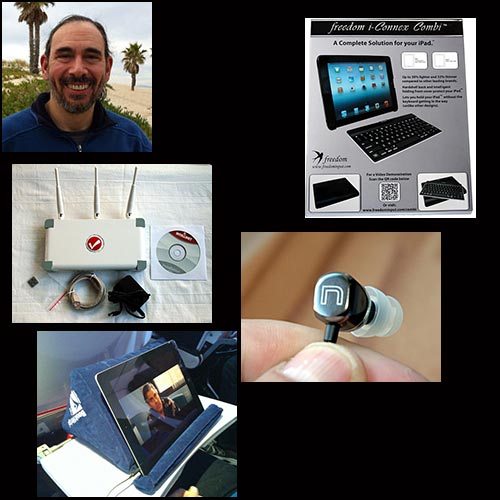 A fair number of review gadgets came through my home this year. My review style is to try and use the review unit as if I had purchased it myself so I can honestly assess how well it works. Once the review is done the product is usually handed off to someone else (or put on a shelf and forgotten!), but a few items just stick because they hit a sweet spot in my own needs. Here's the list of review items still in use this year:
Freedom i-Connex Combi iPad case with Bluetooth keyboard:  I don't get to use this; it was commandeered by my high-school teen for her school-issued iPad 2 that she has to do almost all schoolwork on. She loves this case/keyboard. It's holding up to the teen pounding fairly well, but is showing some signs of wear.
Intellinet Wireless 450N Dual-Band Gigabit Router:  I swapped this router in for my existing D-Link DIR655 wireless N router, and frankly it works far better than the D-Link did. It's been running 24/7 since I put it in place for the review.
Nyrius NAEB500 Noise Isolating In-ear Earphones:  These earphones are still my daily "workout" earphones. They've been soaked in sweat, yanked out by accident, and abused in every way. The earphone units separated on both sides after several drops, but a dab of superglue fixed that.
BookWedge Reading Pillow:  This thing takes every flight with me. When we're not in the air it acts as my tablet stand on the dresser.
Steve Holt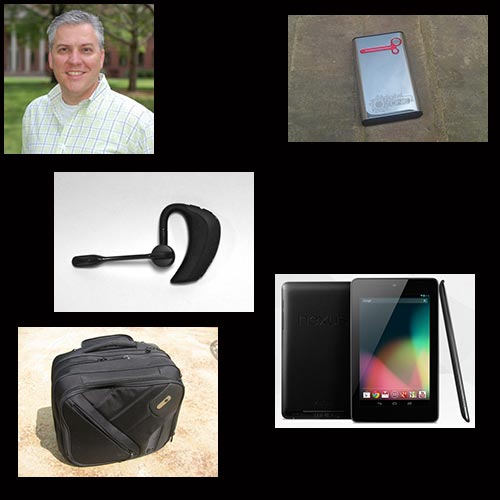 These are my favorite products that I reviewed this year and still use heavily:
Plantronics Voyager Pro HD Bluetooth Headset:  (Technically this was done in Dec. 2011, but it's close enough, right?)  The one gadget I use literally every single day is my Plantronics Voyager Pro HD. It's still the best headset I have ever owned. Crazy battery life, great comfortable fit, and the sensor that detects when it is on my head – these are all great reasons to own this one.
Powerbag Wheeled Briefcase by Ful:  I don't travel without this bag. It allows me to charge my portable devices while I travel, without having to find an empty power outlet somewhere. It came with a 6,000 mAh battery, and I got the 9,000 mAh as well. I can charge my devices literally the entire trip without recharging the Powerbag's batteries. It's also big enough that I have used it as my only bag on short trips. Love this bag.
Digital Zone Juicebar DO10-JB Pocket Solar Charger :   This portable battery solution is only 2,000 mAh, but for what it does, that is sufficient for my needs. Both my wife and I use this when we are going to be out and about for a whole day and need extra juice. For example, my wife's car charger no longer works and her phone is a couple years old so it doesn't hold a charge for very long. So the other day she went Christmas shopping out of town with a friend of hers. When her phone started dying just after lunch, she connected the Juicebar and was back in business. When driving on long trips, it's also great to pop it onto the car dashboard to let the sun charge it up. For the price, it's a great product.
Finally, my favorite gadget this year that I did not review is the Nexus 7 tablet. I had no idea that I would come to rely on this device so much, but I have. The form factor, the speed, and the outstanding user experience is amazing. I use it for email, surfing, gaming, social media engagement, and of course Google Now. I don't think you'll find any gadget of any kind where you get so much for so little money.
Ian Lim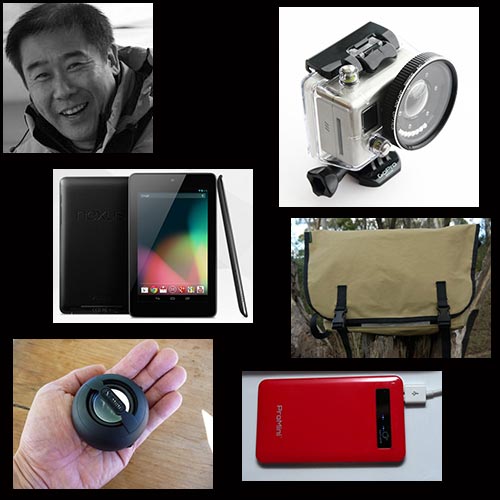 This has been a big year for me, as it is my first year writing for the Gadgeteer. If you read my article on Life as a Gadgeteer Reviewer then you'll see I have 4 categories for items post review: "put it on the shelf", "use it once in a while", "use it everyday", and "need to buy more peripherals for it". I've been pretty lucky with the items I've gotten to review throughout the year, and many of them fit into the two latter categories.
The Google Asus Nexus 7 tablet gets used everyday.  The 7″ form factor really does make this a great portable tablet, whether for surfing the web, checking email or playing music or movies at home or on the go. The BOGear DUB is my weekday gadget bag that is being lugged to and from work, and it's flexible enough to carry a little bit or to lug those review gadgets back home. For that quick, ultra wide-angle snapshot, the GoPro Hero 2 with Blurfix is small and portable and always at hand, weekday or weekend. The X-Mini speakers are the other stand-out gadgets that get used all the time by the whole family, whether it's for music or movies at home, work or school. Of course many gadgets need battery power, and there's normally a Magic-Pro ProMini battery with me for those times when something goes flat unexpectedly.
Wishing all Gadgeteers a happy and prosperous (and gadgety) New Year!
Morgan Bornstein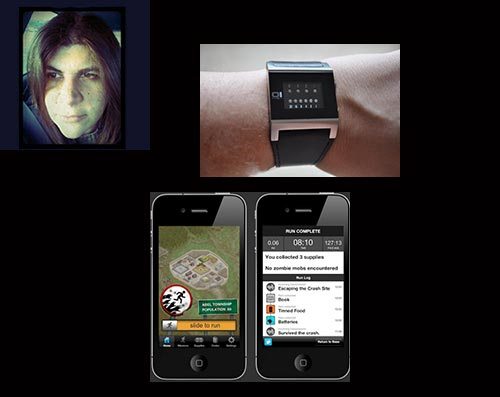 The Kerala Trance Binary watch has been my go-to watch for most of the year. It never fails to get noticed and pairs well with either casual jeans and tees or a fancy office wardrobe. Plus, it gives me extra geek cred with my fellow web developer co-workers – although I am still working on being able to quickly tell time in binary. Also in heavy weekly rotation is the Zombies, Run!! app.   Originally released at the beginning of the year for the iPhone, it saw an Android release in early summer. What better a way to trick myself into running than to combine it with a video game and escaping a zombie horde? Every trip on the treadmill is like my very own Walking Dead episode. The app has seen several major updates since launch, adding more missions, 5K trainer, and in-game radio station with several more updates planned well into 2013.
Bryan Sherman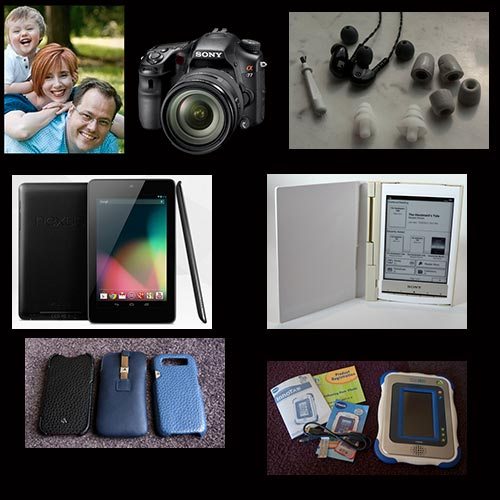 We were challenged to post about 5 of our favorite gadgets for 2012.
Looking back here are my choices for 2012, not in order of preference:
1. Westone Talk Series TSI Headphones. This was a bit of a surprise for me in that I tend to discount my headphones, and look more at cost than performance. However, these really turned my head and have become my go-to wired headset. I like the performance, and the case is well thought out and handy.
2. Vaja Samsung Galaxy S3 Agenda Case. I have loved Vaja cases since I was introduced to them in a review of the old Palm V case written on this site. It is well designed, attractive, and is a welcome addition to my S3. Now that I have lived with it for over 3 months, I can affirm that it wears well, and it is easy to slip in and out of the case while retaining a strong fit. The only time it comes out of its case is when I run with my phone or am using it for turn-by-turn directions in my modified Motorola Droid car kit.
3. V-Tech InnoTab Tablet. Technically this is not a gadget for me, but as any parent will attest, any gadget that engages your child and helps them learn is a win. My son still loves to play with this, and I am amazed with how quickly he gained confidence on the tablet. As he gets older, he can continue to buy new apps that keep up with him.
4. Google Nexus 7. I didn't get to review this, but I finally broke down and bought the 32 GB version when it came out. This is the form factor I always thought I would prefer in a tablet, and I was right. Keep in mind, I am not a one-size-fits-all kind of guy, but for my needs I thought this size would be best. It fits comfortably in my jacket pocket, and the Jellybean interface is great. I am not crazy about the lack of an SD slot (a design choice for all Nexus devices), but 32 GB is a lot of space, and there are some interesting ways around it that I may be experimenting with. I actually started looking into getting a Kindle, for the few Kindle-only, or free Kindle books, but ended up choosing this since I could use the Kindle app on it. My one frustration is that they still have not released a dock that utilizes the 4 pin POGO connector, but I am still hopeful.
5. Sony PRS-T1 with Cover. With a Nexus you might think this hit the old gadget pile, but you would be wrong. I have had a Sony Reader since the 500, before the Kindle was a spark in Bezo's eye, and this is the third model I have owned. The infrared touch screen solved the issues on the PRS-700 I had before it, and they finally added Wi-Fi. The cover with light was a late addition (and cheap as they replaced my model with the T2) but is a great solution for night reading. The Sony Reader really shines on public library loans. I can browse my public library's options on the reader and download them directly to the Reader. No PC required. For me, there is no comparison with reading on e-ink versus a conventional display. It is easier on the eyes.
1 to grow on. Of course, I have to bend the rules. I have not written a review yet, but I bought an Sony Alpha 77 with the 16-50mm f/2.8 lens this year and have been blown away by this camera. I really wanted to buy an Alpha 99 full-frame, but the price was too much for me. I feared I would have buyer's remorse from the compromise, but I was wrong. I was upgrading from an Alpha 100 (the first Sony Alpha, built on Minolta A-mount tech), and my, how times have changed. I will definitely need to do a review, but I could not be happier with this camera. I know folks are going the 4/3's format, or even the larger-sensor, similar form-factor of the Sony NEX's (which packs in the same size sensor as the Alpha), but I still like having a large DSLR.
Julie Strietelmeier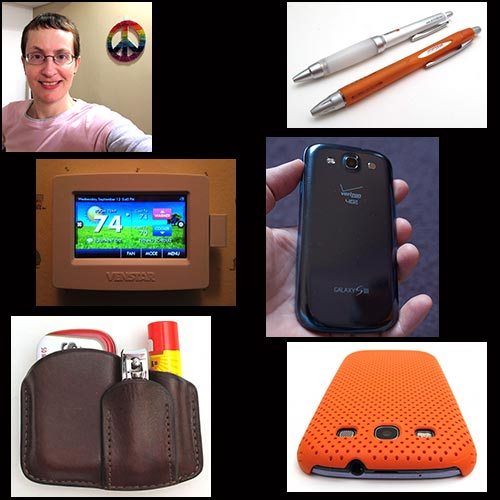 Last but not least, it's my turn. The top 5 products which I reviewed this year and am still using on a daily basis are:
Venstar ColorTouch Thermostat – Although this was a little challenging to install (due to my existing furnace setup), I am still really happy with this thermostat.  I like being able to turn the heat or AC up and down from my iPad or Android phone. I also appreciate that I can program temps down to individual days and 3 times during the day.
Samsung Galaxy S3 Android Smartphone – After being disappointed by the iPhone 5 reveal, I ended up dumping my iPhone 4S and upgrading to the SGS3. I've been using it for the past 3 months and am still very happy with it. It will be interesting to see how long it will take me before I get bored and want to switch to a new phone though.
elago Breathe cover for the Samsung Galaxy S3 – You can't beat this inexpensive snap-on cover for the SGS3. It provides some much needed grip to the phone and also helps protect the camera lens. I also like the fact that I don't have to remove this cover in order to dock the SGS3 in the RND Power Solutions Dock.
Dragonthorn Leatherworks Pocket Carry System – Dave Hauser is an expert leather craftsman and created this PCS for me after I told him 3 things that I always carry. I have this leather holder in my main gear bag and use it every day.
Uniball Jetstream Ballpoint Pens  – These are may all time favorite ink pens to date. They provide a smooth crisp line while remaining very comfortable to write with.
One other item that I'm still using is the iPad mini. I had decided not to buy one because I didn't think I'd use it. I was sure that the regular sized iPad's display was the perfect size and that the mini's would be too small. After reading Janet's review and listening to her and Dave Rees go on and on about how much they loved their minis, I caved and bought one. I'm surprised how much I like it. I've been using it more than I ever used the standard sized iPad and I carry it with me where ever I go. It is my favorite gadget purchase of the year.
Now it's your turn, what are your favorite gadgets of 2012?