We use affiliate links. If you buy something through the links on this page, we may earn a commission at no cost to you. Learn more.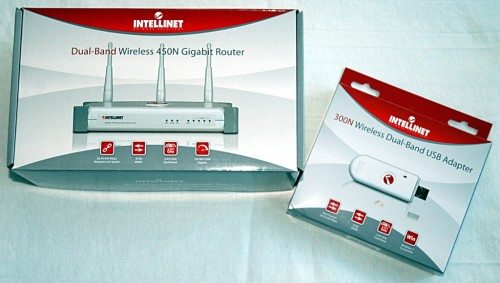 The Intellinet Wireless 450N Dual-Band Gigabit Router and Wireless 300N Dual-Band USB Adapter are two high-performance, if somewhat bare-bones dual band MIMO 802.11n devices from Intellinet Network Solutions. For this review I swapped out my existing 802.11n router for the Intellinet 450N and tested its performance with a number of different clients. To test the 300N USB adapter I compared its performance to the built-in wireless on a Acer netbook with a single antenna 802.11n 2.4ghz radio.
450N Router Unbox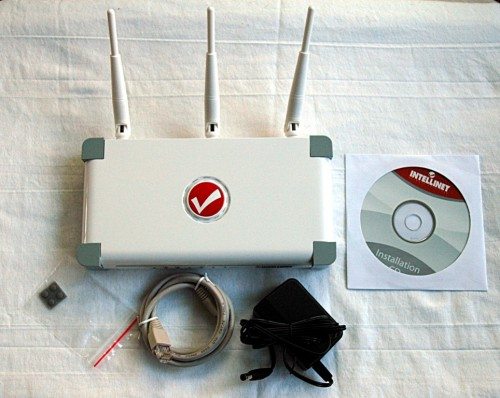 The router comes with an install CD, quick start guide, a short Ethernet patch cord, some rubber feet, and a wall-wart. It's comparable in size to other wireless routers.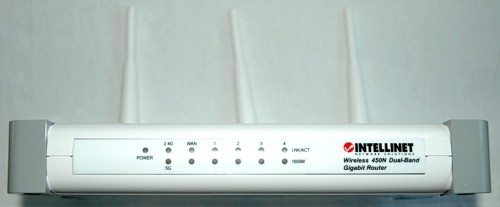 The front of the router has a bank of LEDs showing power, 2.4/5ghz radio activity, and activity/link speed for the WAN and LAN Ethernet ports. The three antennas are the typical 3 dBi gain, jointed antennas allowing you to orient them properly regardless of how the router is installed.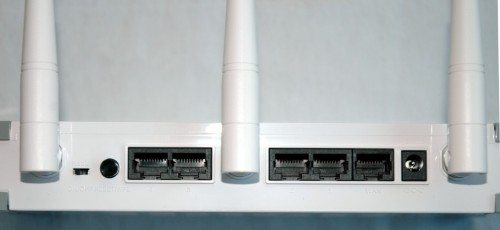 The back of the unit has a physical radio On/Off button, the WPS/reset button, the 4 LAN and 1 WAN Ethernet ports, and the wart power in. The physical radio kill switch is a nice touch – you can turn off the WiFi without accessing the web interface if you need to quickly kill wireless. The WPS/Reset button resets the unit to factory defaults if pressed for 10+seconds. You press it once to start WPS on the 2.4ghz band, twice to start WPS on 5ghz. You can disable WPS for either band via the web admin interface, in which case the only thing the button does is a factory reset.
The Admin Web Interface
The router ships configured to act as a full router for a home network, so the setup instructions walk you though plugging your broadband modem into the WAN port, and your devices into the LAN ports. If you do this, and your devices are configured to use DHCP, then everything will come up with the router acting as your gateway/router at 192.168.2.1, which is where you'll find the Admin Web interface. Configuring the device for other configurations (for example, my home network has a firewall router, so I need to make the 450N act like a dumb wireless access point) can be accomplished by plugging a laptop using DHCP in to the WAN port, and then accessing the Web interface from that laptop to configure the device properly. In any case, once you get there, you log in with the default username/password provided in the manual, and you get to the main page.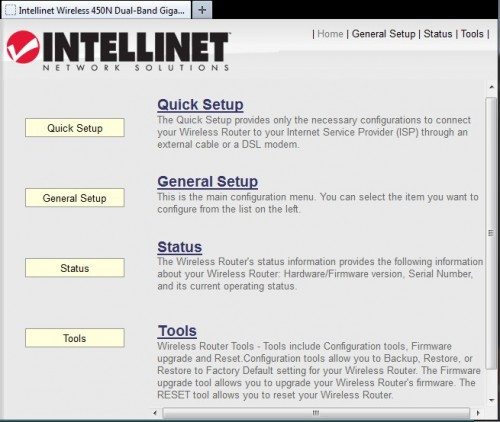 Quick Setup will walk you through the important settings for the router and both 2.4 and 5GHz wireless settings to quickly get you up and running.
General Setup gives you full access to all features of the router, grouped into System, WAN, LAN, 2.4 Ghz, 5GHz, QoS, NAT, and Firewall pages. You can click the heading to expand the options under it and display the settings for the selected option. Here is the General page, with System expanded.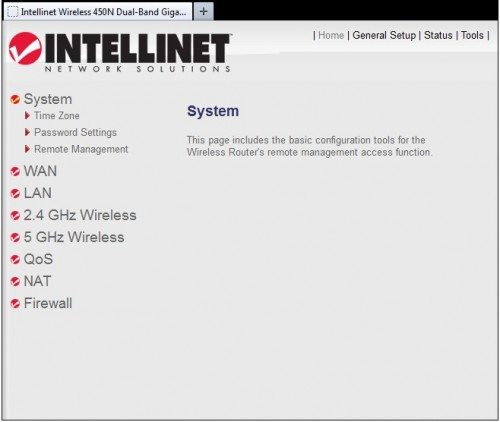 System/Timezone sets the time zone for the router and a time server, if you wish to sync from a network time server. The other options let you change the password, and enable/disable remote access to the Web interface – basically you can limit access to the Web interface to specific IP addresses.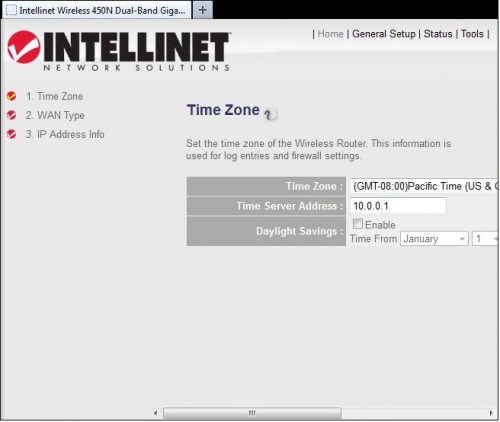 The WAN options let you set the protocol used to set the IP address on the WAN port. The options are Dynamic using DHCP, Static, PPPoE, PPTP, L2TP, or if you happen to be in Australia, Telstra Big Pond. You can also set the DNS server to use, configure DynamicDNS, or set up access via a WISP (wireless ISP.)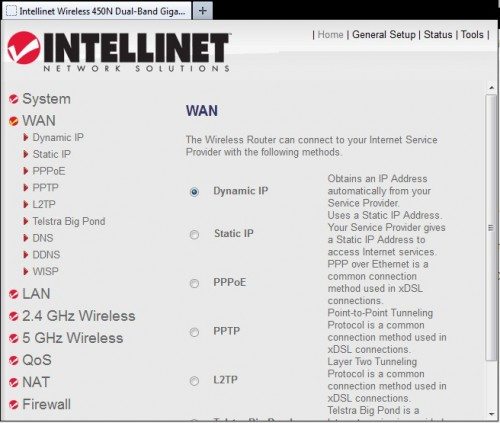 The LAN option is where you configure the router's LAN/Subnet and DHCP server. You can configure Static Leases (assigning a static IP to a client, based on its MAC address) as well.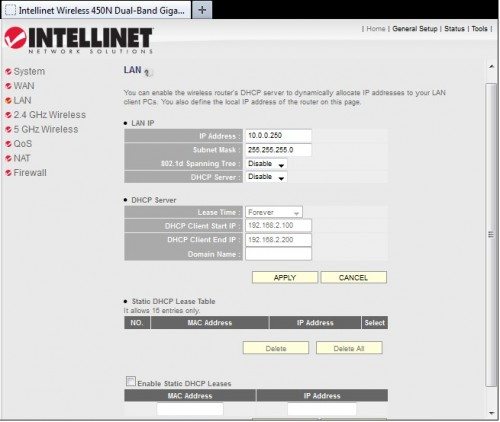 Next is the 2.4 and 5 GHz wireless options. For each one, you can enable or disable the radio completely. Under Basic Settings you select the mode: Access Point is the normal mode where the router allows wireless clients to access the wired network; Station makes the router bridge wired clients to a wireless network; three AP Bridge modes to enable point-to-point or point-to-multi-point wireless bridges; and Universal Repeater, which combines Access Point and Station modes. Pretty much every possible configuration is supported.
Wireless/Advanced Settings lets you tweak the wireless settings.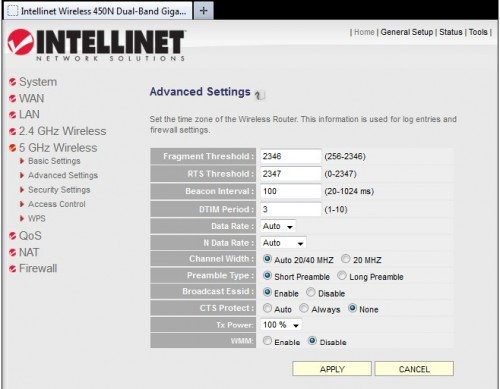 Wireless/Security is where you select the encryption (WEP/WPA/WPA Radius) and related options, as well as the pre-shared key.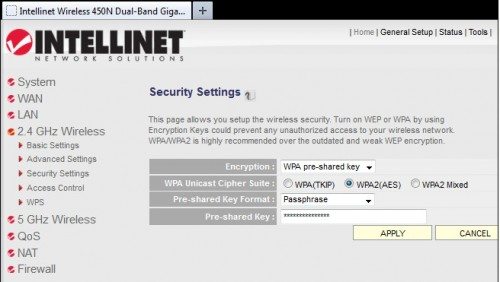 Finally, Access Control lets you set up MAC filtering, and WPS enables/disables WPS setup for clients.
The QoS page allows configuration of QoS rules. You indicate the total bandwidth available, and then divvy it up among several ports.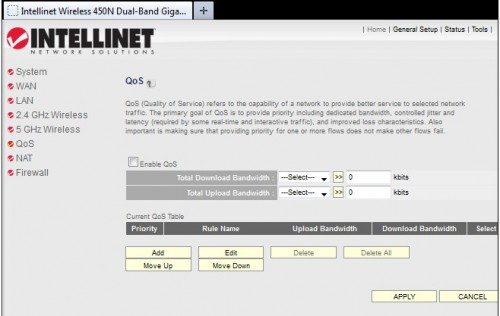 The NAT option controls the use of NAT in the router.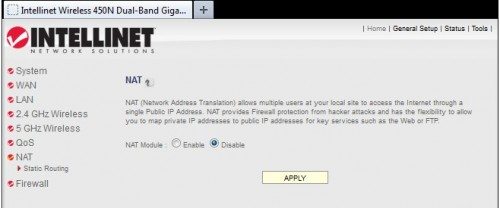 The port forwarding and routing options appear once NAT is enabled. If NAT is disabled, you only have a Static Routing option.
The Firewall option controls the router's firewall.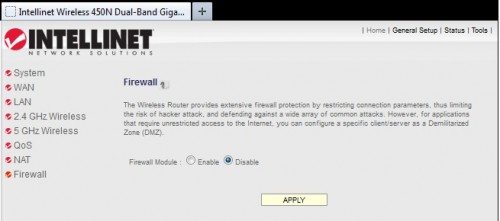 Once enabled, you can allow or deny access from devices based on MAC address and IP address. You can also control which TCP/IP ports a specific IP address (or range of addresses) can access. The 450N router can also filter URLs or IP addresses for web access. You can block access to a specific site, an IP address, or any URL containing a supplied word. It's not a very sophisticated filtering system, but it's better than nothing.
My overall assessment of the Admin interface is it's comprehensive and easy enough for a technical person to wade through, but it lacks ease-of-use niceties like integrated help. If you keep the manual handy you'll be able to get it done.
450N Router Performance
I'm by no means set up to be a network test shop, but I do have a variety of wireless devices, and I can test the point-to-point speed across the wireless router between devices. So, that's what we'll be looking at. Also, I can't even begin to explain how all the various options, frequencies, MIMO antennas, channel widths, sunspots, and phases of the moon all interact to establish your "connection speed" (which has not much to do with your actual throughput), as well as the measured throughput you'll see. My home is in a fairly crowded wireless space as well, which can affect measured speeds.
The setup: I believe these settings are optimal for giving you the best chance at maximum wireless speed. On the 450N router for 2.4GHz and 5GHz I have enabled auto wide channel (20/40mhz) mode, and I've selected channels that are not impacted by the neighbours. I'm using WPA2(AES) for security on both bands. On any client I can control, I've also enabled wide channel 40mhz if available.
Test tool: I am using Iperf to test the link speed throughput between two devices on either side of the 450N router. I tested the "download" speed (the speed data can be sent TO a client), which is always the faster speed, if there is a difference in speed at all, from a distance of 10′. I ran one test (marked **) from across the house through 3 walls at about 30′ distance. I ran a number of tests and report the average speeds.
With all the waffling aside, these are the speeds I was able to measure.
Device
Chipset
2.4 Ghz
5 Ghz
Lenovo T420s
Win7 Professional
Intel 6300 AGN
78Mbps
127Mbps
Acer Aspire One A250
Win7 Ultimate
Atheros AR5B95
40Mbps
N/A
HP dv6 Win7
Home Premium
 Intel 5100 AGN
40Mbps
36Mbps**
95Mbps
75Mbps**
Intellinet 300N USB
(on Acer)
Ralink
79Mbps
129Mbps
That table confirms the basic truth of 802.11n – it's all about the MIMO – the more antennas you have, the more channels you can transmit on at the same time. The 450N is a 3T3R MIMO device – it can transmit and receive on three antennas at once. Low-end laptops with single antennas max out at lower speeds than high end laptops, or the surprisingly fast 2T2R MIMO Intellinet 300N USB adapter. Your speed is dependent on the worst performing device (client or the router) – in my tests I found the 450N to be "more capable" than anything I had to throw at it. The range/coverage was excellent for a home in both 2.4 and 5Ghz bands.
The underlying hardware for the router is fairly beefy: 500MHz MIPS cpu, 64MB ram. That should be more than adequate to perform its routing duties without lagging. It seems reliable, running 24/7 for several weeks without a hiccup.
300N Dual-Band USB Adapter Unbox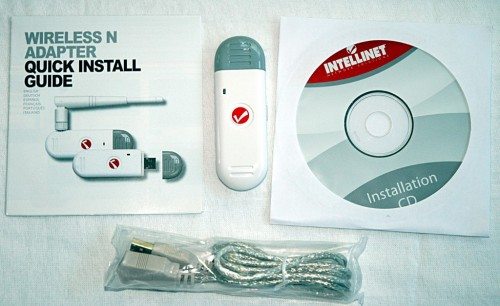 The 300N is a pretty hefty USB dongle. In the box you'll find the dongle, an extension cable (helpful to get the dongle to a better location for radio reception), and fairly redundant quick start guide and install CD. In practice you can simply insert the dongle in a Windows 7 PC, and the correct drivers will be installed for you.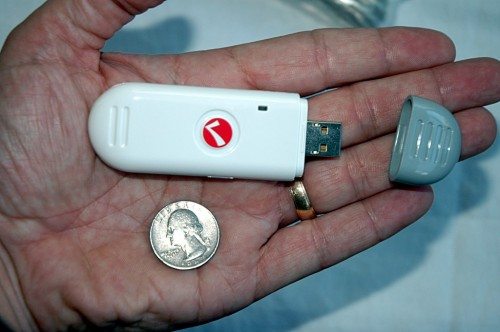 As you can see above, it's a beast. Coming in at 3.5 x 1.1 x 0.4 inches thick, it's not likely to go missing in your gadget bag, at least. You'll be glad it's big enough to stuff in two antennas when you use it.
Performance
I alluded to the performance in the table above – simply put the dual band, 2T2R MIMO 300N USB adapter will give the top-of-the-line integrated WiFi in any laptop a run for its money. If you have a laptop that doesn't have 5Ghz N, or a low end laptop with 1T1R or 1T2R MIMO, then the 300N will give you a noticeable boost in speed.
Conclusion
The Intellinet products aren't the most polished things you've ever seen, but they are capable hardware and (in the case of the router) spartan but functional configuration software. If you're comfortable working with simple direct setup interfaces, or can work with a manual in front of you, you'll be able to set the 450N router up. Once configured it looks to be capable of running trouble free without much attention after that.
If you're looking to boost wireless performance on an older or low-end laptop, or to add WiFi to a desktop machine that's out of reach of wired Ethernet, the 300N will get you wireless speeds that better wired 100Mbit Ethernet if you have a 5Ghz 802.11n router.
Product Information
| | |
| --- | --- |
| Price: | 450N Router: $159.95, 300N USB: $59.95 |
| Manufacturer: | Intellinet |
| Requirements: | 300N USB: Windows 2000, XP, Vista and Windows 7. |
| Pros: | High performance, reliable, compatible 802.11n 2.4/5Ghz |
| Cons: | Less polished Web Admin Interface. |