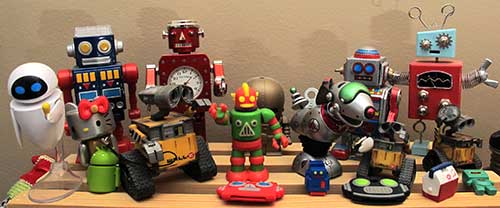 Updated on 11/27/23
Hello friends, here's my ever-evolving listing of the gear (and other favorite things) that I use on a daily basis. The category lists are in no particular order. I also try to post regular gadget diary posts and EDC updates where I talk about the gadgets I'm using and the adventures I'm having on any particular day.
Smartphone, tablets, and related accessories:
Computers and accessories:
TMobile Home Internet – After paying almost $400/mo. for over 10yrs, I finally found an alternative broadband solution with TMobile Home Internet. I've now been using this wireless internet router for over a year now and it's great. For only $50/mo. I have unlimited internet. I get around 30mbps which might not sound crazy fast, but compared to the T1's 1.5mbps, it's a screecher! I can surf and stream, so I've been beyond happy.
Apple 14″ MacBook Pro M3 (2023) – I replaced my 13in MacBook Pro (2020) with a brand new M3 14in MacBook Pro and love it. It's so much faster than my previous laptop that I feel like I'm flying when I work and the battery life is amazing. Zero buyer's regret. NEW
Keydous NJ80 mechanical keyboard – I've embarked on a quest to find the perfect mechanical keyboard to use with my 14″ MacBook Pro. I've tried several so far, and this is my current favorite. I love the analog knob. NEW
Logitech MX Master 3S – I am a diehard MX Master mouse fan and so far, I've yet to find a wireless mouse that I prefer. I will say that I wish I had the dark version of this mouse instead of the white version. I've not had this one that long and it's already starting to show some discoloration in the thumb rest area.
Other office equipment:
Dell Ultrasharp curved 49in monitor –  This was one of my recent work-from-home upgrades. I had been using two BenQ monitors, one for my MacBook Pro and one for my Cummins day job Dell laptop. I decided to simply with this crazy huge monitor that can display both computers in side-by-side windows. It's pretty awesome!
Canon GX1020 inkject printer – I finally replaced an ancient Brother HL-3170CDW laser printer with this inkjet and am pretty happy with it so far even though the print speed is pretty slow. NEW
Yeslamp Evo lamp – I put this lamp in my upstairs craft room and it's perfect for that task. I also like that it has a built-in clock so I don't lose track of time while I'm working on my leathercraft projects
Baseus PowerCombo – I hate power strips, but sometimes you need more outlets. This "power strip" does the job and doesn't look hideous. NEW
Photography gear:
Sony ZV-E10 mirrorless camera – I bought this camera as a Christmas present for myself. Since I started my Gadgeteer Video Podcast series, I found that I wanted a little better video quality than what the iPhone could do and it is more convenient to have a dedicated camera, so I splurged on this one. So far, I really like it. Check out episodes 1-11 of my podcast and compare it to episode 12 to let me know if you can see an improvement.
Audio / video / home theater gear:
Car gear:
Health gadgets and gear
Withings Sleep tracking mat – I've tried several sleep tracking devices and this one is the easiest and most comfortable because you don't have to wear it or even charge it. It fits under your mattress to automatically track your sleep patterns.
FreeStyle Libre CGM – I've been a pre-diabetic since 2004. I don't take any medications for it and just use the Keto diet, regular exercise, and the FreeStyle Libre wearable glucose sensor. I am 100% sure that this sensor has helped me go from a 5.9 A1C to a 5.4.
Miscellaneous gear:
Flashlights and other EDC tools:
Olight Warrior Mini Seasons flashlight – I was previously using an Olight S2R Baton flashlight and just recently switched over to this new one which I am enjoying because it has 2 switches. one in the tail and one on the grip. I also like that it's rechargeable.
Leatherman ARC multi-tool – This multi-tool has it all except for spring-loaded pliers. Even without that feature, it's the multi-tool that I always reach for. NEW
Gerber MP800 multi-tool – I reviewed this multi-tool back in 2003 and am still using it! I love it because it has spring-loaded pliers and easy to extend Philips screwdriver. Those are the 2 most used tools.
Gear bags, pouches, cases, wallets, and other items of holding:
Bellroy Lite Sling bag – I love this little shoulder bag and have been using it anytime I'm out and about. It's just the right size for my phone, a notebook, pen, lip balm, wallet, key fob. NEW
Bolstr Small Carry 3.0 shoulder bag – This is the small shoulder bag that I like to use when I need more than the Bolstr Aux Pocket can hold.
Bolstr Aux Pocket – I like this super minimal shoulder bag because it doesn't get in the way while holding my bare essentials. It's great for use while on vacation.
Pakt One Carry On Travel bag – My travel bag for road trips.
Open Sea Leather Topsider Mini wallet – I still like the AKEENi XSTO wallet (below), but I've switched to the Open Sea Leather wallet for now because I want to see how it wears (patinas) with time.
AKEENi XSTO wallet – This is my new favorite minimalist wallet because it's small, lightweight, and it's easy to remove and reinsert cards. It also can hold several folded bills under the cards.
Outdoor gear:
OROS Discovery Jacket – I like this jacket because it's comfortable and has a special lining that keeps you warm while still remaining lightweight.
Mujjo Touchscreen Gloves – I just upgraded to their 2018 gloves and love them because they are lightweight but still keep my hands warm while letting me interact with my phone.
RoboReel Power Cord System – Power driven retractable extension cord holder.
Litheli 40V leaf blower – I love this thing. It seems to hold a charge forever.
Home and kitchen:
My most used apps: