We use affiliate links. If you buy something through the links on this page, we may earn a commission at no cost to you. Learn more.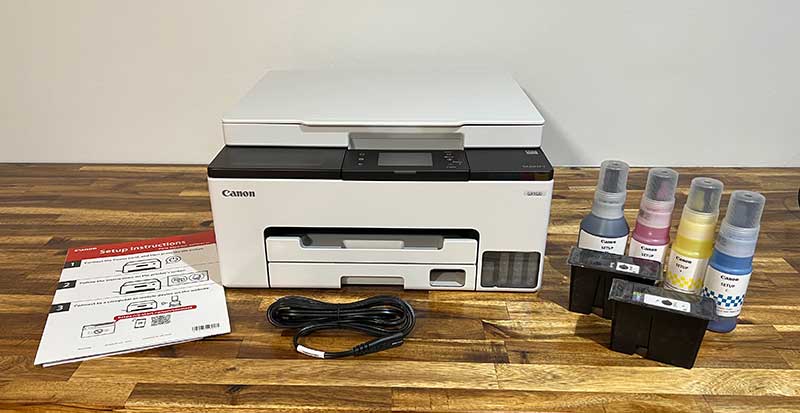 REVIEW – I don't print much these days, but when I do, I want a printer that I can rely on and one that I can use to print on regular typing paper, greeting card stock, and photos. It also doesn't hurt if the printer is able to print 100s of pages before I need to refill the ink cartridges. The Canon MAXIFY GX1020 MegaTank Wireless All-In-One Inkjet Printer does all that and more – or at least that's what the product description claims. Let's test it and find out.
What is it?
Canon MAXIFY GX1020 MegaTank Wireless All-In-One Inkjet Printer is an inkjet printer from Canon that not only prints on regular typing paper, but it can also scan and copy documents. It also features a MegaTank feature which allows you to fill its inkwells with bottles of ink instead of small capacity cartridges.
What's in the box?
Canon MAXIFY GX1020 Wireless MegaTank Home and Office All-in-One Printer
Set Up Ink Bottles (GI-25: BK, C, M, Y)
Documentation
Power Cord
Hardware specs
Click to expand Specs

Print Resolution – Up to 600 x 1200 dpi

Integrated Ink Tanks – Print up to 3,000 BW / 3,000 Color pages using a single set of inks
15 (BW) / 10 (COLOR) Image Per Minute (ipm)
250-Sheet Cassette

Supported Paper / Media Sizes –

Cassette: LTR, A5, B5, A4, 4″ x 6″, 5″ x 7″, 7″ x 10″, 8″ x 10″
Custom Size: 3.5" – 8.5" / Length: 5.0" x 14.0"

Auto 2-sided Printing

Scanning Resolution – 1200 x 2400 dpi (Optical)

Dual Band Wi-Fi (2.4GHz or 5GHz) for stable and reliable connection
ENERGY STAR®, EPEAT Gold
3 Years or 60,000 Pages Limited Warranty
Dimensions: 14.8" x 15" x 7.4"
Weight: Approx. 15.4 lbs.
Design and features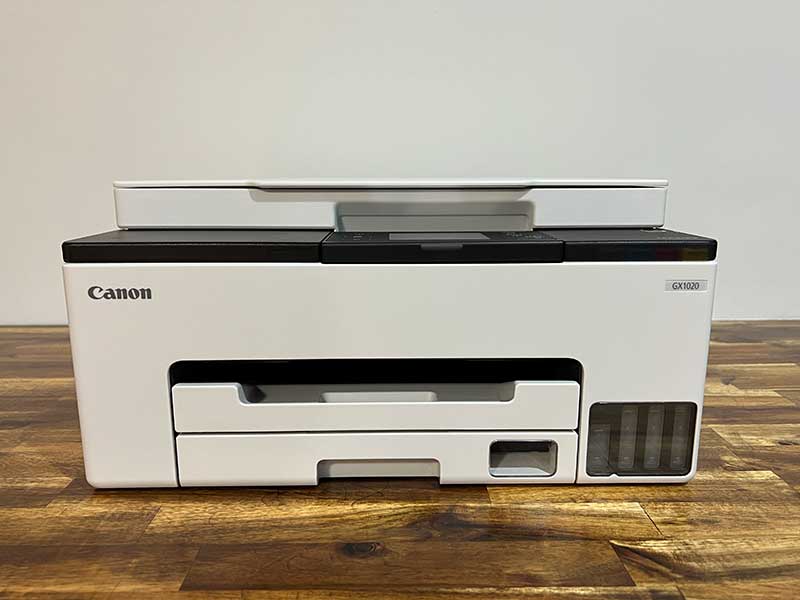 The Canon MAXIFY GX1020 printer is a nice all-in-one compact printer with an off-white and black plastic housing. The front of the printer has an extendable paper output tray with the paper holder cassette below it. Next to the trays is a window that lets you see the ink levels in the ink tanks. This is a convenient feature that allows you to verify the levels by sight vs. what your computer might tell you they are.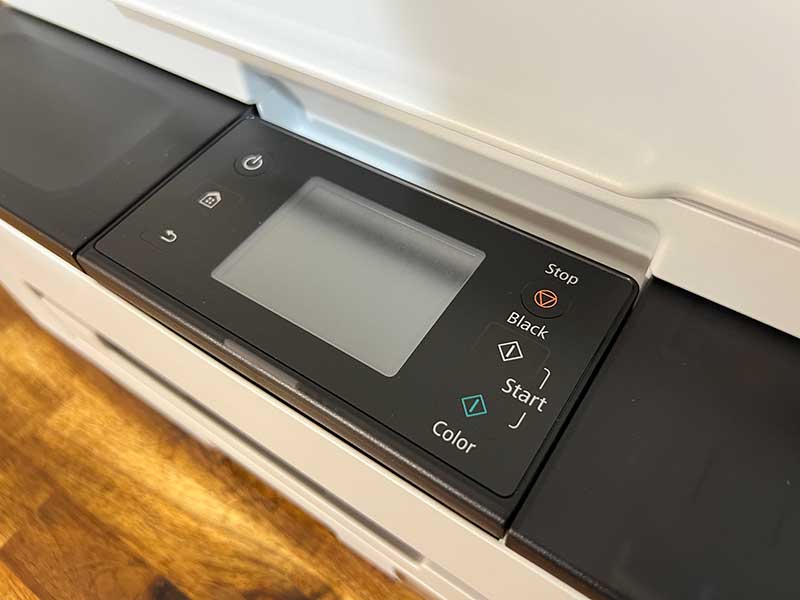 There's a 2.7″ LCD touchscreen on top.
This touchscreen is color and has a panel of control buttons on each side. The angle of the touchscreen can be adjusted for easier viewing. The touch controller works fine, but it could be improved if the buttons on either side of the screen were backlit. As is, it's hard to see the buttons in a dim room and for some reason, I keep pressing the power button instead of the back button, which can be really annoying.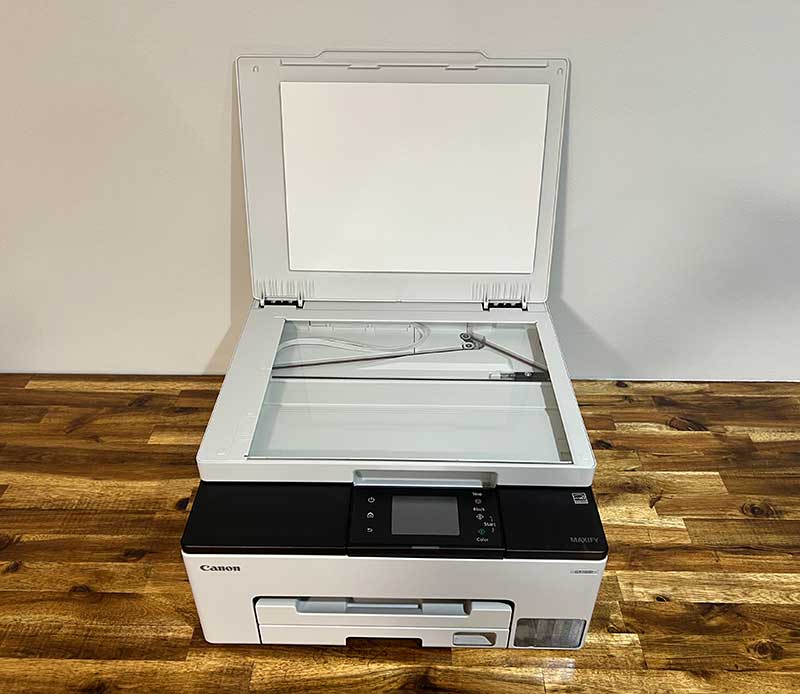 The Canon MAXIFY GX1020 is an all-in-one printer which means you can use it to print documents as well as scan and copy documents. The scanner and copier function is accessed by lifting the lid on the top of the printer and then placing your document on the glass.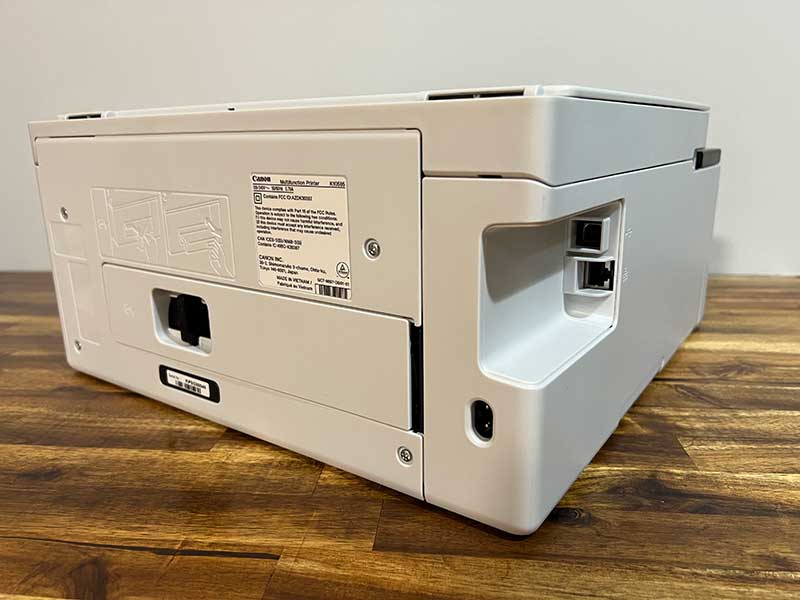 The power port is located on the back of the printer, along with ports for USB and Ethernet if you want to connect to your network with one of those methods instead of WiFi.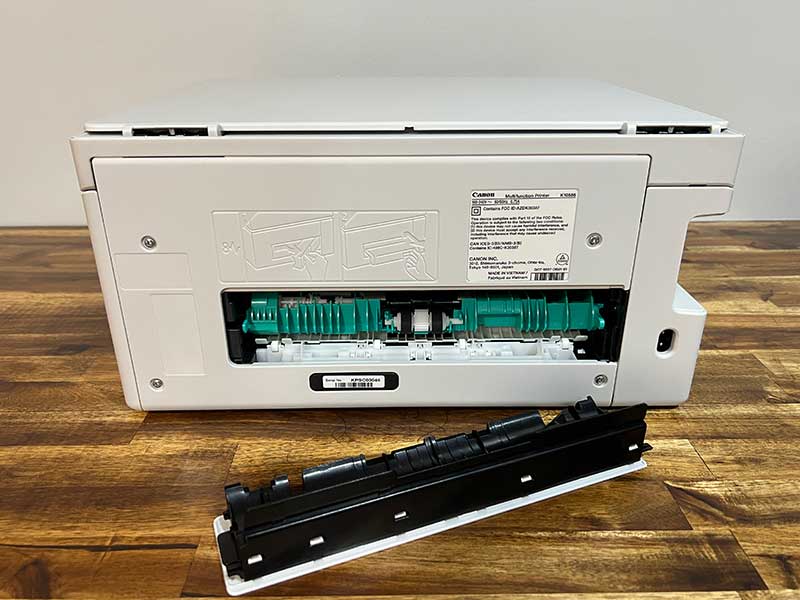 There's also a rear cover that you can remove if you need to clear a paper jam.
Inks and printer heads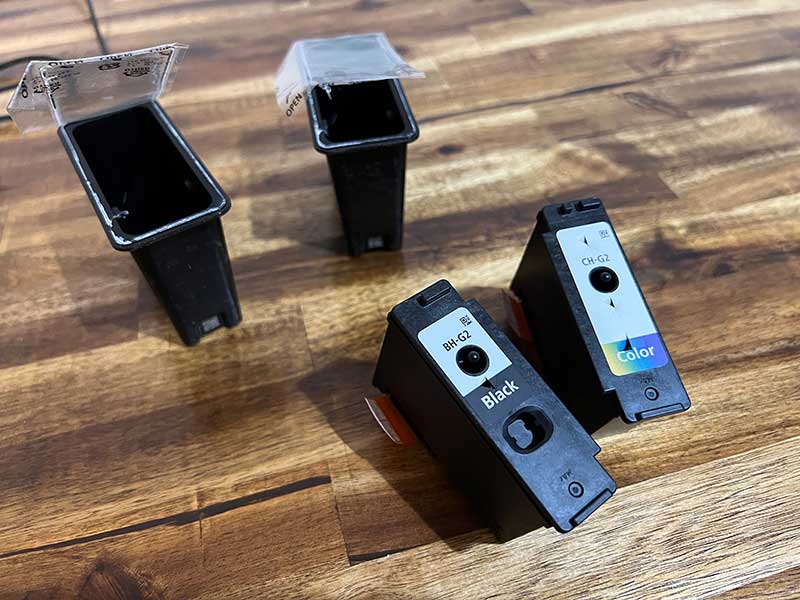 The Canon MAXIFY GX1020 printer is a little different than other inkjet printers that I've used in the past. Instead of buying individual ink cartridges for Yellow, Cyan, Magenta, and Black inks, the Canon MAXIFY GX1020 printer has individual ink tanks that you can refill with bottles of ink. The bottles hold more ink than cartridges, so you can go a long time between needing refills. This printer also uses a Black print head and a color print head that can be replaced.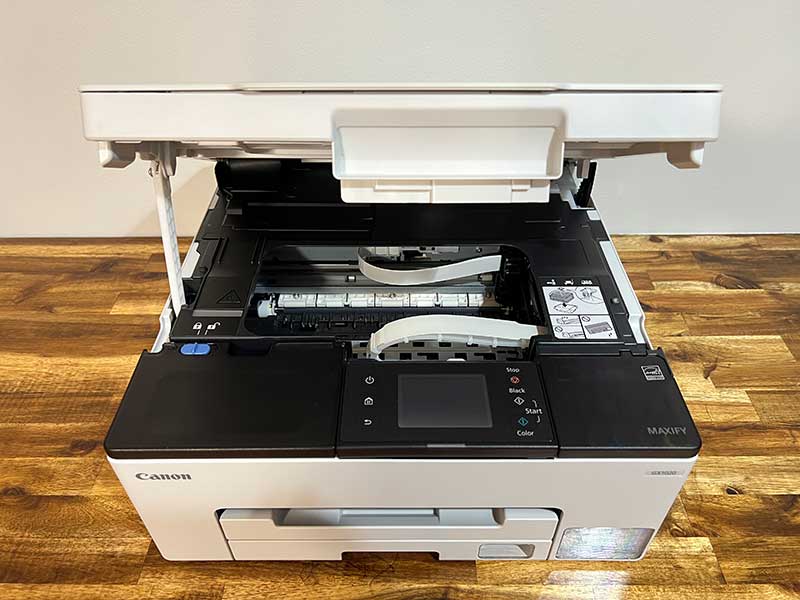 To install the print heads, you lift scanning unit cover.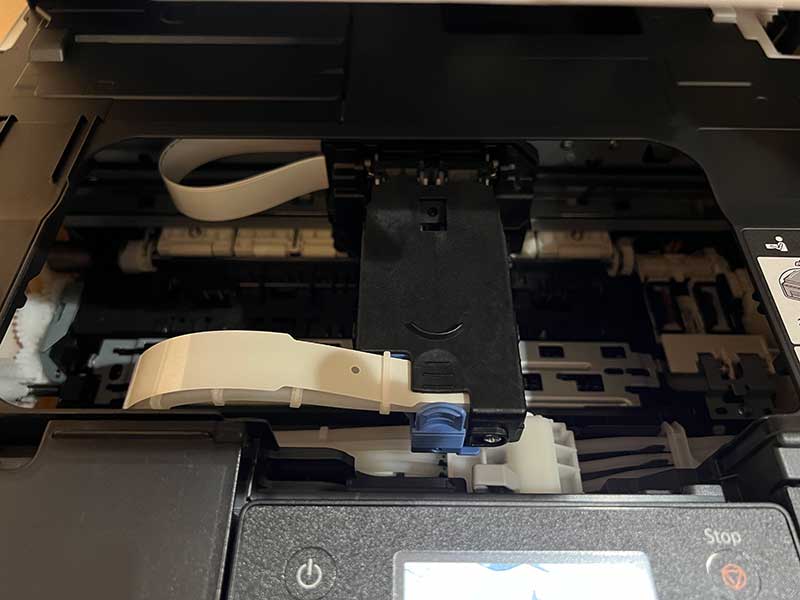 The print head cover is in the center of the picture above. The blue tab locks the cover in place.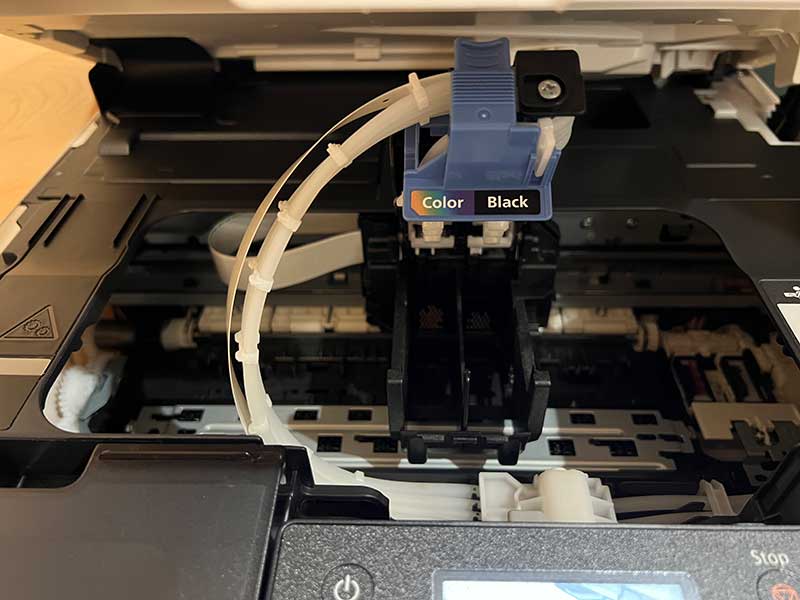 With the cover unlocked, you'll find two slots. One for the color print head and one for the black print head. With the print heads snapped in place, and the scan unit/cover closed, you can go on to filling the ink tanks.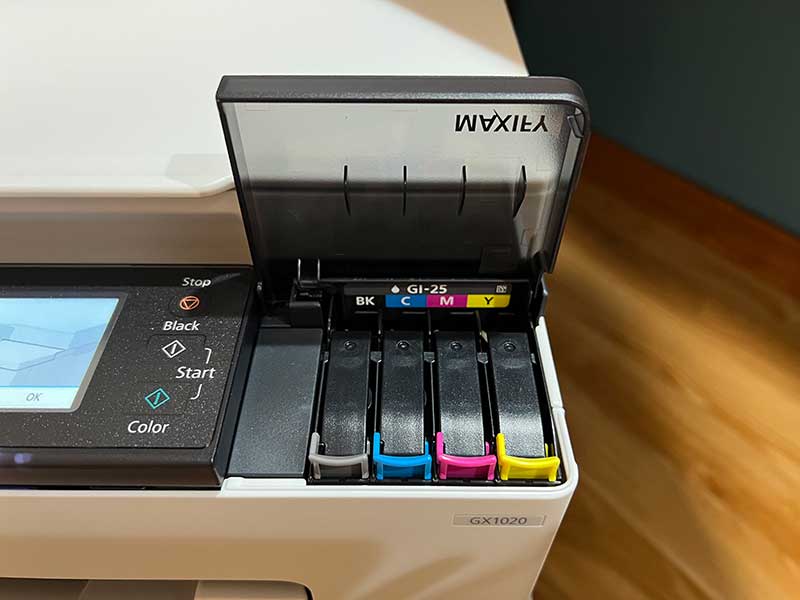 The Canon MAXIFY GX1020 printer has a 4-color pigment ink system that uses GI-25 pigment-based ink bottles (Cyan, Magenta, Yellow, and Black). With the ink tank cover lifted, you can access each tank by opening its cover.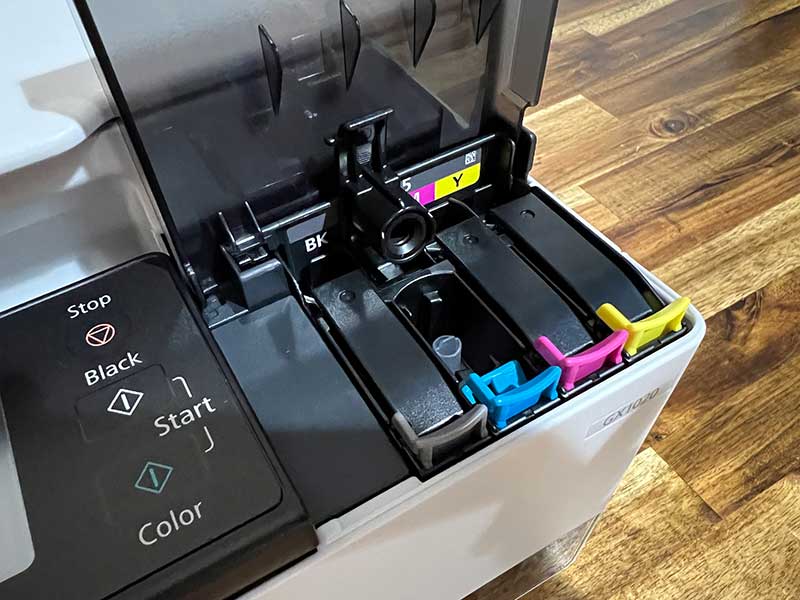 Under each cover is a tube…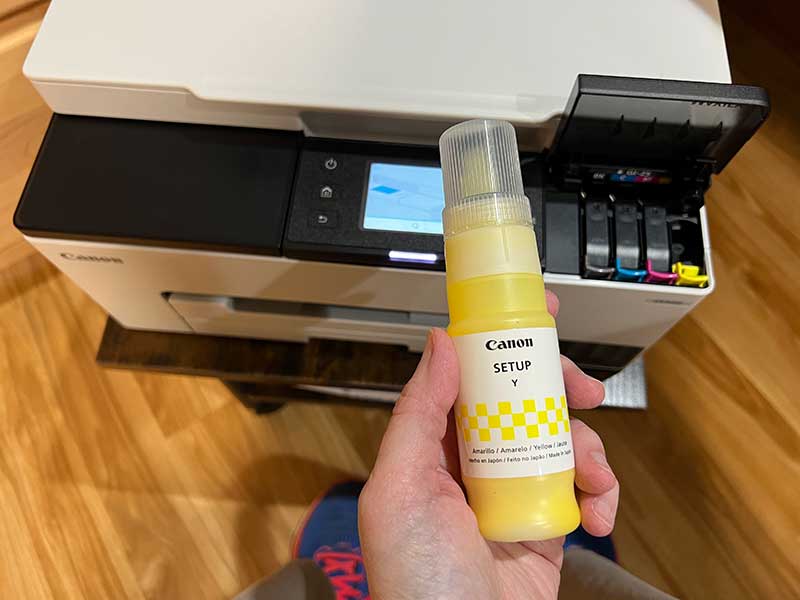 Each ink bottle has a keyed nozzle so it is only above to fit in the correct ink tank.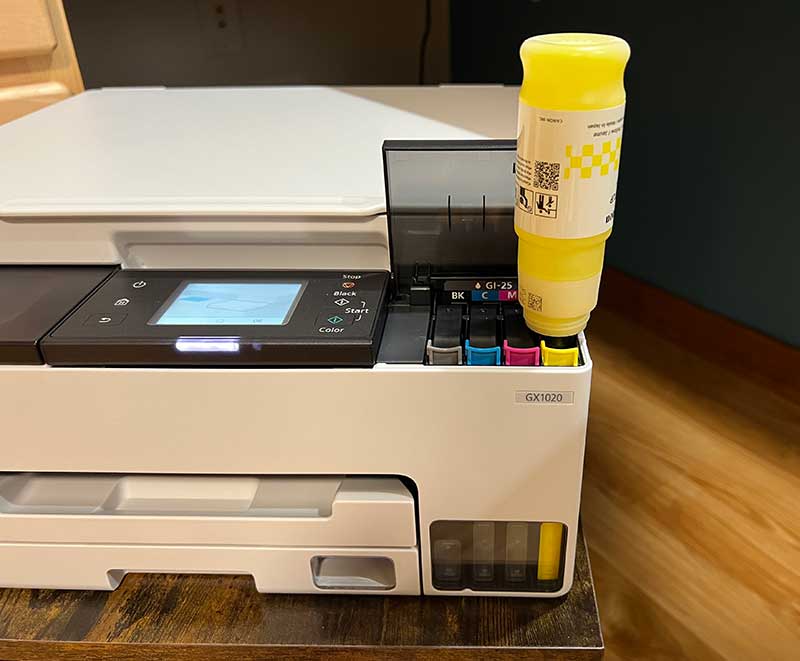 Remove the lid, place it in the correct slot, and it will empty into the tank. It's easy and there's no mess!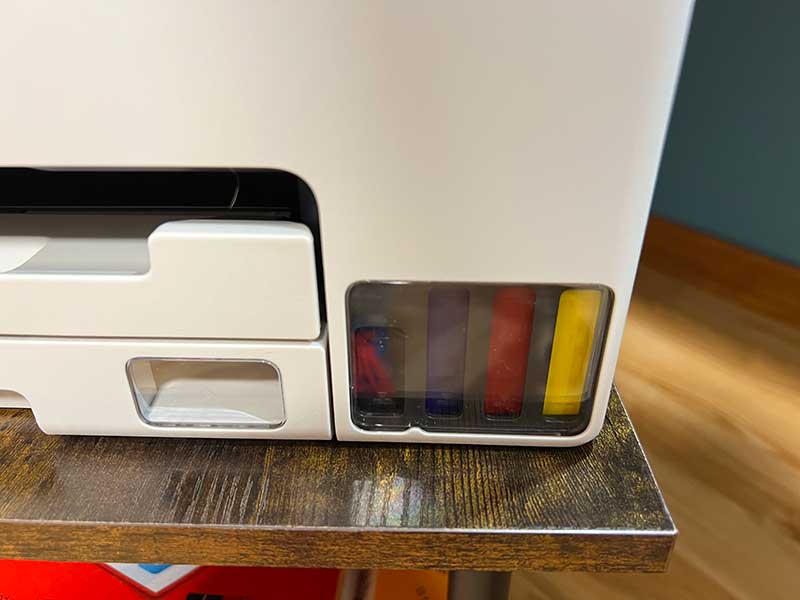 A single set of ink bottles provides enough ink to print up to 3,000 black or 3,000 color pages.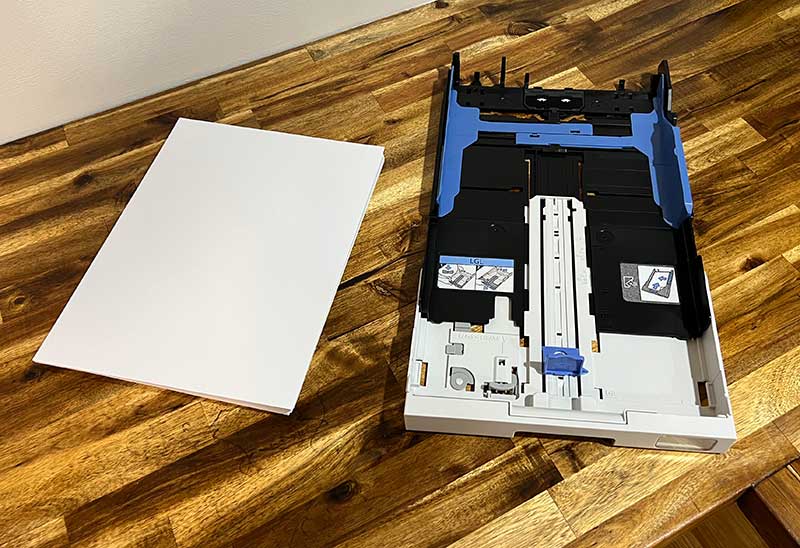 You'll need to load paper into the 250-sheet capacity paper cassette tray to print.
The cassette has levers that you can move to allow you to print on envelopes, business cards, high-resolution paper, and more.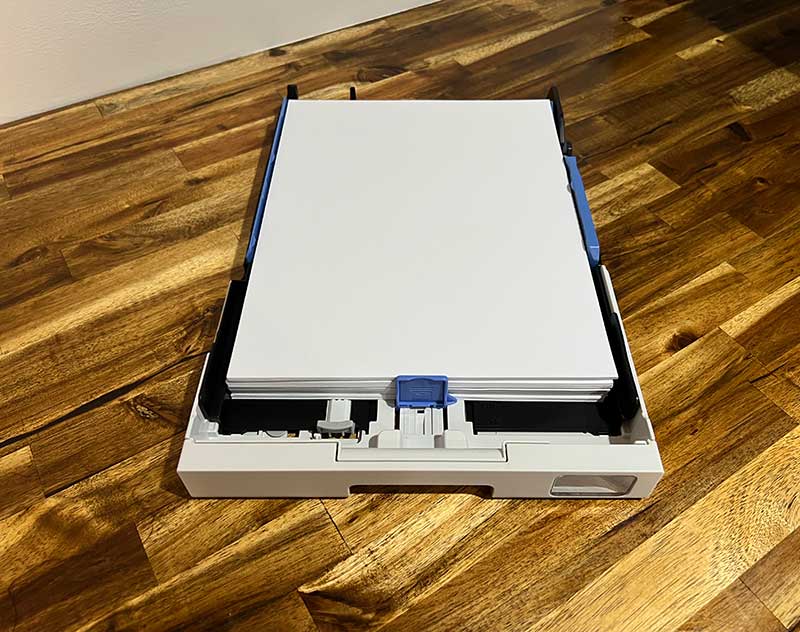 After you've filled the paper cassette with paper, it's time to print something! But of course, the first step is to configure the printer for your computer. I tested with the Canon MAXIFY GX1020 printer and two MacBooks via WiFi.
Initially setting up the printer for the first time was amazingly easy and I was printing documents within minutes of unboxing it. But then the next day it wouldn't print and kept saying it wasn't connected. I checked the touchscreen which shows the wifi status and it was showing as not being connected. I tried rebooting it but no luck. So resorted to deleting the printer and setting it back up from scratch. It seems to be working better now, but I continue to see that it's not able to connect to my wifi. I think the internal antennas must be pretty weak.
I was going to connect the printer to my MacBook using USB, but the printer needs a USB host cable and one isn't included with the printer. Boo!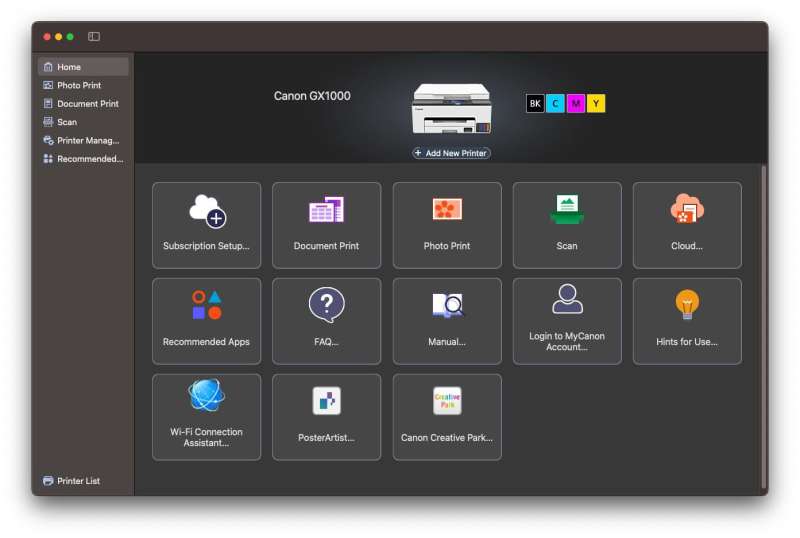 The printer software makes it easy to use the scanning features which is one of the first things I tried.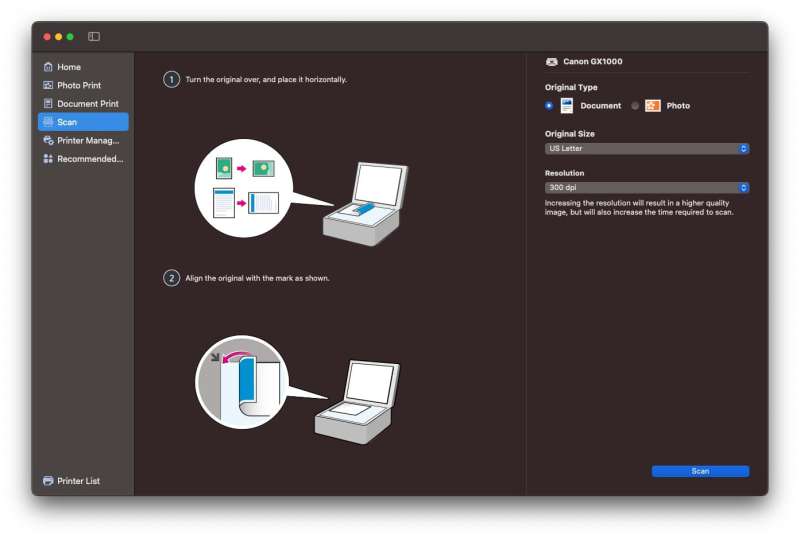 The Canon software gives you pointers on how to line things up, which is obviously not what I did if you look at the image below 😉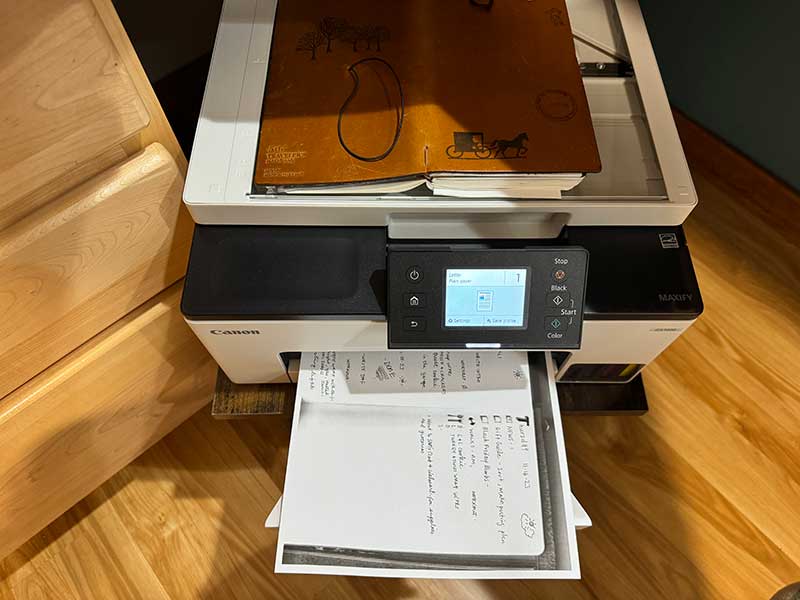 The scanner cover is a floating cover which means that you can scan thicker objects like my Traveler's Notebook journal that I reviewed over 12 years ago.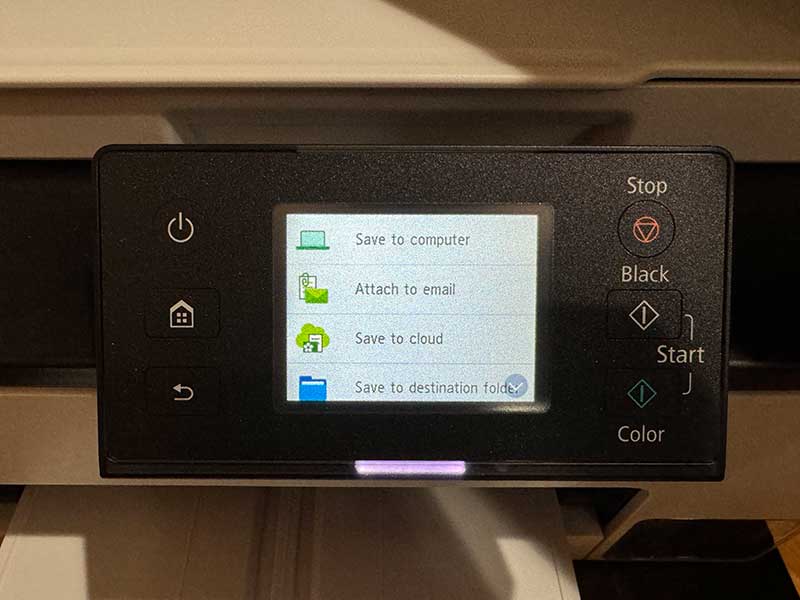 You can initiate scans through your computer or the printer's touchscreen. I prefer to do it through the computer because it's easier to save the scan right to my computer.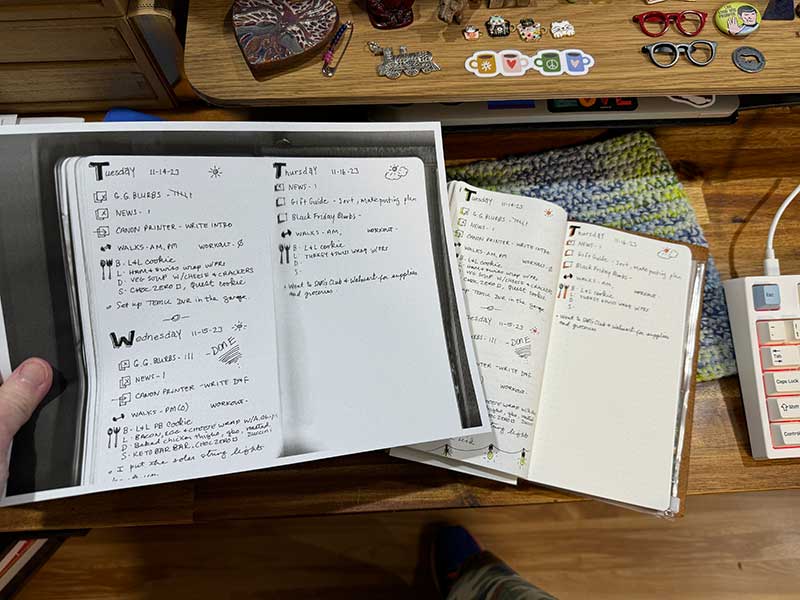 I scanned this one as B&W, but scanning/copying documents with color works just as well.
As far as printing documents that you send to it from your computer, the print quality is very good, but the print speed is pretty darned slow, especially if you want to print double-sided because it will print one side and then pull the paper back into the printer to print the other side. I think the Canon MAXIFY GX1020 printer works fine for a home printer, but I wouldn't want to use it for big print jobs due to the speed.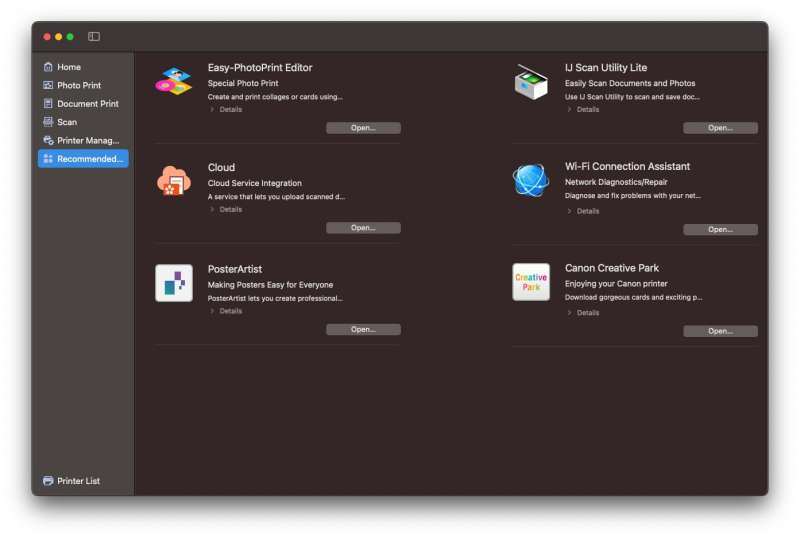 You can also use the Canon software to create posters and other creative things through their PosterArtist and Creative Park web apps.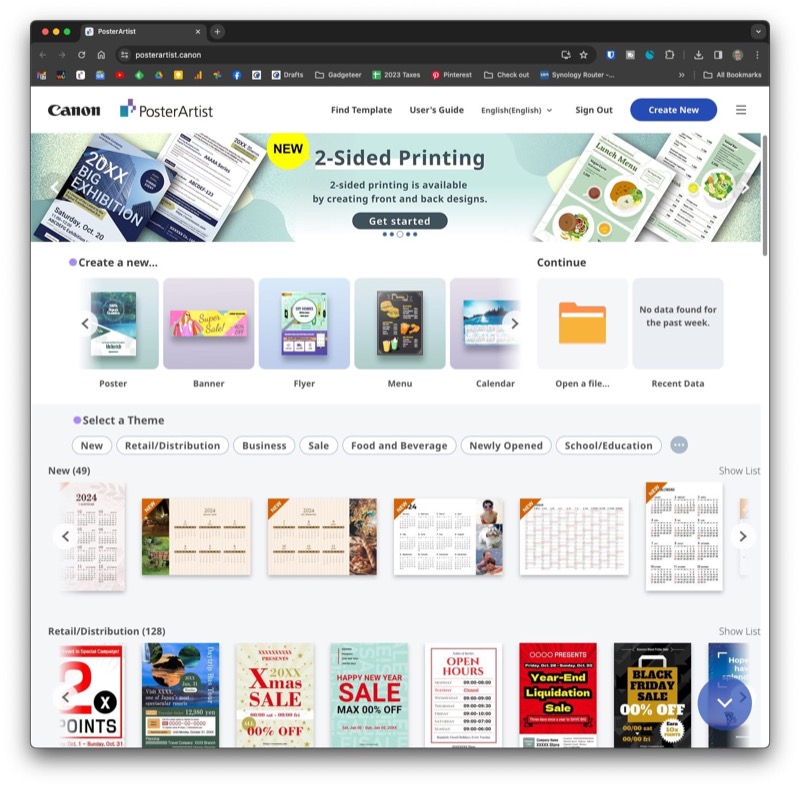 The PosterArist will let you choose from a large variety of ready to print things like calendars, or you can create your own things. It reminds me a little bit like Canva, but it's free.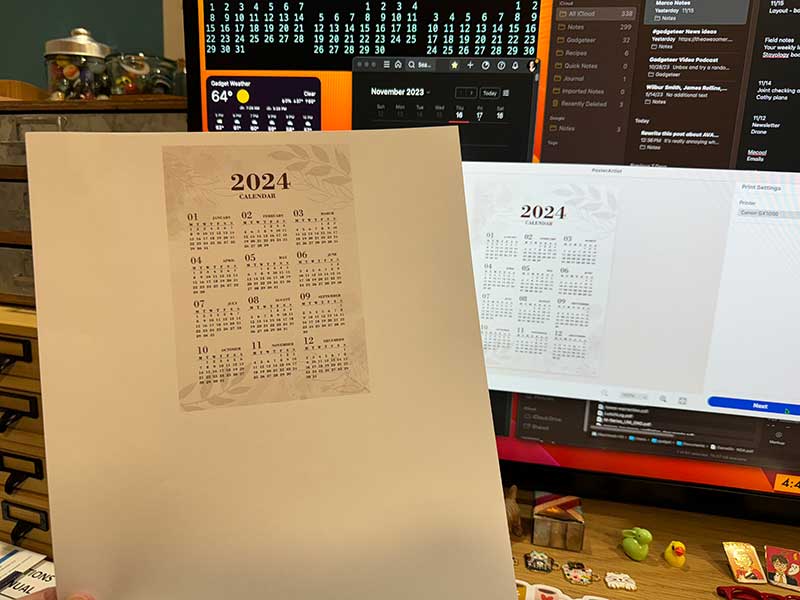 Here's an A6-sized calendar I can cut out and put in one of my other journals.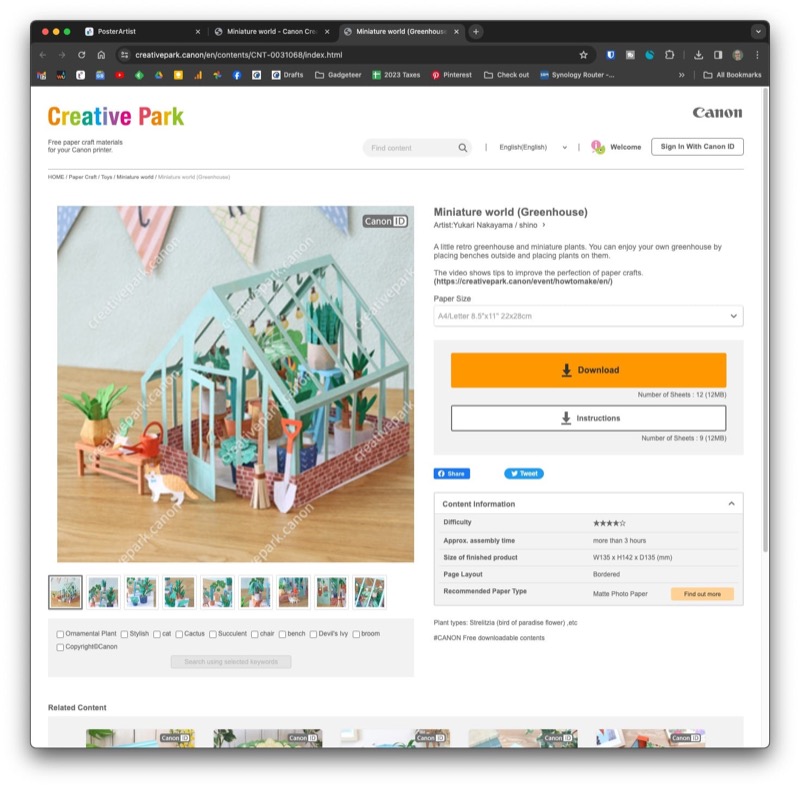 The Creative Park web app has projects like this print and assemble greenhouse. These projects would be fun for parents to do with their kids on a rainy day.
I didn't get a chance to try printing on photo paper because I didn't have any at the time of this review.
What I like
Compact all-in-one printer, scanner, copier
Uses ink tanks instead of cartridges. Comes with enough ink to print up to 3000 black or color pages
What I'd change
Add backlighting to the touch buttons on the touch controller
Print speed needs to be improved
WiFi connectivity isn't very strong
Need to include a USB cable
Final thoughts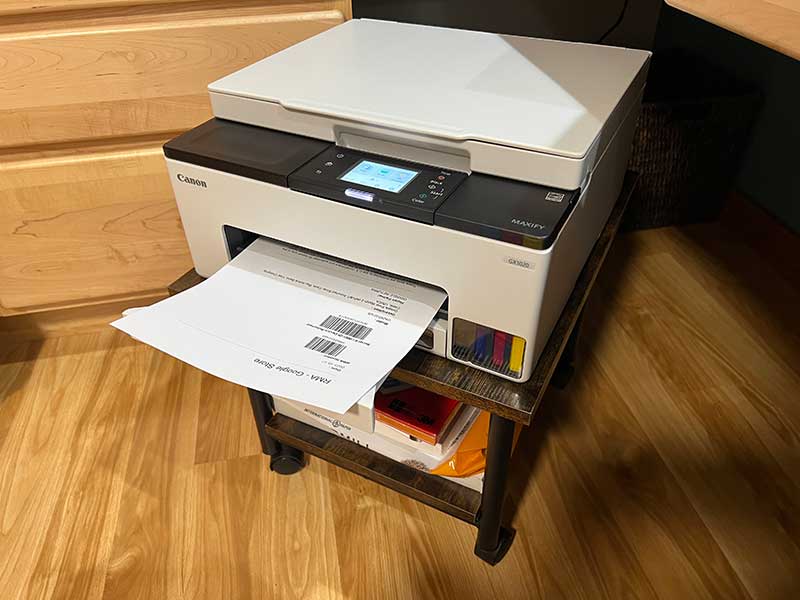 For home use, the Canon MAXIFY GX1020 printer is a nice compact printer with a nice selection of features that include scanning and copying. I had a few issues with WiFi connectivity which may be an issue for others if their WiFi router is 2 floors above them like mine is 🙂 But other than that, I like the GX1020 because it's small, can scan, and hopefully the ink will last a lot longer than other inkjet printers that I've used in the past.
Price: $299.99 / Print heads $25.39 – $33.99 / Ink bottles $9.99 – $14.99 each
Where to buy: Canon and Amazon
Source: The sample for this review was provided by Canon.