We use affiliate links. If you buy something through the links on this page, we may earn a commission at no cost to you. Learn more.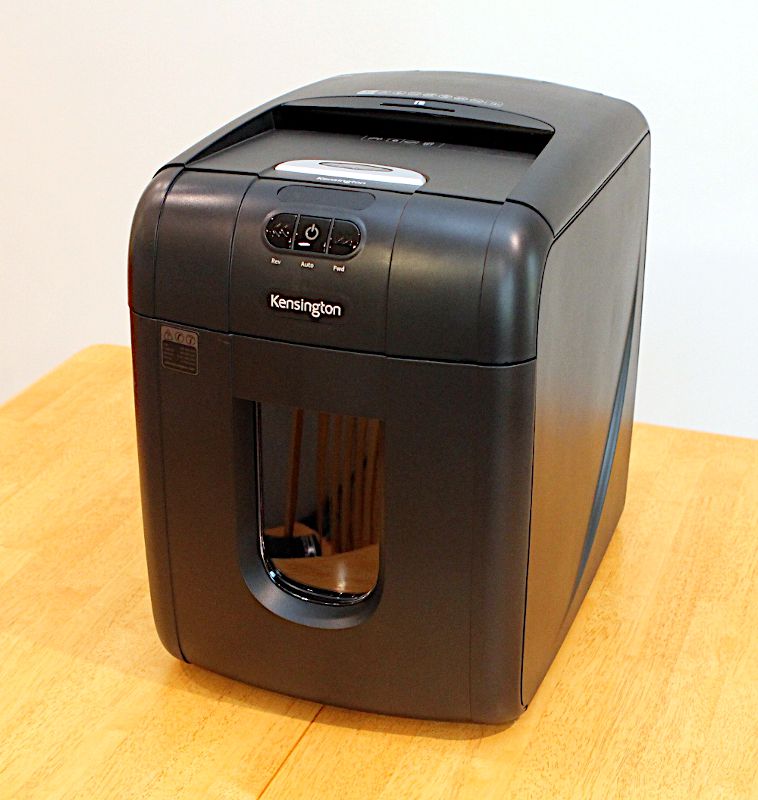 REVIEW – Frederick Lancaster originated the concept of a paperless society way back in 1978.  Over forty years later, and we're still not there.  To be fair, we use a lot less paper in our family than we used to, but there always seems to be some piece of paper that we get that's too important to throw away:  tax documents, the pile of papers that we signed when we bought our house, various bills, investment information, and so on.  Every once in awhile, my wife and I decide it is time to clean out our home offices and get rid of a bunch of paper, and that's when we break out our little shredder.  It's one of those cheap ones from Office Depot, and while it mostly works ok, it's a bit of a pain.  It can only do one sheet at a time, I have to pull out all the staples first, and it's forever getting jammed.  I am hoping that those days are behind us, now that I have the OfficeAssist A1300 shredder from Kensington.
What is it?
The OfficeAssist A1300 is a shredder designed for small offices and home offices.  It has an automated paper feed that can handle 130 sheets of paper at a time, a manual feed that can handle 6 sheets at a time, a credit card shredder, and a bin that can hold seven gallons of shredding.
What's in the box?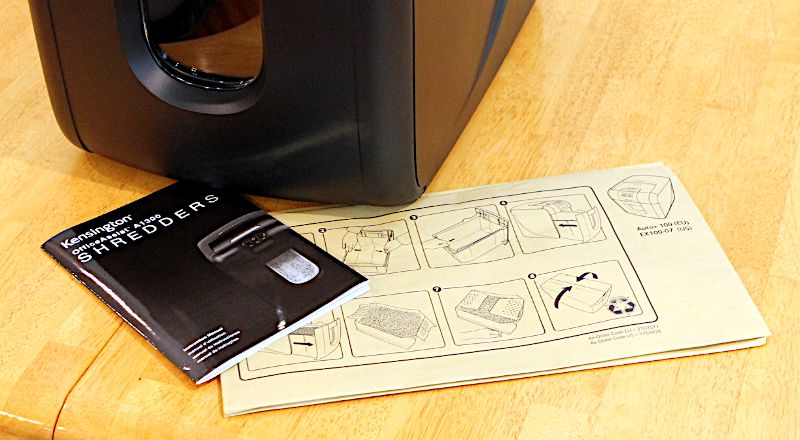 The shredder
A manual with 8 pages of English instructions
A paper bag for holding the shredding
Hardware specs
130-page auto feed
6-page manual feed
P-4 Security Rating
10 minutes continuous run time
7-gallon bin
59 decibel noise level
28.2 pounds
16.5 x 12 x 16 inches
Design and features
My first impression upon opening the box was, "Wow!  That's really big!"  At over 16 inches in height and 28 pounds in weight, the A1300 is no slouch.  It's made almost entirely of black plastic and has slots on top for inserting paper and credit cards and a window on the front to see how full the bin is.  It looks like a cross between a home-sized shredder and a laser printer, only bigger.
Installation and setup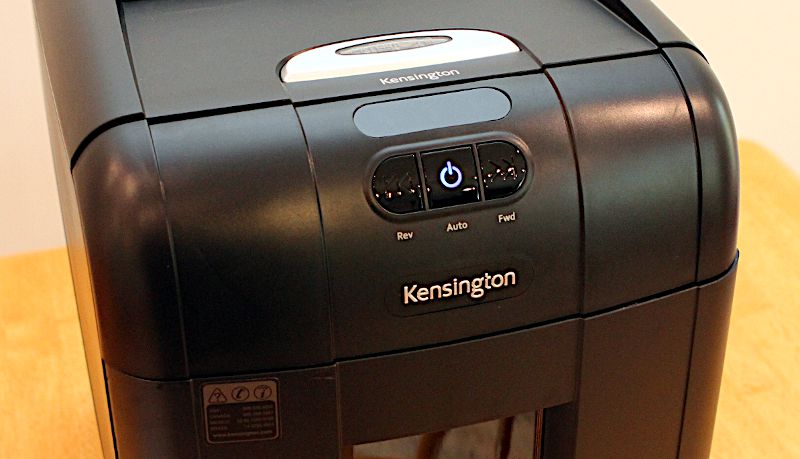 There's not much to do to set it up.  I pulled off various bits of protective plastic wrap, plugged it into an outlet, turned on the power button in the back, and then turned on the auto button in front.  The shredder was ready to go.  I then read through the manual to get a sense of its features.
Performance
Let me go ahead and let the cat out of the bag:  The A1300 exceeded my expectations!  It handled everything I threw at it, far better than the home shredders I've used in the past.
To start, I began feeding individual pages through the manual entry feed slot on top.  As I would expect, it shredded them without any problem.  I put together a stack of six sheets and fed them all at once.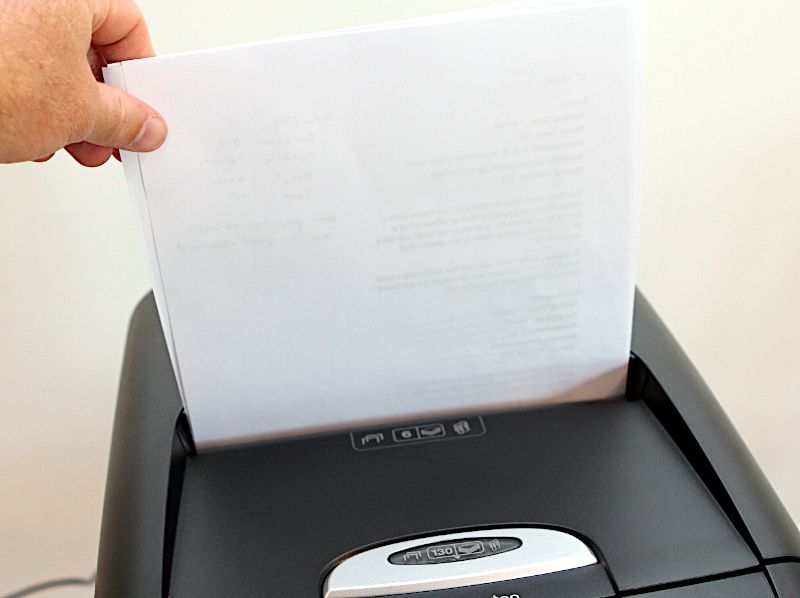 I stapled together six sheets and then fed them in.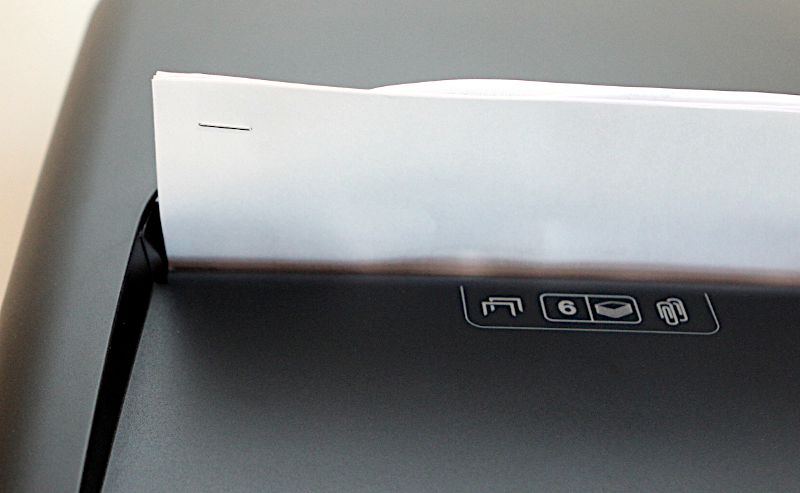 It simply chopped up the staple as if it were more paper.  That's so cool.  Gone are the days where I have to meticulously pull every staple from every piece of paper before putting it through the shredder.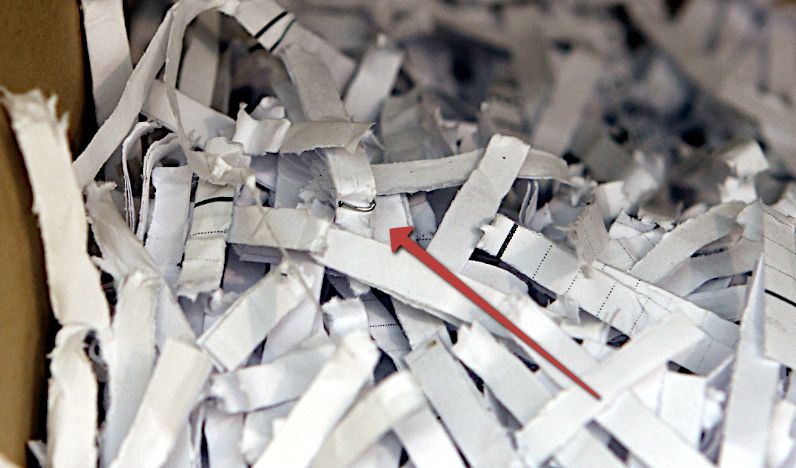 I also tested a manila envelope, one with the metal clasp on top.  Easy.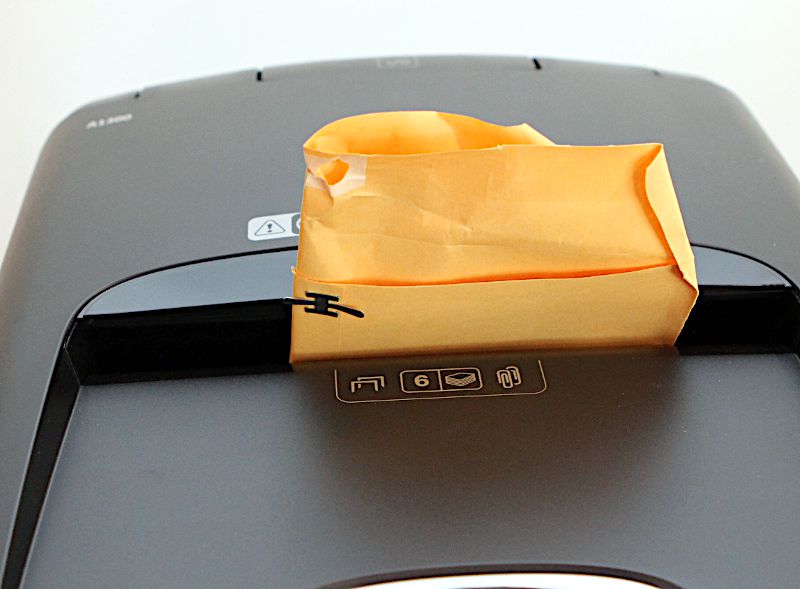 The final test?  I put a paperclip on six sheets and then manually fed them.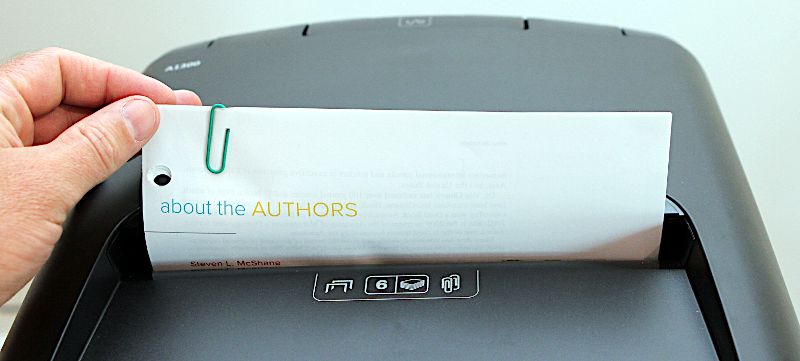 It ate right through it.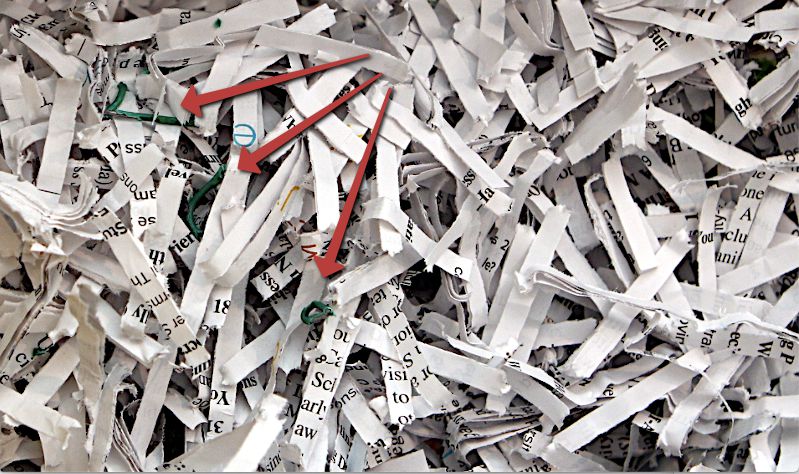 When new credit cards come, it's always a bit of pain around our house to find the shears and cut the old ones into little pieces.  The A1300 has a small slot on top for feeding credit cards.  I didn't have a spare card at the moment, so I found an old driver's license, which is about the same thickness.  I popped it into the slot, and it shredded it easily.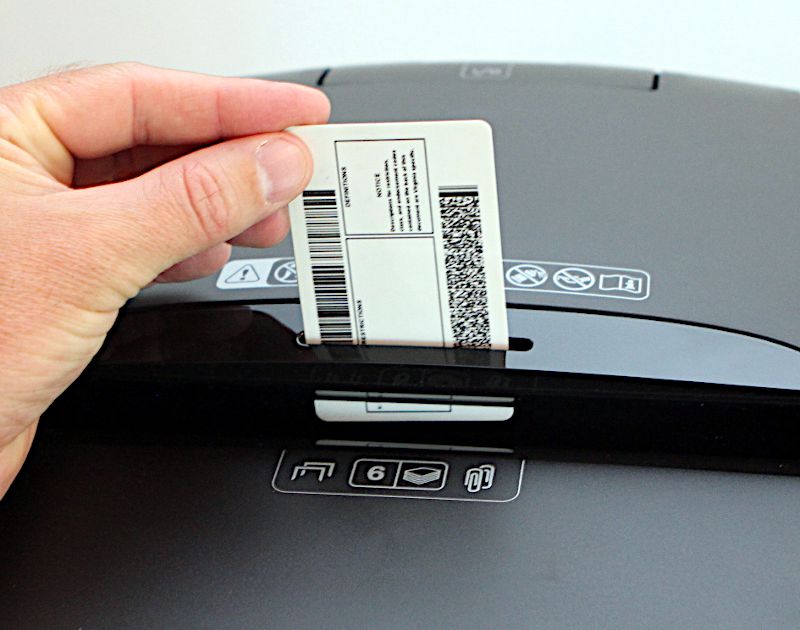 The final test was the auto shredder.  I grabbed a hundred sheets of paper from one of my daughter's old college classes, pressed the button on top that opens the feeder, set them in, then pressed the lid closed.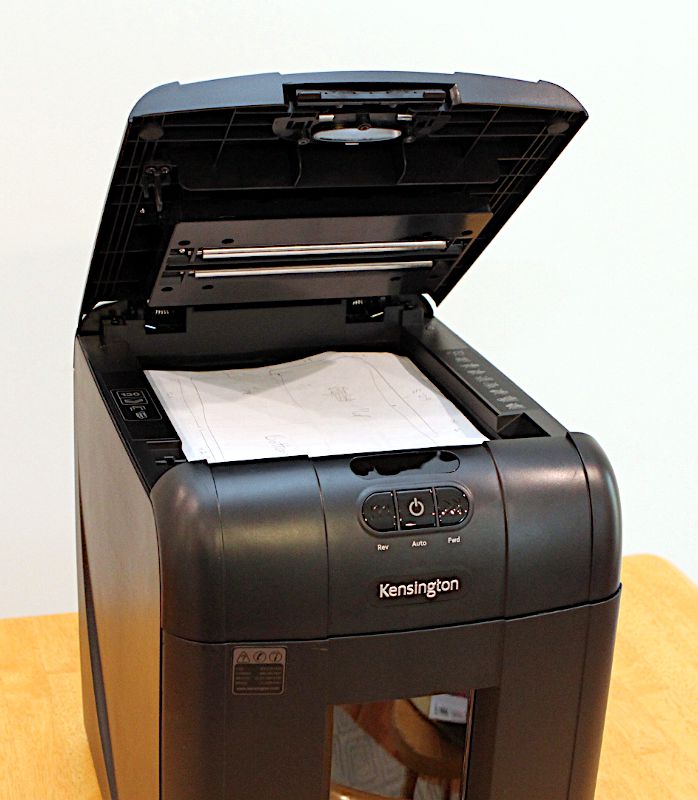 Away it went!  The A1300 began shredding them upon one at a time.  Major convenience!  There's no need for me to sit there and laboriously feed it one at a time.  The second batch that I tried got jammed when there were about ten sheets remaining.  The A1300 senses when it's jammed and turns on the red jam indicator.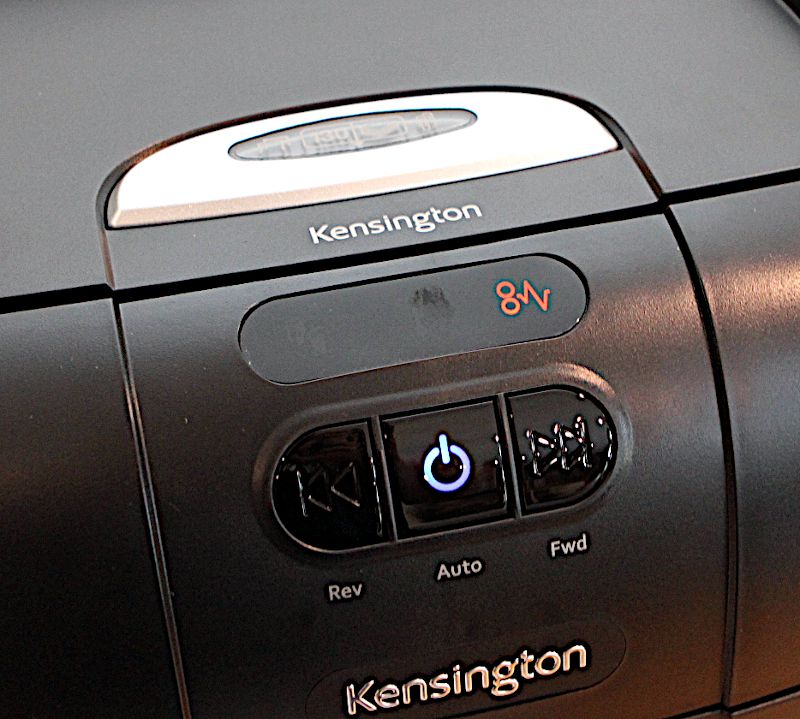 It then moves forward and back, trying to clear the jam; it worked and cleared the jam, although the paper was so torn up that I will have to manually feed them to be finished.  I can also press the forward and reverse buttons in order to manually free any jams.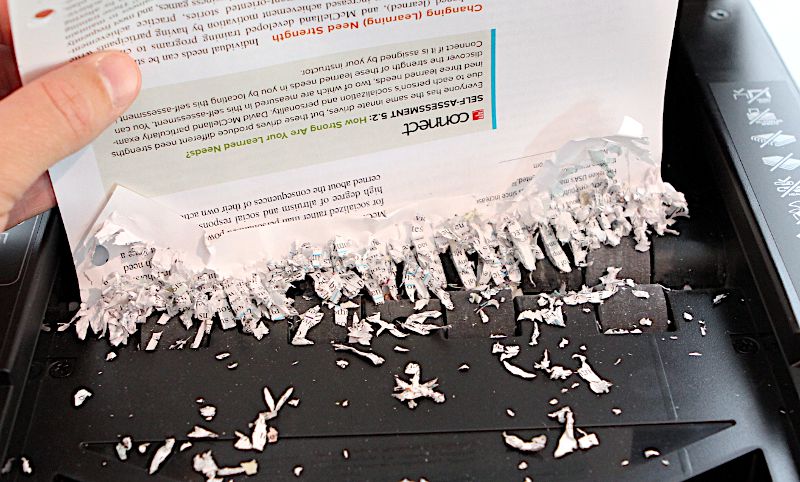 I timed the A1300 with a hundred sheets, and it took 3 minutes and 21 seconds, which averages to about 2 seconds per sheet.  That's pretty fast, certainly faster than doing it one at a time by hand.
The A1300 is only moderately loud, not really any worse than any other shredder I've used.  I can still carry on a conversation while sitting next to it, but if you plan to use it in an office environment, you'll probably want to use in a room with a closed door.  As you might expect, the shredder can generate some heat.  If you use it for more than 10 minutes continuously, and it gets too hot, it will turn on a temperate warning indicator.  If this happens, simply turn it off, wait 30 minutes for it to cool down, then continue shredding.
Extra Features
The A1300 comes with one recyclable bag that makes it easy to dispose of shredding with a minimal amount of mess.  When I followed the instructions on the side of the bag, it fit perfectly in the bin.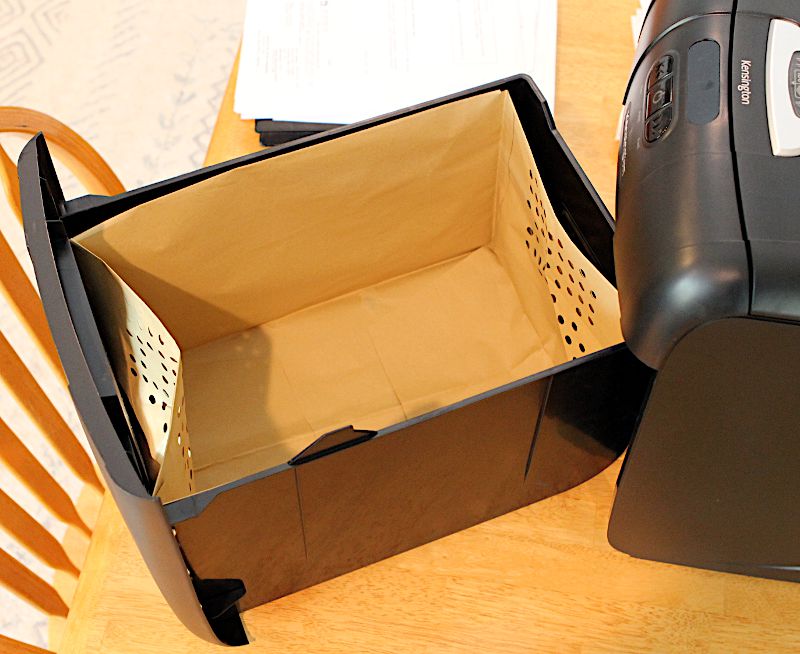 Once it was full, I simply had to pull it out, fold the flaps on top, and use the built-in adhesive strip to seal it.  The A1300 only comes with one bag, and I could not find anywhere to order replacement bags; I assume that they will eventually have a link on their website.  In the meantime, you can simply empty the shredded paper into any trash can.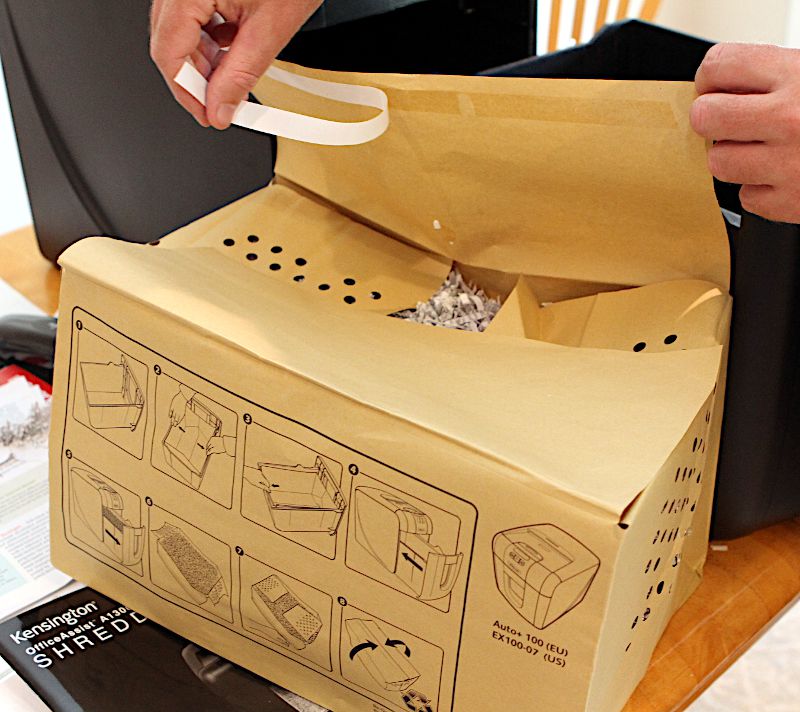 The A1300 comes with a small, plastic window in front.  When I'm not using a bag, I can easily see when the bin is full and needs to be replaced.
What I like
Powerful enough for staples and paper clips
Large automatic paper feeder
Slot for credit cards
What I'd change
Final thoughts
I really like this shredder from Kensington.  It does a great job shredding paper without the need to remove staples and paper clips.  The automatic feed is a great convenience, able to shred over one hundred sheets of paper at a time.  At $299.99, the A1300 isn't exactly cheap, but if you have a home office or work in a small office where there's a fair amount of paper, I think it's worth the convenience and time savings.  If you're in the market for a shredder for your office, take a look at the A1300.
Price: $299.99
Where to buy:  Amazon or Office Depot
Source: The sample for this review was provided by Kensington.