We use affiliate links. If you buy something through the links on this page, we may earn a commission at no cost to you. Learn more.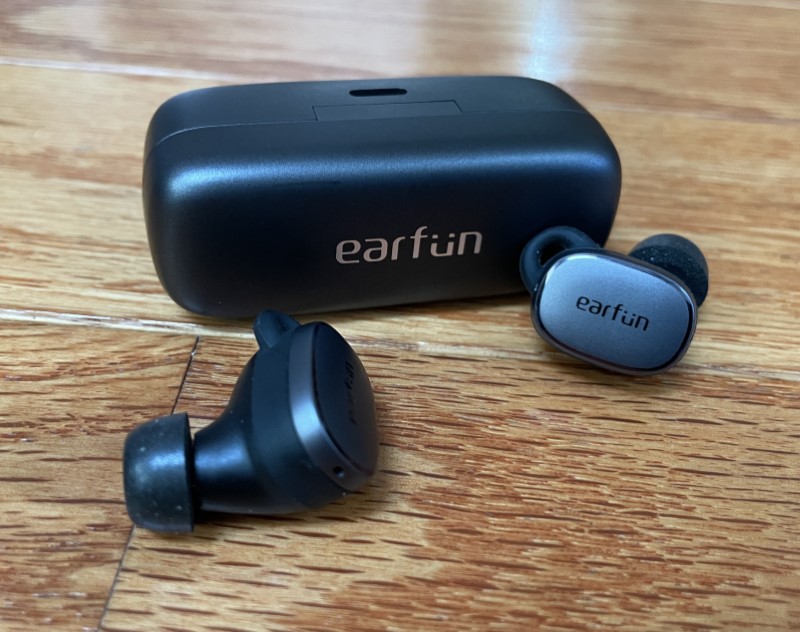 REVIEW – I reviewed the previous version of Earfun's Free Pro 2 earbuds (you can read it here) and have been my go-to preference since. I love the small case, they fit my small ears well, have great sound, and the active noise canceling is indispensable when I'm riding the lawn mower. I was excited to hear (pun intended) they were releasing an updated version. Shall we have a closer look at the new and improved Earfun Free Pro 3 Earbuds?  Let's go!
What is it?
The Earfun Free Pro 3 is a set of rechargeable wireless earbuds with Active Noise Cancelling for listening to audio using Bluetooth radio signals from a compatible device.
What's in the box?
Earfun Free Pro 3 Bluetooth Earbuds
Charging case
Five pairs of silicone eartips
One pair of foam ear tips
USB-A to –C charging cable
Three pairs of ear hooks
User manual and documentation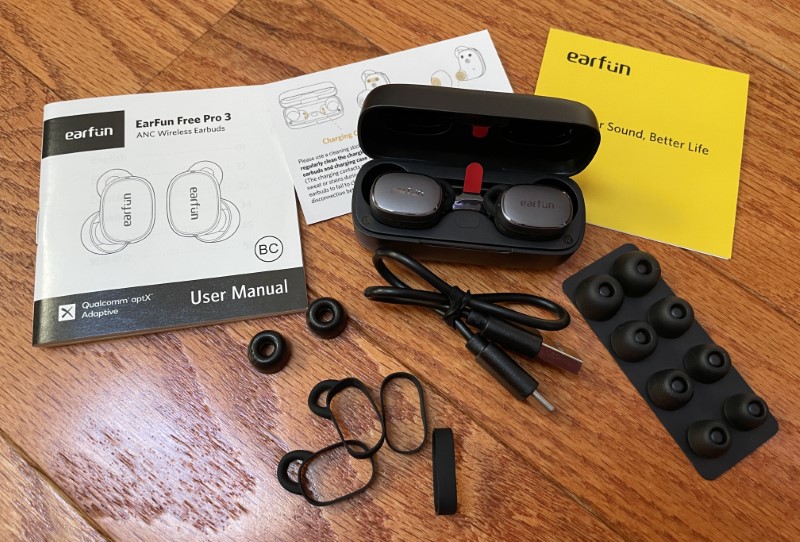 Hardware specs
Model: Earfun Free Pro 3
Bluetooth version: 5.3
Bluetooth frequency: 2.402 to 2.480GHz
Bluetooth transmitter power: >7bDm (for EU)
Maximum working range: 15 meters without obstacles
Charging time:

Earbuds: 1.5 hours
Case using USB-C: 2 hours
Case using wireless inductive charger: 3.5 hours

Playtime:

Active noise canceling off: Up to 7.5 hours, 33 hours with the charging case (varies with volume level and audio content)
Active Noise Cancelling on: Up to 6 hours, 27 hours with the charging case (varies with volume level and audio content)

Input power: 5 volts, 1 Amp
Dimensions: 67 x 26.5 x 30mm
Weight: 41.5 grams
Available in black, white, and blue
Design and features
The Earfun Free Pro 3 Bluetooth Earbuds arrived in an attractive "stocking stuffer" sized box.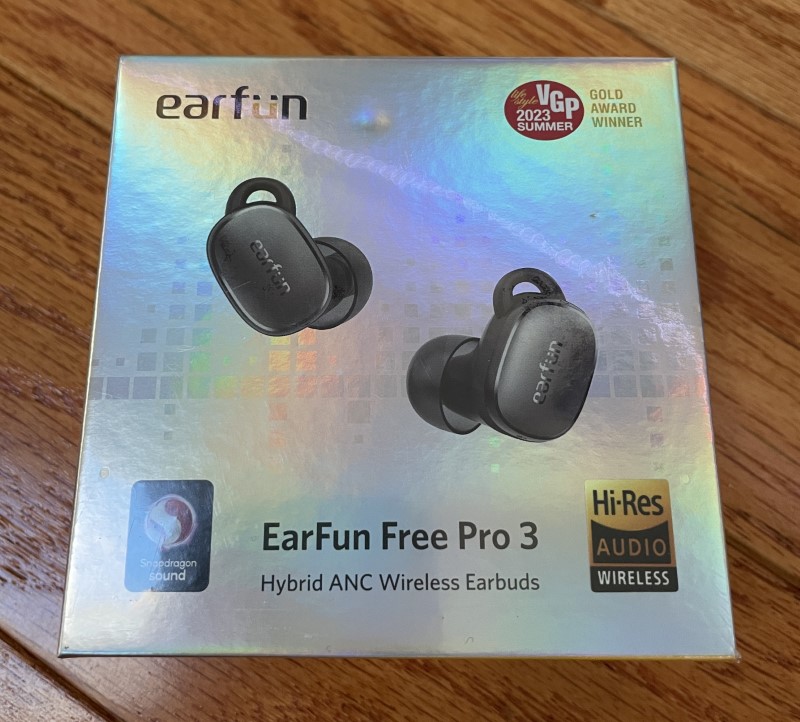 The packaging does a good job of protecting the goodies.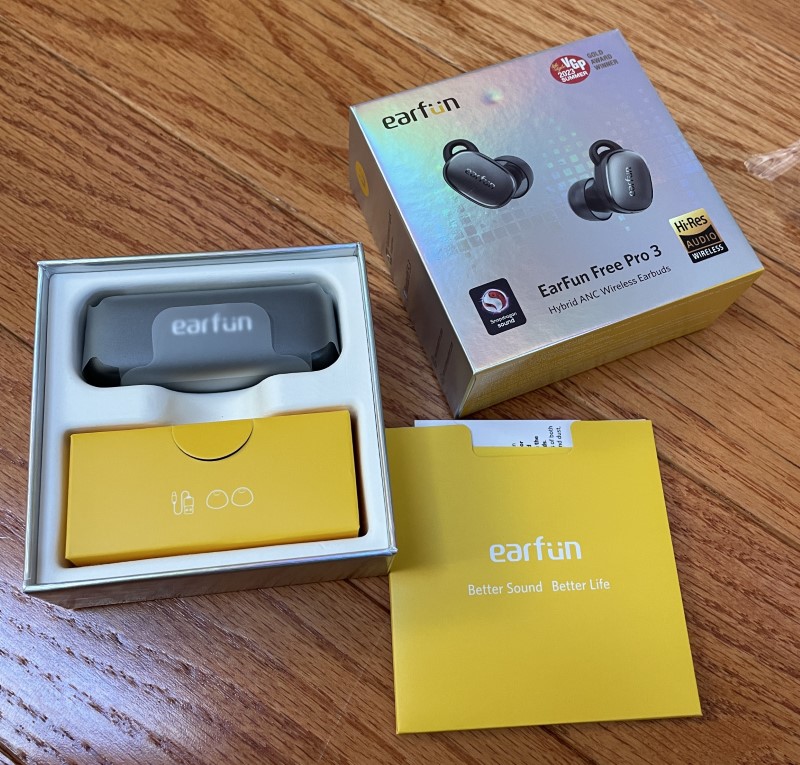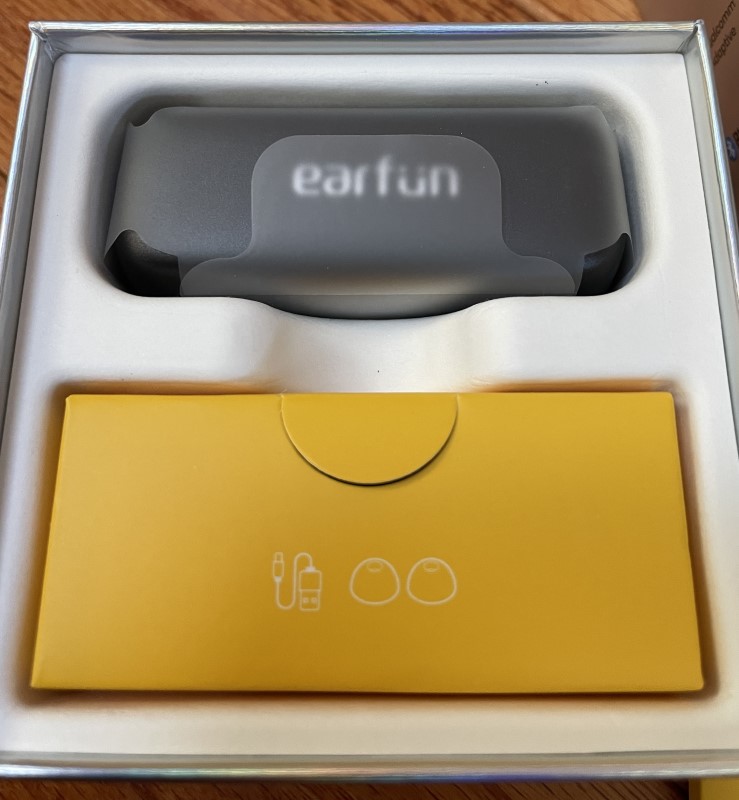 The Pro 3 case (right) is just a wee bit bigger than the Pro 2s (left) and is still just as pocketable.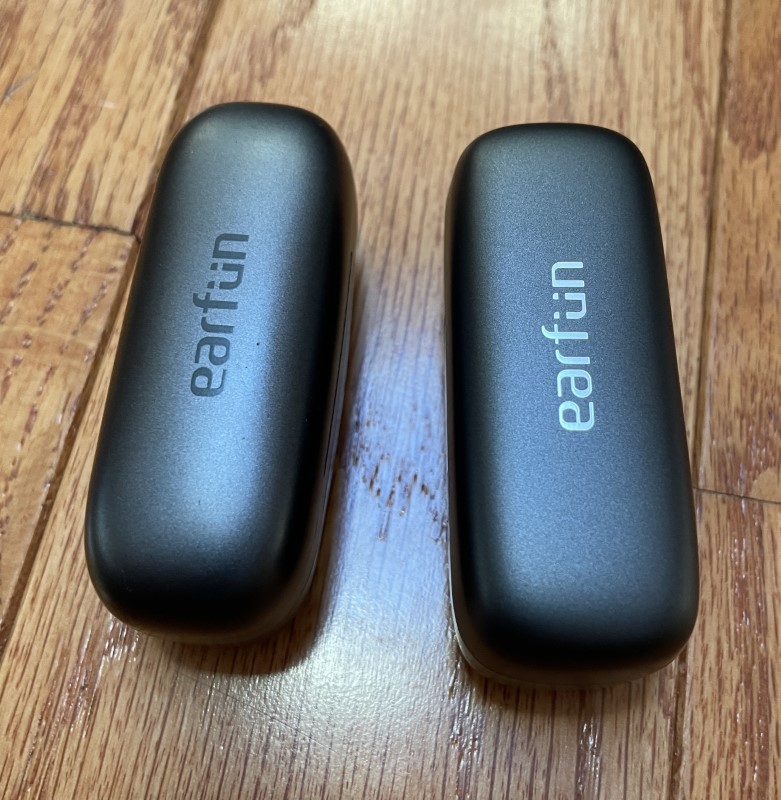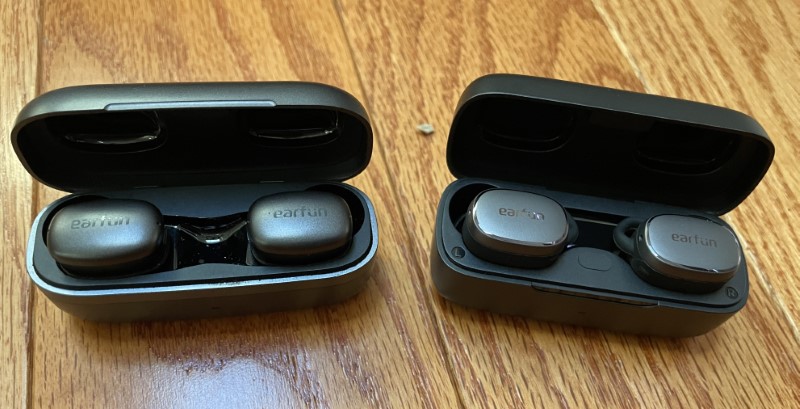 The following photos show the Pro 2 earbuds on the left and the new Pro 3s on the right.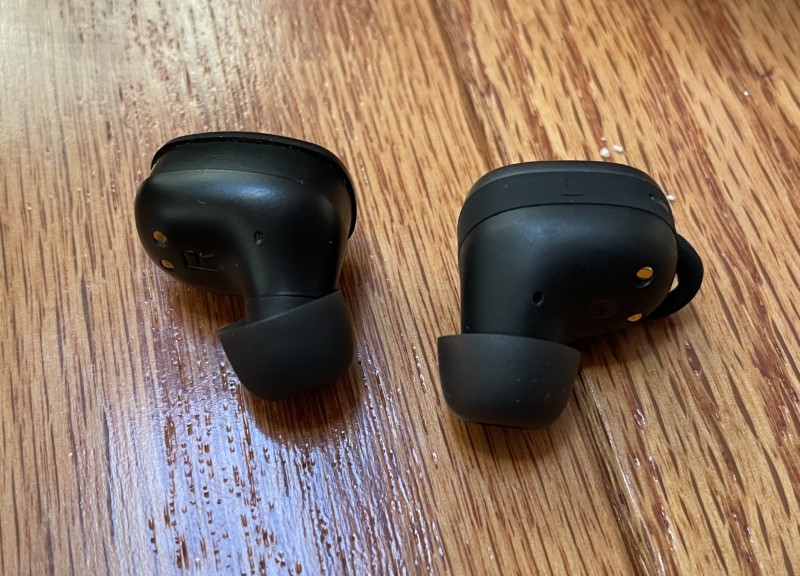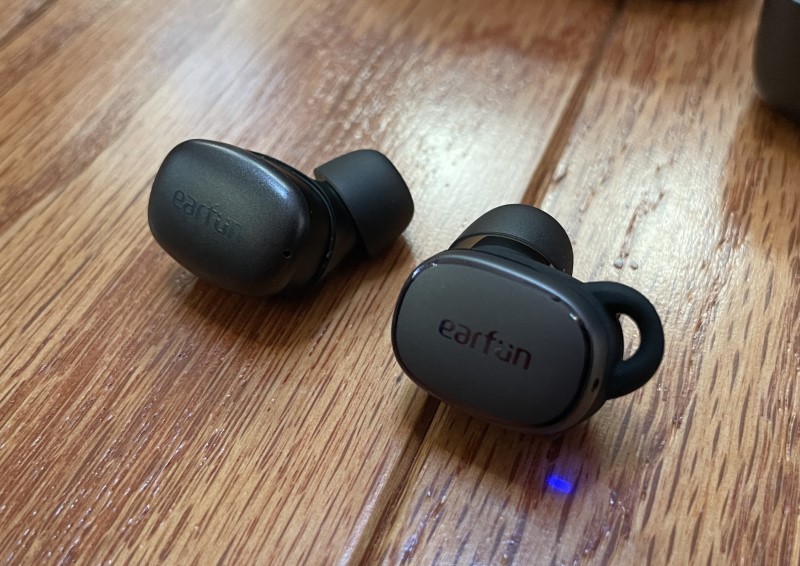 The Earfun Free Pro 3 Bluetooth Earbuds are similarly sized (yay!) and fit my small ears. I've never been a fan of earbuds with stems because they fall out too easily so the Pro 3s are just what the doctor ordered.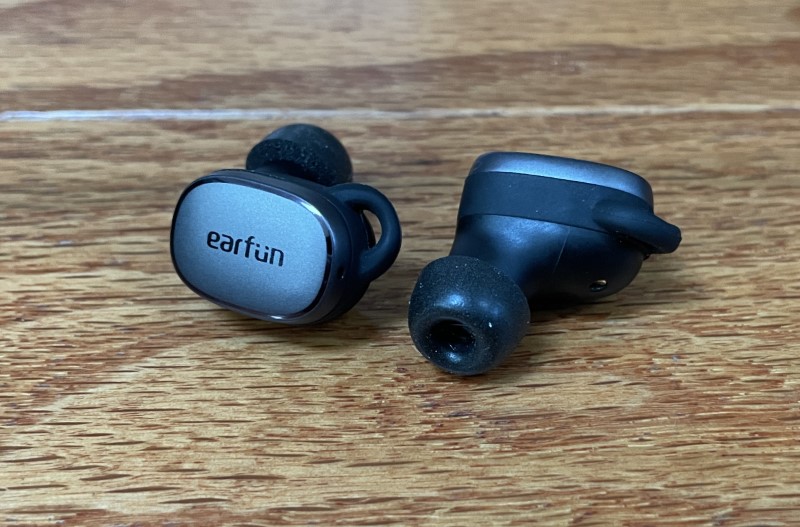 I appreciate that Earfun includes five pairs of silicone ear tips and one foam set. I especially like the foam for improved noise isolation and fit and would like to see additional sizes available.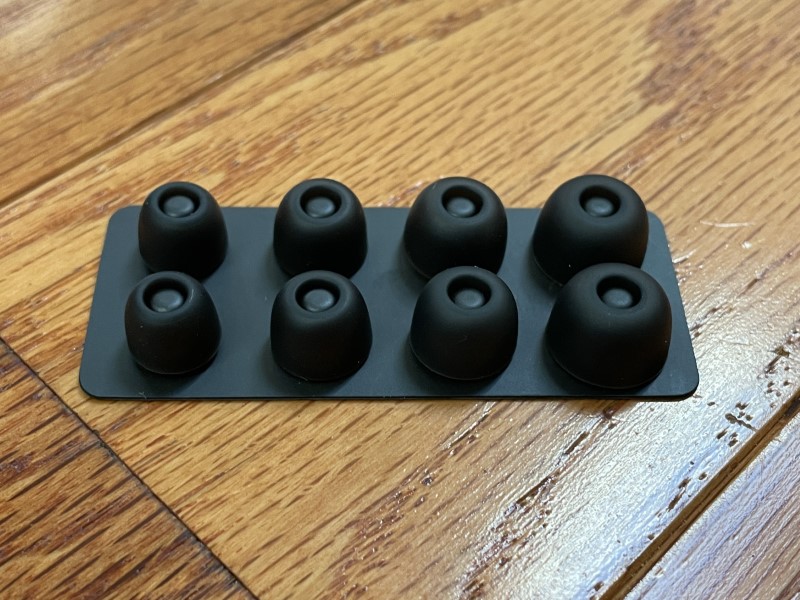 They even have a size that fits my wife's tiny ears. She's "gymnast size" and finding earbuds that fit her is always a challenge.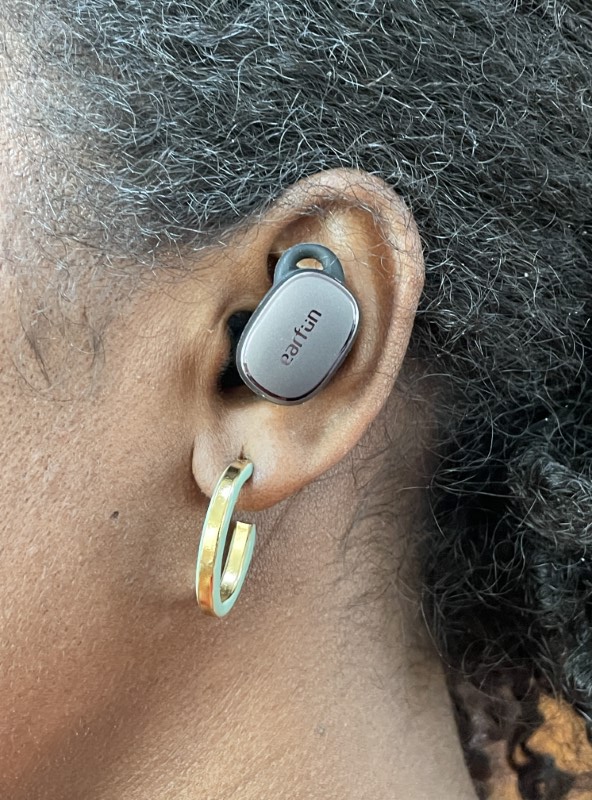 For an even more secure fit, three pairs of stretchy ear hook bands are included. These bridge the gap and increase friction between the earbuds and antihelix. In my case, I used the set that was installed when they arrived.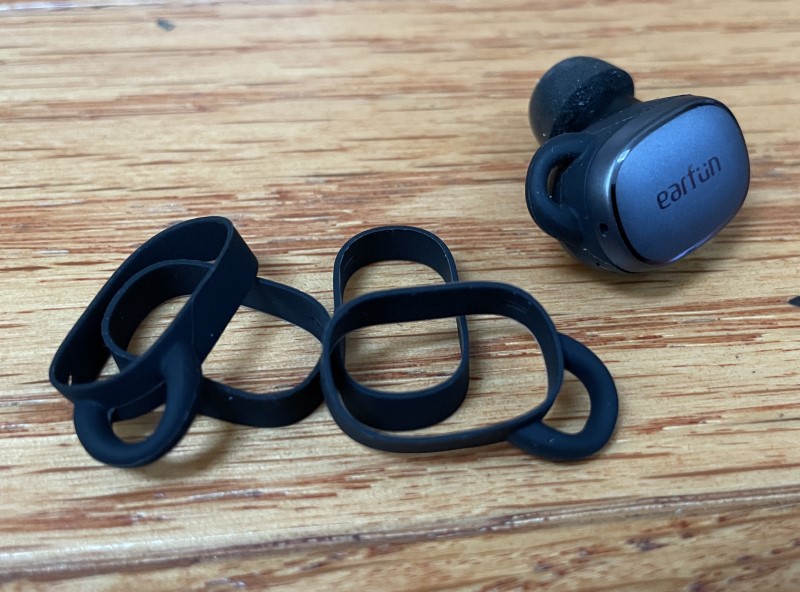 Charging the Pro 3s is done through the USB-C port on the back of the case or by placing it on a suitable wireless charging pad. Earfun includes a short USB-A to –C cable. The pad and charger I use with my iPhone worked perfectly so there was no need to buy another one.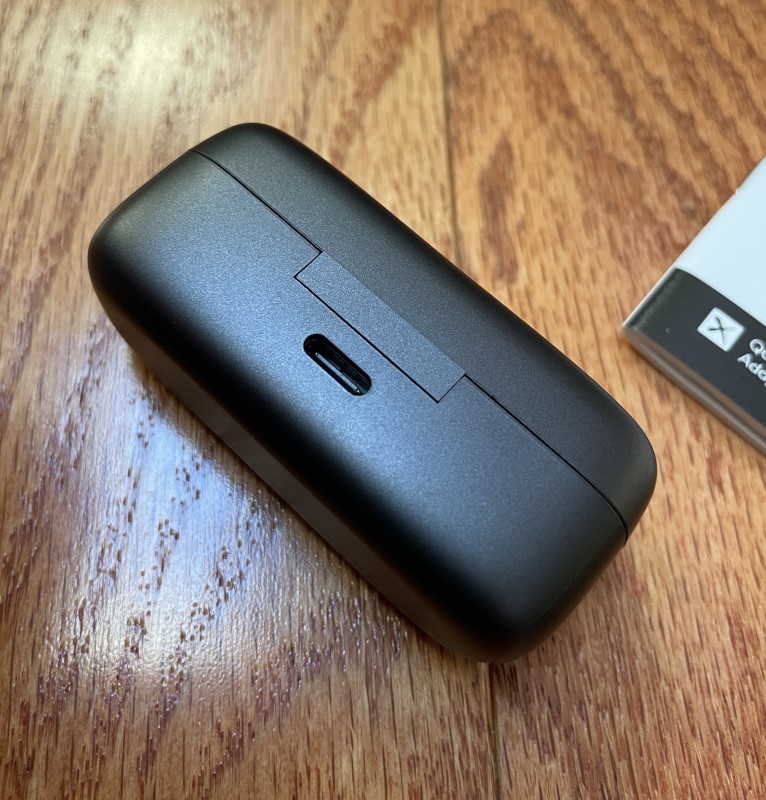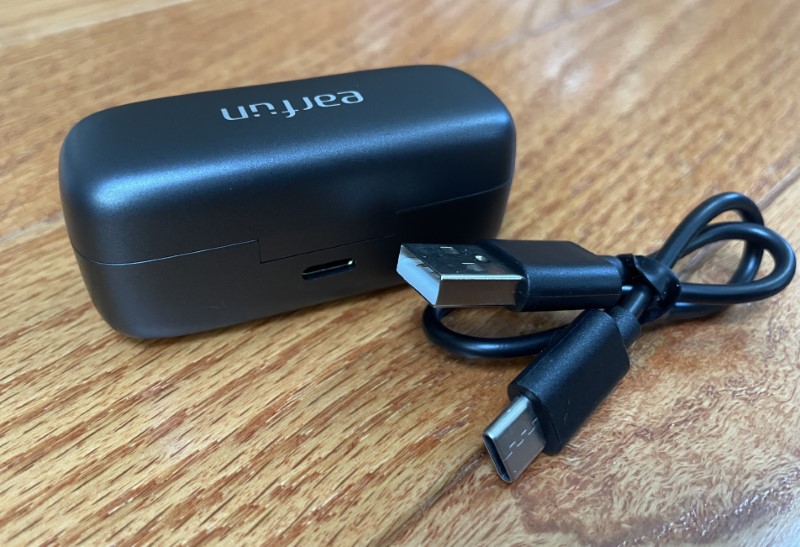 An LED on the face indicates the case is consuming current and briefly when the cover is opened or closed. Red indicates the battery is under 10%, yellow for 10-30% and green for 30-100%.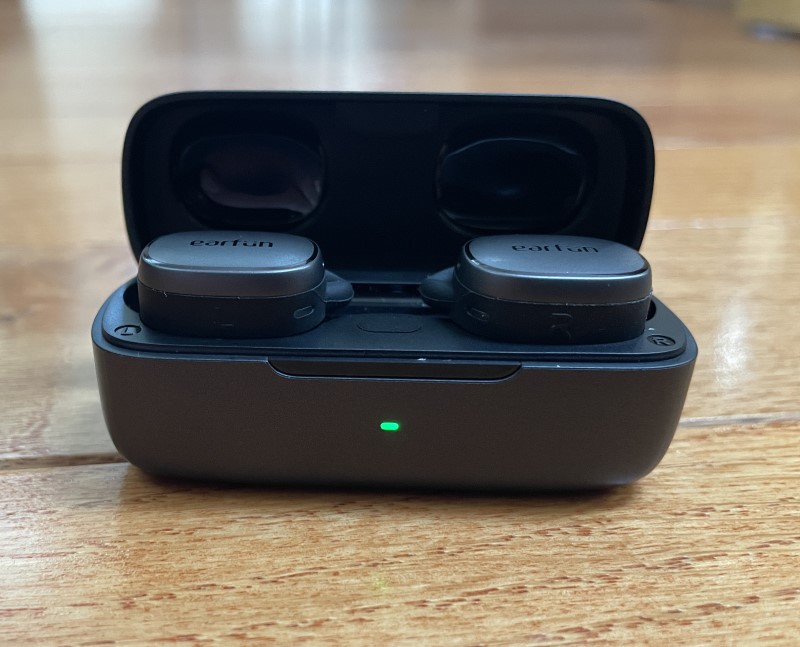 Power is transferred to the earbuds through spring-loaded pins in the case.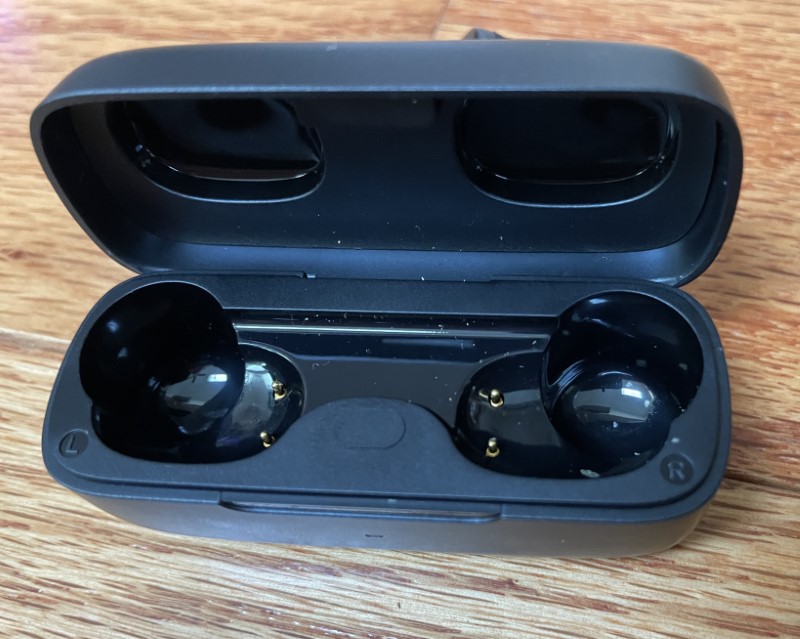 Pairing was effortless – The first time the Pro 3 case is opened, the process begins automatically, but if necessary holding the button under the cover for eight seconds will reset them.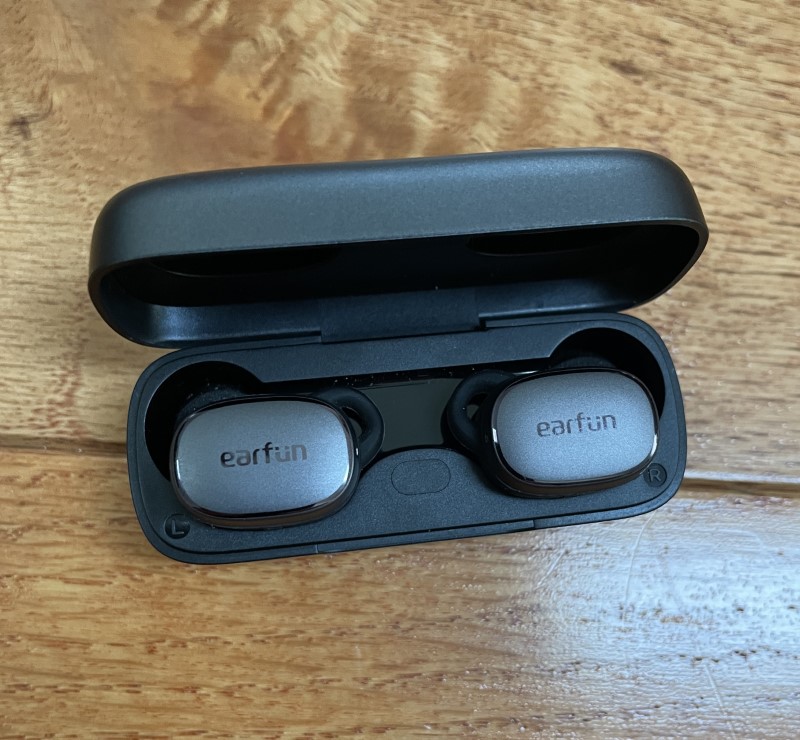 Onboard each earbud, LEDs turn blue for one second for power on, flash red for one second for power off, flash blue during pairing, and purple during the factory reset procedure. The earbud LEDs will flash purple to indicate they're discoverable. Open the Bluetooth app on your phone, pick "Earfun Free Pro 3" and you're in business. Two devices can be paired and each earbud can be used independently. After pairing, the Pro 3s automatically connect when the case is opened and disconnect when the earbuds have been returned and the case is closed.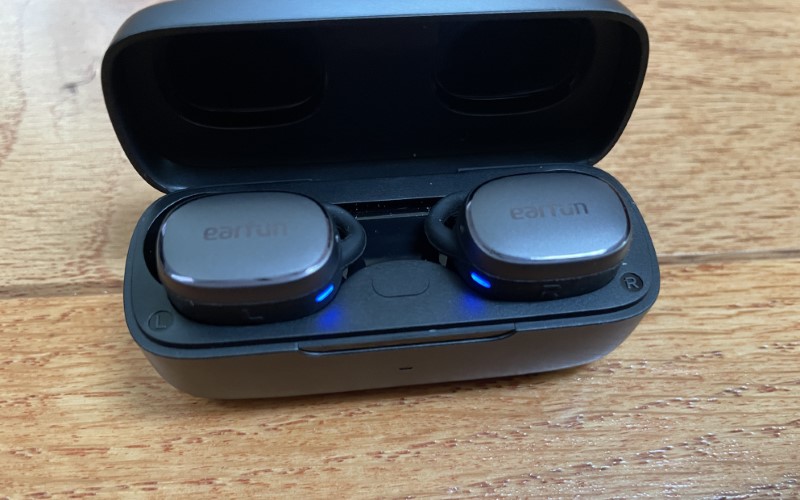 Running the Free Pro 3s through audio tests was fun. I could identify sounds as low as 15Hz and they had no trouble producing the advertised low rumble of 20Hz. A continuous sweep up to 20kHz (about 15kHz is the highest frequency I can discern) was smooth.
I pulled up an eclectic playlist with Pink Floyd, TobyMac, Rimsky-Korsakov, Sam Sparro, Skillet, T.I. Queen, Beethoven, Crosby Stills & Nash, and even listened to a few podcasts. Earfun has done an exemplary job with their updated 7mm driver, delivering triangle crisp highs and rich string bass without feeling stifled or muddied. Bass drums, including the largest Japanese Taiko, were thrillingly deep and resonating. Matthew West's "Your Story, Your Glory" was so immersive, that it brought tears to my eyes. Awesome.
Earfun has introduced adaptive ANC in the Free Pro 3 earbuds using a Qualcomm QCC3072 chip.  Implementation uses microphones to "listen" to sounds that leak into the wearer's ear to adjust the noise cancellation levels automatically.  During my tests, I found it's capable of blocking out virtually all of the TV audio while in the same room. Even more impressive, my lawn mower noise was greatly diminished.  There were a few instances when my mower blades hit a tree root resulting in an ever so brief audio pop, but nothing I would consider problematic. I've used the Pro 3 every time I've run my mower since receiving them and look forward to the tunes during my lawn cruising time. Nice!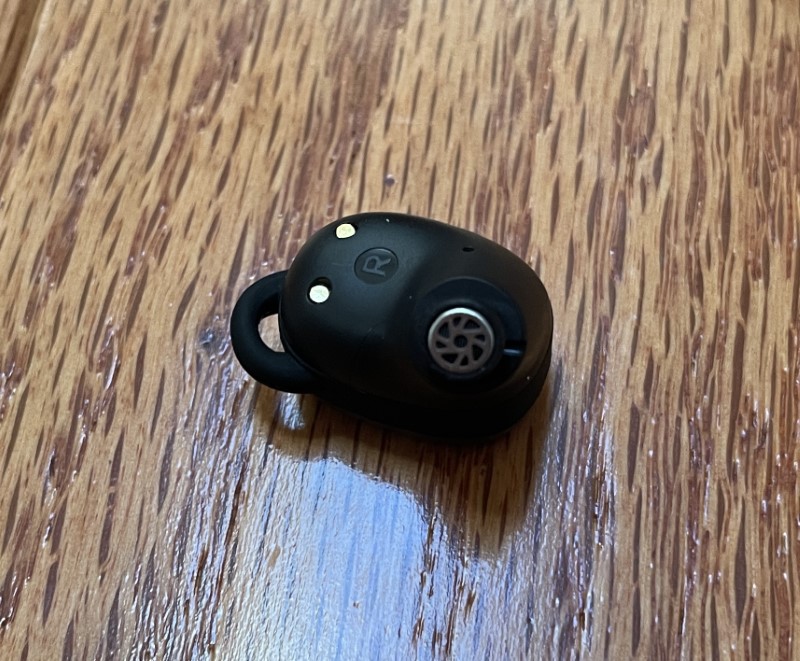 I was happy with the out-of-the-box performance, but if you want to customize or control, Earfun has an app. After registering, Earfun devices can be added.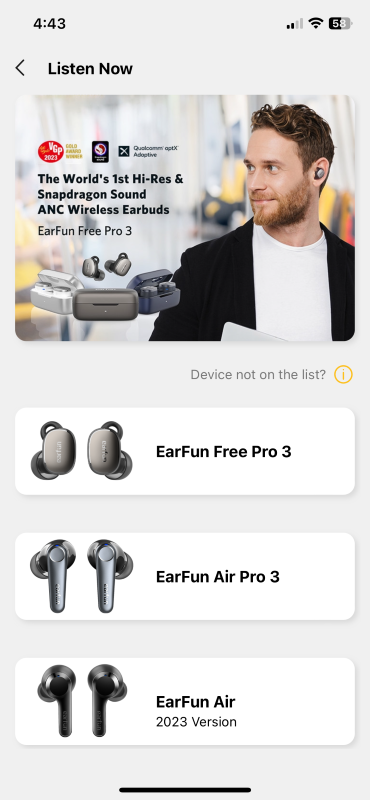 The app searches for the earbuds…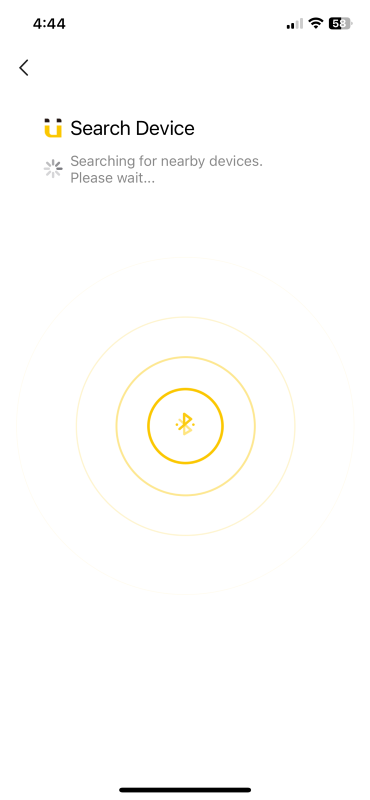 …And they are added. Tadaa!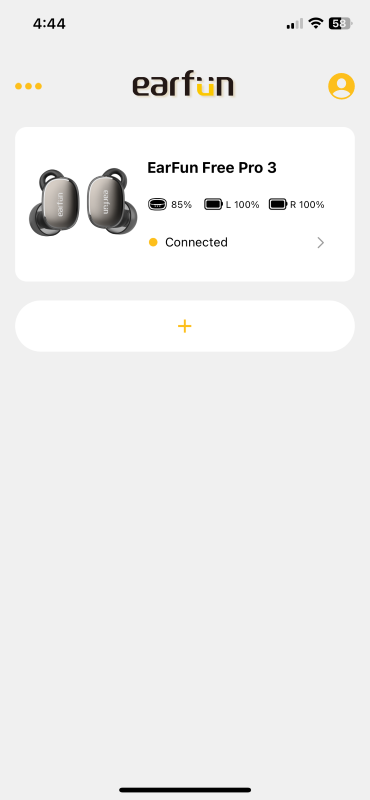 I was surprised that a new version of firmware was available.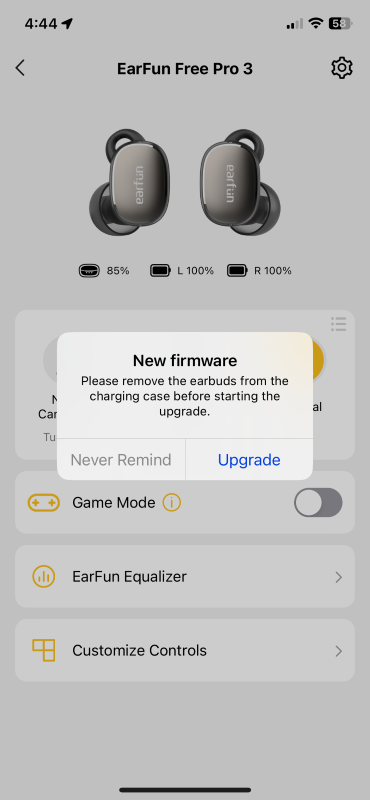 Installation took a few minutes.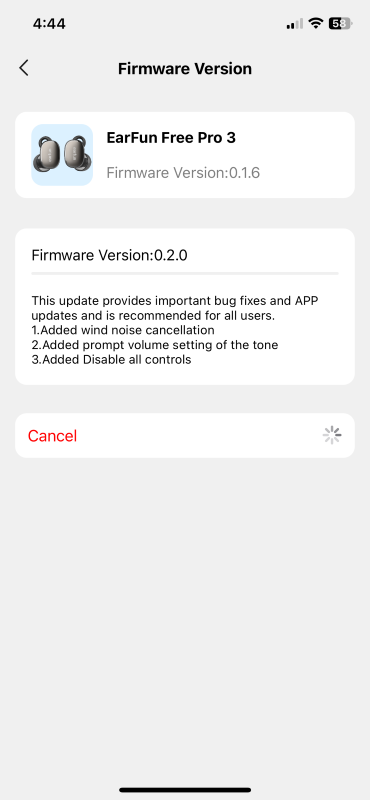 The app allows remote control of the Pro 3's settings. Up top are "Noise Cancelling," "Ambient Sound," and "Normal". "Game Mode" activates a low-latency mode when every millisecond counts.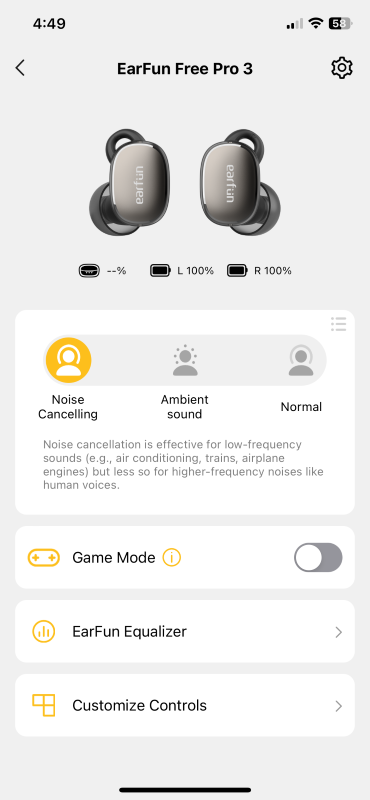 "Earfun Equalizer" opens a menu to customize the Pro 3's sound characteristics. There are presets for Rock, Pop, Country, R&B, Classical, Jazz, Bass Boost, Bass reducer, Treble Boost, and Treble reducer. Another section is "Oluv Signature" providing custom tuning in collaboration with Austrian reviewer "Oluv's Gadgets."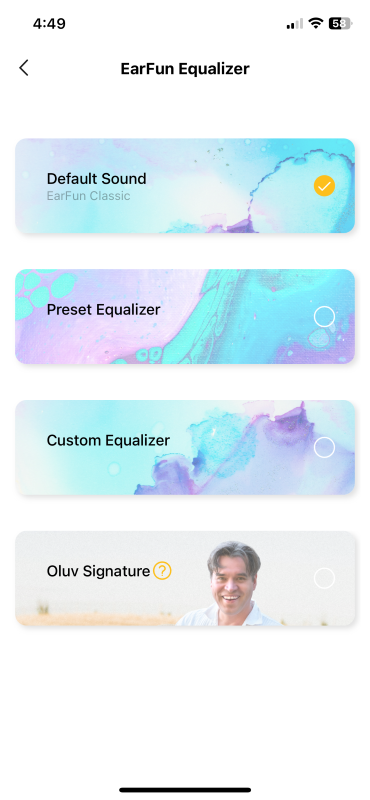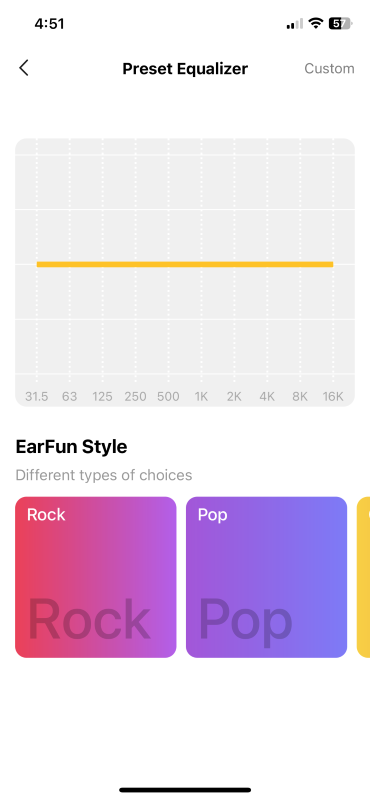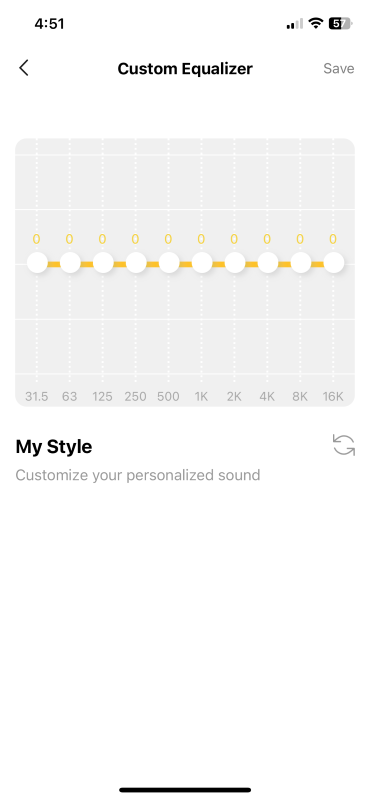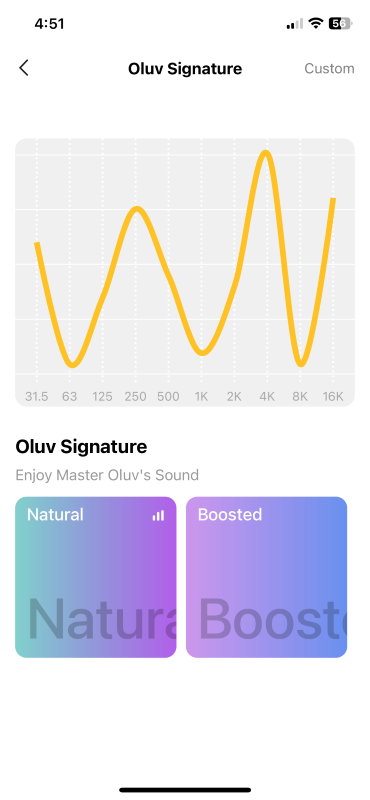 The "Customize Controls" section can completely disable the buttons on the earbuds or reconfigure their behavior to your liking.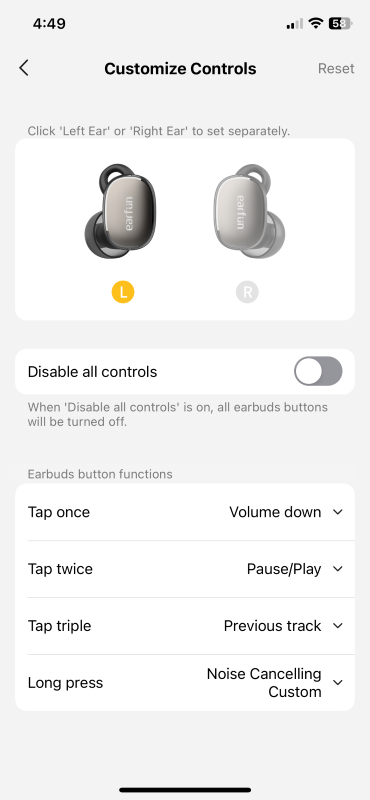 Speaking of controls, tapping the sides of the earbuds can control the volume, pause/play, repeat or skip a track, or select the noise-canceling mode. Both sides are customizable.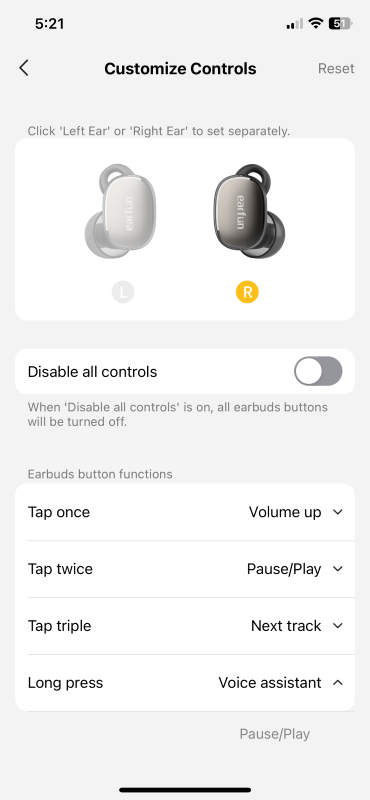 Earfun's menu has a good design and has all of the information needed for operating the Pro 3s.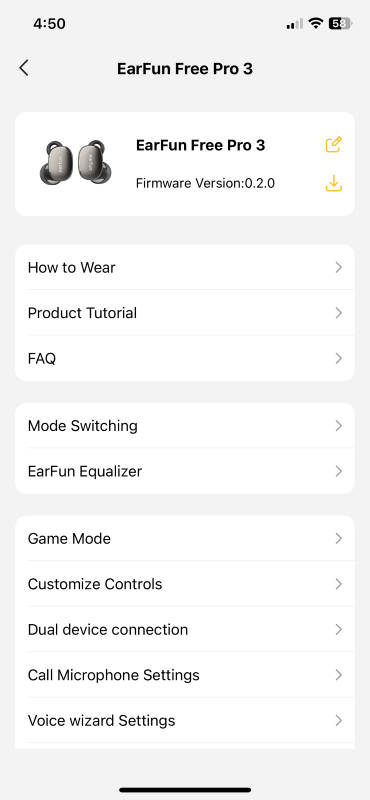 What I like
Comfortable
Effective Active Noise Cancellation
Splendid sound
The app has some useful and interesting features
Longer battery life than the previous version
Small, pocketable case
What I'd change
Additional sizes of foam ear tips would be welcomed.
Final thoughts
Earfun has made some noteworthy improvements with their new Free Pro 3 Earbuds. They have deeper audio, longer battery life, adaptive ANC, and can be adjusted using their phone app, but retain their comfort and pocketable case. As you may have guessed, the Pro 3s have now become my preferred Bluetooth audio choice and my wife has enthusiastically taken ownership of the Earfun Free Pro 2s. Thank you and great job, Earfun!
Price:  $79.99
Where to buy: Earfun and Amazon
Source: The sample for this review was provided by Earfun