We use affiliate links. If you buy something through the links on this page, we may earn a commission at no cost to you. Learn more.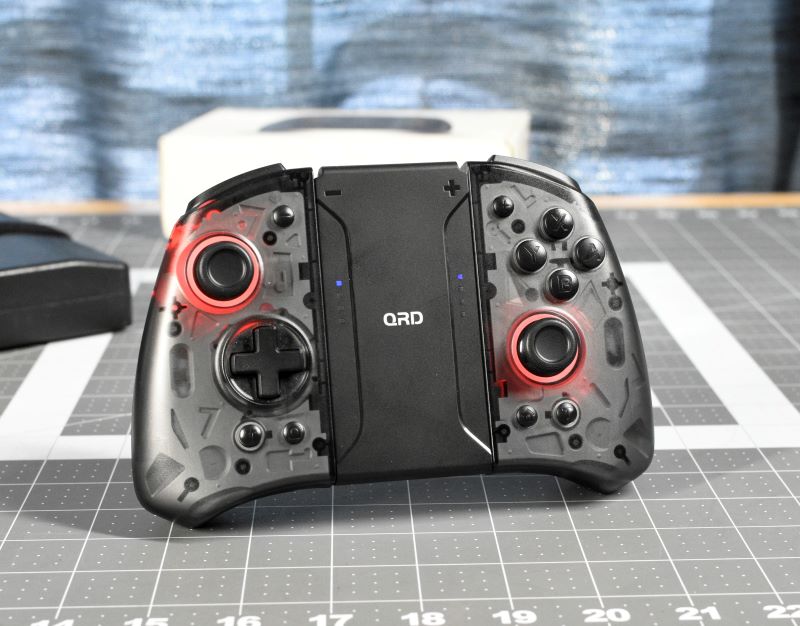 REVIEW – Three of my four kids have or had a Nintendo Switch and I've always been interested in playing one of them.  For the longest time, they only had the regular included Joycons which were way too small for my big hands. Then a couple of them decided to buy the Nintendo Pro controllers which are really good but I didn't want to have to dock the Switch to the TV every time I wanted to play with one. This made me not want to get one of my own. Fast forward a few years and a couple of moves, my son lost his joycons.  How does that happen? They dock on the side of the Switch. He had a case to keep the Switch safe. Regardless, he lost them. Then the new OLED Switch came along and he bought one of those instead of replacing his Joycons. Now was my chance! I could get his old Switch, find some compatible controllers big enough for my hands, and start playing. Finding the controllers were harder than I thought, but then along comes the QRD Stellar T5 controller, with Hall effect joysticks no less. Would these work for me? Are they better than the other option I bought? Keep reading if you want to know the answer.
What is it?
The QRD Stellar T5 Wireless Joy-pad for the Switch and Switch OLED is a replacement controller with Hall effect joysticks, gyro function, rumble features.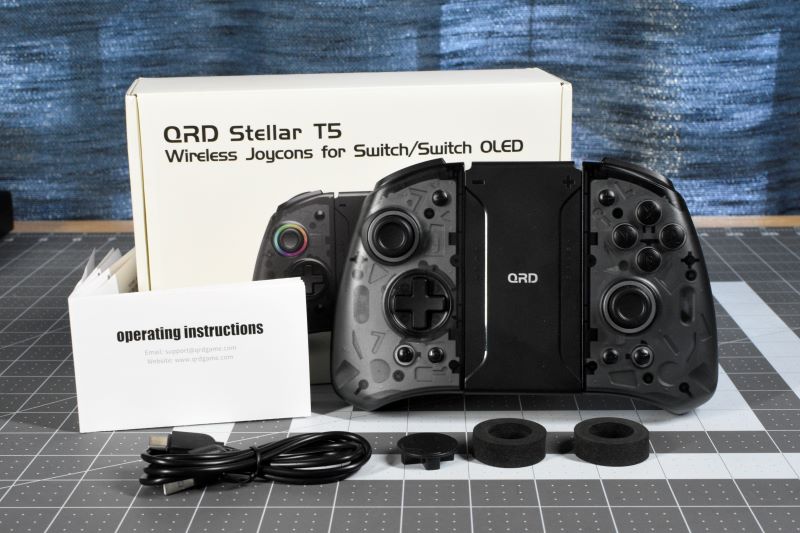 What's in the box?
Left and right QRD Stellar T5 wireless gaming controllers
1- USB C to USB A charging cable
Instruction manual
Middle piece adapter (?)
Item
Item
Hardware specs
Size 14.6 x 14.5 x 6.6 cm
Weight 197.0g
Battery 500mAh
Use time 6.5 hours
Wireless range 8m (via Bluetooth 5.0)
LED colors 8 colors & 2 modes & 4 brightness levels
Charge Retention 30 days
Design and features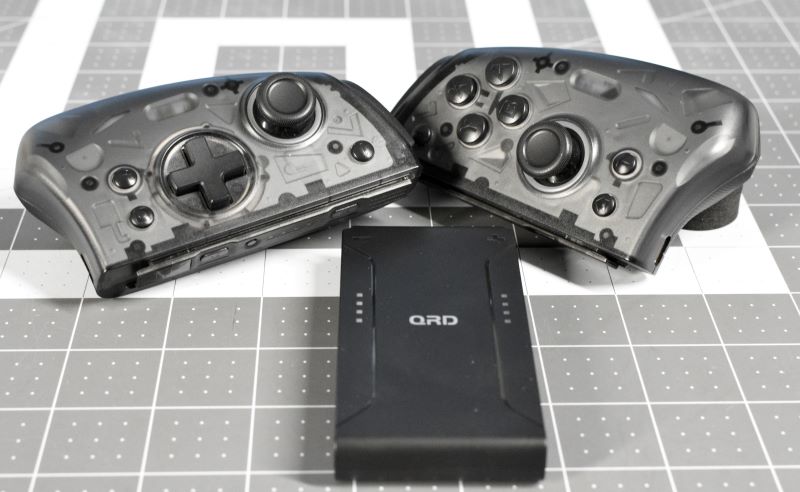 I want to start with the feature I was most excited about and that's the Hall effect joysticks. For a quick explanation about Hall effect joysticks, here's a little blurb from the internet:
Hall effect joysticks are a type of joystick that uses magnets and electrical conductors to measure their position, distance, and movement. Unlike standard analog sticks, which use electrical resistance to detect movement, Hall Effect joysticks have no physical contact between the moving parts. This can add longevity to the joystick.
Anyone with any experience with the Nintendo Switch Joycon controllers will or should know that they are known to develop stick drift quite soon in their lifespan. The problem is so bad that for a while Nintendo offered free repairs on them.  Stick drift isn't just a Joycon problem. I had it develop on numerous different console controllers over the years like Xbox 360, PS3, and PS4. I had been through so many PS4 controllers I decided I would spend more money and buy a SCUF controller which turned out to be a bad decision. Stick drift is awful and with the cost of controllers, it shouldn't be something anyone should have to deal with.  But, with Hall effect sensors and joysticks, that should be a thing of the past. Time will tell but so far, the joysticks on the QRD Stellar T5 are holding up and work perfectly.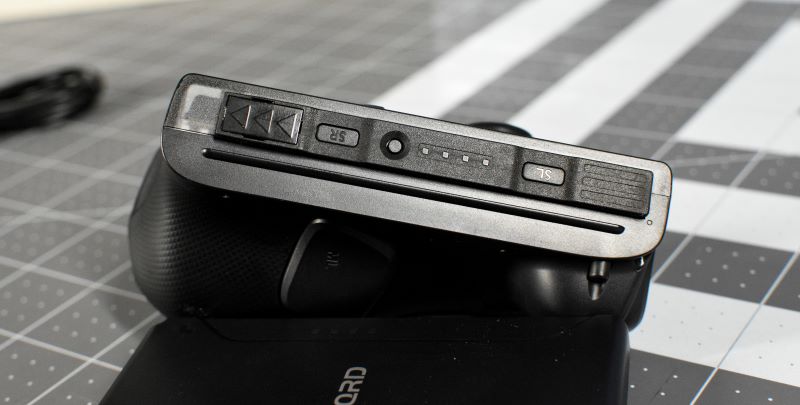 The QRD Stellar T5 wireless gaming controller has the same capabilities of the original Joy-cons in that you can still use them separately as a controller in case you want some couch co-op action with a friend. Again, it works perfectly.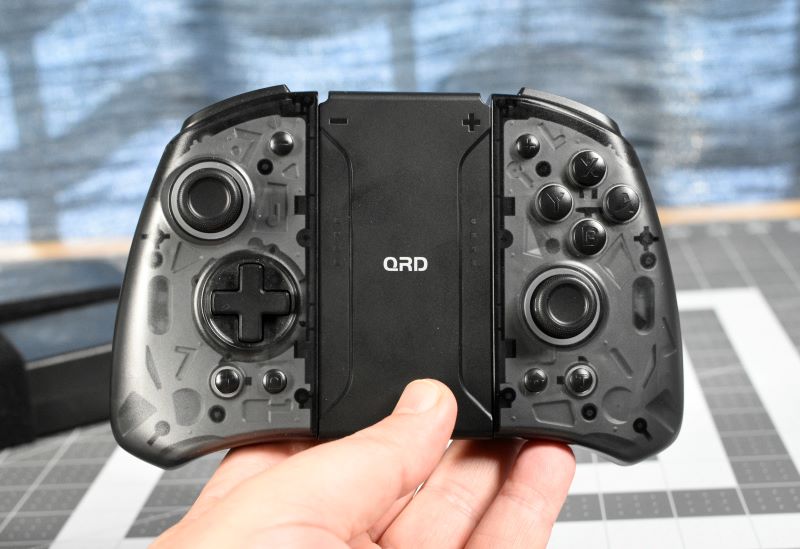 They have all the buttons every Nintendo controller should have, +, -, Home, D-pad, A, B, X, Y, R bumper, L bumper, ZR trigger, and ZL trigger. All function just like they should.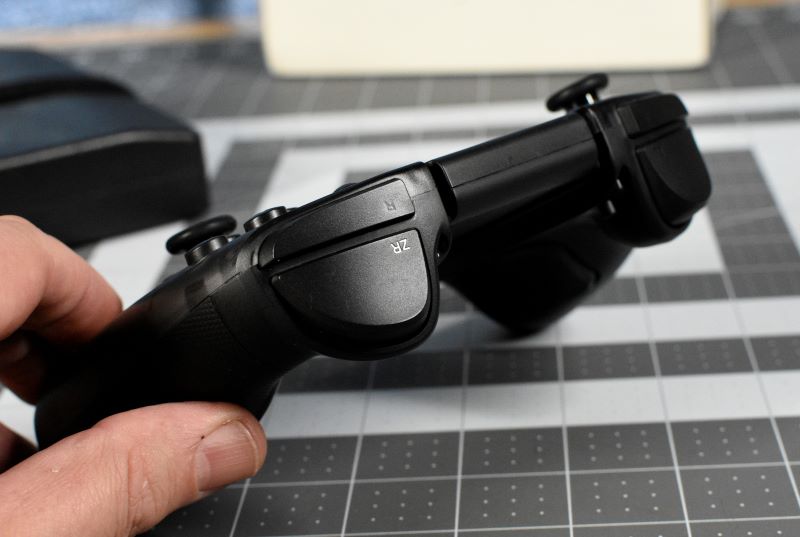 The QRD Stellar T5 wireless gaming controller even has some extra buttons. There are a couple of T buttons on the front for Turbo functions. On the rear of the controller, there are M buttons for macros, rumble buttons, and MR and ML programmable buttons that can be for Macros or single button key binds. There's also the textured, rubbery covering on the grips. It feels good in the hand and is pretty grippy.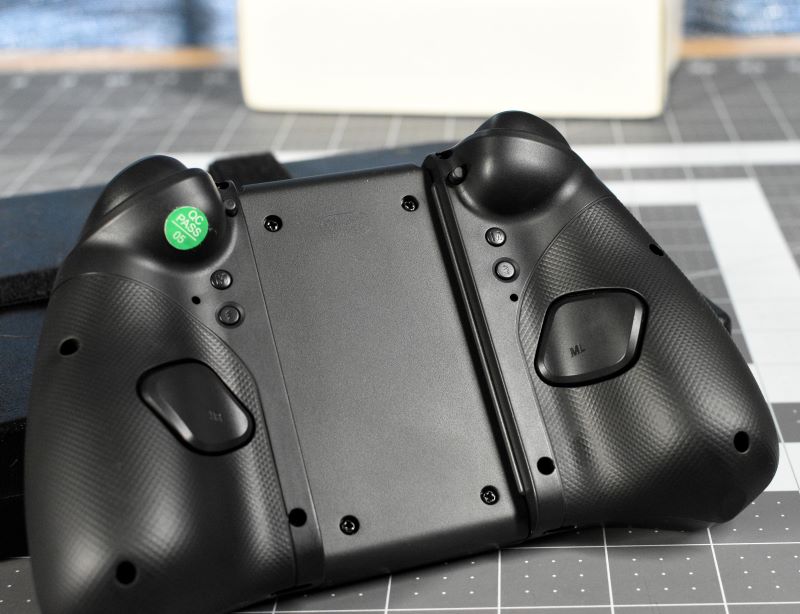 Both controllers have USB C ports for charging. Even if you have them connected to the middle piece (I never found an official name for it), they have to be charged separately, but you can connect them to the Switch and have them charge together while charging the Switch.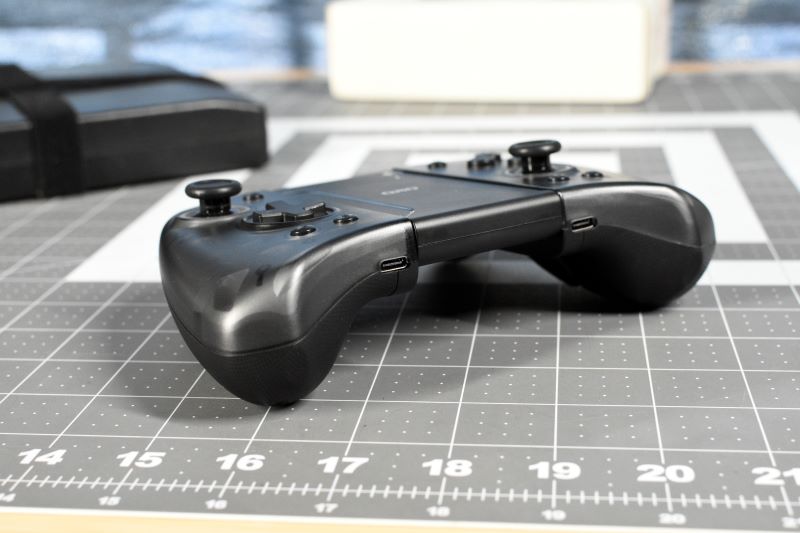 The QRD Stellar T5 has a translucent shell which is pretty cool. I think it's better than just straight black.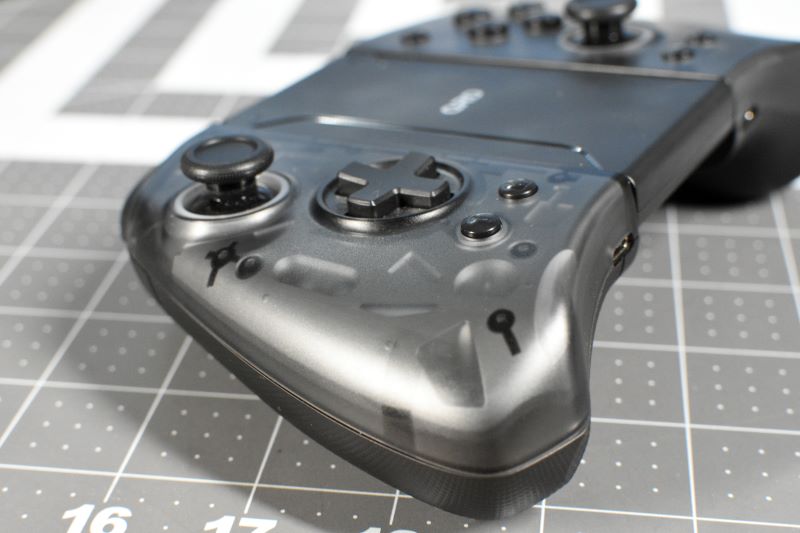 The rings around the joysticks have LEDs, so they light up while playing with up to 8 different colors, 3 different modes ( if you consider, OFF a mode) and different levels of brightness. My favorite is the rainbow.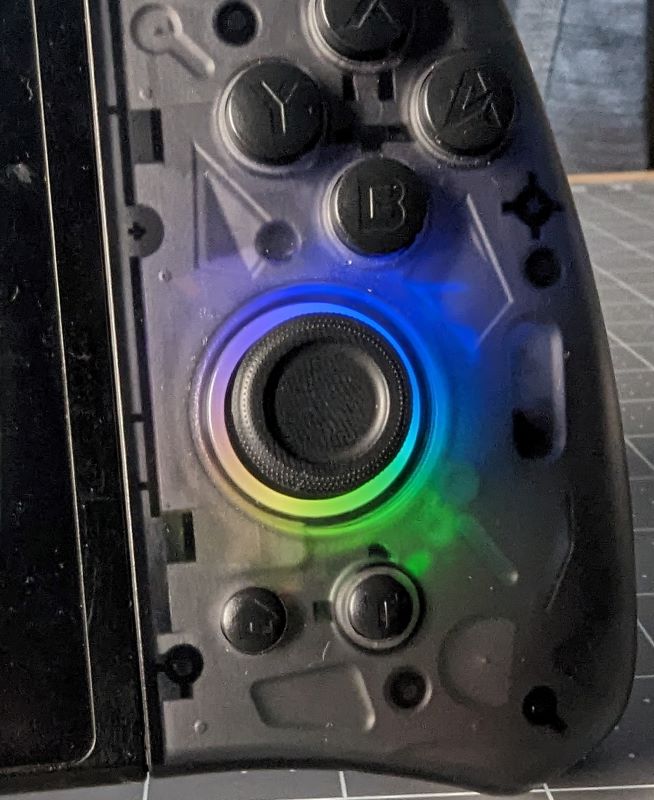 Performance
So, how well does the QRD Stellar T5 wireless gaming controller work? Let me start with the fit. Compared to the Hori Nintendo Switch Split Pad Pro I bought before the Stellar T5 came up for review, it's night and day. The Hori didn't seem to fit well with much flexing and wiggle. I won't say the QRD is rock solid. There's a little flex there, but it's so much better and feels solid enough. I don't feel like I'm going to snap them off like the Hori, which by the way is officially licensed. Do with that what you will.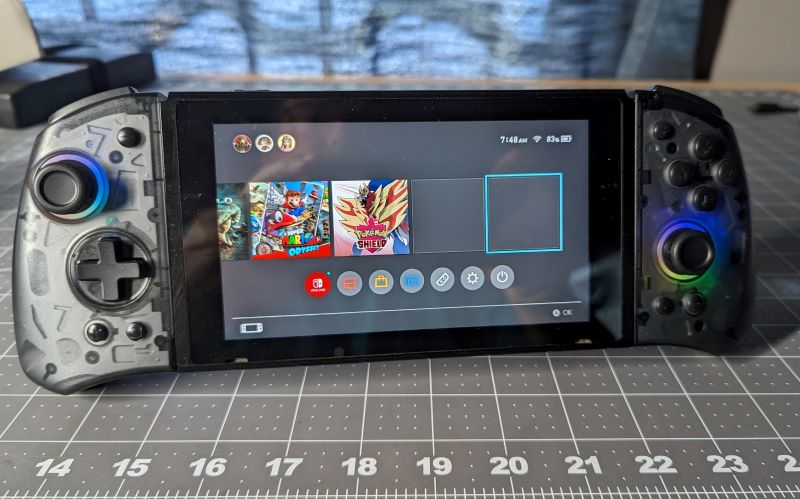 The buttons all work and feel fine. Most of them have a very positive click when pressing them. The A, B, X, and Y however do not. There's almost no resistance to them and very little sound when pressed. The D-pad has a very positive feeling and a concave D-pad alternative is included in the box, although there are no instructions on how to swap the two. It looks like you simply pull one out and push the other in. I can't get my big, clumsy fingers to get enough purchase to do it and I don't want to use a tool because I don't want to mar them up. The joysticks feel good, like regular joysticks should and also have positive clicks when pressed. The bumpers and triggers are a bit of a let down. They feel mushy and the triggers themselves have very little travel. I would prefer something more substantial there. Shame on me but I didn't use the macros or turbo functions. I found the large back buttons too easy to press but I think that's because of my big hands and the death grip I use. My understanding of the turbo functions is mainly for first person shooters and I've spent most of my time playing Zelda: Breath of the Wild and Aragami.
The light settings are a bit hit and miss with me. I've found when using the Stellar T3 separate from the Switch, the settings don't stick after they go to sleep. After I set the lights and then wake the unit, they default back to red. If I have them on the Switch, then they retain the setting. Not a big deal, I guess. It doesn't affect gameplay. The included instructions need some work too. I think they're just generic instructions used across several QRD models. Some of them aren't for the Stellar T5, like controlling the lights of the A, B, X,and Y buttons. There are instructions for how to do it, but there are no lights for those buttons on the Stellar T5.  Also, the description of the buttons to use in the steps don't always match up with those in the diagram.
What I like
The fit when installed on the Switch
The size. I can play now!
Hall effect joysticks
Well built
What I'd change
Positive clicks for all the buttons including bumpers and triggers
Longer trigger travel
Retain lighting settings when separated from the Switch
Better instructions specific to the Stellar T5
Final thoughts
I can absotively, posilutely recommend the QRD Stellar T5 wireless gaming controller. They work as advertised and better than a licensed replacement, without costing mush more. The cost is similar to other controllers on the market and are cheaper than actual Joy-cons. So, win – win! Let's not forget, the QRD Stellar T5 has Hall effect joysticks, so no more drift. I would definitely buy it just for that alone. The biggest downside of the QRD Stellar T5 is the lack of sleep they cause.  I've stayed up way too late on a couple of occasions on work nights, but I can't say I regretted it.
Price: $58.99
Where to buy: QRD
Source: The sample of this product was provided by QRD.