We use affiliate links. If you buy something through the links on this page, we may earn a commission at no cost to you. Learn more.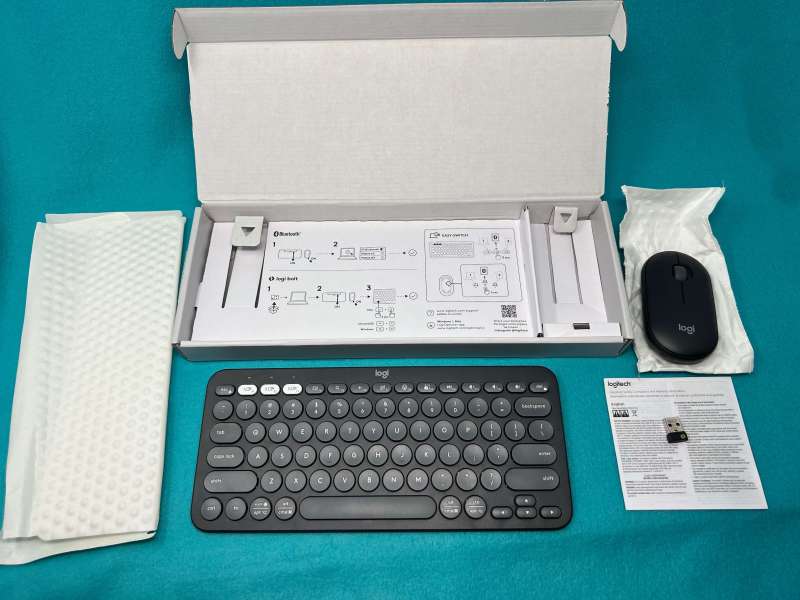 REVIEW – Most knowledge workers today use a graphical user interface on their computing devices. Sure, we may spend time in a *nix terminal or text editor or even a coding Integrated Development Environment (IDE), but all of those are contained in a Graphical User Interface (GUI) that's navigated through a mouse/trackpad/pen/touch interface. When switching between these machines, it's sometimes frustrating to get another keyboard or pointing device, make a few small edits, and then go back to the main one we're using. Logitech has given us a nice way to deal with this in the form of a keyboard and mouse combo that can switch between as many as three different computing instruments with the press of a single button. They call it the Pebble 2 Combo, and I was sent one in Graphite to test. Let's see how this combo performs.
What is it?
The Logitech Pebble 2 Combo is a full-sized keyboard and mouse package that can each be paired to three different BlueTooth devices. A USB-A BlueTooth module is included. The set is available in white, graphite, and pink colorways.
What's in the box?
Full-sized keyboard
Two-button mouse with scroll wheel/button
Logi Bolt USB-A BlueTooth receiver
Hardware specs
From company website
Slim, lightweight, minimalist design made with recycled plastic
Multi-device pairing (up to 3 devices)
Customizable middle button and 10 Fn shortcut keys with Logi Options+ App
Silent clicks with Silent Touch Technology
Comfy and quiet laptop-like typing with scooped, low-profile keys
Special Keys: Show desktop, search, back, voice dictation, emoji menu, screen capture
Customizable keys via Logi Options+ App
Number of Buttons: 3 (Left/Right-click, Scroll-wheel with middle click)
Customizable button with Logi Options+ App: 1 (scroll wheel with middle click) 5Logi Options+ App is available on Windows and macOS
Sensor Technology: High-precision optical tracking
DPI range: 400-4000 dpi (fully adjustable with 100 dpi increments)
Nominal value: 1000 dpi
Connection Type: Bluetooth Low Energy technology or Logi Bolt USB receiver (included)
Connection type support: Compatible with Logi Bolt USB receiver (included)
Wireless range: 32.8 ft (10 m) 7Wireless range may vary due to environmental and computing conditions
Keyboard: 2 x AAA (Alkaline Battery); On/off power button
Mouse: 1 x AA battery (Alkaline Battery); On/off power button
Keyboard: 36 months Battery life
Mouse: 24 months Battery life
Connect / Power: On/Off Switch on both devices
Keyboard: Battery LED and 3 Easy-Switch Bluetooth channels.
Mouse: 3 Easy-Switch Bluetooth channels.
Tonal Graphite plastics: Pebble Keys 2 K380s 64% post-consumer recycled material; Pebble Mouse 2 M350s 76% post-consumer recycled material 10Excluding plastic in printed wiring assembly (PWA) and packaging.
Tonal white and rose plastics: Pebble Keys 2 K380s 49% post-consumer recycled material; Pebble Mouse 2 M350s 58% post-consumer recycled material 11Excluding plastic in printed wiring assembly (PWA) and packaging.
Paper Packaging: FSC™-certified
Certified carbon neutral

1-Year Limited Hardware Warranty
Design and features
The Logitech Pebble 2 Combo has two main parts:
The first part is the keyboard, which is 11" x 5" x .5". On the left short side, roughly under the "ESC" key, there is an on-off slider. On the back, centered at the top is a slide-off battery compartment. The unit takes two AA batteries (not included).
The second part is the mouse, an oval measuring 4.25″ x 2.25″ and 1″ high. Magnets hold on the top, which covers the silo for the single AA battery (not included).
Both units have a satiny feel and are heavy enough to not feel toy-like, but they are on the light side. If you really like a heavy mouse to sling around, or clickety-click keys, this is not the set for you.
Setup
The devices are added to your list of paired items by standard BlueTooth means. If your computer doesn't have BlueTooth (please send it back to the 1990s!), there is a USB-A module to add it. But seriously, no one reading this website is going to need the Bolt. (More on this later.)
Performance
Once powered on (again, three AA batteries are required between the two devices) and paired, you can switch between three paired devices. You'll need to pair each one individually, and they don't have to be the same on both devices. Device switching for the keyboard is managed with the first three function keys and the ESCape key. Holding the ESC key and any of the three F keys will cause the small LED above the F-Key to flash quickly, and that slot will be in pairing mode. Once paired, a single press to the correct F-key activates that paired item.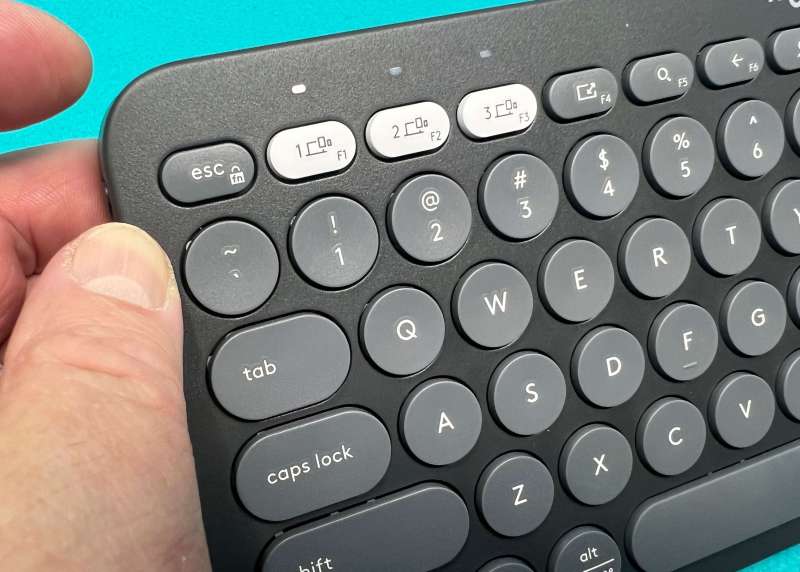 On the mouse, the button for pairing and changing devices is on the bottom. A single push of the button will cycle through the three positions. A long press will activate pairing mode and the fast flashing.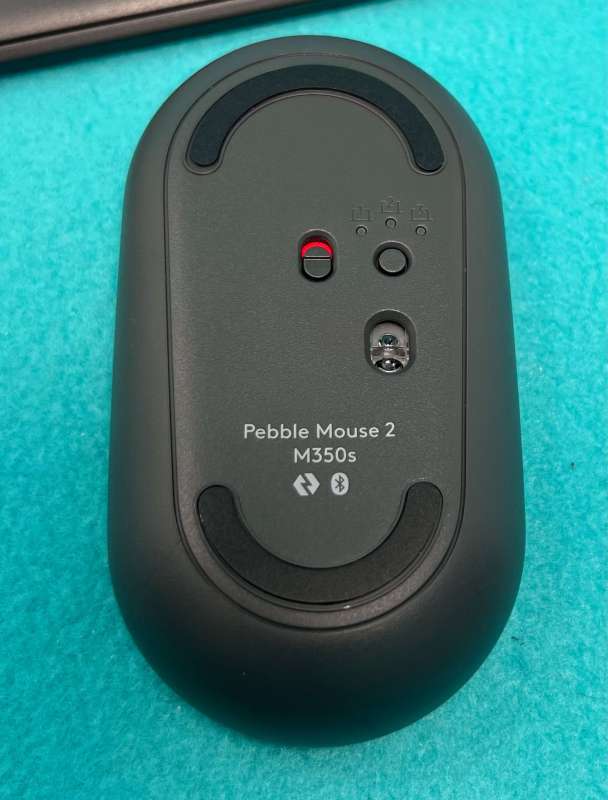 I have had the single-device version of the Pebble mouse for several years and I don't think I've ever changed the battery. I don't use it often, but it's always there if I want it. (I'm a trackpad/touchscreen guy.) I say this to call attention to the specs listed earlier regarding battery life. Obviously, I'm not going to hold up the review for several years waiting for the batteries to run out (I mean, I'm usually late, but that would be extreme, even for me!) However, the inner workings of this new model will probably have a similar power profile. I'm happy that Logitech is not only monitoring its environmental impact but reporting it and (rightfully) bragging about it. They even printed the instructions for setup on the packaging, rather than including a separate printed flyer. This encourages other companies to examine their practices and (hopefully) begin to care more and make positive changes to their environmental stewardship.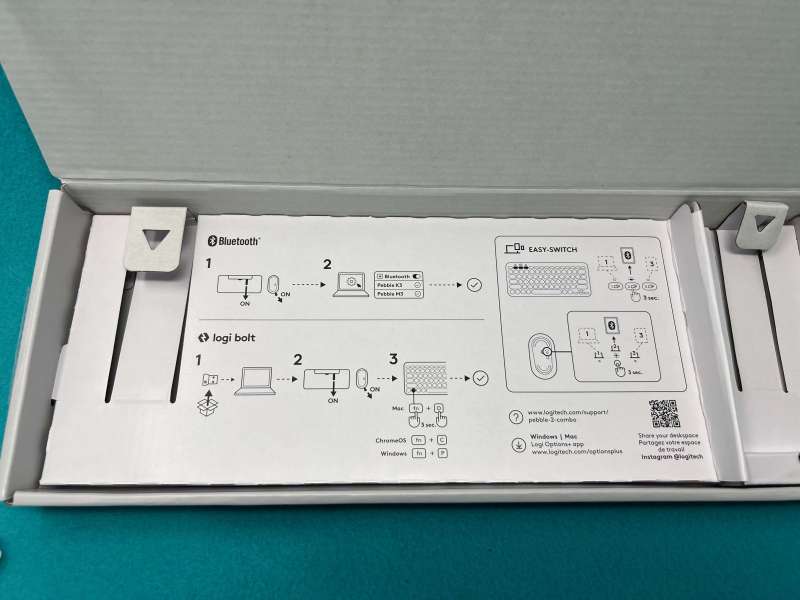 I would prefer if Logitech would use a rechargeable battery, rather than traditional AAs. Sure, I could get lithium rechargeables, but those are a major pain to use (since they don't charge in-device), and don't have the lifespan of a decent in-device battery.
While I'm ranting, including a USB-BlueTooth dongle is irresponsible. They should just have a QR code or toll-free number on the box offering one free to anyone who needs it. The shipping and logistics would be much cheaper (and more environmentally responsible!) than shipping a useless device in Every. Single. Box. It's something that's either going into a junk drawer, a landfill, or some other not-good final resting place, adding those bits of material to the growing climate disaster that is our love of plastics! I've had BlueTooth built-in to every computing device I've had since the late '90s, except for early iPods, and I think many Gadgeteers are in the same boat. Anyone wanting a multi-device keyboard/mouse combo is probably a little more tech-savvy than the average person on the street.
What I like
Easy to change between multiple devices
Great carbon-friendly lifespan (with caveats)
On/Off switches that are easy to get to and have positive positions.
What I'd change
Replaceable batteries? Really?
Why include the dongle? This works against the carbon neutrality of the total product lifespan.
Final thoughts
I have used a lot of Logitech products in my computing lifetime. My current desktop computer has one of their keyboards (the K811) that switches between three devices, similar to the Pebble, so I was excited to test this Combo. It's clean and quick, but the keys are a bit different from the Pebble. Still, the Pebble combo works well together as a travel setup, or as a main office setup, if you're someone who changes between multiple screens. (There is also a company that makes specialty firm-shell zippered travel cases for the combo! Only one foam-insulated item to pack.) The software for the Mac gives you a bit of specific control, but the combo works using the standard macOS drivers easily.
Price: $59.99
Where to buy: Logitech and Amazon
Source: The sample of this product was provided by Logitech.