We use affiliate links. If you buy something through the links on this page, we may earn a commission at no cost to you. Learn more.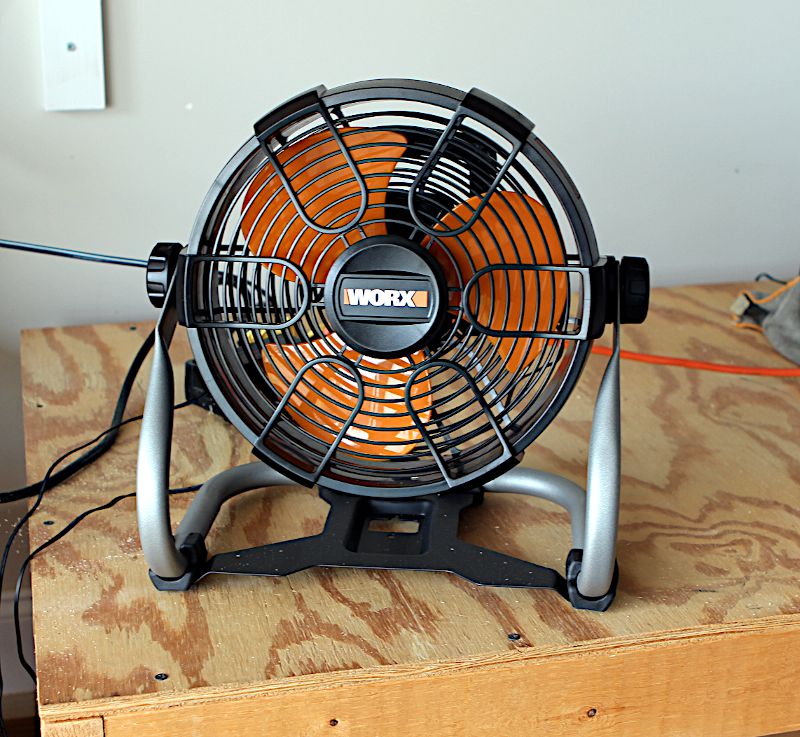 REVIEW – I live in the south, and it gets pretty hot here during the summer.  I've got a rickety old fan to help keep me cool while working in my garage or on the porch, but I'd really like a fan that is more powerful, more rugged, and more flexible.  I think the Power Share Cordless Fan by WORX will check all these blocks, so it's time to take it outside and find out.
What is it?
The Power Share is a portable, rugged 9-inch fan that has 2 speeds and can be powered both by AC power and by a rechargeable battery.
What's in the box?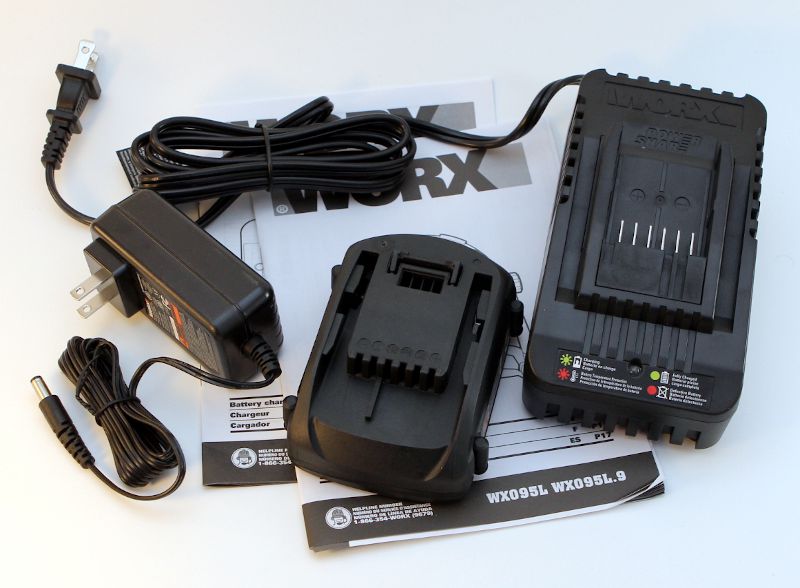 The fan
DC power adapter
Rechargeable battery
Battery charger
Manual for the fan
Manual for the charger
Hardware specs
Settings:  2 speeds, low and high
Speed:  1500 and 2500 RPM
Airflow:  310 and 450 CFM
Runtime:  5.5 and 1.5 hours
Voltage:  20 volts
Fan Weight:  8.5 pounds
Battery: 2.0 amp hours
Design and features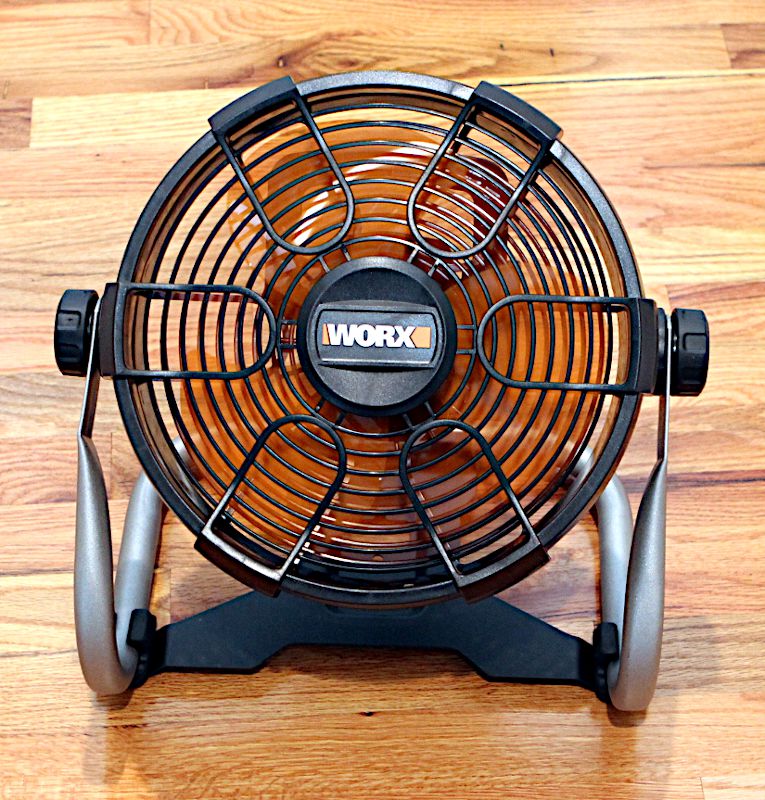 The Power Share is a small, rugged-looking fan made primarily of black plastic.  The fan blades, however, are orange, and the frame is a silvery metallic color, presumably made of aluminum.  Altogether, it looks like it belongs in my garage rather than in my home office.
Installation and setup
The Power Share can be powered by AC power or by a battery.  To use AC, I connected the adapter into the side of the fan and then plugged it into an outlet.  To use a battery, I slipped the Lithium battery into the charger and plugged it into an outlet.  When it was charging, a green LED began flashing; when it was charged, the LED turn solid.  I found that charging took about an hour, which agrees with what the manual indicates.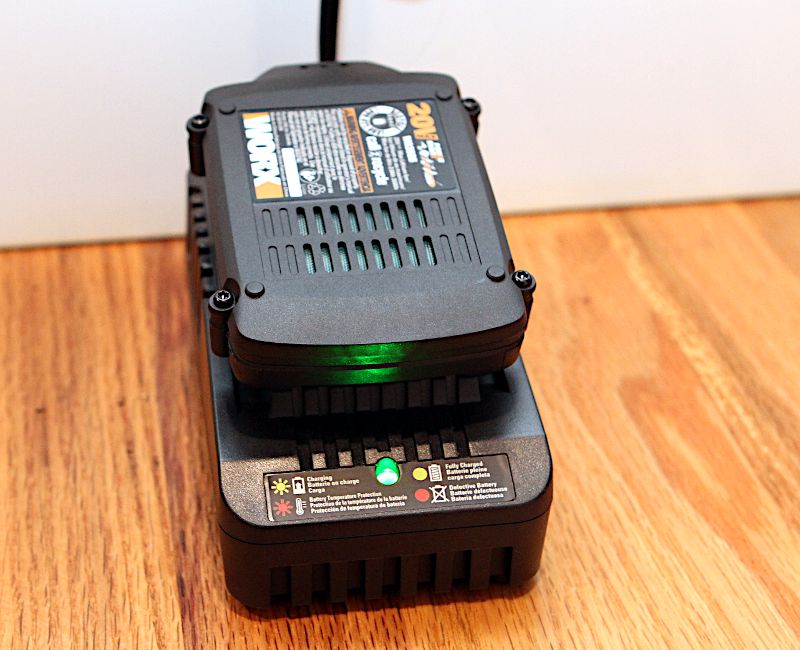 Once it was charged, I attached the battery to the back of the fan.  As a side note, it's convenient that when the fan is plugged into the wall and the battery is attached, it can both power the fan and recharge the battery.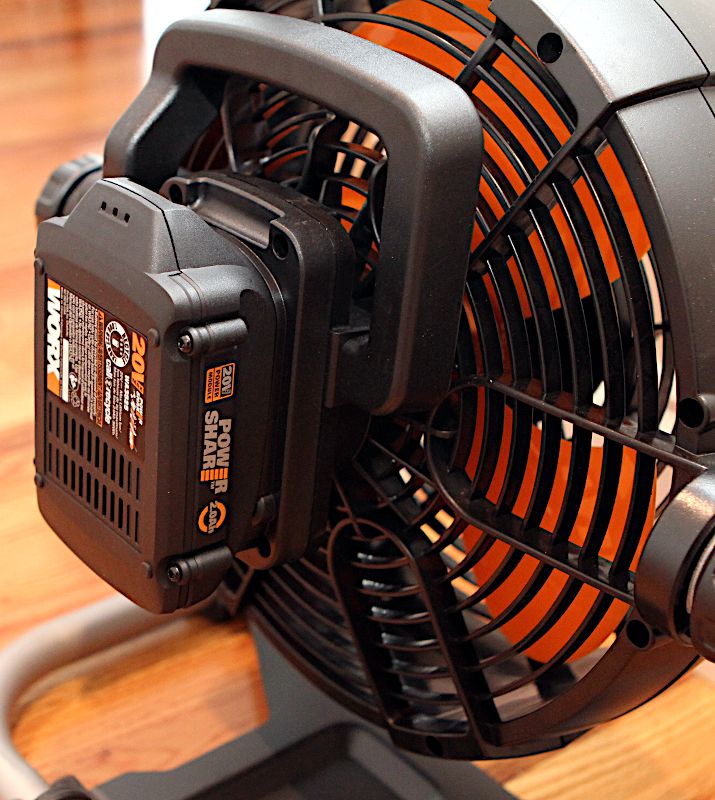 On the right side of the fan are a pair of capacitive buttons.  The one with the power symbol turns the fan on and off, and the one with the fan symbol changes the speed from low to high and back.  There's also a charge indicator that lets me know when the battery is fully charged.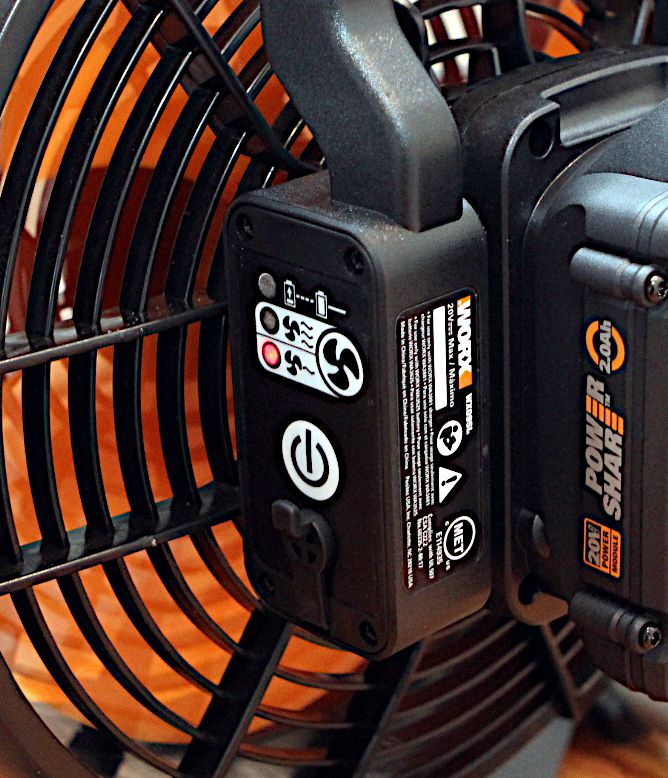 WORX includes two manuals with the Power Share, one for the fan and one for the charger, but as these gadgets are so simple to use, you won't really need to read them.
Performance
The Power Share is 9 inches tall, and it's plenty powerful for its size.  It's meant to cool one person at a time, and it does that very well.  The effective range on low speed is about 7 feet and about 10 on high.  The higher setting pushes a lot more air – 2500 RPM vs 1500 – but it's also considerably noisier.  I would not want to take a phone call or carry on a conversation while I'm next to the fan on high speed.
In my tests, the fan ran for 5 hours and 40 minutes on low speed when powered only by the battery, though only 2 hours on high.  These numbers slightly exceed WORX's stated specs.  Unless I'm working on a short job, I'll probably need to have a spare battery or two handy.  Conveniently WORX sells a pair of them for $99.99.  That seems a bit steep – the fan with one battery and charger is only $89.99 – but these batteries do work with other 20V tools in the WORX Power Share line.
The fan can rotate 360 degrees in the vertical plane, allowing it to be turned up or down, forward or backward.  The knobs on either side can be locked, preventing it from being rotated out of my desired position.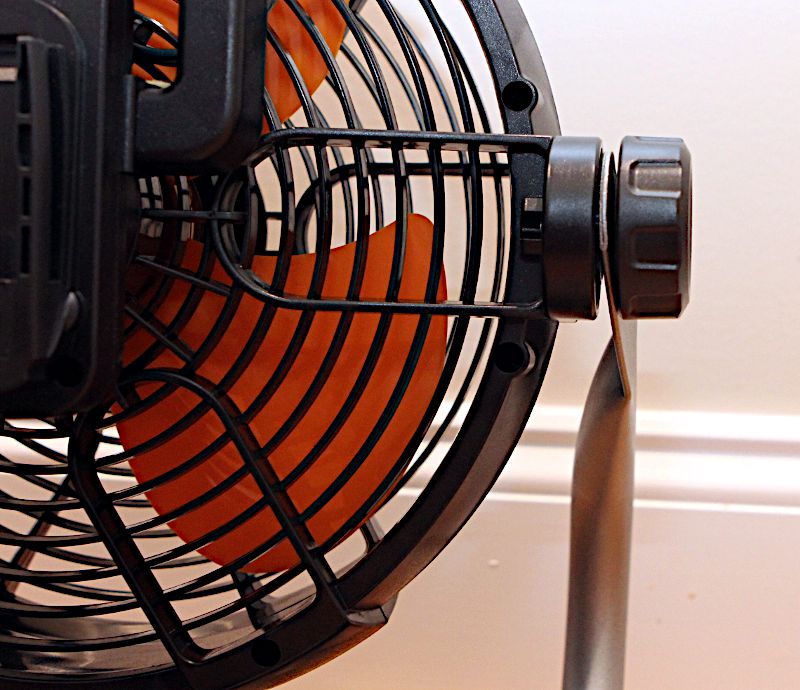 I have a lot of shelves in my garage, so I was able to rotate the fan 180 degree and hang it upside down.  This allowed me to stay cool while working at my work bench.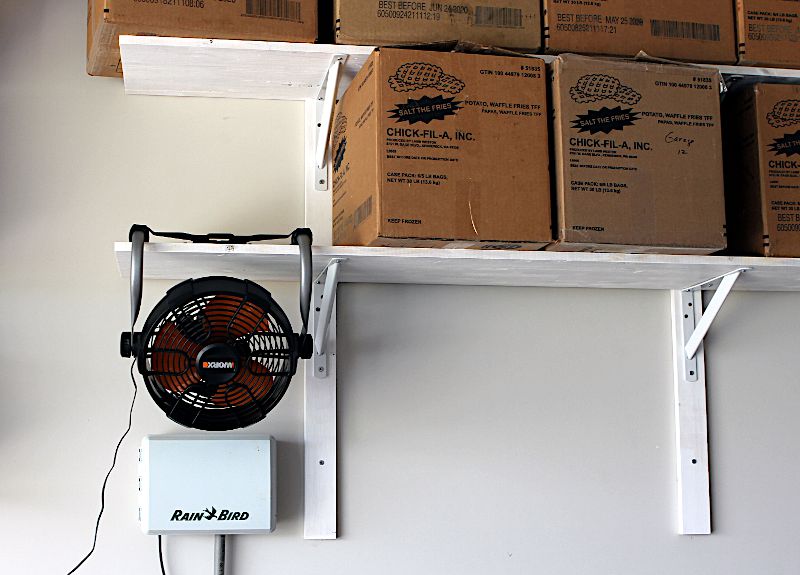 Extra Features
On the back of the fan is a hefty handle for carrying the fan.  At 8.5 pounds, the fan is light enough to easily pick up and carry around.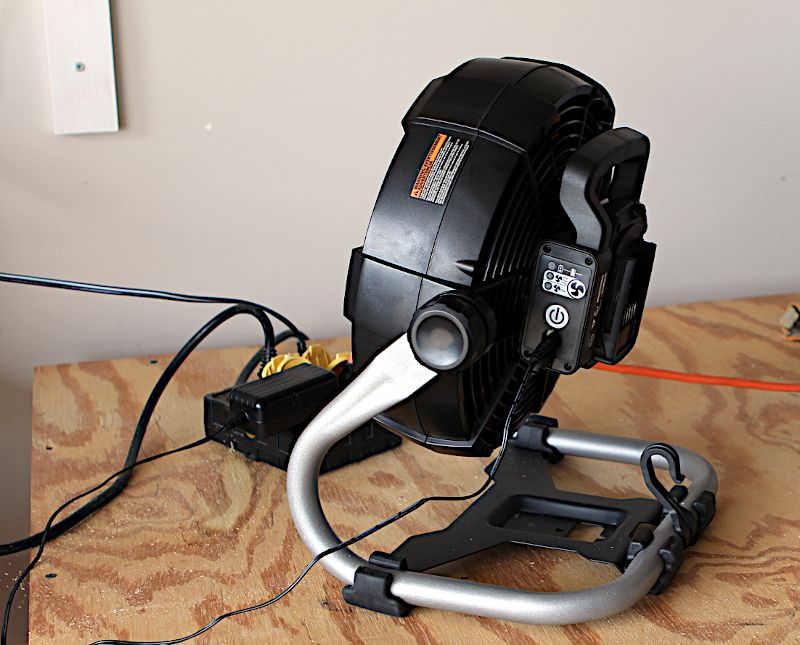 The Power Shell has a hook attached to the frame that allows the fan to be hung from a rope or a cord.  There are also 2 mounting holes, in case you want to permanently attach it somewhere.  I doubt I'll ever do this, as it seems like a shame to lose the portability of this fan.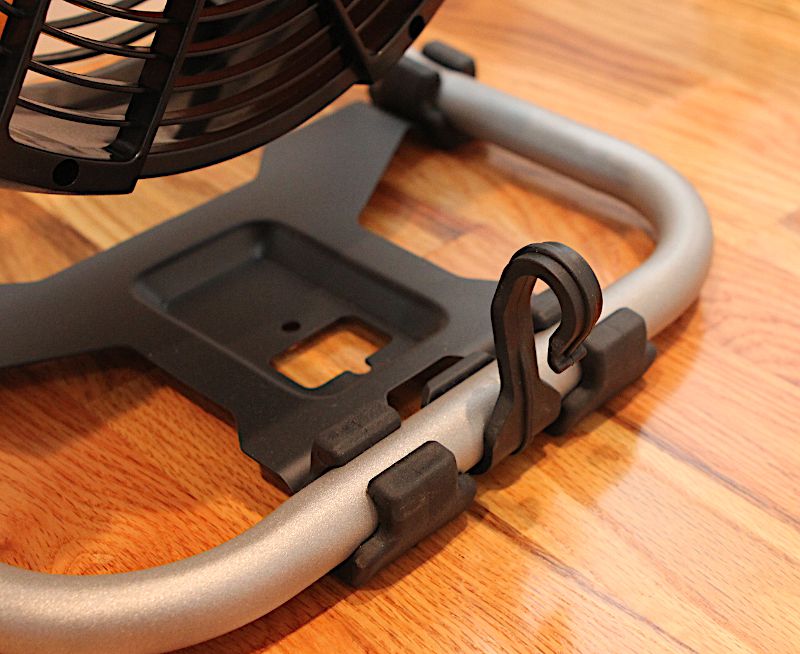 WORX states that the fan is not waterproof, and I was not able to find an IP rating for it.  The means it's best to not use the Power Share in the rain or too close to a table saw that's spewing sawdust everywhere.  There is a rubber covering for the AC adapter, which should be helpful for keeping out some of the dust.
What I like
Rugged, portable, and flexible
Powerful enough for one
Good battery life
What I'd change
Final thoughts
I'm happy to report that WORX's Power Share checks off all of my wants for a portable fan.  It's rugged enough to survive being banged around, light enough to haul to wherever it's needed, and powerful enough to keep me cool while working on outdoor projects.  The battery life is good, although I will probably pick up another battery or two at some point.  I like this gadget a lot, so if you're in the market for a portable fan for your home projects this summer, I recommend taking a close look at the Power Share cordless fan.
Price: $89.99 ($59.99 without battery and charger)
Where to buy:  WORX's online store or Amazon
Source: The sample for this review was provided by WORX.