We use affiliate links. If you buy something through the links on this page, we may earn a commission at no cost to you. Learn more.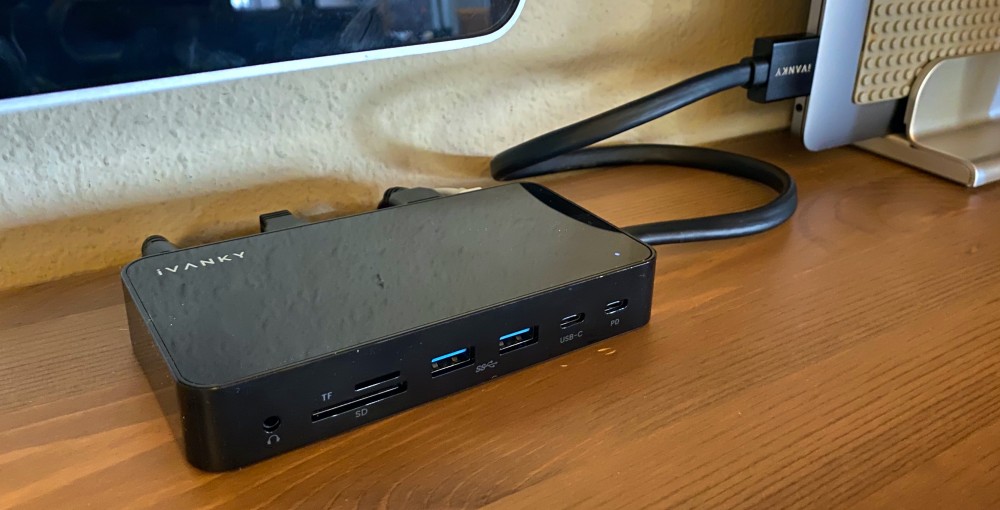 REVIEW – If you've been a long-time MacBook user then you're familiar with the way Apple makes port changes to their line. It's a no-looking-back approach that can be refreshing and frustrating at the same time. The switch to USB-C was one that visually cleaned up the sides of their laptops leaving only the headphone jack and USB-C ports. While the power adapter also made the switch to USB-C, you now need an adapter or dongle for any other connector including external monitor support. Well, iVanky has an all-in-one hub to provide plenty of connectivity in a single connection to solve that problem at your desk.
What is it?
iVANKY's new docking hub is a specifically for USB-C MacBook Pro (2016 and later) or MacBook Air (2018 and later) that adds connectivity for external monitors, ethernet, memory cards and USB-A devices with a single connection.
What's in the box?

Dual 4k MacBook Pro Docking Hub
Power Supply
Note: Preproduction review unit so final packaging and user manual were not supplied
Hardware specs
Power: 96w USB-C to MacBook Pro, 18w PD to smartphones
Video: Support to drive two 4K displays at 60Hz – HDMI (1), Mini DisplayPort (1)
Ports: USB-C 3.1 (2), USB-A 3.1 (4), Gigabit Ethernet, Card Reader (1 SD, 1TF), Audio port (3.5mm)
Power Supply: Input 100-240v ~ 50/60Hz 3.0A Max | Output – 20.5v, 8.7A, 178.3w
Dimensions: 5.5 x 3 x 1″ with a 19″ tethered cable
Design and features
The iVANKY 4k Hub is a whole lot of connectivity in a rectangular package.

The front panel has a headphone port, SD and TF card slots, 2 USB-A ports and 2 USB-C ports, the second with PD (Power Delivery)

Most of your more permanent connections are on the back of the hub. From left to right are your monitor ports (Mini DisplayPort and HDMI), Gigabit Ethernet, 2 USB-As, and the power port.
The most unique feature is the USB-C connection to your Mac.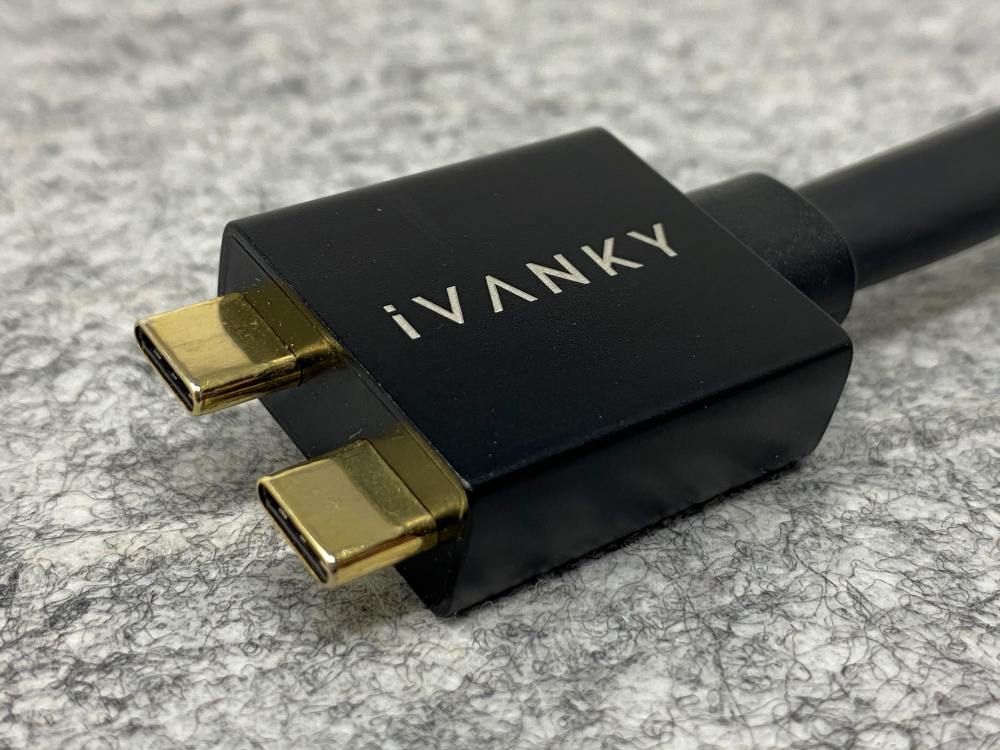 It employs 2 USB-C connectors molded in an enclosure at the correct distance to match those on your MacBook. I've seen this on some portable hubs, but not on a tethered desktop unit before.
Setup
The iVANKY hub is definitely meant for a desk, not a portable solution. As you go to set it up, take note of where you like your laptop and if you use it open or closed as well as how likely you are to access specific ports on the hub.
Step one is to connect the power adapter.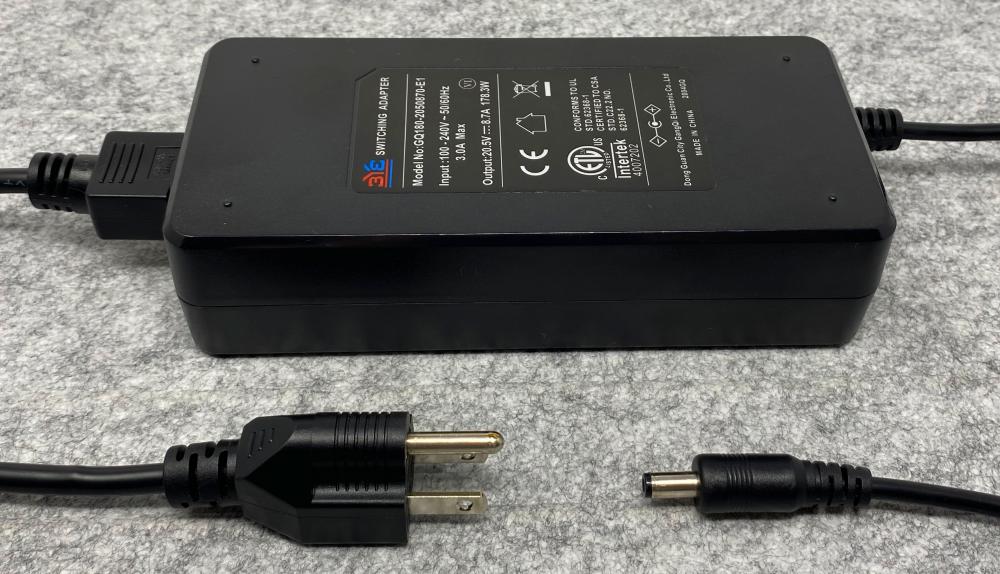 There's plenty of length on both sides of this monster brick, so you should be able to place it out of sight.
Step two is to connect your external monitor or monitors as this will support two (in addition to your MacBook). Connect the HDMI or Mini DisplayPort depending on your need. You'll likely have this side facing away from you to keep the cable routing clean. This is also a good time to run a USB-A cable to a hub or monitor if needed as well as your gigabit ethernet if you've got a hardwired setup.
Time to connect the hub's cable to your MacBook. Insert the double-headed USB-C connector into your laptop and your monitor(s) should spring to life. The MacBook Air only has its ports on the left side and technically, it's the most efficient side to power the MacBook Pro as the far back left is a Thunderbolt port. My recommendation is to connect the hub to your Mac, and figure out optimum placement before trying to connect and tuck away all your cables. In my setup (further below) you'll see my machine is flipped to have the top towards me and the USB-Cs at the bottom hence my right side photos here (and the fact the logo is right side up here).

There's no drivers or software to install so at this point all that's left is connecting any USB-C or USB-A peripherals to the front of the unit.
Performance
A quick disclaimer; the review unit received was a pre-production unit and as such came in white packaging and without a user manual. That will obviously change for the final retail units, but it set up quickly and worked as it should.
I set it up to work at my jumpstation desk that is in a small corner of the house. I run a 34″ curved Alienware monitor that runs a resolution of 3440 x 1440. The iVANKY hub drove this monitor through HDMI without any issue as I would expect it would given that it can support 4K@60Hz.
Seeing as the hub also has a Mini DisplayPort, I connected an Apple Cinema Display from 2008 – you know, the kind with the tri-cabled Mag-Safe, USB-A and a Mini DisplayPort connectors on the end. It also fired right up and worked without issue.
Here's how that setup looks on a desk that clearly does not have enough room for both monitors.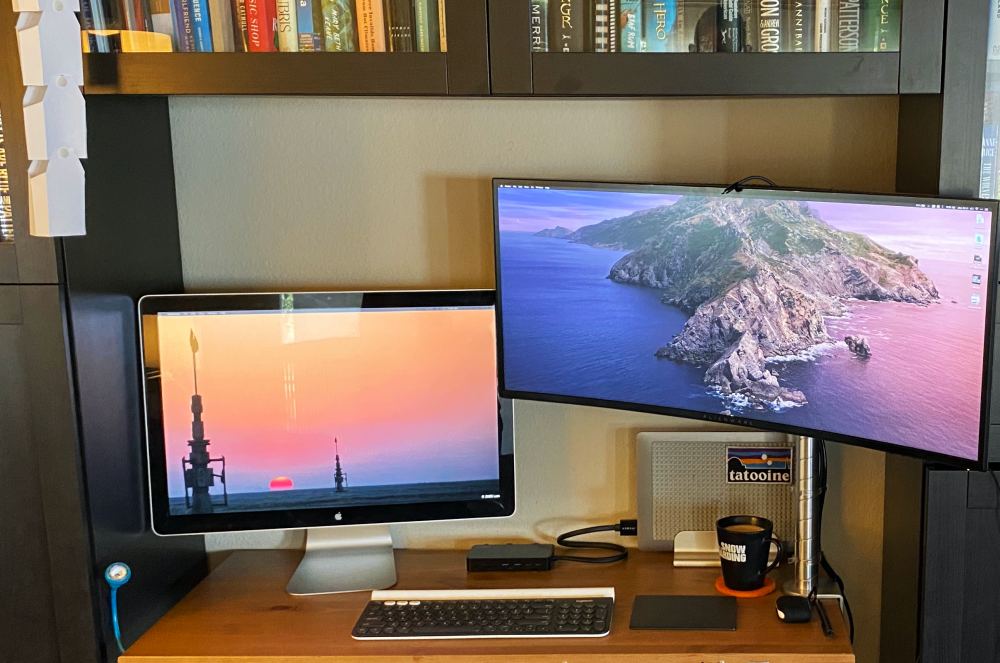 I chose to run my laptop closed in a vertical holder. It frees up the desktop and makes connecting the cable pretty easy.
I ran the iVANKY for a solid month and only had two issues pop up. First, the cable to your Mac is pretty chunky and while it bends easily enough (like in the image above), it prefers to be straight so you'll be fighting that full 19″ length.
The second issue is that the headphone port does not seem to support a microphone. This one is an annoyance as that port is handily facing forward, more so that the one on the side of your mac. You'll be better off using this port for connecting an aux line to a set of speakers instead.
The card reader slots work great. I was able to pull some video off my GoPro as well as an SD card from a digital camera. I miss those dedicated slots on the Mac itself, so again nice to have them facing forward within reach.
I was not able to test the 4k functionality as I don't have any 4k monitors, but the sheer ability to support two external monitors plus the laptop screen leaves me no doubt that this will work as intended. It seems like someone running two external monitors would likely buy two identical monitors so it could be a problem not having two HDMI ports or 2 Mini DisplayPorts.
The USB connections on the front are also great for quick connections and having a full PD USB-C port is great for charging up a compatible phone quickly.
The killer feature is really the ability to connect this one dual-plug to your Mac and have everything connected in one go including charging your laptop. Being able to leave your Mac charger in your bag is a plus and the fact this power supply is included is great.
What I like
Dual external monitor support (4k@60Hz)
Power supply supports laptop and USB-C PD charging at full speeds
Card readers
What I'd change
Add microphone support in the headphone jack
Soften the cable a bit for more flexibility in positioning
I question the HDMI/MDP instead of matching pairs, but it worked for the monitors I had.
Final thoughts
There are plenty of docks and hubs available out there, and it can be hard to sort through all of them. The iVANKY Dual 4k hub supports dual 4k monitor supports, has built-in card-readers and USB-C PD support plus full power charging for your MacBook. It's a lot of bang for the buck and as long as your Mac and monitors are compatible it's a solid choice.
Price: $199.00
Where to buy: Amazon Save $50 by Clip Coupon and use Code:LR55AR8M (expires 7/30/2020)
Source: The sample of this product was provided by iVANKY