We use affiliate links. If you buy something through the links on this page, we may earn a commission at no cost to you. Learn more.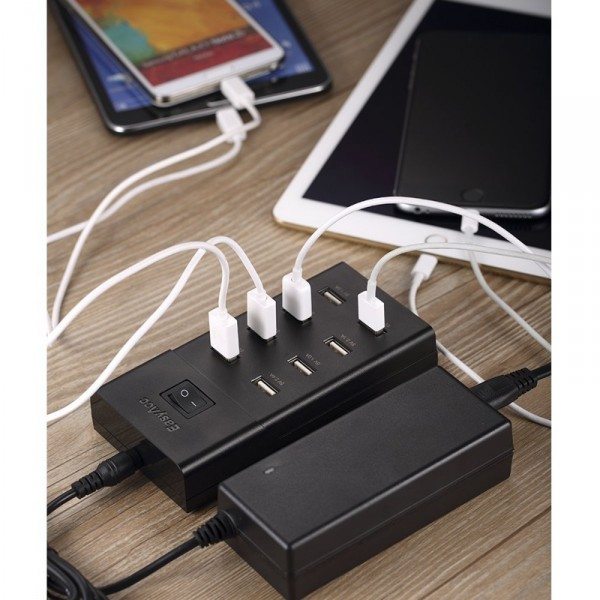 It doesn't seem that long ago that I reviewed my first desktop multi-USB charger.  That one had four USB ports, which of course, I quickly filled up.  Today, my desk graduates to 8 USB charging ports.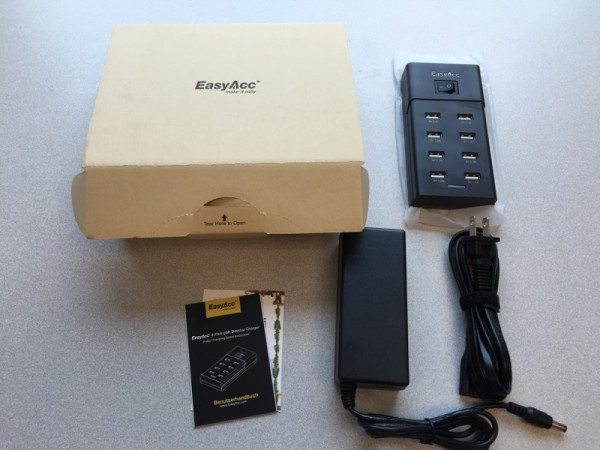 Here's what you get in the box:
1 x EasyAcc 8-Port USB Desktop Charger
1 x DC 12V 5A Adapter
1 x Power Cord
1 x User Manual
Size (LWH): 5.51 inches, 1.06 inches, 2.76 inches
Weight: 8.16 ounces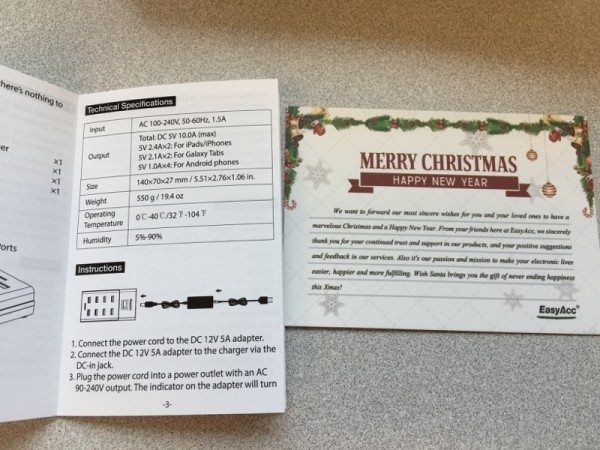 Close up of the instruction manual and a holiday greeting.  (Note: It's currently June as I write this.)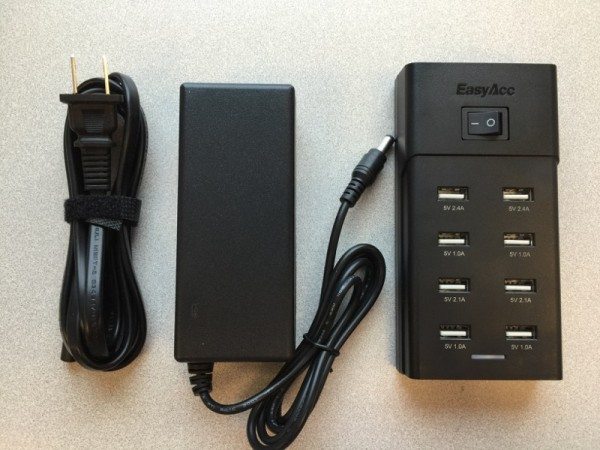 There's a two-pronged power cord with a nice hook-and-loop tie (left), power supply brick (middle) and the charger (right).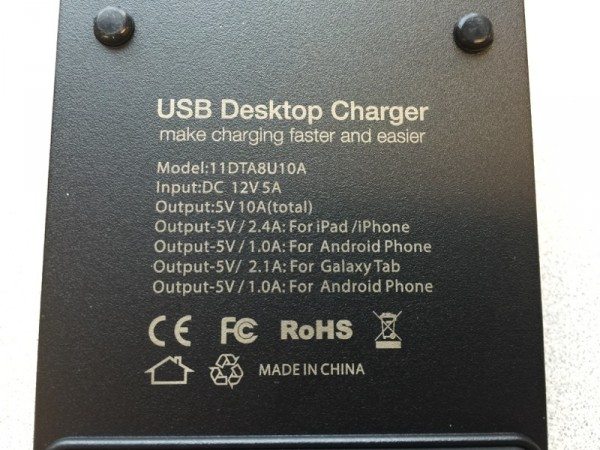 A view of the charger's underside.  Note distribution of the power output of 2.4A and 1.0A.  Rated total is 10A at 5V for all devices.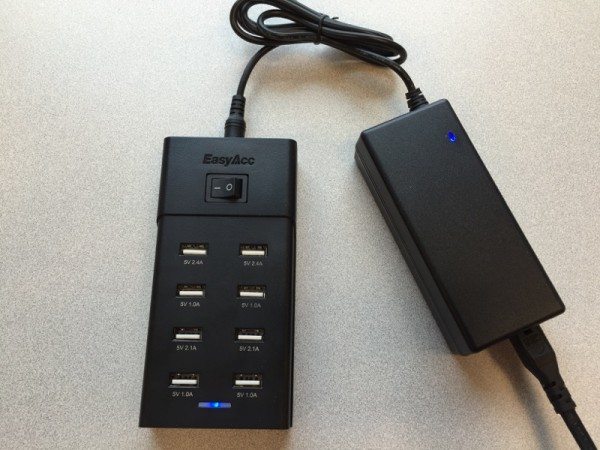 Here's the desktop charger plugged in to the power supply brick.  Each has it's own blue LED.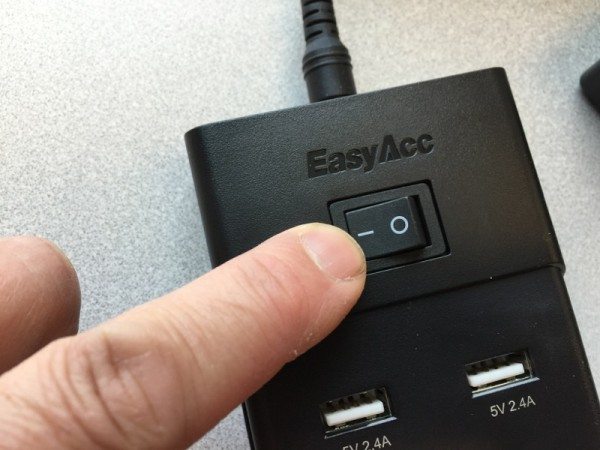 There's a power switch on the top.  This is handy for powering everything off (or on) at once.  This sure beats reaching under the table to unplug the power cord.
The business side of the charger.  Four USB ports are rated at 2.4A (ideal for tablets) and the other four at 1.0A.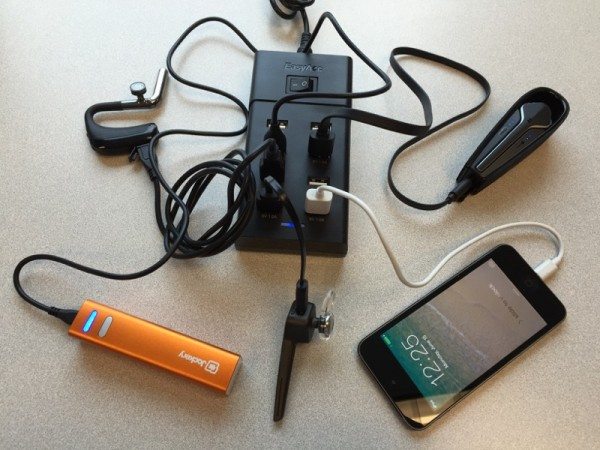 Feeding time!  I scrounged around my office for every USB chargeable gizmo I had.  It can become quite a mess of cables in a hurry!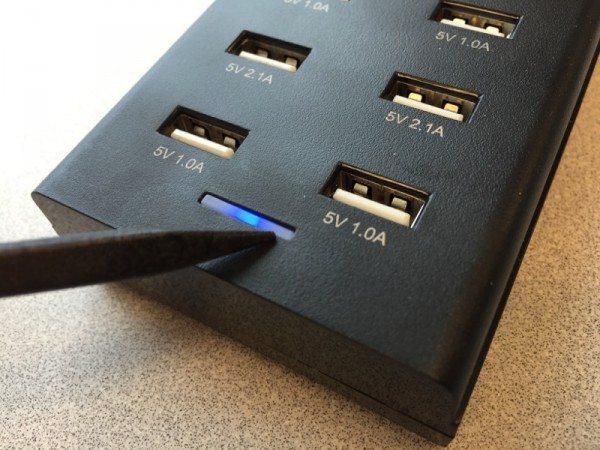 One minor nitpick:  The blue LED indicator isn't exactly flush.  It's a little crooked.
I love having 8 USB charging ports.  This ought to hold me over for maybe another year and a half?  If there's one thing I'd improve on is the labeling.  I just started wearing variable-focus glasses (my eyes are going bad; welcome to aging) and from a distance, all the USB ports look the same.  Perhaps grouping all the 1.0A ports in one group (say, on the left) and 2.4A ports on the right might be nice.  Otherwise, the EasyAcc 8-Port USB Desktop Charger has a new home on my desk.
Source: The sample for this review was provided by EasyAcc. Please visit http://www.EasyAcc.com for more info or Amazon to order.