We use affiliate links. If you buy something through the links on this page, we may earn a commission at no cost to you. Learn more.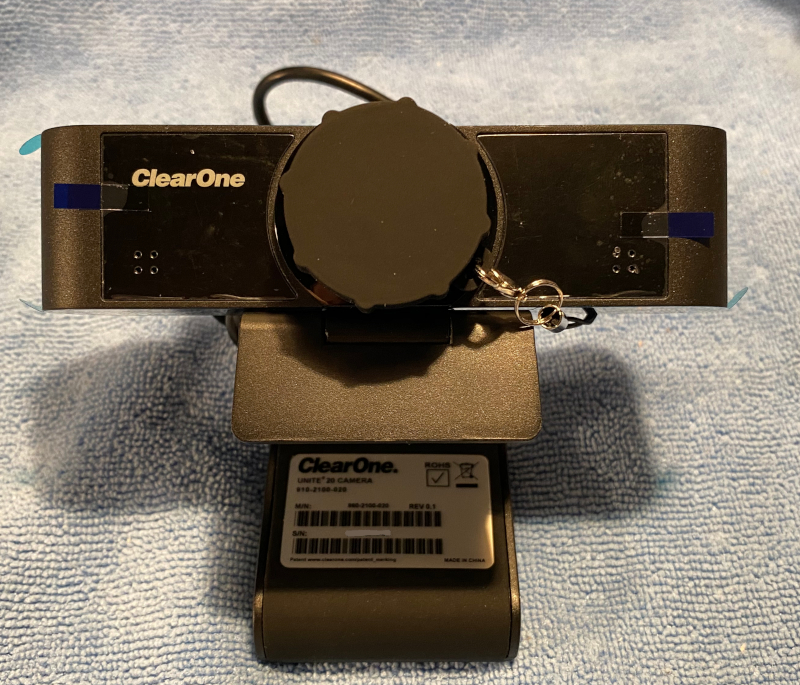 REVIEW – I've been following ClearOne, Inc. and its predecessor companies for over 20 years (back when they supplied both Oprah! and The White House with switchboard / call management hardware and software), so when I was offered the chance to review one of their Unite 20 web / conference cameras, I jumped at the chance to see how their new desktop-level cameras would work in our new work-from-home reality (well, not really new to me, I've been working from home for many years).
What is it?
The ClearOne Unite 20 Camera is a USB 2.0 web / desktop conferencing camera.  The Unite 20 differs from many other cameras in the it offers not just 1920 x 1080 resolution, but a 120 degree horizontal field of view. This wide angle capability allows the camera to serve as both a personal conferencing camera and conferencing camera for small meeting rooms.
What's in the box?
As the Unite 20 is targeted for business-to-business sales or through integrators, the packaging is utilitarian: a simple brown box with the product name, part number, and serial number on a small sticker.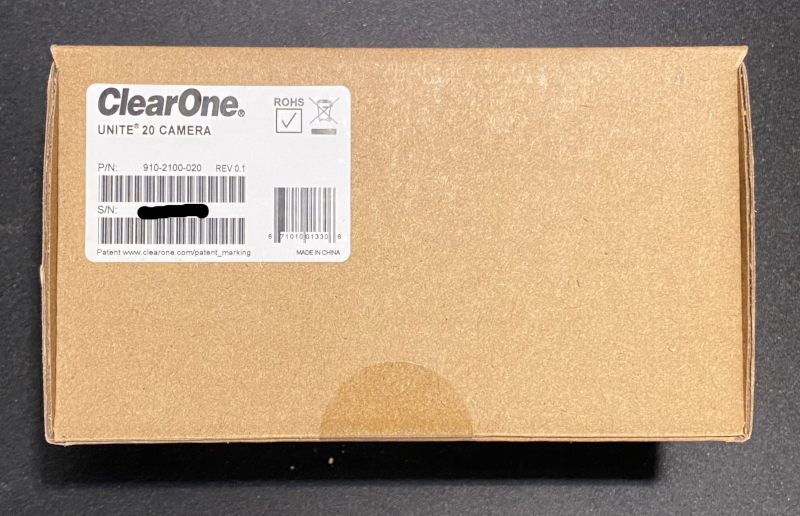 Once you open the box, you are greeted with a packing system that values function over flash.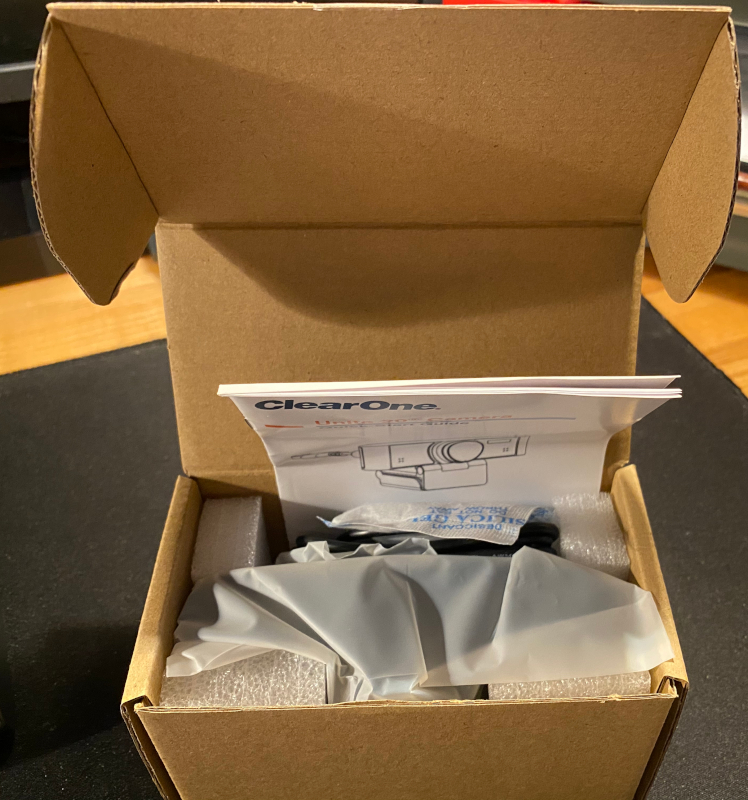 The Unite 20 camera ships as just a camera with integrated USB cable, a removable monitor grip / friction mount, a tethered lens cover, and a quick start card.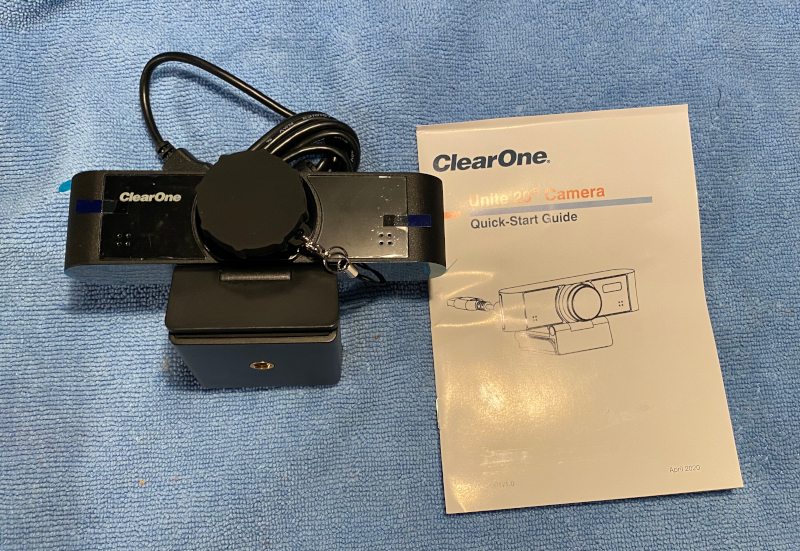 Never miss one of our posts again. Sent MON, WED, and FRI with the latest gadget reviews and news!
Hardware specs
The ClearOne Unite 20 camera's hardware specifications are (lifted from the technical datasheet on ClearOne's website.
Video System

1080P Full HD
– Sensor: 1/2.7'', CMOS, Effective Pixel: 2.07M
– Scanning Mode: Progressive
– Lens: Focus: f=2.8mm, FOV: 120°
– Minimal Illumination: 0.05 Lux @ (F1.8, AGC ON)
– Shutter: 1/30s – 1/10000s
– White Balance: Auto, Indoor, Outdoor, One Push, Manual
– Backlight Compensation: Supported
– Digital Noise Reduction: 2D & 3D Digital Noise Reduction
– Horizontal Angle of View: Wide angle up to 120°
– Easy Installation: Equipped with damped rotary shaft bracket to fit almost any display, easy to install, stable and reliable.

USB Features

Operating Systems
Windows® 7 (1080p and under only)
Windows 8.1
Windows 10 or higher
macOS™ 10.10 or higher
Google™ Chromebook™ Version 29.0.1547.70 or higher
2.4 GHz Intel® Core 2 Duo processor or higher
2 GB RAM or more
USB 2.0 port
Color System /Compression: H.265 / H.264 / MJPEG
Video Format: [email protected]/25fps, 720p30/25, 960x540p30/25, 640x360p30/25
USB Video Communication Protocol: UVC 1.0 ~ UVC 1.5 (Optional)

Input/Output Interface

USB Interface: 1xUSB 2.0: Type A

Generic Specifications

Input Voltage: 5v (USB power supply)
Operating Temperature: 14°F ~ 104°F (0°C ~ 40°C)
Storage Temperature: -40°F ~ 140°F (-40°C ~ 60°C)
Weight: 0.093 kg (Without bracket) 0.2 kg (with bracket)
Dimensions: 4.65"x1.46"x 1.21" (118mm x 37.2mm x 30.8mm)
Personal notes
My measurements have the camera and bracket weighing in at 160.5 grams and the camera and integrated USB cable weighing in at 86.5 grams.
There are two microphones on the front of the camera (one on each side of the lens). These are quite sensitive and can pick up voices / sounds throughout the room (and beyond, my wife sneezed in another room while I was online with one of my students, and my student responded with "bless you" thinking that I had sneezed). They provide limited stereo separation.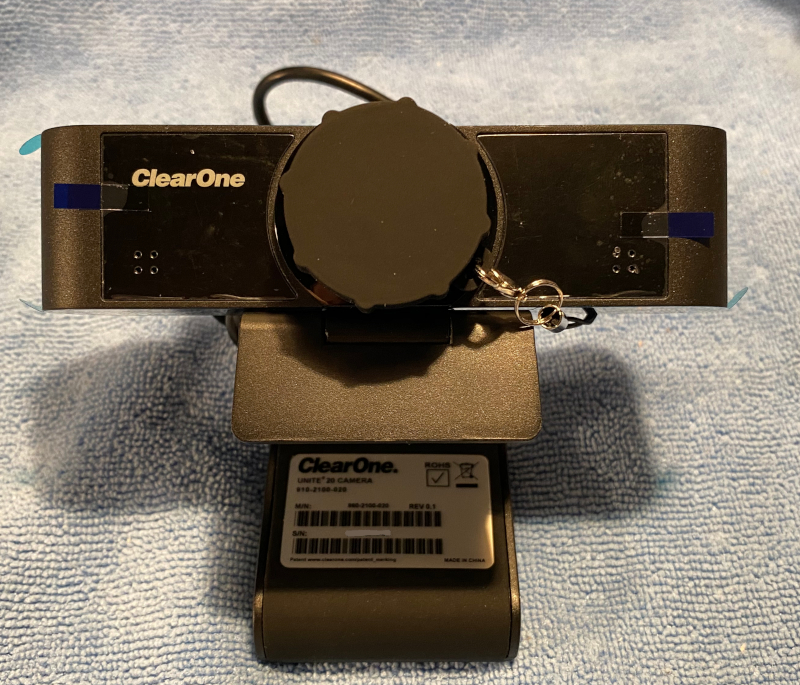 The documentation that accompanies the camera implies that the USB cable is a separate part, but on the review unit it appears to be integrated to the camera.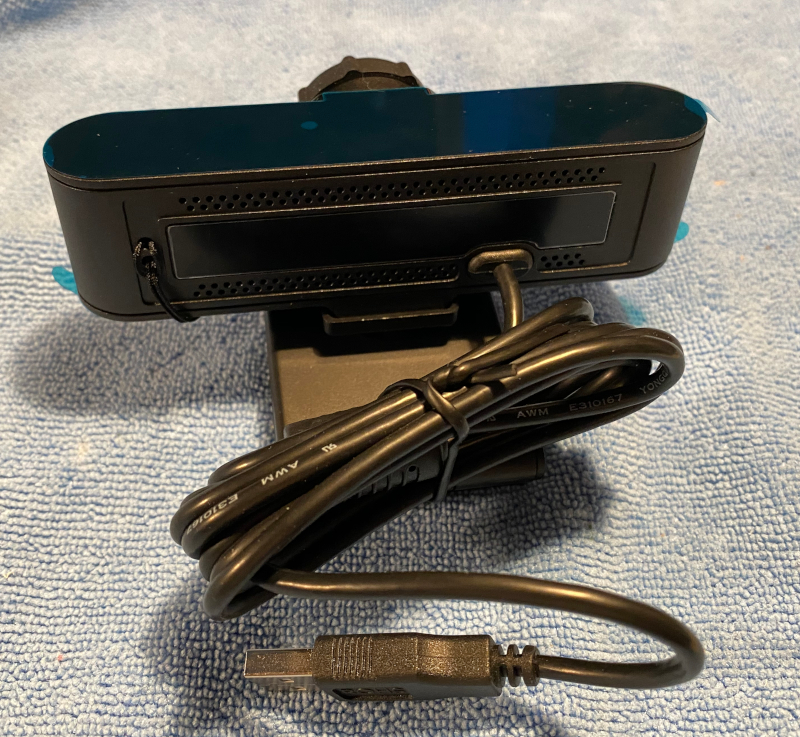 The monitor bracket has a threaded insert in the bottom for tripod mounting, and the bracket has an adjustable connection between the bracket and the camera.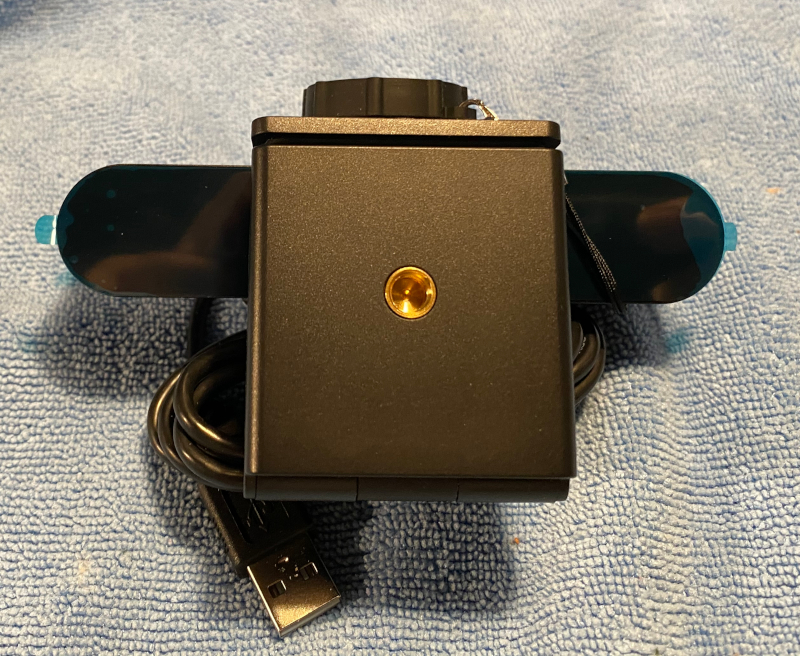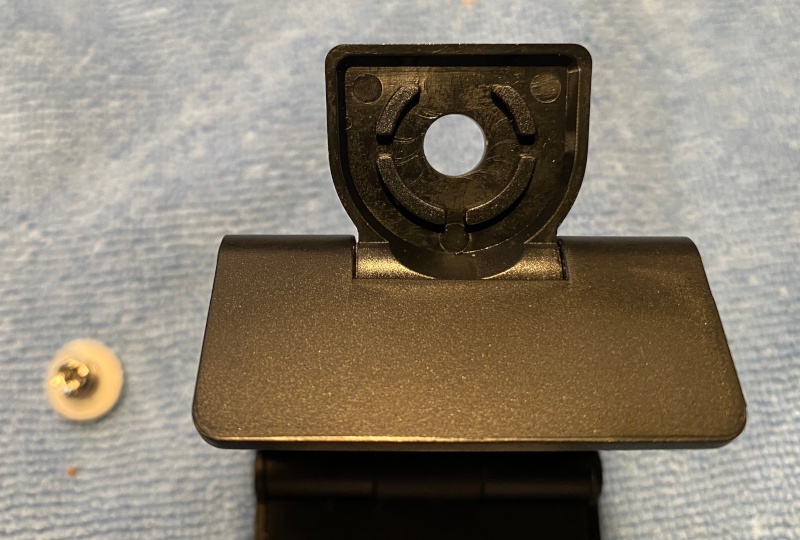 The whole bracket may be removed so the camera may be used with a separate mounting system.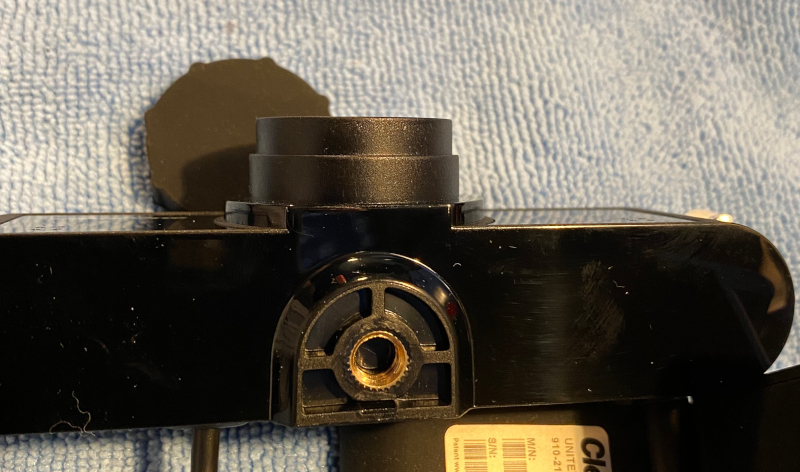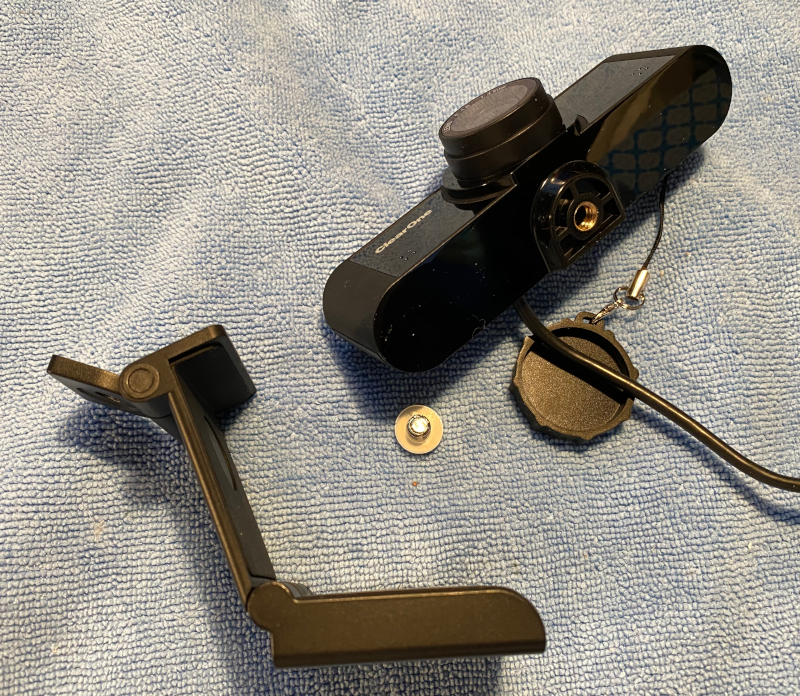 Design and features
Setup
Setting up the Unite 20 involves nothing more than
removing the camera from it's protective shipping pouch
removing the wire tie from the USB cable
plugging the cable into a free USB 2.0 or higher port (USB type A plug)
finding a place to mount your camera
Performance
The Unite 20 camera has performed flawlessly over the past month.  I have run into intermittent problems with certain video conferencing solutions not wanting to recognize the camera and instead trying to use the camera integrated into my 4-year-old Thinkpad. This problem has been limited to web-based solutions, such as Jitsi and the online classrooms of Wyzant.  Both of Jitsi and Wyzant have caused me problems in the past and often switching browsers from Firefox to Chrome or vice-versa will solve the problem. I have had no problems with either WebEx or Zoom.
I have been able to record some instructional video for some of my tutoring students using the Unite 20 and a whiteboard (I'm an old-school engineer, I have to draw things out) for times when my student's platform of choice didn't support live annotations or have a digital white-board. These videos are too dull to share with a wider audience for safety reasons (I don't want people nodding off and falling out of their chairs), but I did record a brief video showing the low-light capabilities of the Unite 20.
Unfortunately, my computer / software combination doesn't support recording from this camera at full 1920 x 1080 resolution. he Unite 20. I apologize for my presentation in the video. I don't regularly appear on camera, so my delivery is a bit uneven.
Because of my current monitor / speaker setup, it was not practical to mount the Unite 20 on the top of my monitor, so I removed the monitor bracket from the bottom of the camera (one screw) which reveals a standard receiver screw for a small tripod / other mount. I could have used the screw receive on the bottom of the bracket, but I didn't care for the aesthetics.
What I like
Wide field of view
Good low-light capabilities — I desk is in my library, so there is no natural light (to protect the books and artwork) and I rely on task lights mounted low over my work space
Included tethered lens cover
What needs to be improved
Removable USB cable
Drivers (TWAIN or similar) to allow the camera to be used to capture images
Final thoughts
The ClearOne Unite 20 camera is an excellent addition to my home office communications suite. Both the audio and video features for web conferencing are the best that I've encountered for a device at this price point.  I did have to dial the wide angle settings back for video conferencing so I didn't have to de-clutter so much of my workspace.
Disclaimer
My wife was an employee of one of ClearOne's predecessor companies, and she still holds ClearOne stock. She does not hold a significant amount of stock, nor is she involved in either tactical or strategic planning for ClearOne.
Price: $ 129.99 MSRP
Where to buy: Amazon
Source: The sample of this product was provided by ClearOne.