We use affiliate links. If you buy something through the links on this page, we may earn a commission at no cost to you. Learn more.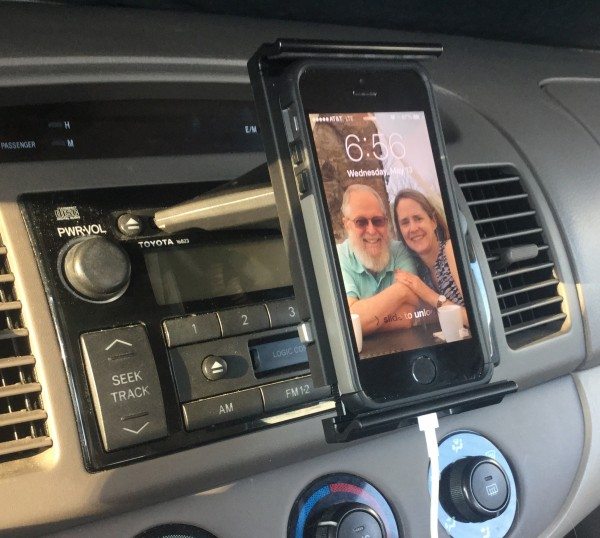 We Gadgeteers carry our phones everywhere. Even using wearable tech, we still want a phone with us, especially when we're driving. The GPS/Mapping apps and constant connectivity your phone gives you can be the difference between sitting at a confusing intersection, trying to unfold that stupid gas station map and breezing through, confident of your direction. I have tried all sorts of stick-on, clip-on, and jerry-rigged contraptions to affix phone holders within sight lines in my vehicles over the years. Some have been less useful than others, but none have done more than wind up in my box of unloved gadgets. Julie sent out a plea to the team a little while ago, needing someone to help with reviews of two different holders from Satechi. I volunteered, and found these two items in my mailbox, and some really great photos in my account at the Gadgeteer CyberSpace Lair of Awesomeness. Let's explore, shall we? (Her photos are later in the article. Those are mine at the top.)
Note: Images can be clicked to view a larger size.
Satechi CD-NT Universal CD car mount
The first box I opened was the CD-NT. I think this stands for "CD slot, No Tools," because that's exactly what it does. It slides into the CD slot on your dash, and with the flick of a switch, stays put while you drive around. On the back is a butterfly-wing-like tongue that fits into your CD Slot when the flip switch is open and the wing parts are all on the same plane, then wedges itself into that space when the switch is closed. The switch is in the closed position in the first photo below, and opened in the second photo.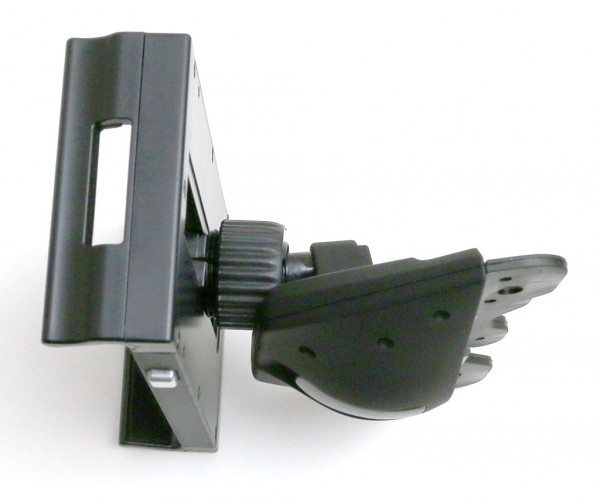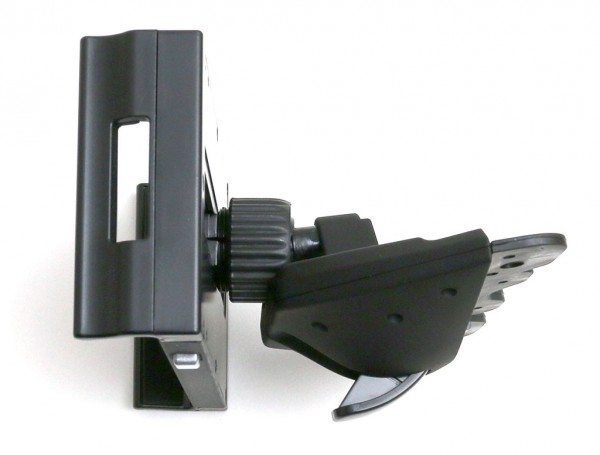 There are adapters included to make the opened tongue thicker, so that you can adjust it for different model CD players. (That's them in the photo below.) It fit without incident on the cars in my family (Toyotas and a Honda Fit), but Julie had some issues with the placement in her vehicle.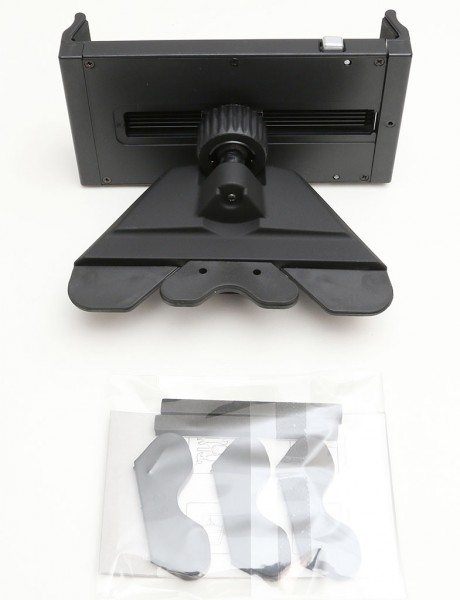 Attached to the sturdy platform of the butterfly piece, there is a clamp that holds most current phones and quite a few smaller tablets. You can put the device in vertically or horizontally, depending on the size of the device. There is a ball joint to connect these pieces on the small side of the wing-shape, which will turn in any direction, as well as allow you to adjust where on the back of the clamp you want the holder to hinge.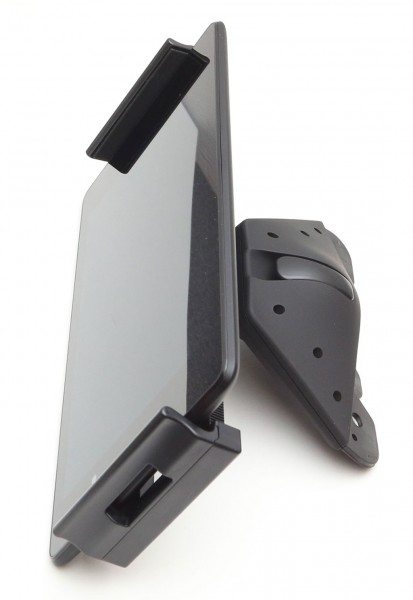 There is a spring-loaded piece, which, owing to the placement of the branding, I will call the top, and a ratchet-toothed piece opposite with a slot in it for a cable pass-through. Fully closed, these two holders are 4.75″ apart. With the bottom extended all the way out, and the top sprung out all the way, you're looking at about 7.75″. Remember, the top is a spring, so you've got to give it some room to – um – spring back.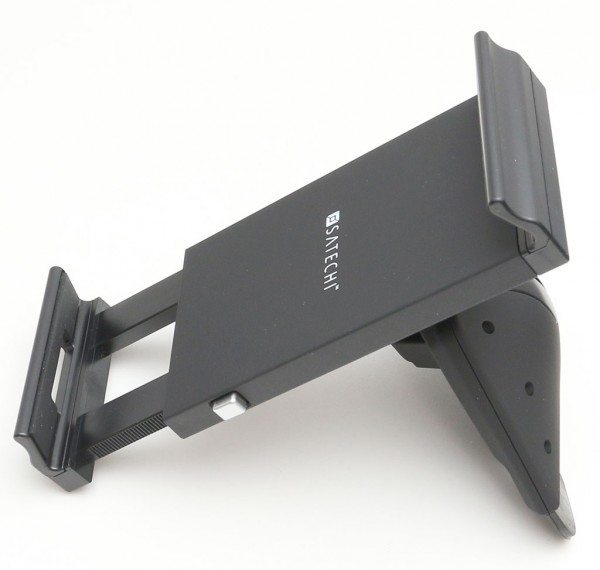 The jaws of this clamp are about half an inch from the back of the base to the inner-most lip, and lined with a nice grippy padding . You can see the groove in some of Julie's photos toward the back angle of the jaws. It's narrower than my naked iPad Air 2, but it's unnecessary to have your device snap into it. My iPad Air 2 fits in easily with the lower jaw fully extended, and is very secure. I wouldn't be nervous at all with this in landscape in this holder. Distracted like crazy, but it wouldn't worry me. In portrait, due to weight and my own paranoia, I'd be a little iffy.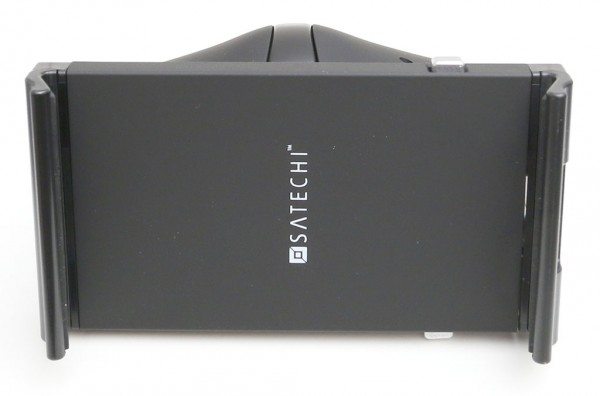 I used my iPhone 5s in this holder for several trips around town with various mapping apps. It made following the directions much safer than my having to grab the phone out of a pocket, console compartment, or the seat beside me. I always knew where to look. With the hole at the bottom, it was nothing to plug in the Lightning cable from my car's power port. I still fiddle a bit when inserting the phone, but taking it out is simple – place your hand over the phone with fingers on each silver release button, keeping your pinkie across the bottom jaw of the clamp, and squeeze. The lower jaw drops, and your phone is right in the palm of your hand.
One thing that did irritate me, but is completely understandable in a "one-size-fits-most" product – I have no way to turn off my phone when it's in the clamp.My next phone will most likely be a larger iPhone, with the on/off switch on the side, so this won't be an issue, but for now, be aware of this. There is also no access to the headphone jack. Bluetooth was not affected, but I don't have it in any of my cars, other than a portable unit I clip to the sun visor for speakerphone.
Satechi SCH-121 Cup Holder Mount for Tablets and Smartphones
The other box was labeled SCH-121, and I have no guess, other than "CH" meaning Cup Holder. Maybe Satechi Cup Holder? Whatever, the items in the box are three: a piston-shaped mounting post, and two different holders that can be clipped onto the top of the mounting post – one generally phone sized, and one generally tablet sized.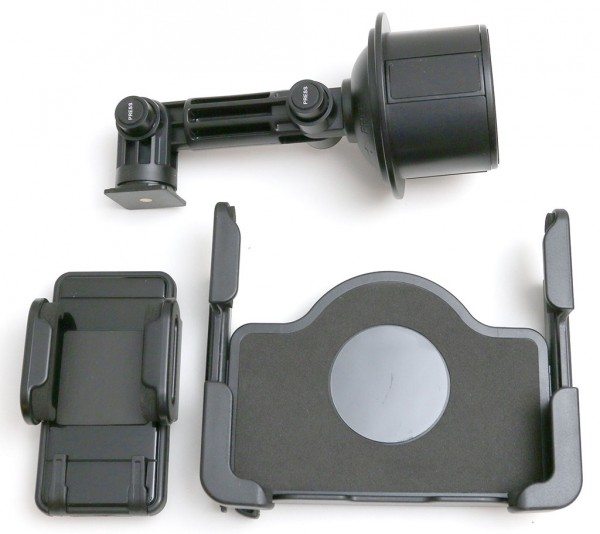 The mounting post has three lobes that are pushed out from the central core by simply twisting the main post around. When it's tight in the cupholder, the grippy pads on the end of each lobe will give the post stability.
The post is two pieces – actuated by a push-button on each joint which allows it to adjust to a large number of angles. Releasing the button locks it into whatever position it's in. The very top piece of the mount is a square, flat platform that allows mounting either of the two holders included in any orientation – well, on 90º orientations, that is. The photos below show the two extremes of the lobes extension.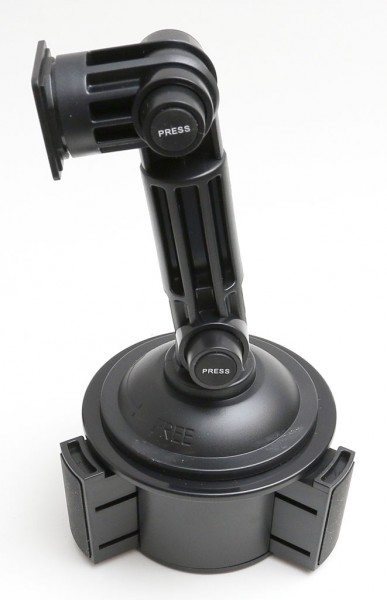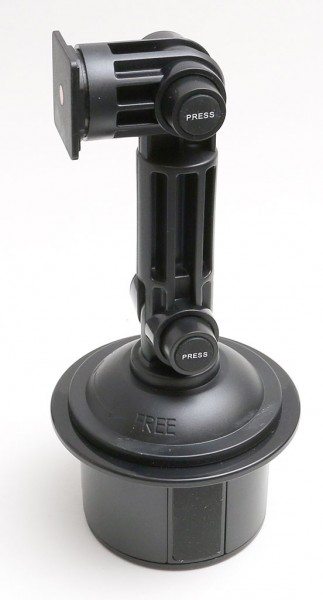 The cradle for phones has two ratcheted brackets that are cushioned to firmly hold a phone or phablet in their grip. The jaws will spread out a max of about 3.75″, and can only squeeze down to 1.5″. That means even that old iPod nano 4th gen will fit in it! Releasing the clamp is done with a simple button on the underside of the cradle. See the pictures below. The sides of the clamp have a spongy padding that offers some wiggle room to the size, and there is a grippy pad on the inner face of the cradle where your device will rest. There are a pair of fold-out rests that you can flip out to give your device (and you!) a bit more security, as well.
Likewise, the tablet holder can be clipped to the platform, again, in any orientation, so long as it's North, South, East, or West. Removing the phone cradle and replacing it with the tablet holder is just a recessed clip and slide away. I can fit my iPad Air 2 into the tablet holder naked, or with most of the form-fitting cases I have here in the South Eastern Gadgeteer Command Post. (If you're wanting to place your tablet in this holder, you're probably not that worried about taking it out of a cover.)
The ratcheted side panels have built-in bottom rests, so that your tablet, if it's heavy, will not risk gravity damage on that off-road trek. The width of the cradle arms goes from 10″ to 5.75″ – not much spring in this one. But the wide range means I can insert my iPad Air 2 in either orientation. (This will be great when my daughter and I drive two states away to visit my mom next month. Whoever is not driving can watch a video or something. She'll be able to insert her Kindle and read without her arms getting tired.) The sides of the clamp jaws have spongy cushioning and the main surface has a large pad of a grippy material. The sides are released by a single trigger on the lower left (see photo above).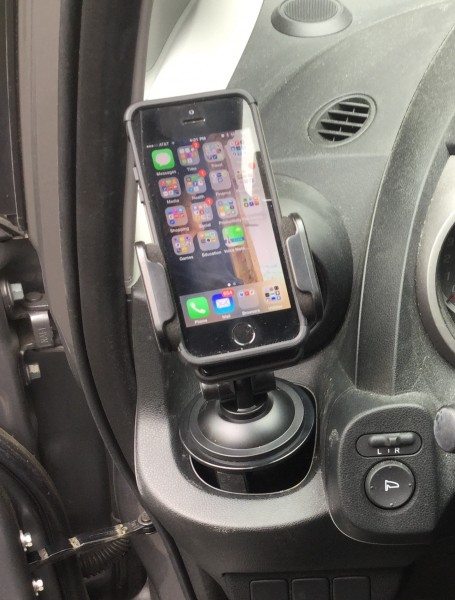 My daughter's Honda Fit has better cupholders than our Toyotas do. Mine are in several sizes, mostly down on the console. Hers are up to the left of the driver's panel, and to the far right for the passenger, a perfect place to hold an iPod or iPhone. (She's always driving with her iPod full of music, randomly deciding a different song is better for this exact moment.) I see this holder as a great lessening of the distraction of an iPod randomly placed on a seat or in a cup holder. [I am Smythe's daughter, and I approved this review! ER]
Updates 03/31/16
Got a new car, and the CD slot is on more of an angle, so this doesn't fit well. Really bummed, because it is so nice. Waiting for warmer weather to try and make it work.
Source: The sample for this review was provided by Satechi. Please visit their site for more info.
Product Information
Price:
CD-NT $30; SCH-121 $40
Manufacturer:
Satechi
Retailer:
various online and off
Requirements:

Vehicle
devices that need mounting
CD player or Cupholder

Pros:

Well made and designed.
Easy to install and uninstall - great for rentals when traveling.
Versatile, and doesn't cover air vents or windshield.

Cons:

Mostly made of plastic - which may or may not be affected by high heat in the summer sun.
Distracted driving can become a real problem with this ease of access.