We use affiliate links. If you buy something through the links on this page, we may earn a commission at no cost to you. Learn more.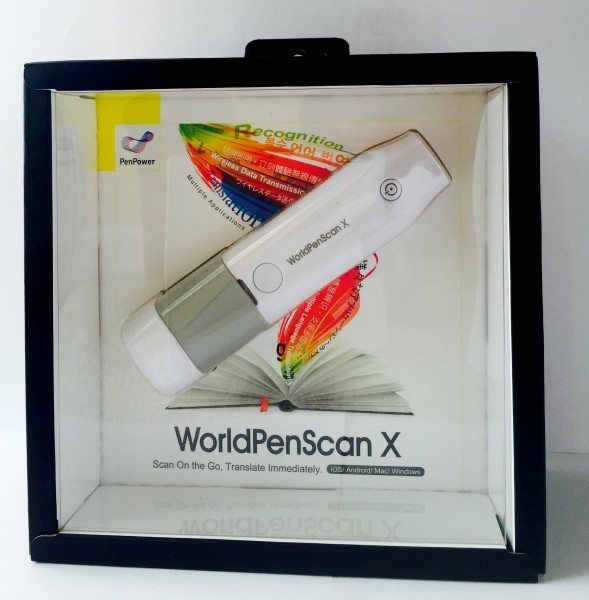 When I first heard about this little pen, offered by PenPower, that could scan and translate on the go, I couldn't wait to get it into my hands. I began thinking of all the possible ways I could use this to copy written word, and/or translate text to be used on my computer or any device. 
What's in the box?
The pen came with a USB charger, a software installation disc and manual, along with a warranty registration card.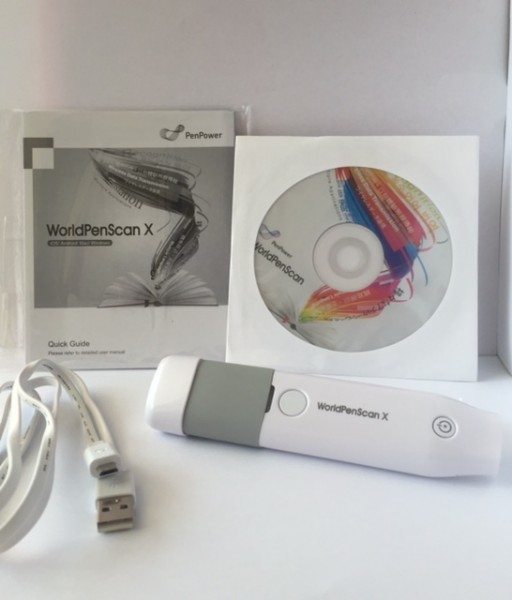 As per the instructions, I immediately went to the app store and downloaded the WorldPenScan X app for my iPhone.  I have to say I was pretty impressed with how easy the app was to use, and how aesthetically pleasing it was.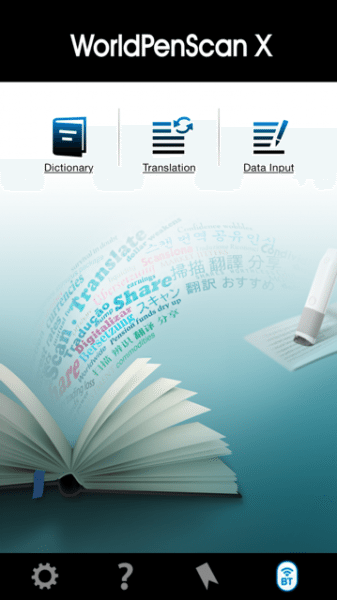 After opening the app and turning on the pen (hold the power button for about 3 seconds) and enabling the Bluetooth setting on my phone, I tapped the blinking Bluetooth icon in the lower right of the screen and pressed the function button on the pen. The function light on the pen turned blue and began blinking intermittently and the Bluetooth icon that was formerly blinking was now solid, indicating that that the pen was connected. Unbelievably easy.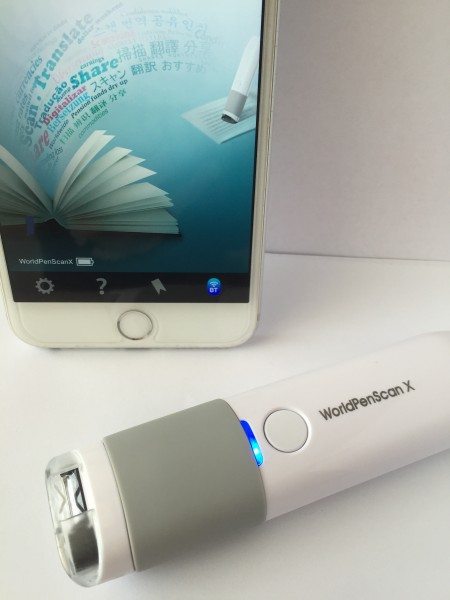 What does it do?
As per the user manual there are many tasks that can be done with this device:
Recognition in lots of languages The WorldPenScan can scan and recognize lots of languages, including English, French, German, Italian, Spanish, European, and East Asia characters.
Bluetooth wireless connection WorldPenScan X adopts the Bluetooth 4.0 – BLE technology to facilitate the data transmission to any mobile devices. The scanned result can be immediately digitized into texts and transmitted to Win/Mac PCs via USB port.
Business Mode The WorldPenScan has business mode, which can recognize bar codes and bank fonts (OCR-A, OCR-B, and MICR). An ideal product for business.
Output to multiple applications The WorldPenScan can be used in any editing applications, such as Word, Excel, Outlook…etc. You can get the result instantly.
Multiple Language Translation By sending the scanned and recognized words or sentences directly to on-line translators, you can instantly see the translation results by one click.
 Scan images. The WorldPenScan lets you scan and save the images into your document.
Now that I'm connected, I'm ready to scan.  There is a roller on the bottom of the pen that when applied to the paper, gives and allows the plastic guide to smoothly glide along the page.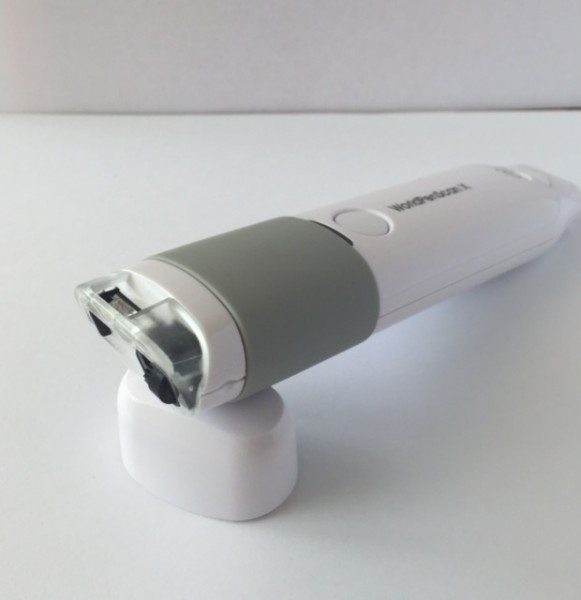 When pressing the pen down on the page, while pushing the function button just above the blue light, a green light comes on and an arrow can be seen that gives you a guide to use to line up the letters. I played around with how fast I could drag it along the page and found I was more accurate when I didn't try so hard and I just let 'er rip!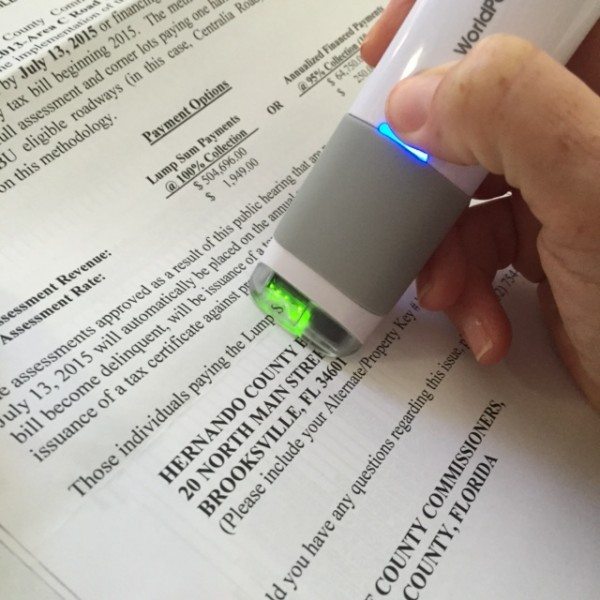 I found this to be very easy to use, and even easier the more I used it. I scanned sections of a bill I received from the county to my realtor because I had some questions about the verbiage. It saved me from having to either scan the whole thing and email, or re-type it out word by word for him. You can see the actual scan of the text in the white box seen below, and the editable text that is created in the box below. The result of the above scan can be seen on the app when used in the Data Input mode. From there you can use the data in many ways.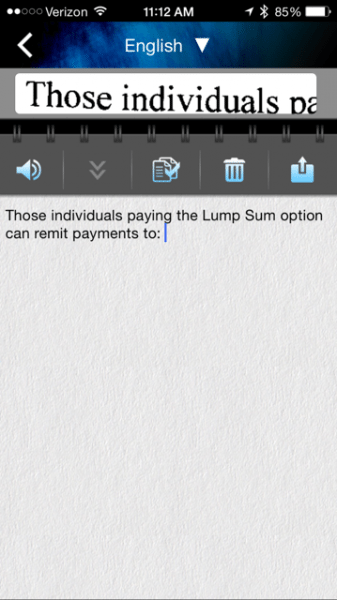 You can email, text, upload to Facebook, or copy and paste it in another document. I have also used this in the classroom setting to grab specific parts of a syllabus, or text and put them into either a text or a word processing application.  You can press the speaker button on the left to hear audio of what you scanned as well which is pretty neat when your scanning different languages.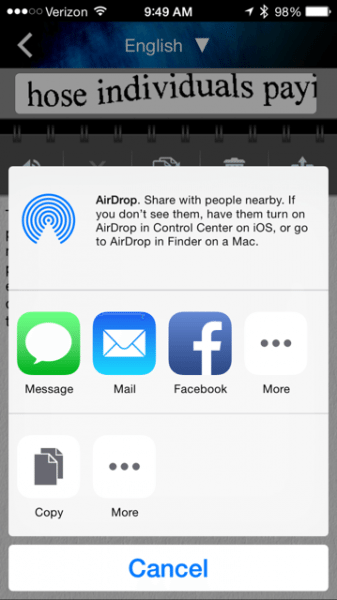 I found the data input process very easy and very helpful in my daily life.  Now on to translating.  I took a small poem I found that was in Spanish and quickly scanned it to see what it meant. This would be great for a person who travels a lot, or someone who is learning another language.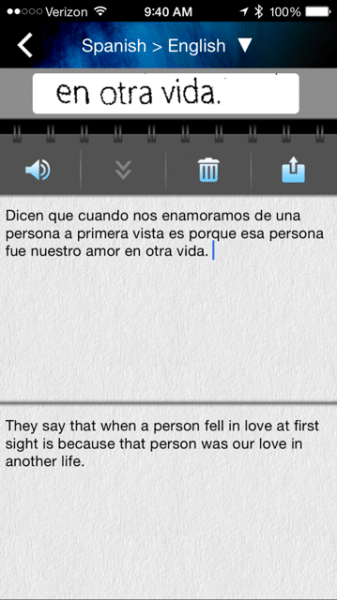 There are some small word choice type/spelling errors within the app that I found to be bothersome, but I think that's because I'm a bit of a spelling and grammar Nazi. I know that it is probably because the people writing the program don't use English as a first language, but it still makes me wonder how accurate other languages are.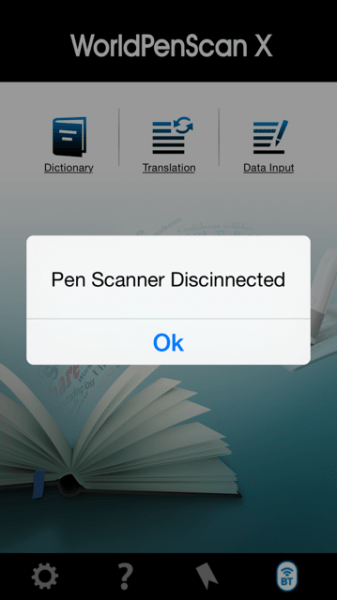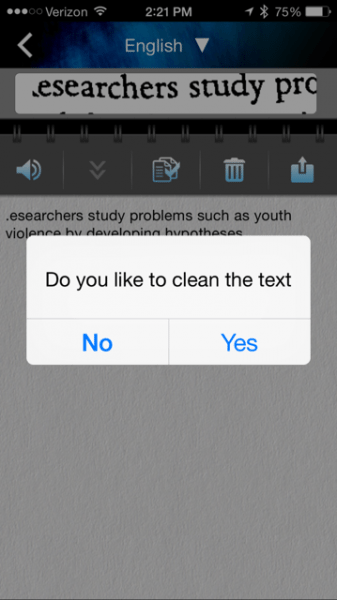 With that being said, I decided to test other languages. I found a pamphlet that had information on it in 15 other languages.  The first one I tried was Korean.  I tried it 5 times and got 5 pretty different outcomes.  Here is one example of what it looked like.  The top half is what the scanner read, and the bottom is how it was translated.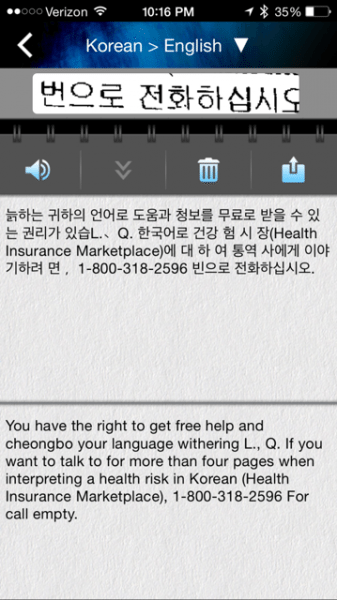 I was scanning a pamphlet related to seeking health care information in many languages from the Health Insurance Marketplace.  You can get the idea here, but it's pretty jumbled up.  From playing around with German, French, Spanish, Chinese, and even Arabic, I found that French and Spanish were the closest to being anything I could actually recognize and Arabic was the worst.  It was actually just useless.  I tried many different speeds of scanning and applying different pressure to the pen and the result was still horrible.  See below.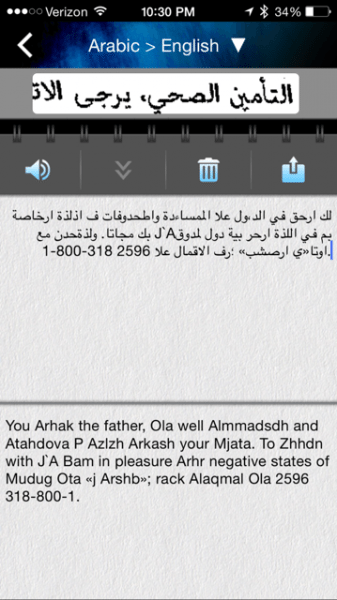 All in all, the WorldPenScan X Pen Scanner is a very impressive tool that has a variety of uses in personal and business type applications. As far as basic English usage, the pen is accurate, simple to use, and has been beautifully and functionally complimented by the downloadable app. If you are looking for a small scanner to use as a translator or dictionary, or you'd simply like to scan printed documents into editable text, this may be the tool for you.  However, I would not rely on it's accuracy in translating some languages.
Source: PenPower Technology Ltd provided the sample for this review. Check out their website for more information and Amazon to order.
Product Information
Price:
$149.95
Manufacturer:
PenPower, Inc.
Retailer:
Amazon
Requirements:

A place to plug in a USB charger, and a smartphone or computer

Pros:

Easy set up when used with an iPhone and the free app
Can copy printable text to be edited, shared or saved.
The app has a battery life icon so you know when it needs to be charged
Very lightweight and easy to travel with

Cons:

No carry case to protect it when traveling
Takes a bit of practice to scan with accuracy
Priced on the high side
Inaccurate translations in some of the languages