We use affiliate links. If you buy something through the links on this page, we may earn a commission at no cost to you. Learn more.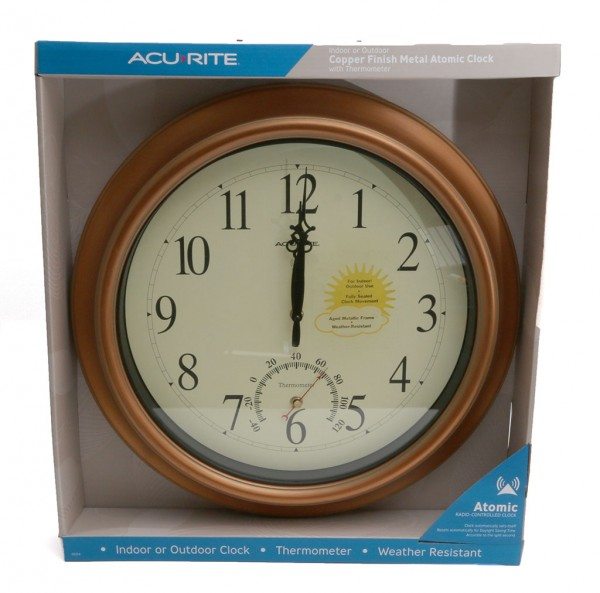 We remodeled our basement living room about 5 years ago and continue to decorate it with framed pictures and other items. One thing Jeanne and I could not find was the perfect clock. She wanted something unique and I wanted something more traditional and easy to see. Since we couldn't agree on one, we've settled into using our phone or the DVR screen to check the time when we need it. Annoying? Yes. Solvable? Finally! Recently AcuRite offered me their 18-inch Atomic Metal Copper Outdoor Clock with Thermometer to review. I didn't consult the boss (Jeanne) and accepted their offer. Let's see if that was a wise and timely choice.
Note: Images can be clicked to view a larger size.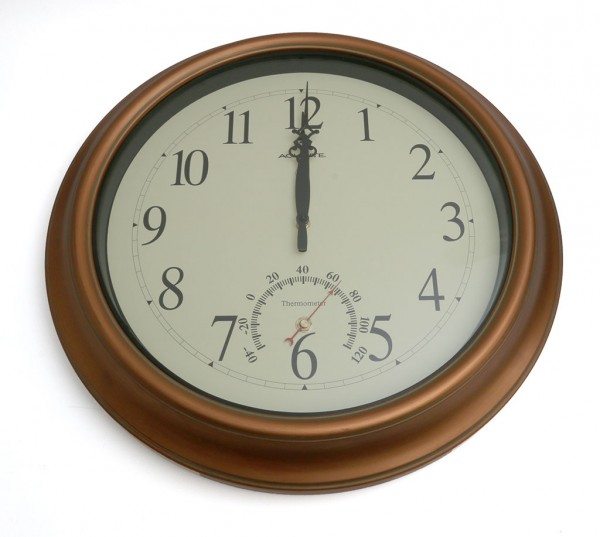 The AcuRite 18-inch Atomic Metal Copper Outdoor Clock with Thermometer is a traditionally styled wall clock that has been designed for both indoor and outdoor usage. It has a weather-resistant copper finished housing with an off-white face and large black numbers and hands.
The clock features a built-in thermometer that measures temperatures from -40º to 120º degrees Fahrenheit. The thermometer is nice if you're going to use the clock outdoors, but the feature that most interested me is that this is an atomic clock. Atomic clocks set themselves. They use a radio-controlled signal to synchronize the correct time which is broadcasted by the National Institute of Standards and Technology (NIST) Radio Station WWVB located in Fort Collins, Colorado. WWVB broadcasts the current time and date with split-second accuracy.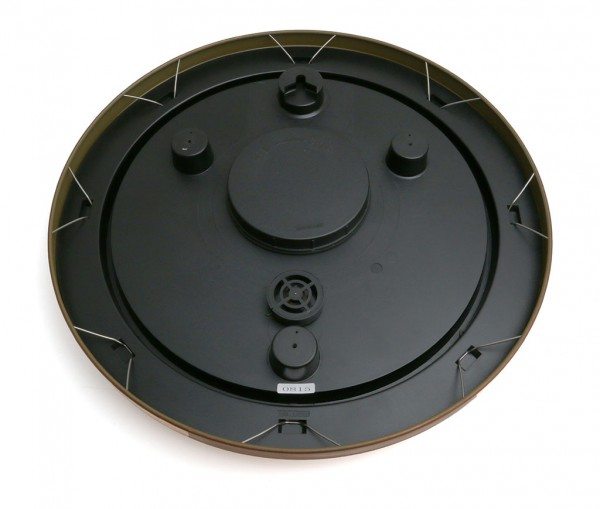 The back of the clock has a wall hanger and a covered battery compartment.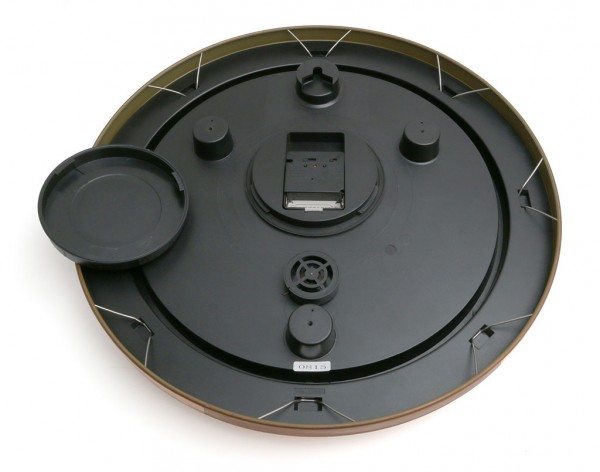 The battery compartment cover twists off to reveal the battery socket. This clock runs on one AA battery which is not included.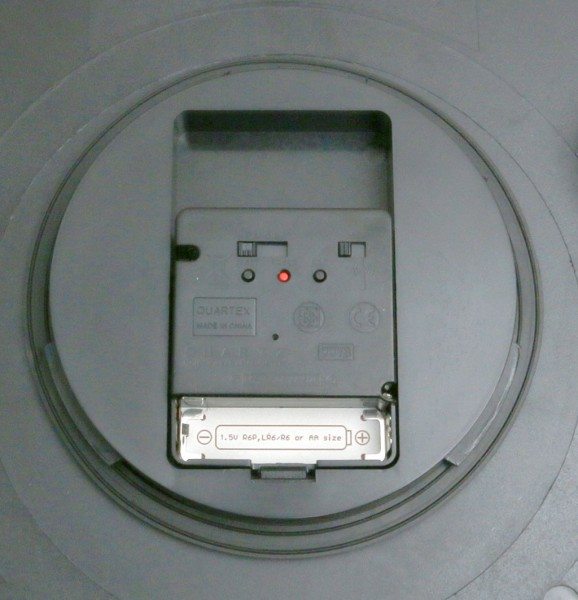 The battery compartment also has switches for setting the time zone (PST, MST, CST, EST) and a DST (daylight savings time) switch. There are also buttons to manually set the time if for some reason the clock can not receive a signal to the WWVB station.
As soon as I put the battery in the clock, the hands started moving around the face to the 12 o'clock position. After about 30 minutes the clock was finally set to the current time. It shouldn't really take that long to set it, but I was setting it up during the day. According to the instructions, solar radiation in the atmosphere can cause the radio signal to be weaker during the day than the night. Most synchronization takes place at night.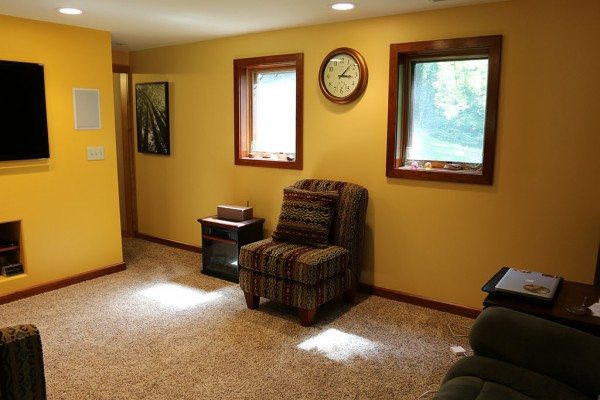 Hanging the clock was simple and required only one screw (not included). I think it looks great in our basement and Jeanne likes it too. Yay! Now she doesn't ask "what time is it?" a couple times a night when we're watching TV because she (and I) can easily look up and see the time.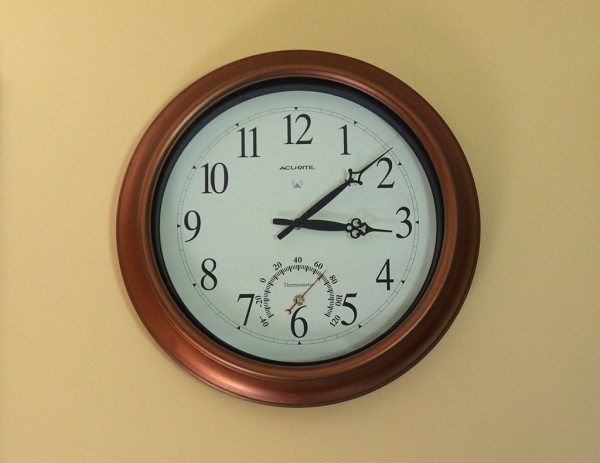 The AcuRite 18-inch Atomic Metal Copper Outdoor Clock with Thermometer is easy to see from across the room and runs silently. The thermometer is very accurate and matches the reading from a digital thermometer in the same room. I really like the fact that I won't have to adjust this clock for DST or ever for that matter. It will always display the correct time while looking great on the wall.
Update 12/9/16
The AA battery died on 12/6/16 which means that it powered the clock for close to a year and a half. Not bad!
Update 3/13/21
It's been several years since my last update on this clock and it's still hanging on my wall. I can see it right now as I'm typing this. The only problem I encounter with it is when the batteries die, it can sometimes take some fiddling to get it to "boot" back up. Yes, I know that clocks don't boot up, but this one is an atomic clock and each time I replace the batteries, I have to google the instructions on how to do that because there are specific steps. Luckily this only happens once a year. Hey, it even knows when to adjust for daylight savings.
Source: The sample for this review was provided by AcuRite. Please visit their site for more info.

Product Information
Price:
$69.99
Manufacturer:
AcuRite
Pros:

Atomic clock never needs adjusting
Large easy to see
Built in thermometer
Weather resistant

Cons:

1 AA battery not included