We use affiliate links. If you buy something through the links on this page, we may earn a commission at no cost to you. Learn more.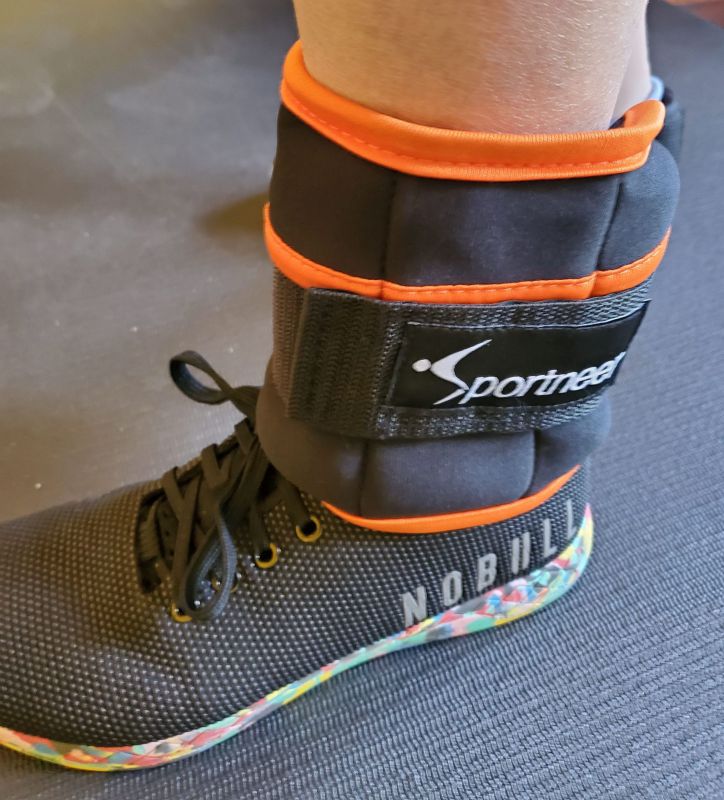 REVIEW – With COVID-19 still running rampant across the country, I still find myself reluctant to head out to my local gym.  When I used to go into the office every day, I made a point to park the car as far away as possible and walk extra steps into work.  Now that I am home, I get up a little earlier and do a mile loop walking through my neighborhood each morning.  When the opportunity to review some Sportneer ankle weights came up I thought this would be a great opportunity to get some extra pump into my workout.  Let's see how they worked out for me.
What is it?
The Sportneer Ankle Weights are 3.5 lbs that are configurable down to a half pound of weight per ankle.  They have pouches where you can adjust the weight in the ankle weight in about .7 lb increments.
What's in the box?
I did not take a picture of the box as it was a rather plain cardboard box with the logo on the outside.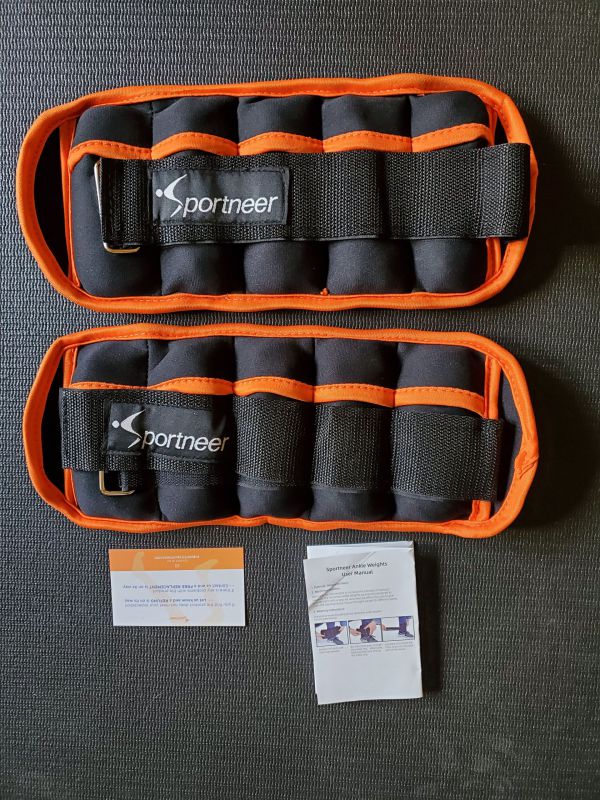 One pair of ankle weights.  All of the individual weight pouches are inserted into the weights so they weigh right at 3.5 pounds.
A card saying if you find the product does not meet expectations or you have problems with it, to please contact them for a free replacement or refund.
One instruction booklet.
Hardware specs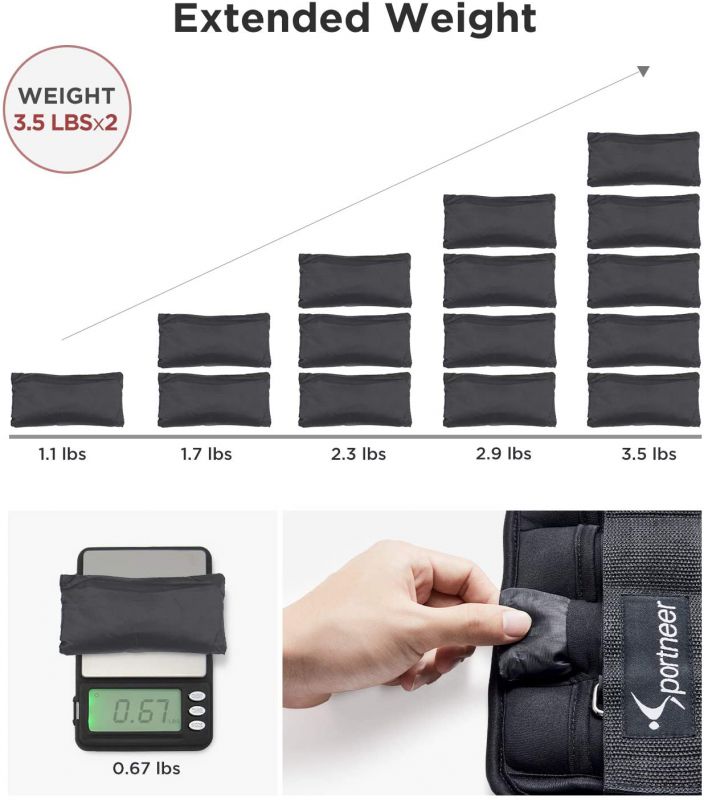 The picture above shows you that each ankle weight contains five separate pouches.  Each pouch weighs around .67 pounds.  This allows you to configure each weight to be anywhere from a little under a half-pound up to three and a half pounds.  These weights also come in all black or purple options.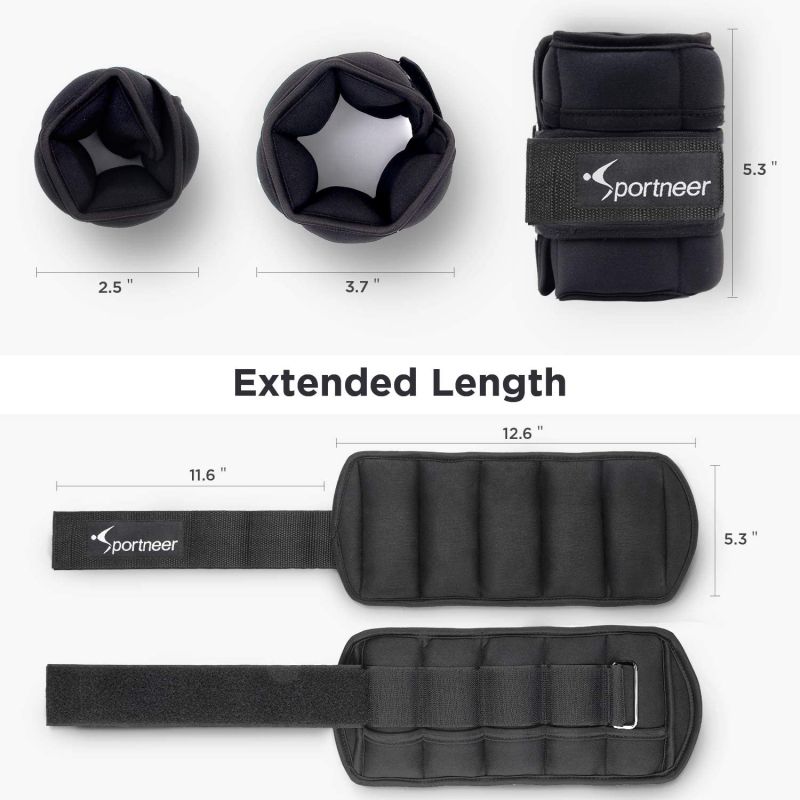 The above picture shows you the dimensions of the ankle weights.
Design and features
Setup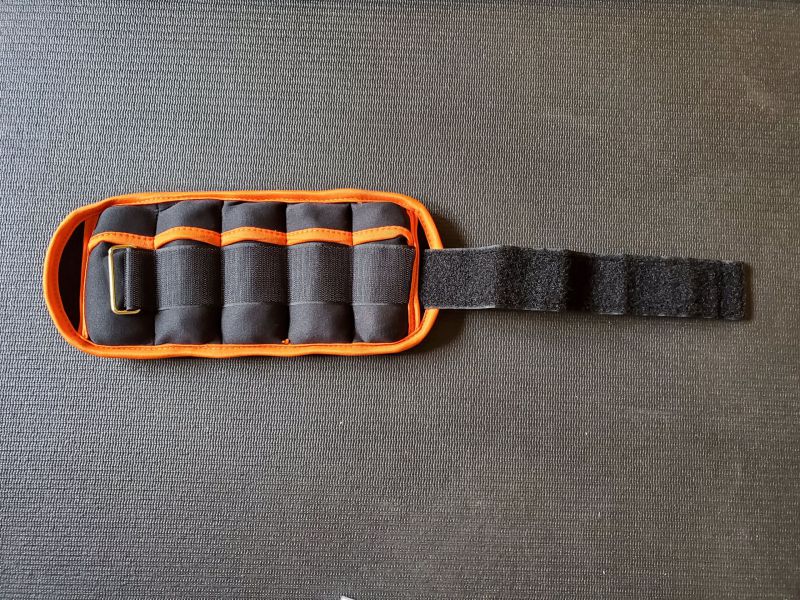 This first picture above is a single ankle weight with the strap completely extended.  The ankle weight is nicely padded and soft feeling.  It is not rough material at all.  The black material you see on the front is completely on the back except for the orange trim.  The material reminds me of scuba material in its texture.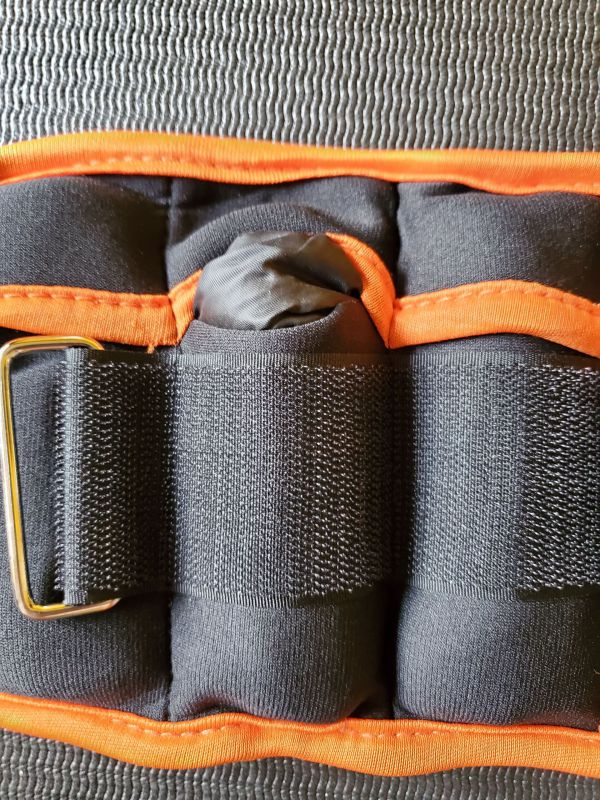 I took the picture above to show you how you lift up each section where the pouches are in order to remove or add a weight bag into place.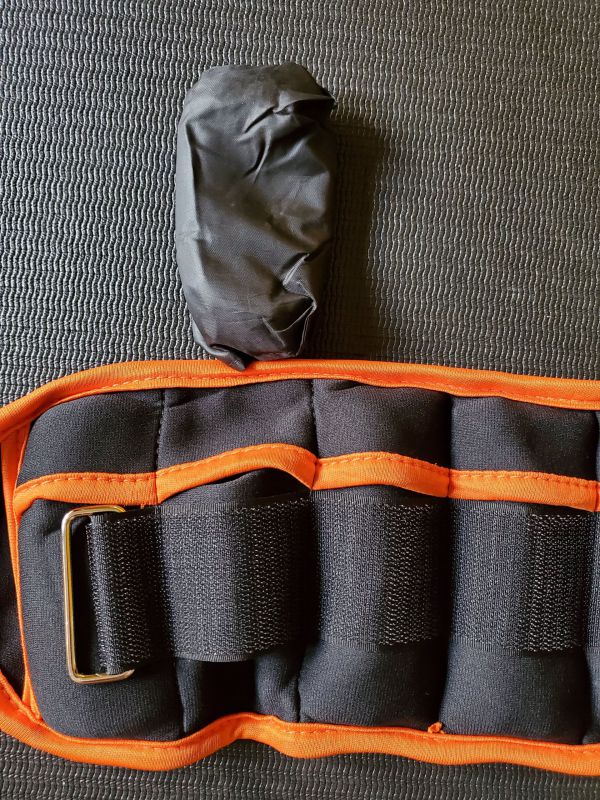 This picture above shows the weight bag completely removed. I can feel individual round grains inside the bag.  You certainly would not want to put a hole in one of these or you would be cleaning up the pellets forever!
Performance
For my initial test, I decided to remove two of the bags from each ankle weight giving me a weight of about two pounds four ounces.   I have a tendency to overdo exercise the first time around and then really pay for it the next day with some sore muscles.  I then went on my morning walks.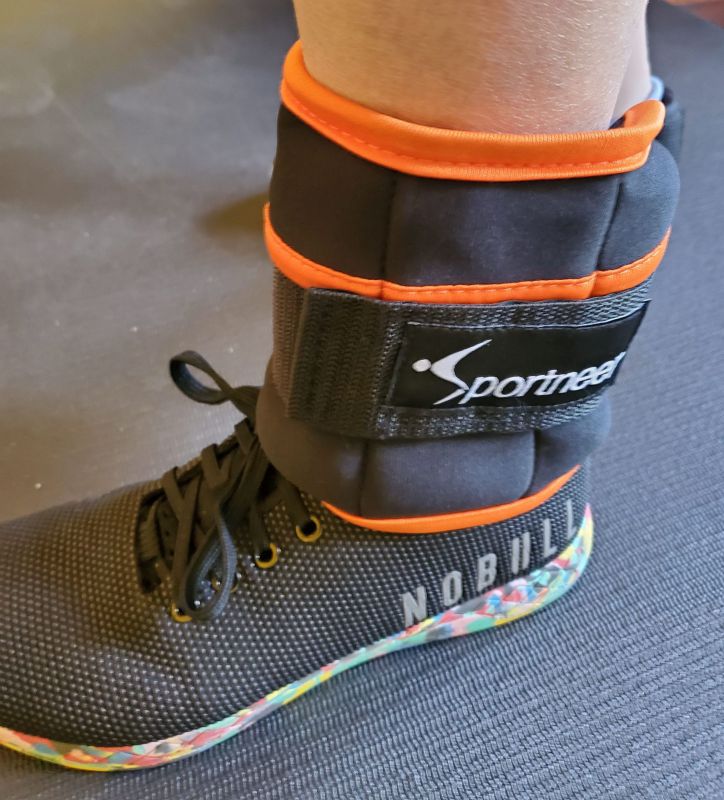 Here is a picture of the ankle weight on my left foot.  It felt really comfortable.  I did not get any rubbing which was something I was concerned about.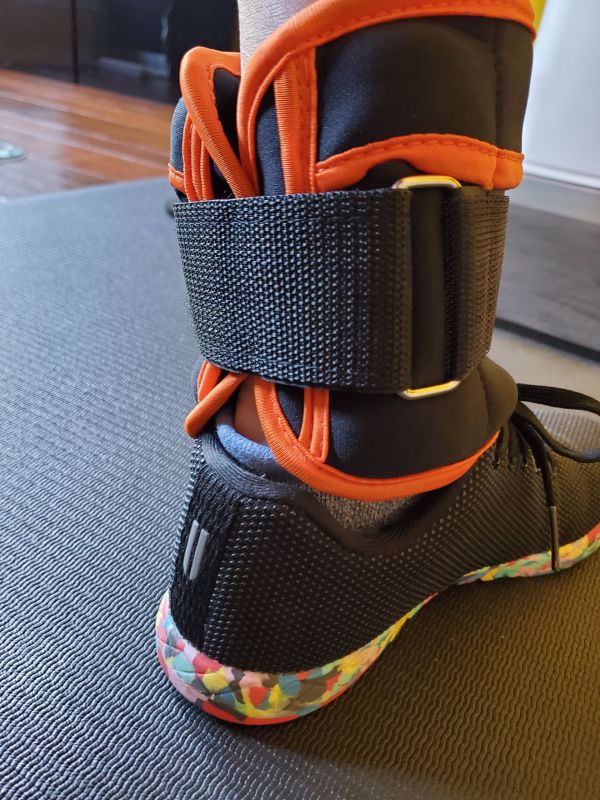 I took a picture of the back of my ankle.  Notice that my smaller ankle has just a bit of overlap between the two ends.  You have to be super careful when strapping these on that everything is laying flat and not rolling over on itself.  I also made sure it was snug but not super tight.   My left ankle circumference is right at nine inches.  If your ankles are smaller than that, you will have more overlap.   If your ankles are bigger, you will be happy to know the inside of the strap is nice and fluffy so it should be comfortable against your skin.   My neighborhood is rather hilly and I really noticed the hills a lot more with these weights on.  I found that they gave me that little bit of extra pump that I was looking for.  I loved that as the weeks went by, I was able to add both bags back to each ankle and walk with the full three and a half pounds.
What I like
I love that I can remove weight if I want to start lighter and add more as I get stronger.
They are very comfortable.   I never had any rubbing or slipping issues.
These can be used as wrist weights also.
What needs to be improved
I am not sure this can be done, but if there were some other material besides the scuba like material that could be used for more moisture-wicking that would be awesome.  It is very hot and humid where I live and when I was done, my ankles were pretty sweaty.
Final thoughts
If you are looking for something to give you a bit more of a heart rate pump on your next walk, you would do well to consider these ankle weights.  They sell a heavier version for those of you that find three and a half pounds to light that goes up to five pounds per ankle.
Price: $39.99 for 5lb weights and $29.99 for 3.5lb weights
Where to buy: 3.5lb weights – Amazon 5lb weights – Amazon
Source: The sample of this product was provided by Sportneer.