We use affiliate links. If you buy something through the links on this page, we may earn a commission at no cost to you. Learn more.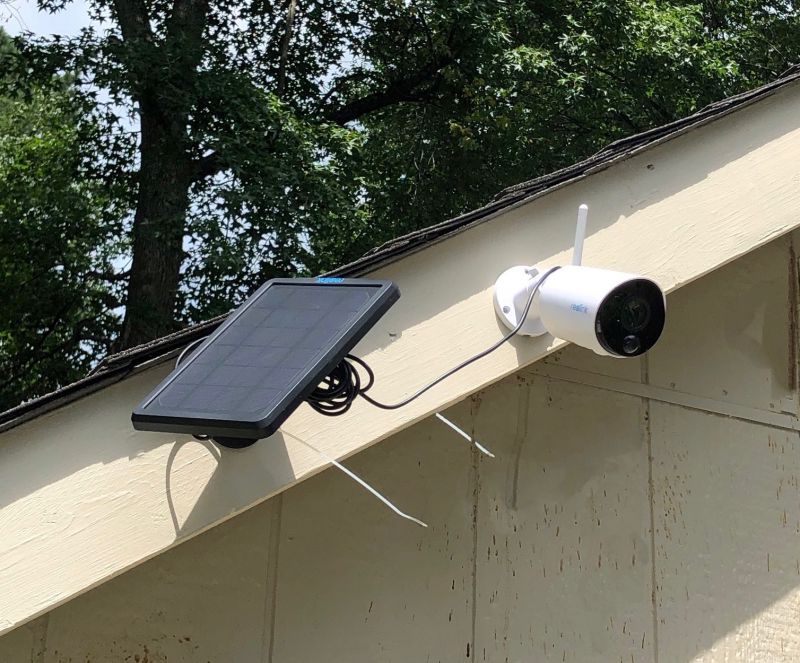 REVIEW – Security cameras are everywhere. Given the advancements in camera resolution and solar technologies, the price of a solar-charged security camera that would have cost hundreds of dollars just a few short years ago is now in the realm of possibility for anyone who has property that needs securing. Reolink has several cameras, but their Argus Eco is weatherproof, WiFi ready, and now has an optional solar charger that can be added. I was sent a white camera with a black solar charger to test.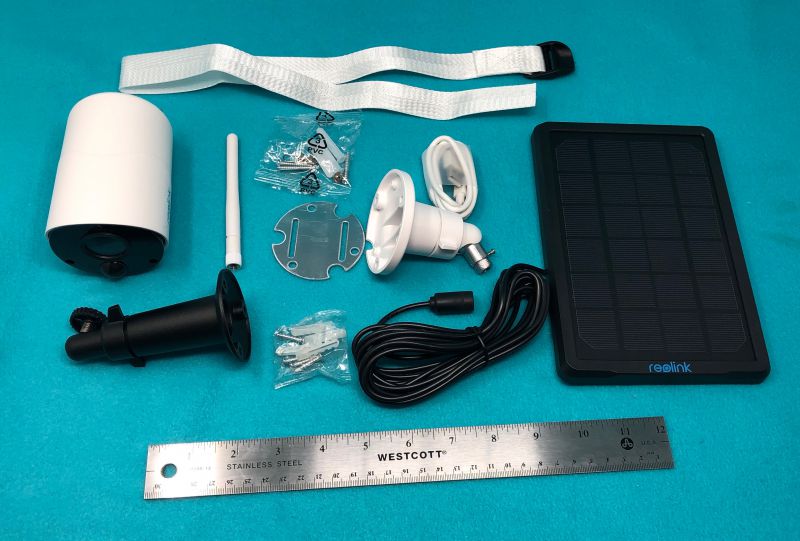 What is it?
A weatherproof battery-operated camera with WiFi and an optional weather-proof solar charger.
What's in the box?
The unit comes packaged separately – the camera in one retail-ready box and the solar panel in another. Each unit is able to be installed separately.
The camera package contains:
Argus Eco (with sealed internal battery)
Screw-on, adjustable Antenna
Outdoor Security mount with wall- and tree-mounting options
"Surveillance" sticker
Charging cable
Quick Start guide

Hardware specs
CMOS Image Sensor
1080p HD at 15 frames/sec – H.264
Fixed lens, 100° diagonal
Night Vision – Up to 10 m (33 ft)
6X Digital Zoom
High-quality speaker and microphone
PIR Detecting Distance Adjustable, up to 9 m (30 ft)
PIR Detecting Angle – 100° horizontal
Customized voice-recordable alerts
Instant email alerts and push notifications
IEEE 802.11b/g/n WiFi at 2.4 GHz
Wireless Security – WEP(ASCII)/WPA-PSK/WPA2-PSK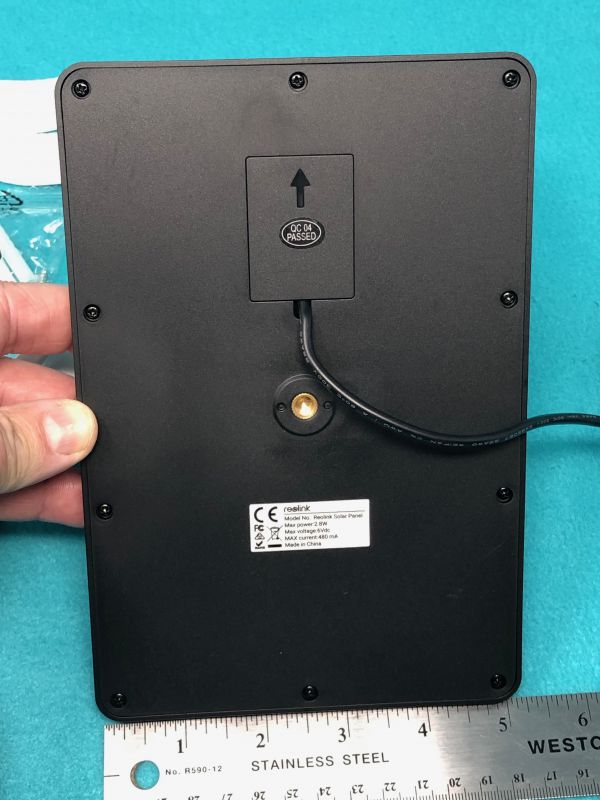 There is no current information on the website or the packaging for the solar charger, other than what is on the tag on the back.
Max power 2.8 watts
Max voltage 6V DC
Max current 480 mA

Design and features
With the rise in home security services and surveillance methods, it's hard to find a package that doesn't rely on sending your stored data to a paid service. Reolink has storage plans you can get, but because the video is stored on the camera's SD card, this isn't necessary. You can turn on storage for one week of video for a single camera for free, which is nice.
The Argus Eco is a cylinder about 5" long by 3" in diameter. On the business end, there is a central camera lens, a domed motion detector, and four UV emitting lights for night-vision. On the back are three ports: a BNC antenna port, a metallic mounting port, and a weather-sealed charging port. In a slot on the lower side near the front, there is a weather-sealed area with a microSD card slot, an on-off DIP switch, and a recessed reset pin. Nearby is a label with the serial number and password info in English and encoded into a QR code.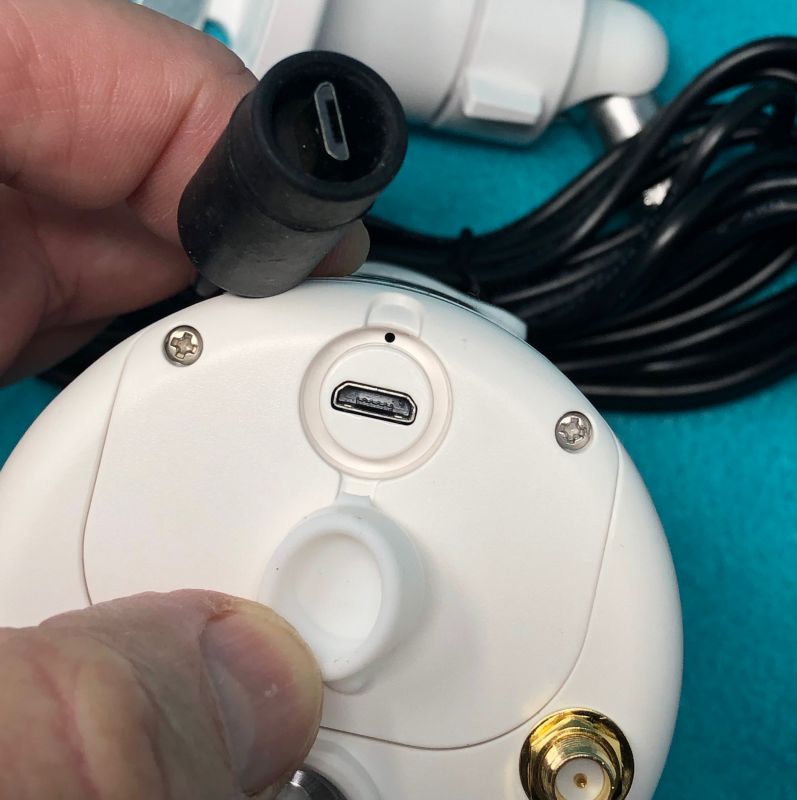 The mounting post has a dual tightening ball joint, which allows you to mount it in almost any orientation. Screws and plastic collars for mounting to wood or plaster are included. There is also a metal bracket and a nylon strap that would let you mount it in a tree without having to screw directly into the live wood.
Before mounting the camera, I recommend staying inside in the air-conditioning and download the app to your device, set up the camera, and insert the microSD card. You should probably also charge the camera's battery. That way, once you're up on a ladder in the hot sun, trying to read your phone in order to get the picture straight, you'll only have to turn the camera on and worry with the dual nut joint to get things adjusted.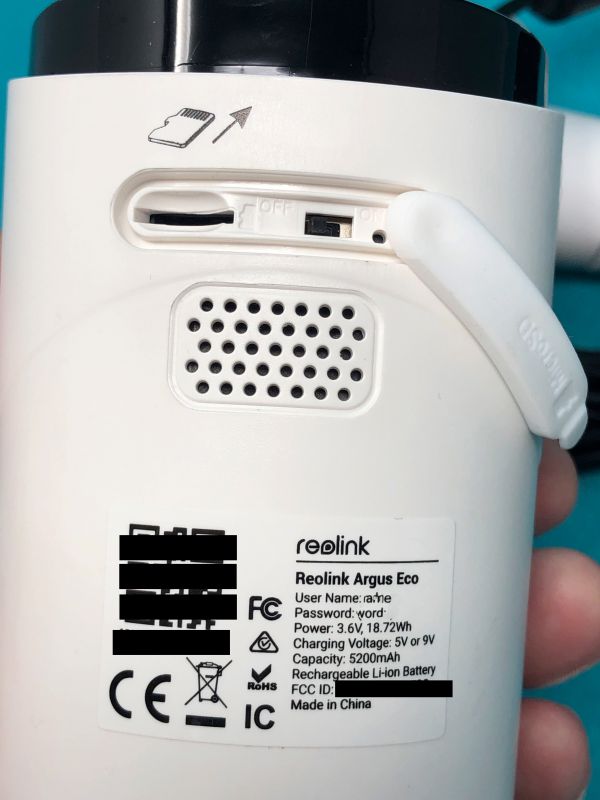 Once I had the camera mounted, I mounted the Solar charger. This unit is a flat, sturdily built photovoltaic array with a 4.5-meter captive cable and a screw socket built into the back. While the screw attachment is a little less robust than the one for the camera, there's a good bit of weight difference as well.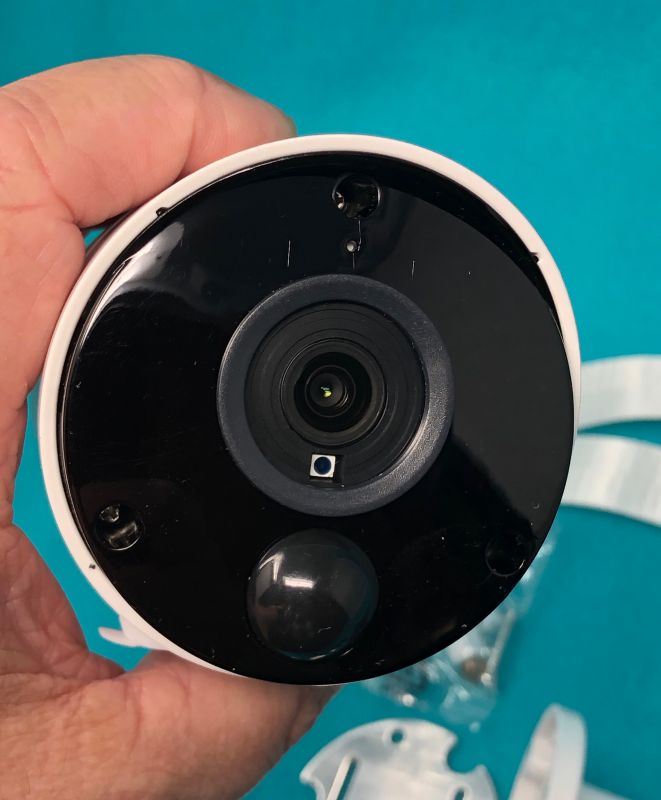 The ball joint for this mounting was the same, however, and setting the angle is easy. I cable-tied the extra cord to the mounting post. Where we placed it gets quite a bit of sun year-round. The microUSB plug was a bit fussy since I had to make sure the hated trapezoid was facing the right way, properly aligned, etc, with the silicon cap over the plug blocking my sight. But, in the end, it connected without a hitch. A nice little icon in the app tells you when solar is charging the battery and how much charge the battery has when the sun's not out.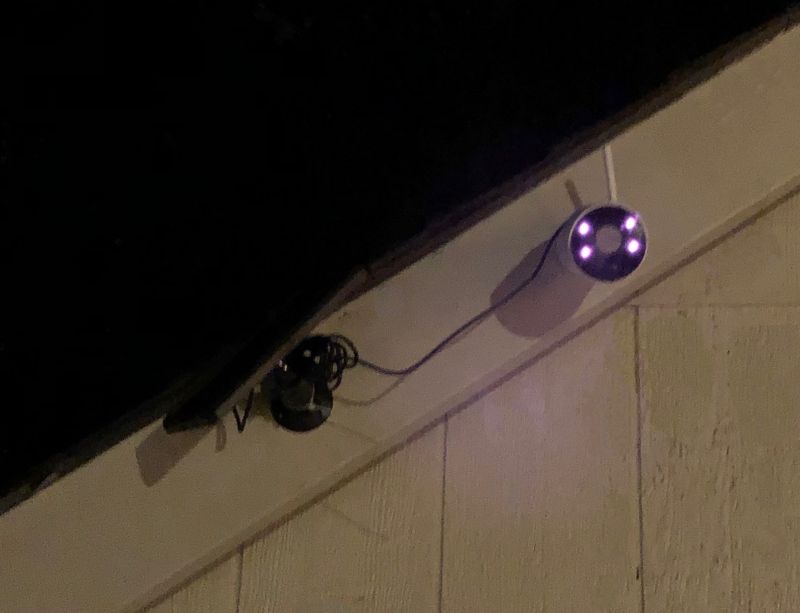 Setup
Set up is fairly painless. You have to download the app (GooglePlay or iOS App Store), create an account, and scan the pairing QR code. Once it's set up, it's pretty solid. I turned off the camera and waited for a few days until I found time in the evening to mount both pieces. It started back up without a hiccough.
There are a lot of settings that can be changed. You can select color/B&W/Auto, resolution, whether to include sound and a plethora of alerts. While watching live, you can snap stills or capture movies that you can easily share.
Performance
The camera performs flawlessly. We watched a squirrel going up the drive beside one of the cars right after installing it and walking inside. My Lovely Bride also got tickled of the video of my ear while I was struggling to get the camera level. It's easy to call up the camera anytime.
Here's a video of me taking the lede picture for this article:
We have a light for our backyard that turns on via motion after dark and this can prevent the camera from seeing the far end of the driveway.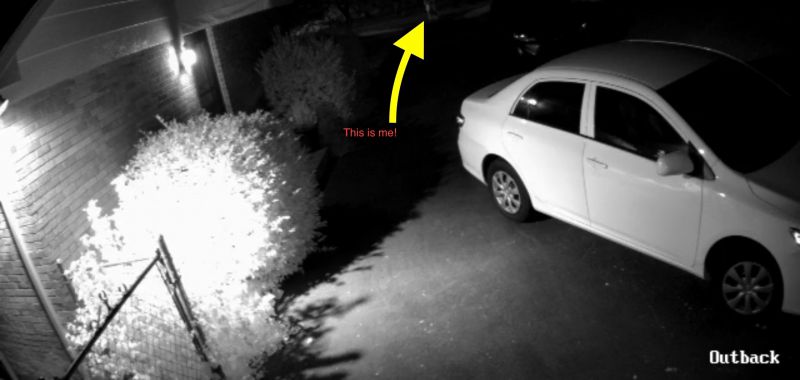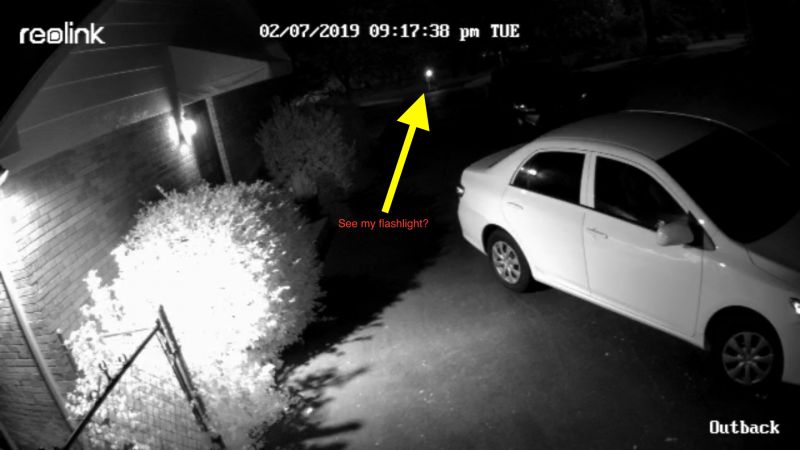 When it's not on you can see all of the drive, the street, and the neighbor's yard.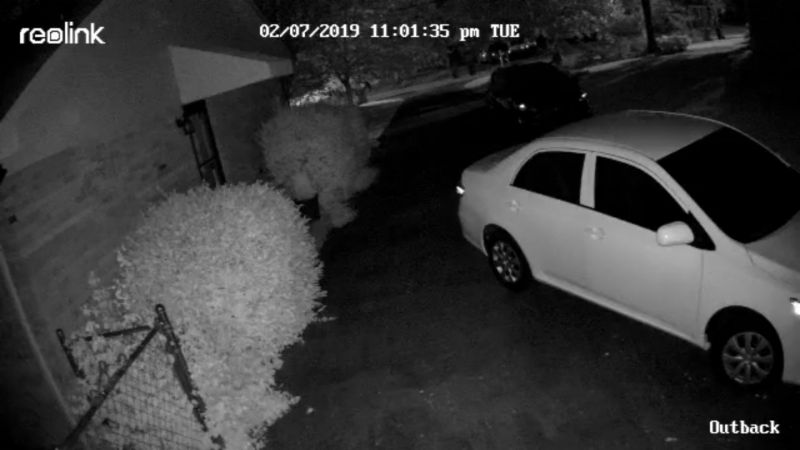 There are a huge variety of notification types you can select from. Depending on your situation, you may or may not want to be alerted every time an animal walks past your camera. But, if you do, there's a setting for that.
What I like
All hardware included in both packages
Doesn't require an on-going service charge
Data is stored on the device but can be downloaded through the app
Cloud storage is available, but not required – one week (1 GB of data) is free
What I'd change
A software update that allows sending recorded events to an off-camera storage device or Dropbox account might be nice.
Final thoughts
Our surveillance society has gotten used to everything being recorded. We regularly see photos on social media of porch pirates, would-be car ransackers, and trespassers. We even have motion-activated game cameras to capture shots of wild animals. This product is a great example of how you can easily set up a system that allows you to have awareness of your surroundings (or your vacation home) at a rational cost with no on-going costs. Well done, Reolink.
Price: Argus Eco is $79.99, Solar Panel $24.99
Where to buy: Reolink and Amazon
Source: The sample of this product was provided by Reolink.