We use affiliate links. If you buy something through the links on this page, we may earn a commission at no cost to you. Learn more.

REVIEW –  Being the mother of two children and also working with elementary students for a living, I am always in the market for educational learning tools that can be used at home and/or in the classroom.  With so many of our toys and activities linked to screen-time, I am always interested and attracted to options that don't require the use of computers, apps and electronics.  So I was very excited to test out the Botley 2.0 for this review.
What is it?
Learning Resources Botley 2.0 the Coding Robot Activity Set is an updated version of the award-winning Botley the Coding Robot.  Botley 2.0's 78-piece activity set is designed for kids as young as 5 to learn coding through 100% screen-free play.  Coding challenges include navigating an obstacle course, solving a maze and so much more.
What's in the box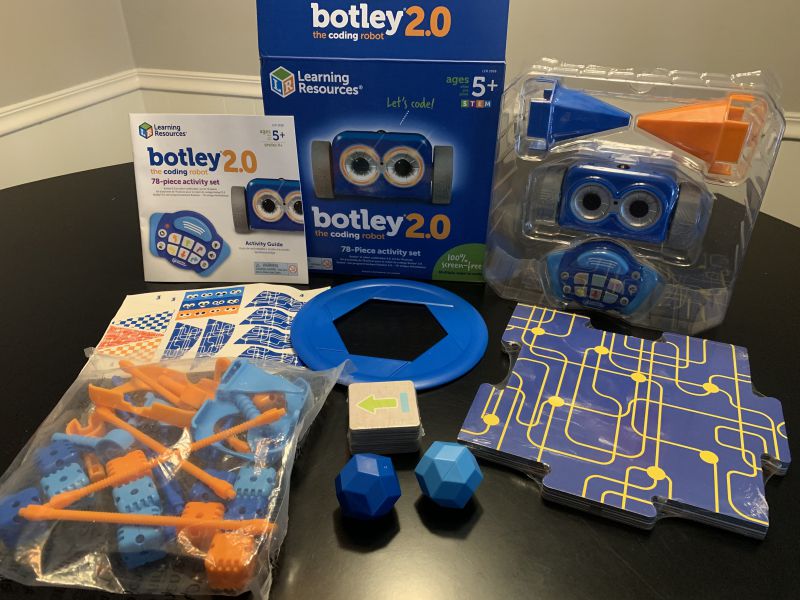 Botley 2.0 Robot Unit

Controller

Detachable Robot Arms

40 Coding Cards

6 Double-sided tiles

27 Obstacle Building Pieces

Starter guide with coding challenges

*Requires 5 AAA batteries (not included)
Design and features
Specifications:
Product Dimensions: 9.1 x 9.1 x 6.2 inches

Item Weight: 3.11 pounds
Manufacturer recommended age: 5-8 years
Performance:
For this product review, I decided I would ask my friend/co-worker who teaches STEM at our school (and has 4 children of her own) to help me test and review the  Botley 2.0 the Coding Robot Activity Set. 
You can program your Botley 2.0 to do sequences of up to 150 steps, including 6 directions, and discover 16 fun "secret" codes that transform your Botley into a train, police car, ghost (our favorite) and more.  Next, I will go into a little more detail about these functions.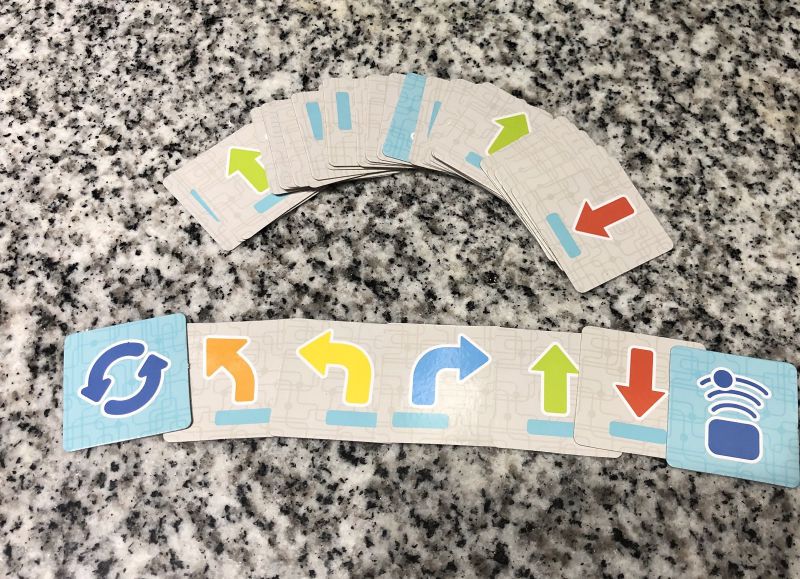 The 40 coding cards included in this kit are an amazing tool. The cards are very easy to read and a great visual aid for little programmers.  Our 4 year old tester was able to not only select the cards that would help her guide Botley to the direction she wanted, but to enter all the steps into the controller on her own.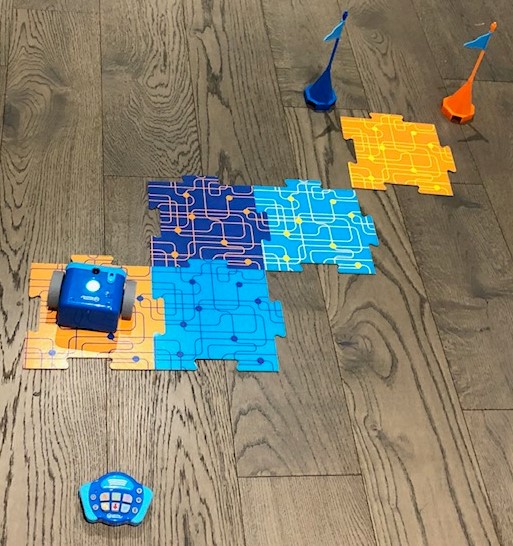 The Botley 2.0 Activity Guide includes 10 Coding Challenges in a variety of difficulty levels. Each challenge introduces a new skill to practice like making turns, programming tasks and using commands like If/Then/Else. This helps users become familiar with the robot, helps the user realize what things Botley 2.0 is capable of doing and most importantly, these challenges help users get inspired to come up with their own challenges.
By completing the easier challenges included in the Activity Guide, little ones gain confidence and get encouraged to keep on experimenting with Botley 2.0.
One thing to note, when you are entering your coding sequences, if you short press the "trash button", you can delete steps and add new steps to the code.  If you long press the "trash button", it clears the entire code to start over.  We have a tendency to long press and thought you had to start over every time, so this is something to keep in mind as you explore with your Botley 2.0.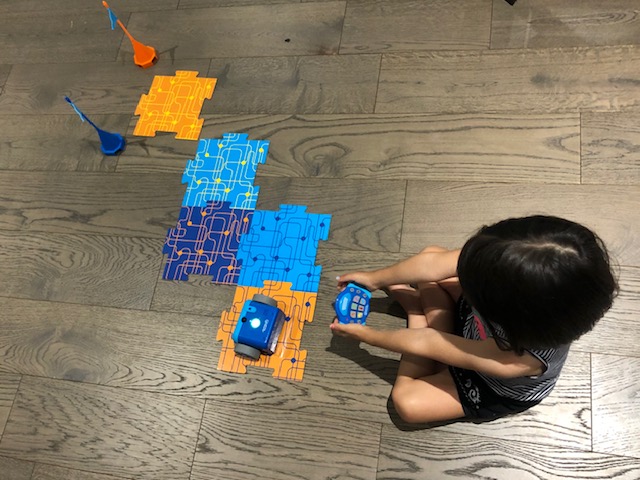 Our kid's favorite feature about Botley 2.0 is the "Secret Codes". When programming these "Secret Codes", Botley can perform different tricks or transform into a new character such as:
Train

Shark

Construction Crew

Police

Dinosaur

Ghost

Kiss (Botley blows kisses when detecting an object in front of it)

Frog
To transform Botley into one of these characters, simply press CLEAR on the remote programmer and add the code included in the Activity Guide followed by the Transmit button.
It was an agreement among all the kids that the favorite "secret code" is the ghost. They like to go into a dark room and turn Botley 2.0 into a ghost to "scare" their siblings.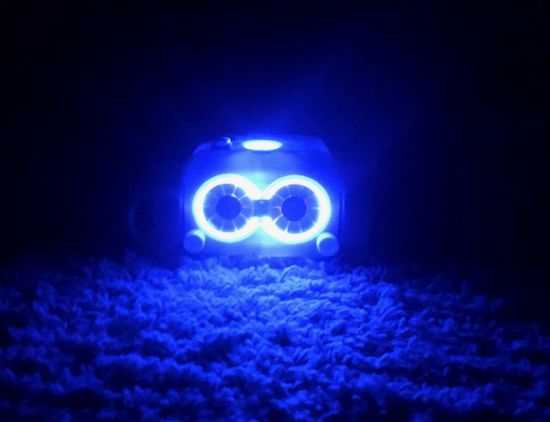 On the Learning Resources website, they include additional education activities that can be used in the classroom or at home as well.  You can also find more "secret" tricks and features that are not included in the manual.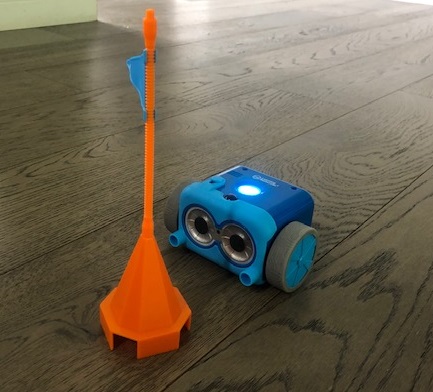 Botley 2.0 has an OD sensor that detects objects that are in the way.  To use these functions users apply the programming concepts IF/Then, which are basic in programming language.  Another great addition to get kids familiar with coding and how robots can be programmed to use sensors to interact with objects around them.
The OD sensor on Botley 2.0 detects objects that are at least 2 inches tall and 1.5 inches wide.  It detects objects that are about 10 inches away from him. When detecting an object, Botley 2.0 will stop and hunk at the object in front of him until the object is moved.  This is one of my favorite functions.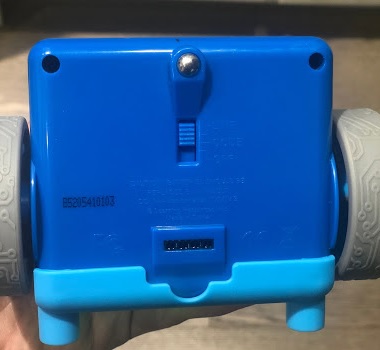 This kit also comes with six boards that have black lines printed on one side. Botley 2.0 has a sensor underneath him that detects the black line and allows him to follow it. To do so, Botley needs to be on "line mode". This is done by sliding the POWER switch on Botley to Line.  Botley 2.0 will also follow lines drawn on white paper with a thick black marker, so you are not limited to just the boards included.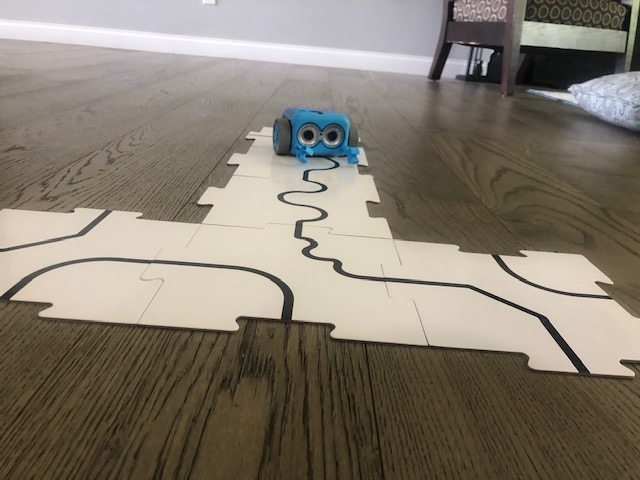 We played with these boards a few times and it worked fine, but after a few days, we couldn't make Botley follow the lines anymore. We checked the troubleshooting section in the Activity Guide to try and find a good solution, but we could not find anything that would help Botley follow the lines again.
Botley 2.0 is a great robot to be used by a wide range of ages. It is so easy enough to code that kids as young as 4 years old can solve some of the challenges included in the Activity Guide.  Also, since it is easy to use, older kids feel comfortable experimenting with it and increasing the difficulty in challenges.
Although I did not receive these to be able to review, my review wouldn't be complete without mentioning the additional add on kits that are available to purchase for your Botley 2.0 Coding Robot.
The Coding Robot Crashin' Construction Accessory Set.  This kit comes with two new attachments that will help Botley turn into a wrecking ball or a tow truck with a moveable crane attachment. The kit also comes with six STEM Challenges that will inspire kids to build structures, knock them down and clean them up.  It is available for $16.99 on Amazon.
The Coding Robot Action Challenge Accessory Set.  This kit is an interactive 41-piece accessory set that has everything kids need to set up obstacle challenges (falling dominos, rolling balls, swinging hammers and other accessories). There are 9 obstacle challenges included that will inspire kids to make dominos fall, swing hammers or build their own obstacle courses.  It is available for $19.99 on Amazon.
What I like
Screen-free play

The coding cards making it easy for younger children

Option to pair each robot to its controller, great function if using it in a classroom setting with multiple Botleys.

Although Botley 2.0 makes some expressions while moving, it is not a constant spinning sound that would make it too loud.
What I'd change
Make the Botley 2.0 rechargeable vs battery operated

Better syncing of robot with the controller from all angles

Improve quality of the black line sensor
Final thoughts
The Botley 2.0 is a great option for a screen-free STEM tool.  The set-up is simple and the instructions are easy to follow.  This is a product that not only appeals and works for younger learners, but experienced coders can also have fun playing and coding the Botley 2.0.  
After reviewing and testing the Botley 2.0 with children PreK-6th grade, we all agree that although it is disappointing that the black line sensor light stopped working on our unit, the coding features that Botley 2.0 has still makes it a good robot to have. 
Price: $84.99 (or $64.99 Robot only)
Where to buy: Learning Resources website and Amazon
Source: The sample for this review was provided by Learning Resources