We use affiliate links. If you buy something through the links on this page, we may earn a commission at no cost to you. Learn more.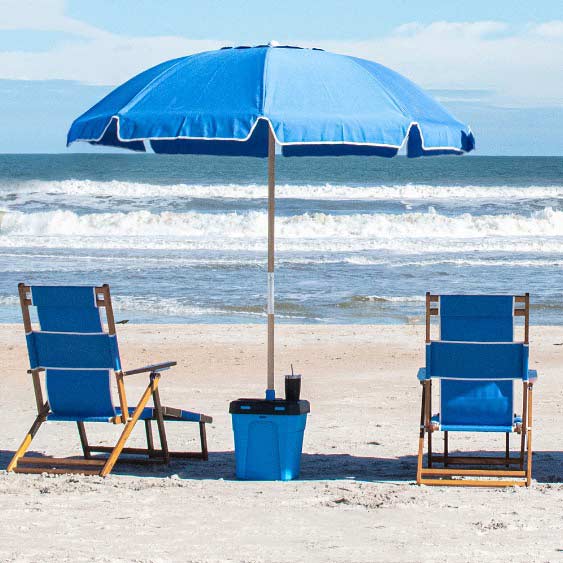 NEWS – One of my favorite places in the world is Sanibel Island Florida. We usually go there once a year (not this year though <sniff>) and our favorite activity is sitting on the beach relaxing under the shade of an umbrella. But each year we deal with the problem of getting our umbrella planted (is that the right term?) in the sand deep enough so that it won't blow away with the strong ocean breeze. You wouldn't think it would be difficult, but dang it, it is! We always seem to get an umbrella that has a broken auger screw thingie at the bottom. Anyway, it's always hit or miss if we get it "planted" correctly and the whole time we're sitting under it, I'm paranoid that the next gust of wind is going to lift it up and send it sailing away to stab a toddler or something. Yeah, stressful. 😉
That's where the U-Stand might be a great solution to prevent beach umbrella stabbing incidents. What is it? It's a plastic box that looks like a cooler and can be used to hold all your beach gear. But its main purpose is to keep your umbrella secure in up to 40MPH winds!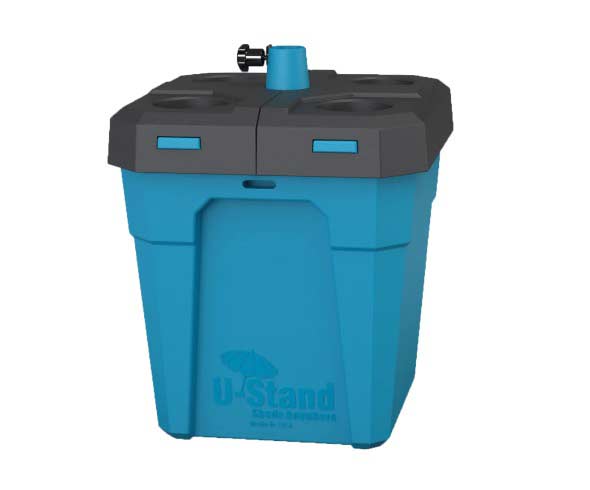 In the center of the U-Stand is a hole for the beach umbrella pole. All you have to do is fill the interior of the U-Stand with sand, ice, or water and then put the umbrella in place and the lid back on top. The lid even has 4 built-in cup holders.
The U-Stand is priced at $49.99 and is available directly through theustand.com and for $59.95 from Hammacher Schlemmer.