We use affiliate links. If you buy something through the links on this page, we may earn a commission at no cost to you. Learn more.
The Yafa Trio Pen is a multi-pen stylus that has three different tips (black pen, 0.5mm pencil and a stylus). This pen is made from brushed aluminum. The bottom part of the barrel of the pen is round with grooves cut into it to give you the ability to grip it better. The upper portion of the pen is a six sided hexagon shape which gives it a high-tech mechanical pencil look and feel. The plunger for the pen is rounded with a nice cap on top. If you pull this cap off, a small white eraser is revealed. The Yafa Trio Pen also has a metal pocket clip.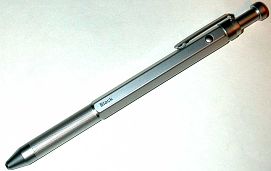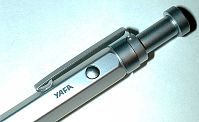 Although light weight, the pen does have a well balanced feel to it. Like most of the current multi-pens on the market, tips are selected by rotating the barrel until you see the desired label. Then you press the plunger to extend the desired tip. This works pretty well and is easy to do. Tips are retracted by pressing a small round button on the upper portion of the barrel. One small problem with the Yafa Trio Pen is that it probably wasn't meant to have a stylus as one of the tips. I know this because the labels for the tips are Black, 0.5mm and Red. The pen originally had a red pen included. Instead of a red pen, the pen now comes with a yellow stylus insert.
The black pen and pencil both work as well as any other pen and pencil that I
tried. I can't complain about either of them.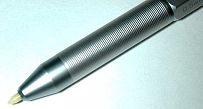 I like the feel of the stylus tip on my PDA screen. It is smooth and easy to write with. The tip has a nice
shape to it. It is more pointy than most stylus tips that I have tried. The color is also easy to see so that you don't use the wrong tip on your screen by mistake.
I think the Yafa Trio Pen is a nice all around multi-pen stylus. It looks good and feels good in your hand. The only little complaints that I have is that the stylus tip is mislabeled on the pen barrel and that the pen rattles a bit when you shake it.
Price: $49.95 (Available at Styluscentral.com)
Pros:
Nice stylus tip
Attractive design
Cons:
Stylus tip mislabeled on pen barrel
Rattles
Product Information
Price:
$49.95
Manufacturer:
Yafa
Pros:

Nice stylus tip
Attractive design

Cons:

Stylus tip mislabeled on pen barrel
Rattles