We use affiliate links. If you buy something through the links on this page, we may earn a commission at no cost to you. Learn more.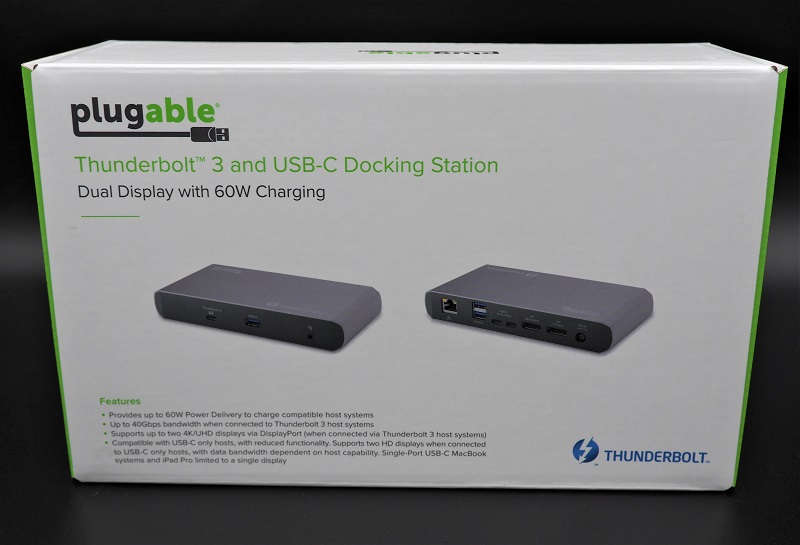 REVIEW – Docking stations are one of those gadgets that you don't know you need, until you've used one.  Being able to plug in a single cable when you come and go from your desk is delightful.  I've also had some experiences with poor docks where drivers caused problems or video wouldn't work correctly.  The ubiquitous USB-C port on most modern laptops can be confusing as well, many of my friends or family would think I was speaking a foreign language if I asked them if they had Thunderbolt or just "plain" USB-C.  The Plugable Thunderbolt and USB-C Docking Station should work on any modern notebook, and in my review period it did exactly that.
What is it?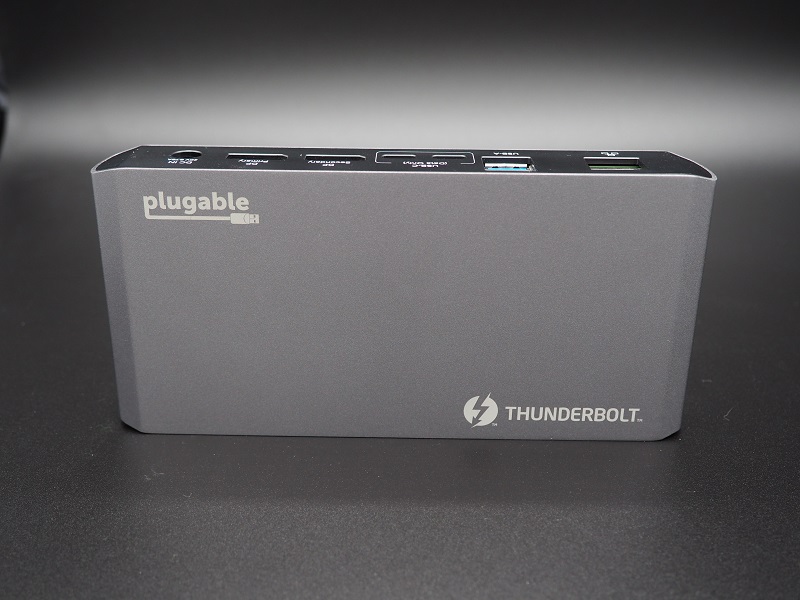 The Plugable Thunderbolt and USB-C Docking Station is a docking station which allows the user to connect a single cable to their notebook or computer and have peripherals (monitors, keyboard, mouse, audio) all connected to the dock.  This makes it very convenient to connect your computer on your desk, or when you leave, as there's only a single plug to attach/detach.
What's in the box?

Plugable Thunderbolt and USB-C Docking Station
Thunderbolt 3 / USB-C cable
Power Supply and cable
User Manual
Hardware specs
Intel Titan Ridge chipset – allows compatibility to Thunderbolt 3 and USB-C devices on both Windows and macOS
Dual 4k @ 60Hz DisplayPort displays on Thunderbolt 3 / Dual 1080p 60Hz DisplayPort displays on USB-C
2 x USB-C data ports (10 Gbps speeds)
1 x USB-A (10 Gbps)
2 x USB-A (5 Gbps)
Gigabit Ethernet
Headset Audio Jack (3.5 mm)
Design and features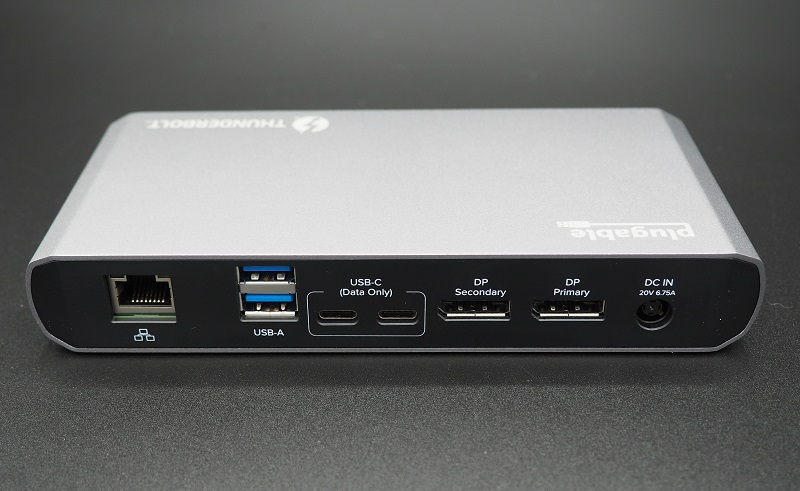 On the back side of the Plugable Thunderbolt and USB-C Docking Station, there is a gigabit Ethernet port, 2 x USB-A 3.0 ports, 2 x USB-C ports, and 2 standard Display Ports, as well as the power connection.  I like that they've routed almost everything to the back, this eliminates desktop clutter quite nicely.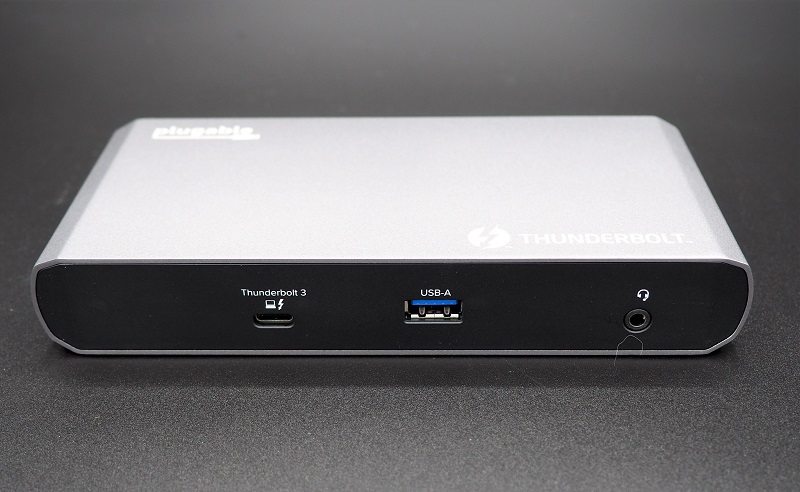 On the front we have the Thunderbolt 3 / USB-C connection (this sends/receives everything from the connected laptop/computer).  We also have one more USB-A 3.0 port, which is very handy for the random USB items you might need to plug-ins like flash drives, portable hard drives, USB cameras or microphones, or mini leafblowers.
Installation and setup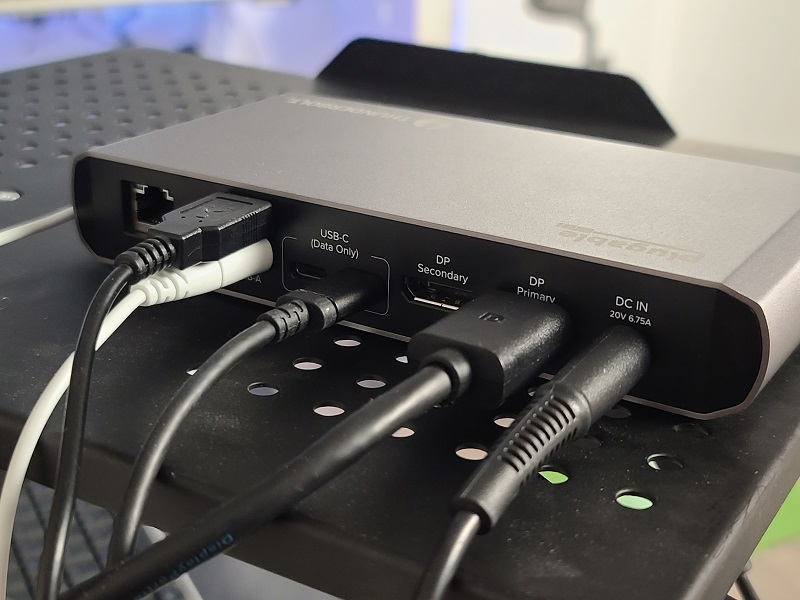 Installation was easy, I simply plugged in my mouse/keyboard and screens.  There were no drivers required in either Windows 10 or macOS.  My main screen (a gaming 2k screen @ 144hz) ran at native resolution and refresh rate, which is pretty much the same bandwidth requirement as 4k@60hz.  I connected a second 1080p/60hz screen and this also worked great.  I like that this dock supports up to dual monitors at 4k with 60hz refresh rate.  I've used 4k screens at 30hz in the past, and it's not a pleasant experience.  For me, 60hz is a minimum for computing comfort.
When I connected a Windows 10 gaming laptop without Thunderbolt-3 (Asus Rog Zephyrus G14) it behaved nearly the same for me, which is impressive for a non-Thunderbolt dock.  Plugable's website notes that you can only drive 2 x 1080p screens or one 4k@30hz, but I was able to do my 2k (2560 x 1440) monitor at 120hz.
I also connected a USB-C 4-port hub to one of the USB-C data ports, and this was recognized and performed just as if I'd plugged it directly into the laptop.  This makes it extremely easy to add as many USB ports as you might need.  One caveat, this didn't work in non-Thunderbolt mode.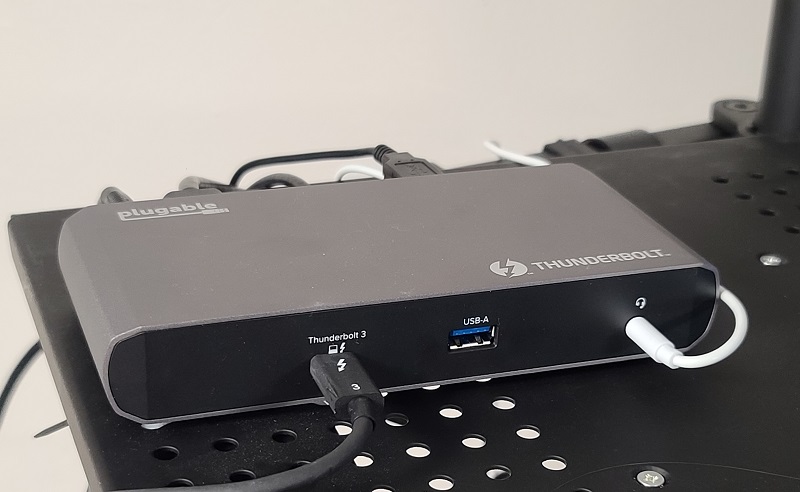 The rubber feet and decent weight keep the dock in place when gently tugged – some USB hubs and docks have problems moving all over the place if too light.  I ended up zip-tying the dock under my laptop stand to get it out of the way completely, but if I had the desk space I wouldn't have minded it sitting out.  It's a rather small device and looks nice.
The gigabit ethernet port works as advertised, Windows and macOS reported 1000 Mbps link speed, and speed tests were reflecting full speed.
What I like
Additional USB-C ports
Compatibility with both Thunderbolt and USB-C
Plug-and-play
Nice design
What I'd change
More USB-A ports on the back
Higher wattage power delivery
Final thoughts
During the review period, the only issue I had was my screen not allowing full refresh rate, but this turned out to be due to an older DisplayPort cable.  When I replaced that cable, the dock was able to run the screen at full speed.  All other devices and ports had no issues at all.  This is among the best of the docks I've used, and the added benefit of also working w/ non-Thunderbolt-3 devices is very convenient – while you may have a laptop with Thunderbolt now, it's still hit-and-miss on new devices so having a dock that supports both means you won't have to replace the dock with the next upgrade.
Price: $189.99
Where to buy: Plugable and Amazon
Source: The sample for this review was provided by Plugable.