We use affiliate links. If you buy something through the links on this page, we may earn a commission at no cost to you. Learn more.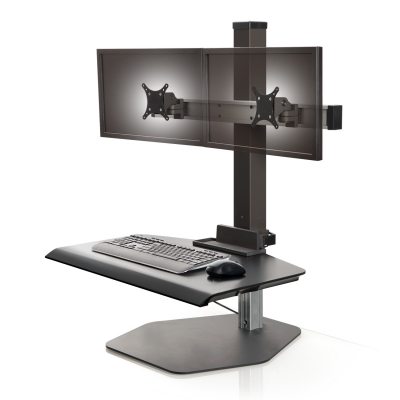 With most office jobs these days you tend to sit for many hours on end, which is not great for your body.  Sit-stand desks are becoming very popular, and many of them are becoming affordable for the home and office.  I recently got the chance to review the Winston Sit-Stand Workstation, which comes in a ton of variations. I chose the model to hold my dual monitor and free standing desk setup. Let's take a look.  Note: Images can be clicked on to view a larger size.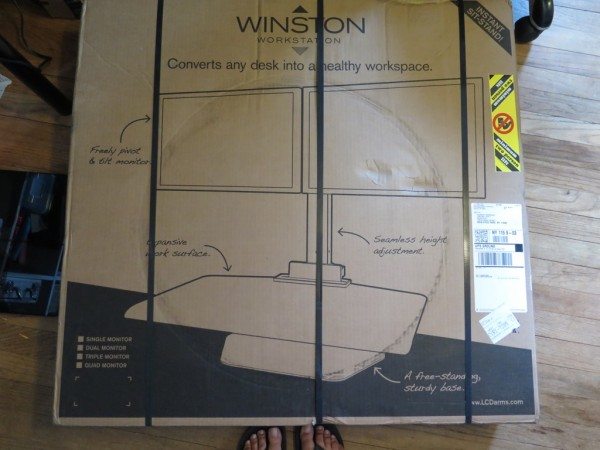 When I received the Winston workstation there were two packages delivered. Both pieces were very heavy, so if you purchase this I'd recommend having a friend help with moving these to an empty workspace to set up the desk.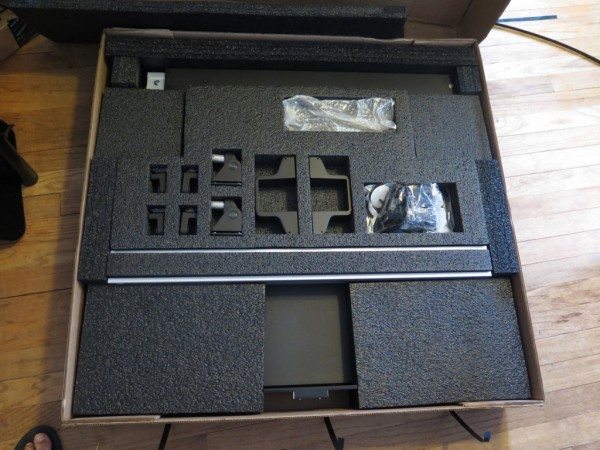 The model I decided to try is the Compact Dual Freestanding Sit-Stand workstation.  It's perfect for my dresser that I wanted to make into a desk since I didn't have anywhere to bolt or clamp onto, and I also use two monitors which this can hold up.
Specifications include:
Vertical height adjustment: 17 inches
Monitor tilt:  200 degrees
Monitor pivot: Landscape to portrait
Monitor compatibility: VESA 75mm and 100mm
Cable management: Cables are clipped to column
Even more specific details are included in the product brochure for this Compact Dual Freestanding model on the lcdarms website.  All tools needed were included.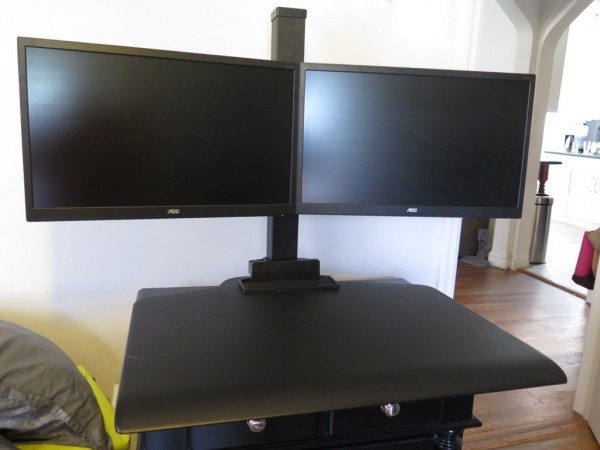 After a bit of elbow grease, the setup took be about two hours to complete.  I spared you the piece by piece setup, but it took a while to do this since all the pieces (free standing base, surface mount, work surface, and beam that hold the monitors) were pretty hefty.
It's a bit overpowering for my small desk, but has a nice large surface available for a keyboard, mouse and various other items.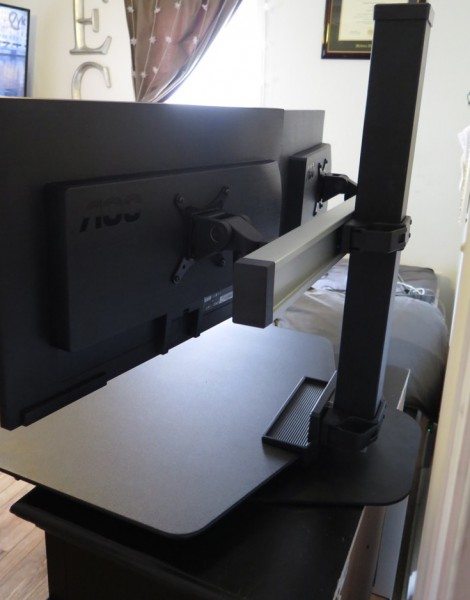 Here's the back of the two 23″ monitors I have, along with the beam that holds them.  The horizontal column is adjustable up and down, but the monitors themselves can only be adjusted side to side, with not much room to pivot up or down.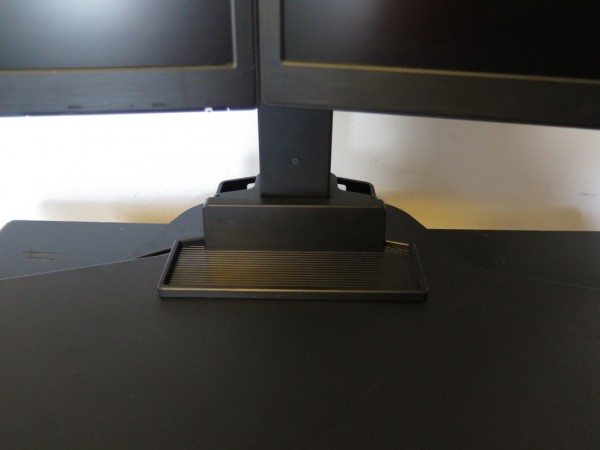 There is a small tray that is big enough to fit accessories, a mobile phone or up to a 10″ tablet.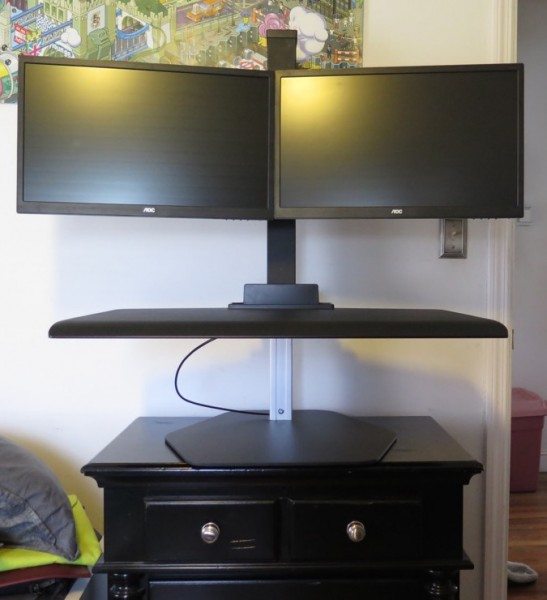 Here's the desk in the standing position.  In order to do this, there is a spring on the right side right under the surface that you need to push in so that it springs up, then locks into a height that's comfortable for you.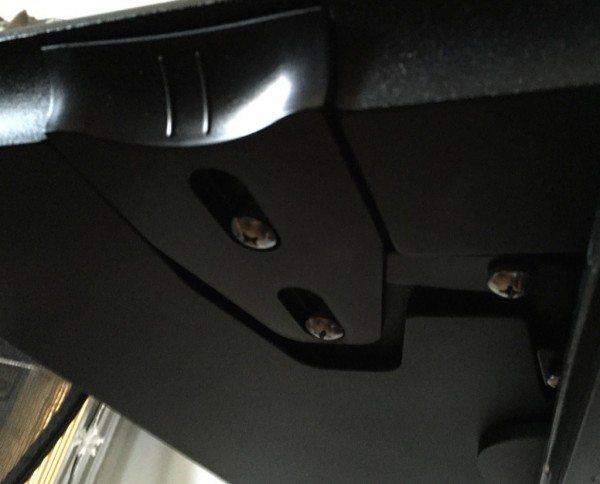 Here's a close up of the button underneath the work surface.  At first I had trouble with this, but then I realized I needed to loosen the screws to find the right tension. Eventually I got it to work.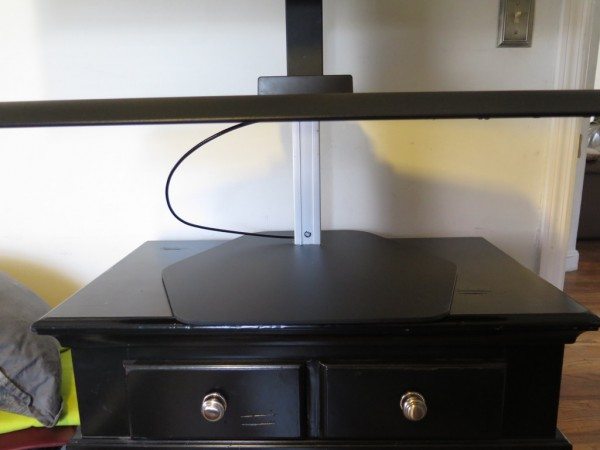 At the bottom is a very heavy base plate that doesn't move once positioned.  It's perfect to hold the monitors and work surface in place.  After adding my keyboard, mouse, tablets, phone, and speakers, I had a nice setup that worked comfortably.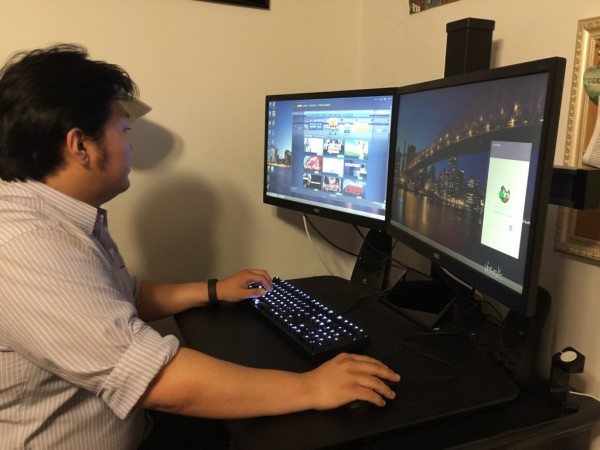 Here's my model in the sitting position getting ready to play some Steam games.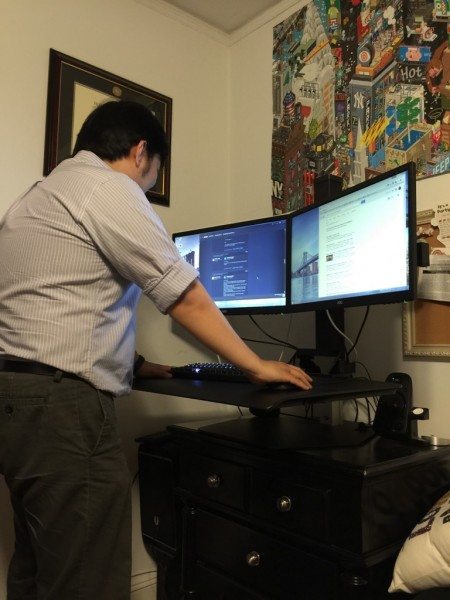 Here he is in the standing up position (after we struggled and adjusted the screws a few times to get it working).
I have mixed feelings about the Winston Compact Dual Freestanding Sit-Stand workstation.  For about two days it worked great in the sitting position then moving into standing position. But then it stopped moving. I had to re-adjust the screws for the button under the work surface in order to get it moving again. This worked for another few days, but once again I had to re-adjust the button. Now I pretty much just leave it at sitting position since I can't be bothered to constantly adjust it, which is kind of missing the point of the workstation.
If you'd like to see what other combinations of the Winston workstation is available, it comes with multiple colors and options for one through four monitors, as well as free standing base or clamping option.
Source: The sample for this review was provided by LCD Arms. Please visit http://www.lcdarms.com for more info.

Product Information
Price:
MSRP $1020.00 (for item reviewed)
Retailer:
LCD Arms
Requirements:
Pros:

Heavy-duty quality
Can be used with any desk you already own

Cons:

Takes a while to assemble
Button for adjusting height doesn't always work