We use affiliate links. If you buy something through the links on this page, we may earn a commission at no cost to you. Learn more.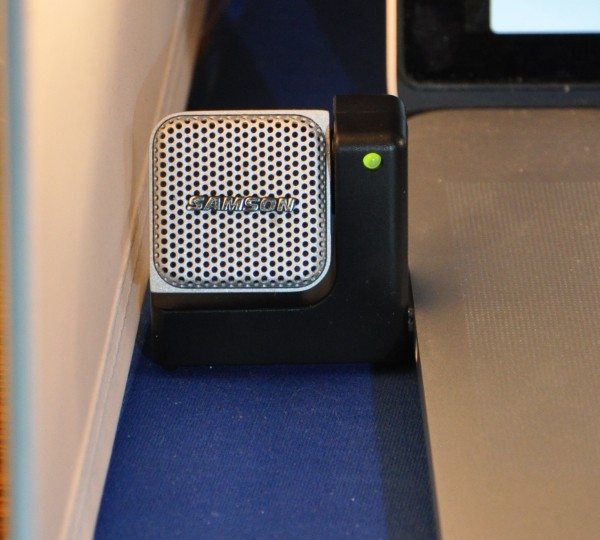 If you're using your computer for any sort of sound input, you've probably already decided the built-in microphone is useless after more than the occasional snippet. If you're doing voiceover for video or Skyping/FaceTiming for any kind of podcast or hangout, you need a better mic. Samson Electronics makes a full range of audio products, but they offered the Gadgeteer crew a test unit of the GoMic Direct for review. It's marketed as a highly portable, yet high quality mic that runs off the USB port on your computer.
Note: Photos may be tapped or clicked for a larger image.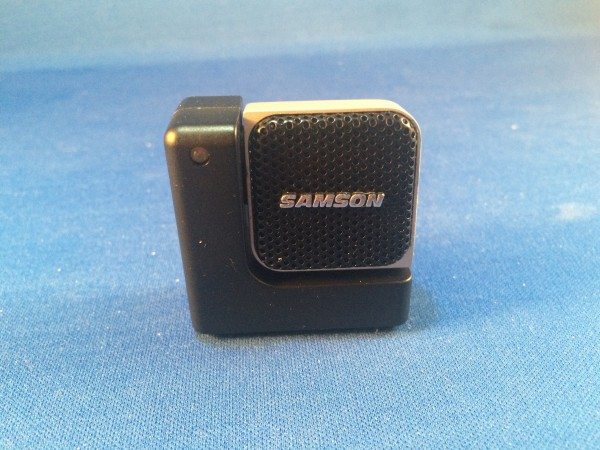 Specifications (from the website)
Polar Pattern Omni-directional
Two, 10mm condenser capsule
Frequency Response 20Hz – 20kHz
Digital Noise Reduction
Sample Rate 44.1/48kHz
. Bit Rate 16bit
Power Requirements 5V 50mA
Dimensions 1.7" x 0.74" x 1.7 (42mm x 19mm x 42mm)
Weight 1.03oz (29.3g)
The unit itself is a right-angled piece of plastic with a slider on the bottom side which extends or withdraws a full-sized USB plug. There is a lock on either extreme of the slider to prevent unwanted deployment or retraction of the plug. It's a simple "Push then Slide" affair. The plug comes out at a perfect height if you're using a computer with a USB port on either side, such as most modern laptops. If you're using this with a system that has a port in the back, on the front, or stacked with another USB port you'll need to use for your mouse, you may have a bit of trouble, but I can see this working well with each of the laptops I've had for the last decade or so.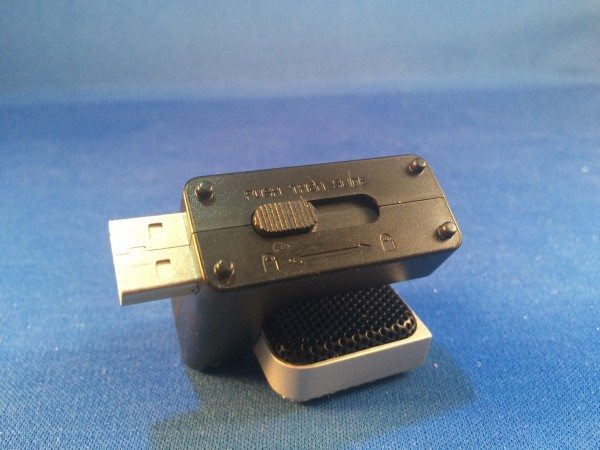 Within the angle of the plastic frame is a square metal piece that is covered by a sheet of metal perforated into a windscreen-like cover for the actual microphone condensers. This piece can be rotated for more directionality.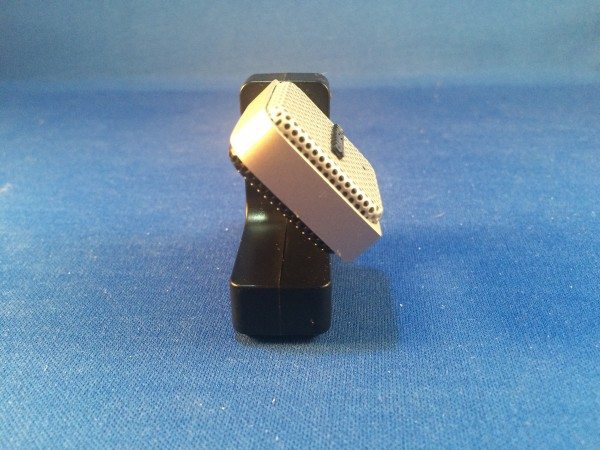 I tend to use FaceTime from my iPad or MacBook when chatting with my mom. She lives a few states away, so getting in a visit more than once or twice a year is tough. FaceTime makes it much more personal than just a phone call. She has an iPhone, and we're having "lessons" to help her make better use of the iPad she got a few months back. She's learned to switch the camera around and show me her iPad screen so I can know what she means when she says "That little thing isn't where you're saying it is" or whatever. And I can do the same, flipping my iPad around to show it to my Mac's webcam. Sound, as you can imagine, can be a bit dicey with all the movement. I tried the Samson GoMic direct's Sound Deck software filtering while on a few calls, to see if it made a difference.
By contrast, I also used my 15" MacBook Pro's internal mic and an in-cord mic that came with my inCase headphones. On her Toyota Camry's BlueTooth factory system paired with her iPhone, she could not tell a difference, except with the on-cord mic. ("It sounds closer.") But, of course, it IS closer. Each mic was easily heard by all passengers in the car.
I made two recordings from my MacBook, and can't really tell the difference. See if you can.
First, the MacBook Pro (late 2014) that I use:
Next, the Samson GoMic Direct, on that same MacBook Pro:
A few days later, I called back and we did a more in-depth test of the Samson, this time with my iPad and an Apple Lightning to USB Camera Adapter. In her home for one of our "lessons," she felt the Samson mic fared slightly better than the built-in mic, but still preferred the inline mic on the cable. That could be due to the mic being tuned for voice, rather than full spectrum sound.
If you're needing to do some really high quality recording, I'm not really sure this mic will do more than what's already capturing your sound.
Source: The sample for this review was provided by Samson. Please visit http://Samsontech.com for more info.
Product Information
Price:
$65 MSRP - street price as low as $40
Manufacturer:
Samson
Retailer:
various online and off
Requirements:

Computer device with powered USB port

Pros:

Small
Adjustable condenser
Uses USB for power - no batteries

Cons:

Depending on the quality of your device's built-in mic (if it has one), it may not be better than your existing one.