We use affiliate links. If you buy something through the links on this page, we may earn a commission at no cost to you. Learn more.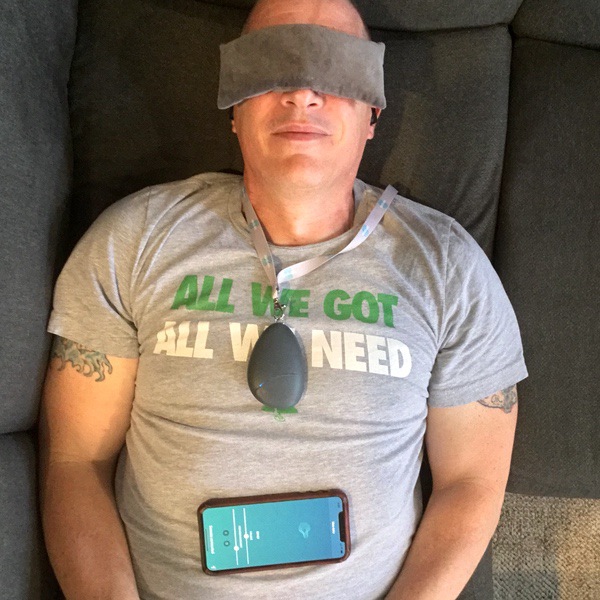 REVIEW – What the heck is Bob up to? Finding his inner balance, that's what! We're testing the Sensate meditation device, which claims that it's combination of proprietary "near infrasonic" technology and immersive soundscapes help reduce anxiety, improve physical well-being, and promote calm. Does it work? Let's find out!
What is it?
It's a device that uses a patent-pending technology that stimulates the vagus nerve to reduce stress, improve concentration, and promote better overall health. You combine that with soundscapes provided on the app for an immersive meditative experience.
What's in the box?
The package includes the Sensate device, a lanyard, a charging cable, an eye pillow, and a travel case.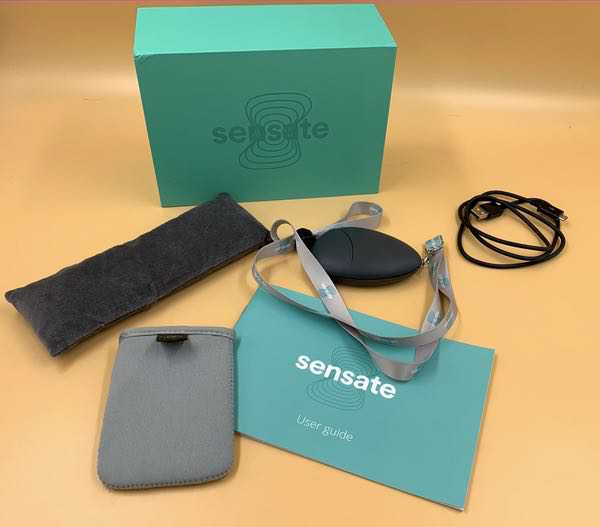 Design and features
The Sensate product is built around this futuristic oblong-shaped pod that fits in your hand. It's got a rubberized surface and an LED strip across the waistline. You'll press and hold that little dimple activate the pod. You'll also find a charging port for the cable at the bottom of the device. A single charge has lasted me 8-10 sessions, which is great.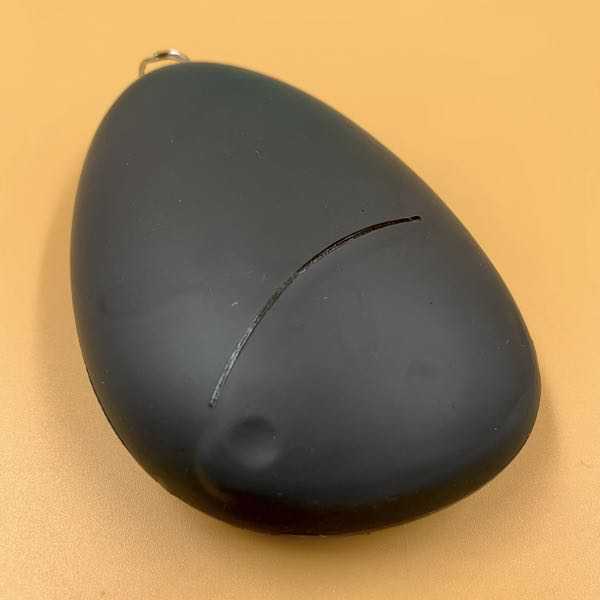 A lanyard is included in the package that clips to the ring at the top of the pod. More on that in a moment.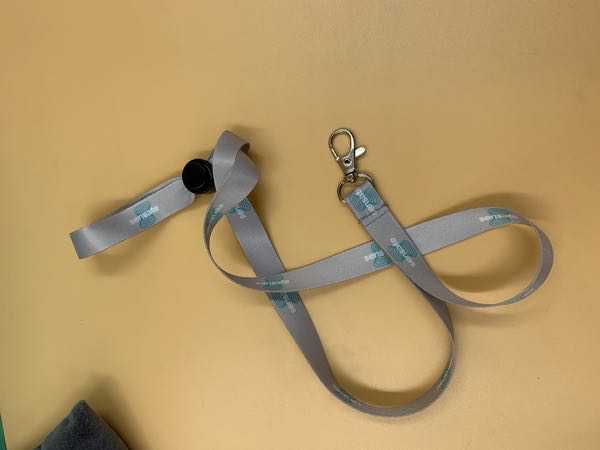 The device is designed to work with the Sensate app. You'll download the app to your Android or iOS device and pair it with the pod.
Once you're paired up, it's time to start a meditation session. You'll find a quiet, comfortable place to lay down and put on your headphones. The pod is placed on your sternum, using the lanyard to keep it in place. You'll use the weighted eye pillow to block out any distracting light or movement. Kinda like this: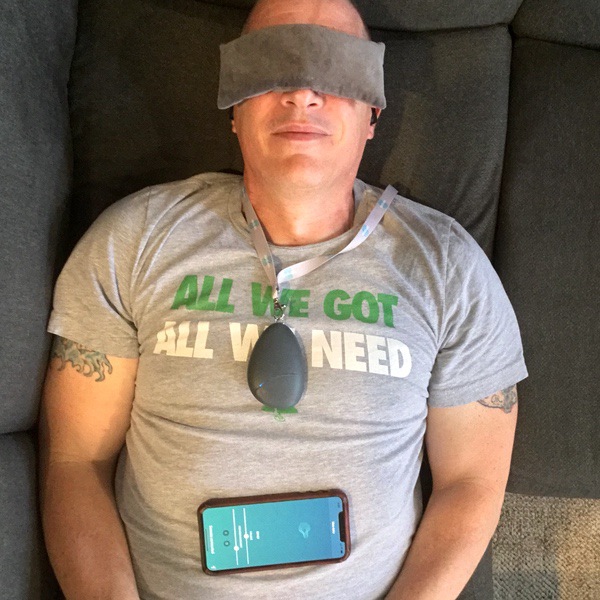 So what happens during the session? The Sensate uses a patent-pending "near infrasonic" technology (a combination of vibrations and ultrasonic waves) to stimulate the vagus nerve during the course of the session. The device synchronizes the stimulation with an immersive audio experience, changing pace and intensity to match the soundtrack. And you don't have to be an expert in meditation to get going. It does all the work for you after you make a few choices. Let's walk through the process
Launching a Sensate session
Turn on the device and fire up the app. You'll see that the device is on when that LED strip turns blue. The app will show you when you are connected: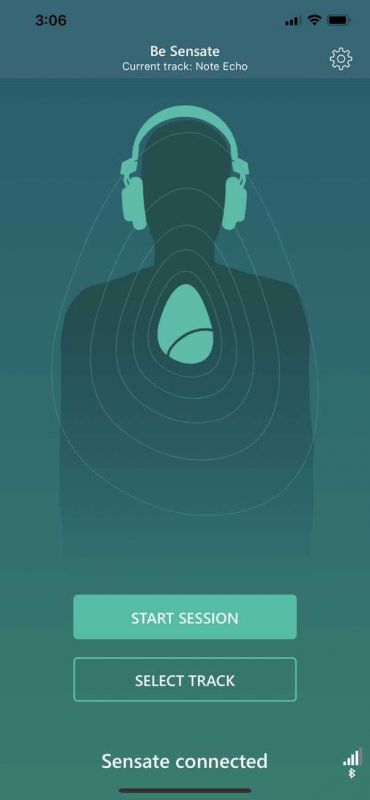 Now you get to choose your soundscape. Tap the "select track" button to open up the themes.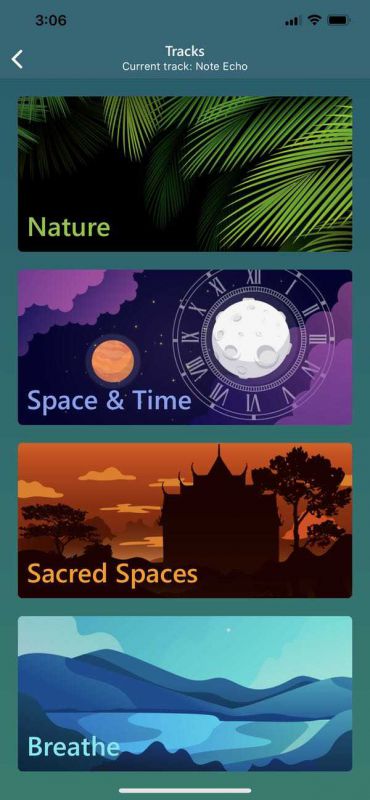 Each theme combines elements create a multilayered audio experience. I've chosen the "Sacred Spaces" theme which uses rhythmic chanting, singing, music, water noises, and bells. Other themes use different effects like nature sounds. Whatever theme you choose, you can select 10, 20, or 30 minute sessions.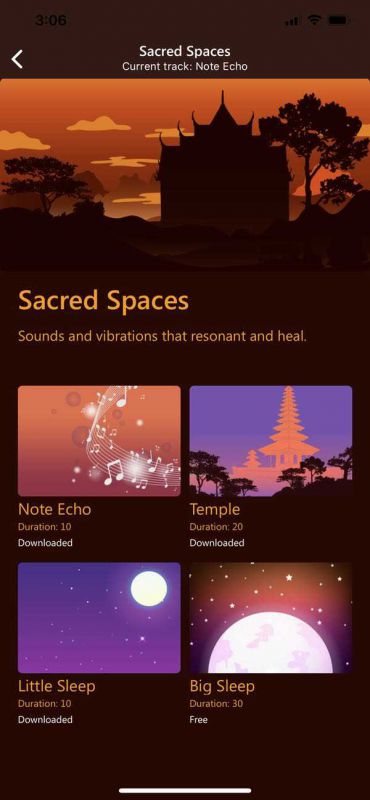 Here I'm selecting the "Note Echo" track. You can preview all the soundscapes before you download one to your device. It looks like they are setting up for a free and pay-per-track service at some point, but all the tracks I've seen so far are free. You can also set a reminder to schedule a session here if you like to ping you for future sessions. Once you've found a track you dig, tap "select track" to queue it up.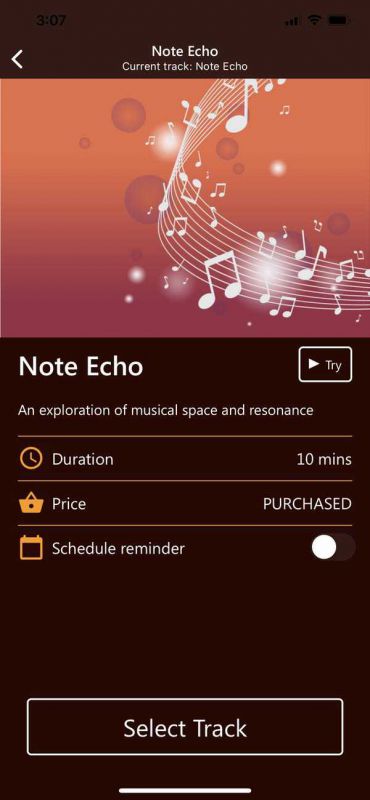 Now we're back at the home screen. You'll push "start session" to get going.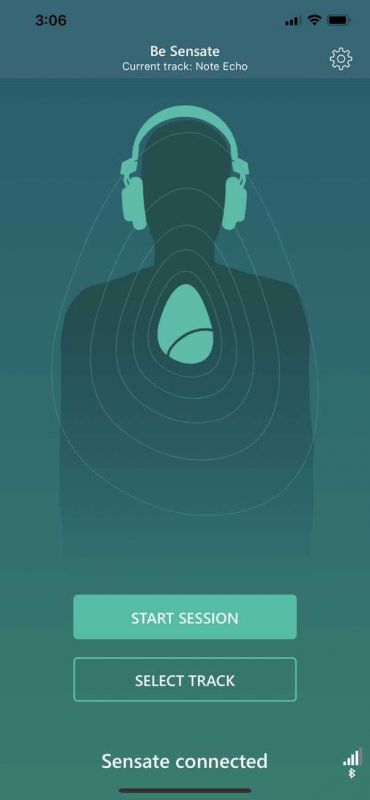 Here's where the app takes over. A timer counts down the session (you don't hear that), and you have options to adjust the intensity of the stimulation and volume levels to find the situation that is comfortable for you.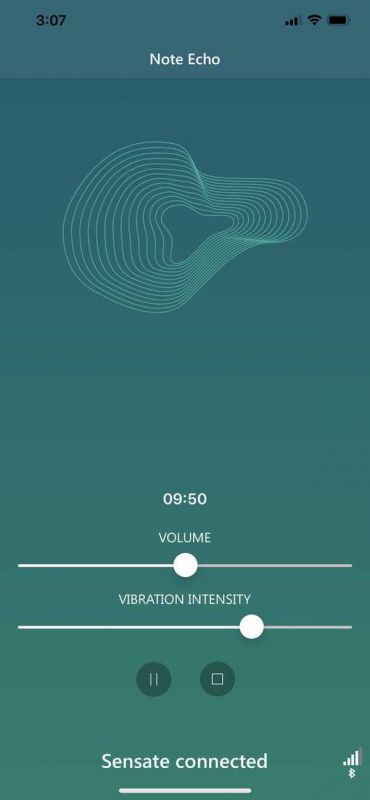 When you're done, the music & vibrations fade out. You're ready to go along with your day.
Performance
The meditation session is, frankly, amazing. The multilayered audio tracks are rich and deep, creating gentle rolling rhythms that rise and fall over the course of the session. They're absolutely gorgeous. While this is happening the pod is providing a synchronized stimulation experience that rises and falls with the soundscape. I've tried a number of different meditation apps and tools, and I often struggle to get in the right mindset. That's no problem with the Sensate. It's a complete immersive experience that drags you in.
As far as results go… let's talk about that.
I've been notoriously bad at managing my stress, which has resulted in a numerous physical issues over the past few years (back pain, GERD, etc.). I've been working on various techniques for stress management, but the recent quarantine work situation hans't helped much! There's a lot of research out there about the tie between the vagus nerve and managing some of these issues, which is what the Sensate folks claim to target with their "near-infrasonic" technology. The theory boils down to this: calm the vagus nerve, and you will in turn reduce the impact stress on the body.
I don't claim any sort of clinical validity for my results, but I can tell you that the Sensate seems to be making a difference for me. I've been doing 4-5 sessions a week for the past month and noticed a significant difference in my stress levels. My blood pressure in particular has come down quite a bit. I don't know if the Sensate is the primary cause for this, as I have been working on other lifestyle stuff as well (like intensifying my exercise routines)… but I can tell you that it certainly seems to help! If nothing else, I've gotten far better results from meditation sessions with the Sensate than other solutions I have tried.
I do have some minor nitpicks with the device itself. The fit and finish does feel a bit like a prototype to me. The power button is a bit difficult to manage, for example, as sometimes it takes a lot of pressure or multiple attempts to turn it on/off. My understanding is that Sensate is continuing to do rapid development on the product with each release, however, so this may be something they'll address in their next version.
I'd also like to see the travel case improved. The device just barely fits in there by itself, with no room for the accessories. And you really need all the parts of the kit. I'd like to see future iterations solve that.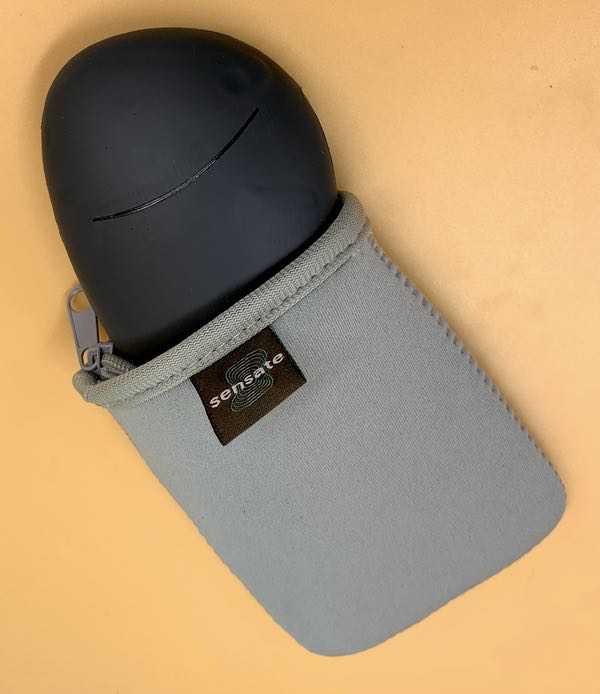 There's also the issue of pricing. The preorder retail pricing is $373 USD. They are offering discount pricing through a series of Indiegogo campaigns for under $300 if you hurry. That's still a pretty hefty pricetag. I love the results I am getting from the Sensate, but I think it could use a bit of polish in the finished product.
What I like
Completely immersive meditation experience
Well-integrated app and device function
Super easy to use; the user experience is completely on point
What needs to be improved
Expensive
Could use some refinement in the build
Final thoughts
I'm really enjoying my time with the Sensate. The immersive meditation experience is amazing, and it seems to helping me with my stress management. Your mileage may vary, of course. Be aware that it's a pretty significant investment, though. I'm interested to see how the company continues to refine the product in the future.
Price: $373 USD in pre-order, some indiegogo campaigns available with early-bird pricing
Where to buy: Go to the Sensate web site.
Source: The sample of this product was provided by Sensate.