We use affiliate links. If you buy something through the links on this page, we may earn a commission at no cost to you. Learn more.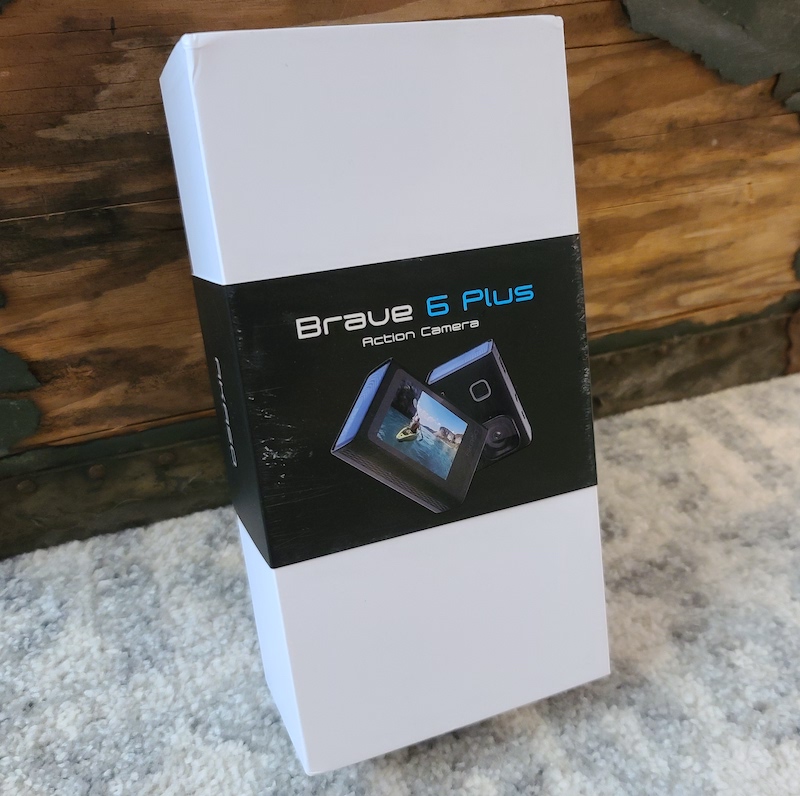 REVIEW – I've always wanted an "action camera", but spending hundreds of dollars on something that I would use only occasionally in my life seemed like a poor choice.  The AKASO Brave 6 Plus Action Camera promises performance that would rival the much-more-expensive brands, but does it live up to its spec-sheet?
What is it?
This is an action camera, designed to be used while having adventures (usually outdoors).  The small size allows it to be mounted or strapped to just about anything to capture video or photos.  With the included accessories in the package that I reviewed, you'd be able to film/photograph almost anywhere: underwater, doing motorsports, re-enacting your favorite Nacho Libre scenes, etc.
What's in the box?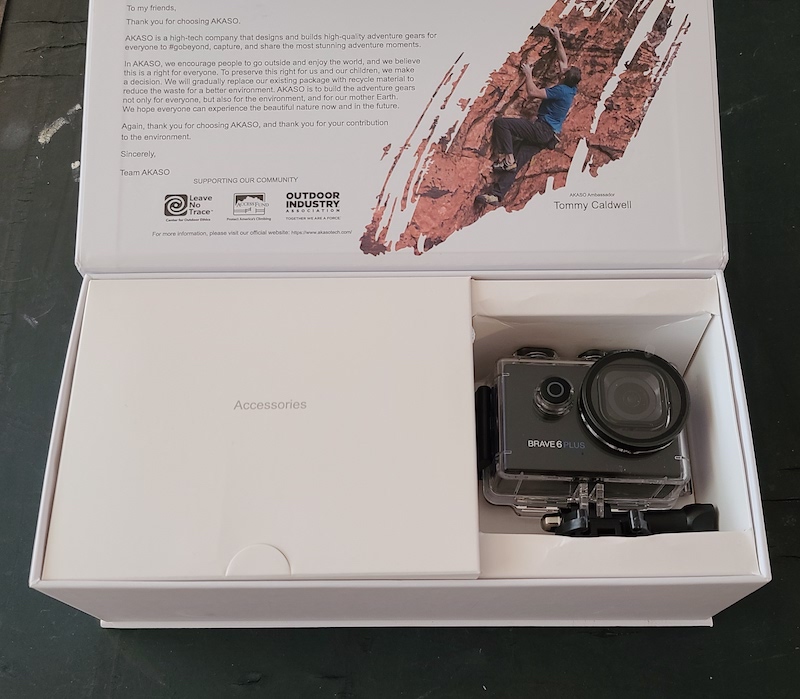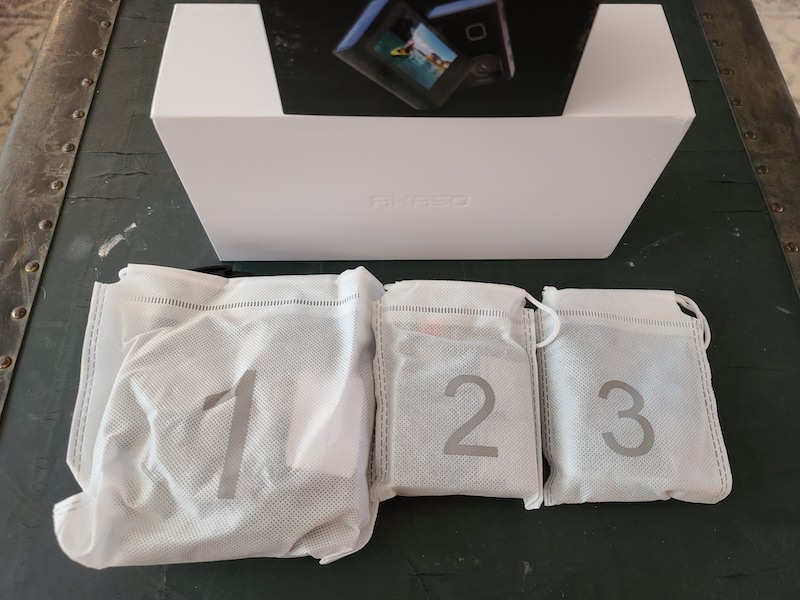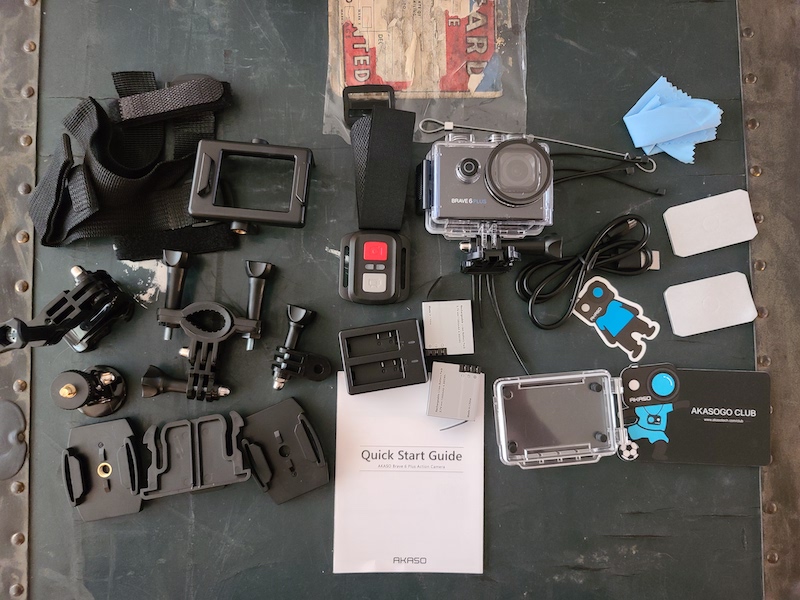 Everything is nicely packed and organized.  As you unbox, first you see the AKASO Brave 6 Plus Action Camera, then lifting the accessories tab reveals 3 numbered bags full of so many accessories.  Here's the list:
AKASO Brave 6 Plus Action Camera
2.4 Ghz remote
2 x 1350 mAh Batteries and charger
1 x Waterproof case
1 x Bicycle Stand
7 x Various mounts
2 x Clips
1 x Helmet Mount
1 X Bandage
5 X Tether
1 x Extra Waterproof Door
1 x USB Cable
Hardware specs/features
2 " touch screen LCD
Voice Control
Electronic Image Stabilization 2.0
8 x Digital Zoom
Adjustable View Angle
Remote Control
Wi-Fi
Burst Photo
Self Timer
Time Lapse Video
Driving Mode
Special Effects
Adjustable White Balance
Loop Recording
Motion Detection
Micro HDMI
USB-C
Design and features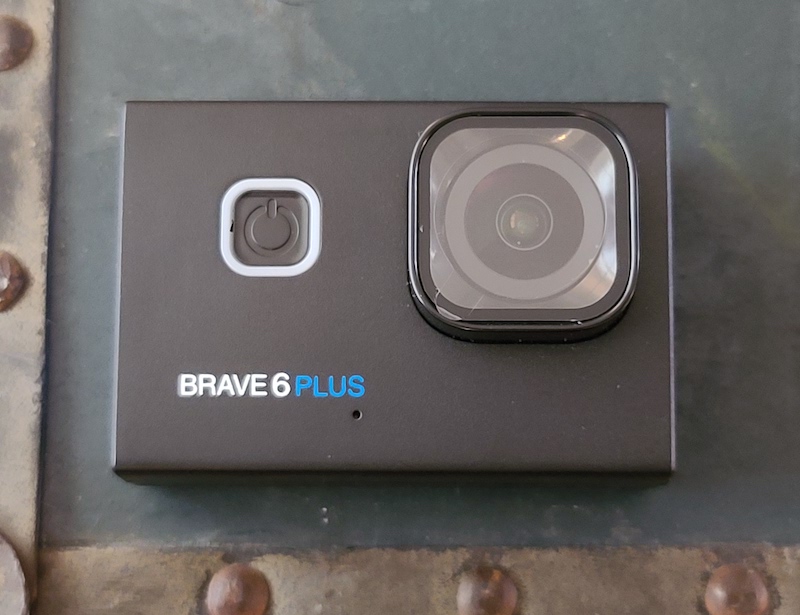 The camera unit itself feels nice and premium, with well-finished edges and surfaces.  The buttons are responsive and don't feel cheap, and the touchscreen has a bright image that can be easily seen in sunlight.  Touch performance is fine: not as good as a modern smartphone, but totally usable.  Swipe and tap interface options all worked as I wanted them to, I was easily able to navigate through settings and menus.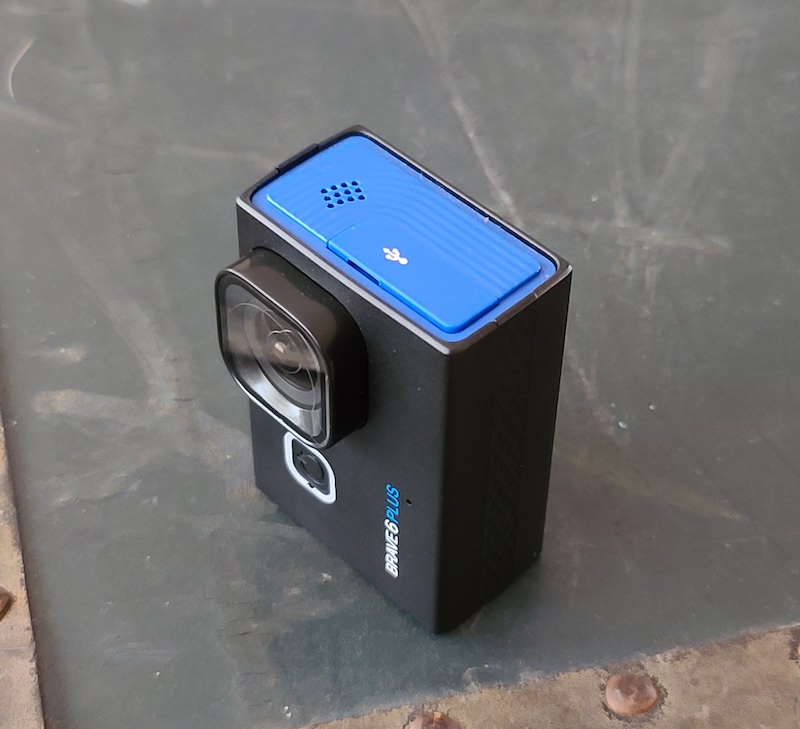 The accessories are mostly good: the various mounts and clips feel like sturdy plastic, and held up well during my review period.  The one part I didn't trust was the two-sided tape style mounts.  These have a foam sticky tape that is supposed to be sturdy once placed, but after trying it on a plastic surface and pressing down for some time, it didn't feel sturdy at all.  I did not trust the tape to actually keep the camera in place, it was peeling up under even gentle pressure after placement.  You could buy higher quality tape and still use the included mounts (simply removing the original tape), in my case zip ties were fast and easy and much more secure.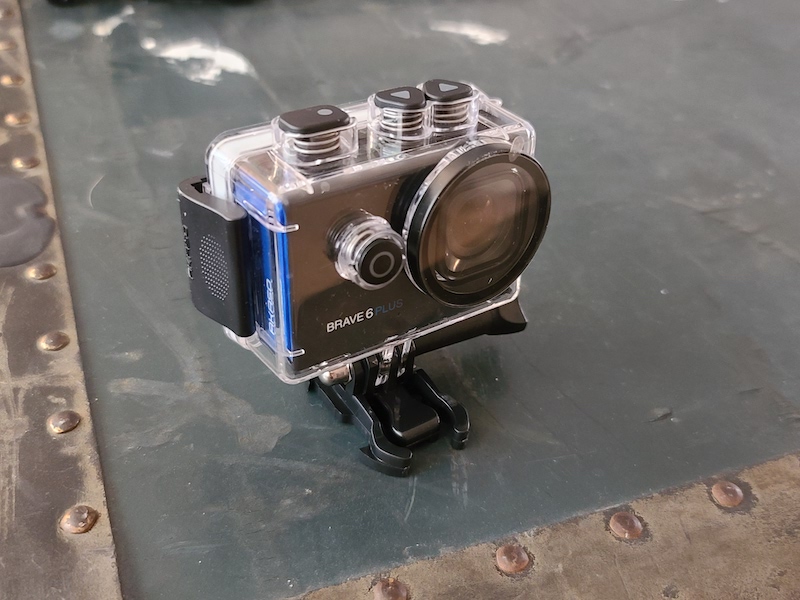 Bright LEDs on the front of the camera light up to display conditions like power on/off and recording.  Menus and settings were good, I wasn't lost trying to change settings, and I felt like pretty much anything I needed/wanted to change was easy to find.
Installation and setup
Installation and setup was fairly easy after I got past the overwhelming amount of accessories included.  I did need to reference the user guide a couple times to try to figure out which pieces went together, but after trying a few of the parts things started to click (sometimes literally).
I added a micro SD card I had lying around, and it detected and recorded video/pics to it without a fuss.
I tested the mobile application on a Samsung Galaxy S20 Ultra, and everything worked well and was intuitive.  Once connected (you connect to a wifi network provided by the action cam), your phone then acts as a remote viewfinder, which can make it easier to frame shots and see what the camera is seeing, as well as control taking pictures or starting/stopping video.  I could see this being very handy in creating content – while the small screen on the camera itself is nice, it can be hard to discern small details, and if you're taking selfie-style video you have to stop recording and check playback constantly to see how things are framed.  Transferring video was pretty slow though, even for large videos, I reverted to just popping the SD card out and transferring to computer.
I like that the smartphone app is an extra and not required to use, even though it's pretty good. Requiring an app can be a deal-breaker for me on electronic gadgets as many apps for these types of devices can be unreliable at best (and there's no guarantee of updates/compatibility going forward, I've seen so many reviews where the app just stops working or refuses to work with new phone models).
Usage and Performance
For this video, I zip-tied the AKASO Brave 6 Plus Action Camera to my roof rack, and set it to record timelapse at 4k, every 2 seconds.  (This was recorded in and around the Sundance Ski Resort in Utah). Next time I'd choose 1 second intervals for a smoother video, but I was impressed with the result for my first try.  The only editing I did was to slow down the resulting video by 50%, the tight twists and turns of the canyons were very choppy in the default recorded video (and still a bit on the slowed version, hence my desire to increase the frames captured next time).
On this test, I wanted to see the quality of video at 4k (recorded at 4k / 30 frames-per-second, the max supported), as well as image stabilization.  Often when you're recording adventure-style things, shaky camera footage can be an issue.  To test this, I strapped the AKASO Brave 6 Plus Action Camera onto a cheap-but-large drone, and took it for a short flight.  The drone is not particularly steady and has strong vibrations from the large motors, so I think this was a good test of video stability in rougher conditions. You can select 4k video from the gear icon at the bottom right of the video to see the full-quality version.  I thought it was interesting that you can see the propellor motors moving around (the camera was strapped into fixed position on top of the drone, so seeing moving motors is actually the image stabilization at work, cropping a version of the video from a larger version to eliminate the movement and shakiness).
Pictures were pretty clear, with good autofocus.  Low-light performance was not great (expected, this seems to be happiest on nice bright outdoor days).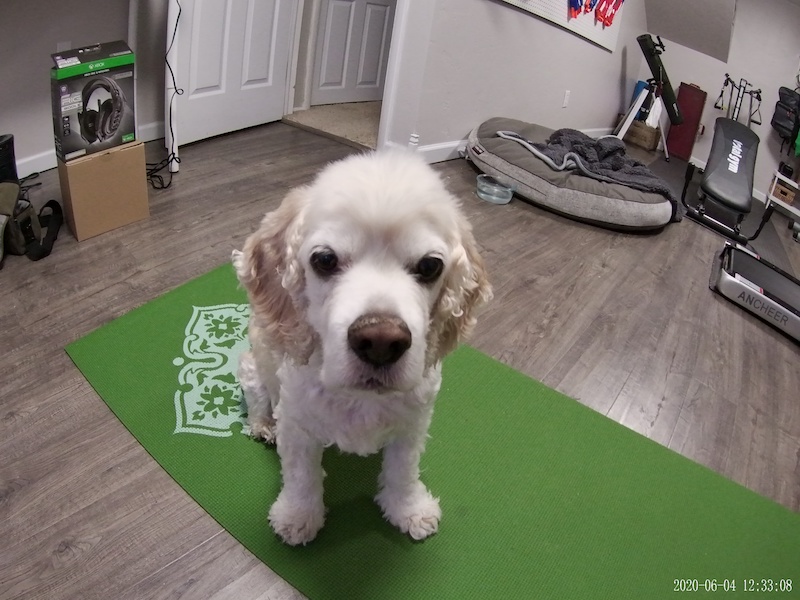 The voice controls were disappointing, even in a quiet office they were hit-and-miss.  On the other hand, the included remote was perfect every time.  You can easily start/stop video or take pictures with it, and there's an accessory to strap it to your wrist.
I tested waterproofiness by submerging the clear plastic waterproof housing (without the camera) in a tub of water for hours, with paper inside.  The housing seemed great, paper was bone-dry when removed, no signs of any moisture leakage.
The battery (2 included with a charger) lasted quite a long time.  I recorded over 4 hours of timelapse video with less than 50% battery drain.  It seems like you could record most of a day and be exhausted before the camera runs out.
What I like
Easy to use
Good quality
Price is good for what you get
Accessories are mostly great and useful
USB-C
What I'd change
Don't even include voice control if it's so unreliable
Better double-sided tape
4k video at 60 fps would be nice, but understandably costs a lot more in competing models (more computing power is needed to handle it)
Final thoughts
I was impressed with this little camera!  The AKASO Brave 6 Plus Action Camera is great for the moderately-exciting adventures I partake in (like paddleboarding, light offroading, snowsports, drone stuff).  I would definitely recommend it if you're looking for a solid action camera on a budget.
Price: $119.99
Where to buy: Akaso or Amazon
Source: The sample for this review was provided by Akaso.