We use affiliate links. If you buy something through the links on this page, we may earn a commission at no cost to you. Learn more.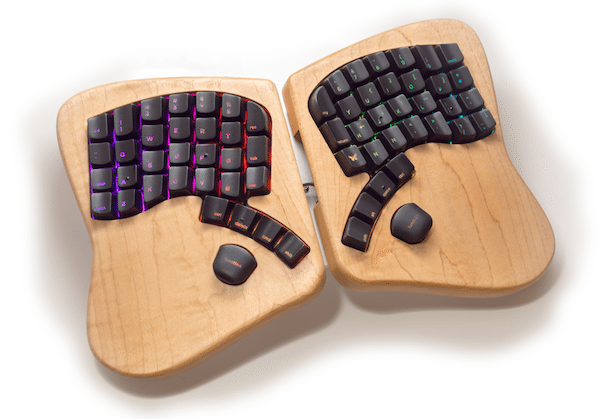 Keyboardio's Model 01 ergonomic keyboard launched on Kickstarter Monday, June 15. Keyboardio hit its $120,000 goal in 2.5 hours and currently stand at $370,000 in funding.
The Keyboardio Model 01 features an adjustable two-piece maple body, an advanced ergonomic design, sculpted keycaps, and applications-specific macros. Built on Arduino technology, the Model 01 is hacker-friendly open hardware that ships with source code and a screwdriver. It is compatible with MacOS, Linux, Windows, Android, and iOS.
Keyboardio creators Jesse Vincent and Kaia Dekker were in Austin, TX, last weekend at the ATX Hackerspace, as a part of a whirlwind tour of 23 cities to get the keyboard in as many hands as possible. When people actually get to type on the keyboard, they discover how comfortable it is, Vincent said.
The Keyboardio Model 01 is available for presale on Kickstarter for $299. The product is expected to begin shipping in early 2016. For more information, visit the Keyboardio website.