We use affiliate links. If you buy something through the links on this page, we may earn a commission at no cost to you. Learn more.
For some time now I have been hearing all the hype about the DigitalWriter
Duo pen/stylus from Cross. Most of the
hype has been focused around the stylus tip. On the packaging, they call it the
"Ultimate Writing Instrument For Your PDA", so we had to check one out.
Their patented polymeric stylus tip is designed to give the tip a
"pen on paper" feel. And I must admit that it indeed does feel like a pen on
paper. But to be honest, I didn't like that feel. Every time I used it I felt as though I
was going to scratch my Visor screen because of the tiny bit of "drag" it seemed
to put on the PDA screen .  Cross states on their web site that, as a result
of it's "pen on paper" feel, the tip may wear over time, and that the average
user will get about one year of use from the DigitalWriter tip. And if
the tip does wear out, you can buy a replacement directly through Cross by calling (800)
510-9660.
I used the DigitalWriter Duo for a couple weeks and
there are no scratches on my Visor screen, so all I can say is that it is a different
feeling. I've spent so much time looking for the most smooth stylus I could find, and all
the while going out of my way to protect the Visor's screen, that it was hard for me to
transition to this stylus tip. (By the way, Julie likes the way it feels.)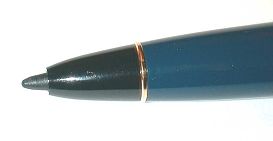 So without any data that the screen would be damaged, and since the
pen/stylus is from Cross I'd say they probably tested the heck out of it. Let's look at the
rest of the DigitalWriter Duo. The pen's size is larger in diameter than
most other pens. It's just under a half inch in diameter without the cap, and about .575
with the cap on. I like the larger type writing instruments; they have a good feel to
them. But if you have a case with a pen holder in it, this pen probably won't fit in the
loop or slot.
The

DigitalWriter Duo

comes in
three colors- burgundy, black, and dark blue. We reviewed the dark blue pen, and as you
can see, with it's dark blue body, black tip and gold accents it is very attractive. It
would make a nice gift to the executive.  The pen part writes as smoothly as any
other Cross pen I have used. But there were some things about the design that annoyed me
after a while. As you can see, the stylus end of the pen is exposed all the time. I was
quite surprised that the stylus had no protection at all. I don't know how strong the tip
is, or if it would be damaged if you dropped it, but I found that to be a strange feature.
Also, since both ends look the same, when I was in a hurry, it was hard to tell which end
of the pen I wanted if the cap was removed.

And speaking of the end cap, this cap screws on and off the
pen end, and snaps onto the stylus end. This led to more confusion for me because I tend
to not look at my pen while I am preparing to use it, (I usually have it in my shirt
pocket, and just remove it and push the plunger). I found myself grabbing the pen, and
trying to vigorously pull the cap off, only to realize after a few seconds that the cap
was screwed on. That takes a bit of getting used to. Then, sometimes I had the pen cap
snapped on the stylus end, and I put it in my pocket, only to later realize that the pen
was exposed. And I quickly got tired of screwing the cap on and off.
Overall, the DigitalWriter Duo
pen/stylus is not a bad choice. But I still prefer a pen/stylus that is easier to get at
either tip you want. And I don't really like the stylus tip being exposed as it is on this
pen. (And by the way, if you have one of these pens, give us your opinions of the exposed
stylus tip on the message board. I'd like to hear from someone about any damage to the tip
after a few months of use.)
And finally, I prefer the smooth stylus feel to the "pen on
paper" feel. I really couldn't get used to it. But as I stated earlier, Julie liked
it. With all of the information on the web about protecting your PDA screen, and how to
fix scratches, and which stylus has the smoothest tip, I wonder why Cross purposely made a
tip that feels like a pen on paper?  It was a real drag…literally.
Price: $35.00 (Available
at StylusCentral.com)
Pros:
Attractive design.
Quality construction.

Con:
Screw-on cap is annoying after a while.
Either the stylus tip or pen tip is always is exposed.
Product Information
| | |
| --- | --- |
| Price: | $35.00 |
| Manufacturer: | Cross |