We use affiliate links. If you buy something through the links on this page, we may earn a commission at no cost to you. Learn more.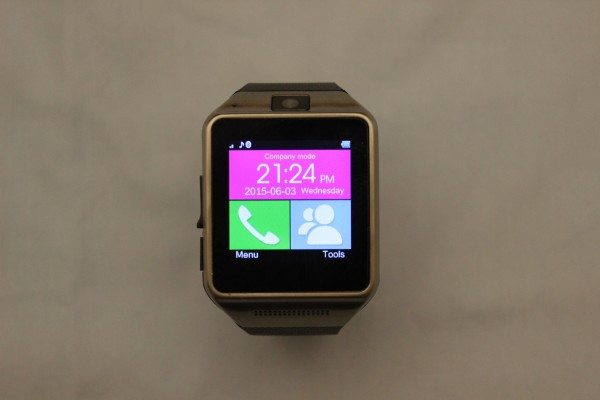 I was a relatively early adopter of smartwatches; I owned the original Pebble smartwatch before upgrading to a Moto 360 last February. Admittedly, I was initially skeptical of their usefulness; however, my smartwatch quickly and seamlessly integrated itself into my daily routine. The ability to dismiss calls, quickly reply to text messages, and receive notifications from my wrist is incredibly convenient, especially when driving. Although I love my Moto 360, I'm always looking to try new gadgets and jumped at the opportunity to review the Otium Gear smartwatch. Does the Otium Gear have what it takes to make me shelve my Moto 360? Let's find out.
In the box
Otium smartwatch
Charging plug
USB charging cable
Screen protector
User manual
Hardware Specifications
1.5″ TFT LCD 240 x 240 capacitive display
533MHz CPU
128 MB Ram
64 MB memory
Bluetooth 3.0
1.3 MP camera
380 mAh bettery with 80 hours of standby battery life
Micro SIM card support (GSM)
Dimensions – 1.71″ x 0.46″ x 1.57″
Weight – 50g
Design
Let's be honest, most smartwatch makers have struggled with design. While there are a few smartwatches that don't jump out and scream "I'm a smartwatch", most stick out like a sore thumb. Unfortunately for the Otium Gear, I think it falls into the latter category.
The Otium Gear is similar in design (and name) to the Samsung Galaxy Gear, but not quite as sleek. It has a brushed metal body and a traditional rubber strap with a metal clasp.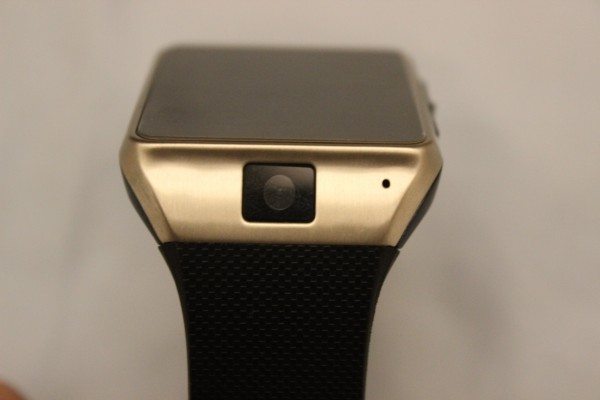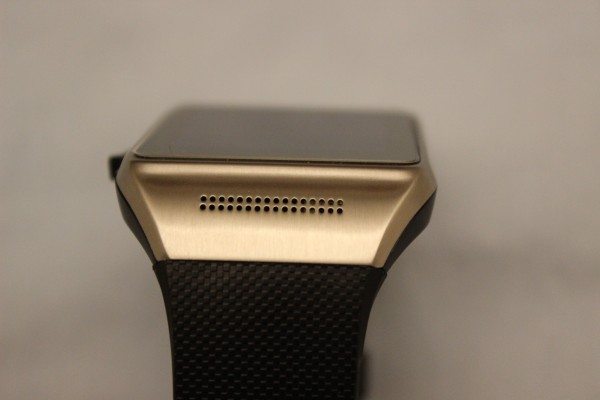 The body of the Otium Gear contains a microphone, a 1.3 MP camera, and a speaker.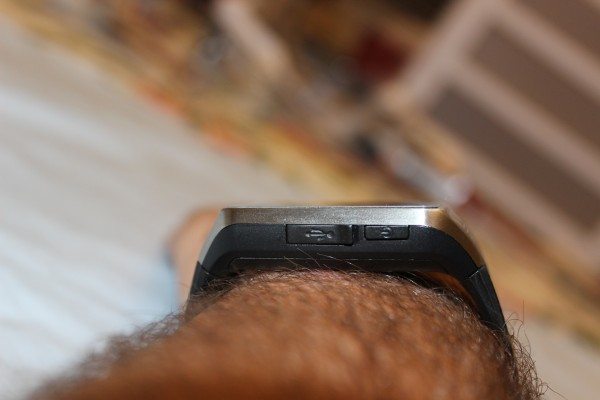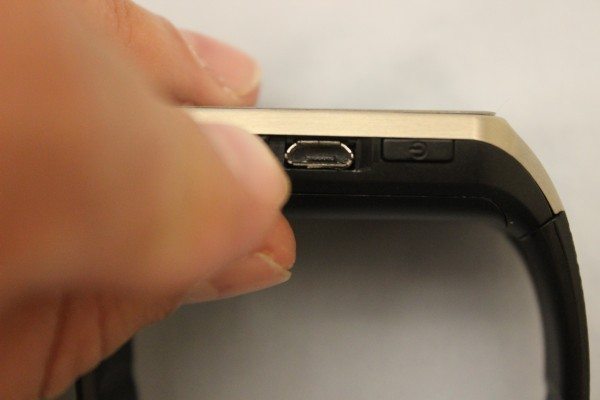 The left side of the watch contains the power/wake button and micro USB port. The micro USB port is concealed by a small cover attached to the body. The cover is very tight and made it difficult to insert the USB charging cable. I had trouble holding back the cover while steadying the watch to insert the cable; although, people with slimmer fingers or better dexterity may not have this issue.
As I stated earlier, there is no hiding the fact this is a smartwatch. I think Otium could have done a better job integrating the camera, speaker, and power button into the body.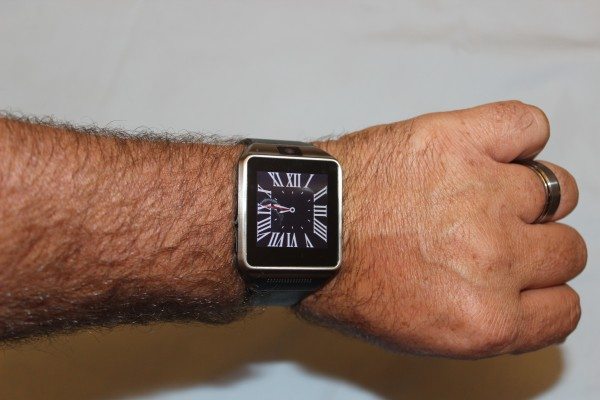 The Otium Gear was very uncomfortable to wear. I don't wear watches very tight, but the Otium Gear dug into my wrist.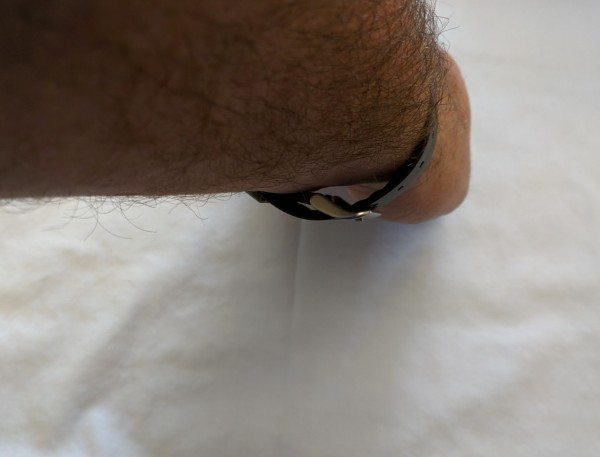 Again, I don't have the strap very tight; in fact, I was able to fit two fingers between the strap and my wrist. The problem is, the body of the Otium Gear curves at the edges causing it to dig into my wrist. After several minutes, I had to loosen the strap because I was experiencing wrist pain. Once loosened, I was free of pain; however, the watch was looser than I like, leading to excessive movement on my wrist.
Pairing
When I attempted to pair the watch with my phone, I immediately experienced issues. The Otium Gear's user manual is very difficult to understand. It's a very poor English translation that borders on incomprehensible.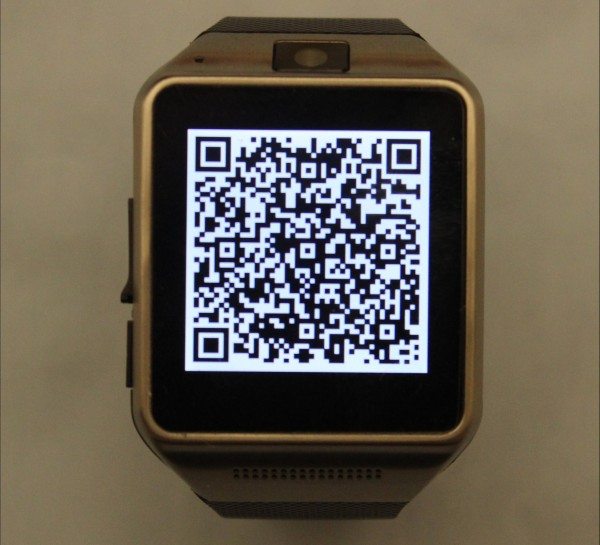 The first step is to download a companion app on your smartphone. I was instructed to scan a QR code to download the app, but the QR code on the manual was too small for my phone to scan. Eventually, I stumbled upon a QR code located in the watch menu, but the manual does not direct you there.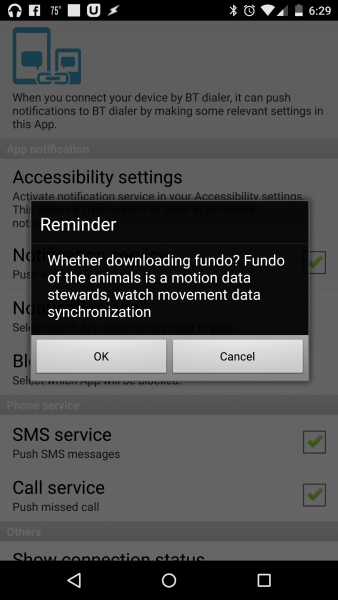 I launched the companion app and was immediately greeted by the above message. I assumed it was asking if I wanted to download a pedometer or similar type app and warily clicked OK. My phone then downloaded another app.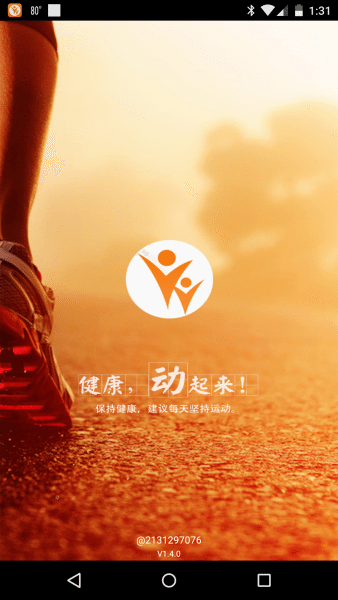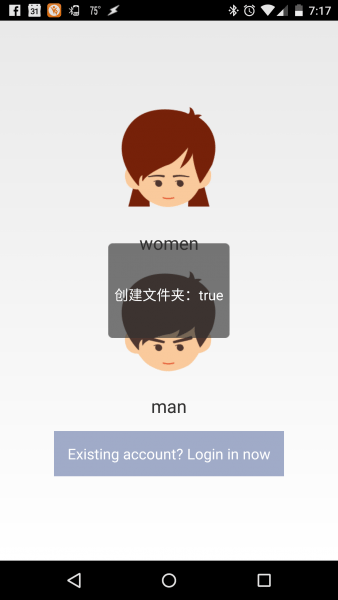 Upon opening the app, I was given further proof that Otium had yet to refine its product. Several screens in I had no idea what the name of the app was or what it did.
The entire app was confusing and poorly translated. I was asked to enter my weight; however, it only provided the option to enter my weight in kilograms. As you may have guessed, I have no idea how many kilograms I am. If you're like me, you'll have to use the ole Google machine to convert pounds to kilograms.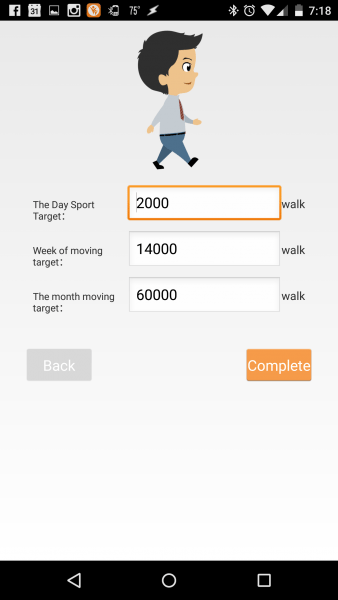 After entering my weight, I came to a target selection screen; however, I wasn't sure what type of target I was entering. I assumed it was a step target; although, most pedometers set the goal around 10,000 steps. I just left the target at the pre-selected entry.
The rest of the app was equally confusing and just as poorly translated. Fortunately, I discovered the app wasn't necessary to use the smartwatch, and gave up on trying to use it.
Before moving on, I should note the Otium Gear is able to function without a smartphone through the use of a SIM card; however, this entire review was done while paired to my Nexus 6.
Call Function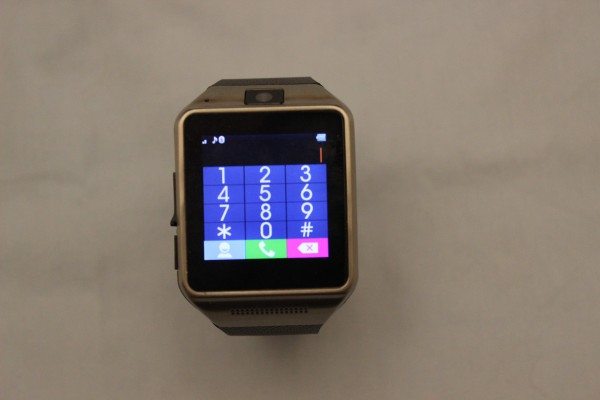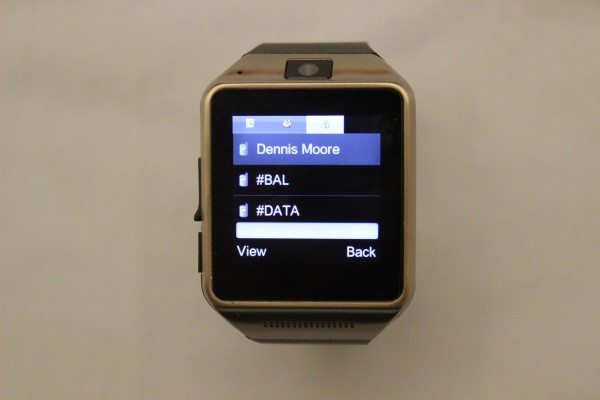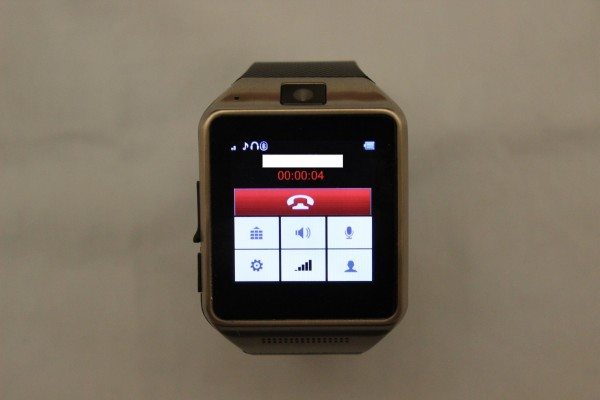 After pairing the watch with my phone I decided to make a call. The process is fairly simple; you can either bring up a dial pad or select a contact. To select a contact, you press the contacts buttons, scroll down to a contact, and press the call icon. The only issue is the screen only displays three contacts at once; if your contact is toward the end of the alphabet you'll be scrolling for a while. Technically you can type in a contact's name, but it's difficult. I'll address typing later in the review.
During a call, the the audio plays through the Otium's speaker and you're able to speak into it's microphone. The audio was surprisingly good and the person I was speaking with was able to understand me. The call quality seemed on par with your average Bluetooth earpiece. From the watchface you're able to adjust call volume, mute the call, and bring up a keypad.
After my initial frustrations with the watch, I was pleasantly surprised how well the call function performed. However, I found holding my arm up to speak into the watch grew tiresome during lengthy conversations; consequently, I stopped using this feature after a day or two.
Notifications & Text Messages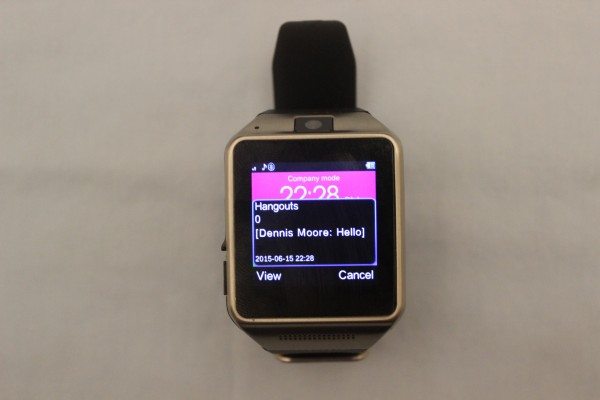 After making a phone call, I decided to see how well the Otium handles text messages. When you receive a text message – or any notification – the watch displays a pop up screen. The pop up screen displays the name of the app sending the notification and any update or message contained within.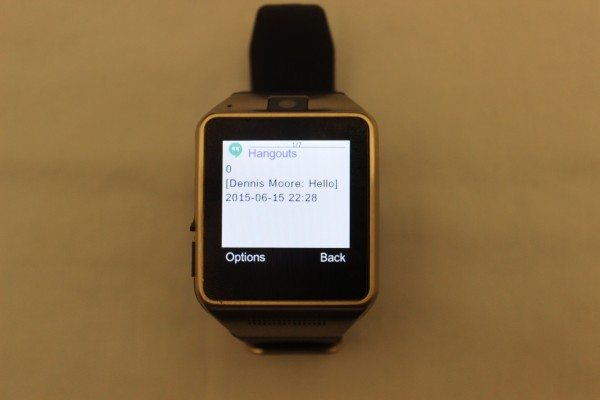 Clicking the view button sends you to another screen which provides the same information, but also provides an option menu. From the option menu you can delete the message or block the app from sending future notifications. It's a bit of a convoluted system, but it functions just fine. Oddly enough, you aren't given the option to reply to messages from either screen.
Next I wanted to try sending a text message using the Otium. I was disappointed – but not necessarily surprised – to find it does not have a voice recognition function; however, I was very surprised to find the Otium doesn't have a quick reply function. Both my Pebble and my Moto 360 have preset messages, ok, yes, no, thanks, etc., that you can use to immediately respond to any text messages.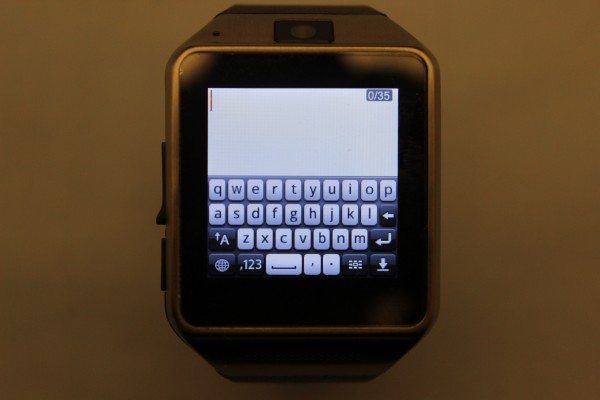 What the Otium does have, is an onscreen keyboard. The keyboard is used to reply to messages, search for contacts, and enter alarm times.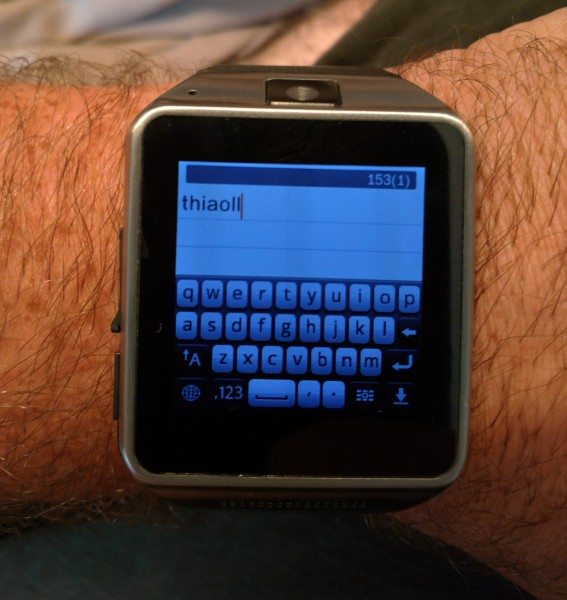 Unfortunately, it's extremely difficult to type using the keyboard; the keys are too tiny to accurately type on. In the above picture, I spent about 2 minutes attempting to type "this", but was unable to do so. In my opinion, smartwatches don't have the real estate to allow for a usable keyboard.
The lack of a usable keyboard, combined with no voice recognition or quick reply, means I have no way to respond to text messages from the watch. Being able to quickly and easily respond to text messages is one of the primary reasons I wear a smartwatch, and not being able to do so was a huge setback for me.
Camera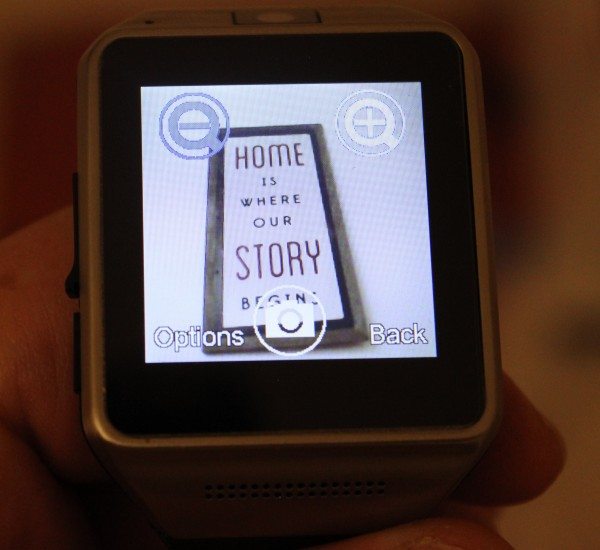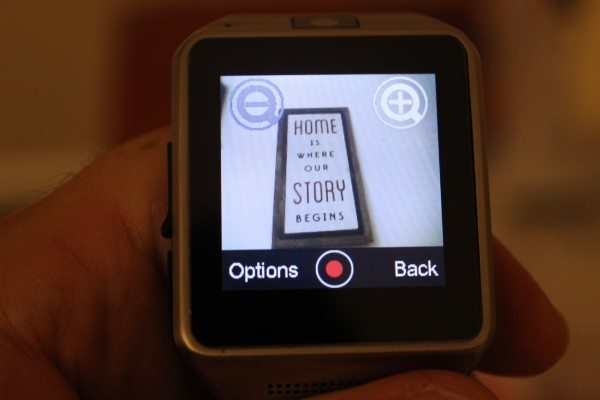 The Otium Gear has a 1.3 megapixel camera built into it's body. The camera is extremely easy to use. It has two modes, camera and video, which operate basically the same way. There are buttons to zoom in and out at the top of the screen and a shutter/record button at the bottom.
As expected with a 1.3 megapixel camera, the picture quality is extremely poor. In the above collages, the top two pictures were taken with the Otium Gear, while the bottom picture was taken with my Nexus 6. Nexus phones aren't known for their picture quality; yet, it's unquestionably better than the Otium Gear's camera.
Music Playback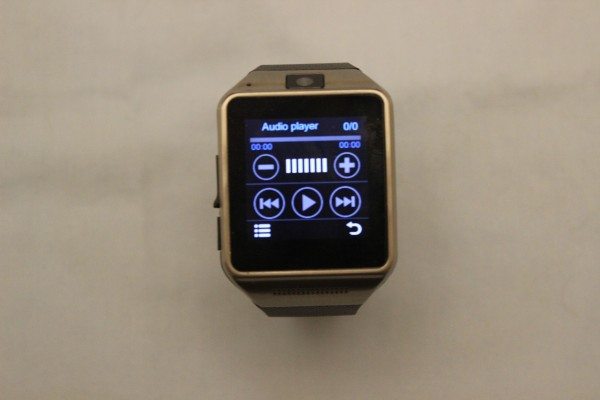 One of the more interesting features of the Otium Gear -and perhaps its best- is music playback. You can set up the watch to stream music directly through its speaker. When playing music, the watch face displays standard music controls.
I was surprised how well and how loud the music playback was. You're not going to get the same quality you would from a portable Bluetooth speaker, but it's a suitable option if you want to listen to music while jogging or working out.
Additional Features
The Otium Gear has several additional features you would expect on a smartwatch: a calculator, an alarm clock, a pedometer, a sleep monitor, a remote camera shutter, a sedentary alarm, and a calendar. They all function adequately, but don't do anything to set the Otium Gear apart from other smartwatches.
Unfortunately, the Otium Gear is missing one major feature you would expect with a smartwatch. The Otium Gear has no access to an app store. There is no way to download additional watch faces or apps to run on the watch. Being able to customize your smartwatch is one of the biggest draws to owning one. I've used my other smartwatches to pay for food, display rewards cards, to amuse my kids with funny watch faces, and to control my homes smart hub. You're not able to do any of this with the Otium Gear.
Finally, the Otium Gear has good battery life; it lasted over 24 hours between recharges. Even with heavy use, it easily makes it through the day without having to recharge the battery.
Conclusion
Although the Otium Gear is affordable when compared to other smartwatches, it doesn't have nearly the same functionality. The call function and music playback are both interesting and potentially useful features, but neither overcome the Otium Gear's many flaws. The inability to easily respond to text messages is a deal breaker. Additionally, the lack of customization takes all of the fun out of owning it. For these reasons, I cannot recommend purchasing the Otium Gear.
Source: The sample for this review was provided by Otium. Please visit their site for more information or Amazon to order.
Product Information
Price:
$47.59
Manufacturer:
Otium
Retailer:
Amazon
Requirements:

Android OS
Bluetooth 3.0 or higher
SIM card for use without smarthphone

Pros:

Loud Speaker
Can act as a speakerphone
Music can play through watch speaker

Cons:

No voice recognition
No quick reply SMS
Onscren keyboard difficult to use
Uncomfortable
No app store
Poor camera