We use affiliate links. If you buy something through the links on this page, we may earn a commission at no cost to you. Learn more.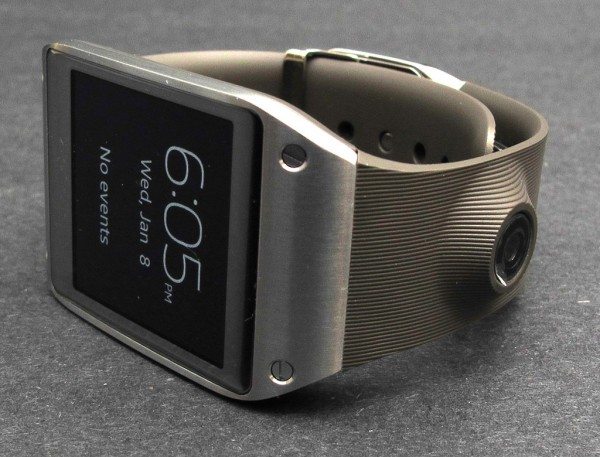 When the folks at Verizon asked me if I'd like to try out the Samsung Galaxy Gear smartwatch, I had to take a minute to make my decision. Truth be told, it's been 10 years since I was excited about a watch. That was back in 2004 when Microsoft SPOT watches were popular. I wanted one of those watches so bad because I thought it would be the coolest thing in the world to be able to see stock quotes, weather and news on my wrist. That was before there were smartphones, so it was cool at that time. But today most of us have a smartphone in our pocket. Do we really need a smart watch too? Let's find out…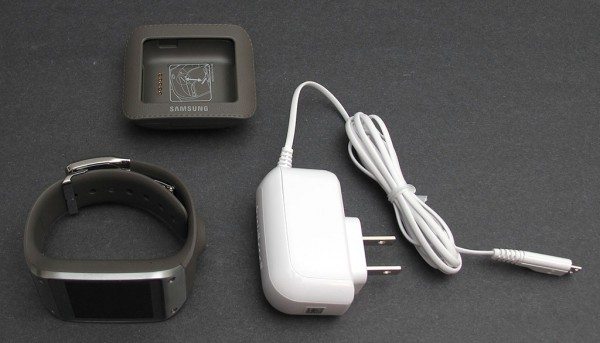 Package contents
Galaxy Gear smartwatch
Charging cradle
AC adapter
Hardware Specs
CPU Processor Speed: 800MHz
OS: Customized Android
Memory: 4GB + 512MB (RAM)
Display: 1.63″ Super AMOLED, 320 x 320 Resolution
Connectivity: Bluetooth 4.0
Camera: 1.9 Megapixel camera
Dimensions: 1.45″ (w) x 2.23″ (H) x 0.44″ (D)
Weight: 2.60 oz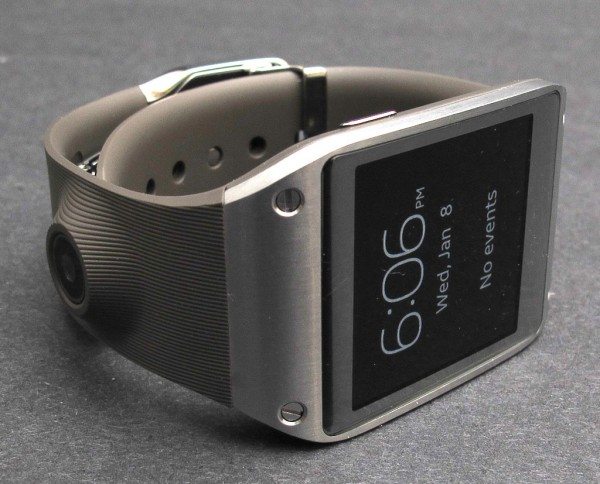 Design and style
The Galaxy Gear watch has a brushed metal case with a thick rubber strap that has a built-in camera. I was sent the silver version of the Gear with a grey strap, but the watch is also available with an orange, black, green or beige strap. There's also a version with a gold case and a beige strap.
There is just one button on the watch which is used to wake the watch from idle state and if held down, it can be used to launch an app of your choice (the default is to launch the voice command app).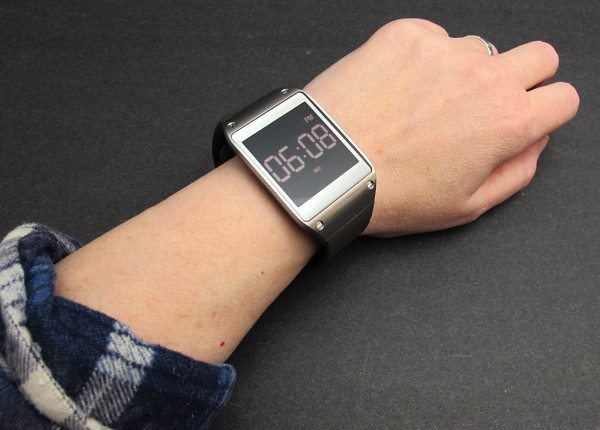 The watch is attractive, but it was too bulky and heavy for me and I found it to be uncomfortable to wear for an extended period of time. Granted, I don't really like wearing anything on my wrists, including bracelets, but the overall size of this watch is obviously too large for my wrist which is 5.5 inches around. While I was reviewing the Gear, it often annoyed me by catching on my shirt cuffs and coat sleeves, and rubbing against the desk or keyboard as I typed.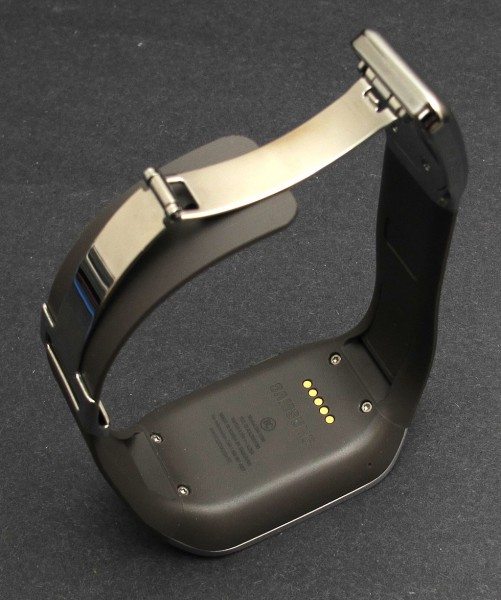 The good news is that the wrist strap is fully adjustable. It has a metal clasp that slides up and down the strap to make it larger or smaller depending on the size needed for your wrist.
In the image above, you'll also notice that the bottom of the watch has a row of five electrical contacts. These contacts are needed for the included charging cradle.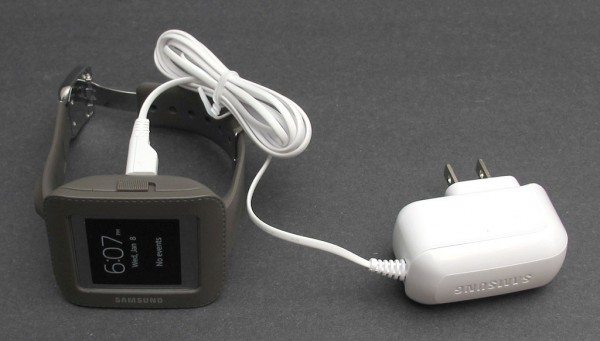 I have a one word question for the person who designed the charging cradle. Why? The watch has to be snapped inside the plastic frame and then the included AC adapter with a microUSB cable plugs into the bottom of the cradle. It's not difficult to insert or remove the watch from the charging cradle, but it seems like it would have been more convenient to have a dock that you rest the watch on instead of having to put it inside a plastic contraption.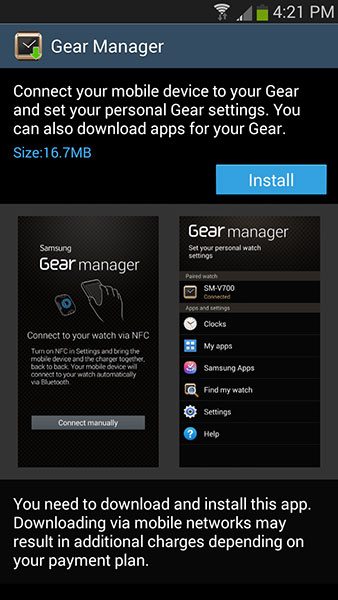 The charging cradle does have a neat feature that you will need to use in order to get started using the watch. It has an NFC tag embedded on the bottom which you use to install the Gear Manager software on your smartphone. This is the software that is used to customize the Gear's features. The Samsung Galaxy Gear smartwatch is currently only compatible with the Samsung Galaxy Mega, S3, S4, Note 2 and Note 3 (depending on carrier and version of OS). That's right, you can't use this watch with all Android smartphones… it has to be one of the newer Samsung phones. For this review I did my testing with a Verizon Samsung Galaxy Note 2 with OS version 4.3. My experience with the watch paired to the Note 2 wasn't the best. I had a lot of problems with some of the features. And yes, I made sure the watch was updated with the latest firmware.
Features and user interface
The Gear watch connects to the smartphone using Bluetooth. Although the watch isn't capable of making and receiving calls all by itself, it can be used like a Bluetooth speakerphone that you wear on your wrist. The watch will show you who is calling so that you can answer or reject a call right from the watch. If you reject a call, you can choose to send a text message to the caller from a list pre-defined list of messages.
Calls are placed using the address book or by the onscreen keypad. The touch screen is small but useable. I didn't have too much trouble with it recognizing the taps and swipes needed to navigate through the screens. I even found that I could use the touch screen with gloves which weren't even special touch screen style gloves. Results with gloves on weren't 100% accurate, but it was doable, with a little effort.
The display is bright and easy to read. I wasn't able to test it in full sun outdoors because it's winter here in Indiana, which means we don't see the sun for weeks / months at a time.
In addition to notifications for incoming calls, the Samsung Galaxy Gear smartwatch will also display text messages and emails. At least it's supposed to do that. During the few days that I had the Gear, I only received a handful of message notifications. They were all from Google Hangouts and none of them showed the actual message or even a short excerpt of the message. The watch would just display a notice saying I had received a message and to go read it on my phone for the full details. Tapping that notice on the watch would wake up my phone and display it. Wow, that's super useful – not. I never received any SMS messages through the watch even though that option was turned on. I had several people sending me messages to test the feature and although the text messages showed up on my phone, they never registered on the watch.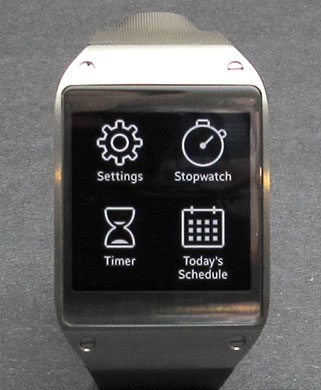 Do you want the good news or the bad news first?
The bad first? Ok, here we go.
Compatibility limited to Samsung phones.
The watch is not waterproof.
Battery life is short… only around 1 – 1.5 days. For me, this is one of the biggest annoyances. I already have to charge my phone once a day. I don't want to charge my watch too.
I wasn't able to test the S-Voice feature because each time I would try to use it, it would ask me to accept the disclaimer on my phone, which never appeared.
Call audio through the phone's built in speaker is horrible. Even in a quiet room I had to turn it all the way up to hear the person on the other end of the call.
Can't turn off camera shutter sound.
Doesn't have a calculator app.
25% of the time I lifted my arm to wake up the watch to see the time, it didn't wake up. So I would have to perform the gesture a second time.
Now, let's have some good news…
You can extend the capability of the watch with small apps. There aren't a lot of Gear apps available right now, but that may change if the watch becomes popular. The default apps built into the watch include a timer, stop watch, schedule, contacts, weather, pedometer, voice memo and s-voice.
Different watch faces can be installed that let you customize the look of the clock app, from digital to analog, dual time zones and more.
You can have the watch send an audible alert to your phone so you can find it if it's been misplaced somewhere close by. Of course it will need to be within Bluetooth range. You can use your phone to find your watch as well.
The camera built into the strap takes surprisingly decent shots. That's my friend Bill in the second picture. I know, he scares me too…
S-Memo app lets you make voice notes by talking to your watch and have them transcribed and stored on your device.
Easy swipe user interface.
As you can tell, I just can't find that many good things to say about the Samsung Galaxy Gear smartwatch. It was fun to play with for about a day, but it became uncomfortable and annoying very quickly. I would almost never hold a conversation with someone through the watch for fear of looking like a secret service person talking into my wrist. The wonky text and email notification issues, short battery life, size, comfort and price are several reasons why I would personally not buy one of these watches. But the number one reason why I think that smartwatches are a fad that will last about as long as the Microsoft SPOT watch fad from 10 years ago is that these watches are completely redundant. Since you have to use a Bluetooth connection in order to use the main  features of this watch, that means your smartphone is already very close by. So just use the phone… it's much easier and will save you $300.

Product Information
Price:
$299.00
Manufacturer:
Samsung
Retailer:
Verizon Wireless
Requirements:

Samsung Galaxy Mega, S3, S4, Note 2 or Note 3

Pros:

Shows notifications on wrist
Answer, reject calls from wrist

Cons:

Expensive
Short battery life
Call quality not good
Bulky
Can't be used with all Android devices