We use affiliate links. If you buy something through the links on this page, we may earn a commission at no cost to you. Learn more.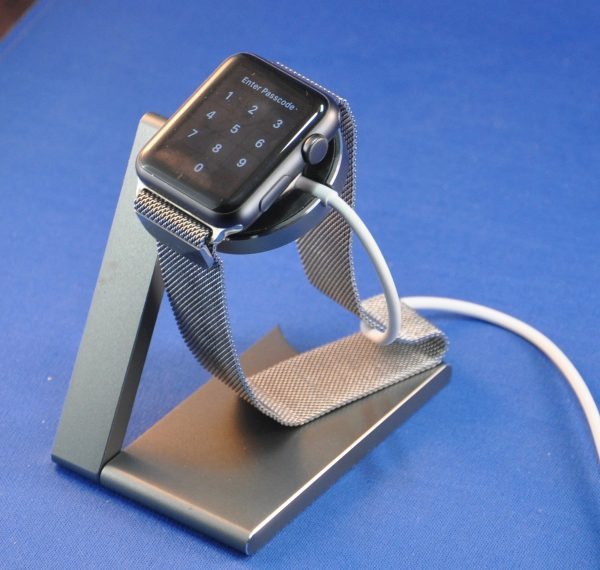 Face it, if you're using an Apple Watch, you're going to need to charge it on a regular basis. As in daily. And, like many other devices, most of us want to charge our watches where we want, not "have to" go to a certain location. To facilitate charging on the go, the folks at Eleclover have developed a folding travel Apple Watch stand, a sample of which they offered to the Gadgeteer for review. I won the tip-off and have been using it for a few weeks.
Note: Photos may be tapped or clicked for a larger image.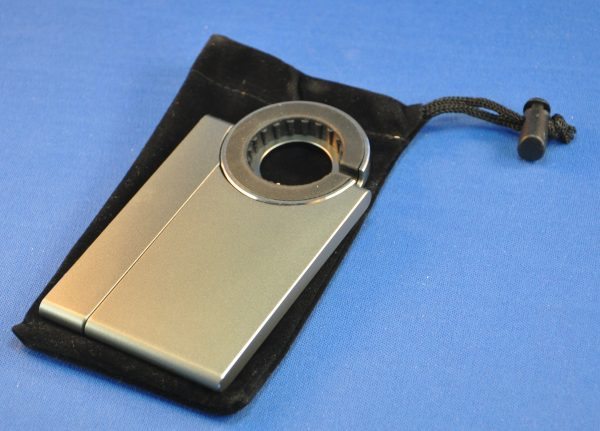 The stand comes in a flat envelope, swaddled in a velveteen drawstring bag. Folded up, it measures ~2.5″ x 4.25″ . It is a highly engineered, solid device with two swivel joints. The largest piece is, of course, the base. A thin support piece lifts the circular charging puck holder. The swivel joints are tight and stay right where you place them. There is a rubber gasket within the circle, and a groove out the right side at the 3 o'clock position for the cable. This would allow someone to leave their charger in the stand, and wind the cable around the folded pieces for travel.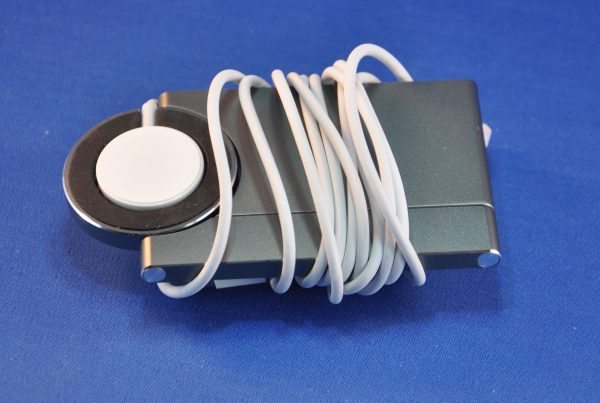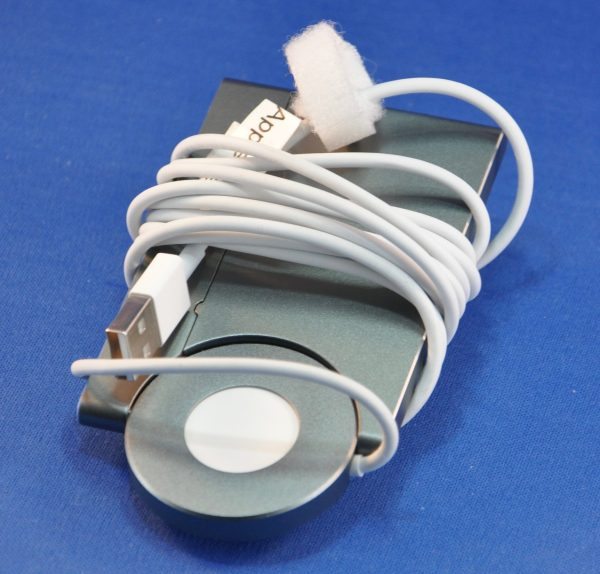 The included bag is able to hold this package when wrapped thusly, which makes travel with your Apple Watch a breeze, rather than that question we usually have in hotels, "Where did I plug in my phone/laptop/whatever." It's very clearly that semi-shiny tower sticking up above your comb, keys, wallet, and pocket hanky.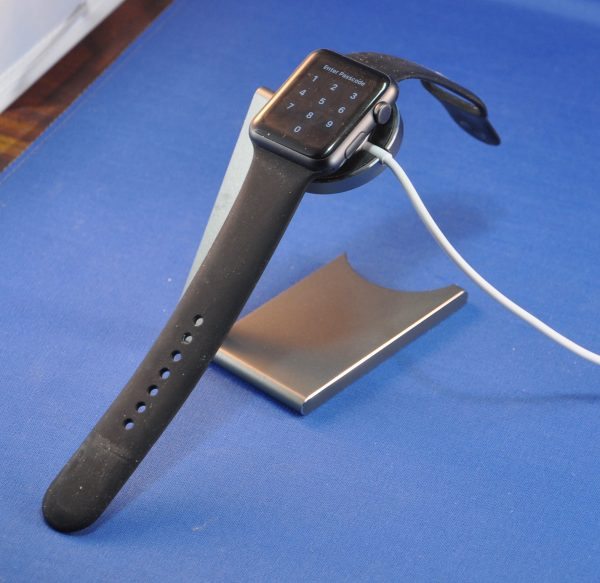 The charger is very securely held, yet can be removed without difficulty by pushing through the rear of the holder where the designer placed a finger-sized hole just for this purpose. So, if you prefer not using the stand, there is no problem removing the puck to charge where ever you'd like to. You can, of course, just plop it on the table each night, and connect the magnetic puck charger to the back of it and let it roll. (Like an animal!) But many folks, myself included, want to view the screen while it's charging, either as a desk clock, or in Nightstand Mode, which is a built-in function that can dimly display the time if you touch the device while it's charging.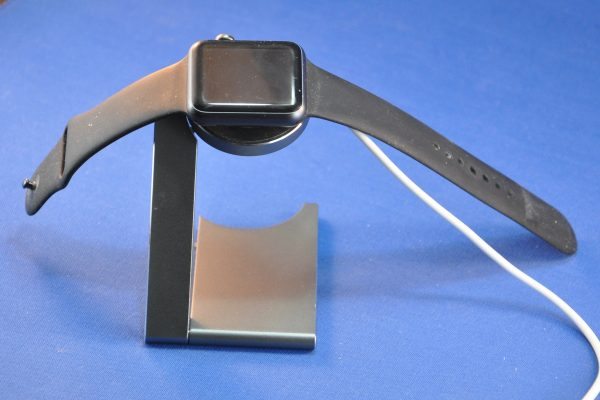 This is done by having the Apple Watch sit sideways, which is a little difficult for this stand, especially when using a band that doesn't separate. While the nightstand viewing mode is fine if you leave your Apple Watch on the nightstand, if you, like me, want to just have it on your arm for that middle-of-the-night "What time is it?" moment, then it's not a great loss. If, like some of my friends, you really like having the nightstand access, you're not going to like this stand.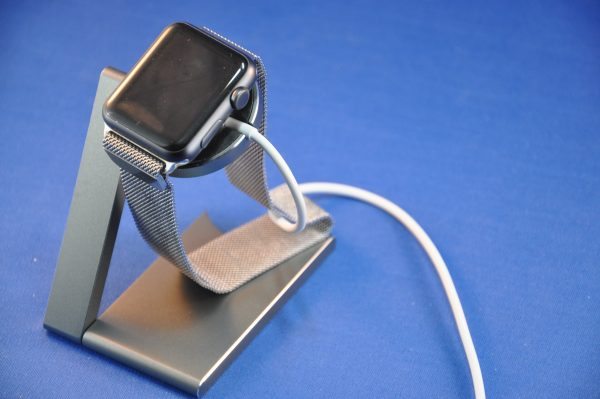 The other issue with having the wire exit from the puck holder at the 3 o'clock position is that the charger is blocked for a band that has either been fastened into a circle, or cannot separate, like the Milanese bands, leather loops, or the link bracelets. As long as you allow for some slack, the changing wire won't pull the Apple Watch off of the charging puck. (see photo above.)
Other than the issue with where the cable exits, the device is perfect. It's heavy enough to not slide off a table, the joints are tight enough to stay where they're placed but not be difficult to adjust, and it folds flat and tight for travel.
Source: The sample for this review was provided by Eleclover. Please visit their Amazon store for more info.
Product Information
Price:
$24.99
Manufacturer:
Eleclover
Retailer:
Amazon
Requirements:

USB power source, Apple Watch, and Apple magnetic charging cable.

Pros:

Folds flat for storage
Design mimics Apple's style effectively
Can travel with charging cable attached
Can be easily adjusted to different heights/angles
Charger is easy to remove

Cons:

Charger cable makes placing one-piece bands awkward.