We use affiliate links. If you buy something through the links on this page, we may earn a commission at no cost to you. Learn more.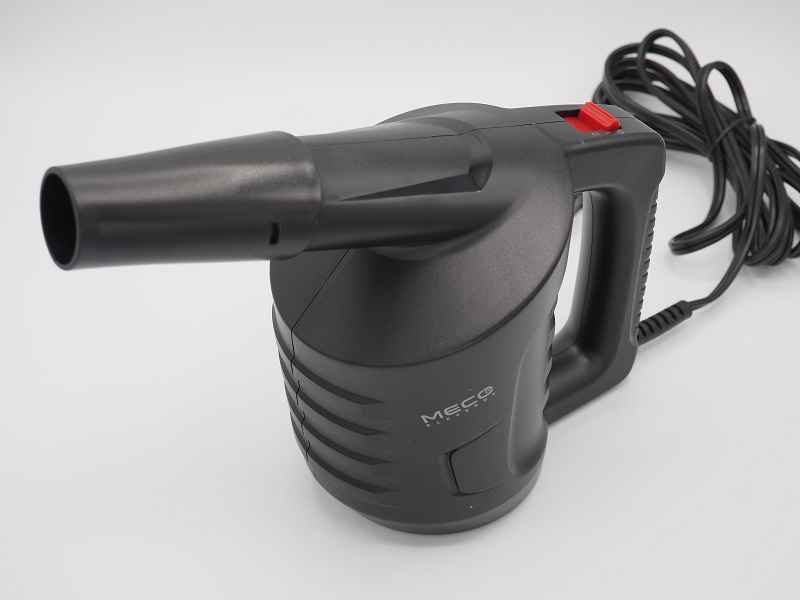 REVIEW – As my gift to humanity, I vow to write this review without once making a pun about how the MECO High-Pressure Air Duster Blower "blows".  Like many computer-loving-geeks, I've long used the ubiquitous white cans of compressed air to blast dust out of my computers and laptops (and exacerbating my own allergies in the process).  While these air cans work fine, they are also disposable waste, and I always seem to be out of them which requires an inconvenient run to the store in the middle of a computer upgrade or build.  The MECO High-Pressure Air Duster Blower bills itself as an electric equivalent to the classic compressed air duster.  I've always been excited to try out an electric "blower" style duster, but hesitated to purchase one myself due to worries about efficacy and reliability – I've been burned by shoddy air pumps in the past.
What is it?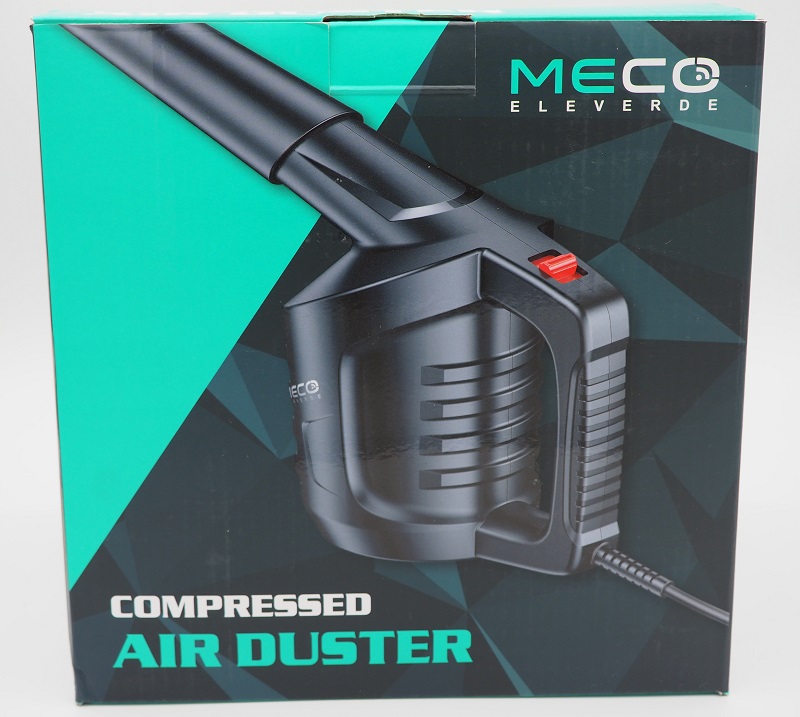 The MECO High-Pressure Air Duster Blower is an electric air duster and blower.  It's a device that pushes out lots of air, for the purpose of dusting or blowing.
What's in the box?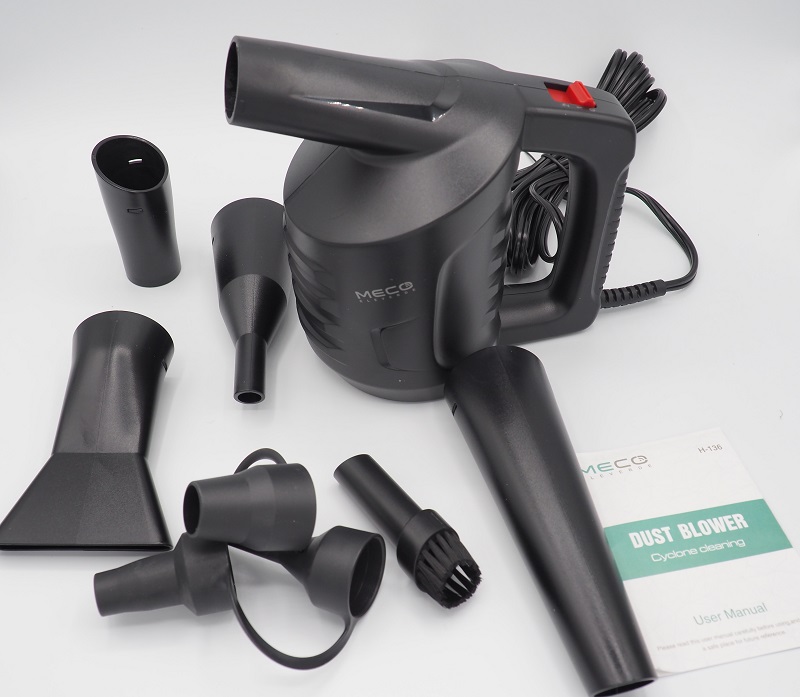 Electric duster/blower
Standard nozzle
Tapered flow nozzle
Air blade nozzle
Air pump adaptor
Brush adapter
Inflatable pump adaptor
User manual
Hardware specs
Voltage: 110-120V 60Hz (standard US)
Power: 250~550W
Speed: low speed 22k rpm, high speed 33k rpm
Wind speed: low speed 7 m/s, high speed 318 m/s
Cord length: 10 ft
Design and features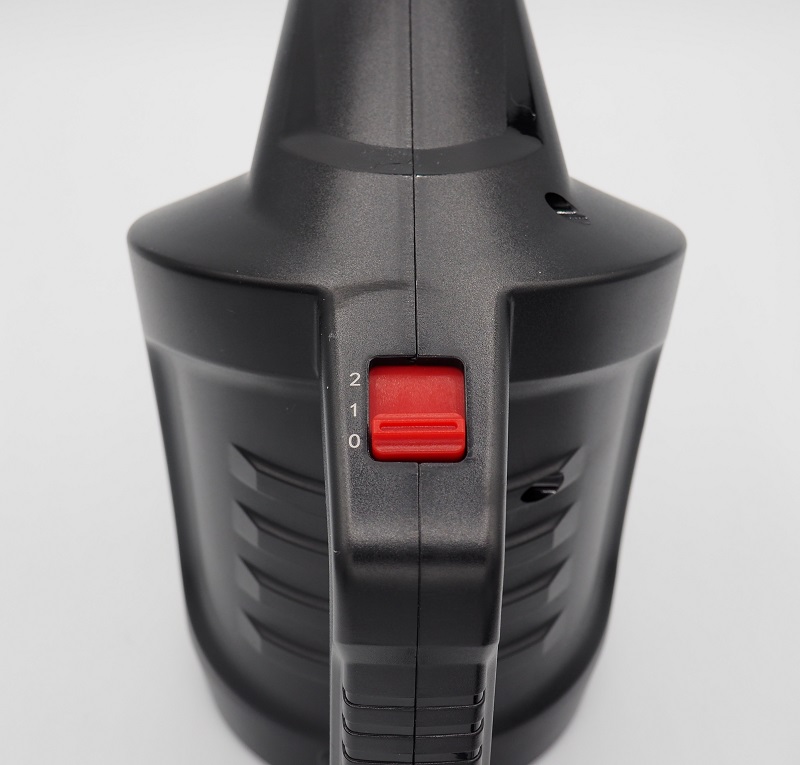 The design is pretty straightforward here,the MECO High-Pressure Air Duster Blower has a simple switch with off/low/high settings (0,1,2), and a plug to insert into the wall.  Everything feels solid on the unit, the plastic seems to be good quality (I've definitely had other blowers and gadgets in the past with the type of plastic that felt brittle, this device's plastic feels rugged).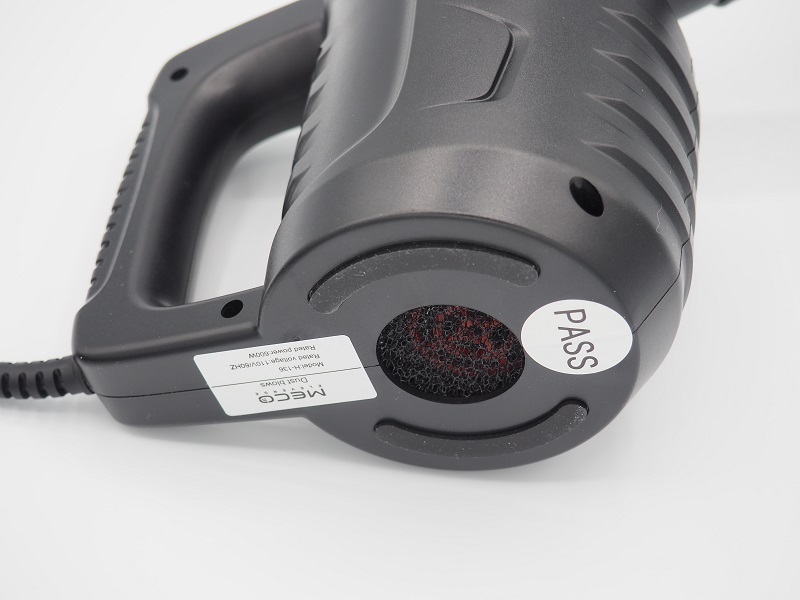 The air intake has a decent filter over it, but this is not removable, over time it will accumulate dust, just like a vacuum cleaner.  You could blow it out, if only you had another MECO High-Pressure Air Duster Blower.  This creates a real chicken-and-the-egg scenario, but I imagine dusting computers is a rare enough occasion that it shouldn't be a problem.
Usage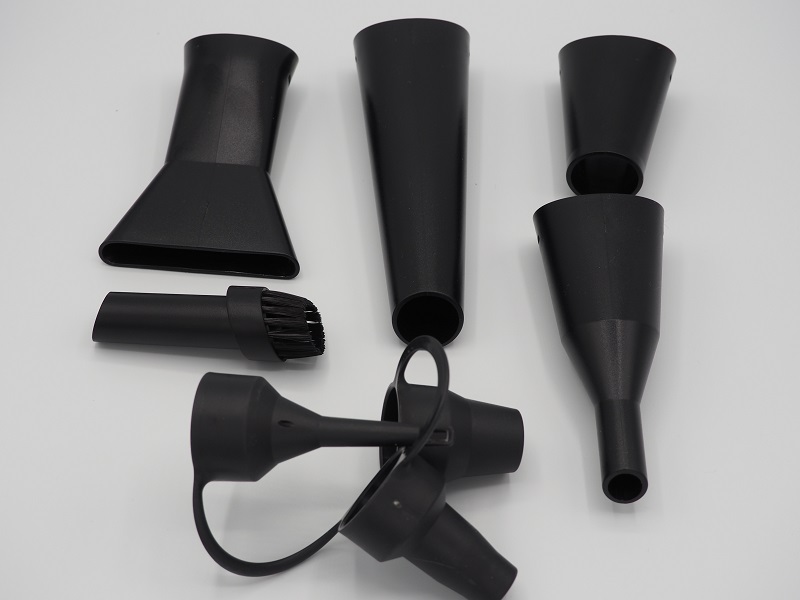 I appreciated the variety of attachments, though I mostly ended up using the standard nozzle.  All of the nozzles allow a huge amount of concentrated air to blast whatever you're dusting.  On the high setting, it feels like you've brought an industrial leaf-blower into your office just for a dusty machine.  The brushes on the brush nozzle are perfect for grills and places where the air can't quite dislodge everything.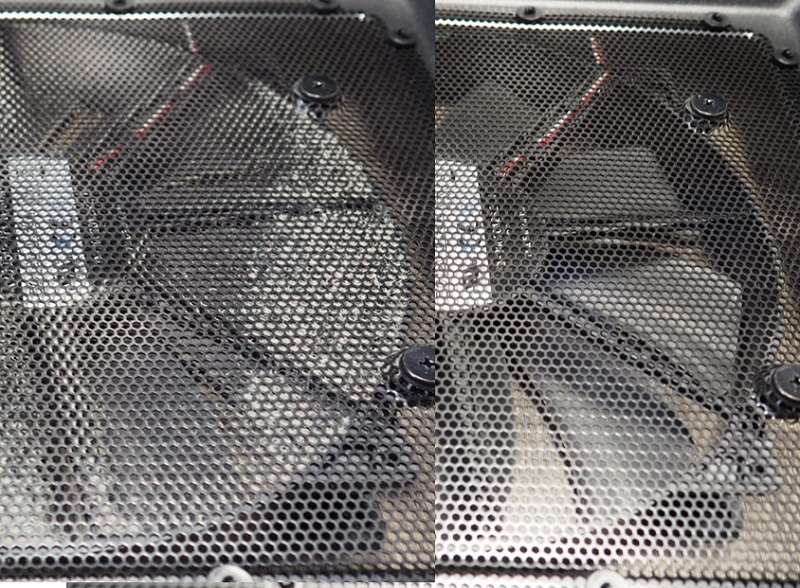 As you can see in the pictures, dust removal was thorough, completely removing all visible dust, I ended up using only the low setting on my computer's innards, which was more than enough.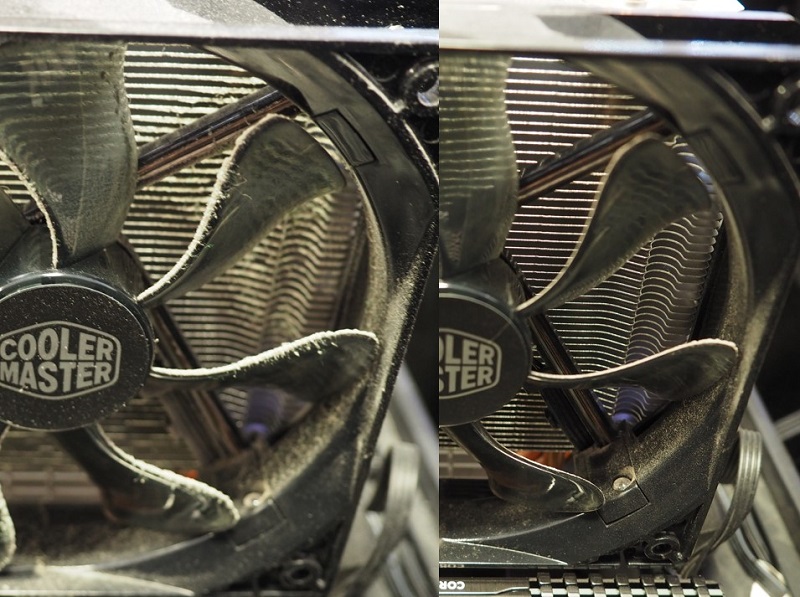 Dust was blasted out even in the deep grooves between heat sink fins.  I also tested the inflatable attachments, blowing up a pool toy in what felt like 20 seconds.  This was 2 or 3 times faster than the usual battery operated blower I have been using for lake days.  The MECO High-Pressure Air Duster Blower really puts out an impressive volume of air.  Worried about using for long periods of time, I tested blowing for a few minutes and it didn't sound like it was struggling or having any issues.  The outside casing wasn't getting too hot anywhere, which has been a problem with other air pumps and blowers I've used in the past.  I'm not sure what it's limit would be, but at the rate it inflates things, I expect to get good use out of it whenever we're using inflatables near a power outlet.
What I like
Variety of attachments
Huge air output
Dead-simple operation
Feels sturdy and reliable
What I'd change
I really can't think of anything to change on this item!
Final thoughts
I thought the MECO High-Pressure Air Duster Blower would be a nice computer duster that I rarely use, but I'm glad it excels at any general air-related task.  I'm sure it will get more use for inflatable mattresses and pool toys in addition to the occasional computer-dusting.  If you're looking for a high quality duster/blower, I would definitely recommend this one.
Price: $59.99
Where to buy: Amazon
Source: The sample for this review was provided by MECO.