We use affiliate links. If you buy something through the links on this page, we may earn a commission at no cost to you. Learn more.
Julie's comments are in black, Judie's comments are in italicized blue.
Wristwatch technology sure has come a long way since my first timepiece. When I was a kid, I remember being so proud of my Buffy and Jody watch from the show Family Affair. Remember the twins, Mr. French, Uncle Bill and Sissy? Am I showing my age here? ;o) I learned to tell time on that watch.
I learned how to tell time on a Disney Mickey Mouse watch. Later came Swatch watches, which I would wear in multiples on my arm depending on mood or outfit.
This was way before the assortment of digital watches, GPS watches, two-way radio watches, pager watches, camera watches, MP3 playing watches and USB memory watches that are available today. Heck, back then a cool feature was a sweep second hand and a rotating date display!
Exactly. In the eighties, a complicated watch included an analog chronometer and if you were really stylin' – dual time zones.
I've always had an interest in cool watches. This probably comes from the fact that my Dad always had several nice ones that he kept in a big wooden jewelry chest on top of his dresser. Sometimes when my parents would leave the house, I would take the watches out and admire their dials and buttons. Gadget lust starts early, let that be a lesson folks!
Now that I'm an adult, I am always on the look out for a watch that is both unique and fun. Such examples are the onHand PC watch, Reveal
watch, FitSense watch and Laks Memory watch reviews that I've written in the past. That's why when Judie and I first learned about the Smart Personal Object Technology (known from here on as SPOT) watches in the Spring of 2003, we were both drooling over the prospect of reviewing them. Using FM technology, and a service from Microsoft called MSN Direct, SPOT watches were to have the capability to receive news, stock info, weather, sports scores, etc. And of course, with manufactures such as Fossil and Suunto, they looked really cool too. We were sure they had to be better than the Fossil Palm and Pocket PC watches that we had reviewed together the year before. We were not impressed with them at all. They looked and functioned more like a house arrest device than a wristwatch.
While I am all in favor of a larger watches – there is a major difference between a big cool watch and a watch that looks like you strapped a small PDA to your wrist with a rubber strap.
When we attended the Consumer Electronics Show in January, we had the chance to sit down with Microsoft for a hands on demo. Even though both of us knew that we'd be unable to receive content on the watches while we were home (we both live outside the coverage areas for the MSN Direct service), we found the nearest Fossil store, plunked down some cash and each purchased one of the 5 available watches.
Now I can already hear some of you asking "why would you would pay good money for a watch that doesn't receive content where you live?" Well, the fact is that these watches are pretty cool as multi-function watches in and of themselves. I like the watch I chose based on the way it looks and the regular features it offers. If you add in the fact that it also receives content when I travel to a city with service, then it's like getting a nice travel amenity. That's not to say that I don't fervently wish that I received service in my hometown, but I digress…
Before we talk about the individual watches and their features, let's explain exactly what you get with the MSN Direct service subscription. For $9.95/mo. (you get the first month free) or $59.00/yr., you will receive personalized channels consisting of news, weather, stock info, new watch faces and instant messages that are delivered right to your watch. Right now, coverage exists for major cities in the US and Canada.
After you purchase a watch and sign up for the service, you have to set up your account info on the MSN Direct website.
By the way, you can have two watches on one account. So, if you like the style of more than one watch, you won't have to buy two separate subscriptions. Both watches will receive the exact same content though.

Once you sign up for the service, you can customize the channels that you want to display on the watch in Glance mode. While in this mode, content is constantly displaying and rotating on the watch face.
This is a great way to flip between content without actually laying a hand on the watch. When you see something flash by that interests you, you can stop the screen and get more information.

The various channels have preferences that can be set. For example, you can add up to 15 of your favorite stocks to the Stocks channel. Your watch will receive quotes every 15-20 minutes. Be aware though, not all stock tickers are available for tracking. I found this out when I tried to add Cummins, Inc. (my day job) to the channel. Cummins is a Fortune 500 company, but wouldn't show up when I would try to do a look up on MSN Direct. I finally found out that currently there is support for about 1000 tickers from the major North American markets (both the US and Canada). The 1000 stocks were chosen based on a statistical analysis of the best parallel data that Microsoft had access to: the stocks that users tracked on My MSN and on Microsoft MoneyCentral. More tickers will be added as requests accumulate.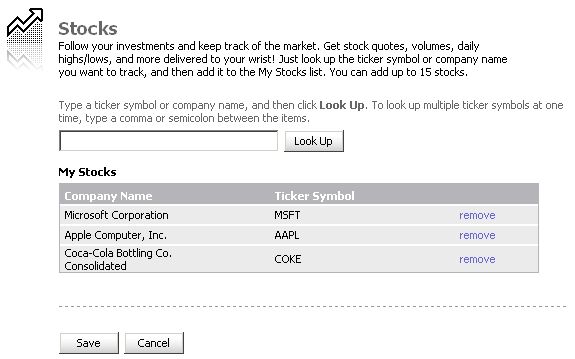 Here are the Stock screens you see on your watch.



For the News channel, there is a nice selection of topics and sources. You can select up to 10 different news sources at a time.
It's very cool to watch local and national news flashes as they appear. If you are cut off from a cell phone or TV for much of the day, this is a great way to see what is going on.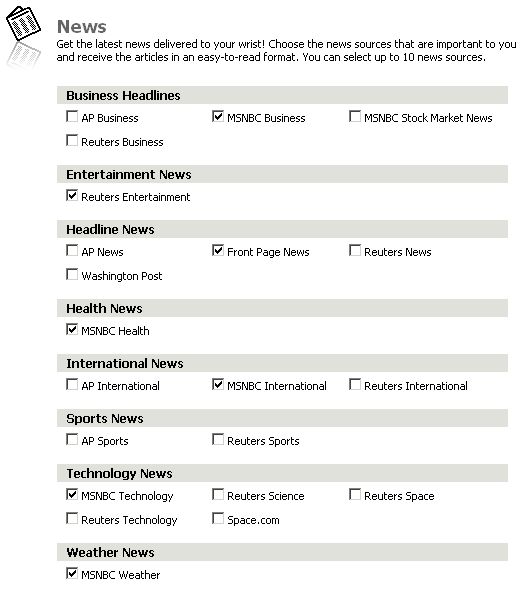 When news comes in, it looks like this:

If you want to keep track of local and remote weather, you can do that in the Weather Channel. Besides temperature info, you can also opt to display UV Index, Humidity, Wind Chill, Sunrise/Sunset times and Barometric Pressure. It's like having a weatherman tied to your wrist all the time. Or, you can just look outside your window to see the conditions ;o)
Looking out the window isn't the same as having a weather station attached to your wrist, though.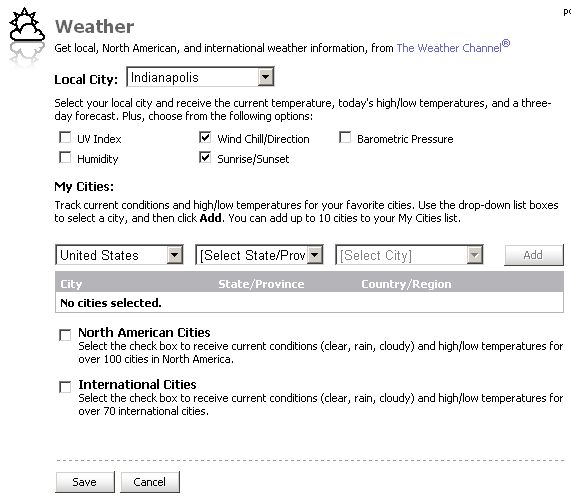 Glance at your watch to see what the current temp is.



Besides Stocks, News and Weather, you can also receive instant messages to the watch from users of MSN Messenger 6.0 or later. Now when you are away from your desktop, the user can click the Actions pull-down menu and select Send a Message to a MSN Direct Watch. If your buddies have a SPOT watch, and have enabled users to send messages to their watch, they will show up in a list that you can click on to IM. Going through MSN is the only way to IM a SPOT watch. It would be great if there was an email address associated with each watch, so that you could just send a quick email instead. Not everyone uses MSN Messenger contrary to what Microsoft might want to think ;o) Receiving IMs to the watch won't be instantaneous, so it is important not to use this feature as a way to contact someone in an emergency.
It's a great day to send friendly messages and brighten someone's day…not that I would know, since it won't work here in San Angelo!
We should mention that the Mac version of MSN Messenger does not have this feature yet. So Mac users can't send IM's to watches, but they can receive them from Windows Messenger users.
You can also download a special plug-in for Outlook that will sync your appointments to your SPOT watch. After you install the plug-in, you'll see the
addition of a little clock on the Outlook toolbar.

You can use the button to manually sync the appointments, or set things up to automatically sync whenever new appointments are added. The appointments come over with alarms intact, so it's a great way to keep you on time when you might not have your PDA with you.

I had a little trouble getting the appointment times to work when I first started using this feature. All my appointments had start times that were set 5 hours before they were supposed to be. It seems that there is a bug with users that do not observe daylight savings time. I live in Indiana, where we don't change times in April or October. Once I switched my time zone to EST without daylight savings, my appointment times synced correctly.
Living in the middle of nowhere (at least in Microsoft's eyes), I have not even been able to play with this feature.
Here is another area where Mac users are left out in the cold. This is a Windows only plug-in.
Sports fans will be happy to learn that soon there will be a Sports channel available. Scores, schedules and team news content will be delivered to your watch. I can hardly wait! Not! ;o)
I think it would be a good way to get people who think that they have to watch "the game" out of the house. Of course, those people probably are the same ones who have to see every play and wouldn't forgive themselves if they missed a particular score, foul, or wreck. Maybe this isn't such a useful feature after-all. ;0)
Of course, all these content options are just hunky dory if you happen to be in one of the coverage areas for the MSN Direct service… but when Judie and I purchased these watches we were sure that we wouldn't be. Well, guess what? One of us was wrong… I happened to be the lucky one. My watch does receive content… well, at least it does when I'm at home. It doesn't receive anything when I'm at work during the day though, which is generally the only time I really wear a watch anyway.
This seems totally backwards to me, since Julie lives in the middle of nowhere and works in a medium sized city.
The reason why I decided to go ahead and buy the watch anyway was because I knew that regardless to the fact that I would or would not have coverage, that it would always work as a watch, that it had different faces that I could choose from, including a dual time zone face. Although I don't travel more than 4-5 times a year, when I do, I want a watch that shows the time zone at home, and the time zone for the location that I'm currently in. All of the SPOT watches have at least one dual time zone face.
Speaking of timekeeping in general, it's important to note that MSN Direct uses an atomic clock to accurately sync the time. So, you do not need to set the time manually as the watch will automatically receive the correct time and remain accurate. Even better is the fact that when you travel to another time zone, your watch will update to the correct local time, as long as you are within an MSN Direct coverage area. However, if you are outside the coverage area, you can set the time manually. I should also mention that for those of you that like to set your watches a little fast, there is a time offset feature that allows you to add 5, 10, or up to 15 minutes to the current time.
Performing strictly as a watch only, SPOT watches have most of the common features that people come to expect in a watch. They have a chronometer, timer, and an alarm feature. But they are unique because they each have over 5 faces that you can choose from to customize the watch. Is this feature enough to justify the price though?
Probably not, for the average consumer because there are plenty of less expensive watches that can perform the same functions.
One thing that most people who get Spot Watches won't be used to is having to charge their watches. Depending on the settings you have chosen for your watch, how much content you are receiving and whether or not your radio is even turned on ( in my case), then you will have to charge your watch every two to three days. There are some people that will not have any problem with slipping their Fossil watch onto the charging stand or attaching their Suunto watch to the charging cable every night before bed. But if you are one of those that likes to sleep with your watch on your wrist, then you will have issues. If you go out of town and forget to pack your charger, then after a couple of days you will be stuck with a dead watch. This is not a watch to pack when you are going to a place without electricity for more than a day or so.
When the battery is low, the watch face will switch to something like this: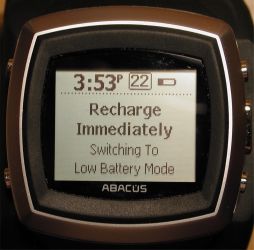 As far as overall reliability, I've read that these watches are susceptible to static zap problems, where they will totally freeze and require rebooting. So far, this has yet to happen to me, which is strange since during the winter I've been know as a human defibrillator.
I have read that this is mostly a problem with the Abacus branded watch. I haven't had any problem with my watch though – thank goodness.
I've yet to notice any problems with any of the 3 watches that I've been testing in the last month or so. As long as I remember to keep them charged, they seem to take a licking and have kept on ticking. Sorry, I couldn't resist.
There are always areas for improvement, but some of the features I would like to see added would be more faces that incorporate the time with the date. I have found on my watch that the seconds and date can be shown on many of the faces by pressing the middle right button. The face will always revert back to showing just the time, though. This can be especially annoying if you are trying to use the seconds feature to time something. Of course, you can always switch to the timer function if you need an reliable second counter.
In my opinion, a major oversight is the lack of Contacts list and Tasks list. If the Outlook plug-in can copy your appointments to the watch, then they really should have included addresses and to-dos as well. I know some people might have huge address books, but even if you gave the user the ability to chose 25-50 most important numbers, having them on your wrist would be very convenient.
It's great that new faces download ever so often, but what if you happen to get a downloaded face that you fall in love with? Then you had better quit looking at the new ones as they come in because you only get to keep one downloaded face on your watch at a time. This is something I think should be addressed – surely it wouldn't take much more memory to allow keeping just one or two more faces at a time.
We've been hearing a lot of comments about these watches since they became available. There seem to be two camps: those who love them, and those that hate them. For me, I find the watches to be more of a novelty than anything. That's probably because the information on mine isn't updated throughout the day. But even if it was, I'm not sure I'd find the info all that useful since I'm in front of a computer all day long. So MSNBC, Weather.com and other news sites are only a mouse click away. The only time I've been finding myself actually reading the content is when I'm supposed to be paying attention in a meeting. So, is the total cost of a watch plus the subscription ($188 – $358) worth it to me? Not really. Am I sorry that I bought the watch and the yearly subscription? No. I still like the watch a lot, but other than the nifty dual time feature, it isn't really giving me any info that isn't readily available to me via other methods. I think this watch and the service are more suited to a person that travels regularly or away from a computer. What do you think Judie?
Well, without the SPOT features, I would have been happier paying something in the $120-$150 range for my Dick Tracy watch, but since it is a fun watch in and of itself I am okay with what it cost. If I could get SPOT services here in San Angelo, then I wouldn't even think twice about the cost. I like getting instant content delivered to my wrist…but it's not like I have had that privilege since we left Las Vegas. :0/
Me too in a way…
As of this writing, there are only 5 SPOT watch models available. Although they vary in style and price, they all have generally the same features. Here is info about each one.
Abacus Wrist Net Round $129
This is the least expensive of the 5 watch models. Made by Fossil for the Abacus brand name, the Net Round also has the plainest styling of the group. The watch has all the features of the other Fossil watches and is able to display content from all the channels. So basically, the only difference between this watch and the others is the style.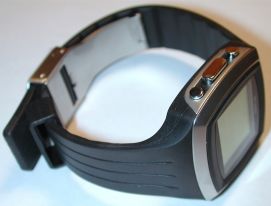 The Net Round has 12 built in watch faces. Here they are: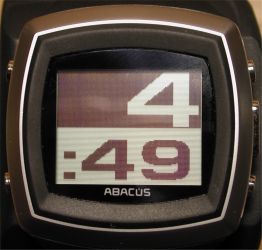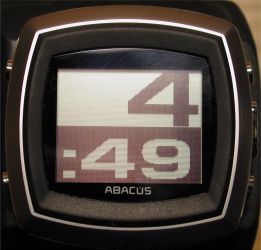 Large digital and Large digital inverted.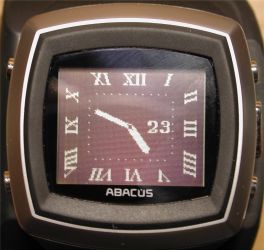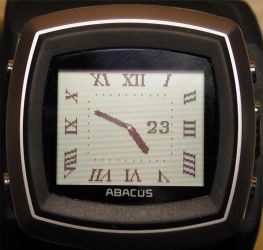 Roman numeral and Roman numeral inverted. Shows current date. Pressing the right middle button will bring up a sweep second hand. This second hand only stays on the display until it reaches the 0 second position.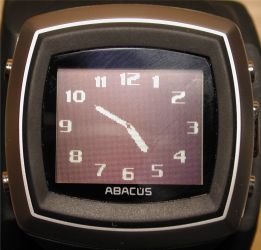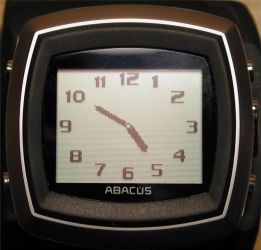 Analog and Analog inverted. Pressing the right middle button will bring up a box in the middle of the display with the date and seconds. This box only stays on the display until it reaches the 0 second position.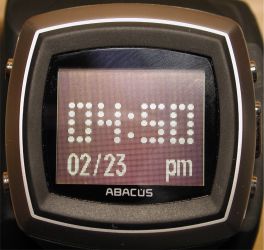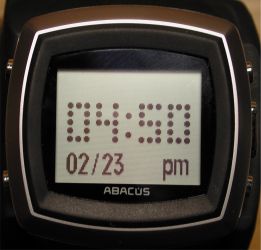 Digital and Digital inverted. Shows date, and is animated. When minute changes, the segments that make up the old minute falls to the bottom of the display while the new minute floats down from the top of the display.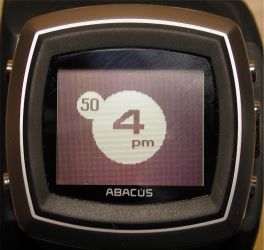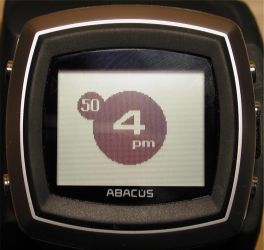 Circle and Circle inverted. Current minute slowly rotates around the hour circle.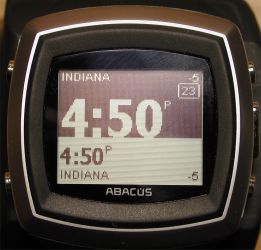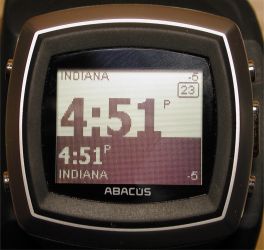 Dual time zone and Dual time zone inverted.
Like the other Fossil watches, the Abacus has the same non-removable hard rubber wrist band and induction charger stand.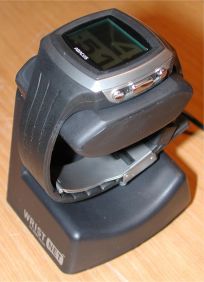 I really wasn't interested in this particular model when I first saw the different watches. After having one for awhile, I'd have to say that the simple
style has grown on me. The watch feels smaller than the others, and does not draw as many stares. Which for some people can be a good thing ;o)
Pros:
Least expensive model
Cons:
None of the watch faces have a permanent seconds display
Fossil Wrist Net Dick Tracy $199
Okay, if for no other reason that that this was the exact watch I had wanted since I was a kid, I had to have the Dick Tracy model. The kid in me was pleased that the faces actually incorporated some of the characters from the comic strip. For times when I need to be more "grown up," there are also some less cartoonish designs. Almost every face animates in some way when the middle right button is pressed, here is a quick run down of your choices…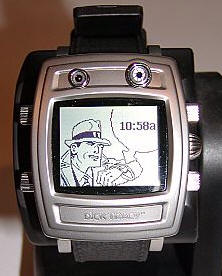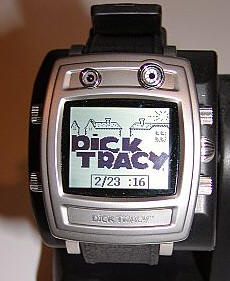 The basic Dick Tracey face shows our hero checking out his very own wrist communicator. I wonder if the image he is looking at is of Dick looking at a
picture of himself looking into his own watch, and so on. When you press the middle right button, animation appears in the form of a Dick Tracy landscape with the date and seconds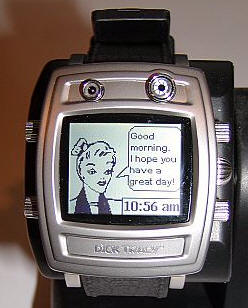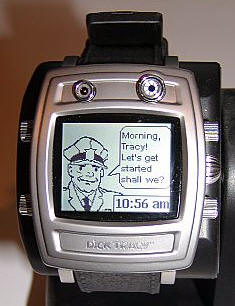 Pressing the bottom left button reveals Breathless Mahoney and a series animated captions including, to quote a few, "I am so glad you solved the case," and "It's about time you married me, Dick Tracey" ECK. I don't ever use this face. Pressing the middle right button while in this face does not reveal the date and seconds, instead, it shows various other characters with cartoonish bubbles filled with captions these characters would supposedly say.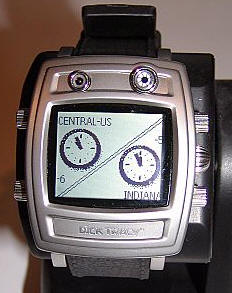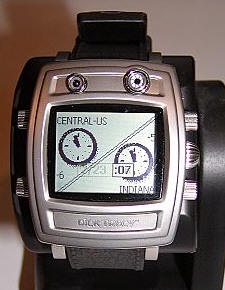 Pressing the bottom right button again reveals a dual time zone watch. Pressing the middle right button shows the date and seconds.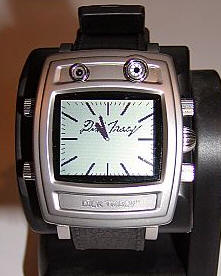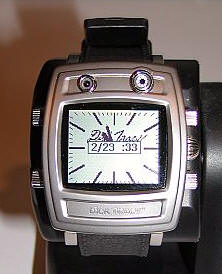 Another bottom left button press reveals an analog style face which shows the date and seconds when the middle right button is pressed.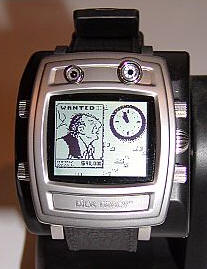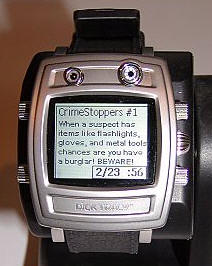 The last face is a series of "Wanted" posters tacked to the station house's wall that show a variety of villains. A small round analog style clock is hanging on this wall, and when the middle right button is pressed a series of Crime Stopper's tips will appear.
In all honestly, I almost always have my watch on either the Dick Tracy face or the larger analog dial.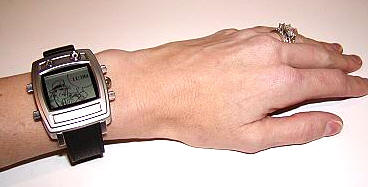 The five buttons on the Dick Tracy work as follows: the top left activates the screen light, the bottom left opens up the menu to allow changing to the various faces or screen choices. The top right and bottom right buttons work like an up and down scroll, and the middle right button functions as a select button. You can always get back to the main watch face by holding the bottom left button down for a couple of seconds.
The watch itself is a little bit on the larger side. Measuring 1.9" (4.7cm) tall by 1.5′ (3.9cm) wide by 0.6 (1.7cm) and weighing 3 ounces (85g), it is a faithful recreation of the watch I remember from the comic strip. The only differences being that this one doesn't actually allow you to use it like a video-phone. Perhaps in the next version…
The case is composed of a matte metallic silver accented with black plastic. The slightly textured rubber wrist band is
fashioned to simulate stitched leather, and while it doesn't look bad – it certainly doesn't look or feel like leather.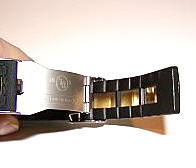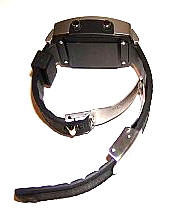 The SPOT antenna runs through the rubber of the strap, and it is only able to work when the deployment clasp is shut tight. The placement of the antenna in the strap rules out being able to switch the band out for a leather version, but hopefully in the future one might be offered.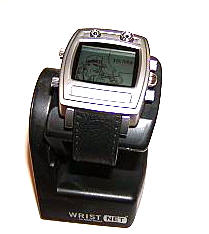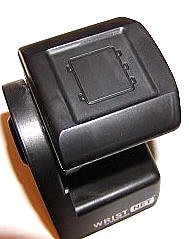 The watch uses inductive charging by being placed on a stand. The top of the stand is marked with a diagram of the Dick Tracy watch face showing the two buttons on the left side and three on the right. Keeping this in mind will stop you from putting the watch on the stand facing the wrong direction. If you like to keep your wristwatch nearby while sleeping, you can keep the stand on your bedside table.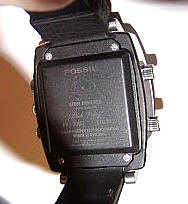 The back of the watch bears the legend, "Atom Powered" with Dick's signature and the caution to "Wear protective equipment when servicing." Fun. ☺
I really like the Dick Tracy model, and even if it weren't a SPOT watch, I would have bought it. I think it is a fun alternative to some of my dressier pieces, and it is an overall great everyday watch. Add the SPOT services to the mix, and it is a truly fun gadget. It makes me laugh that when I first got this watch people were speculating that this would be the least popular of the styles. I suppose that is why the Dick Tracy model sold out so quickly and also why this was the watch chosen for the cheesy Spike Lee MSN Direct Video (not that I hold it against the watch).  Evidently lots of people have either a sense of humor or a sense of nostalgia about this time piece.
Pros:
Fun style with nostalgic appeal
Water resistant
Charge lasts approximately 3-4 days
Cons:
Expensive
Can't take it swimming
Can't travel for extended periods without bringing charger
Warranty is only for 90 days, vs. Suunto's 2 years (!!!)
This is one of the watches that neither Judie or I had the chance to test. I was under the impression that it was the same as the Abacus, and was confused as to the price difference. Upon closer inspection of the pictures, I do see that it has different button shapes and styling. Other than that, I'm really unsure of any other differences.
This is the watch that I purchased for myself when Judie and I were in Las Vegas. Although the size is quite large (I've had some of my co-workers refer to the watch as Julie's widescreen TV), it feels comfortable on my small wrist.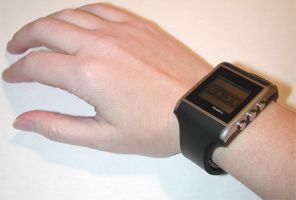 Like the other Fossil watches, the antenna for the radio is enclosed in the hard rubber wristband. Adjusting the band is not the easiest job. Judie and I were lucky in that the sales person at the Fossil store did that for us.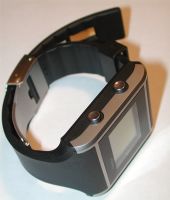 The Net Square has a large flat display which is VERY easy to see in almost any lighting condition. The display is similar to a mono Palm display. The
background is grey, while the info is black. The backlight which is very bright, stays on for 10 seconds, when the top right button is pressed.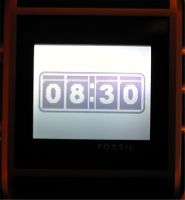 Speaking of the buttons, like all of the Spot watches, there are 5. Three on one side, and 2 on the other. I was worried that the buttons were going to be too stiff when I initially started using the watch. Luckily, they have loosened up quite a bit in the last month.
Navigating through the various screens takes a bit of practice, but once you figure out which button does what, it's a no brainer.
There are 16 different watch faces built into the Net Square, more than any other model so far. That's not including the downloadable face.  I wish there was more of a mixture of digital and analog style faces, but there are more analog than digital. I really like the dual time zone face and the slot machine style faces best. Here is a look at all of the built-in faces.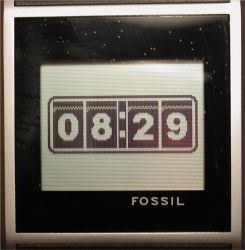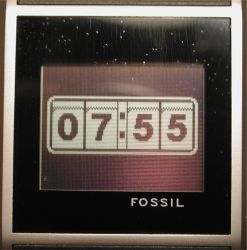 Jackpot style faces. Numbers roll when time changes.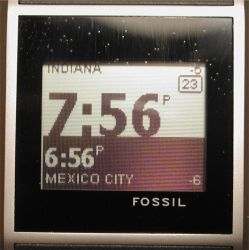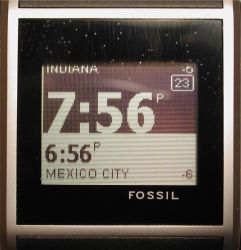 Dual time zone faces.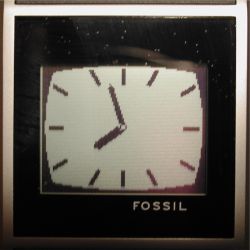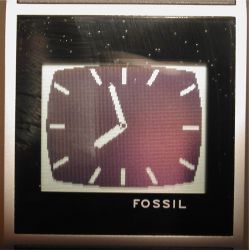 Analog faces.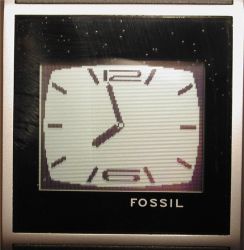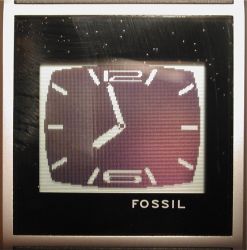 More analog faces.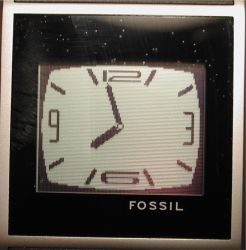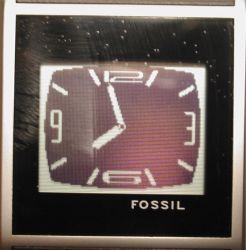 Even more analog faces.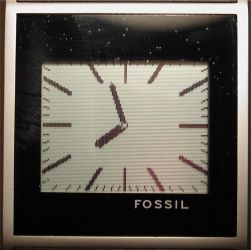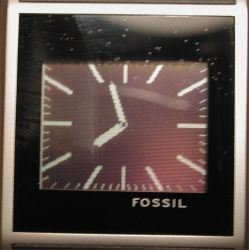 Guess what? More analog faces.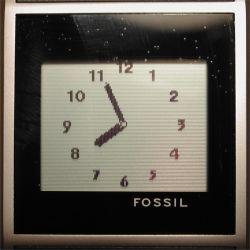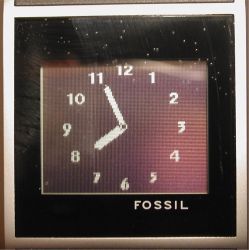 Are you sick of analog faces yet?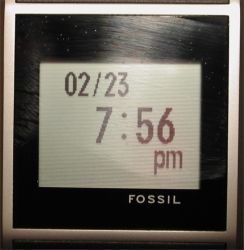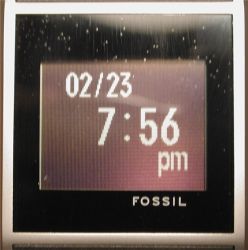 Digital faces that fuzz out like a bad TV when the time changes.
This watch also uses the inductive charging station. It's really pretty cool that it can charge the battery just by setting the watch in on the base. You don't have to press the watch into the dock, you just slip it on the pedestal.
Pros:
Nice unisex design
Bright display
16 different watch faces
Cons:
Might be too large for some people
Wristband hard to adjust
The N3 is the most expensive of the 5 SPOT watches. To me it has a more masculine sporty style to it.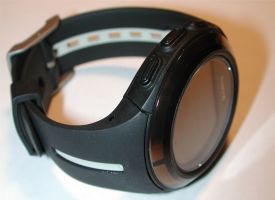 Instead of having the antenna in the wristband like the Fossil watches, it is around the scratch resistant crystal. This allows you to change out the band if you like.
The watch has only 5 built-in faces.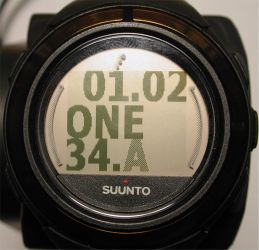 This is the current free downloadable face that went out to all SPOT watches.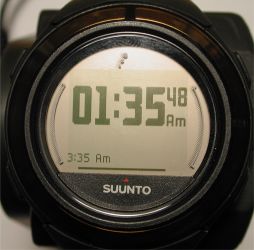 Dual time zone face with seconds.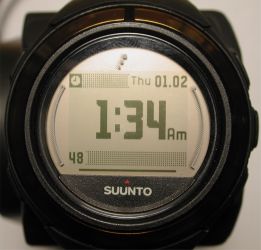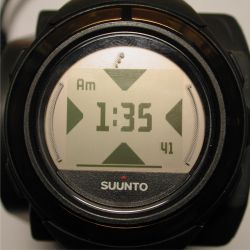 Two faces with seconds display.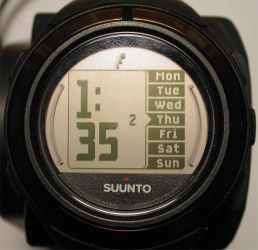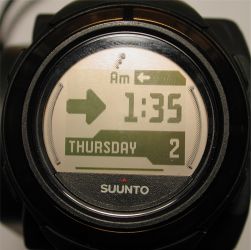 Two faces with date display.
Like the other watches, this one also has 5 buttons. The buttons are easier to press though and have good tactile feedback.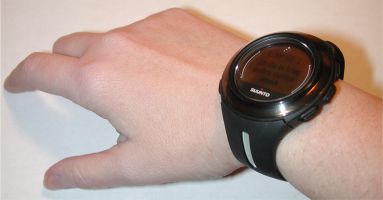 The display isn't quite as bright as the Fossil watches. It has more of an amber cast to the background. The backlight is also inverted, which I don't
really care for as it is hard to see unless you are in a really dark environment.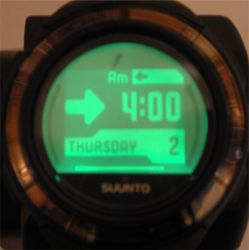 Some other differences between this watch and the others is the fact that it is water resistant to up to 330ft / 100m. The other watches are just splash resistant.
The Suunto also has a longer battery life. Instead of 2-5 days for the Fossils, it has 5-7 days. Charging the battery can be done through the included AC adapter, or through USB. The special grip connector cable has a USB connector on one end. You can either plug it into your PC, or into the AC adapter. This makes the Suunto much more convenient to travel with. You won't need to pack the bulky inductive charging dock.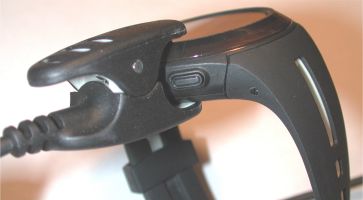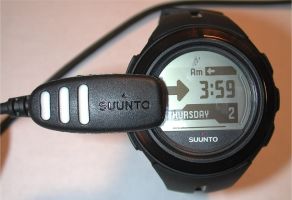 As far as time features, the N3 has 3 programmable daily alarms instead of just 2. It also has an interval timer and stopwatch with lap and split times.
At $300, I'm not sure the differences justify the price difference…
Pros:
Easily adjustable and replaceable wrist band
2yr warranty
Longer battery life
Water resistant
Cons:
Expensive
Only 5 built-in watch faces