We use affiliate links. If you buy something through the links on this page, we may earn a commission at no cost to you. Learn more.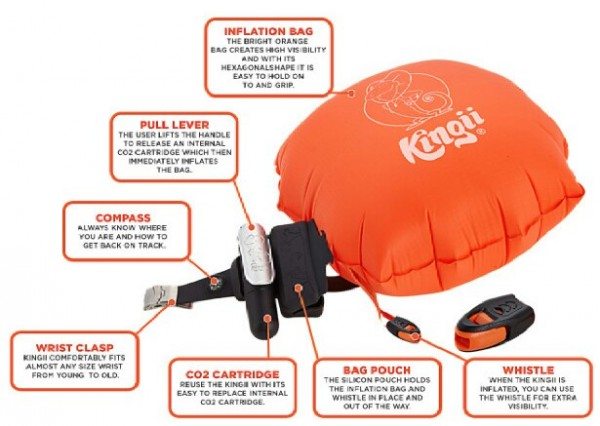 For many of us, summer means ample time spent in or on the water. Whether it's taking a dip in the pool, catching a wave, or casting a line, summer and water activities go hand in hand. Regrettably, many of us fail to take appropriate safety measures when taking in the summer fun. I'm sure I'm not alone when I say I don't enjoy wearing a life-jacket; they're uncomfortable and bulky. Fortunately, there is an alternative on the horizon.
The Kingii is a life-preserver that's small enough to fit on your wrist. It conceals a small, inflatable balloon and a CO2 cartridge. If you or a loved one is having difficulty staying afloat, simply pull the Kingii's handle and the CO2 cartridge will inflate the balloon within a second. Once the balloon is inflated and you're buoyant, you can use the Kingii's attached whistle to signal for help. If you happen to find yourself alone, stranded in the middle of the ocean, the Kingii also has a compass so you know which way to paddle back to shore.
The Kingii is an IndieGoGo project with funding starting at $69. If successfully funded, the Kingii is estimated to start shipping in September.