We use affiliate links. If you buy something through the links on this page, we may earn a commission at no cost to you. Learn more.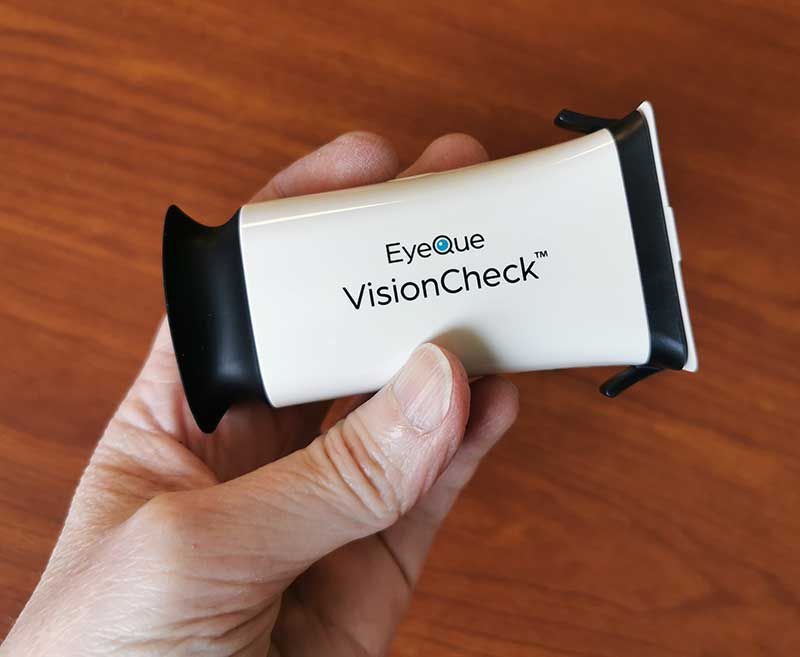 REVIEW – Due to my nearsightedness and astigmatisms, I have worn glasses with high index lenses since the third grade. I have my eyes checked each year by an optometrist and other than the drops to dilate my eyes, it's a pretty stress free appointment. I know a lot of people who don't go to a yearly eye exam and I wonder if it's just because they don't want to make time for the appointment. If that's the case, the EyeQue VisionCheck is designed to allow you to quickly check your vision using a small device and your smartphone. Can it replace your eye doctor? Let's find out.
What is it?
The EyeQue VisionCheck is a tool that you can use to measure the lens power needed to correct nearsightedness, farsightedness, astigmatism, and near vision ADD. Once the test is completed, you are given your prescription details, and can order glasses if you need them.
What's in the box?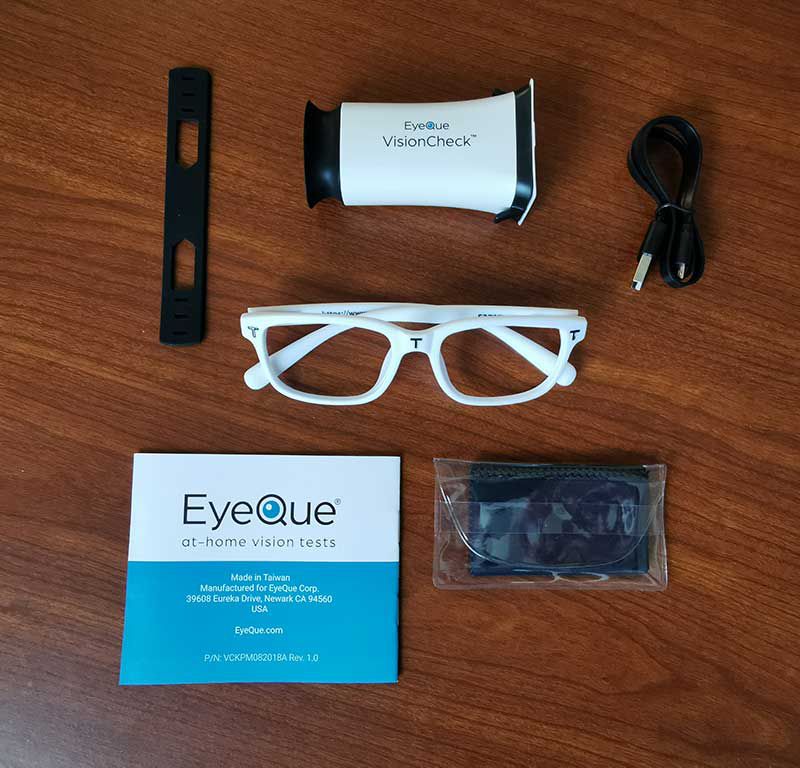 EyeQue VisionCheck
micro USB charging cable
Attachment strap
Cleaning cloth
Pupillary distance glasses
Quick start guide
Design and features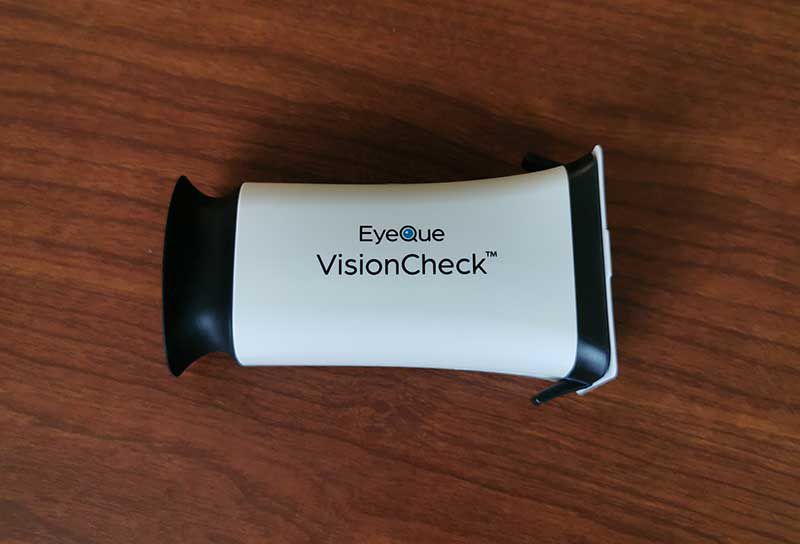 The EyeQue VisionCheck is a small device that looks a bit like a monocular with an eyepiece on one end.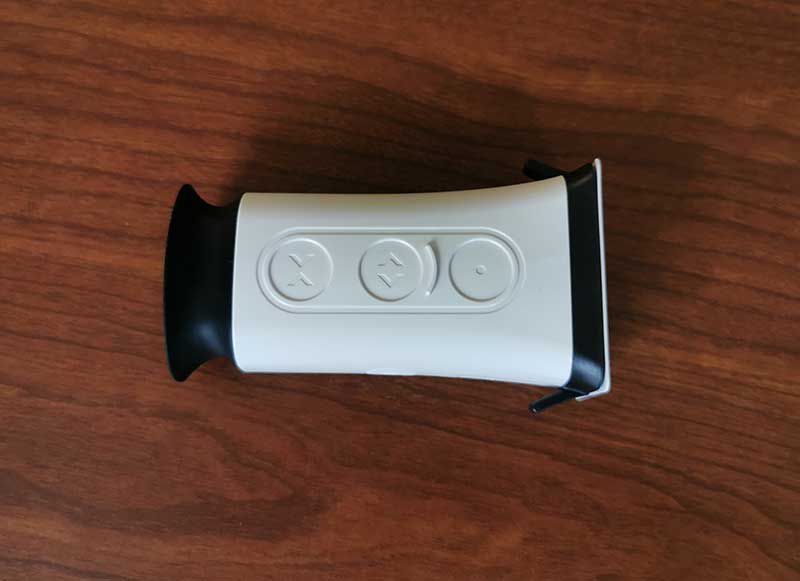 There are three touch-sensitive buttons on the top of the device, a power button on the side, and a micro USB port on the same side as the power button which is used to charge the device.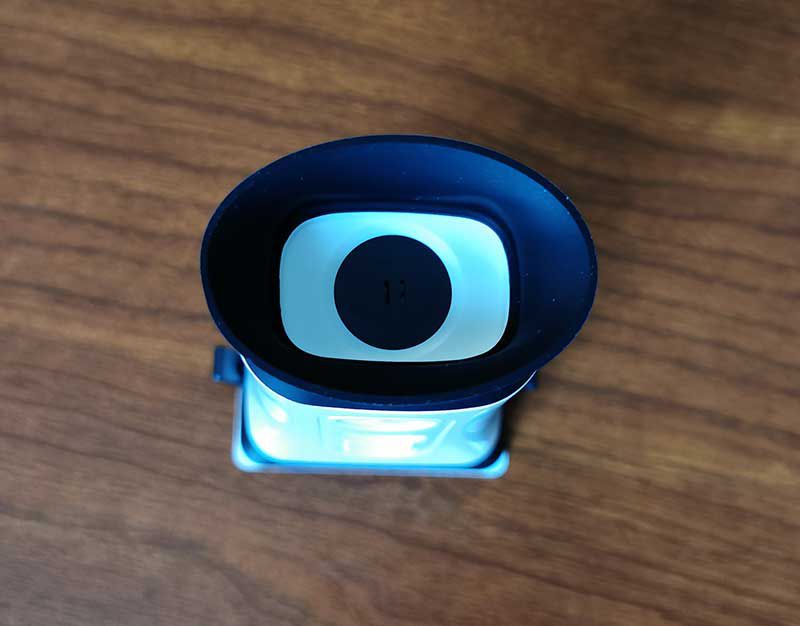 The eyepiece has a soft rubber cup around it to make the testing process more comfortable.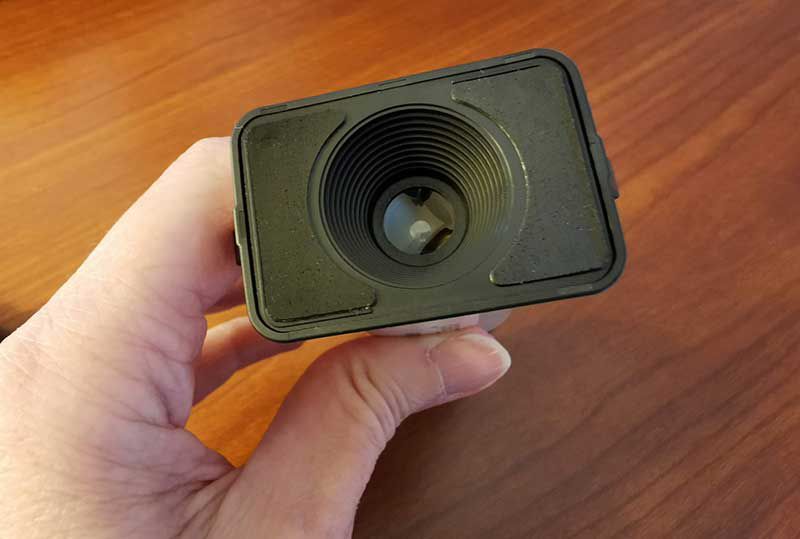 The opposite end has a lens and sticky pads that allow you to "mount" the EyeQue over your smartphone's display.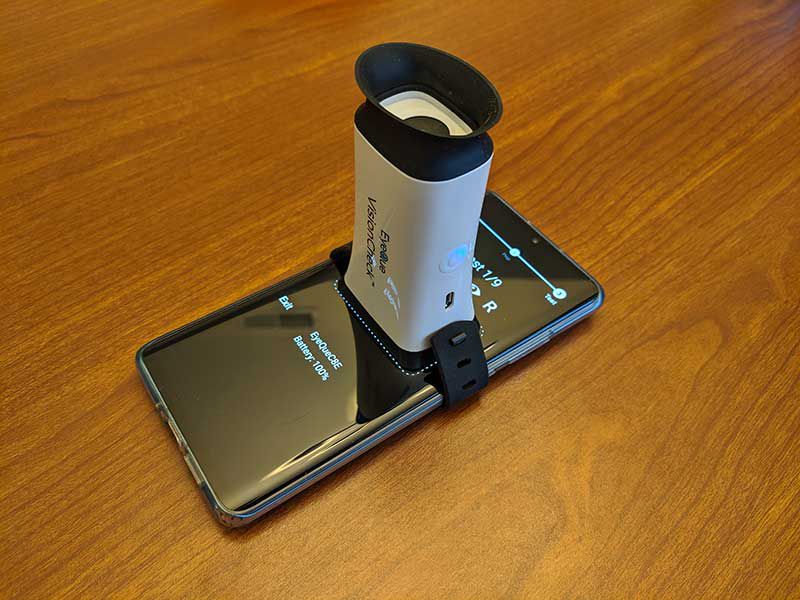 The VisionCheck is then secured with the included silicone strap. The strap rested right over the power button on my Huawei P30 Pro and kept powering off the phone. I ended up having to use the loosest setting on the strap.
How does it work?
If you've had your eyes checked before, you'll probably remember one of the first things that you have to do is sit behind a big machine and look through an eyepiece where you'll see a barn or a balloon in the distance.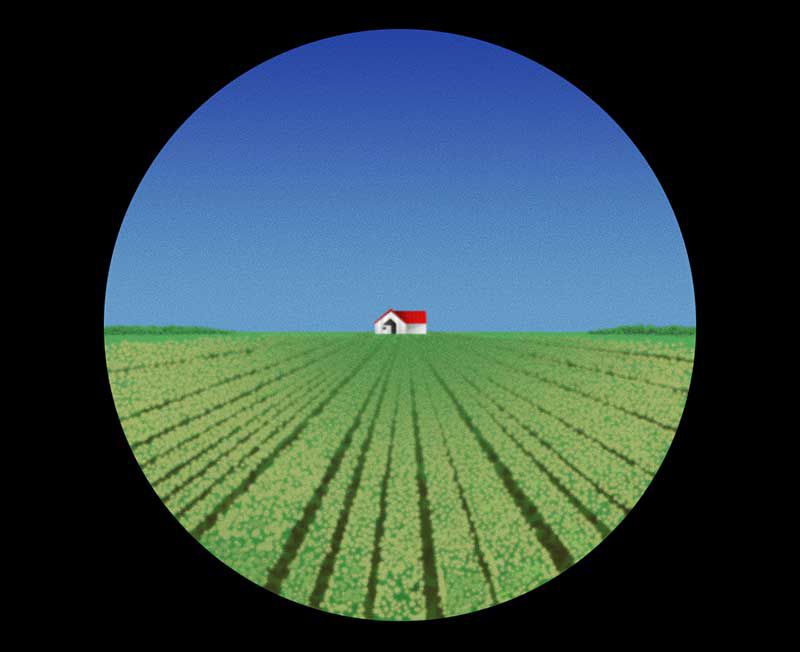 This machine is called an Auto-Refractor and as you look at the barn or balloon, the machine will shine light into your eye and automatically adjust the focus to measure the shape and size of your cornea to provide the doctor with a base prescription.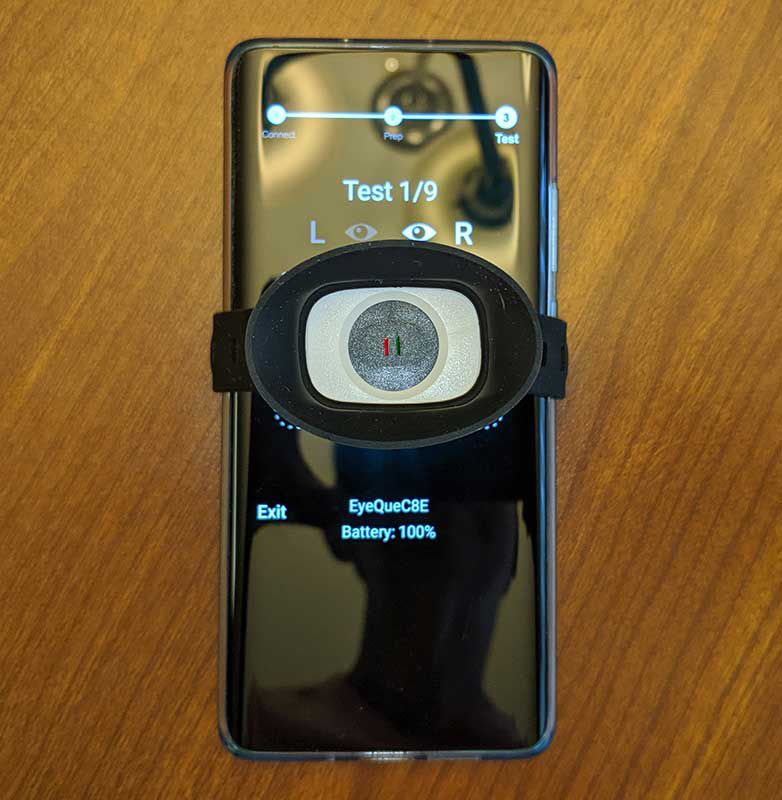 From what was was explained to me, the EyeQue VisionCheck does the opposite of the Auto-Refractor.
The VisionCheck projects images from your smartphone screen through your pupil and onto your retina. Your refractive error (nearsightedness, farsightedness, and astigmatism) causes you to see these images in a certain way. Based on the way you conduct the vision test, our technology calculates your EyeGlass Numbers; the power needed to correct your refractive error.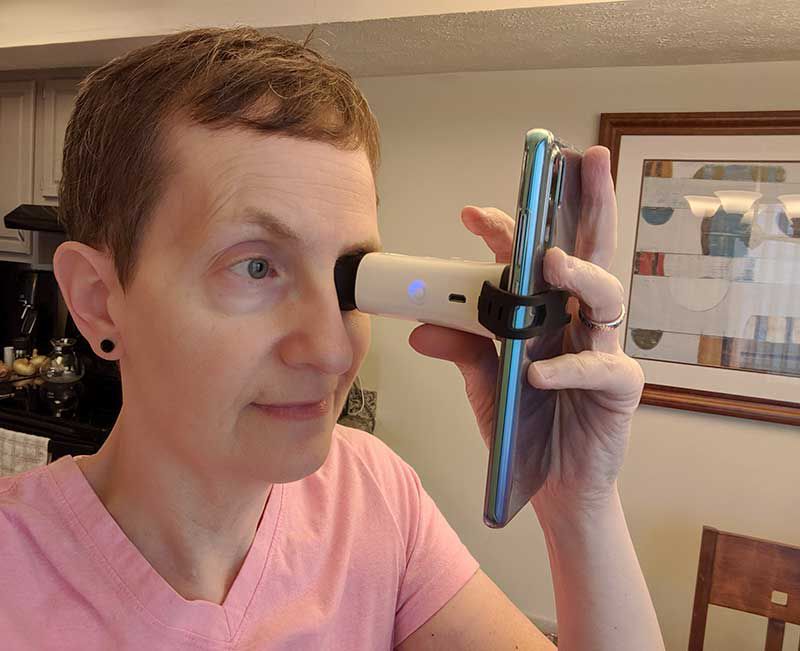 You remove your glasses (if you wear them) and test one eye at a time. Each test has 9 steps where you overlap a red and green bar by pressing the buttons on the VisionCheck device until the bar turns yellow.  At that point, the bars rotate into a different position on the screen and you overlap them again and so on for 9 times.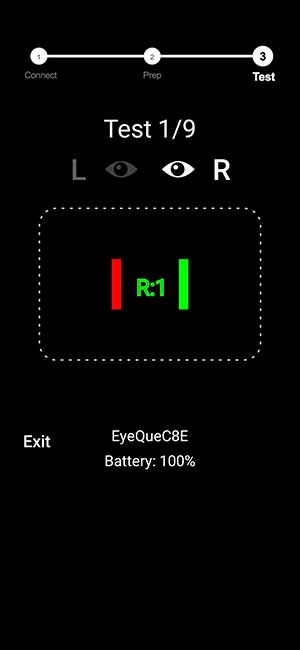 When you're finished testing one eye, you do the same test with the other eye. When all the tests are completed, you're given your prescription.
When I first started testing the VisionCheck, I had a hard time seeing the bars through the device without pivoting my head or the device. But as I continued trying it, the bars were easier to see most of the time. But sometimes I would have to "search" for the bars.
A full test of both eyes takes as long as you need to take in order to overlap the bars. There is no time limit. I actually became pretty fast at it. That said, I had to take the tests several times before the software gave me a prescription that I could use to order glasses.
But before you can order glasses, you also have to take the PD test. PD stands for pupillary distance and it just means the distance between your pupils.
To test your PD, you put on the provided glasses and then use the VisionCheck app which has you line up your face and eyes on the screen.
What I like
Much less expensive than an appt at the eye doctor
Portable device
Easy to use
What I'd change
Does not replace a checkup where the doctor checks for physical issues with your eyes
Results are only as accurate as how you see the bars in the device
Final thoughts
It should be obvious that this device does NOT take the place of a doctor checking your eyes, so I asked EyeQue to tell me why they are selling this device. Here is their response.
EyeQue is designed to be used between doctor's visits to get more people engaged in their eye health. The convenience of having these devices at home means you can take a quick test as often as you'd like to track vision changes for yourself and others in the household, and have the information available to share with doctors during regular exams.

EyeQue's at-home vision tests give people an accurate, affordable, convenient way to be invested in their eye health. In a recent customer survey, nearly 90 percent of people who purchased glasses using their EyeGlass Numbers said they performed the same (33 percent) or better (53 percent) than their previous glasses.
I find devices like the EyeQue to be the future of medicine and how we may be doing our own medical checkups in the future. I realize that devices like this one won't take the place of real doctors, but using the EyeQue as a tool to keep an eye (sorry) on your prescription in-between visits can help you know if/when there might be problems with your eyes and prompt you for a visit with your doctor before your yearly visit.
Price: $69.00
Where to buy: Amazon
Source: The sample for this review was provided by EyeQue.