We use affiliate links. If you buy something through the links on this page, we may earn a commission at no cost to you. Learn more.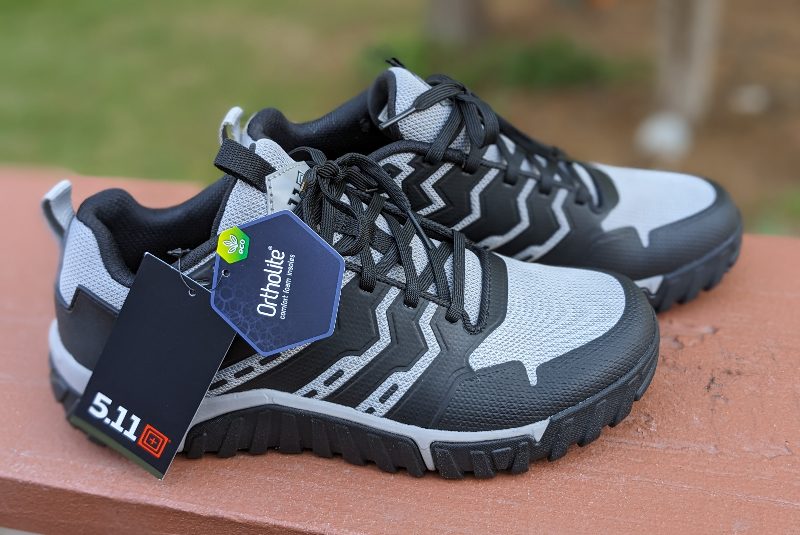 REVIEW – The 5.11 Maxgrip Trainer Shoe is one durable shoe. If you're looking for a pillowy, marshmallowy feel, you'll need to keep shopping, but while those features may be great for running shoes, I look for stability, foot protection and support for a gym, hiking, or camping shoe. I think the Maxgrip Trainers would be great for just about everything but running, and that's a big list of potential uses. But wait – There's more! 5.11 wanted us to compare two more models of their shoes. The Foley Mid and McClane Mid are very different designs from the Maxgrip, but have better cushioning and softer soles. I'll tell you what I think about all three styles.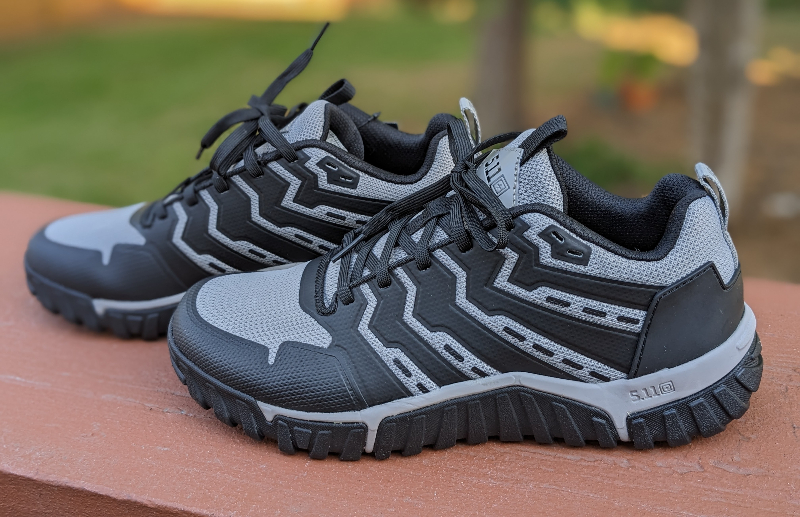 What is it?
The 5.11 Maxgrip Trainer is a high durability, low-cut, traction and stability shoe. The Foley Mid is an all black, ballistic nylon sneaker-boot (my term). The McClane Mid is a tan color, suede and nylon sneaker-boot.
What's in the box?
Maxgrip Trainer shoes, or the Foley Mid or McClane Mid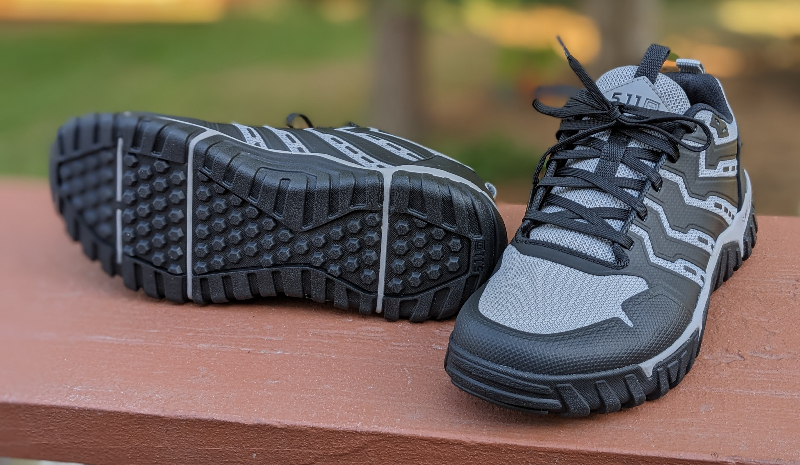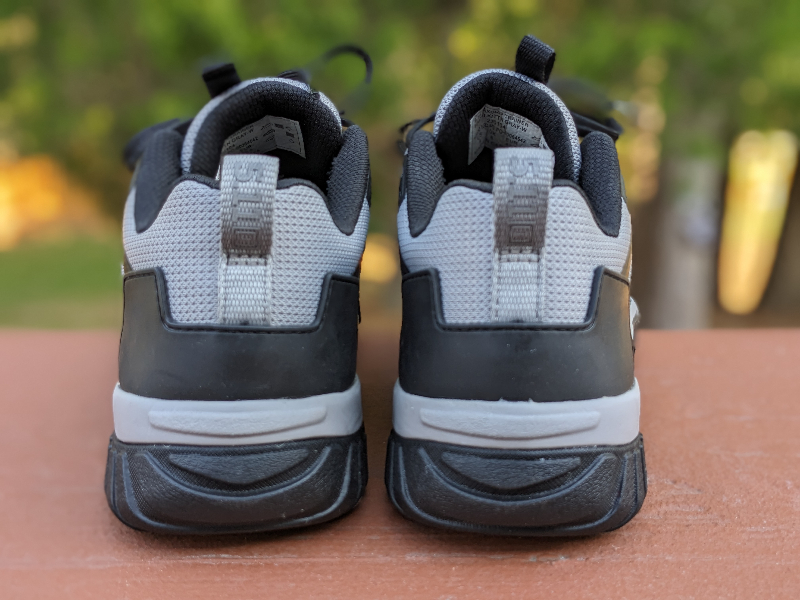 Maxgrip Trainer Specs
Upper: High abrasion resistant mesh textile
Insole: 'Ortholite'
Outsole: Full rubber
Midsole: Hi rebound
Weight: 15.2 oz / size 9 wide
Construction: Welded TPU (thermoplastic polyurethane)
Medial lugs for rope climbing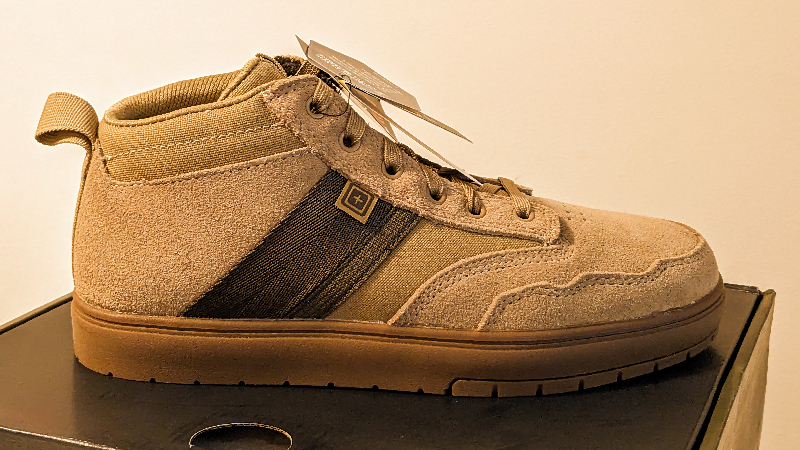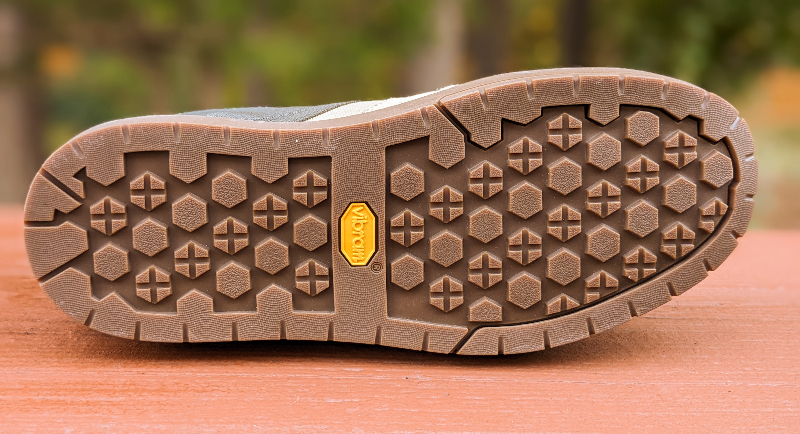 McClane Mid Specs
Upper: Suede and nylon
Insole: 'Ortholite'
Outsole: Hexgrip Vibram full rubber
Outsole rating: ASTM F2413-11 PR puncture resistant certified
Toe protection: internal, non-metal
Weight: 1 lb, 5 oz / size 9.5 regular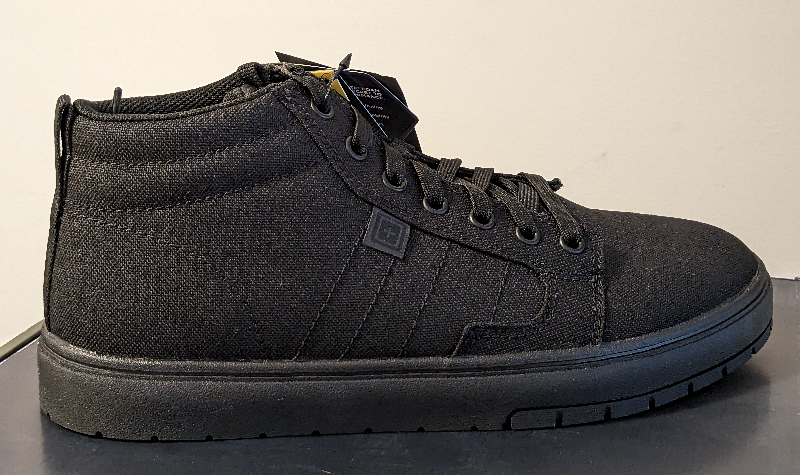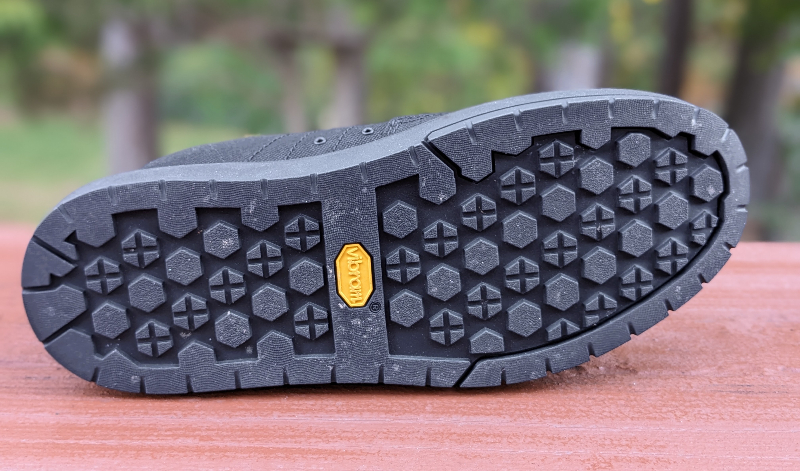 Foley Mid Specs
Upper: Ballistic nylon
Insole: 'Ortholite'
Outsole: Hexgrip Vibram full rubber
Weight: 15.8 oz / size 9.5 regular
Design and features
The Maxgrip Trainers will be hard for me to wear out in my lifetime. I shall try, but it won't be easy. The Maxgrip model has a very substantial sole that grips any surface well. I've worn the Maxgrips on asphalt, carpet, park fields, slick big-box-store concrete, and a knotty, leaf-lined trail. The Maxgrip lives up to its name.
The Foley Mid is an all black, all synthetic fabric mid-ankle sneaker-boot, my term. It has a high grip Vibram sole.
The McClane Mid is a tan, suede and nylon fabric, mid-ankle sneaker-boot also with a Vibram sole but has built-in toe protection and a puncture resistant sole.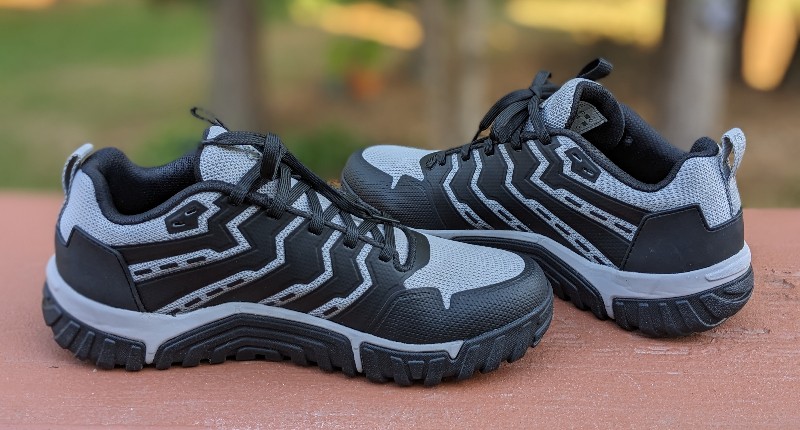 Setup
The laces of the Maxgrip Trainers arrived even and ready to tie. I may have never bought a lace-up shoe that I didn't have to either fully lace or re-lace, or even up the two lace ends. Once the shoes were on and the laces tied, I hit the road for a dog walk.  It was about as easy with the Foley Mid and McClane Mid.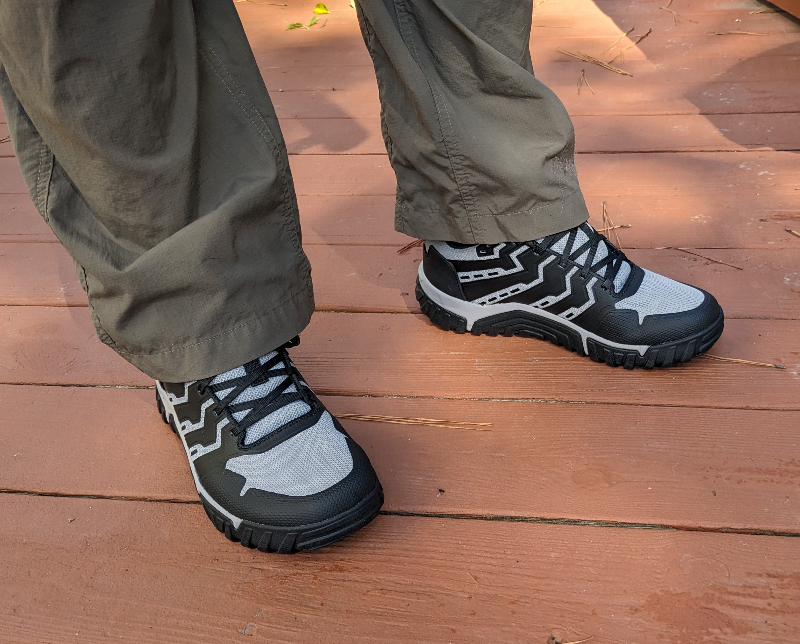 Performance
The Maxgrip Trainers are a bit stiff out of the box. After a mile they were more comfortable than when I first put them on. Comfort improved over the first few days of use. This is a stability shoe, not a flexibility shoe. A track runner would not seek out the Maxgrip Trainers but a weightlifter might. As a hiker, I will benefit from the protection of the substantial sole as I step on rocks and roots that won't make me wince.
These are not ballet shoes. They come in at just under a pound for the size 9 wide. I've had 8 ounce running shoes. They felt great but were worn out after a year – – and I was just a jogger. The Maxgrip Trainers are going to be with you for a long while. The upper is sturdily built so you should not expect any fraying of the material or a toe eventually poking through the toe box. The tread has excellent grip on smooth or slick surfaces and it has a fairly deep and 'aggressive' lug pattern. I can't imagine wearing out the Maxtrip Trainer sole.
For someone who wants a more cushioned feel, the Ortholite insoles are removable and can be replaced with your choice of insole.
I've come to need arch support orthotics and mine fit comfortably atop the factory insole in all three shoe models.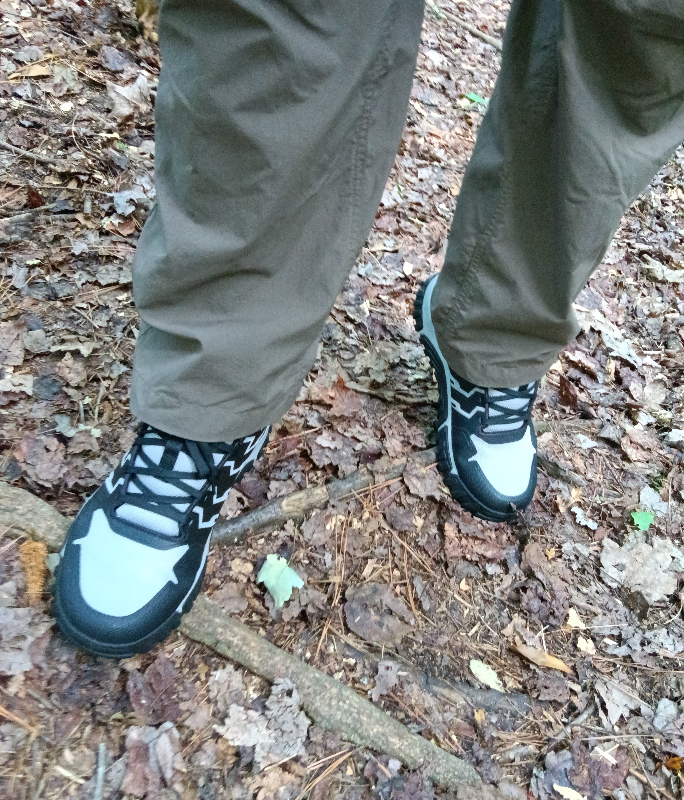 I walk on a trail littered with knotty roots that have emerged above ground. Biking that trail rattles my teeth. Last winter I stepped on a root wearing hiking shoes with soft soles, and it was an exclamatory moment. 'Ouch', I uttered. It really did get my attention. I must have landed on the knot just right for the wrong spot on the ball of my foot.
I took that rooty trail wearing the Maxgrip Trainers and intentionally stepped on hard spots with the sole area that is under the ball of my foot. The experience made me smile. I felt zero discomfort. The Maxgrip sole made the impact dissipate so there was no pinpoint sensation into my foot. Hike on, without exclamations!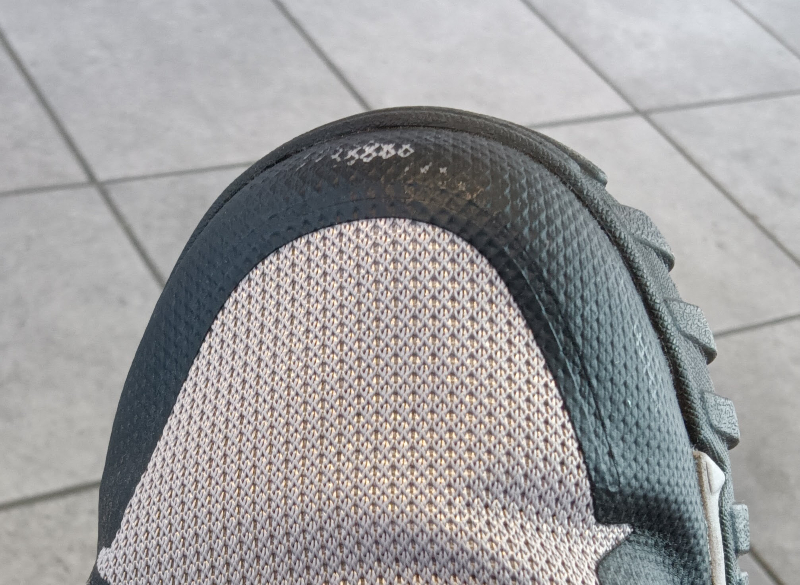 I'm not a toe dragger but in the first week of testing the Maxgrip Trainers I scuffed the left toe. Then the right toe got scuffed.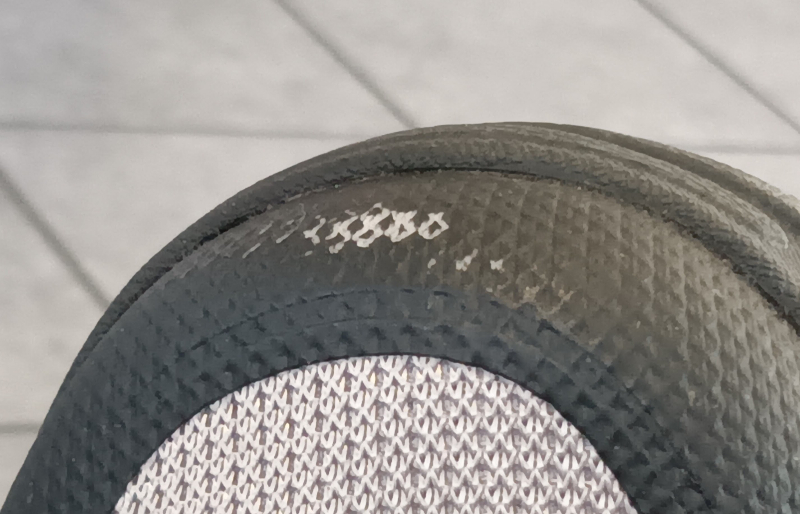 These are light scuffs and the black rubber came off all the way to the fabric beneath. Don't make me have to paint on FlexSeal!  I'll try a black marker first, but that toe finish should have better durability and scuff resistance.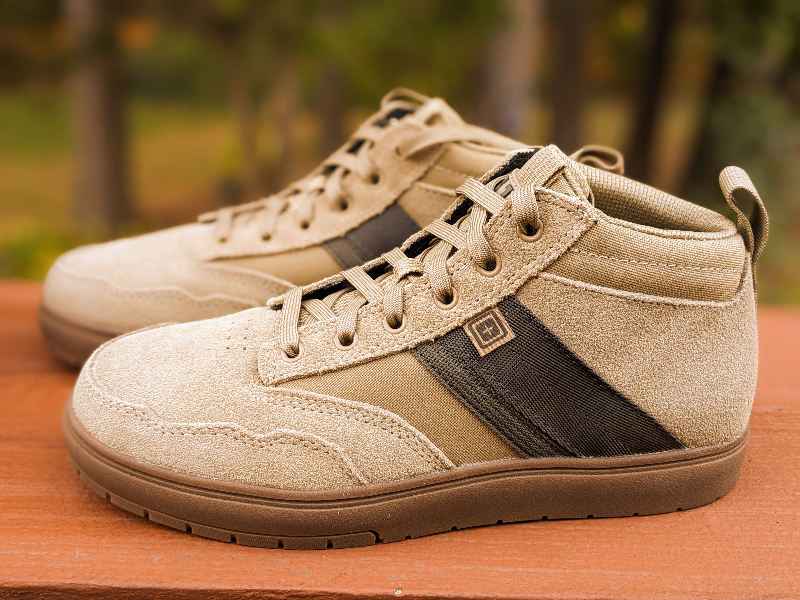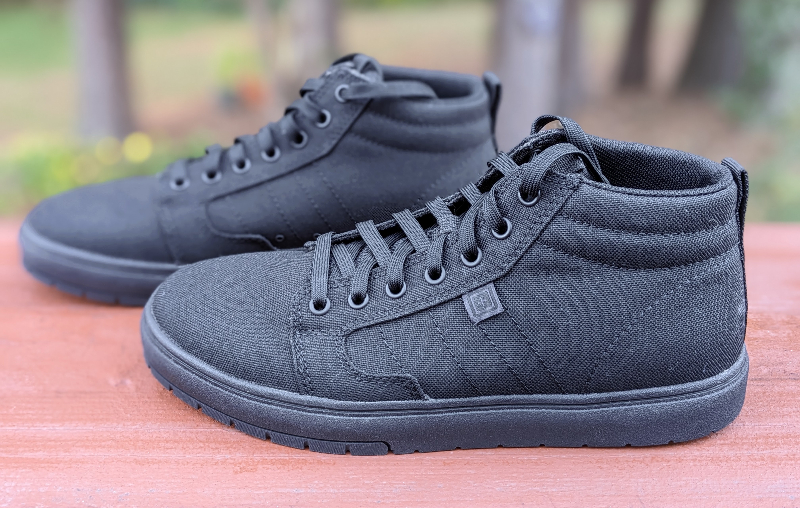 A challenge to my psyche came when 5.11 wanted a couple of additional styles reviewed in a 'compare and contrast' setting. I'm being quite honest here – I would not have chosen the Foley Mid or the McClane mid but that's what came from 5.11. Imagine my surprise when I thought I was just doing due diligence, wearing both pairs with various pants in various settings, then out of nowhere, both models started to grow on me.  The comfort and cushioning of the Foley Mid and McClane Mid was the first thing to win me over, and then I came around to their design.
My wife and daughters didn't see the Foley Mid and McClane Mid as my style. I'm no slave to fashion but when I paired the pants thoughtfully with each shoe model, they looked acceptable to all of us.
The Foley Mid and McClane Mid were instantly comfortable and didn't seem to need any break-in. As with the Maxgrip Trainers, there is a roomy toe box but my foot doesn't slip around in any of the shoes. The size 9 Maxgrip Trainers showed me that I may now be a 9.5. My large toe lightly touched the tip of the Maxgrip toe box. The Foley and McClane came in size 9.5 regular and were a perfect fit.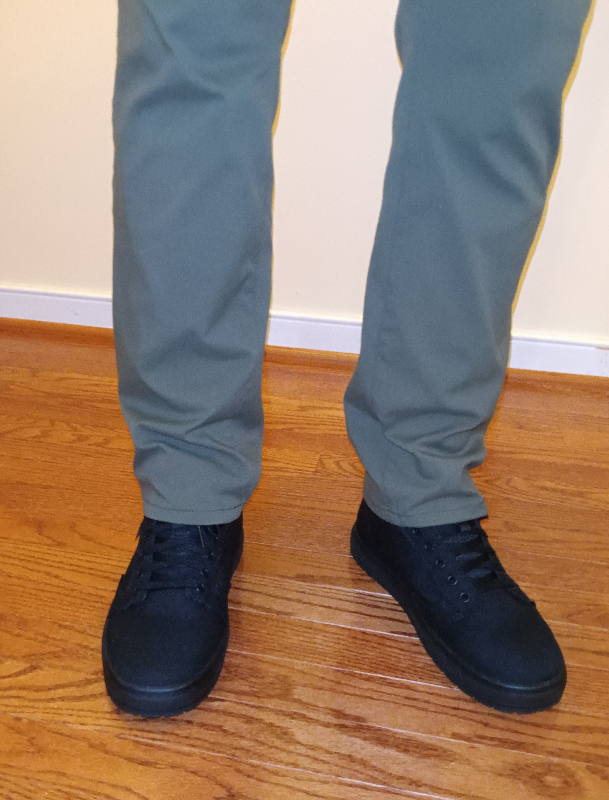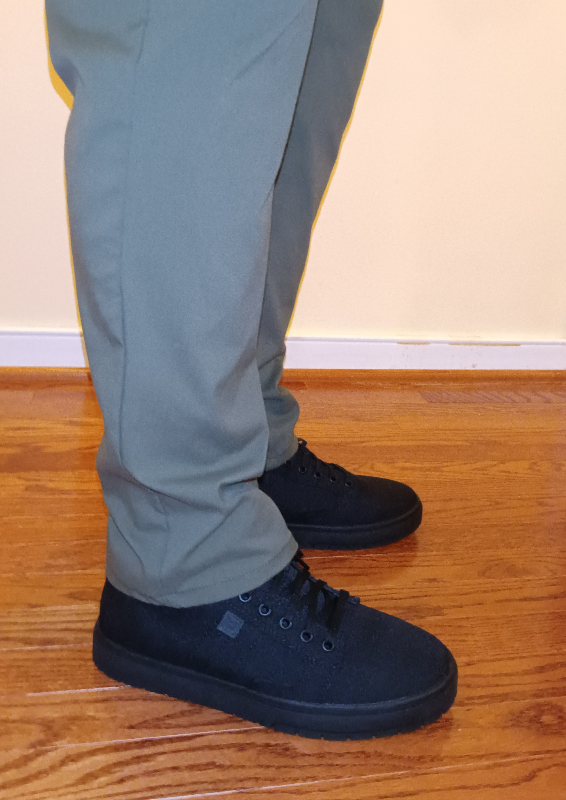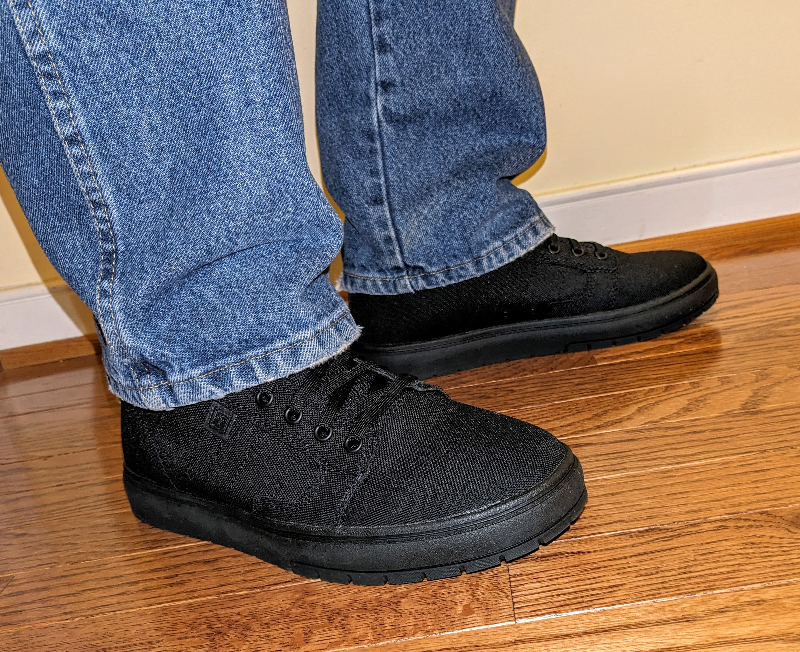 I think the all black Foley Mid goes well as a work shoe with dark jeans and some camping and outdoor style pants.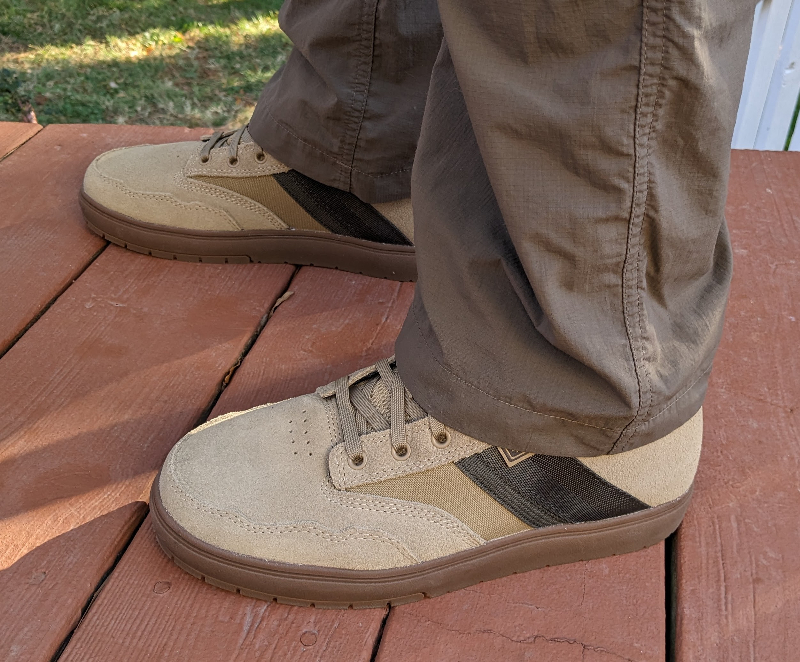 The McClane Mid matches up with brown, tan, camo or gray tactical or work pants, and appears almost boot-like with that style outfit.
Both the Foley Mid and McClane Mid have a very nice,  cushioned, Ortholite insole. That insole style belongs in the Maxgrip Trainer. Why is such great cushioning not in the Maxgrip? I hope they'll make that switch.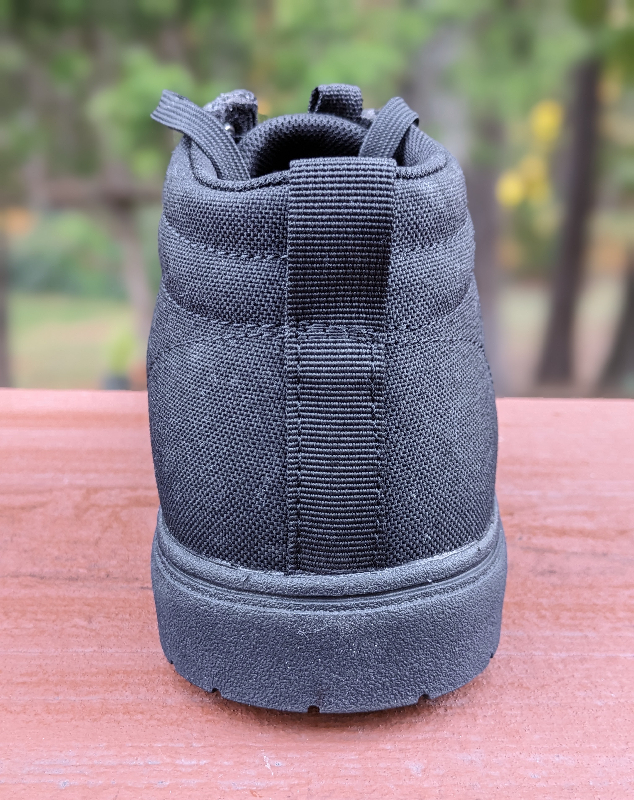 I wish the heel of the Foley Mid and McClane Mid was ¼" to ½" higher, like a low boot heel, but I know lots of people like a nearly level shoe. These two models are comfortable as heck just as they are.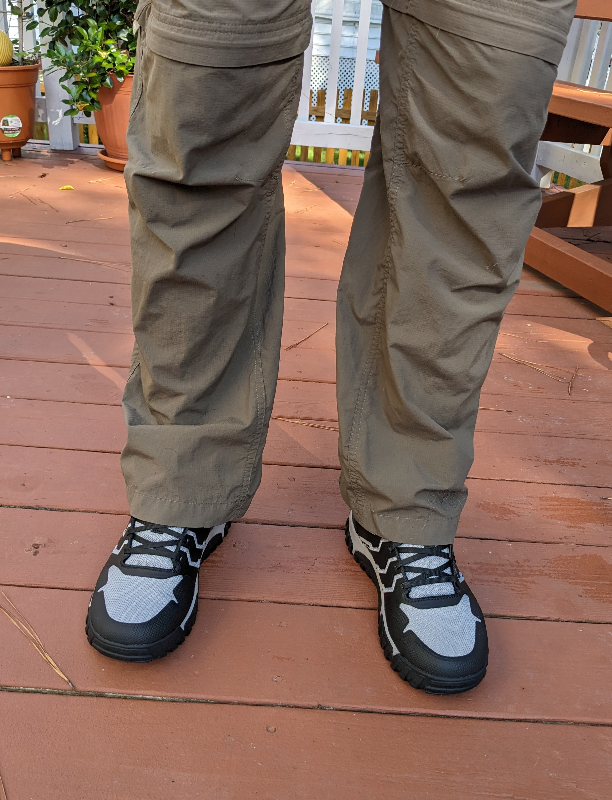 What I like
Great Maxgrip Trainer stability
High Maxgrip durability
Unique appearance of all three styles
Excellent cushioned insole in the Foley Mid and McClane Mid
Instant comfort and no break-in needed for the Foley Mid and McClane Mid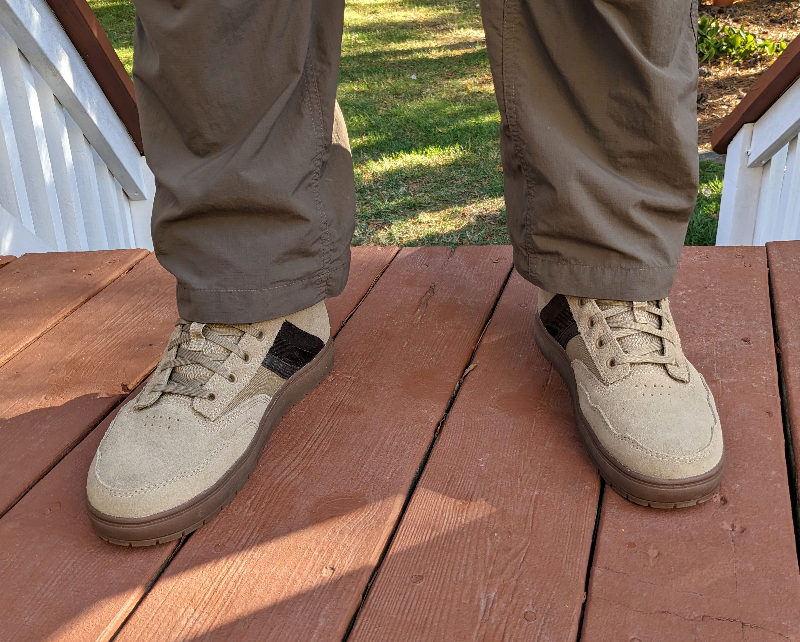 What I'd change
The Foley Mid and McClane Mid insole should be in the Maxgrip Trainer
Better scuff-resistant material at the toe of the Maxgrip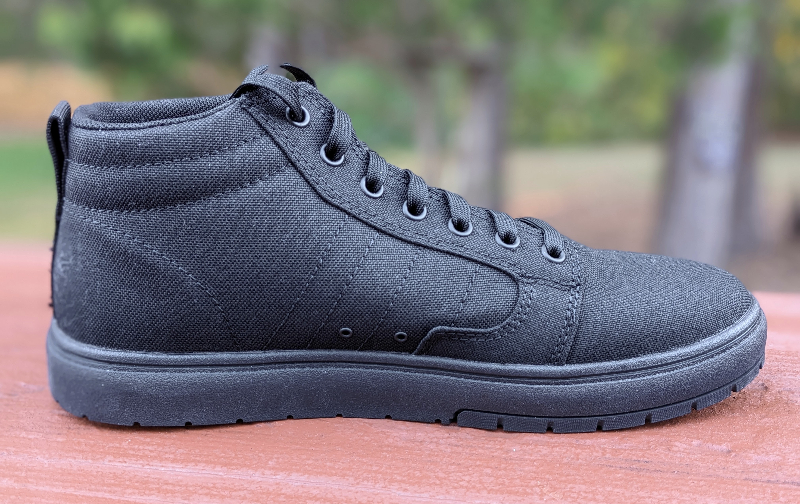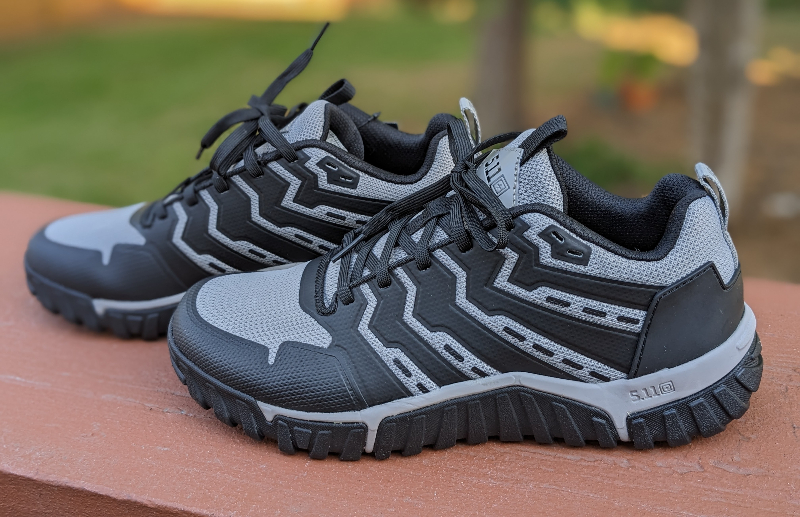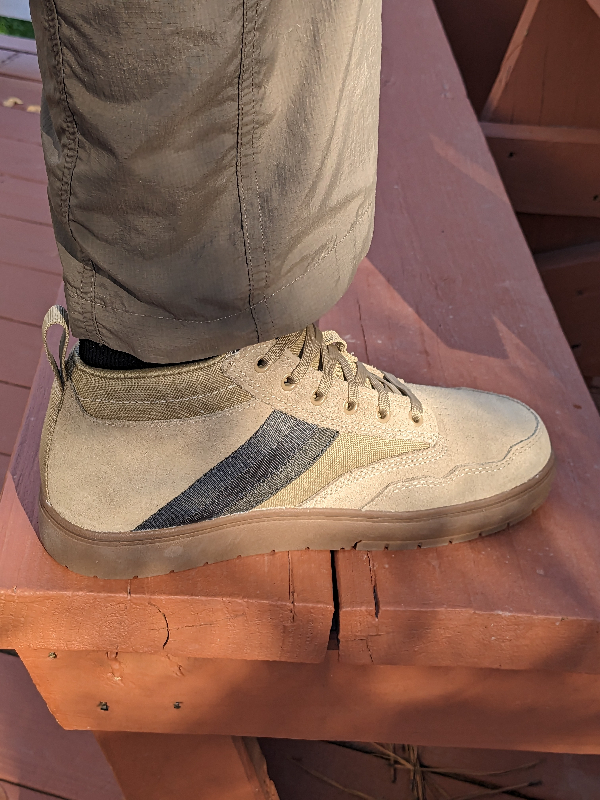 Final thoughts
5.11 got me to consider and adopt two new styles of shoes for daily home maintenance and around town use, and I'm eager to wear the Maxgrip Trainers for hiking and working out. If you aren't used to paying three digit dollars for shoes, you might consider the high wear potential of 5.11's footwear line. Maybe one or two of these three styles will be a good fit of foot and fashion for you.
Price: $100 Maxgrip Trainer and McClane Mid. Foley Mid is out of stock as of this publication.
Where to buy: Maxgrip Trainer.  McClane Mid.  Foley Mid.
Source: The samples of these products were provided by 5.11 Tactical.