We use affiliate links. If you buy something through the links on this page, we may earn a commission at no cost to you. Learn more.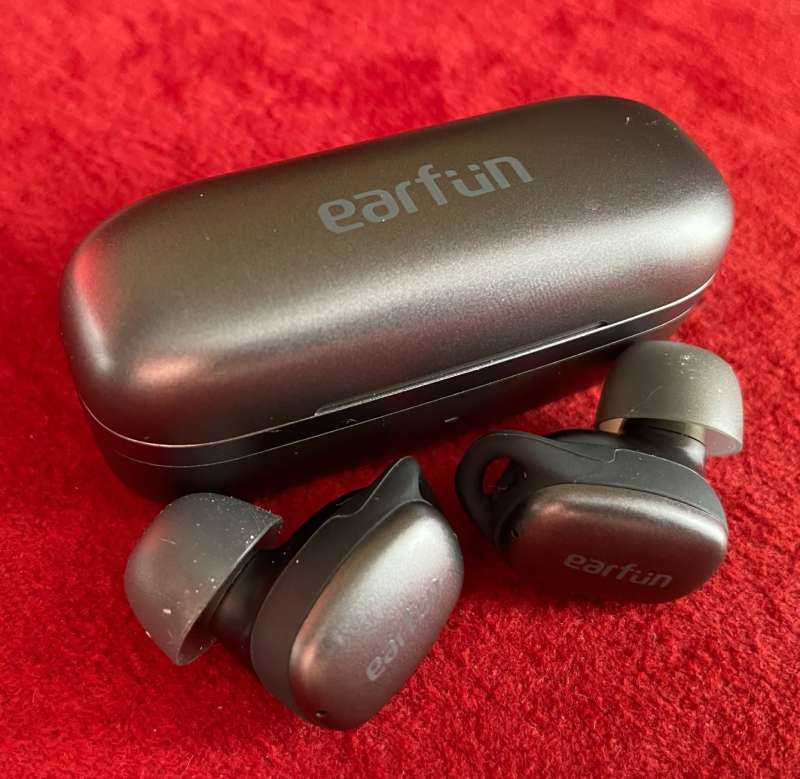 REVIEW – Bluetooth earbuds are everywhere, I've found some that fit well but don't have the oomph and fidelity I crave. EarFun's Free Pro 2 earbuds fit the bill and are a great balance of performance and features. Read on, intrepid Gadgeteer…
What is it?
The EarFun Free Pro 2 is a pair of Bluetooth, cordless, stereo, active noise canceling (ANC), earbuds with a charging case.
Hardware Specs
Bluetooth 5.2, 2.40-2.48Ghz, >7dBm power
A2DP, AVRCP, HFP 0, and HSP Bluetooth profiles supported
15-meter (about 50-feet) maximum range without obstacles
Battery Capacity 35mAh (each earbud), 420mAh charging case
Earbud charging time 1 hour,
Case charging time: 2 hours via USB-C, 3.5 hours via wireless charging
Playtime with noise canceling off – up to 6 hours, a total of 30 hours with charging case
Playtime with noise canceling on – up to 5 hours, a total of 25 hours with charging case
Dimensions: 66.6 x 25 x 28.5mm (2.62 x 1 x 1.12 inches)
Weight: 38 grams (1.34-ounces)
What's in the Box?
Left and right Free Pro 2 earbuds
Charging case
Four sets of ear tips
Three sets of ear hooks
USB-C charging cable
User manual
Design and Features
The EarFun Free Pro 2 earbuds arrived solidly packed in a swanky box.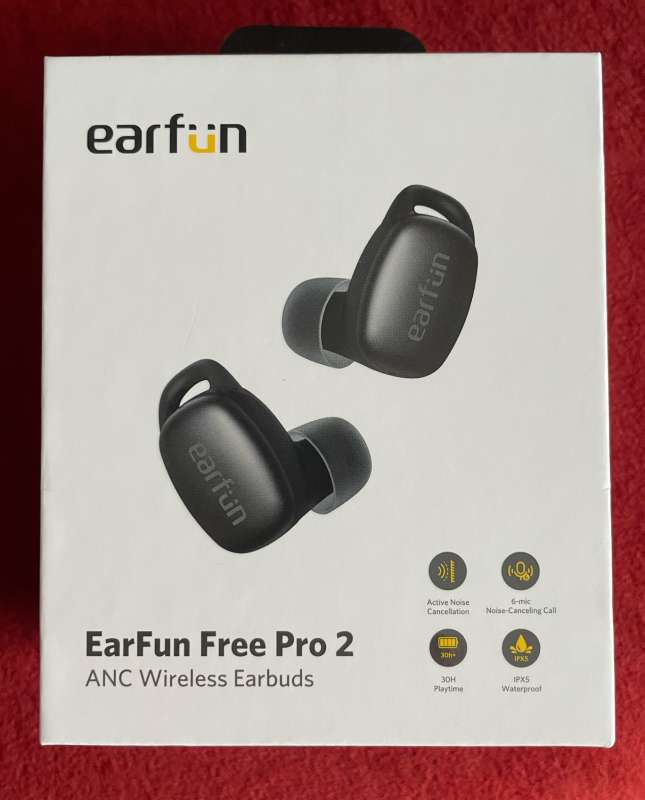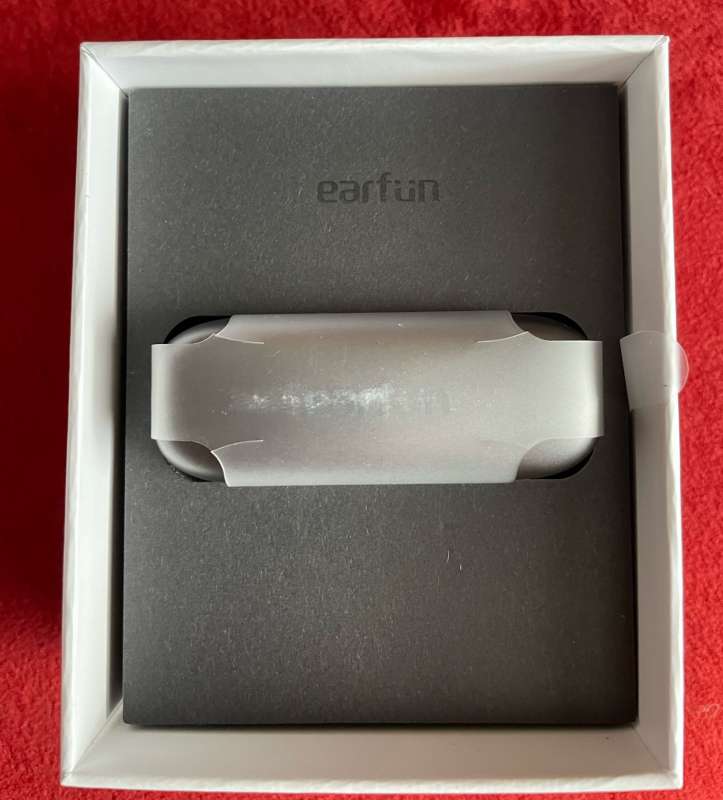 Power connection is through an included USB-C or inductive wireless charging.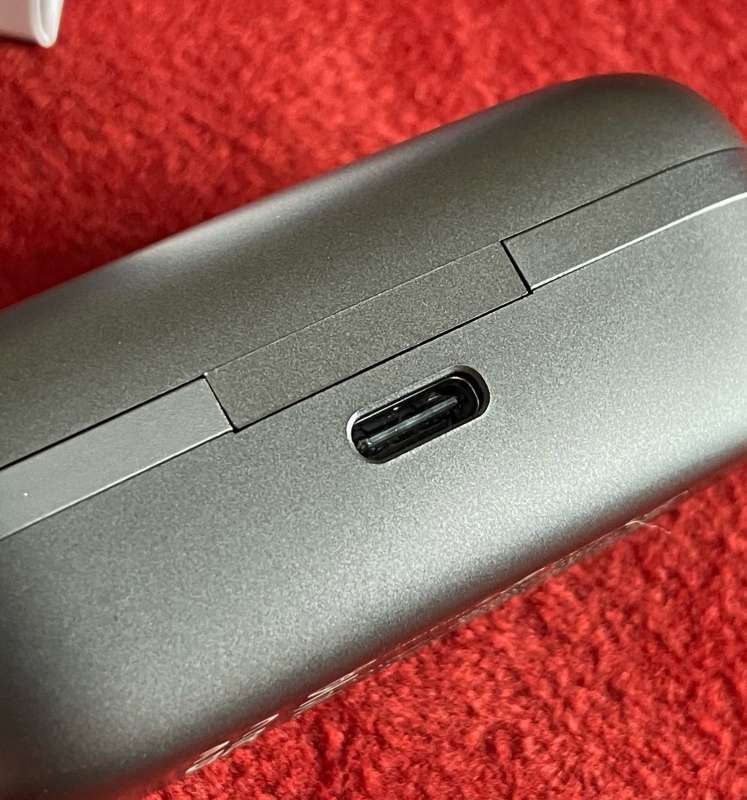 Initial charging took a few hours. A white LED on the case illuminates to indicate charging status.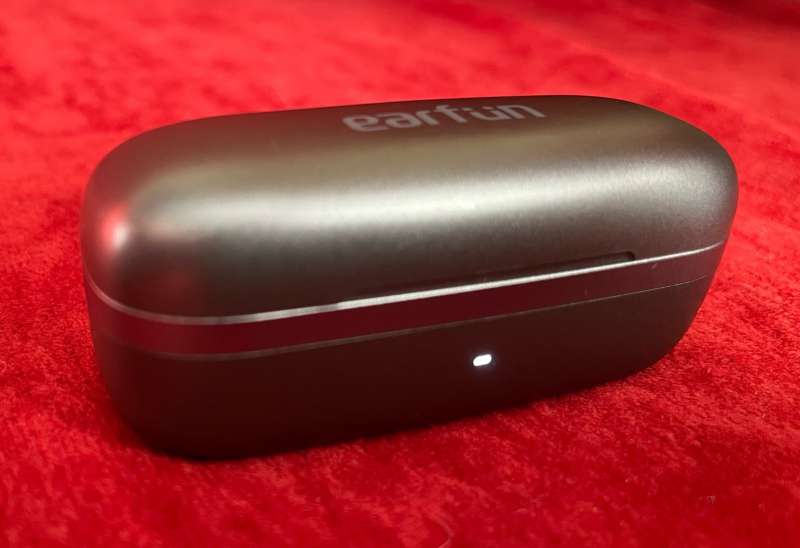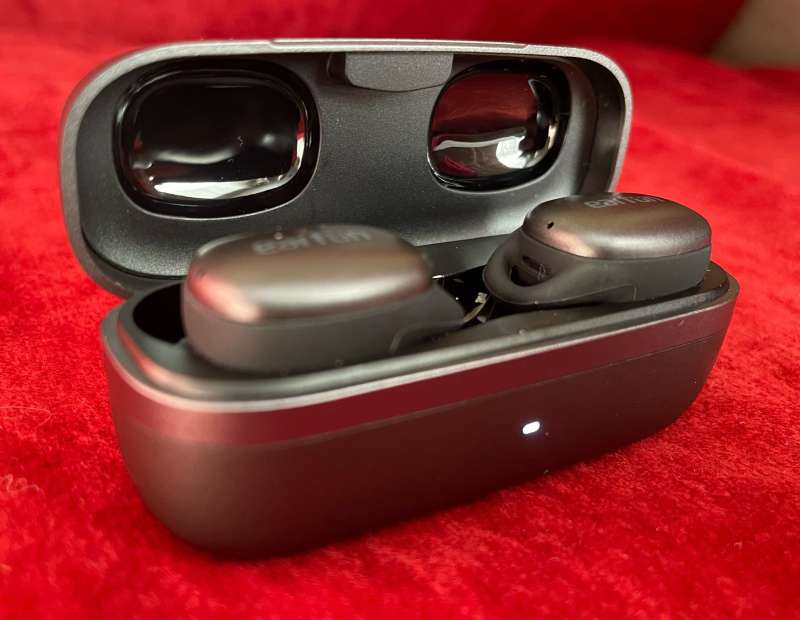 The instruction manual is very well written, but the text is really small.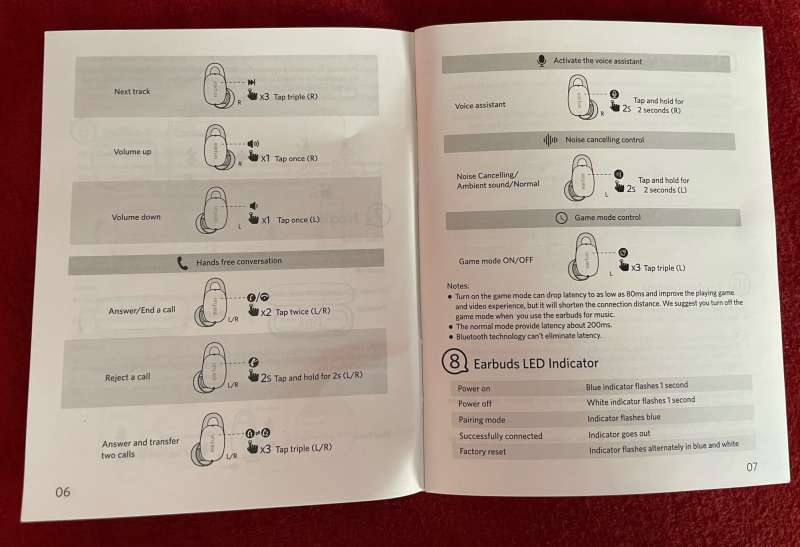 The earbuds come ready to pair out of the box. I had no problems with pairing or staying connected to my phone.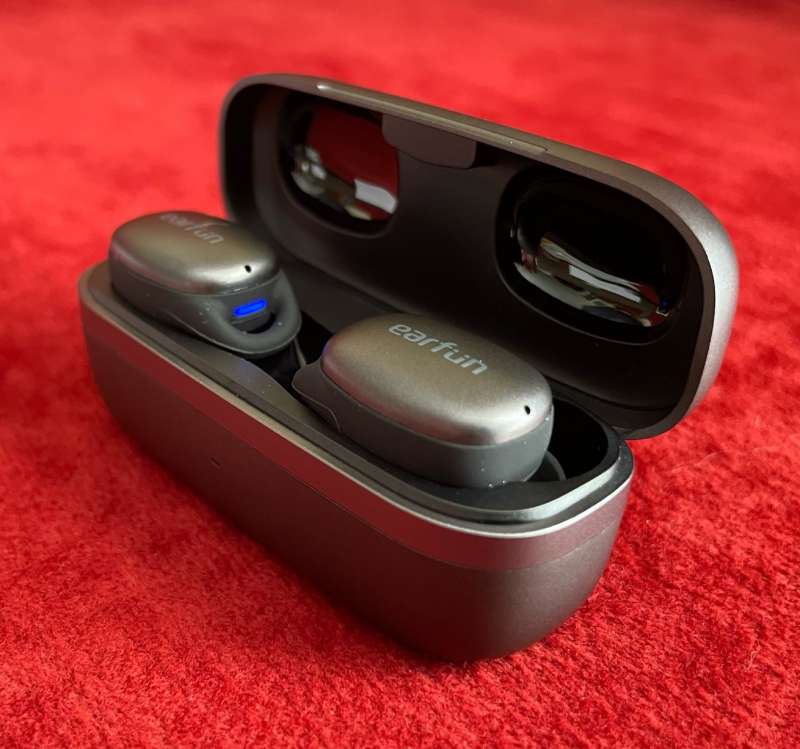 Many functions can be performed by pressing or tapping the faces of the earbuds. Some functions only work when tapping the left or right earbud, so when using only one, some of the operations are limited.
I particularly liked the operations of these earbuds. I have a few pairs that have a tactile switch that I'm prone to bumping at inopportune times with unpredictable results. EarFun's Free Pro 2 earbuds had no such difficulties, even when used when lying down on my side. Very comfy!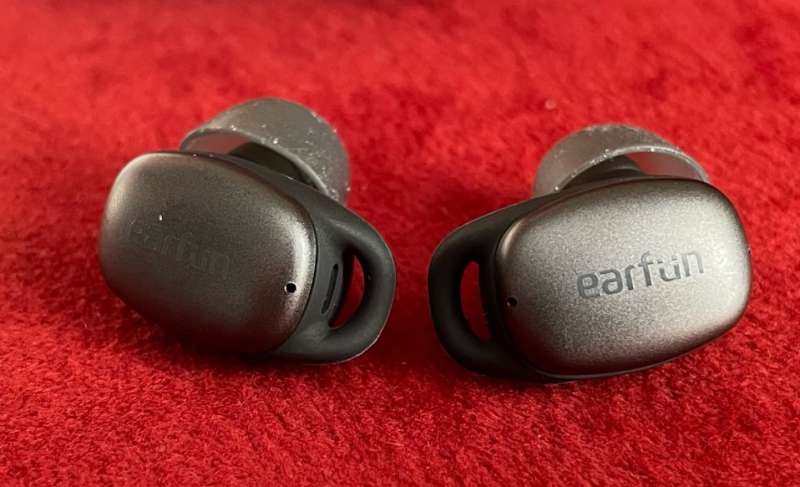 Speaking of comfort, four pairs of tips are included. To take full advantage of the sound quality and noise cancellation capabilities, it's important to choose the size that best fits your ears.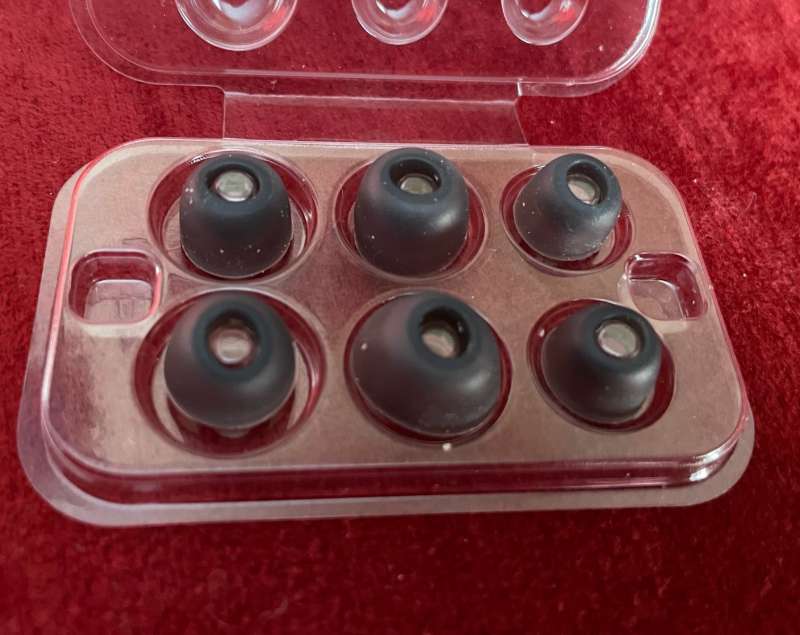 To further help with fit, EarFun includes three ear hooks. These rubbery bands fit securely around the body of the earbuds and help to keep them from tumbling out of your years during vigorous activity.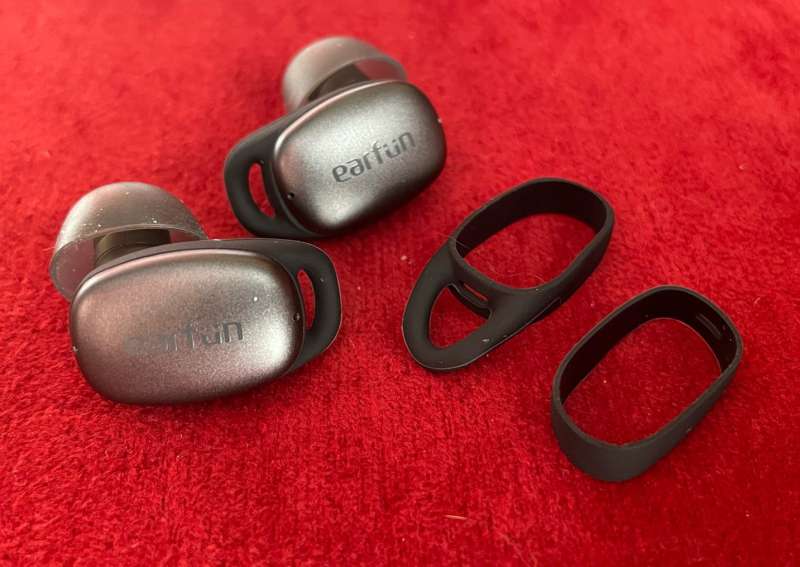 I generally lean towards earbuds that fit in my ear canals because over-the-ear headphones hurt and I have small ears so finding good fitting earbuds is challenging. I was very pleased to find EarFun's combination of tips and ear hooks are very comfortable for extended listening.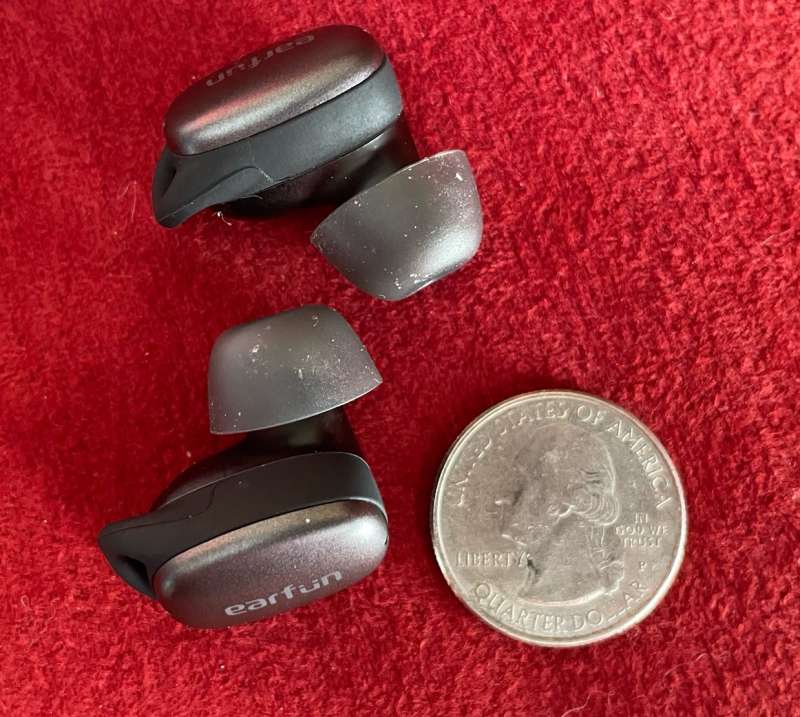 I was able to move all around my house while connected to the EarFun earbuds to distances exceeding the 50-foot specifications. Of course, your experience will likely vary, but I was very pleased with the results.
One of the key features that attracted me to these earbuds was the active noise cancellation (ANC), particularly in such a tiny package. To activate, tap and hold the left earbud for a few seconds and the earbuds will toggle between "ambient sound," "normal," and "noise canceling" modes.
"Normal" works like every other earbud with sounds being isolated by the seal within the ear.
"Ambient sound" uses the earbud microphones to pass some of the sounds around through the electronics of the earbud and into the wearer's ears. This mode is useful for situations where it might be dangerous (or rude J) to ignore one's surroundings such as waking busy streets or having an important conversation with your spouse (you can decide if that's a "dangerous" or "rude" situation J ).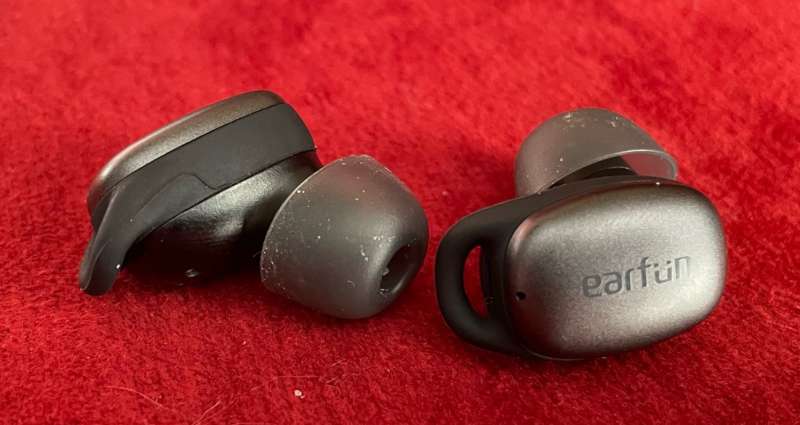 "Noise cancellation" uses the microphones to "listen" to soundwaves and feed opposite but equal sounds soundwaves into your ears. The result is that the sounds are "canceled," resulting in a much quieter listening experience. I can't begin to express how well this works! I've used ANC headphones in an airplane and mowing the lawn, and the blissful reduction in headache-inducing noise is pure joy. The EarFun Free Pro headphones do a great job, but it's essential to get as close to a perfect fit as possible for maximum benefit. After all, there is no use in trying to "cancel" ambient sound if it's just able to bypass the earbuds.
Moving on to sound quality, The EarFun Free Pro 2s do a good job. I pulled up my "earphone evaluation playlist" that's comprised of very familiar audio selections ranging from Rimsky-Korsakov's "Russian Easter Festival" to Pink Floyd's "Dark Side of the Moon." treble was consistently crisp and clear and I was enthralled to hear the enigmatically subtle and difficult to reproduce contra-bass and string bass notes across all selections I listened to. Some of the deep tones were impressive enough that I almost expected a sternum-vibrating audio experience of a live concert. For $68, these are a good bang-for-the-buck. Do you remember the "thunder'" sounds at the beginning of Evanescence's "Bring Me Back to Life"  If you don't, the EarFun Free Pro 2 earbuds will remind you!
The sound quality for calls was also great. My callers noted that the microphones pick up sounds well and the audio was great on my end.
Another cool feature is "game mode" which knocks latency from about 200ms to about 80mS. This is wonderful for gaming when a few tenths of a second could mean the difference between "awwwww yeah" and "game over."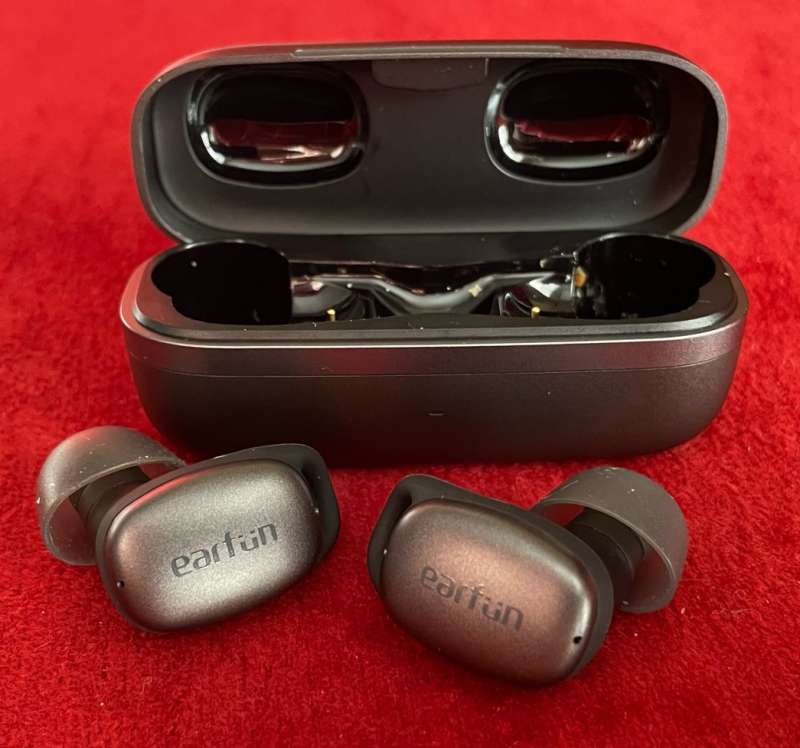 For me, one of the best features is the size of the charging case. It has well-rounded corners and is about the same length as a single AA battery but a little wider, making it very easy for pocket carry.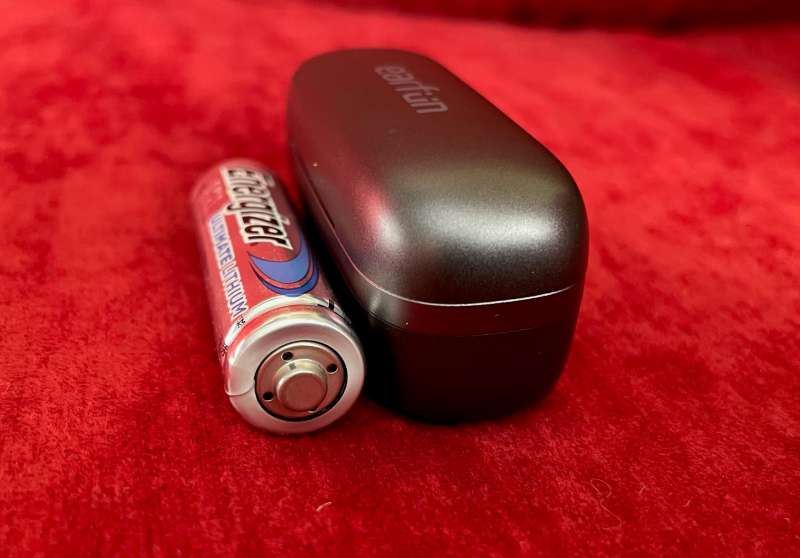 What I Like
Good active noise canceling with a good fit
Small size earbuds
The small case is easy to carry
Good battery life
Great sound
What I Would Change
Final Thoughts
Noise-canceling, battery life, and good sound make the EarFun Free Pro 2 earbuds an excellent choice for Bluetooth listening. They are super comfortable and their charging case is ideal for everyday carry so they are now my new go-to earbuds! Yay EarFun!
Price:  EarFun $79.99 and Amazon $67.99
Where to buy:  EarFun, Amazon
Source: The sample for this review was provided by EarFun.