We use affiliate links. If you buy something through the links on this page, we may earn a commission at no cost to you. Learn more.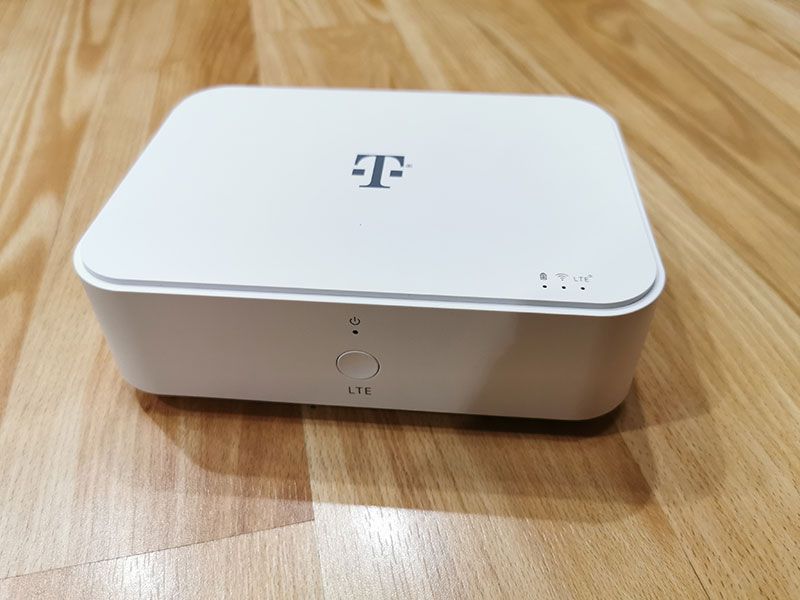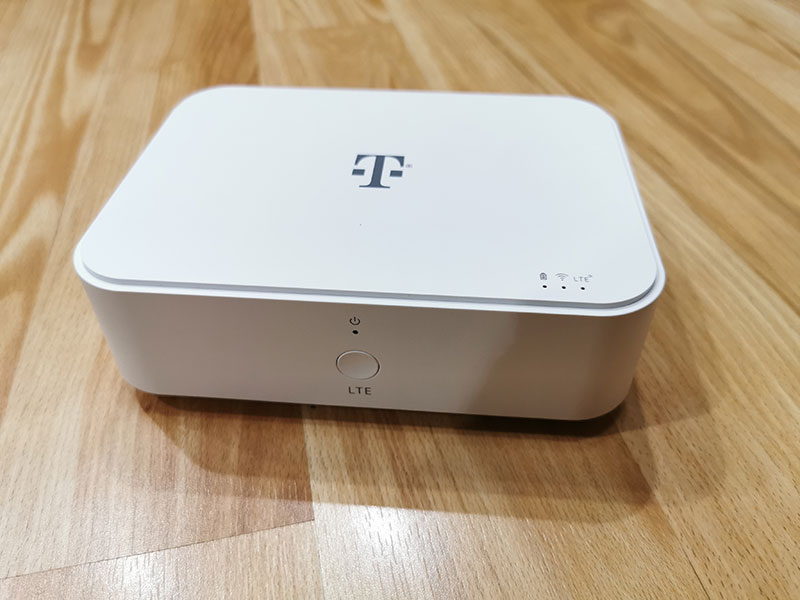 ARTICLE – It's been a few weeks since I wrote a gadget diary post about being selected to join T-Mobile's invite-only (right now) Home Internet pilot program and I thought it was time to post a follow up to let you all know how it's been working out for me so far.
What did they send me?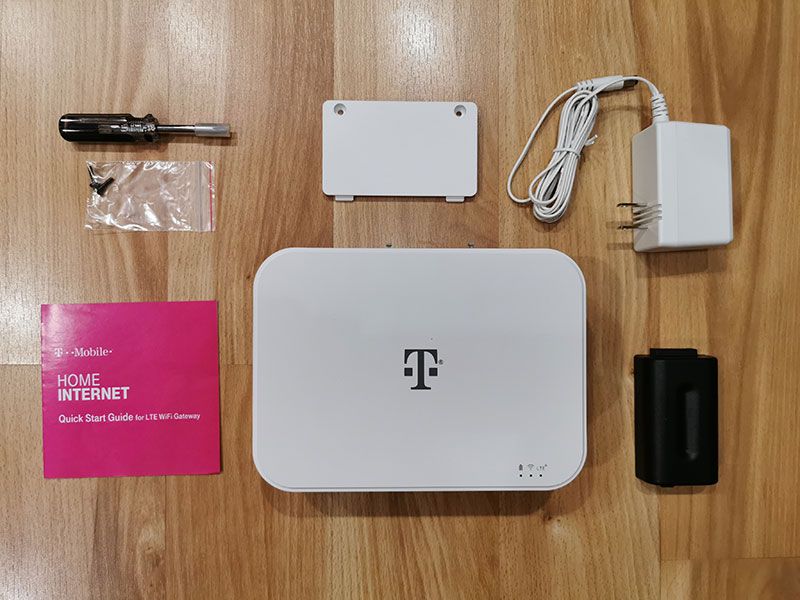 T-Mobile branded cellular router with a pre-installed T-Mobile SIM
Rechargeable battery
Battery cover
AC adapter
Screwdriver and screws to secure the battery cover
Quick start guide
The cellular router
The T-Mobile branded cellular/wireless router is a medium-sized white plastic box that has three LEDs on the top right corner that shows the status of the battery, wireless connection, and LTE. Basically the LEDs are either green or red.
There's also an LTE button and a power status LED on the front of the router. You would probably think that pressing the button would toggle power or the LTE feature. From what I can tell though, pressing the button does nothing at all.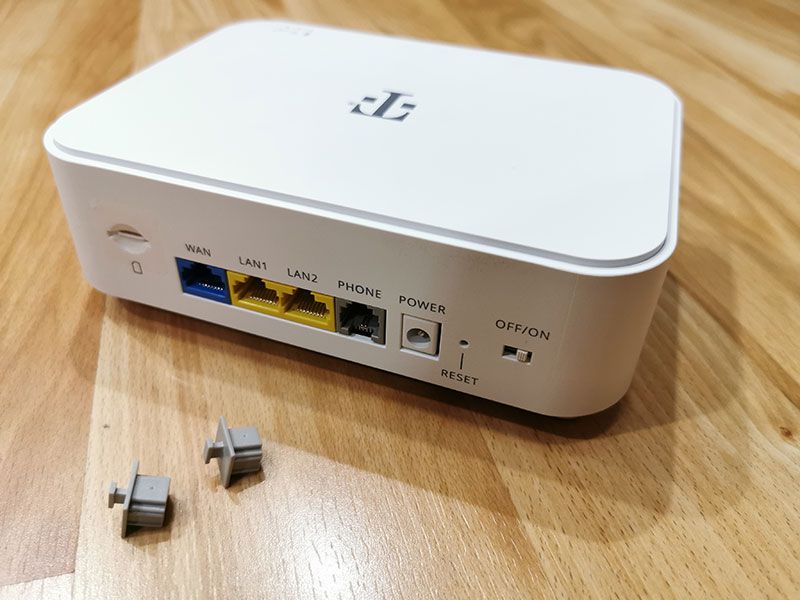 On the backside of the router, you will find the SIM card slot, a WAN port, 2 LAN ports, a Phone jack, power port, a reset switch, and the power switch. The WAN port and the Phone jack are both disabled on this router but at some point in the future, there's a possibility that the phone jack may work with T-Mobile's LineLink home phone service that provides phone service over wireless.
The 2 LAN ports can be used to connect devices that have Ethernet capability or you can even plug in your existing wireless router and use it to provide WiFi throughout your house. In that instance, you would plug the T-Mobile router into your wireless router's WAN port.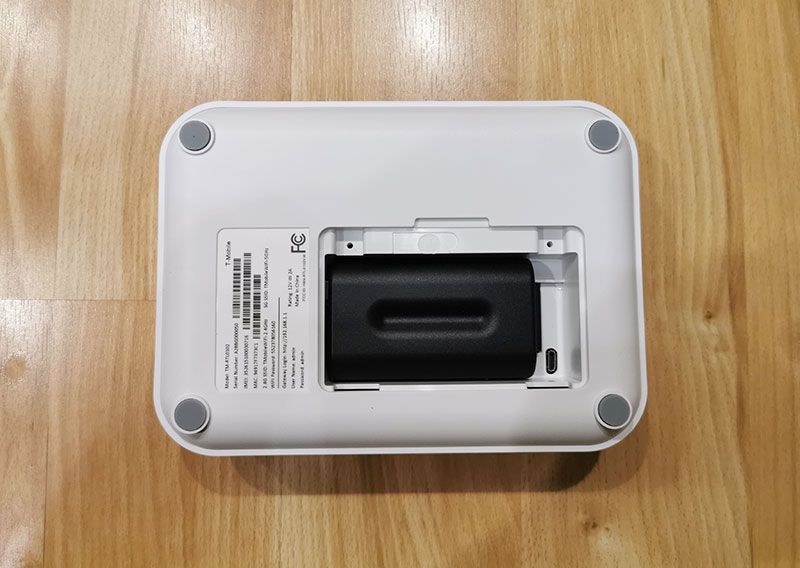 As mentioned, the router comes with a battery which is used as a backup battery in case the power goes out. I'm not sure how long the battery will let you use the router though. I haven't tested it as I have a whole house generator and don't worry about the power going out.
Getting set up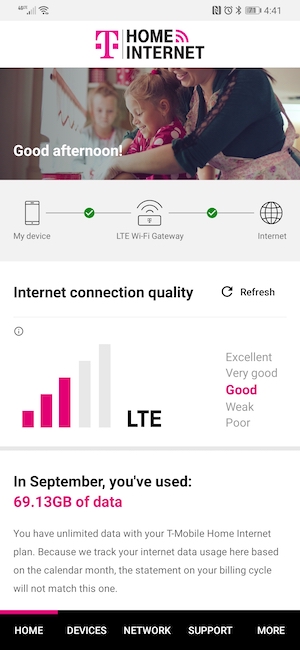 Getting up and running on the T-Mobile network was a piece of cake. All I did was install the battery, plug in the power cord, wait for the status LEDs to turn green, and then I loaded the T-Mobile Home Internet app on my phone and went through the setup which took a couple of minutes.
Once finished, the main screen of the app shows the current signal strength and total data usage so far for the month.
The Devices tab shows all the connected devices. You can click a device and get more info like the IP and MAC address and you can also control when the device has access to the network by setting individual schedules for each device based on the day of the week and time when you want them to be disabled.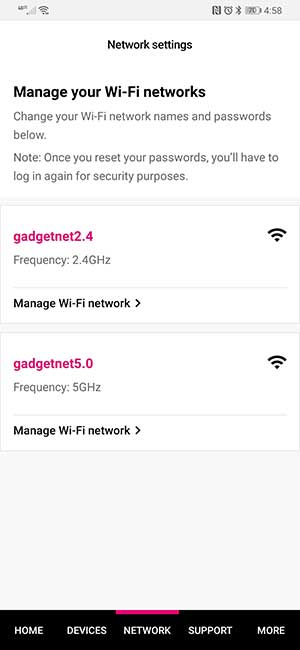 The Network tab will let you manage the 2.4GHz and 5.0GHz networks by renaming them and changing the passwords.
You can also dig into more advanced settings of the T-Mobile cellular router by logging in from your computer by going to http://192.168.1.1/.
How has T-Mobile Home Internet performed so far?
As mentioned in my previous T-Mobile Home Internet post, I had been using another cellular broadband service (4G Antenna Service) for the past 2 years. That service also used a cellular router with a T-Mobile SIM. With that service, I've been used to download speeds of around 14-17Mbps and was expecting the same speeds with the T-Mobile Home Internet router since they both use T-Mobile. Let's just say that I was happily wrong! I used the Speedtest app on my phone and the Speedcheck website on my laptop to check speeds.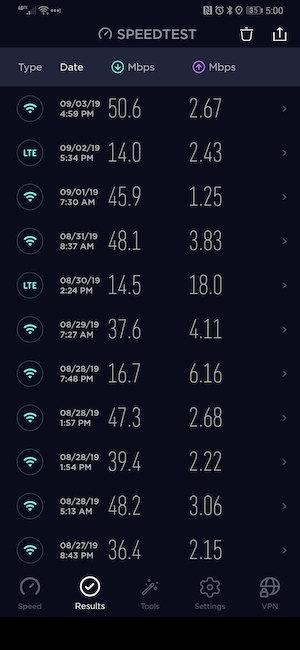 T-Mobile Home Internet speeds are 2 and sometimes even 3 times faster than what I've been seeing with 4G Antenna Service the last 2 years. I've seen speeds as high as 50Mbps and as low as 16Mbps but the average is usually in the high 30's. The entries in the screenshot above that are LTE were speed tests with my Huawei P30 Pro with WiFi turned off.
I've been able to connect 4 Wyze cameras, an Amazon Echo Dot, a Nest thermostat, 2 MacBooks, 3 smartphones, a Vizio smart TV, and miscellaneous other devices to the router and haven't noticed any issues with speed.
We've watched Netflix and Amazon Prime video through my Vizio TV with no buffering problems, and there have been no issues when Jeanne and I are both watching YouTube videos, on our laptops, etc.
I also tested the LAN (Ethernet) wired connection speeds by turning off the WiFi on my Acer Aspire 5 laptop and connecting to the back of the router with an Ethernet cable. I found the speed test results using Speed.io to be very similar when wired or wireless.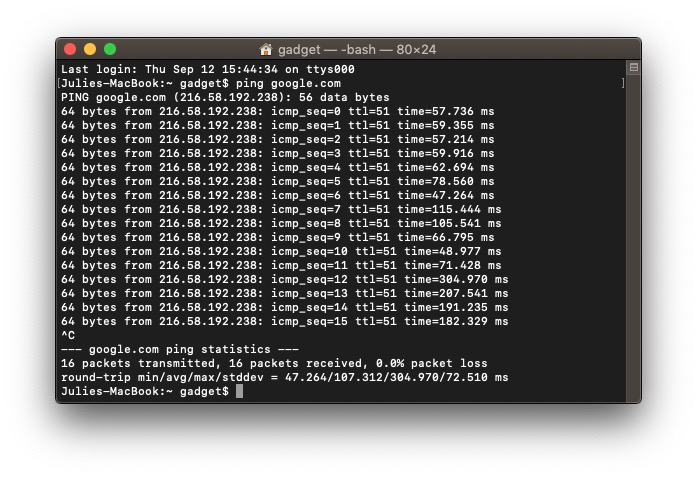 I've been asked if this service will work for gamers. I'm not a gamer, so I don't have any games to test, but here is some ping data which I've been told means that the T-Mobile Home Internet service is NOT suitable for gamers due to the high ping times. From what I understand, ping times higher than 25ms are too high/laggy for twitchy games. Note that the data above was taken at 8:30am on a Friday morning, so not even during peak usage times.
Note that there is a bit of fine print with this service. The speeds can be deprioritized during times of data congestion. As I mentioned earlier, I've been using a T-Mobile based internet solution for the past 2 years and haven't noticed this happening to me. That said, it all depends on where you live and how many existing T-Mobile users are using the cell towers in your area. This also probably the reason why they are rolling this pilot test out to rural customers first.
The only problem that I've noticed so far is with the router's 2.4GHz network. It seems to be a bit glitchy and sometimes my devices will not connect to it at all. So I used the support option in the T-Mobile Home Internet app to call in and ask about it. I'm happy to say that they pick up immediately and I was able to talk to a human within seconds who answered ALL of my questions thoroughly. One guy called himself T-Mobile Batman which made me laugh. I learned that they have been receiving multiple calls about the 2.4GHz connectivity issues and they are planning to push out a firmware update to the routers very soon. Nice!
I've been so happy with the T-Mobile Home Internet service for the last 3 weeks that I called up my previous provider (4G Antenna Service) and canceled the service last week. I'm saving about $30 a month going directly though T-Mobile and I'm getting faster speeds and I no longer have to worry that I'm using too much data and that they'll drop me. So high fives all the way around!
If you live in a rural area and get invited to try the T-Mobile Home Internet pilot program, I definitely recommend that you do so. I couldn't be happier and hope it only gets better.
Update 2/11/21
Several weeks ago I noticed some new YouTube videos about Tmobile's Home Internet that were featuring a new router. I contacted Tmobile and asked if I could upgrade from my original white box router to their new 5G capable router. They told me that the new units were back-ordered and that it would take several weeks but set me up to receive one when it became available. Very surprisingly, the very next day, it arrived. How's that for service?!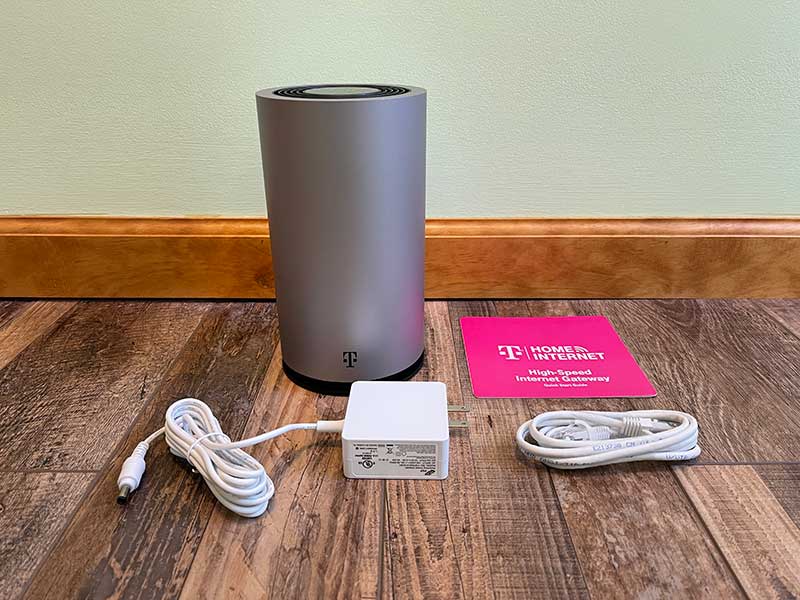 I immediately unboxed it and set it up. I don't yet have 5G coverage at my home, so I haven't noticed any change in my upload or download speeds yet.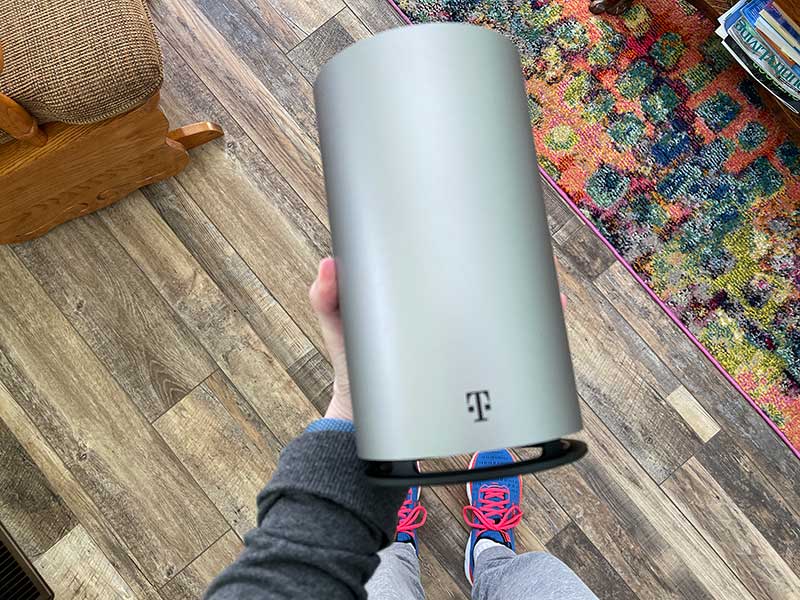 The new unit is definitely larger. But I think that you'll agree that it looks a lot better than the original one.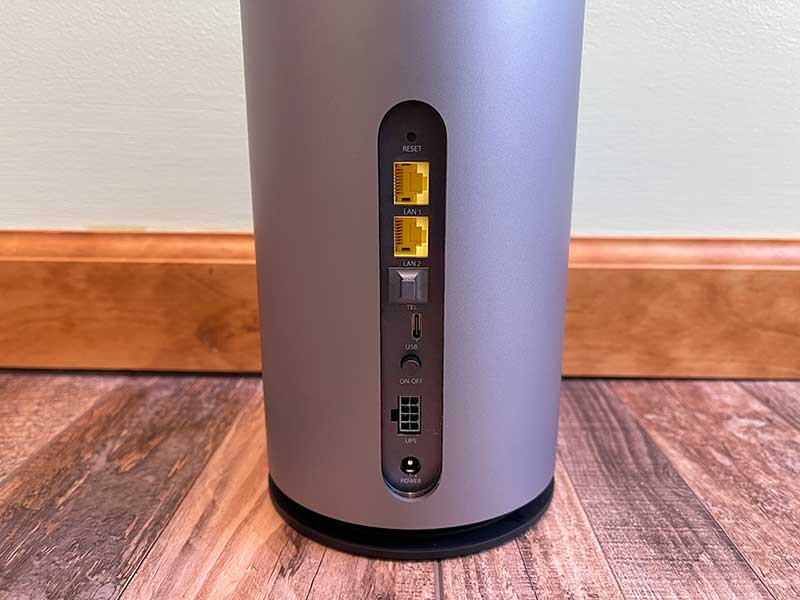 I've had my Tmobile router connected to a Synology router for about a year or so and it was easy to just unplug the old one and put the new one in. I did have to connect Tmobile support for them to inactivate the old router and reactivate the new one.
You'll notice that there's a USB-C port on the back of the new router. There was no indication of what the port can be used for so I'm assuming that it is for a future feature… There's also a UPS plug but like the original white Tmobile box, this new one also has a built-in battery, so you won't lose connectivity if the power goes out.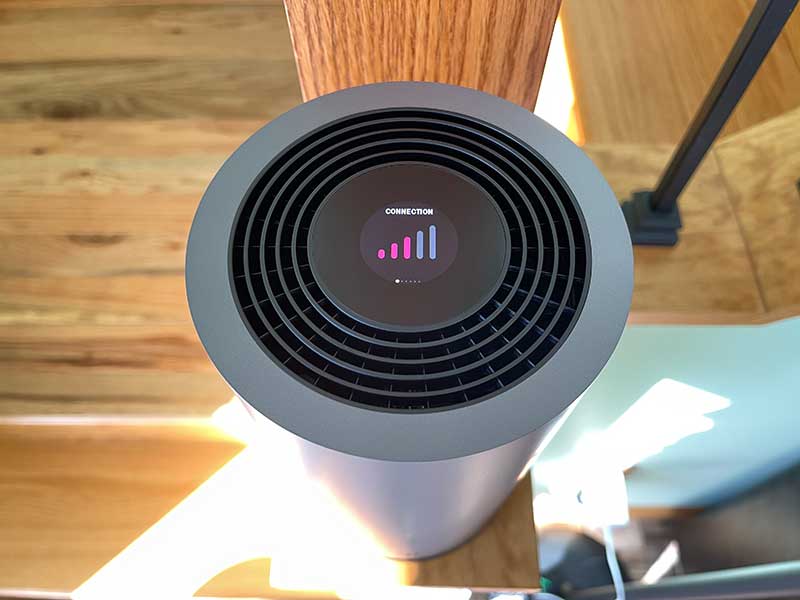 The only down side to the new router is that there's a cool touchscreen LCD status screen on the top. Why is that a downside? Because I can't see it due to the fact that I have the router about 6 ft in the air mounted on top of a grandfather clock 😉
I like the fact that I have the latest equipment and the fact that it didn't cost me a cent for the upgrade. Thanks TMO!
Also, check out part 1 of this story.