We use affiliate links. If you buy something through the links on this page, we may earn a commission at no cost to you. Learn more.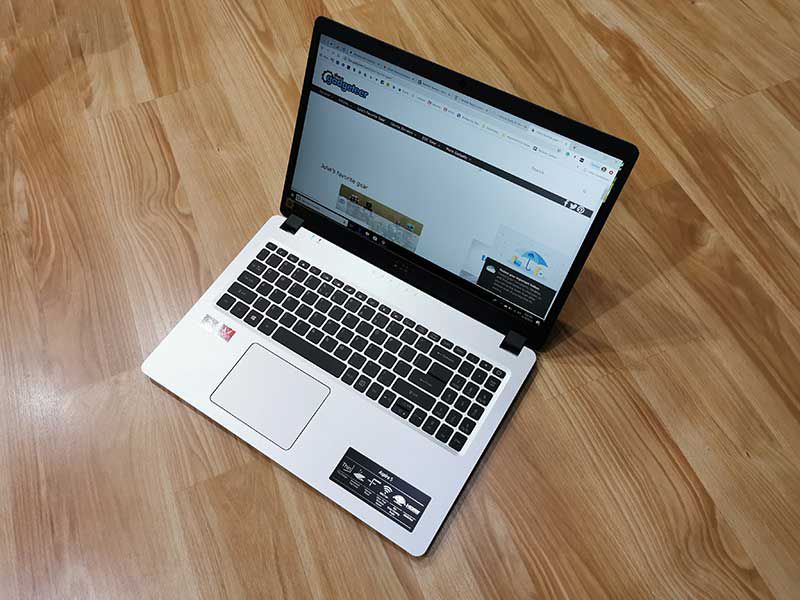 REVIEW – I've been a Mac user for quite a few years now, but sometimes I wonder if it's time for me to switch back to a Windows laptop. Don't get me wrong, MacBooks are great and I love the OS, but they are insanely expensive and I'm not sure how much bang for the buck you really get with them these days. When the folks at Acer asked if I would like to review their Acer Aspire 5 laptop, the gears in my brain started turning. I thought I'd do an experiment where I put my daily driver 12-inch MacBook in a drawer for a few days and use the Acer Aspire 5 instead. Let's see what happened.
What is it?
The Acer Aspire 5 (A515-43-R19L) is an affordable Windows 10 laptop from Acer.
Hardware specs
Operating System: Windows 10 Home
Processor & Chipset: AMD Ryzen 3 3200U 2.60 GHz Dual-core (2 Core™)
Display & Graphics: 15.6″ IPS 1920 x 1080 display, AMD Radeon™ Vega 3, DDR4 SDRAM
Memory: 4 GB, DDR4 SDRAM
Storage: 128 GB SSD
Network & Communication: IEEE 802.11ac, Gigabit Ethernet
Interfaces/Ports: HDMI, 2 USB 2.0 ports, 1 USB 3.1 ports
Battery: 4200 mAh Lithium Polymer
Maximum Battery Run Time: 7 Hour
Physical Characteristics: 14.3″ x 9.7″ x 0.7″
Weight (Approximate): 4.19 lb
What's in the box?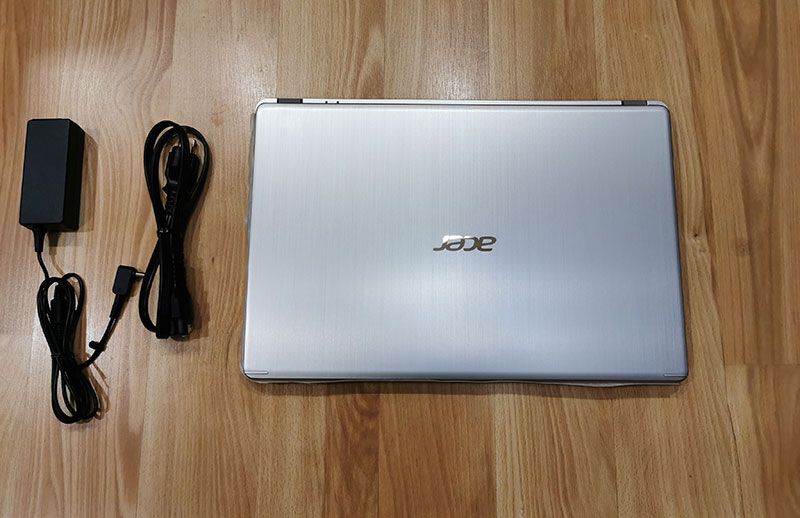 Aspire 5 A515-43-R19L Notebook
Lithium Polymer Battery
AC Adapter
For a little background before I dive into the review, I was a die-hard Windows person back in the day, but after 3 tries, I switched to a Mac and never looked back. I don't even remember why I wanted to make the switch back then, but since then, I've enjoyed using MacOS and I have really enjoyed my ultralight/small 12-inch MacBook which I bought as a refurb a few years ago.
The little MB is actually getting old (in computer years) and I've considered upgrading but haven't wanted to take a mortgage out on my home to buy a new MacBook. There's also the fact that Apple discontinued the 12-inch MacBook which is the one I'd buy. So the chance to try a newer Windows laptop as my main computer would be a good test.
I should also mention that I sit behind a Windows laptop all day long at my day job so I'm not a Windowsphobe by any stretch of the imagination.
Other than giving you some background on what I use as my daily driver, I'm not going to directly compare the Acer Aspire 5 to my 12-inch MacBook because that's like comparing apples to oranges. Sorry, I couldn't resist 😉
The Acer Aspire 5 is not a flagship laptop. It's Acer's entry-level model of the Aspire 5. But that doesn't mean that it's a hunk of junk. It's an affordable laptop with some nice features so let's get right to it.
Design and features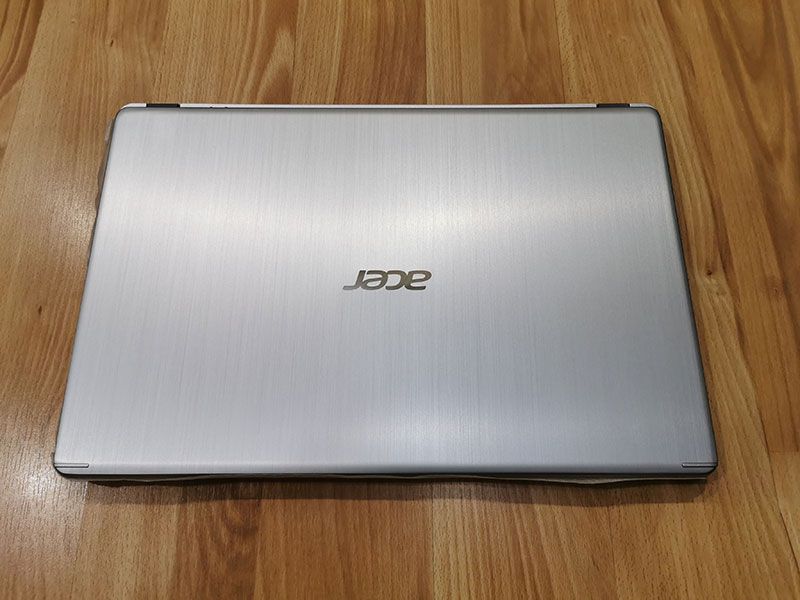 The first nice feature of this budget laptop is the sandblasted aluminum top cover which gives it a premium feel without the price tag that comes along with premium laptops.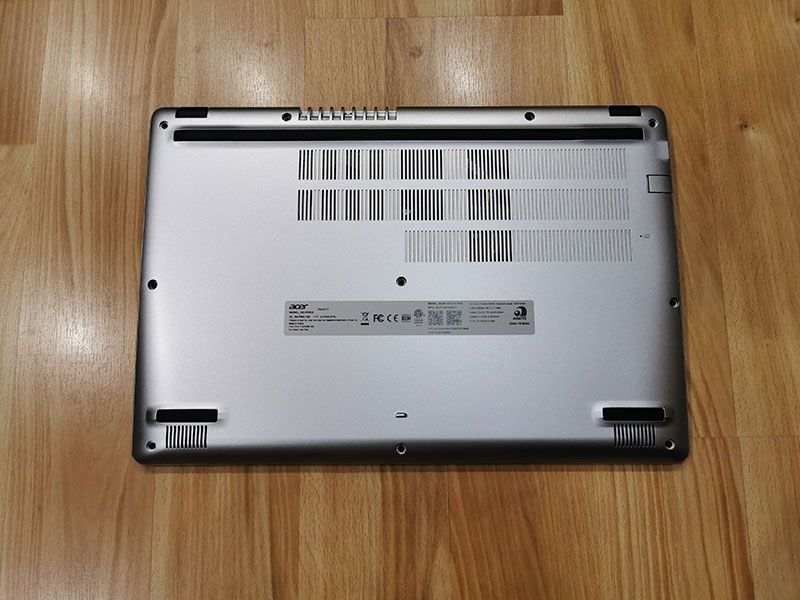 Flipping the laptop over reveals heat vents and rubber feet.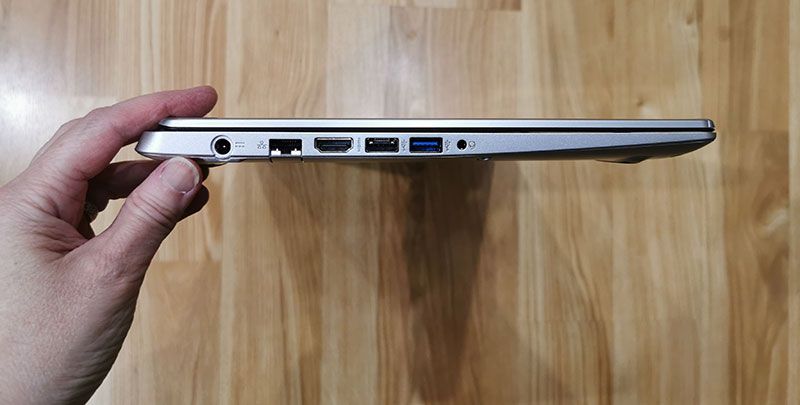 On the left side of the Aspire, you'll find the power port, Ethernet jack, HDMI port, a USB 2.0 port, a USB 3.1 port, and a headphone jack. You might think the Ethernet jack looks too skinny to fit a standard CAT5 plug, but the bottom part of the port is spring-loaded and it opens to accommodate the plug.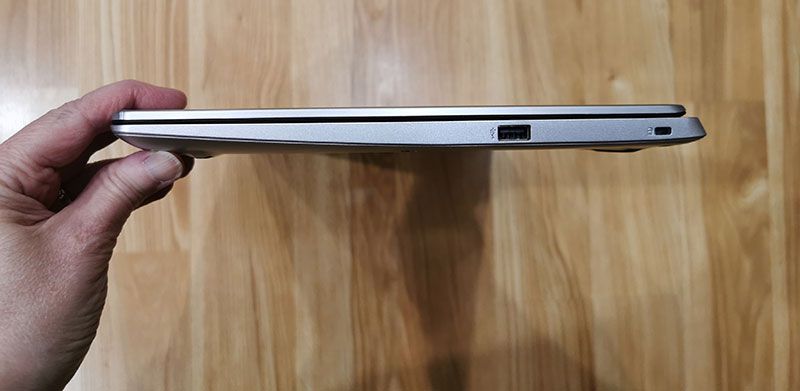 On the opposite side, you'll find another USB 2.0 port and a lock slot. As you've probably noticed, this laptop does not have any USB-C ports or the ability to charge using USB-C which I find a little disappointing.
The display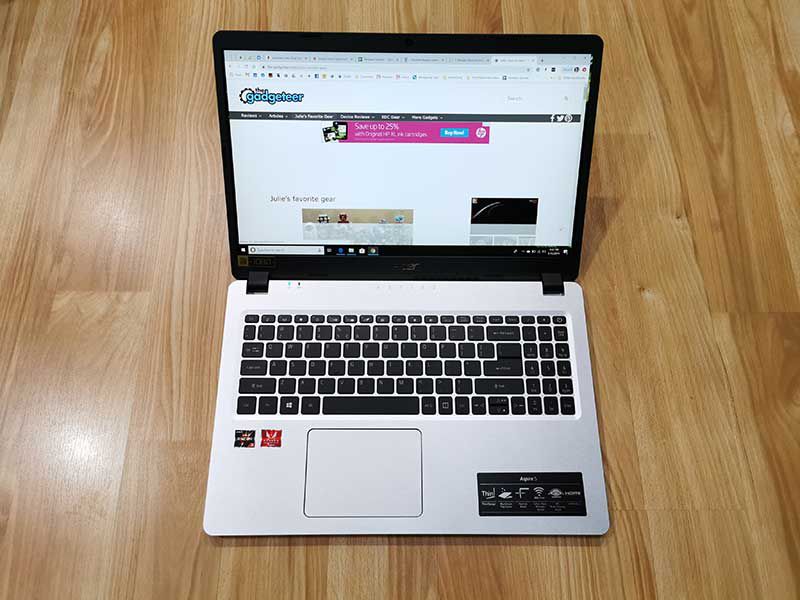 For a budget laptop, the Aspire 5 and decently thin bezels and a nice display bright and vibrant display. It's not a Retina display by any stretch of the imagination, but it's perfectly fine for everything I threw at it which included web surfing, YouTube, Netflix, Photoshop editing, etc. I did not try any games on this laptop since I'm not a gamer.
Using this laptop off and on for a few weeks has made me realize that I don't really need an external display when the laptop has a 15 inch screen. I've been used to the 12 inch display of my MacBook for so long that I forgot what it's like to to have a roomy workspace.
The keyboard and touchpad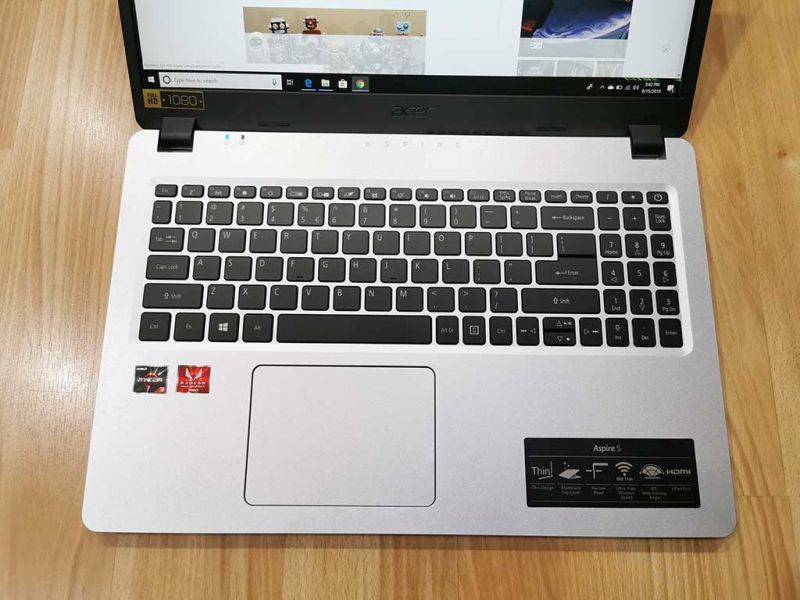 Then there's the keyboard. Take a close look. There's something I haven't seen in a while on a laptop – a dedicated number pad. As a touch typist, I find the Aspire 5's keyboard to be roomy and comfortable to type on. The keys are large and have good travel. I actually prefer it to my 12inch MacBook's keyboard!
The touchpad works fine but I'm a snob when it comes to touchpads, I think Apple makes the best touchpads and everyone else's touchpads can't compare. Yeah, I know I said I wouldn't compare this laptop to a MacBook… Sorry! That said, the touchpad on the Aspire 5 works just fine, but it does rattle a bit and it doesn't feel premium which of course is perfectly acceptable because this isn't a premium laptop.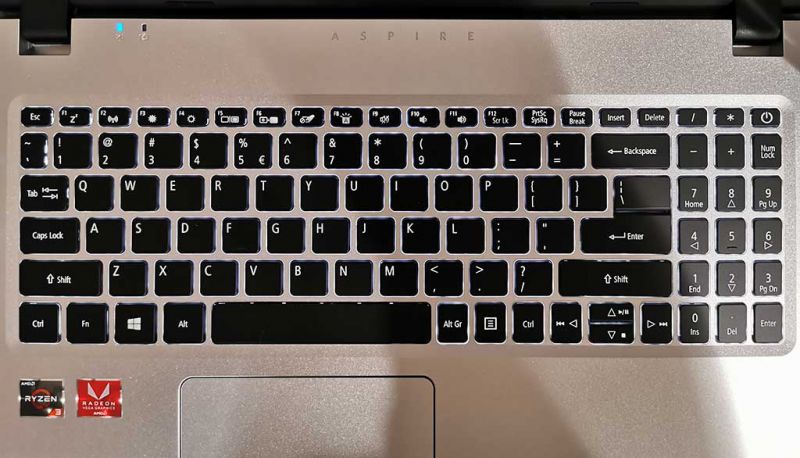 The keyboard has a backlight which is always a welcome feature when you're trying to work in dim light. The cool thing is that the backlight automatically comes on when you're in the dark, but not when you're in ample light.
Overall, I find the build quality of this laptop to be solid. I checked a couple of other reviews where people complained that the laptop was "wobbly" on a flat surface. I haven't found that to be the case at all. The Aspire 5 that I'm typing this review on right now is rock solid with no wobbles, flexing, or rattles except for the touchpad.
Audio
The laptop has built-in speakers that get the job done, but they sound mediocre at best.
Software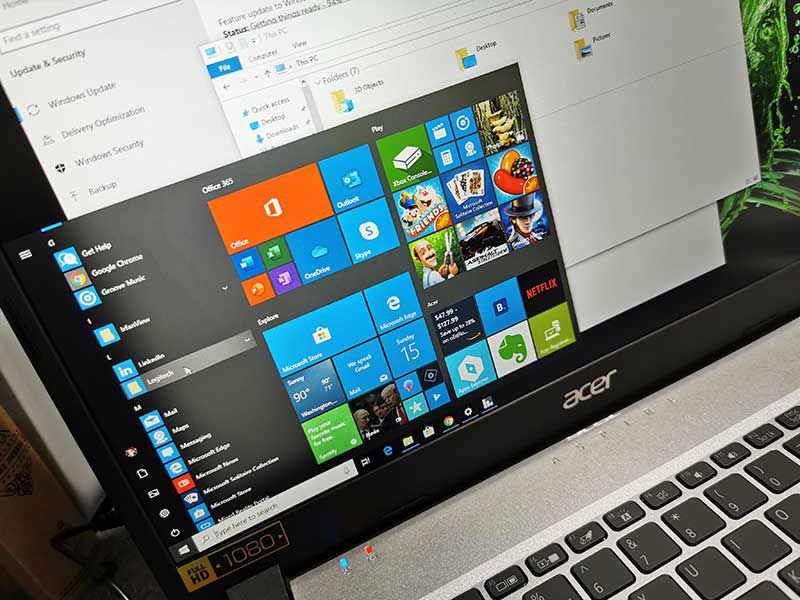 The Acer Aspire 5 runs Windows 10 Home and the laptop comes with some bloatware apps like Candy Crush, and a few other games, as well as Dropbox, Evernote, and a few other apps which you may or may not want or use. With only 128GB of storage space, I was down to 75GB free very quickly after installing my favorite apps like Filezilla, Adobe Photoshop, Wondershare Filmora video editor, IrfanView image viewer, and a few others.
Performance
I may be the Gadgeteer, but when it comes to computers, I don't consider myself a power user. When it comes down to it, I can do 90% of the work (and play) that I do on an everyday basis right in a web browser. For me, that's Chrome. The only other apps that I use quite frequently are Photoshop and a video editor, with the latter being not very often. So for the work that I do, the Acer Aspire 5 works just fine with no hiccups even when I'm doing light video editing.  The only thing I've noticed is that the fans run often even with regular web browsing. I don't like fan noise, so I find this to be annoying.
What I like
Affordable
Nice display
Good battery life
What I'd change
Needs at least one USB-C port
Improve heat dissipation so the fans don't run as often
Final thoughts
If you're looking for a laptop that won't break your back or your wallet, the Acer Aspire 5 is a nice option for shoppers on a budget (it's less than $310 on Amazon right now). It features a large display and a roomy keyboard in a package that weighs less than 4 pounds and unlike Chromebooks, you can load your favorite Windows apps. Acer makes a solid notebook that I'm happy to give two thumbs up to the Acer Aspire 5 Windows 10 laptop.
Price: $349.99
Where to buy: Acer and Amazon
Source: The sample for this review was provided by Acer. Please visit their site for more info.