We use affiliate links. If you buy something through the links on this page, we may earn a commission at no cost to you. Learn more.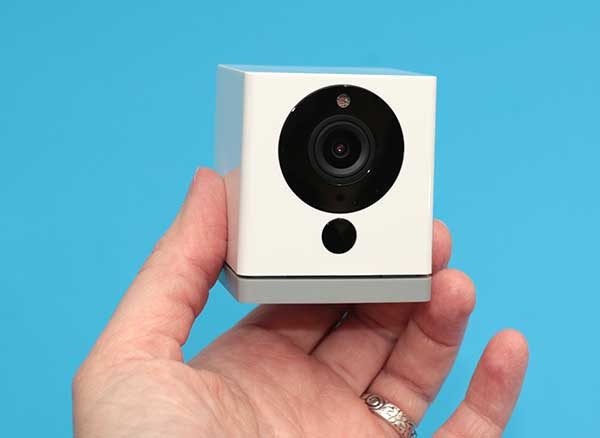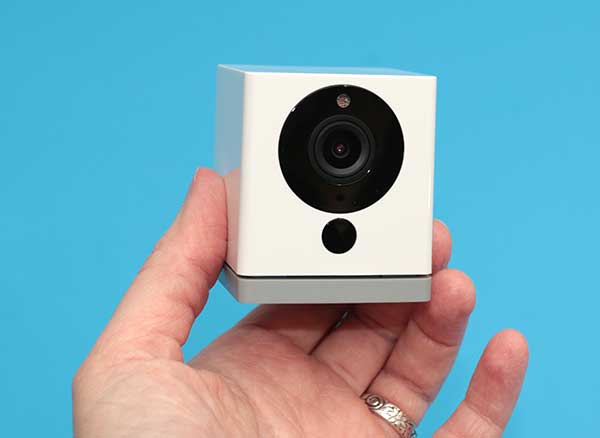 Would you believe me if I told you that you can have a home security camera that is priced at only $19.99 per camera AND there are no monthly subscription or cloud storage fees required? Yes, I'm serious. Let's check out WyzeCam.
What is it?
WyzeCam is a small 1080p home security camera that's crazy inexpensive but still has all the features of the big guys like Nest and even some features they don't have, all for only $20 per camera.
What's in the box?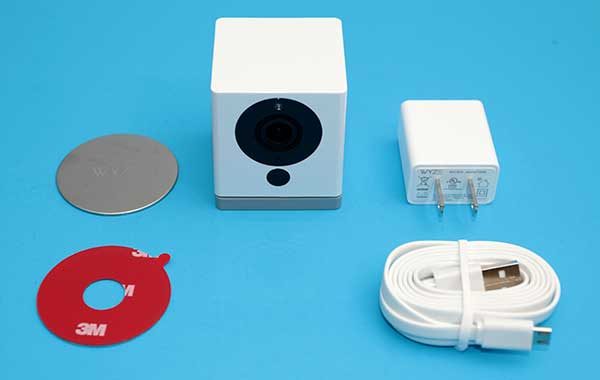 WyzeCam
Steel disk w/3M adhesive
USB cable (5.5-foot in length)
AC adapter
Hardware specs
2.8mm focal length
110 degrees wide angle lens
1920 x 1080 resolution
8x digital zoom
10fps recording
Night vision
2-way audio
Design and features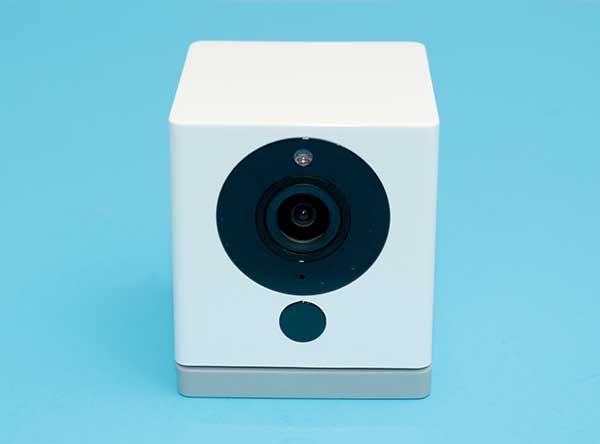 The WyzeCam is a small 2-inch white plastic cube with a grey base and a camera lens and IR sensor on the front.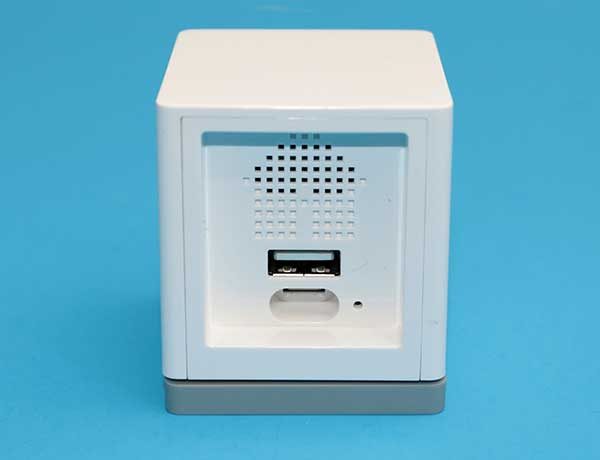 On the back of the camera is a speaker, a Type A USB connector, and a micro USB connector.
In a standard setup, you would connect the included micro USB cable into the micro USB port on the camera and then connect the other end into the included AC adapter.  The Type A USB connector allows you to daisy chain the cameras so that they can share one power connection. To do this, you would connect one WyzeCam the standard way and then connect the included USB cable with a 2nd WyzeCam into the back of the first WyzeCam.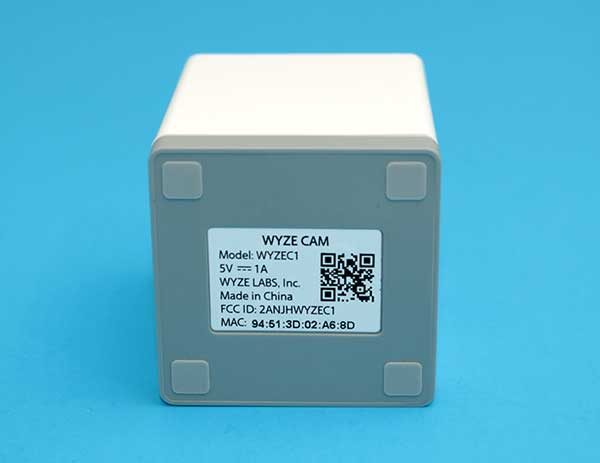 The base of the WyzeCam has a QR code that is used during setup.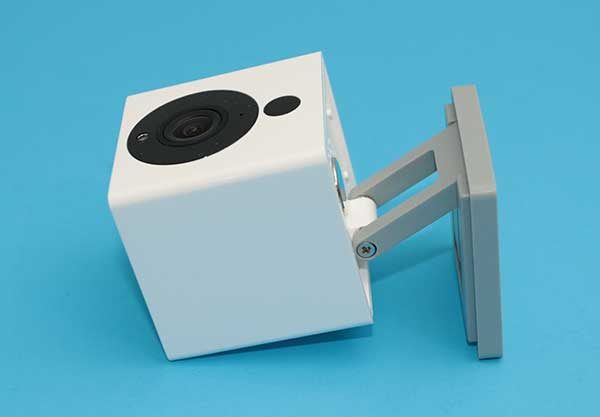 The base unfolds so that you can customize the viewing angle of the camera.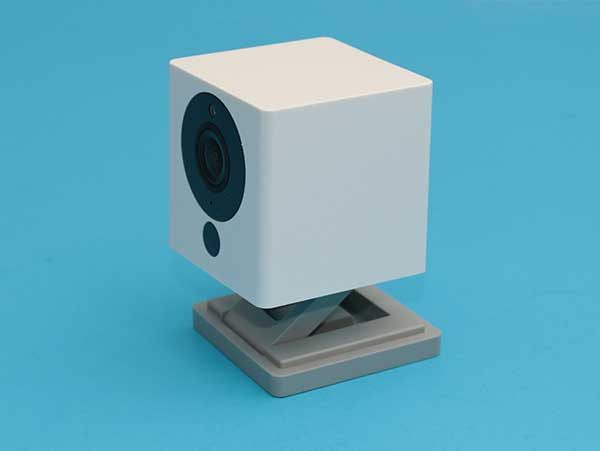 The base of the WyzeCam is magnetic, so you can attach the camera to any steel surface or you can use the included disk to mount the WyzeCam on a wall.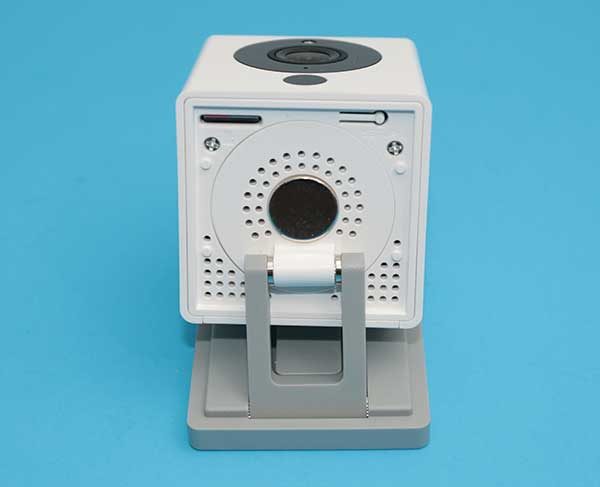 When you unfold the base, it also reveals the micro SD card slot that you'll use if you want the camera to capture video 24/7. Note that you have to supply your own micro SD card. There's also a button on the bottom of the camera that is used during the setup procedure.
Setup
The Wyze camera is one of the easiest security cameras that I've ever installed. All you do is install the mobile app, add a camera, power up the camera, and follow the screen and voice prompts. I had the first camera up and running within 2 minutes which I think is a record. Adding additional cameras is just as easy.
The WyzeCam app is similar to most other security camera apps. It gives you the ability to see a live view of the camera and customize settings.
The WyzeCam can notify you via your phone when it detects motion, sound, and even a smoke or carbon monoxide alarm in your home.
This camera can also record motion detection clips locally on a micro SD card (not included), or you can set it to continuously record to the card.
When motion is detected, the camera will save a short clip to the cloud which you can view through the app from anywhere in the world. These clips are saved for 14 days on the WzyCam servers and you're not charged anything for that service.
The camera's image quality is very good, as is the viewing angle.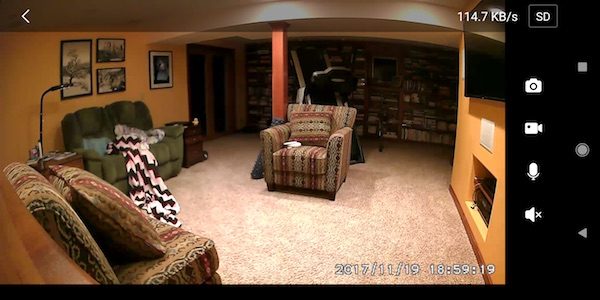 You can record action manually or snap an image by clicking the onscreen buttons in the live view window. You can also listen in on what is happening and have a two-way conversation using the built-in microphone and speaker.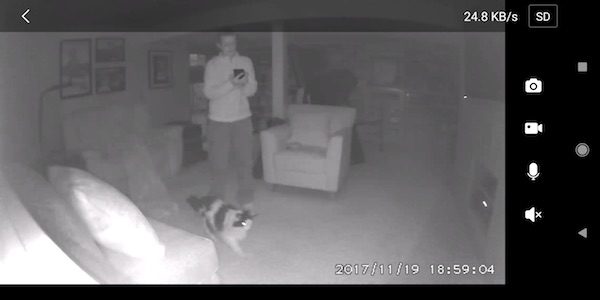 However, night vision is a little fuzzy compared to other security cameras that I've tested. but it's not bad enough to be a deal breaker.
In addition to watching a live stream from the cameras from a remote location, you can also watch past events if you insert a micro SD card into the camera. The WyzeCam even has a time-lapse feature that you can use to condense an entire day down to a few minutes. This is a feature that you have to schedule and you can only view the time lapse when you're on the same network as the camera.
Time-lapse video example
What I like
There's not much that I don't like about this camera. It's small, the price is affordable for anyone, it has good image quality, alerts you when it detects motion, sound, smoke alarms, CO alarms, provides two-way conversation feature, and is simple to set up.
What needs improvement
There are only two main things that stand out for me that Wyze needs to improve. One is that the application is a little flakey. When I launch the app, 7 times out of 10, it will freeze or not connect to the camera until I kill the app and restart it.
The other improvement that I'd like to see is with motion detection. Sensitivity even when set to the lowest setting is pretty high resulting in motion alerts for things like tree limbs moving or shadows from the sun. I would also like to see a motion trigger zone feature.
And one more thing that really isn't an improvement as much as it's a wish… It would be great if they come out with a water and weather-resistant camera for outdoor use.
Final thoughts
WyzeCam security cameras are an inexpensive way to outfit your home with live streaming cameras that will alert you to motion, sound, smoke, and CO alarms. For only $20 a camera, it's an obvious choice to go with WyzeCam over other security camera brands that cost 10x as much and lock you into a monthly fee to use their cloud services.
Update 03/07/18
I am still using 2 of these cameras in my house. I recently noticed that I was no longer receiving notifications for motion detection alerts and contacted their tech support. It took awhile to track down the problem, but it was finally narrowed down to a setting battery optimization issue in Android. If anyone else has this issue, I've pasted the solution below. I do still have regular issues with the app needing to be restarted, but I continue to deal with that because I really like the WyzeCams for their affordability, great image quality, and no monthly cloud storage fees.
In Android Marshmallow(6.0) or higher, there is a feature called Doze Mode that prevents applications from running if your phone is idle for an extended period of time.
This setting prevents the push notifications from appearing due to the phone closing the Wyze application's process.
To fix this:
1. Open your phone's settings and tap Battery
2. Tap the More Options button (the three dots in the upper right)
3. Tap Battery Optimization and then select All apps from the drop down menu at the top of the screen
4. Tap the Wyze app and when the box appears, select Don't optimize
5. One you're done with this, tap Done
Update 01/16/19
I'm still very happy with my WyzeCams and have purchased 2 of the version 2.0 cameras and 2 of their latest pan and tilt cameras. I've even helped my neighbor setup several for his home and at an airport where he works. I like that the firmware for the cameras and app are frequently updated. The only thing that could make WyzeCam even better would be for them to create an outdoor version.
Update 7/23/19
The latest firmware for the version 2.0 cameras have added person detection to the motion detection and notification features. This is really helpful because the notifications will tell you if a person has been detected instead of just a generic motion detection message. You also now have the ability to just see the motion events where a person has been detected.
Wyze impresses me with their continued updates and improvements. Not to mention adding more sensors to their product line like their Wyze Sense sensors.
Source: The sample for this review was provided by Wyze. Please visit their site for more info. Amazon also sells them, but for some reason, they are more expensive than buying them right through Wyze.