We use affiliate links. If you buy something through the links on this page, we may earn a commission at no cost to you. Learn more.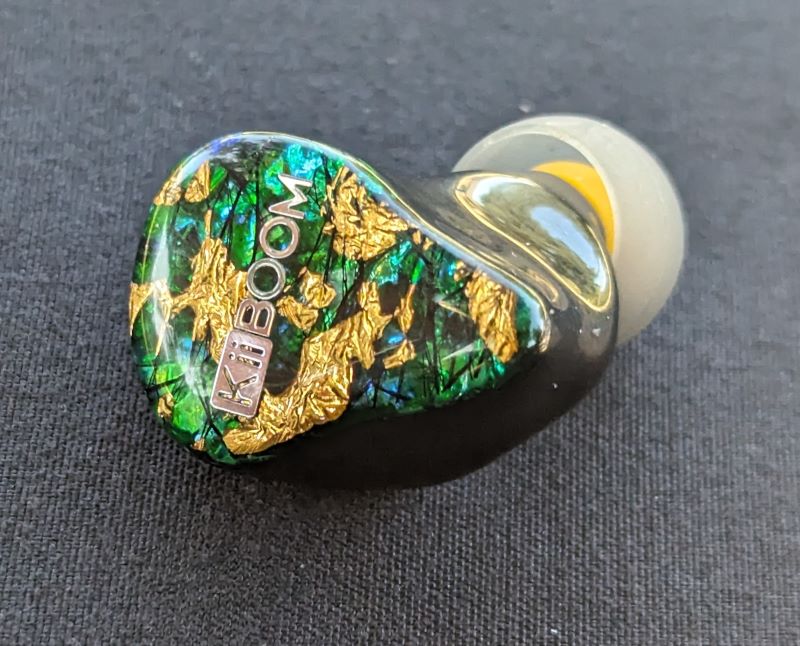 REVIEW – I listen to music every day. I mean every day. Most of the time I'm in my office listening on some nice desktop audio monitors. Sometimes I use some Audio Technica over-the-ear headphones or a set of earbuds.  I have an old pair of Shure buds that I've had for over a decade and they're still going strong.  I've given up on Bluetooth wireless earbuds. I can never find a pair to seal in my ears the way I want. The battery life isn't long enough. I hate waiting for them to recharge. Being a Gadgeteer, I'm always looking for the next best thing. What's even better is when you find something most folks have never heard of but should really know about. One of those gadgets is the KiiBOOM Evoke in-ear monitor. If like me, you like wired ear buds or even better, IEMs, read on. I may have found your next set.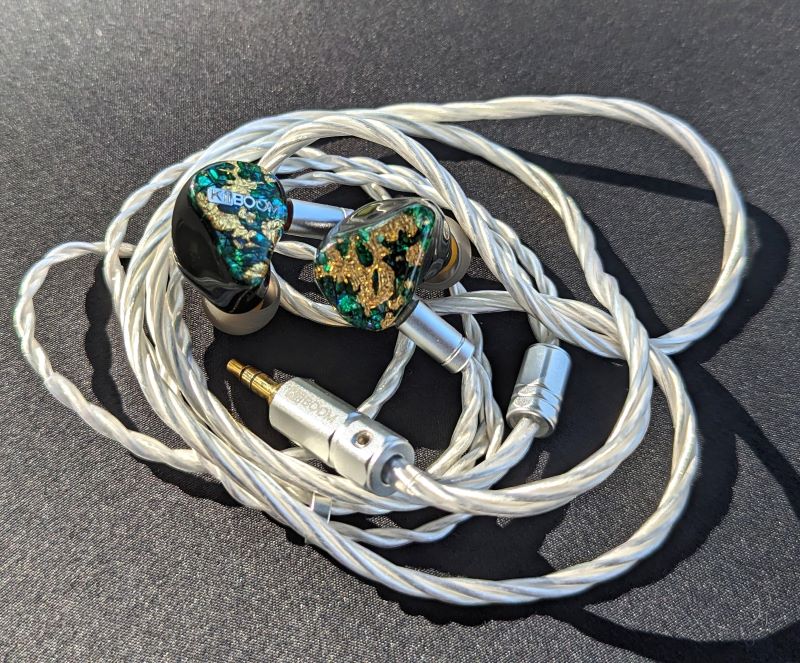 What is it?
The KiiBOOM Evoke is a hybrid in-ear monitor designed using the combinations of a single dynamic driver for bass, a full range balanced armature driver for mids, and a micro tweeter balanced armature for the upper trebles.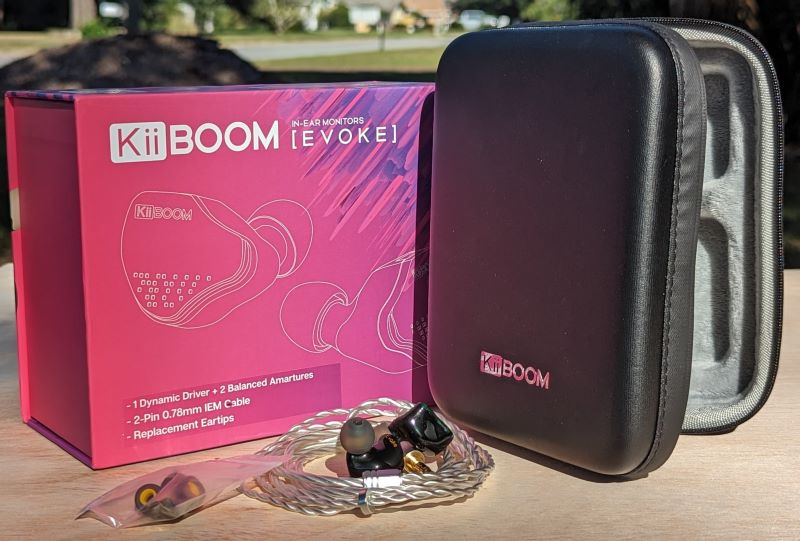 What's in the box?
You can remove this heading and section if it doesn't apply to your review.
KiiBOOM Evoke IEMs
Humongous storage case
IEM cable
3 sets of silicone ear tips
Hardware specs
Driver – 1 – 10mm Dynamic driver, liquid-crystal polymer, 2 – Balanced armatures
Impedance – 15 Ohm
Sensitivity – 108 db
Frequency response – 20hz – 44khz
Cable – 4-core Oxygen-free copper
Design and features
The first thing you'll notice about the KiiBOOM Evoke IEMs is the looks. The ones I received are what they call Emerald and along with the striking greens and blues, the gold flakes certainly make them eye-catching. They also offer them in Jade and Jacinth. They all look great but I like the Emerald best. The housings are 3D printed, medical grade resin, the same type used in some hearing aids, making them extremely durable. The finish of each shell is sanded, polished, and finished by hand.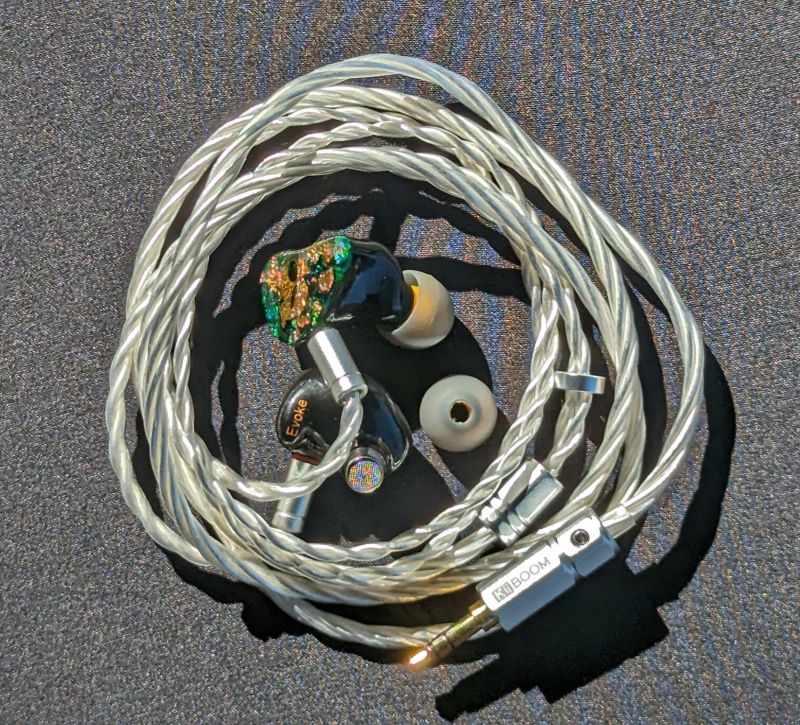 The cable included with the KiiBOOM Evoke is constructed of 4-core oxygen-free copper woven into an oxygen-free enclosure. I'm assuming the oxygen-free environment keeps the copper from corroding thereby lengthening its lifespan.  If there are any audio benefits from it, I couldn't tell you. I'm a budget audiophile at best. The cable also has a 2-pin connector for each of the IEMs allowing you to swap out cables should you ever want to.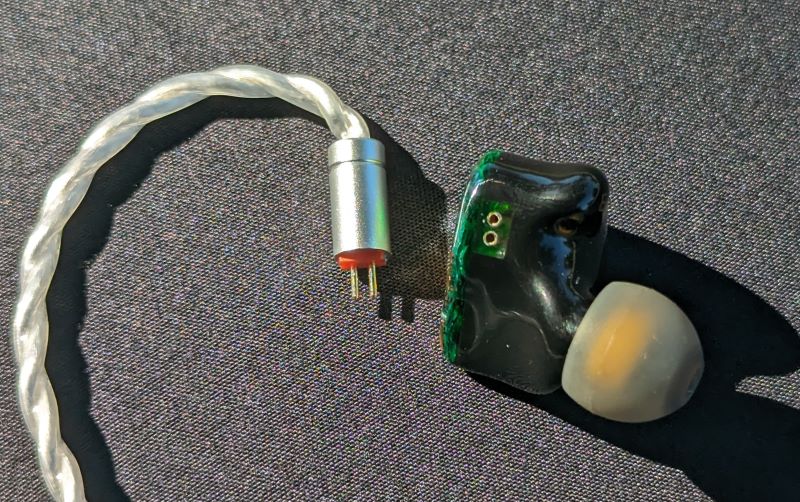 The Evoke IEMs use a 10mm dynamic driver with a liquid-crystal polymer membrane to give the bass just the right amount of punch without muddying everything up. It's not too much bass that your head vibrates with every beat but you can feel it. According to KiiBOOM, Evoke IEMs have been engineered to offer a studio-monitor-like tonal signature, likening it to a studio monitor with a subwoofer for your ears.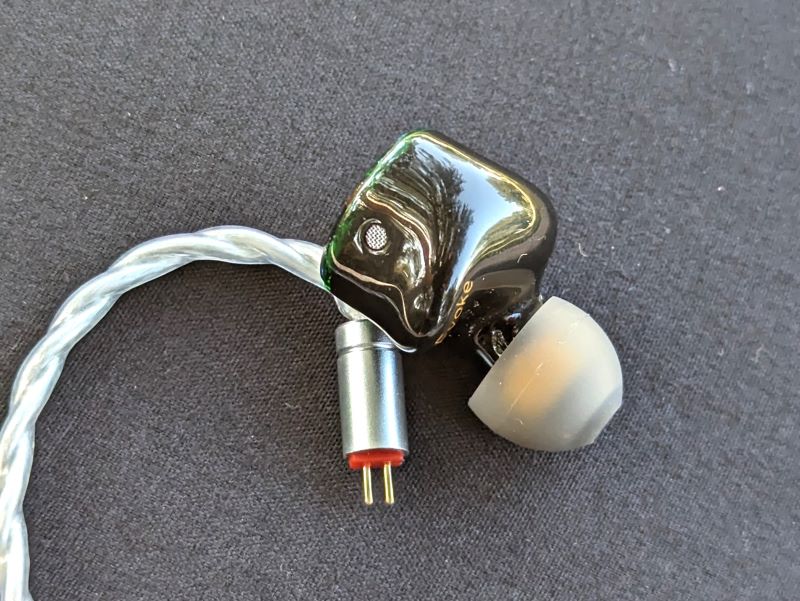 If you're interested in graphs, I've included one from KiiBOOM's site showing the Evoke response. I hope this helps you if you're considering getting yourself the Evoke. This means absolutely nothing to me and I freely admit it.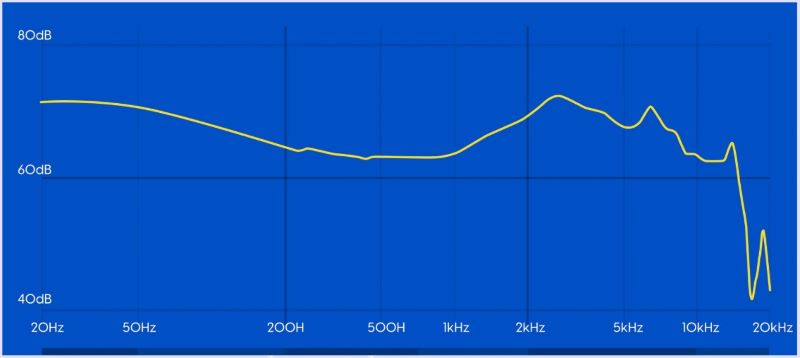 The KiiBOOM Evoke IEMs have not 1 but 2 Knowles balanced armature drivers encapsulated in that cool resin shell, 1 for mids and 1 for highs. They state that using separate balanced armatures allows greater control to achieve natural and detailed music presentation.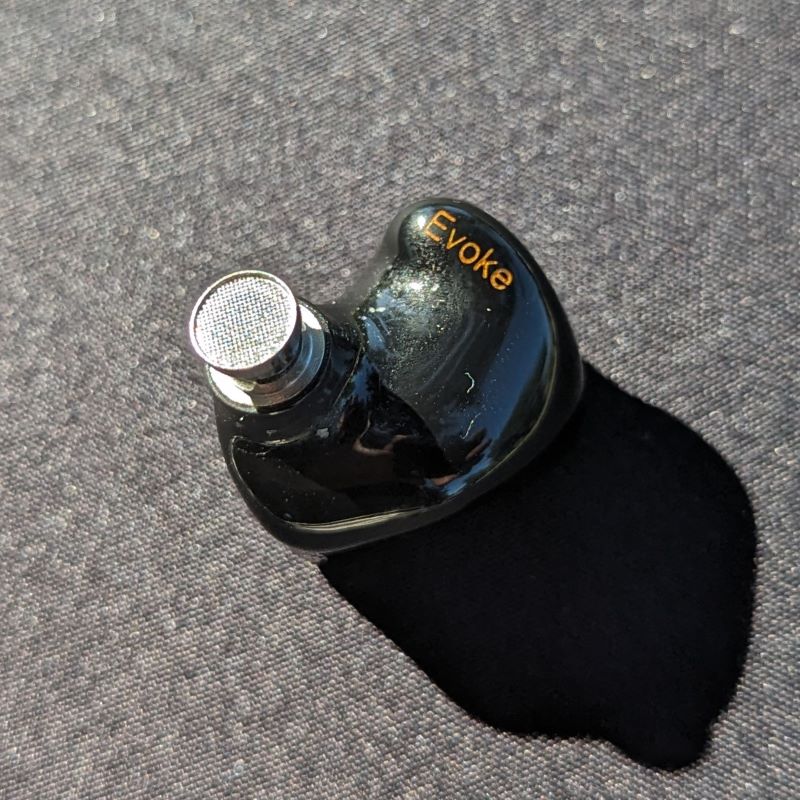 KiiBOOM has included a storage case that will certainly protect the Evoke IEMs while you aren't using them. The thing is huge when compared to the IEMs themselves.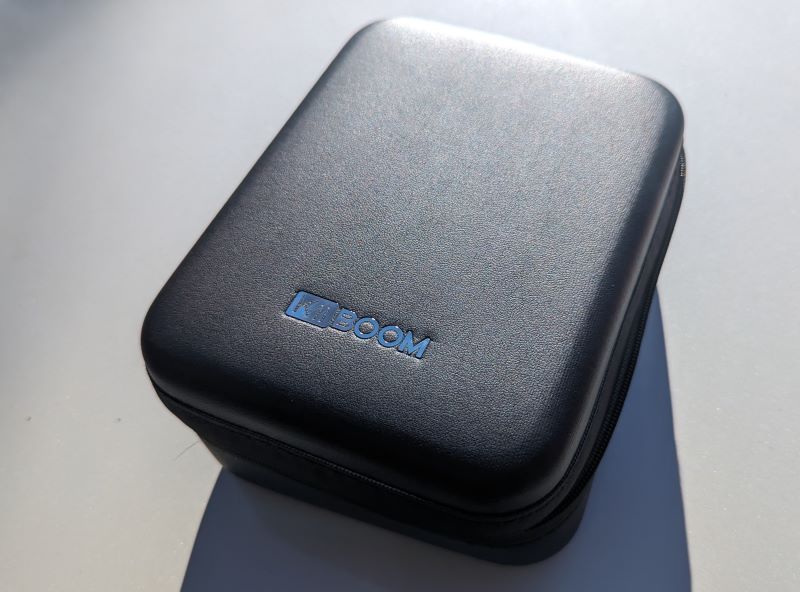 I mean it looks nice and well-constructed but why in the world do I need a case that large? This thing is roughly 6.5″ long, 5″ wide, and about 3″ thick.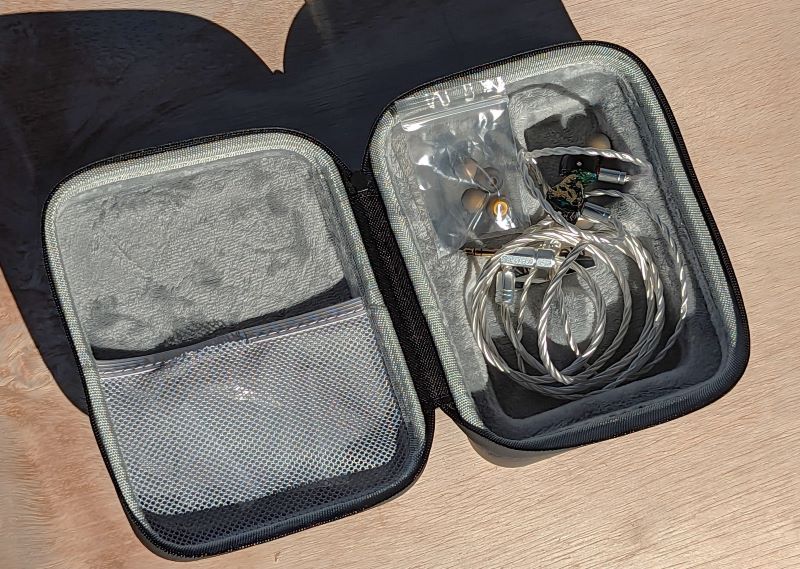 It's overkill, to say the least.
Performance
So what do the KiiBOOM Evoke in-ear wired earbuds sound like? One word, amazing. I was honestly blown away when I first put them in my ears. The sound is full and rich. Everything sounded just right to me. Bass was punchy and not overpowering. Mids were clear and the highs were crisp, not tinny. I finally get what people mean when they talk about a headphone/IEM soundstage.  Normally, the music plays within the space between my ears. The KiiBOOM Evoke takes the music outside of my head. With every other headphone or earbud I've tried, the music has always lived between my ear drums. With the Evoke, the soundstage seems to have expanded just past my ears, giving me a larger room. I hope that makes sense. The best way I describe it is like listening to your favorite band in a bar or club, and then hearing the same set in a concert hall or theater.  It really is that dramatic of a difference.
I listen to a variety of music rock, country, blues, R and B, and rap not to mention movie scores when watching movies. One of my favorite bands is The Black Crowes. The Evoke IEMs allowed me to hear reverb in Chris Robinson's vocals where I'd never heard it before. All the music I listen to now is richer and fuller and I'm hearing things I'd never heard before. Watching movies with them is also a treat. I love watching movies and with the larger soundstage, it feels more immersive. Hearing sound effects further out from just inside my head was fantastic.
The only thing I don't like about the Evoke IEMs is the silicone ear tips.  They slowly work their way out of my ears, then I lose that seal. Once it's lost, everything sounds thin and airy, which makes sense. To get around that, I replaced the silicone tips with some foam ones I had and I'm glad I did. Now if Evoke would off some of those in the package, I think they could make a lot more people happy.
What I like
Build quality
The Sound!
Replaceable cables
What I'd change
A more size-appropriate case
A wider selection of ear tips
Final thoughts
I want to reiterate here that I'm no audiophile. I don't have tons of equipment to use to compare the KiiBOOM Evoke with other IEMs. I don't follow any audiophile forums and I certainly don't understand all the jargon and graphs. I can only tell you what I think based on my experience with the Evoke and it's most definitely been a positive one. I'm giving my wife the Shure buds I have, I've given my kiddos the Bluetooth buds, and I've hung up my Audio Technica ATH-m50s. With the addition of the foam ear tips, I'm quite happy with only using the Evoke IEMs for the foreseeable future. I wouldn't say they're cheap but they also aren't as much as you could spend on an inferior pair.  If you're ok with wires, possibly needing alternative ear tips, and forgetting the case altogether, the KiiBOOM Evoke IEMs are definitely worth the money. If you decide to get them or have the chance to test them, I hope you're as amazed as I was the first time I put them in my ears.
Price: $199 for Emerald, $169 for Jade and Jacinth
Where to buy: KiiBOOM and Amazon
Source: The sample of this product was provided by KiiBOOM.