We use affiliate links. If you buy something through the links on this page, we may earn a commission at no cost to you. Learn more.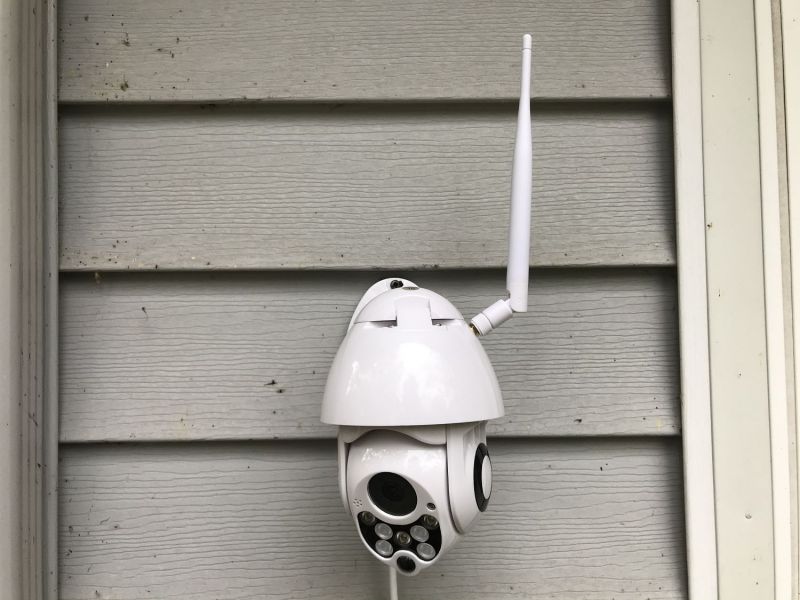 REVIEW – I've reviewed a couple of security cameras in the past, but none of this particular design form factor. I thought I would take my chances on the Mbuynow WiFi Outdoor Security Camera and see just how it compared to the others.
What is it?
The Mbuynow WiFi Outdoor Security Camera is a cloud-connected security camera.
What's in the box?
Cloud Camera
Mounting Hardware
User manual
Hardware specs
HD 1080p
128GB SD card slot
Pan 350, tilt 90
Two-way Audio
Remote View
Motion Alarm
IP 66 Weatherproof
Night Vision
Video Playback
Design and features
The Mbuynow WiFi Outdoor Security Camera has a pretty decent list of specifications. 1080p recording, night vision, and motion detection are just a few of the features that make it appealing.
The camera supports capturing video, still images, scheduled on/off times, phone and e-mail notifications, and cloud storage options.
The camera seems reasonably well designed, although the listing describes it as "made with aluminum alloy, which means the motion security camera is strong enough to withstand rough weather and Vandal Resistant, even in the storm and snowy weather." – None of the outside of this unit is aluminum; it appears to be entirely plastic.
The camera is designed to be used with an iPhone, Android device, or their website. The camera can also accept an optional SD card up to 128GB capacity. Access to the SD card slot requires the use of the provided screwdriver to open a door in the back of the camera. I don't really mind this feature, as it's hidden and might not be noticeable to someone wanting to steal the card but not the camera.
The camera has three cords that stick out of the mount of the unit: power, reset, and network. The reset button cord has a cover over it, but there is no cover for the network cable connection. The power adapter that comes with the unit has a 46-inch cord, which means you'll either have to run an extension cord or be limited on where you can mount it.
The WiFi strength does seem very good though, and I was able to connect from a further distance than my deadbolt door camera.
The Amazon listing, user manual, and mobile application suffer from very poor english translation, hence the Amazon listing images calling it a "Doom Camera", and the box calling it a "Outdoor cradle mini ball machine." The listing also lists the waterproof rating as IP 65 and IP66 which is confusing since it can only be one of them. The listing states, "You can Set/Block specific zooms of motion detection to avoid false alarm." but I could not find any such feature in the app or website. The poor translations also make it difficult to clearly understand the directions in the setup steps.
Setup
Setup wasn't very easy for me. The camera has several modes to add a camera. I initially tried to connect via QR code, but I never did get that to connect. I tried several times, and even had to unplug the unit for some time to get it to be able to reset it. Next, I tried the wireless access point method, which after several attempts, I did get to work.
Once connected, the unit performed fairly well through the mobile app, but the website viewing of the camera would often stop working, and I had to refresh the page to get the live view and camera controls to work again.
I liked the ability to make position presets and the ability to view the video full-screen on my phone. The motion and sound detection worked reasonably well, as well as notifications for those. The motion tracking worked as long as the object moves slow enough. Walking close to the camera would start the tracking but would stop when I was out of frame because it can't move fast enough.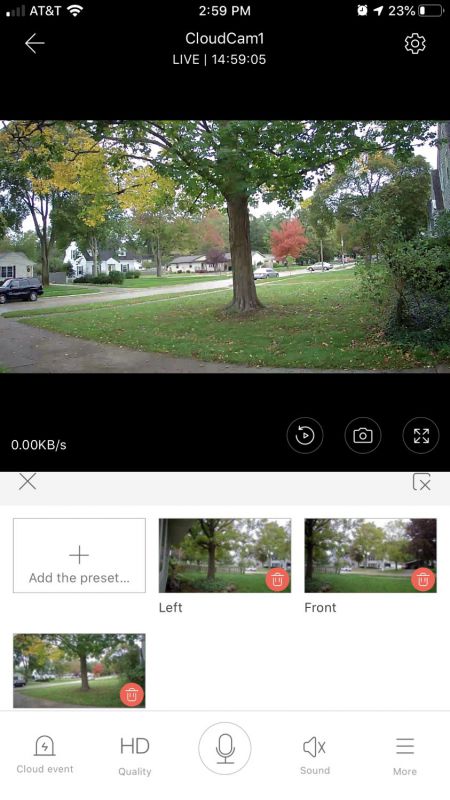 Another thing I did like was the ability to swipe left, right, up, or down on the mobile device to turn the camera.
Something I didn't like was that there is no way to turn off the white light LEDs that turn on when motion is detected at night. There's a setting for "Night vision", which uses the infra-red LEDs, but the white light LEDs also come on which is quite a problem if you do not want to draw attention to the camera.
The motion detection is a bit too sensitive, and often sends alerts (when notifications are turned on) when no apparent motion was detected.
What I like
Presets for camera location (mobile device only)
WiFi strength seems very good
Swipe to position camera with a mobile device
What I'd change
There's no cap on the Network cable connector
46″ power cable too short
No preset function through website
Website functionality often did not work for very long without freezing
No way to turn off visible light LEDs
Final thoughts
This is a tough one. Although this camera does some things well, it stumbles on other features, especially the viewing from a PC. Working from my basement home office, I was hoping I could just run this on my PC while waiting for a package or visitor to arrive, but the browser viewer stops working quite often after just a minute or two. The mobile app works just fine though.
Updates 11/25/19
After just short of two months of use my Mbuynow WiFi Outdoor Security Camera has stopped working. The LED's come on and stay on, but the camera does not function. I have not been able to reset the unit.
I tried contacting MBuyNow support via their website contact form, but their form fails when trying to send it. Next I tried to send an e-mail to their sales address listed on that same form and I received a mail delivery failure reply from their system.
Price: $98
Where to buy: Amazon
Source: The sample of this product was provided by Mbuynow.