We use affiliate links. If you buy something through the links on this page, we may earn a commission at no cost to you. Learn more.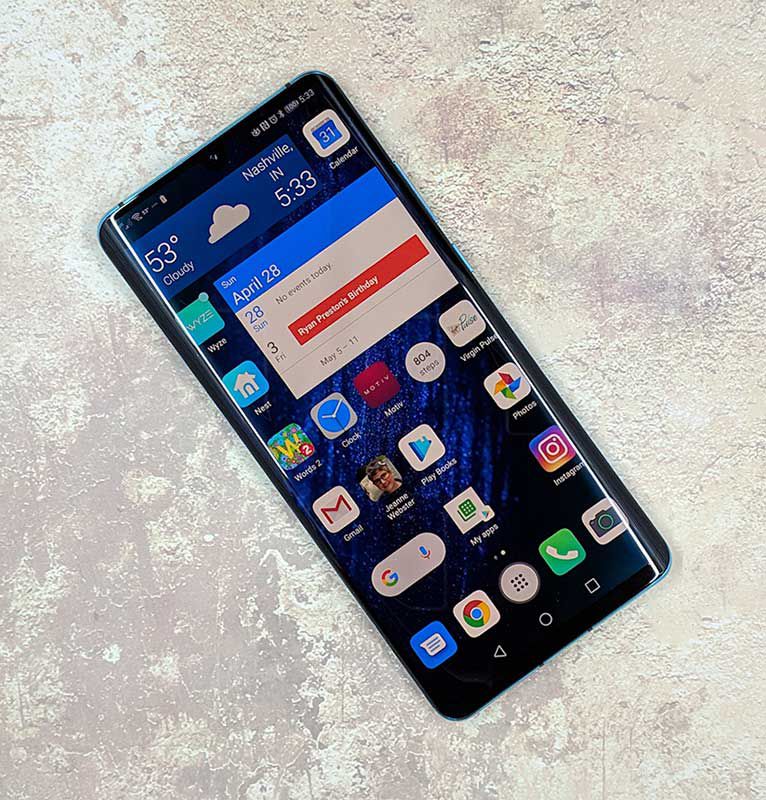 REVIEW – I purchased the Pixel 2 XL back in October of 2017 and liked it quite a bit. But WiFi and Bluetooth connectivity issues had me trying alternatives over and over again only to go back to the Pixel because I couldn't find a phone I liked better enough to spend the cash. I'm happy to say that after trying the Samsung Galaxy S10+, Pixel 3 XL, Essential Phone, The iPhone X Max, and others, that I finally found a phone that I've stuck with… the Huawei P30 Pro. Let's take a closer look.
What is it?
The P30 Pro is Huawei's flagship Android smartphone.
Hardware specs
Processor: HiSilicon Kirin 980 Octa-core, 2600 MHz, ARM Cortex-A76 and ARM Cortex-A55, 64-bit, 7 nm
OS: Android (9.0 Pie), Huawei Emotion UI
Cellular: LTE (FDD): Bands 1, 2, 3, 4, 5, 7, 8, 9, 12, 17, 18, 19, 20, 26, 28, 32
LTE (TDD): Bands 34, 38, 39, 40
UMTS: 800, 850, 900, 1700/2100, 1900, 2100 MHz
GSM: 850, 900, 1800, 1900 MHz
Data: LTE-A, HSDPA+ (4G) 42.2 Mbit/s, HSUPA
GPU: Mali-G76 MP10
Screen: 6.47-inch, 19.5:9, 398 ppi (1,080 x 2,340)
RAM: 6GB/8GB
Storage: 128GB/256GB/512GB
Bluetooth: 5.0
Wi-Fi: 802.11 a, b, g, n, ac, dual-band
Battery: 4,200 mAh
Cameras: 40MP + 20MP + 8MP rear + ToF / 32MP front
Dimensions: 158 x 73.4 x 8.4mm
Weight: 192g
What's in the box?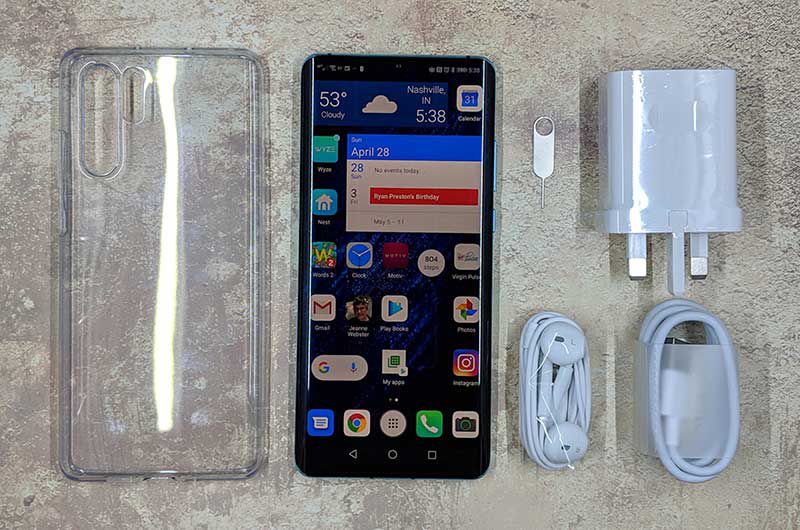 Huawei P30 Pro
Protective case
USB charger (UK version) and USB cable
USB-C earbuds
SIM removal tool
Design and features
My first impression after taking the P30 Pro out of the box was that it reminded me a lot of the Samsung Galaxy S10+ due the curved sides of the display and sleek style. The top of the phone is all screen and there are also no buttons other than the virtual nav buttons. There isn't even a speaker grill for your ear, but I'll talk more about that later.
The back of the phone has a long camera bump with 3 lenses. Next to the bump is an LED flash and a ToF camera. What's a ToF camera? This article on Pocket-lint explains it pretty well.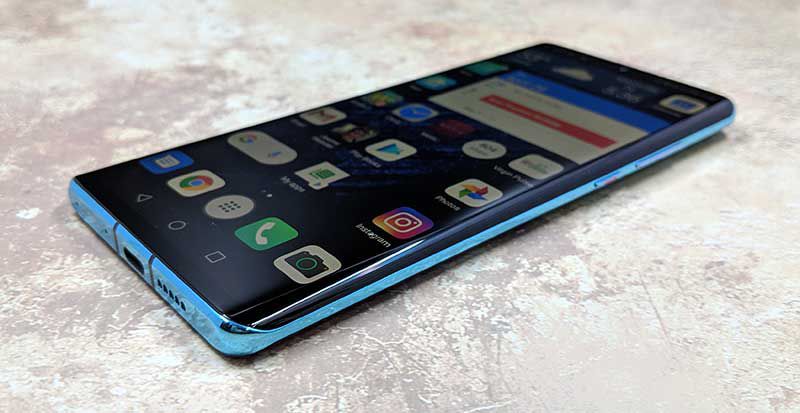 The left side of the phone is buttonless, while the right side has a one-piece volume button with a power button below it.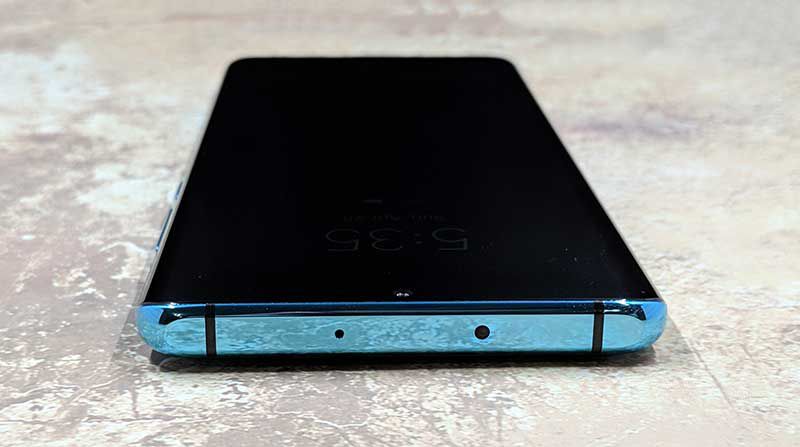 Along the top edge of the Huawei P30 Pro, you will find a microphone and an IR transmitter so that you can use the phone as a universal remote using the included Huawei Smart Remote app and your AV equipment.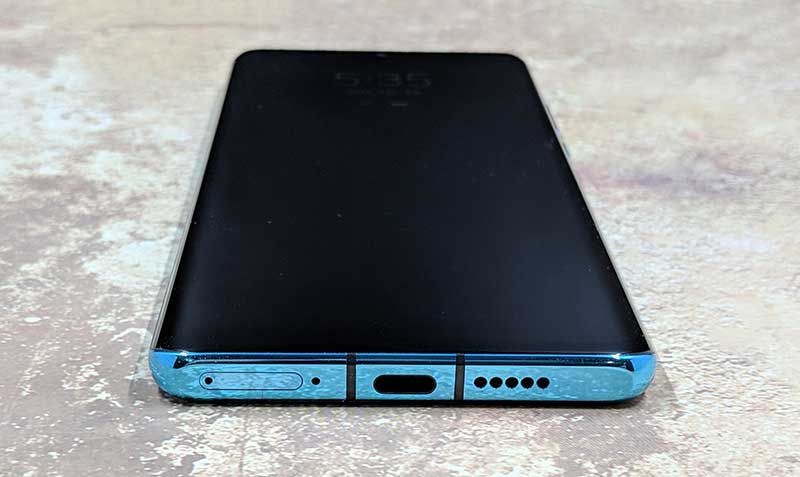 On the bottom edge of the phone is the SIM card tray, another microphone, the USB-C port, and the speaker.
The SIM card tray has two sides, one side is for your regular SIM card and the other side can hold Huawei's proprietary nanoSD card.
Display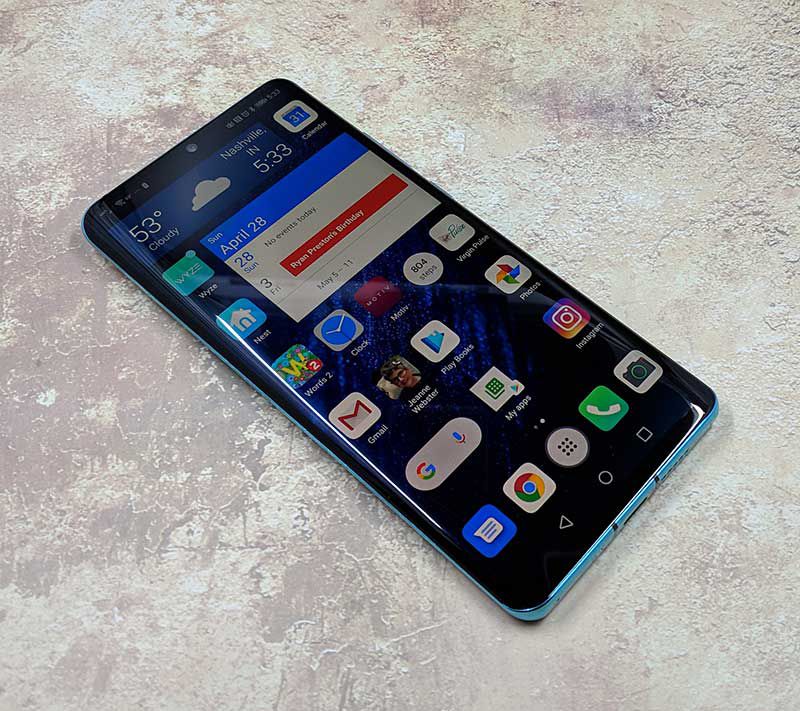 Unlike the Huawei P20 that I reviewed last year, the P30 Pro does not come with a pre-installed screen protector which would have been a welcomed feature due to the curved edges.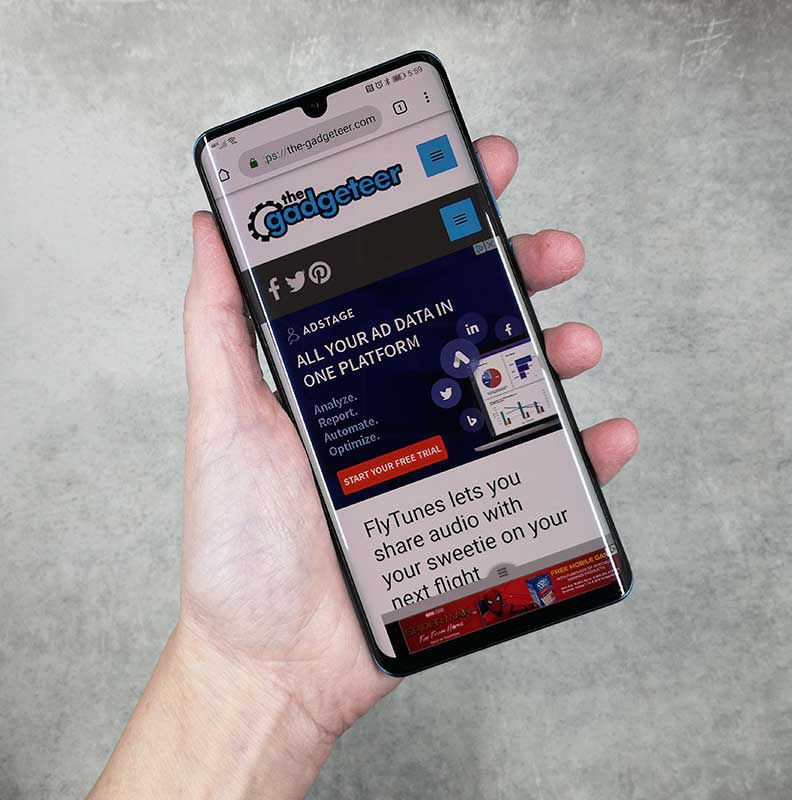 The P20 Pro's screen is bright, vibrant, crisp, and clear to my eyes. It has a small teardrop-shaped camera cutout in the top center of the display that doesn't bother me in the least.
If you dive into the display settings, you'll find options to turn on a blue light filter, manual adjustments for the color mode that allow you to switch between normal and vivid modes and color temperature settings of default, warm or cool settings. You can also manually choose between the screen resolution of HD+ which is 1550 x 720 or FHD+ which is 2340 x 1080. Or you can toggle Smart resolution which will automatically lower the resolution to save power.
Fingerprint reader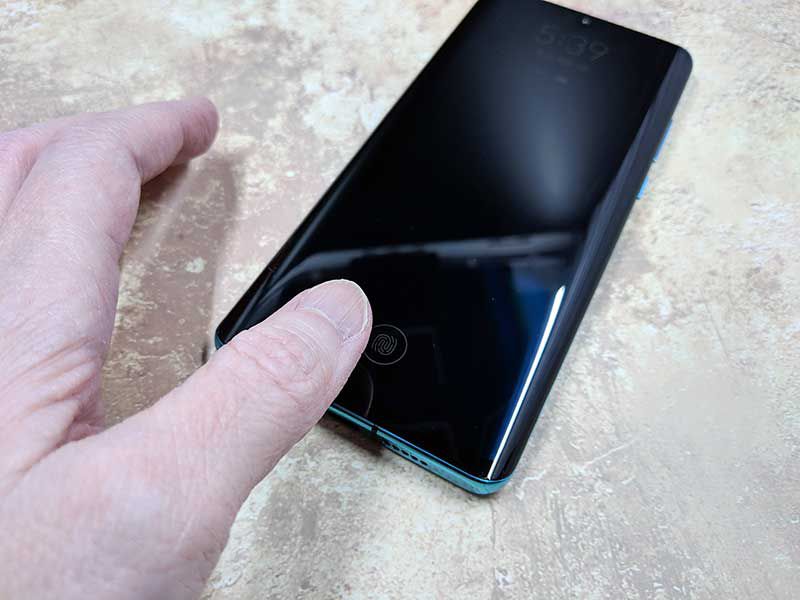 Several months ago I bought the Samsung Galaxy S10+ to replace my Pixel 2XL. The phone was really nice, but the reason I ended up sending it back was the in-screen fingerprint reader. It didn't work at all for me. So when I read that the P30 Pro also had an in-screen fingerprint reader, I was pretty sure the experience wouldn't be any different from the Samsung's. I'm happy to say that I was wrong! The in-screen fingerprint reader on the P30 Pro is AWESOME and works 99% of the time for me which is unheard of when it comes to me and fingerprint readers.
The P30 Pro also has face recognition, so if for some reason it can't read my thumbprint, my face unlocks the phone. I couldn't be happier.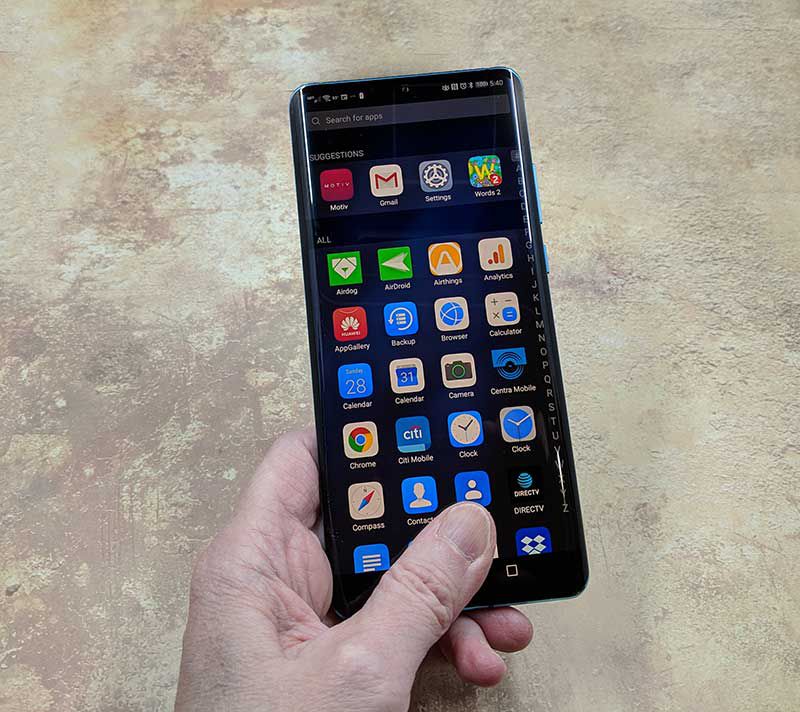 When it comes to the look and feel, I can't complain about the P30 Pro. Although I don't care about curved screens, it hasn't caused me any issues. This phone is well made with a solid feel and premium look and feel. I can't crush it when I do my Gadgeteer squeeze test, so I think it's built to last.
I even dropped from about 3ft onto the concrete floor in my garage this week and it survived with only two scuffed corners – I didn't have it in a case at the time. My bad. The next day I put the free case that shipped with the phone back on it.
Camera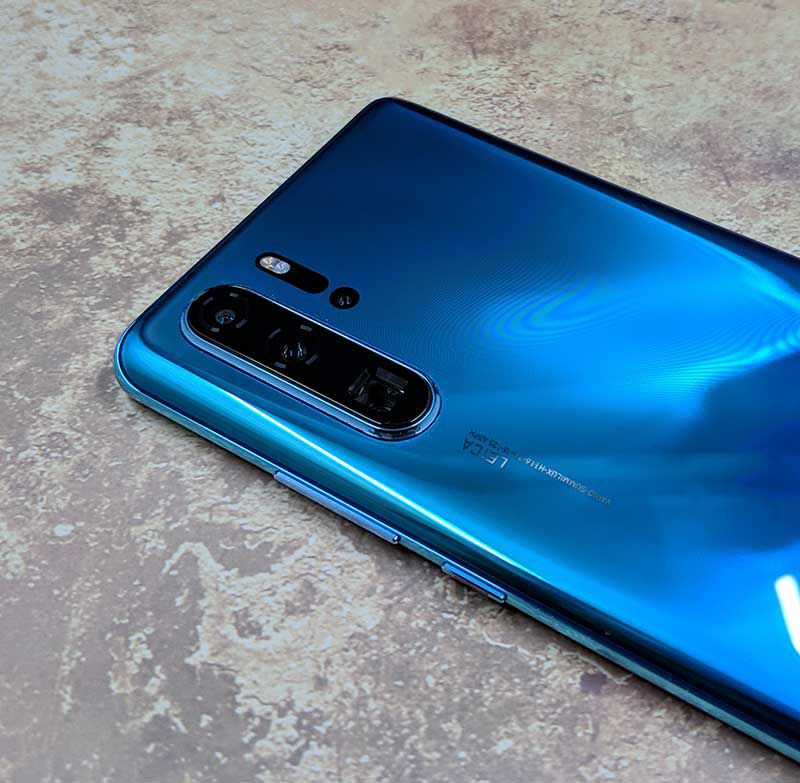 The Huawei P30 Pro has a unique camera setup. On top is the 20MP ultra wide angle lens with a 40MP SuperSpectrum camera below that, and a horizontally placed 8MP periscope telephoto lens at the bottom. Next to that trio of cameras is an LED flash with the tiny ToF camera below that. The ToF camera helps with portrait mode pics.
Zoom!
The 5x zoom on this camera is pretty impressive. Check out the pics above which I took a couple of weeks ago during a vacation to Red River Gorge in Kentucky. Note that if you zoom in to the max, that it's pretty tough to find your subject when you're zoomed in that far and details definitely suffer. A tripod is really needed if you plan to use the zoom feature.
Wide angle
32GB selfie cam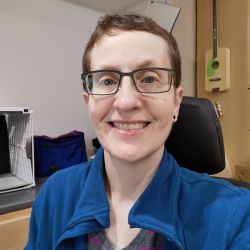 Everyday shots look great!
Just like the P20, I love the P30 Pro's camera. Some might say that the colors are a little too vibrant especially when you use it in HDR mode, but I think the pictures look great.
Audio quality
You would think that as a flagship phone, that Huawei would have gone all out of the audio capabilities of this phone. So you might be surprised that the P30 Pro does not have stereo speakers. It only has one downward firing speaker that is located on the bottom right edge.
If you're looking for the speaker earpiece for calls, you're not going to find one because the speaker is actually under the display just like the fingerprint reader.
Is the lack of stereo and a traditional speaker grill for your phone a big problem? Nope, not really. Ok, maybe just a little bit when it comes to calls. But for the main speaker, I rarely listen to music through a phone's speaker, so wired or Bluetooth earbuds are no problem. But for calls, I do notice that even at maximum volume, that I sometimes wish the sound was louder. Usually, this is when I'm in a noisy environment. If I'm home, there's no issue.
Software and user interface
Like the P20, the P30 Pro ships with Huawei's own interface skin that's called EMUI. EMUI doesn't make Android look that much different from stock, but it adds extra features like the ability to take screenshots by knocking twice on the screen with your knuckle. You can also knock once and then draw an S to take a scrolling screenshot for really long pages. There's even a built-in tool to record a screencast.
One thing I don't like about Huawei is that they include their own versions of the stock Android apps like a browser, app gallery, compass, calendar, clock, calculator, etc. I don't use any of these apps because I prefer Google's versions. So it's annoying that I can't uninstall them.
Carrying over from the P20, there's a cool feature that allows the P30 Pro to easily connect to a monitor or projector if you have a USB-C HDMI, VGA, DVI dock adapter. Just plug it in and it will let you choose if you want to mirror the phone display or use a full-screen user interface on the larger screen. In full-screen mode, it's like the Samsung DEX Station without paying for the extra hardware. It worked great with my BenQ PD2710QC DesignView 27-inch Designer Monitor.
The user interface in full-screen mode is easy to use just like Windows or MacOS and it reinforces my dream of one day using my phone as my one and only computer.
As an added feature, when the P30 is connected to a monitor or projector, the phone's screen will turn into a touchpad that you can use to move the cursor around on the screen. Otherwise, you'll have to use your finger or a Bluetooth mouse and keyboard.
Using the Huawei P90 Pro for phone calls
I didn't have any issues making and receiving calls on the T-mobile network with this phone. Even when I'm in my office (basement) of my house, the phone holds a signal and I've yet to have it drop a call.
As far as call audio quality, the volume level on the receiver's side has been fine. On my side, I've wished for a little more volume, especially when trying to hear the other side of the conversation when I'm in a noisy environment.
Overall performance and battery life using the Huawei P30 Pro for day to day tasks
During a typical day, I use my phone to make and receive calls (shocker!). Make and receive text messages, play a rousing game or two of Words With Friends, check my email, send emails, read books, surf, listen to music through Bluetooth earbuds, take pictures for reviews that I'm working on, and occasionally watch a video on YouTube. For all those tasks, the P30 Pro performs wonderfully. Apps open quickly, webpages load quickly, everything works at the speed I've come to expect from a smartphone.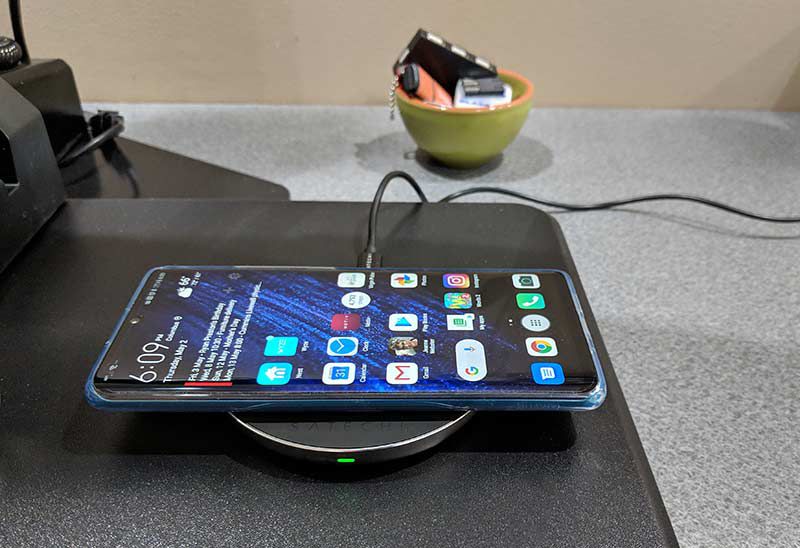 When it comes to battery life, the Huawei P30 Pro can easily get me through the day and when I need to top it off before going to bed (I don't leave my phone plugged in overnight), it recharges quickly either by plugging it directly into power with a USB-C cable, or charging it wirelessly on a wireless charger like the Satechi Aluminum Type-C PD & QC Wireless Charger.
Speaking of charging, the P30 Pro supports reverse charging which allows you to use the phone as a wireless charger for another device that supports wireless charging. Just put the P30 Pro face down and it becomes a wireless charging pad.
What I like
Camera
Battery life
Fingerprint reader
Wireless charging
A clear case is included in the box
What needs to be improved
In screen speaker for calls could be improved as far as volume
No micro SD card slot
Mono speaker
Not officially available in the US
Final thoughts
After trying several phones over the past 2 years, it's the Huawei P30 Pro that has taken the spot as my daily driver. It has every feature I want in a flagship smartphone. It has a nice display, excellent fingerprint reader, wireless charging, great battery life, a fullscreen desktop mode when connected to a monitor, and an excellent camera. There's only one downside to this phone and it's the fact that it's not officially supported here in the US. That didn't stop me from buying one though and I'm happy that I did.
Updates 11/25/19
I've been using this phone for 6 months and I have to say that it's one of my favorite Android smartphones to date. I even like it better than my old Pixel 2 XL. Speaking of Pixels, I ordered the Pixel 4 XL last month and promptly returned it because it was such a disappointment. I even mentioned in my gadget diary post about the Pixel 4 XL that it made me want to switch to an iPhone, which I actually did for a couple of weeks. I switched to an iPhone X and enjoyed it enough that I got the insane notion to order an iPhone 11 Pro Max. But when I got the Max, it felt HUGE and HEAVY. So I returned it and ordered an iPhone 11 Pro. But in the time that it took for the iPhone 11 Pro to arrive, I already decided to return to the using the Huawei. I just can't quit Android. Remember the old PC and Mac commercials? Well, I'm definitely an Android. I just forget sometimes and have to be reminded by using an iPhone for a few days 😉
Update 7/12/20
It finally happened this time. I really switched from Android to iOS and the switch is sticking (at least for now). A few weeks ago I decided to switch to my iPhone X to do some testing for another review that I had in the works. During that testing time, I was surprised by how much I enjoyed using the iPhone X. Then I heard that the next version of iOS would allow widgets on the home screens among other updates and I decided to take the plunge for real and once again I ordered an iPhone 11 Pro Max. Why didn't I just continue to use the X until the 12 comes out? Because my used X has dismal battery life and the front-facing camera is terrible. I use an app called Marco Polo to talk back and forth to my family all day and wanted a better camera 😉 Ha!
During this same time, I gave the Apple Watch another try and have been enjoying it too! What's next, an iPad Pro? Hey, it could happen!
Update 5/12/21
I retrieved this phone from the drawer and have been using it with a tripod to take pictures of birds. I think it does a better job of zoomed pics than my iPhone 12 Pro Max!
I wish Huawei hadn't been banned because I would be using one right now if they still had all the Google services.
Price: $909.00 from Amazon
Where to buy: Amazon
Source: The Huawei P30 Pro for this review was purchased with my own funds.