The Gadgeteer is supported by readers like you! If you buy something through links on our site, we may earn an affiliate commission. Thank you! Learn more.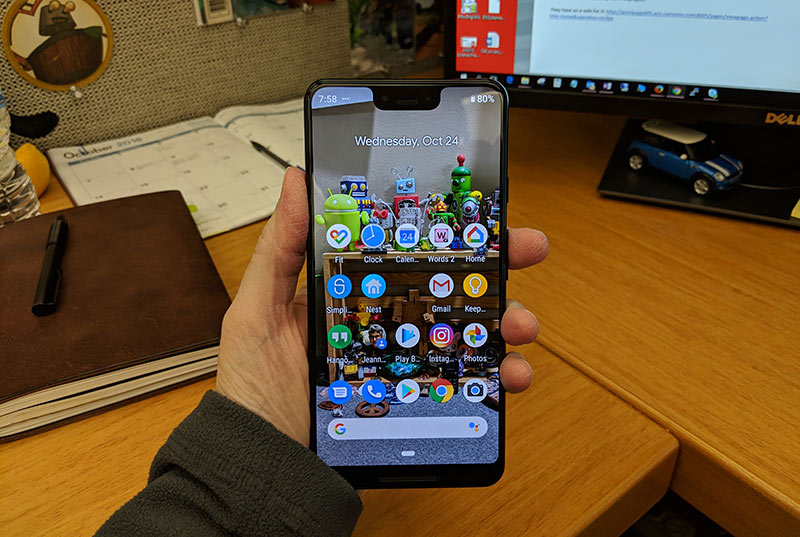 ARTICLE – After Google's Pixel 3 XL unveiling a couple of weeks ago, I immediately ordered one because I'm a sucker for newphoneia, that feeling you get when you order a new phone and the anticipation that it will make your life easier, better, and more fun. At least I think that was what was going on in my head when I pressed the BUY button on Google's online store.
The Pixel 2 XL has been my daily driver for the past year and except for a couple issues with Bluetooth and now with WiFi, it's been a great phone. I'll even say that it's my all-time favorite phone to date. So the Pixel 3 XL should be a great upgrade to the Pixel 2 XL right? That's what I figured and that's why I ordered the 128GB version for a wallet shuddering $999.
A few days later FedEx delivered my new phone and my immediate impression was one of deja vu.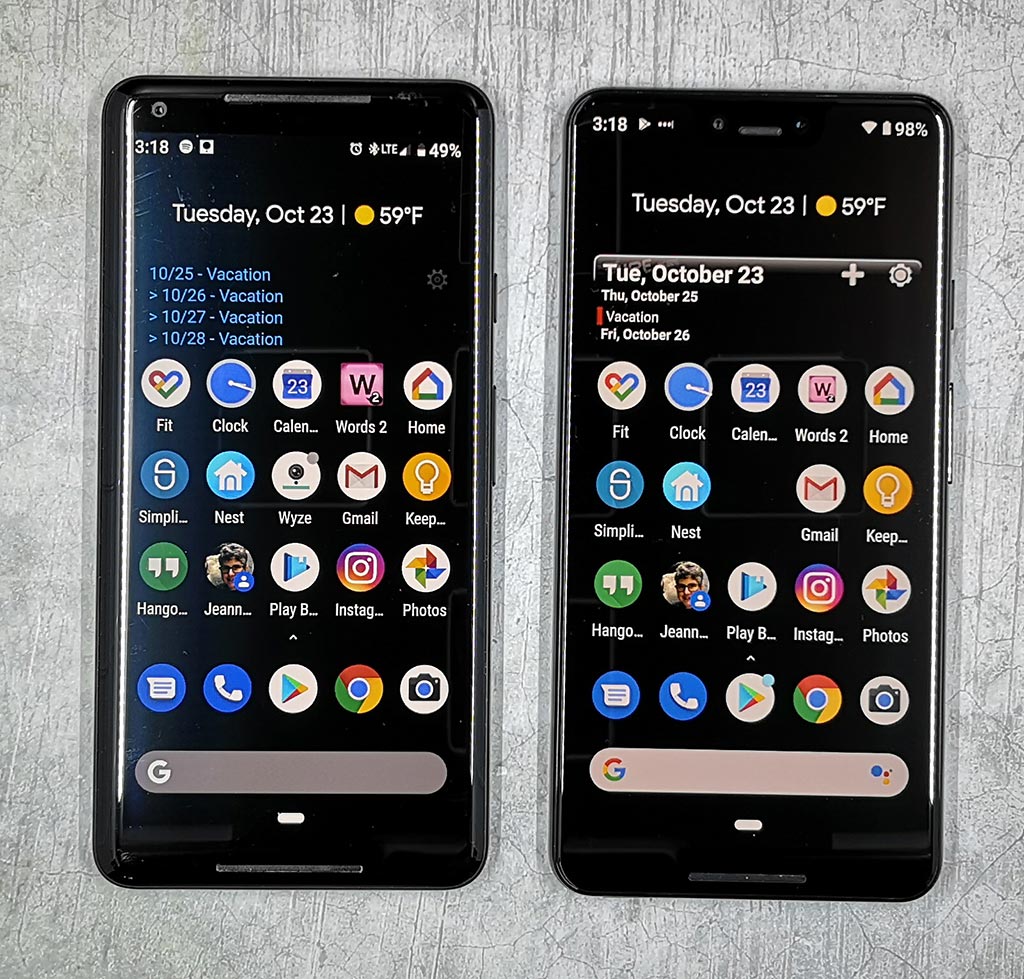 One phone above is the Pixel 2 XL and one is the new Pixel 3 XL. Can you tell which one is which? Upon first glance, they look almost identical if you have a black background image as I do. The new phone is the one on the right. The top speaker is narrower and the front-facing camera and ambient light sensor are on either side of the speaker which is in the greatly hyped and also greatly despised notch.
I personally don't care one way or another about the notch or notches in general. The one on the Pixel 3 XL doesn't bother me and I don't think it looks ugly. I'd rather NOT have a notch, but the fact that it's there doesn't make my life worse and it doesn't harm the performance of the phone.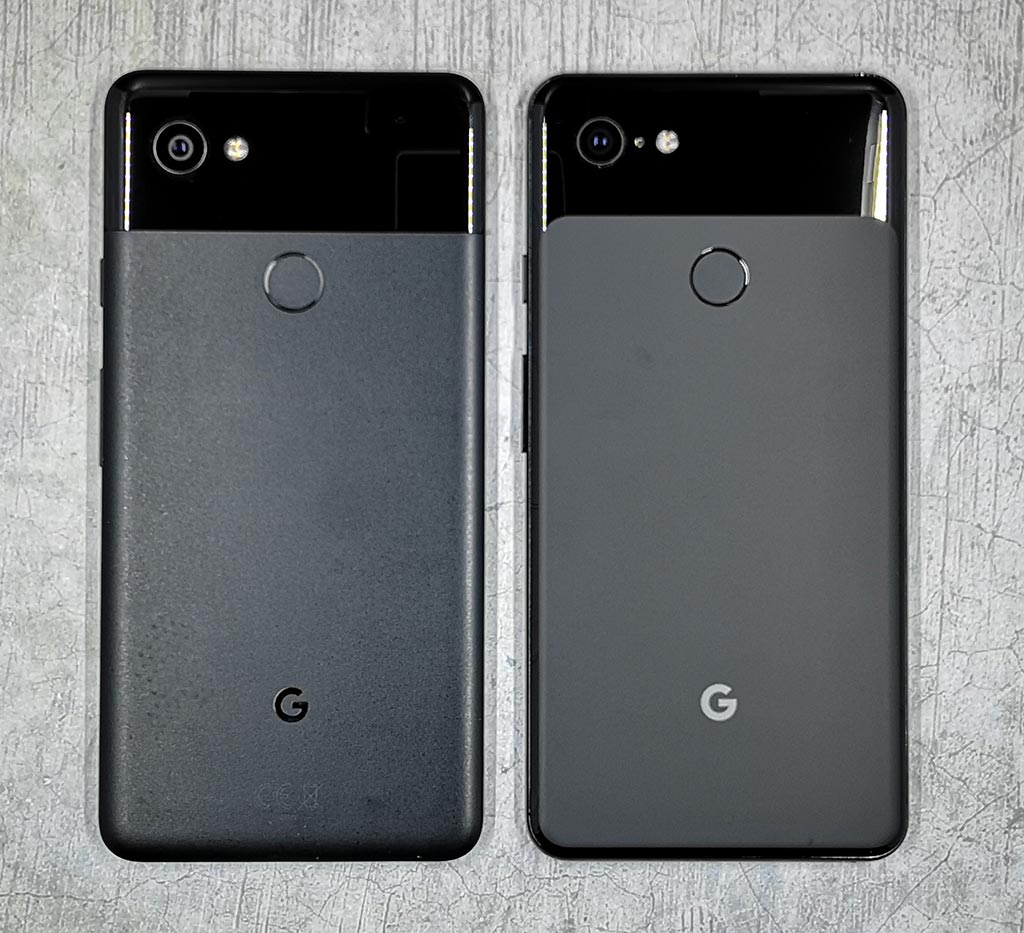 The front of the Pixel 3 XL looks relatively unchanged and so does the back of the phone. But the Pixel 3 XL does feel different. The bottom matte area doesn't have as much texture as the Pixel 2 XL, it's smoother and a little more slippery. That's because the back of the new phone is made of glass to allow for wireless charging.
I used to be a huge advocate for Qi charging and sorely missed it when I moved on from my hacked Samsung Galaxy S3 ages ago and haven't had that feature since. However, not having wireless charging hasn't been a hardship now that we have fast USB charging. But congrats to Google for finally adding that feature now that I really don't care about it any longer.
Right away I was bummed that the Pixel 3 XL was so much like the 2 XL. I even took the Pitaka Aramid case off my Pixel 2 XL and it fit the 3 XL perfectly.
Other than the notch, wireless charging, and a slight improvement with the display which has brighter whites than my Pixel 2XL, it didn't "feel" much different.
It only took me a few hours of using the 3 XL until I headed back to Google's online store to start the return process …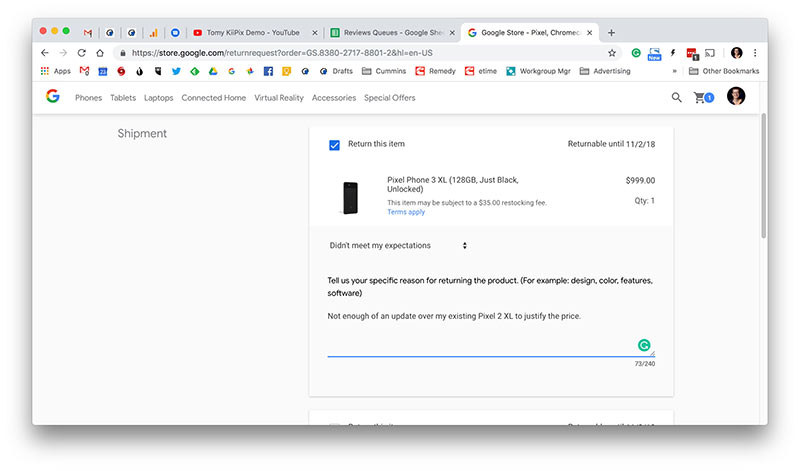 Did I give up on this shiny new phone too soon? I really don't think so. For everyday use, the 3 XL felt exactly the same as using my 2 XL. It didn't feel significantly snappier, and when I took side by side pics with both phones, I couldn't tell a major difference between them. Here are some quick examples.
Also, a lot of the updates for the Pixel 3 series are software updates which will come to the Pixel 2 line soon. So that was enough to make me change my mind very quickly about keeping this new smartphone.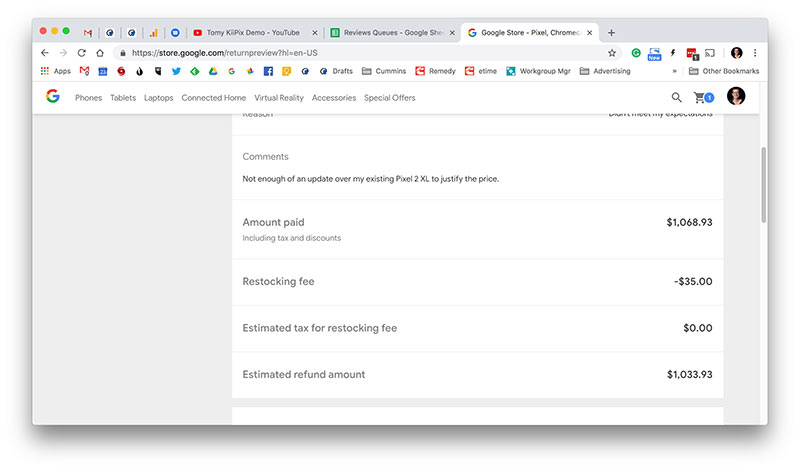 I was annoyed that Google is charging a restocking fee even though I was within the 15-day return window. Have they always done that? I don't remember that in the past. Apple doesn't do that.
When it comes down to it, the Google Pixel 3 XL is a nice phone and if I didn't already have the Pixel 2 XL, I'd have no problems buying one. But in my opinion, it is not a worthy upgrade from my Pixel 2 XL and in all honesty, this phone should have been named the Pixel 2 XLs instead of the Pixel 3 XL. Maybe you'll keep my money next year Google…
Support The Gadgeteer
:
The Gadgeteer is supported by readers like you! If you buy something through the links on our site, we may earn a small affiliate commission. Thank you! Learn more.