We use affiliate links. If you buy something through the links on this page, we may earn a commission at no cost to you. Learn more.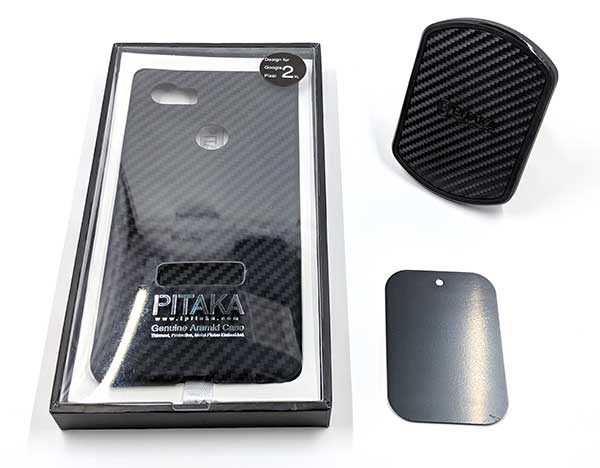 To be honest, I don't like to put a case on my smartphones. I find it weird to cover a sleek new phone with a bulky case. I rarely drop my phones (I hope I didn't just jinx myself), so I would rather use my phone naked (the phone, not me). But there are times when having a case is useful even for a minimalist like myself. Cases add grip to an otherwise slippery phone, and they let me hide a metal plate so I can use the phone with the iOmount magnetic car holder in my car.  For those reasons, I was happy to review the PITAKA Aramid case for my Pixel 2 XL. Let's check it out.
What is it?
The PITAKA Aramid case is a Pixel 2 XL case that is made of Kevlar which is a trade name for aramid fibers. This is the same material that is used to make body armor. Aramid fibers have exceptional strength and thermal stability while remaining lightweight and thin, which makes the material a perfect choice for a smartphone case.
Design and features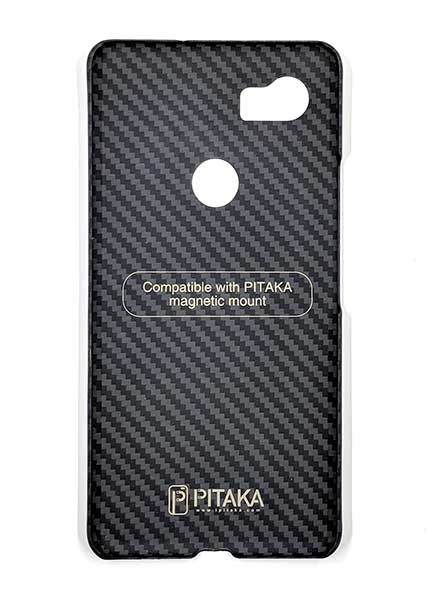 The PITAKA Aramid case is very lightweight and thin. It barely weighs anything which is great because I don't want to add any extra weight to my phone.
The case has a carbon fiber woven pattern design and is only available in black/twill.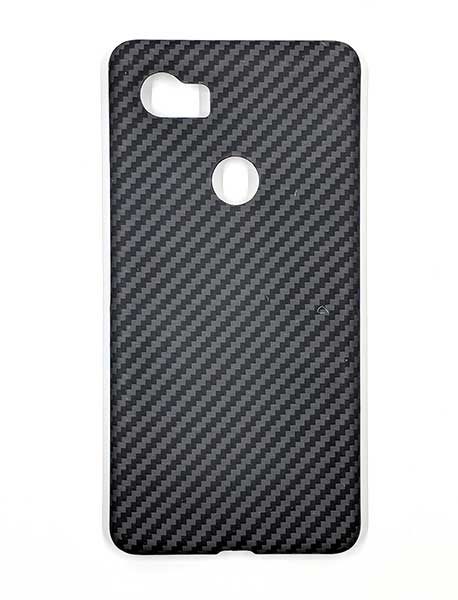 The case has a matte finish that is smooth and sleek while offering a decent amount of grip to the phone.
The Aramid case has built-in metal plates that allow you to use your phone with magnetic mounts like the iOmount I mentioned above, or PITAKA's own Magnetic Mount which they also sent me. Note that the Magnetic Mount is not included with the case and is a separate purchase.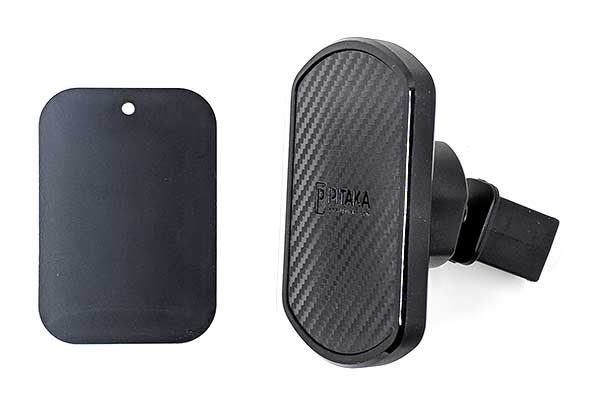 The PITAKA Magnetic Mount comes with a metal plate that you can put between your favorite case and phone or stick directly to the back of your phone using the adhesive backing. I don't recommend sticking the metal plate directly to the back of the phone though. I've done that before and it was very hard to remove it.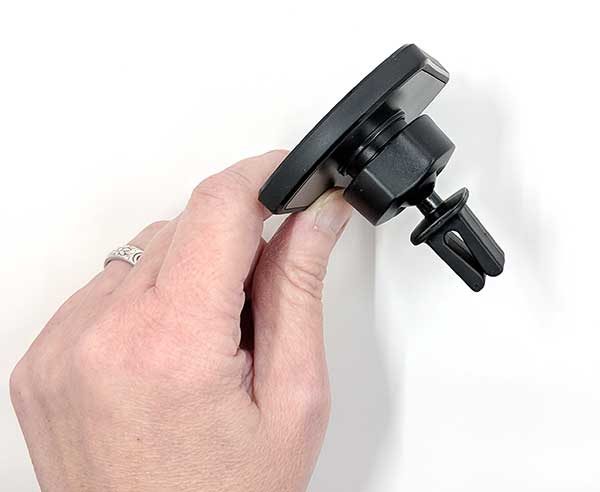 The Magnetic Mount features a clip that can slide over the air vent slats in your car. Unfortunately, this mount wouldn't work in my MINI Cooper because the vents are circular instead of straight.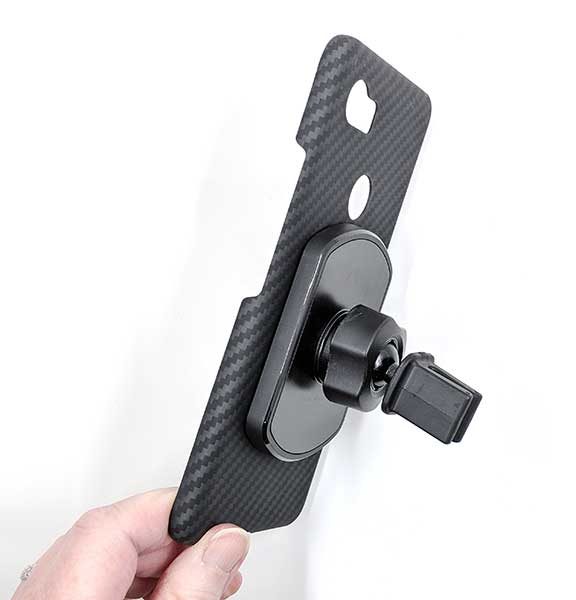 If you were to use this case with the PITAKA Magnetic Mount, this is how it attaches to the mount.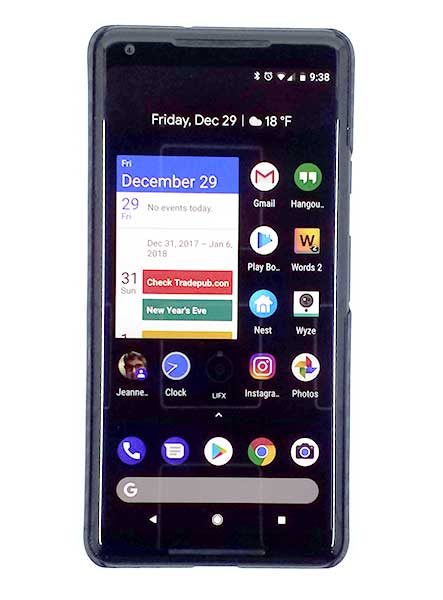 My Pixel 2 XL snapped into the Aramid case very easily and the result was a thin covering on the back and around the sides.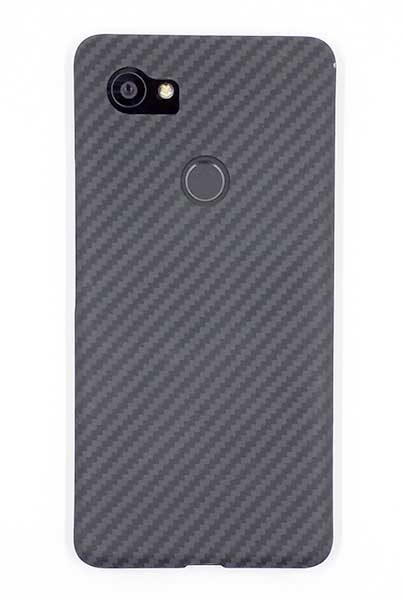 There are cutouts on the back for the camera, flash, and fingerprint sensor.

On the right side of the case, you'll find a long cutout for the power button and volume buttons.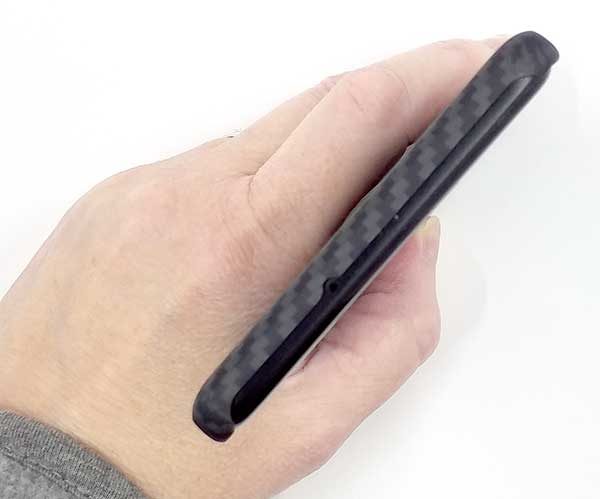 On the top is a notch for the microphone.

And on the bottom is a notch for the USB Type-C port.
Look carefully at the image above and you'll notice that the sides of the PITAKA case sit lower than the display. This means that you won't snag your finger on the sides of the case as you're scrolling and swiping across the display. But it also means that if you like to place your phone face down, that the display will touch the surface it's placed on.
There's also no protection for the display if you drop the phone. If you don't use a screen protector (which I don't), this may be a concern.
I've been using this case on my Pixel 2 XL for several weeks and barely noticed it was there because it's so thin and lightweight. I had not had any problems with the case until yesterday.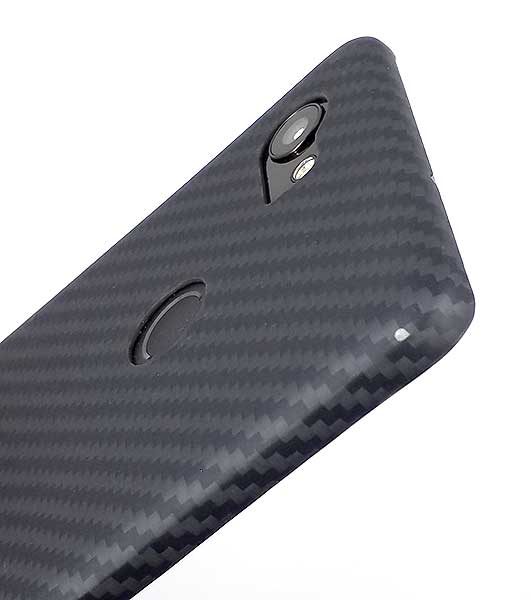 I was carrying my Pixel 2 XL in the right cargo pocket of my pants where it was sticking out an inch or so above the pocket. I was carrying a heavy plastic bucket and accidentally knocked the bucket into the side of my leg. I didn't really think anything of it until later that night when I was taking the last pictures for this review. It's then that I noticed the corner of the case. I thought some dirt was stuck to it but it wouldn't rub off. Upon closer inspection, the case is chipped from the plastic bucket hitting it (at least that is what I think must have happened).
Although it's better that the case was chipped instead of my phone, it does make me wonder how well the PITAKA Aramid cases will wear over time and I suppose if you live/work in a rugged area, you would want a more protective case than the PITAKA.
Positives
Lightweight
Thin
Built-in metal plates for magnetic car mounts
Negatives
Expensive
Material can chip
Offers no drop protection, especially for the display
Final thoughts
I like the PITAKA Aramid Pixel 2 XL case because it adds almost no bulk or weight to the phone but does offer access to all buttons and ports and has built-in metal plates so it can be used with your existing magnetic car mount or PITAKA's Mag Mount.
My biggest concerns are that the case chipped when it was knocked with hard plastic and then there's the price. At almost $50, this is an expensive case that only offers protection against everyday wear and tear without any drop protection.
Updates 01/16/18
After I posted my review, I took the case off my Pixel 2 XL and used it naked again. But after only a day, I started missing the case. Even though I was happy using my Pixel 2 XL without a case before I reviewed the PITAKA case, the extra grip provided by the case was noticeable once it was gone. So I took a black permanent marker and "fixed" the chipped spot on the corner and put the case back on my phone and have been using it ever since. I won't say that I'll continue using it "forever", but for it's working for me at the moment.
Updates 04/13/18
I go back and forth using my Pixel 2 XL without a case and with a case. But every time I want to put a case back on it to add a little extra grip to the phone, I always reach for this thin case. This case hasn't gotten any more chips and the one I "repaired" is forgotten because I can't see it anymore after my high tech repair.
Price: $47.99
Where to buy: PITAKA and Amazon
Source: The sample of this product was provided by PITAKA.