We use affiliate links. If you buy something through the links on this page, we may earn a commission at no cost to you. Learn more.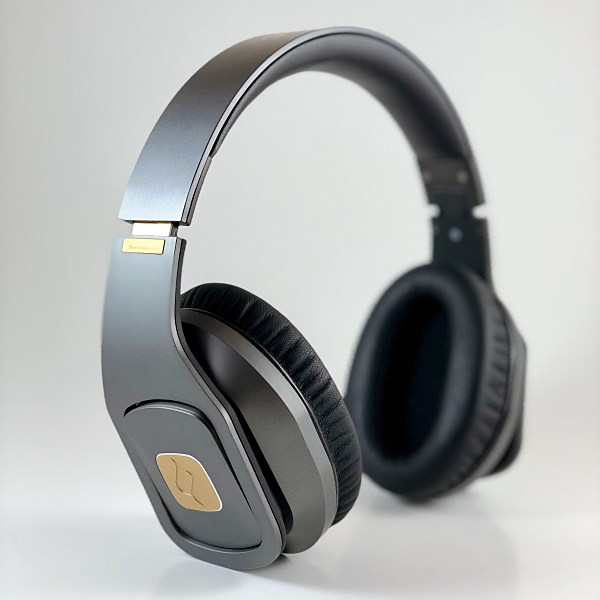 Writing for the Gadgeteer has given me the opportunity to sample several different types of wireless headphones. I've reviewed on-ear, over-the-ear, in-ear, sports headphones etc. It's a lot of fun and I've also learned quite a bit along the way. The Noontec Hammo Wireless Headphones are the most recent pair I've had the pleasure to review. And they might be my favorite pair yet.
What is it?
The Noontec Hammo wired and wireless headphones are Professional Monitor headphones that can be used for studio tracking and mixing, DJ monitoring, or personal listening.
Hardware Specs:
Wireless transmission: Bluetooth 4.1

Transmission Distance (max): 10m

Headphone Speaker: Votrik HD500

Resistance: 32 Ω

Battery: built-in non-replacement rechargeable battery

Charging Time: 5 hours

Battery playtime: up to 50 hours
Whats in the box?
Wireless Headphone

3.5mm audio cable

USB-3.5mm Charge cable

Carrying case 

User manual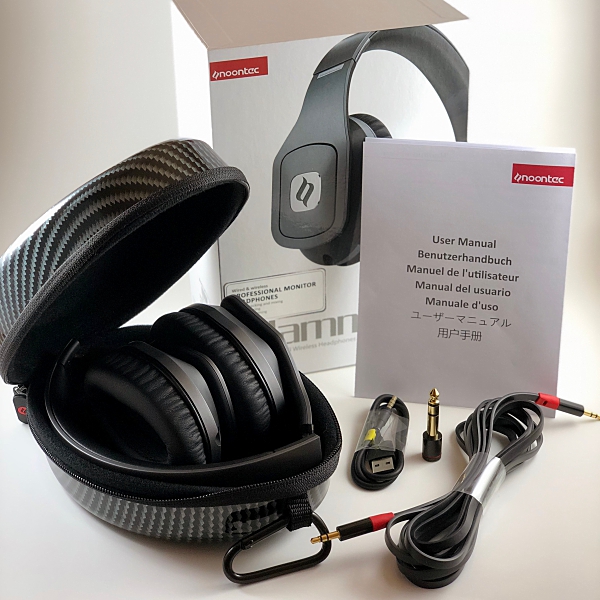 Design and features
The Hammo Wireless headphones have a nice versatile modern design. I really like their dark gray color and brushed metal gold accents.
The fully adjustable ergonomic headband, handcrafted leather ear cups, and exceptionally lightweight build make these headphones extremely comfortable.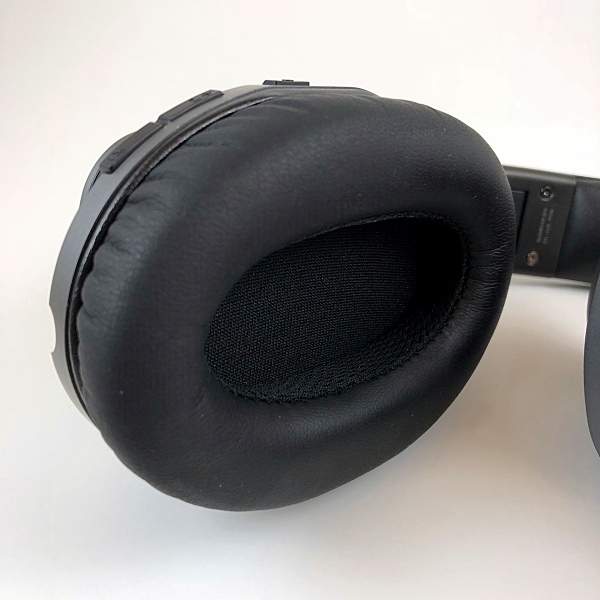 I use them for several hours a night and they never become uncomfortable. They're definitely amongst the most comfortable headphones I've ever worn.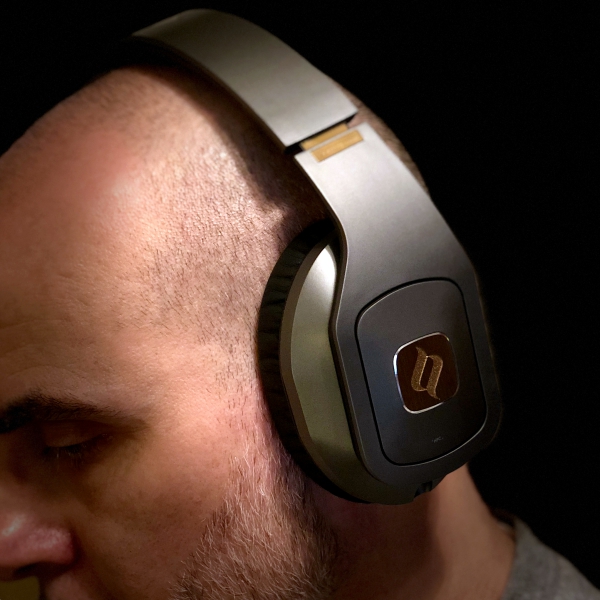 Even though they're made of an extremely lightweight plastic the build quality is solid and they don't feel cheap in any way.
The headphones fold up, making them compact enough to put into a backpack, briefcase, laptop bag etc. Noontec also provides a handsome hard-shell case complete with a small metal carabiner that can be quickly clipped onto a backpack for easy carrying.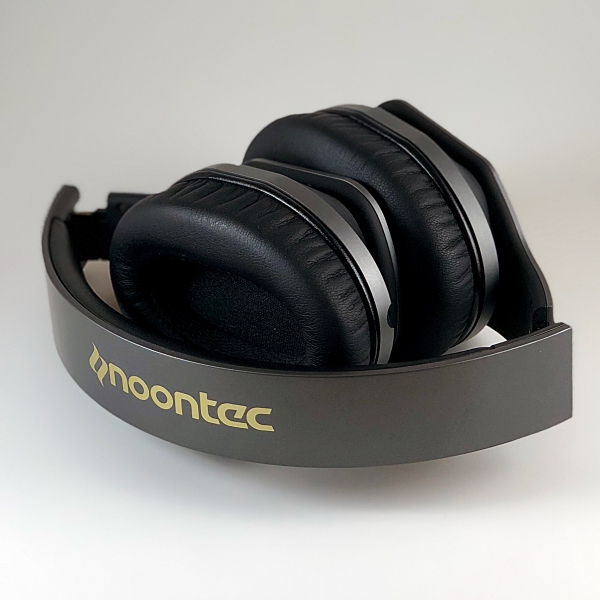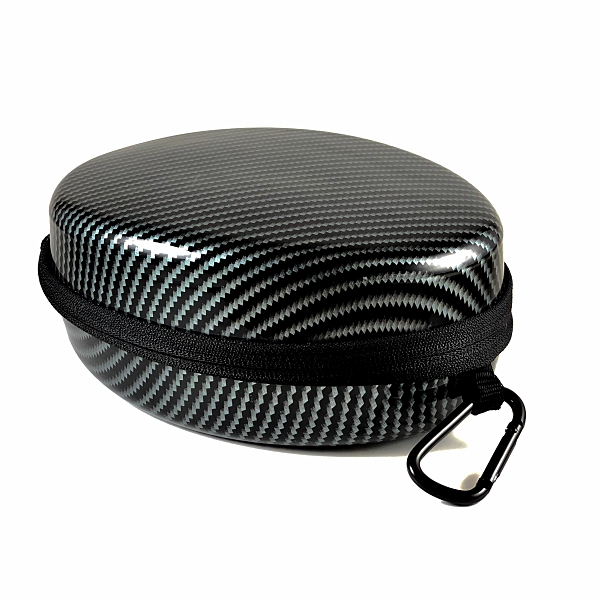 Controls
Hammo's intuitive three-button control panel (located on the back of the left ear cup) allows you to pair, play, pause, power on/off, change track and control volume. You can also access a range of voice commands like Siri to make phone calls using the built-in microphone.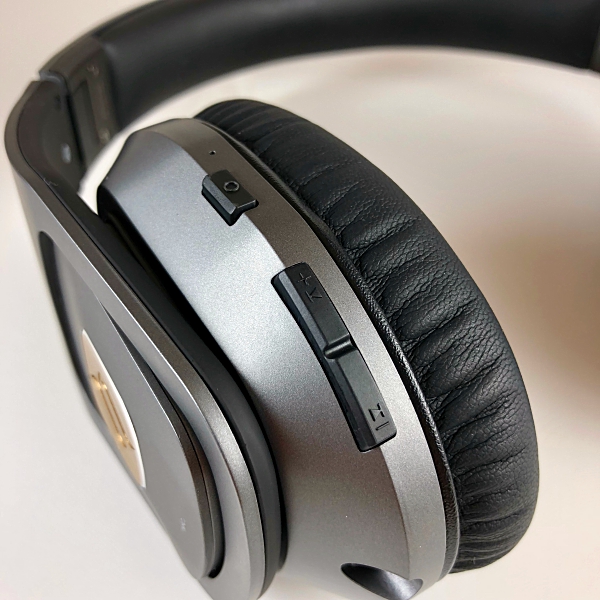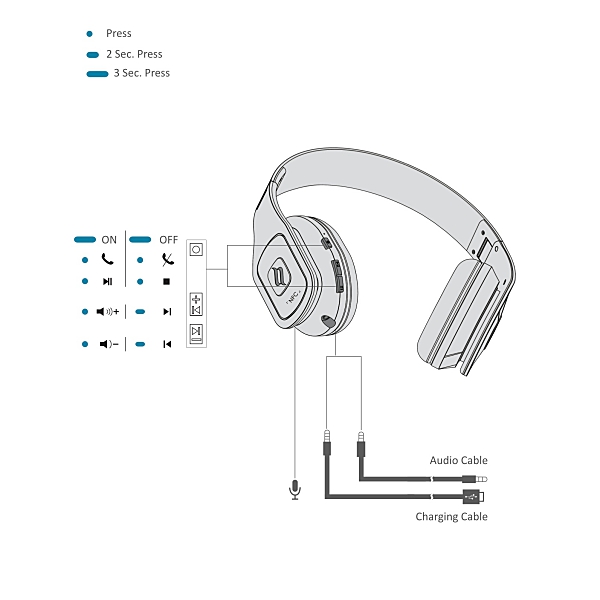 Control buttons and indicators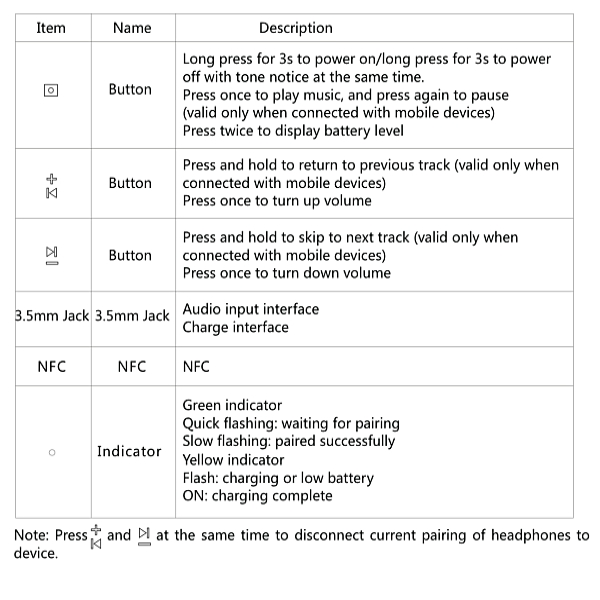 There's also a friendly male voice prompt that alerts you when the headset is turned on or off and when it's connected/disconnected to a device. It will even alert you when the battery is low and needs charging.
Battery/charging
Possibly the best feature of these headphones is their battery life. Hammo Wireless takes advantage of low-power consumption technology and a large-capacity rechargeable battery to provide an unheard of 50 hours of life. That's enough to go around the world on a single charge! I've used them extensively for nearly a month and I haven't had to charge them once. 
Hammo Wireless uses a 3.5mm to USB charging cable and to fully charge the headphones takes about 5 hours. 
Performance
Now that we've established that these headphones are well built and extremely comfortable the big question is how do they sound?
Noontec developed what they call SCCB (Surround Closed Cavity Body).  This unique cavity design technique provides the wide and flat frequency response needed for a high-fidelity sound. Combined with unique Votrik HD500 50mm extra size drivers the Hammo Wireless headphones produce an exceptional audio experience.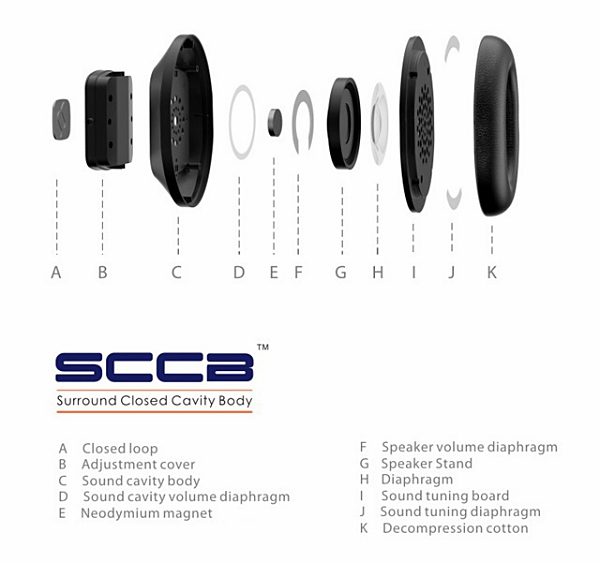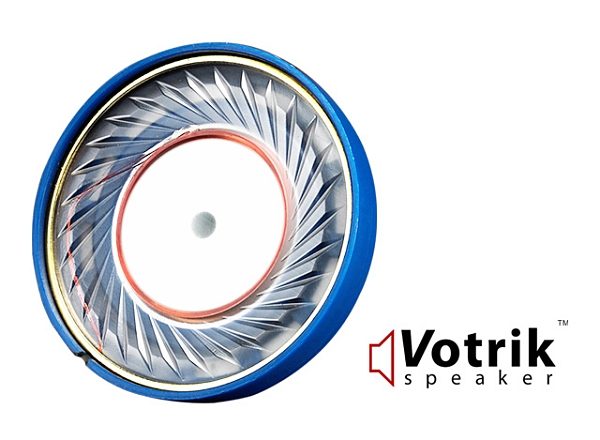 I used the headphones extensively over the last several weeks to listen to music and TV audio. Both sounded very natural and true to the source, even when listening at a low volume. And if you crank them up, there's no distortion and the sound remains clear and balanced. 
The bass response is deep and realistic without overwhelming the mid-tones and the treble is clean and crystalline.
I was able to pair them with my Miccus Home RTX 2.0 wireless transmitter to listen to movies through my TV. The dialog was clear and audible and there was a surprising amount of depth to things like explosions and soundtracks.
Bottom line here is no matter what you use them for the Hammo Wireless won't disappoint. 
Even though they don't have active noise cancellation Hammo's over-the-ear design and pivoting ear cups do a really good job of keeping out any unwanted ambient noise.
Hammo Wireless uses the latest in Bluetooth 4.1 Qualcomm aptX technology so you get virtually the same audio fidelity as a wired system. If you're a sound professional or just want to get the optimum lossless sound you can use the provided 3.5mm audio cable.
Noontec even provides a 5mm jack converter so you can plug into a stereo system, amp, or musical instrument.
Positives
Lightweight design
Fold up for portability
Comfortable
Great sound
50 hr battery life
Negatives
No active noise cancellation
Final thoughts
The Noontec Hammo Wireless headphones were designed and engineered for the sound professional but they're perfect for anyone that just wants to chill out and enjoy their music. There's isn't much not to like about these cans. They have a great low-profile design, they're extremely comfortable and a pure joy to listen to, all without breaking the bank. Oh, did I mention the insane 50-hour battery life?
So, If you're looking for a pair of really nice headphones, start the New Year off right and give the Noontec Hammo Wireless headphones a try. Who knows they might just end up being your favorite pair of headphones too.
 Price: $149.95
Where to buy: Amazon
Source: The sample for this review was provided by Noontec.