We use affiliate links. If you buy something through the links on this page, we may earn a commission at no cost to you. Learn more.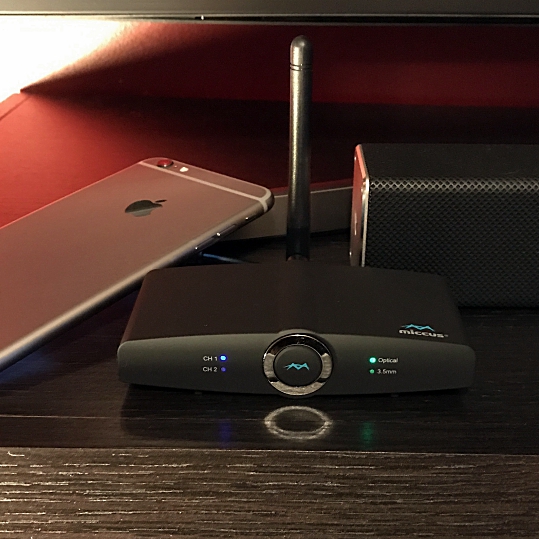 Back in May, I reviewed the Miccus Home TX Pro long-range wireless audio transmitter which allows you to transmit a Bluetooth signal up to 160ft. Pairing it with their SR-71 Stealth low latency headphones made it perfect for my late night TV viewing. Fast forward five months and Miccus has a new product, the Home RTX 2.0 Long Range Wireless Audio Transmitter or Receiver. The RTX 2.0 is similar to the TX Pro but as the name implies it also acts as a Bluetooth receiver. I had the chance to review a unit for the Gadgeteer.
In the box
Miccus Home RTX 2.0

Dipole Antenna

Optical / TOSHLINK digital audio cable

3.5mm male to 3.5mm male audio cable

Micro USB charging cable

USB power supply

Users Manual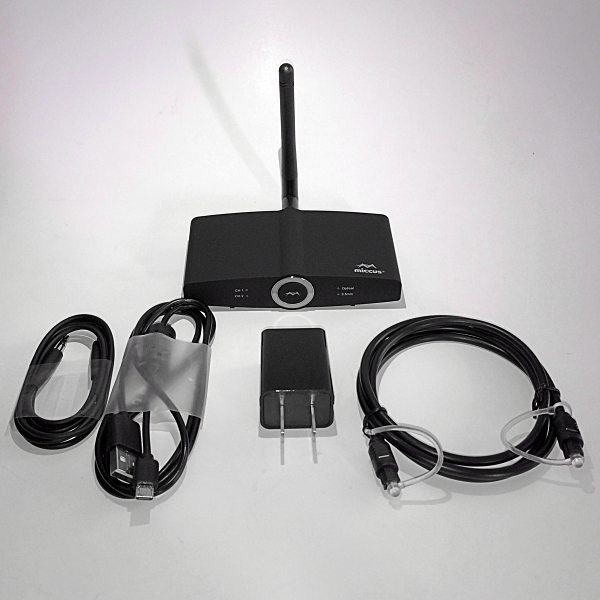 Specifications
Bluetooth v4.2 (compatible with Bluetooth v2.0 or higher), Profiles – A2DP, AVRCP

Audio codecs: SBC, AAC, aptX, aptX-LL, (NOTE aptX-LL use requires both devices in a pairing to support the aptX-Low Latency codec).

3.5mm Stereo Audio Input and Output, TOSLINK Digital Optical Input and Output.

Operating range: up to 160ft (50M), Operating Frequency: 2.4 GHz.

Optical Support: Sample Rate <=48KHz, Formats PCM / LPCM, Dolby Digital 2.0 (Format changes are accessed thru your TV's audio settings menu)
What is it?
The Miccus Home RTX 2.0 is the first dual-link, long-range wireless transmitter or receiver featuring Bluetooth v4.2 and two simultaneous aptX Low Latency audio streams. Basically, the Home RTX Pro 2.0 acts as a hub for all your wireless home audio. With the 2-in-1 flexibility of a Transmitter or Receiver, the Home RTX 2.0 makes it easy to add multiple long-range Bluetooth audio links to your home setup. It has two different modes, Transmit (TX), and Receive Mode (RX) and features Dual-Link Pairing and Optical Audio Pass-Through.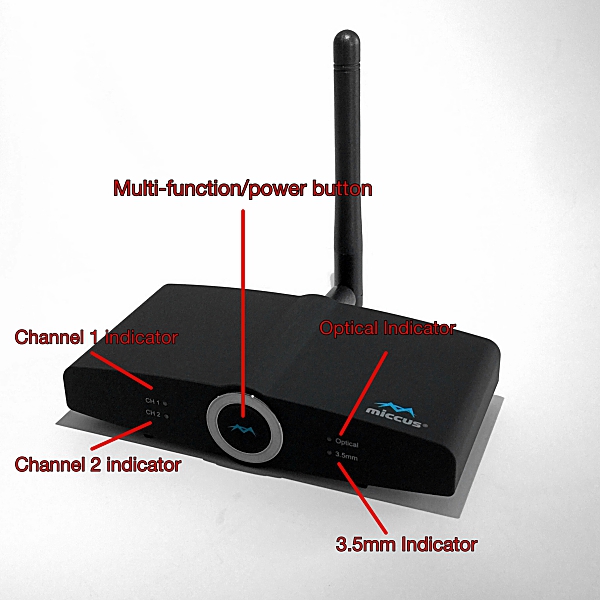 Transmit Mode (TX)
With the Home RTX 2.0 powered off, select TX mode by pressing and latching the RX/TX switch (located on the back left of the Home RTX 2.0) to the in position. TX mode requires a wired audio source connection, to either the 3.5mm audio input or the TOSLINK/optical audio input. You can use an audio input source like a computer, tablet, smartphone, television or stereo system. For my purposes, I connected the RTX 2.0 to my TV using the TOSHLINK digital optical cable. I chose to power the unit using the provided Micro USB charging cable and one of my TV's vacant USB ports. When connected via USB the Home RTX 2.0 will automatically power on. If powered off you can power it back on by holding the multi-function/power button for 5 seconds until the LED indicators power on.
Connecting the Home RTX 2.0 to my TV allows me to use it as a wireless audio hub for my living room. Using Transmit Mode (TX) I can listen to video audio sound or music from my TV and connected 4K Apple TV through my Bluetooth headphones; great for my late night TV viewing or listening to music from my iTunes library. With the RTX 2.0's long-range transmitter connection is never a problem. The manual states that the operating range of the Home RTX 2.0 is up to 160ft. In my testing, I was able to walk 215ft outside my house before I started losing the Bluetooth signal and had great connection throughout my entire house.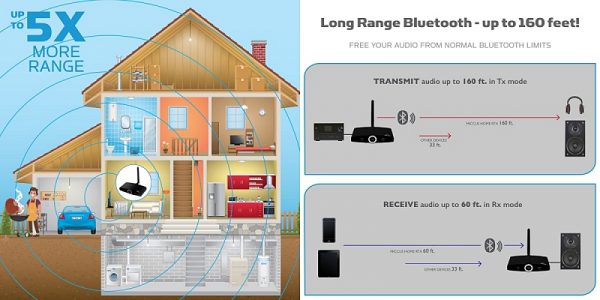 I also connected my Amazon Echo Dot to the Home RTX 2.0 and with the unit in RX mode I was able to use the Dot to play music and news through my TV's soundbar. With the unit in TX mode, I was able to use my Dot as a Bluetooth speaker and stream audio from my TV and connected devices to whatever room the Dot was in.
Note: If television or video audio is your primary use, then I would recommend using Bluetooth headphones/speakers that support the aptX Low Latency codec. I use a pair of Miccus SR-71 Stealth low latency headphones I reviewed earlier and they work great for watching movies, shows, and sports without any lip sync issues.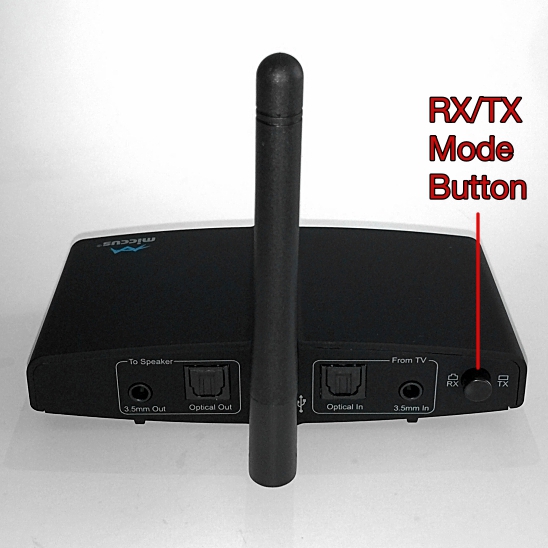 Receive Mode (RX)
With the Home RTX 2.0 powered off, Select RX mode by depressing and unlatching the RX/TX switch to the out position. RX mode is designed for use with an audio device such as a stereo system or powered stereo speakers connected to either the 3.5mm audio output or the TOSLINK optical audio output on the Home RTX 2.0. In RX mode the Home RTX 2.0 can be used with any device capable of transmitting a Bluetooth wireless audio signal. Including phones, tablets, laptops, and PCs. I used RX mode to play music from my iPhone through my TV's sound bar and it worked flawlessly. There's even a friendly voice prompt that tells you when the unit is powered on, when it's in pairing mode, when it's connected/disconnected to or from a device, and when it's powered off.
In RX mode two smartphones or tablets can be simultaneously paired with the Home RTX 2.0. Both devices can also simultaneously stream music to the Home RTX 2.0. To hear audio from only one of the two devices, pause the audio, or use muting or adjust volume. To test this feature I paired both my iPhone and iPad Pro to the unit. I was able to stream audio from both devices to my sound bar and it worked surprisingly well. I'm not sure that I would use this feature very often, but it could come in handy if I ever wanted to try my hand at DeeJaying a party or family get together.
Dual-Link Pairing
Dual-link pairing allows for two Bluetooth receiving or transmitting devices to pair with the Miccus Home RTX 2.0 simultaneously. Pair with two Bluetooth speakers, headphones or 2 phones at the same time. Pairing is quick and easy. To Engage pairing mode on the Home RTX 2.0,  press and hold the multifunction/power button for 3 seconds until the CH light begins fast flashing. I won't bore you with the rest of the details here, however, if you want to learn more I provided a link to the Users Manual.
The Home RTX 2.0 also has an automatic re-connect feature. If left powered on, or if powered back on it will automatically reconnect to the last paired device when within range.
Optical Audio Pass-Through
Most televisions and stereo systems feature only one optical audio output. The Home RTX 2.0 allows you to receive an optical audio feed from a television or stereo system and transmit and stream that audio feed to two pairs of headphones or Bluetooth speakers simultaneously. The Home RTX 2.0 can then pass that same audio onto a soundbar. You can also use it to link to two or more Home RTX 2.0's together to double, or triple the amount of low latency audio streams available for use. This is my favorite feature of the Home RTX 2.0. Digital-pass through allows me to listen to my TV through either the soundbar or my Bluetooth headphones without having to switch cables or use an optical audio splitter. It even allows for one person to use headphones while the other listens to audio through the soundbar.
Conclusion
I'm not surprised that I like the Miccus Home RTX 2.0. I use the Home TX Pro that I reviewed earlier on an almost nightly basis. With the added feature of being both a long-range transmitter and receiver along with Optical Audio Pass through this device is a nice upgrade. And with its small size and discreet black case, it blends in nicely on my TV stand.
Whether you want to Transmit or Receive wireless audio throughout your home or to the patio, pool or backyard the Miccus Home RTX 2.0, which is priced at $59.99,  is the perfect compliment to any home AV system. Miccus also offers a 2-year No-Hassle Replacement Warranty.
Source: The sample for this review was provided by Miccus. Please visit their site for more info and Amazon to purchase.