We use affiliate links. If you buy something through the links on this page, we may earn a commission at no cost to you. Learn more.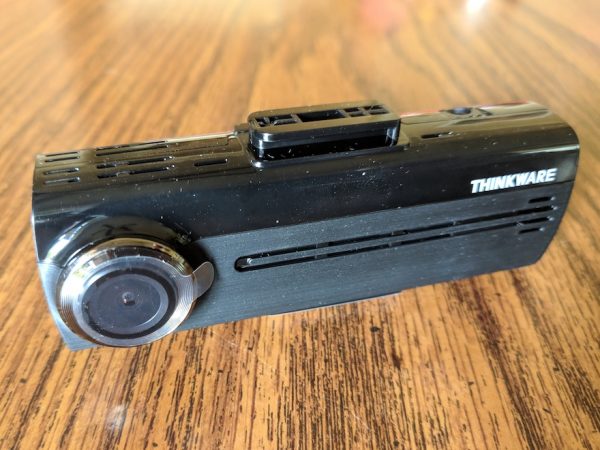 REVIEW – The Thinkware F200 Dash Cam is a reliable, somewhat simple-to-set-up dash cam with a ton of great features at an affordable price. The majority of the really great features are only available after purchasing some accessories and having the camera hard-wired, but the base F200 Dash Cam's feature set and included companion app are definitely worth the $139.99 price.
What is it?
Dash cams are small cameras placed on your windshield or dashboard that continually record video while you drive and sometimes when you're parked and away from your car. Dash cams have increased in popularity as the tech behind them has become smaller and more affordable. There are a number of great reasons for having a dash cam in your car; they can help you document accidents for insurance purposes, get you out of a ticket for a traffic violation you didn't commit, or record something that happened to your car while it was unattended.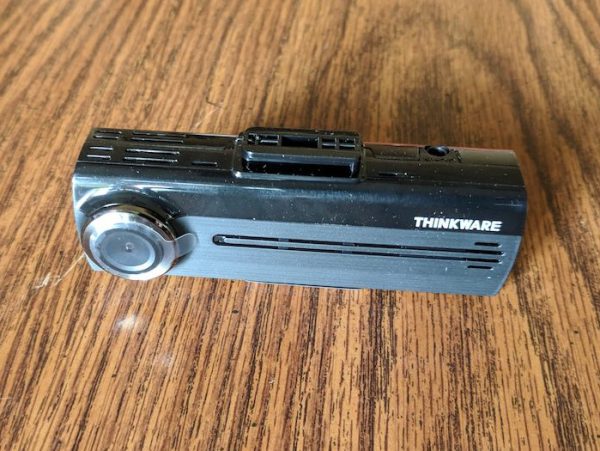 Hardware specs
Camera: Sony CMOS 2.12M
Camera Resolution:

Front: 1080p Full HD (1920 x 1080)
Rear: 720p HD (1280 x 720)

Frame Rate: up to 30 fps
Viewing Angle: 140° (Diagonal)
Capacity: Micro SD Card 16GB/32GB/64GB/128GB (UHS-I)
Recording Modes: Continuous Recording, Incident Recording, Manual Recording, Parking Recording
Sensor: Triaxial acceleration sensor (3D, ±3G)
GPS External GPS receiver (Optional)
Dimensions(WxDxH): 3.9 x 0.9 x 1.3 inch
Weight: 55g (0.121 lb)
Storage Temperature: -4°~ 158°F / -20°~ 70°C
Operating Temperature: 14°~ 140°F / -10°~ 60°C
Capacity: MicroSD card 8/16/32/64/128GB (UHS-I)
Input Power: DC 12/24V, Built-in Super Capacitor
The Thinkware F200 Dash Cam is a mid-range dash cam with a moderate feature set. Thinkware has about eight different dash cams on the market of varying prices and functionality and the F200 falls around the middle. The front camera records in a beautifully clear 1080p at 30fps and the rear camera records at 720p.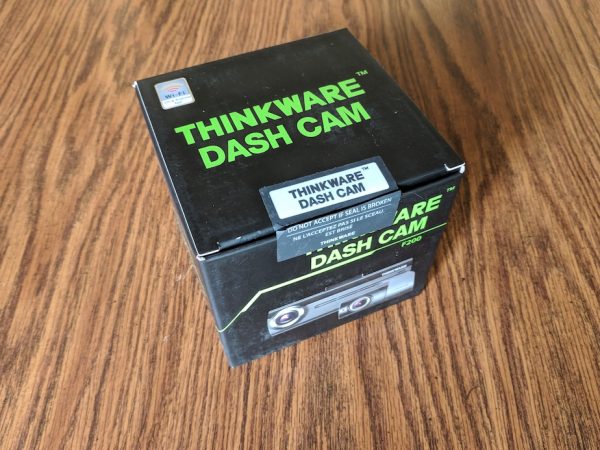 The Thinkware F200 arrives in a great little box with a tamperproof seal on it.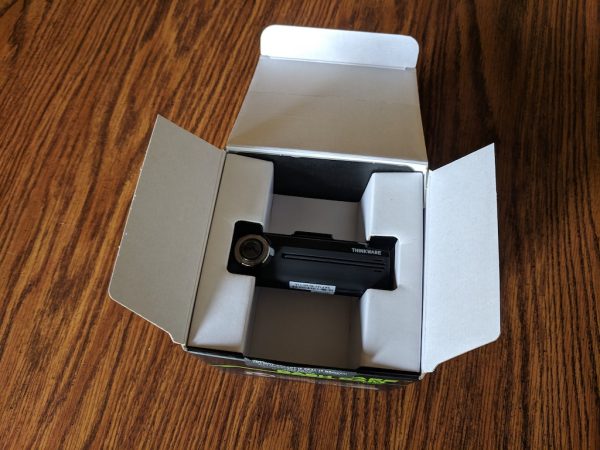 The F200 is nestled nicely into the box to protect it in transit and showcase the dash cam upon opening.
Never miss one of our posts again. Sent MON, WED, and FRI with the latest gadget reviews and news!
What's in the box?
Thinkware F200 Dash Cam
Thinkware Rear-view Camera (optional, but included with my review unit)
Rear-view Camera Cable (optional, but included with my review unit)
12v Socket Power cable
Cable mounting clips
Dash cam mounting plates
16gb Micro SD Card with Reader
Instruction manual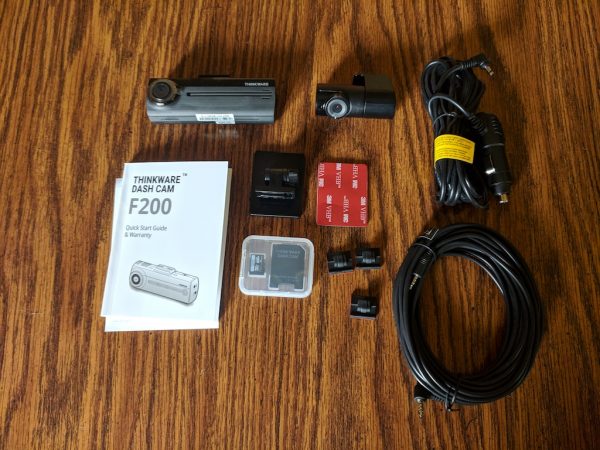 Setup
Fortunately, the F200 comes with everything you need to quickly install, set up, and run your dash cam. I reviewed the Thinkware F200 with three optional accessories; a rear-view camera, a GPS module, and a hard-wiring kit. None of these are necessary to run the F200, but they add some cool features such as parking monitoring, speed camera detection, and dual camera recording.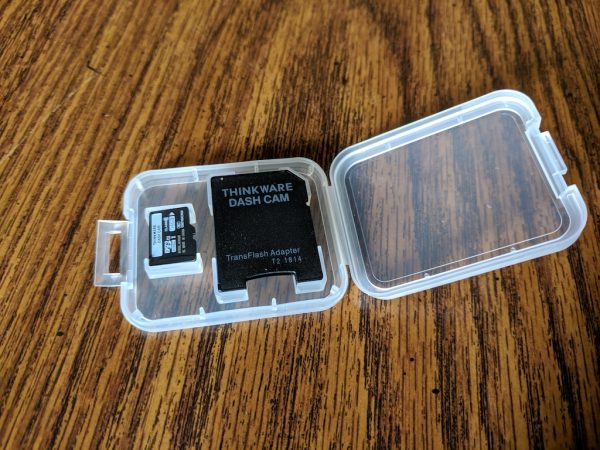 I love that Thinkware includes a preformatted SD card and card adapter with the F200. I haven't seen this before and it really helps you to get started setting up your dash cam right away.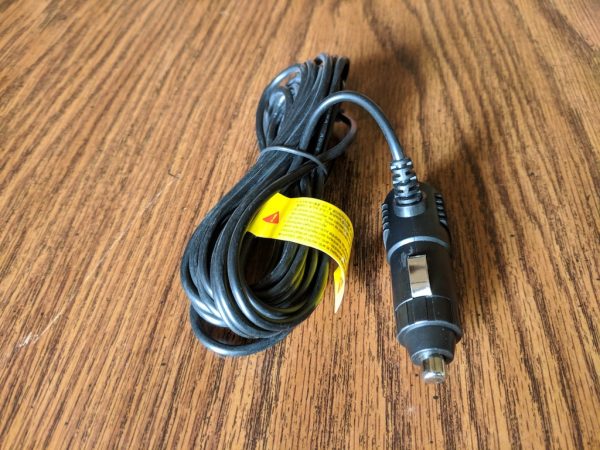 Along with the F200 dash cam and the SD card, all you need to start using your dash cam is the 12v socket power cable and mounting kit.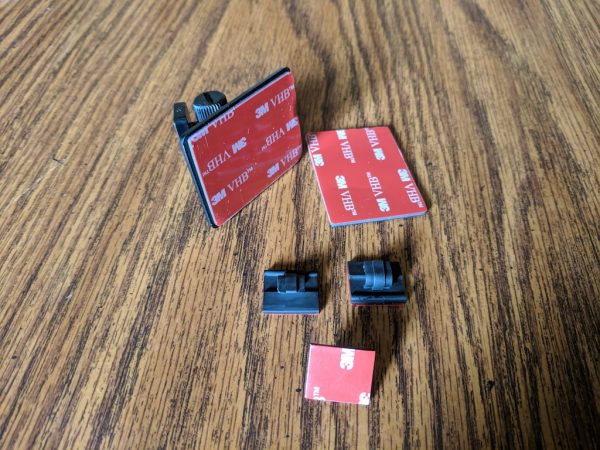 Once you find a good mounting spot for the dash cam, center of your windshield preferably near the top, simply peel away the backing on the main mounting clip and press it into place. Slide the F200 into place fitting the mounting notch on top of the camera into the slot on the mounting bracket.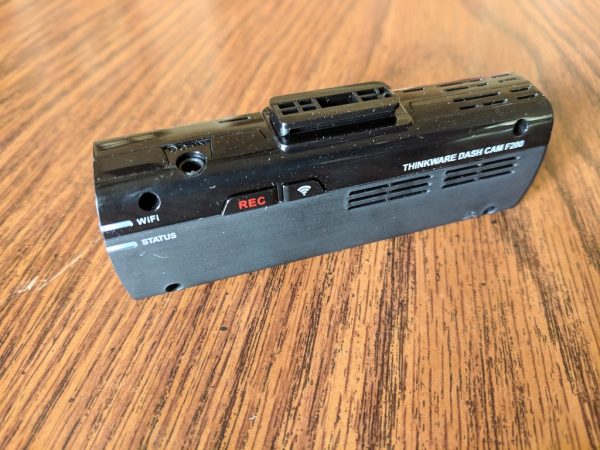 Be sure to insert the included SD card in the slot on the bottom of the F200.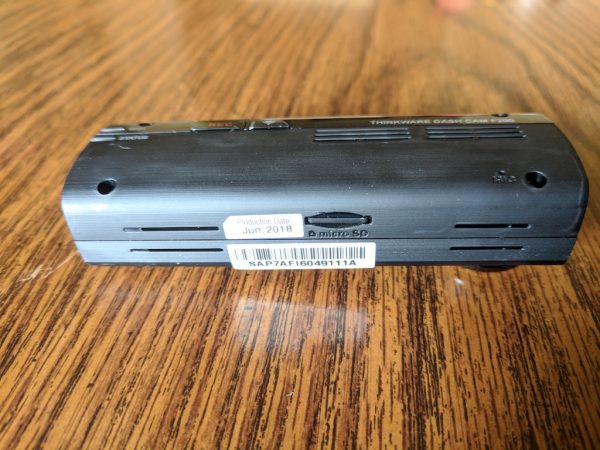 Next, connect the power cable to the open power port on the top of the F200 by the REC button.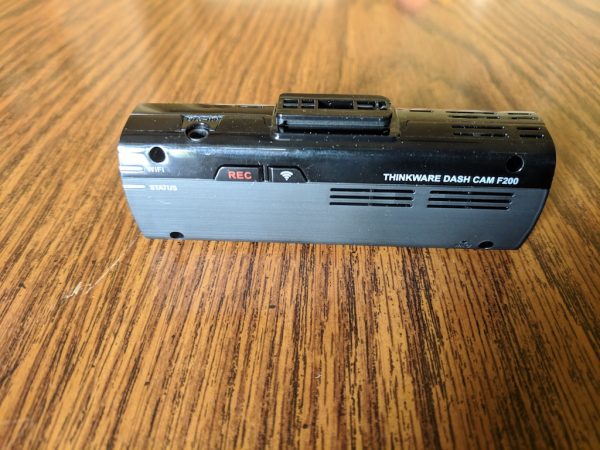 Once everything is plugged in and powered, download the Thinkware Dash Cam MobileViewer app for your device, it works on both Android and IoS. Once downloaded and installed, the app will attempt to walk you through the setup procedure. There's a WiFi button on the back of the unit that activates a hotspot for your phone to connect to for setup.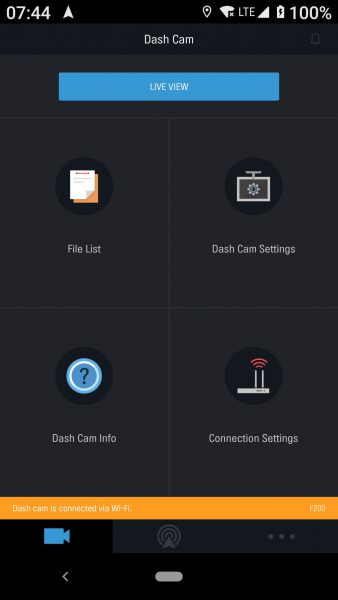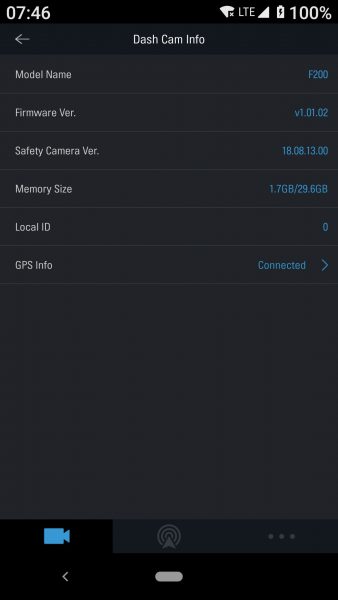 This is usually where a lot of car-tech devices lose points with me, and the F200 is no exception. The printed documentation is very vague and difficult to follow. It took me several tries and more than a few internet searches to get everything connected, synced, and functioning. The physical setup was easy, but the technical setup took a bit of finagling. Fortunately, and to Thinkware's credit, once everything was up and running, the system has worked flawlessly for about a month now.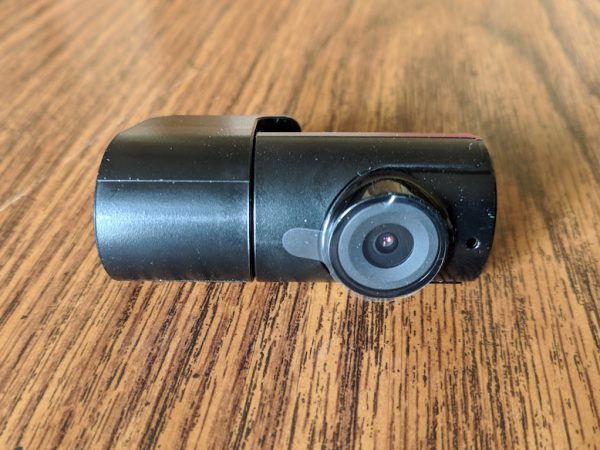 As I mentioned, the unit I'm reviewing included the optional rear-view camera, GPS module, and a hard-wiring kit. The rear view camera is pretty unobtrusive and has only one port on it for a video cable that connects back to the main unit. Wiring the rear-view camera was no easy feat and ideally should be done by a professional.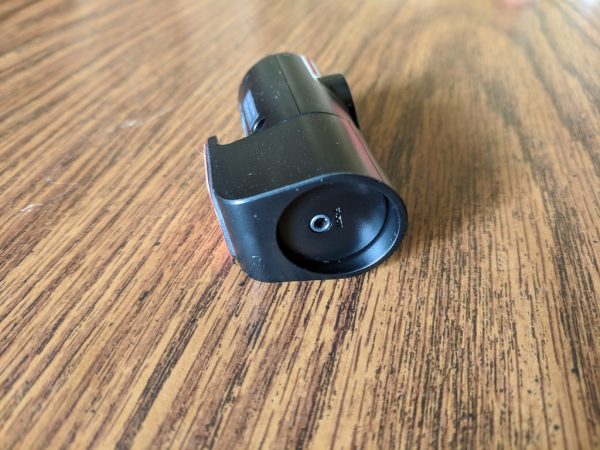 Thinkware provides about 19.6 feet (6 meters) of cable to reach a good spot on your rear-view window and the camera itself has mounting tape attached.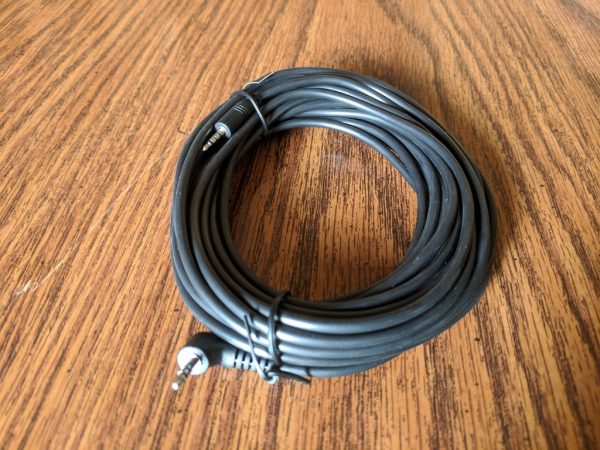 The GPS module is probably the simplest accessory to install.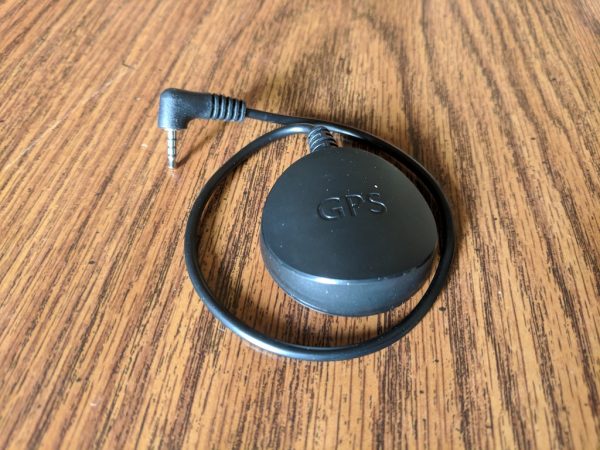 The little puck has a short cable on it so it must be mounted on the windshield near the F200.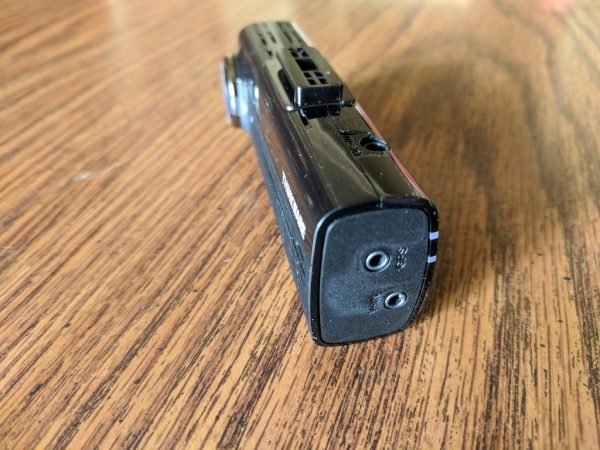 Both the GPS module and the rear-view camera plug into ports on the left side of the F200.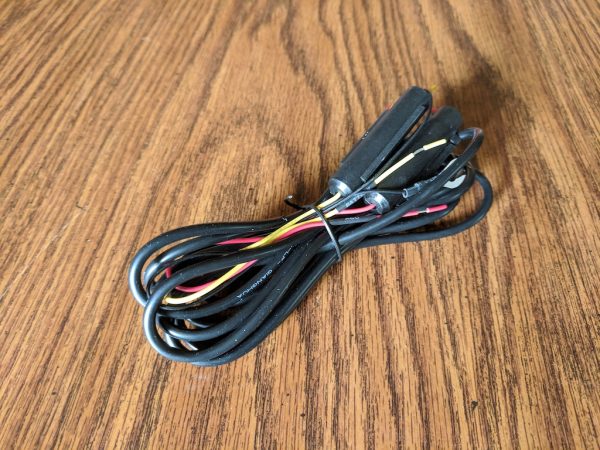 The final optional accessory I installed was the hardwiring kit. This is an included set of wires and inline fuses that allow you to run continuous power to the F200. The benefit of continuous power is that once wired correctly, the unit will power on and off with your automobile. Another great feature made available after hardwiring is parking monitoring. The F200 will monitor for incidents even when the car is powered off. If the F200 detects any movement while parked it will start recording. The best part of this feature is that the unit will monitor your car's battery life as well, making sure that is never dips below a predetermined voltage. If the battery's voltage drops to that point, the F200 automatically shuts off.
Performance
Once I had everything mounted, synced, connected, and adjusted to my liking the F200 did what all great technology should do, it disappeared. The unit dutifully powered on every time I started my car, recorded every trip I made, and then shut off when I exited the car.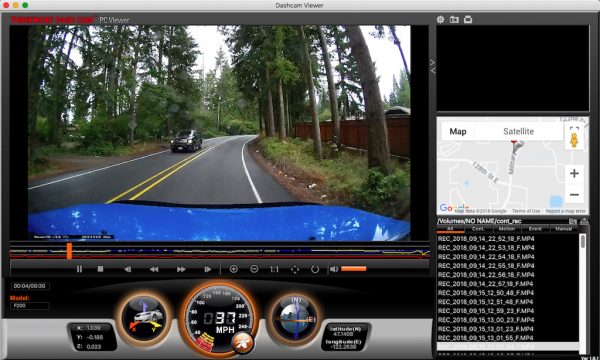 When I downloaded my first few videos to check the camera's quality, I was really impressed with the amount of information that was recorded as well as the stunning video quality. Because I was using the GPS module, the F200 takes note of my car's location as well as my speed, marking my trip with a tracking dot on Google Maps during playback. Additionally, the F200 unit itself has a built-in accelerometer recording the X, Y, Z axes of my car during all trips.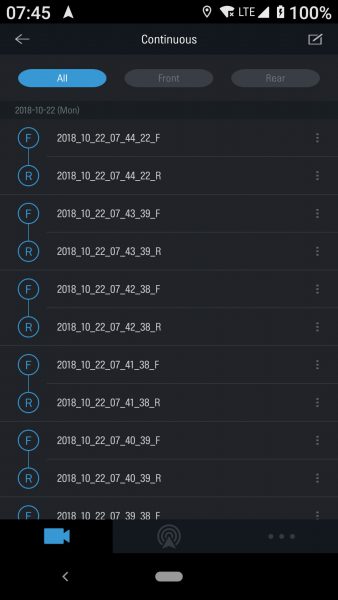 Accessing the videos on the F200 was as easy as connecting my cellphone to the unit as I did in setup and downloading what I needed. The F200 records videos in one minute blocks and then writes over the oldest videos once the SD card is full. You can also access the videos by popping the SD card into your Mac or PC and using Thinkware's desktop app.
Check out a sample video recorded by my F200. The front facing dash cam mic picks up a lot of wind noise from open windows in addition to whatever is going on in the car's interior.
What I like
Excellent build quality
Easy Initial Setup
Reliable performance
Great, stable companion app
16GB Micro SD Card included
What needs to be improved
Documentation confusing and lacking in specifics
Some extra features like parking monitor only available if hard-wired
Rear-view Camera, GPS, and Hardwiring Kit cost extra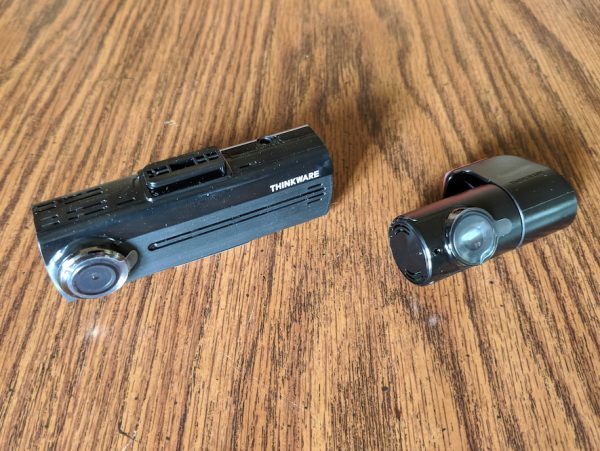 Final thoughts
I really like the Thinkware F200 Dash Cam, especially after adding on all of the accessories needed for it to be fully functional. The base F200 is definitely worth the $139.99 price tag though, and gives you plenty of built-in features. What's great about the F200 is that you have the option to build it out and add accessories as you need them. As dash cams become more popular and affordable, this would make a great first dashcam for someone just getting their feet wet with this relatively new technology.
Price: $139.99 for the F200 Dash Cam only, $39.99 for External GPS, $49.99 for Rear-view Camera, $29.99 for Hardwiring Kit
Where to buy: Thinkware and Amazon
Source: The sample of this product was provided by Thinkware.