We use affiliate links. If you buy something through the links on this page, we may earn a commission at no cost to you. Learn more.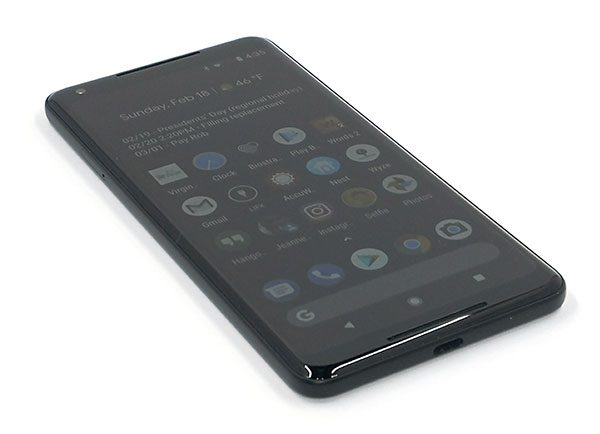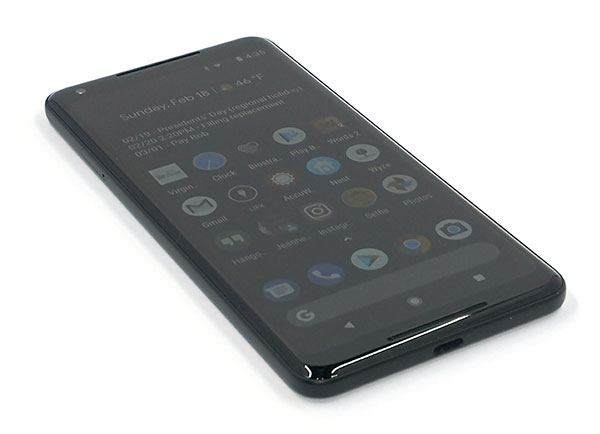 I've been using a Pixel 2 XL Android smartphone for the past 5 months and have yet to write a review about it even though it has swiftly become one of my all-time favorite Android phones. Does that mean it's the perfect Android smartphone? Nope, not even close. But right now it's perfect for me and that's what counts. Let's take a look.
What is it?
The Pixel 2 XL is Google's flagship Android smartphone which is powered by a stock version of Android version 8 otherwise known as Oreo.
Hardware specifications
Processor: Qualcomm® Snapdragon™ 835
Operating System: Android 8.0.0 (Oreo)
Memory: 4GB RAM, Storage 64GB or 128GB
Display: 6in 2880 x 1440 pixels, 538ppi pOLED Display, 3D Corning Gorilla Glass 5
Network: Carrier unlocked
4G LTE FDD: B1/B2/B3/B4/B5/B7/B8/B12/B13/B17/B20/B25/B26/B28/B29/B30/B32/B66
TD-LTE Bands: 38/40/41
GSM/EDGE: Quad-band (850, 900, 1800, 1900 MHz)
UMTS/HSPA+/HSDPA: Bands 1/2/4/5/8
CDMA EVDO Rev A: BC0/BC1/BC10
Supports up to CAT 15 (800Mbps DL / 75Mbps UL), 3x DL CA, 4×4 MIMO, 256-QAM DL and 64-QAM UL depending on carrier support
Camera (rear): 12.2MP, f/1.8
Camera (front): 8MP
Connectivity: Bluetooth: BT5.0+LE
WiFi: Wi-Fi 2.4GHz
NFC: yes
Positioning: GPS/Glonass
Battery: 3520 mAh
Dimensions: 6.2 x 3.0 x 0.3 in (157.9 X 76.4 X 7.9 mm)
Weight: 6.2 oz (175 grams)
Water and Dust Resistant IP67 under IEC standard 60529
What's in the box
Pixel 2 XL
USB-C 18W charging plug
USB-C to USB-C cable
USB-C to 3.5mm headphone adapter
Quick start guide
Quick switch adapter
Design and features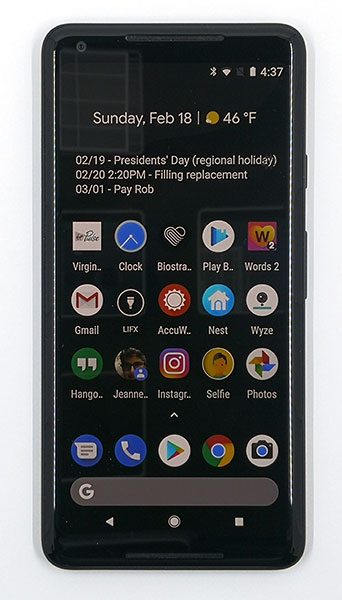 Google sells 2 sizes of the Pixel 2. I decided to buy the Pixel 2 XL because I was moving on from a Nexus 6p so I was already used to carrying a phablet-sized phone.
As far as first impressions go, the Pixel 2 XL looks like most other larger phones. It's rectangular with rounded corners, has no buttons on the front, and has slim bezels on the edges. The Pixel 2 XL doesn't have a bezel-less display like the iPhone X or the Essential Phone. But it's close enough for me.
Other than the display, the only other things on the front of the Pixel 2 XL are the front firing speakers.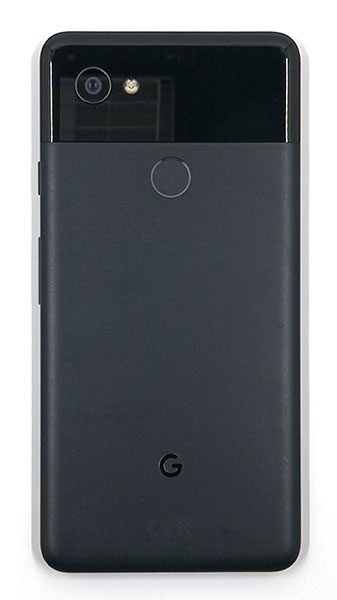 When you flip the Pixel over, you'll find a glass section at the top where the camera and LED flash are located. Below that is the fingerprint scanner which is surrounded by a smooth matte finish and a Google G logo at the bottom. I like the matte finish on the back of the Pixel because it adds some grip and it hides fingerprints and smudges.
You'll find the SIM card slot on the left side of the phone and on the right side you'll find the power button and one-piece volume button. On the top edge of the phone is a microphone and the USB-C charging port is on the bottom edge.
In hand, the Pixel 2 XL feels solid. It's neither lightweight or heavy. I think it's just right. A quick squeeze and a shake reveal no flexing or rattles. But, squeezing the sides towards the bottom of the phone triggers the Google Assistant to do your bidding. More on that later.
Display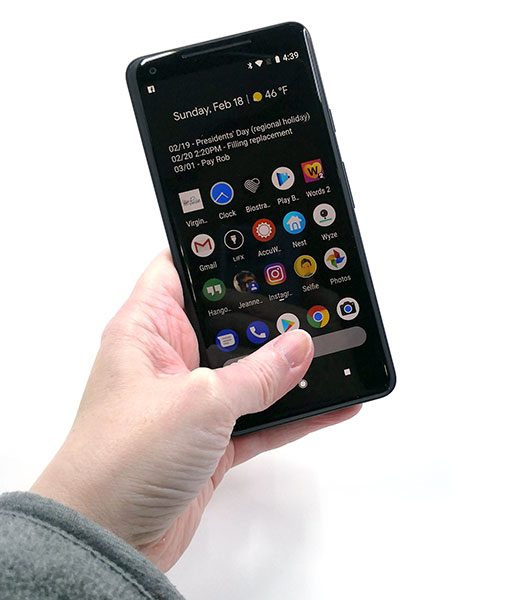 Soon after the Pixel 2 phones were available, people began reporting about problems with the displays having a blueish tint when not viewed straight on. Other complaints about the display included problems with the touch screen being insensitive on the edges, muted colors, and burn in issues.
When I read about these supposed defects, I obviously became concerned that I had purchased a dud phone. But I'd already been using my Pixel 2 XL for a few days before reading about these problems which I had not noticed on my own unit. Once I read about the blue tint issue, I checked my phone and I definitely saw what they were talking about. Did it make me mad or consider returning my phone since I was still within the return window? No, it didn't. I had not noticed the problem until it was pointed out to me and even after I saw the issue with my own eyes, I didn't really care because I don't use my phone with the screen tilted away from me. I look at it straight on and in that orientation, the screen looks fine to me.
As for the issues with the touchscreen not registering taps on the edges, muted colors, and burn in, I haven't noticed the touch screen sensitivity issue or burn in issue with my phone so I can't comment on them. But if I'd had these problems it would have really annoyed me and I would have returned the phone immediately.
I didn't really notice the muted color issue until it was pointed out. But Google released a fix for that so it's a non-issue now.
However, there is one issue with the Pixel 2 XL display that I've noticed but haven't read much about… My Pixel 2 XL screen has picked up a LOT of fine scratches in the last couple of months. It seemed like the scratches magically appeared several months after I got the phone. I should mention that I do not use screen protectors on my phone because I don't like the feel of the edge of the glass protectors on a curved screen like the Pixel 2's screen.
The scratches on my screen aren't immediately noticeable. Y0u have to tilt the phone to see them in certain lighting conditions. Seeing them made my stomach drop but I shrugged it off figuring that the phone is a tool and "stuff" happens to tools. As long as the camera lens doesn't suffer the same fate (and it's fine so far), I can deal with it.
Fingerprint reader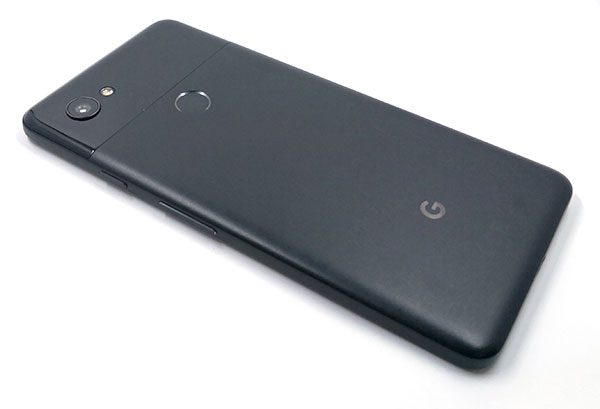 If you've read my phone reviews, you may remember that I like to gripe about how much trouble I have with fingerprint sensors. They just don't work for me for longer than a day or two. I'd resigned myself to live with this tragic issue until the Pixel 2 XL came into my life. I half-heartedly set up the fingerprint reader with the index fingers of both hands and figured it would stop working soon thereafter. I was wrong. I've not had to reprogram my prints yet. The sensor on the Pixel 2 XL works every single time and it works fast. To say that it makes me happy that I can unlock my phone by touching the sensor on the back is an understatement. I feel like I've finally been let into a club for the cool kids now 🙂
In all seriousness, being able to easily unlock my phone without drawing a pattern or tapping a 4-digit pin number is wonderful. I thought the Pixel 2 XL was the only phone in the world with a fingerprint sensor that would work with my alien prints, but when I recently had the opportunity to review the Huawei Mate 10 Pro, it also worked great. But then I reviewed the Samsung Galaxy S9 and I was back to same old problems.
Camera
The Pixel 2 XL's camera is excellent. It's so good that I ended up selling my Canon 70D DSLR and have been using my Pixel 2 XL as my primary and only camera. I use it for day to day snaps and for all my product photography for my reviews.
Here are some sample images that have not been edited in any way.
I'm very happy with the Pixel 2 XL's camera and the only way it could be better would be an ultra-fast snap option likeHuaweiauwei Mate 10 Pro.
Audio quality
The Pixel's front firing speakers sound good when listening to music or watching videos without using headphones. Even at full volume, audio sounds clear and crisp. I do wish the bass was a bit stronger, but I rarely if ever listen to music or watch videos listening to the sound through the built-in speakers so I don't find this a big deal.
Using the Pixel 2 XL for phone calls
So far I've had no issues making and receiving calls on the T-mobile network with this phone. The volume level and clarity on both sides of conversations have been just fine.
Software and user interface
Google's Pixel phones have stock Android, so you don't have to waste space with a bunch of apps that the carriers load that you will never use or special skins that you may or may not like that enhance the user interface.
There are advantages to buying a Pixel that other phones don't have.
OS updates faster than other phones
Google promises security updates for at least the next 3 years
Free unlimited full resolution photo storage to the Google cloud until 2020.
The Pixel 2 does have a feature that isn't stock and that other Android phones don't have. It's the Active Edge feature that launches the Google Assistant when you squeeze the lower half of the phone. When I first heard about the feature, I thought it sounded silly. But I've actually grown to really like it once I tuned in the sensitivity level.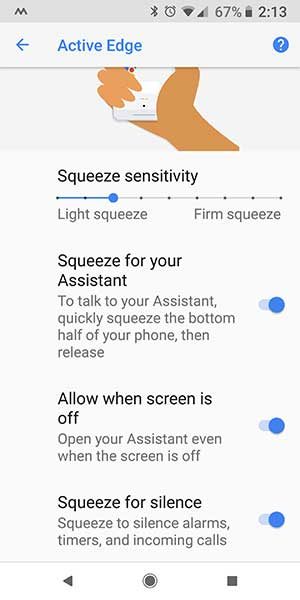 In addition to launching Google Assistant, the Active Edge feature can be used to silence alarms, timers, and incoming calls. I wish you could also customize it to launch the camera app and take a picture which would be a great use for it.
Overall performance and battery life using the Pixel 2 XL for day to day tasks
This phone has a 3520mAh battery that keeps it running for a full work day of normal use. It's a shame that the Pixel 2 doesn't have wireless charging, but battery levels are topped off pretty quickly when connected to power. I don't have a power cable near my bed, so I don't charge it throughout the night. I've yet to have it run out of power by morning, although I do charge it as soon as I get to work.
As far as performance, I think the Pixel 2 XL does very well. It might not feel quite a fast as the latest phones that I've reviewed, but the difference is negligible.
What I like
Great camera
Fast fingerprint sensor
Stock Android, no bloatware
2-year warranty and 3 years of security updates
What needs to be improved
Screen scratches too easily
Price
Needs HDMI out from USB-C port
Final thoughts
As I already stated at the beginning of this review, the Pixel 2 XL has become one of my all-time favorite Android phones. Although it doesn't have a micro SD card slot, Qi charging, or HDMI out, it's yet to disappoint me with day to day performance. I've reviewed several phones since buying the Pixel 2 XL and I've yet to feel the need to replace this phone. It's become a dependable workhorse for me and I look forward to seeing what features gen 3 brings to the Pixel later this year.
Updates 12/06/18
I'm still rocking the Pixel 2 XL as my daily driver. I had purchased a Pixel 3 XL with the intent to switch to it, but I ended up returning the 3 XL for a refund because it didn't feel like enough of a change/upgrade once I actually got a chance to use it for a few days. So I saved myself almost a grand and am waiting for the Pixel 4 XL or another phone that feels worthy to update to. So far I'm still happy with the Pixel 2 XL even with its little quirks. Right now my main complaint is that it drops WiFi connections when I'm at home. But I don't notice it too often because I have great cell reception in my home (T-Mobile), even in the basement.
Updates 5/24/19
After several failed attempts to upgrade to a new phone, I finally did the deed and ordered a Huawei P30 Pro. which I've been using for about a month or so. I plan a full review soon-ish, but long story short, I love it. Just too bad that it might never get another OS update due to the US govt ban drama… That's ok though because I do plan to buy the Pixel 4 XL this fall.
Price: $849.00 – $949.00
Where to buy: Google and Amazon
Source: The product for this review was purchased with my own funds.