We use affiliate links. If you buy something through the links on this page, we may earn a commission at no cost to you. Learn more.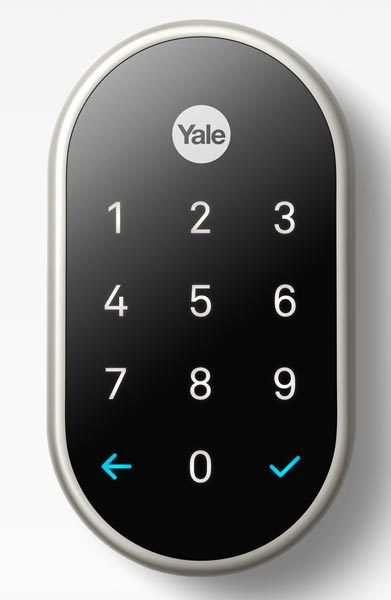 Nest has finally added a smart door lock to their connected-home lineup.  Nest says:  "Yale knows secure locks. Nest knows the connected home. Together, we've made a tamper‑proof, key‑free deadbolt that connects to the Nest app."  Our local Best Buy had one of the Nest x Yale locks in stock, but it was the wrong color, so I ended up ordering one directly from Nest.  It was delivered quickly, and I installed it today.
Installation of the Nest x Yale lock took me about 10 minutes, including removing the existing lock.  It worked on the first try.  Of course, the deadbolt lock is battery operated, and it came with its first set of four AA batteries.  The lock doesn't connect directly to WiFi, so you'll need either a Nest Guard (base unit of Nest's security system) or a Nest Connect unit to connect the lock to your home WiFi network.  You can buy the lock with or without a Nest Connect included in the package.
Once installed on your door, you add the lock to your Nest app, and then you add unlock codes.  You can assign codes to each family member, to guests, dog walkers, cleaning services, and others.  The codes can be deleted or modified at any time, which makes it easy to give a temporary code to someone.  You can also lock or unlock your door from the Nest app on your cellphone from anywhere.  The app keeps a list of the times the door was unlocked or locked and by whom, and the app notifies you if someone tries to tamper with the lock.  And for extra security while you're home, you can set a privacy mode that restricts anyone from unlocking the door from the exterior keypad.
The Nest x Yale deadbolt lock is truly keyless – there is no backup key for this unit.  You don't have to worry about a dead battery keeping you out, though.  You'll get warnings as soon as the batteries start to weaken so you can replace them before they die.  And if they do die before you replace them, you can hold a 9V battery to contacts on the bottom of the keypad to provide enough power for you to unlock the door.
It's been on my door for less than a day, but I'm pleased so far with the look and functioning of the Nest x Yale door lock.  It's quiet, attractive, and easy to use and monitor.
You can buy the Nest x Yale lock at various retailers; you'll get both the lock and the Connect for $279.  If you order directly from Nest, you can choose to purchase the lock only for $249 or the lock plus Connect for $279.  It's available in satin nickel, oil-rubbed bronze, or polished brass finishes.  Learn more at Nest and Best Buy to order one.