We use affiliate links. If you buy something through the links on this page, we may earn a commission at no cost to you. Learn more.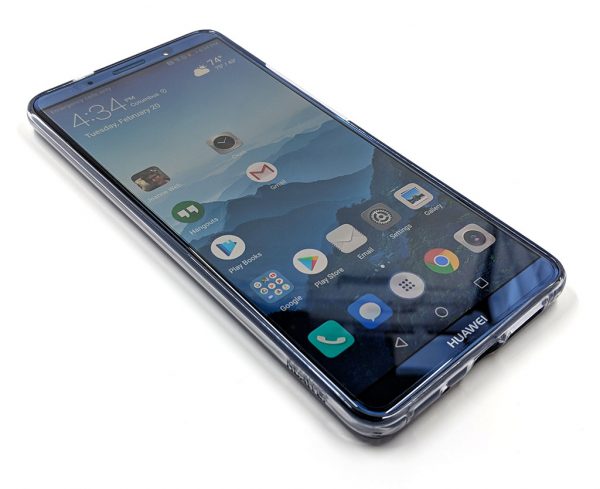 So far, 2018 has been a gut punch for Huawei. Huawei is the 2nd largest phone maker in the world, and they were all set to finally make their big splash here in the US, but then AT&T pulled out of a partnership deal and then US intelligence agencies sent out a warning that Americans should not buy phones from Huawei (and ZTE) because of fears that these Chinese companies are a cybersecurity threat for stealing information. To answer this, Huawei says:
"Huawei is aware of a range of U.S. government activities seemingly aimed at inhibiting Huawei's business in the U.S. market.  Huawei is trusted by governments and customers in 170 countries worldwide and poses no greater cybersecurity risk than any ICT vendor, sharing as we do common global supply chains and production capabilities. We are committed to openness and transparency in everything we do. Ultimately, Huawei will continue to develop its global business through a significant commitment to innovation and R&D and to delivering technology that helps our customers succeed in all markets that value the innovation and value it delivers."
At the time of this writing, there hasn't been any hard evidence to back up the government's claims that Huawei or ZTE are spying on us. I'm not going to tell you to buy or not buy Huawei phones and I'm not going to talk politics either because that's not what we do here on The Gadgeteer. I'm just here to review this phone. So let's get started.
What is it?
The Mate 10 Pro is Chinese technology giant Huawei's latest flagship Android smartphone with the build quality and features that have been set to compete with other high-end phones from Apple,  Samsung, etc.
Hardware specifications
Processor: HUAWEI Kirin 970
Octa-core CPU (4 x Cortex A73 2.36 GHz+4 x Cortex A53 1.8 GHz)+i7 co-processor, Mali-G72 MP12 GPU
NPU: Neural Network Processing Unit
Operating System: Android 8
Memory: 6 GB RAM+128 GB ROM
Display: 6in 2160 x 1080 pixels, 402 ppi OLED Display
Network: Carrier unlocked 4G LTE TDD: B39
4G LTE FDD: B1/B2/B3/B4/B5/B7/B8/B12/B14/B18/B20/B28/B29/B30/B66
LAA Band: B46
3G WCDMA: B1/B2/B4/B5/B8
2G GSM: B2/B3/B5/B8 (850/900/1800/1900 MHz)
Camera (rear): 20 MP Monochrome+12 MP RGB, f/1.6
Camera (front): 8 MP FF, f/2.0
Connectivity:
Bluetooth: BT4.2, support BLE
WiFi: Wi-Fi 2.4 G/5 G, 802.11a/b/g/n/ac with Wi-Fi Direct support
DisplayPort 1.2
NFC: yes
Positioning: GPS/Glonass/BDS
Battery: 4000 mAh
Dimensions: 154.2mm X 74.5mm X 7.9mm
Weight: 178 grams
Water and Dust Resistant IP67 under IEC standard 60529
What's in the box?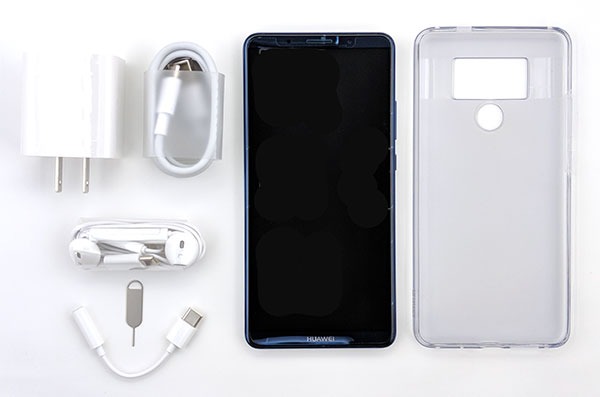 Mate 10 Pro smartphone
USB-C Earphones
AC Charger
USB-C Cable
USB-C to 3.5 mm Headphone Jack Adapter
Flexible Clear Case
Quick Start Guide
Eject tool
Design and features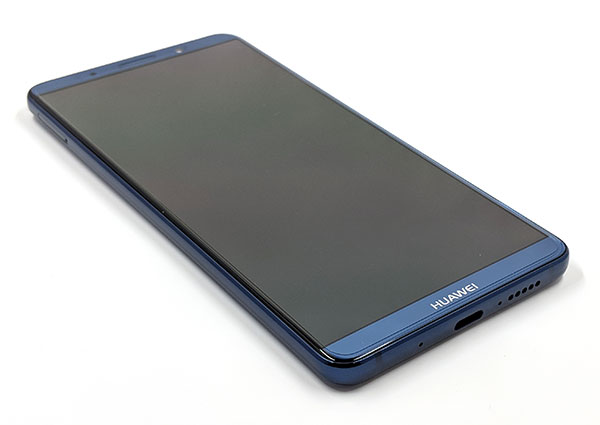 When I first opened the box and saw the pretty Midnight Blue phone, I was like ooooh, it's so pretty! For those of you who are adverse to color, the Mate 10 Pro is also available in Diamond Black and Titanium Gray.
The front of the phone is all screen except for narrow bezels along the top and bottom edges. At the top edge is a front firing speaker that has an ambient light sensor on one side and the front-facing camera on the other side. To the left of the ambient light sensor is a tiny status LED that lights up when the phone is charging and when notifications come in.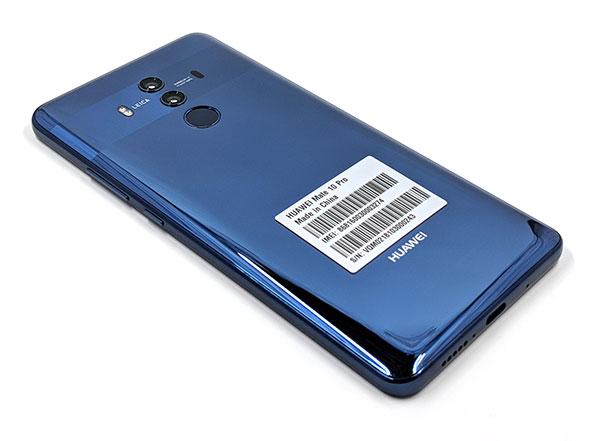 The back of the phone has dual camera Leica lenses, an LED flash, and a fingerprint sensor.
The phone's back is made of glass with a finish that is slick and shiny. That means that it's a magnet for fingerprints and smudges and is slippery as heck. But in what is a first for modern smartphones, I was surprised to find that the Mate 10 Pro ships with a clear silicone case included in the box. That's a nice touch as you will be able to protect your shiny new phone as soon as you take it out of the box.
Another equally nice touch is a pre-installed screen protector. Again, I was surprised that Huawei included this with the phone, but it's a welcome "freebie". Especially since it's been installed perfectly with no bubbles or dust to be seen.

On the left side of the phone, you'll find the SIM card slot, but it doesn't have an area for a micro SD card.

On the opposite side, you'll find the power button and volume rocker button. Both buttons are nicely raised so you can find them with your finger and both have excellent tactile feedback. Like the Essential Phone PH-1, the power button is located below the volume button instead of above it, but unlike the Essential, I didn't find that I had any problems pressing the wrong button.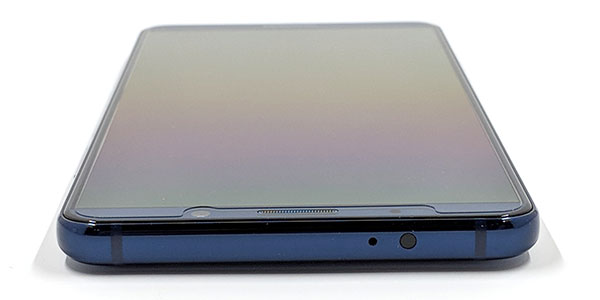 The top edge of the phone has a speaker and an IR blaster so that you can use your phone as a universal remote control for your TV and other equipment.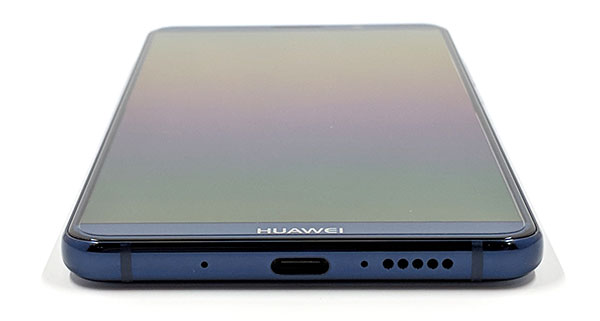 On the bottom edge, you'll find more microphones, a USB Type-C charging port and a downward firing speaker.
The Mate 10 Pro looks and feels like what you would expect from a high-end flagship phone. It's solidly made with rounded sides and a smooth rounded back for a comfortable feel. The Mate 10 Pro had no problems surviving my rigorous Gadgeteer squeeze test without rattling, flexing, or creaking.
Display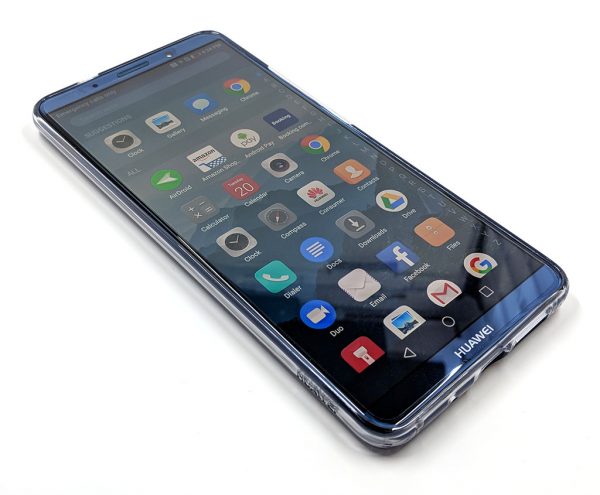 The Mate 10 Pro's 6-inch OLED display is lovely to look at. It's bright, crisp, and clear. Unlike other screens like the one on my Pixel 2 XL, the screen doesn't have a blue tint when you look at it from any angle other than straight on. Even with the brightness level set to 50%, the Mate 10 Pro's screen is really comfortable to view.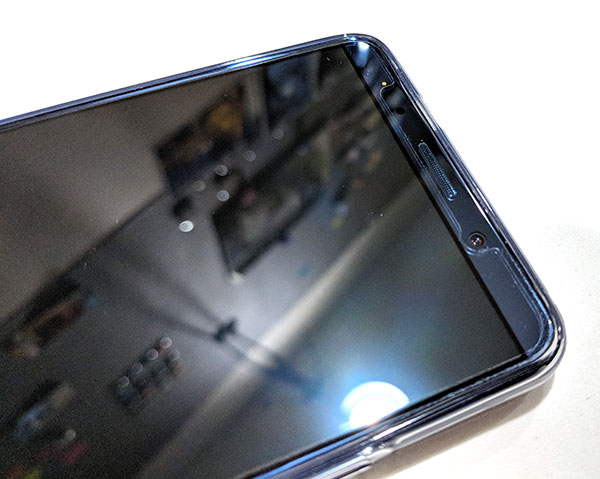 I mentioned earlier about the status LED and the screen protector. The image above shows both. Yes, that tiny yellow dot at the top is the LED.
Fingerprint reader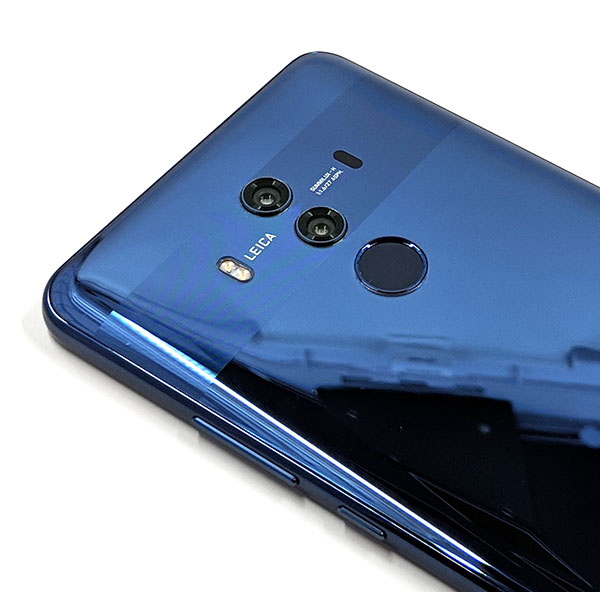 For those of you who like to read my phone reviews, you might remember that I'm always complaining about fingerprint scanners because they almost never work for me. I say almost because the Pixel 2 XL's fingerprint scanner is the first one to work for me 99% of the time. All other phones work for the first day after I set up my fingerprint and then they stop until I reprogram it. Then it stops again within a day. Rinse and repeat. Guess what though? The Huawei works for me too and I would say that it might work even better and faster than the Pixel 2's! It seems to unlock as soon as my finger gets close to the scanner.
Camera
With Leica lenses, you would expect the Mate 10 Pro's camera to be impressive and it doesn't disappoint. This phone is a capable shooter. It's blazing fast at capturing impromptu shots with a double click of the volume down button. It even shows off how fast it is by displaying the speed it took to wake and snap a picture, which if you're curious is less than a second every time I've tried it.
I'm not going to pretend to be a professional photographer, but from the pictures I've taken with this phone, I've found that the colors seem true to life and sharp, even in low light. It's even really good at taking macro shots.
Audio quality
Although you probably won't want to listen to your favorite tunes through the phone's speakers, you won't be put off by their audio quality if you do. Music and other media audio sound really good. Audio quality is even better if you use the included 3.5mm to USB Type-C adapter with your favorite wired headphones.
Using the Huawei Mate 10 Pro for phone calls
During my 2 weeks using the Mate 10 Pro, I've had no issues making and receiving calls with this phone on the T-mobile network and have felt that the volume level on both sides of the conversation has been just fine.
Software and user interface
The Mate 10 Pro ships with Android v8.0 and Huawei's own skin over stock Android that's called EMUI. EMUI doesn't make Android look that much different, but it does add extra features like the ability to take screenshots by knocking twice on the screen with your knuckle. You can also knock once and then draw an S to take a scrolling screenshot for really long pages. There's even a built-in tool to record a screencast.
Other features included in the EMUI includes a special button that you can add anywhere on the screen that improves one-handed use. Tapping the button goes back to the home screen, and holding the button and sliding to the right goes to the previous app while holding the button and sliding to the left pulls up all the open apps.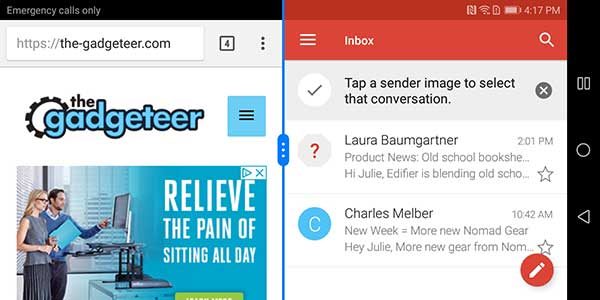 The are other gestures that you can use to show apps in a split-screen view and you can launch apps by drawing a letter with your knuckle.
The phone even has its own very basic built-in assistant called Emy that you can use to make and answer calls.

I like some of the gestures, especially the screenshot gestures, but one thing I don't like about the Mate 10 Pro is the software bundle. Instead of sticking with stock Google apps for the core set of programs like contacts, calculator, messages, calendar, etc, Huawei has included their own versions of these apps. Blah… I'm not saying their versions of these core apps are bad, but they are a waste of space for me because I like to stick with stock Google apps. Even more disappointing is that you can't uninstall or hide the Huawei apps from the app list.
The Huawei Mate 10 Pro does have another trick up its sleeve. You can connect it to a large screen via HDMI and experience a desktop computer look and feel that reminds me of the Samsung DeX Station without having to buy a special dock. All you'll need is an HDMI cable with a USB Type-C connector on the other end or a USB Type-C to HDMI adapter. I already had a cable and an adapter, so all I had to do was connect the Type-C connector to the Mate 10 Pro and the other end to my Hisense 65″ TV.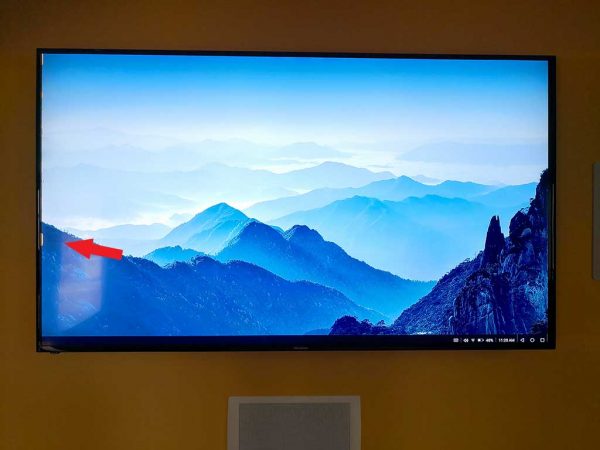 The large screen TV shows a full-screen Android desktop with a taskbar at the bottom and icons on the left side. Can't you see the icons on the left side? Yeah, me neither. That's the problem. A problem that I wasn't able to resolve by changing the resolution on the phone or the format of the TV. Actually, switching the TV to 4:3 format, did allow me to see part of the icons, but ick. This feature would be really cool – if it worked for me. Huawei says that they can't replicate this issue and say it has to be my TV… Update 3/8/18: Huawei received the loaner phone that I reviewed and tested in on several TVs and could not replicate the issue I talked about above.
Overall performance and battery life using the Huawei Mate 10 Pro for day to day tasks
This phone has a 4000mAh battery that keeps it running for a full day of medium to heavy use, with lots of juice to spare. I never saw a low battery warning and when I did recharge, it was topped off very quickly due to Huawei's SuperCharge technology which gives you a full day of power on a 20-minute charge.
What I like
Comes with a case and pre-installed screen protector
Terrific camera that's blazing fast
Great battery life
Unlocked for use on GSM carriers like T-Mobile and AT&T
What needs to be improved
Bloatware
No wireless charging even though the phone has a glass back
Final thoughts
I wasn't expecting to like the Huawei as much as I do. Except for wireless charging, a 3.5mm headphone jack, and a microSD card slot, this phone has pretty much every other feature you'd expect in a premium phone. The Mate 10 Pro is a quality phone and it's a shame that it probably won't get a lot of traction here in the US due to government warnings not to buy it and the fact that none of the major carriers are going to sell it. However, you can buy one from online shops like Amazon and Best Buy.
Price: $799.99
Where to buy: Amazon and Best Buy
Source: The sample for this review was provided by Huawei.